Tuesday, December 23rd, 2014
Acucraft Custom Fireplaces – www.acucraft.com – Happy Holidays
We would like to thank all of our customers for helping us make 2014 a record-breaking year for Acucraft Custom Fireplaces, we could not have done it without you!
We truly care about our customers and after receiving your feedback we launched two new product lines in 2014 to help meet your needs:
The Unity Wood-Burning Fireplace Series
The Outdoor Fire Series
Acucraft Custom Fireplaces – Unity Wood Burning Series
Our Unity series gives you the enjoyment of a wood-burning fireplace but captures a more modern and contemporary feel. The minimal design is clean and flexible, creating unity with the surrounding space. In addition to adding character to your room, our Unity fireplaces can produce heat that can be directed to almost any part of your space giving you a controllable heat output.
For more information on our Unity series or to request a brochure, click here.
Acucraft Fireplaces – Custom Outdoor Fire – Custom Fire Pits
Our Custom Outdoor Fire product line gives you the opportunity to customize your outdoor living experience through fire pits, fireplaces, and burners. From Custom Outdoor Fire Pits to linear see-through outdoor fireplaces, the sky is the limit! Our Outdoor Fireplaces are available in wood or gas with glass, no glass, or operable door viewing areas. If you're looking for more of a statement piece then our Outdoor Burners are the perfect option for you, with custom designed shapes and lengths to fit any vision!
For more information on our Outdoor Fire Series, click here.
Thank you again to all of our loyal customers, we are grateful for each & every one of you!
Here's to a very happy & prosperous 2015!
(763) 263-3156
info@acucraft.com
Thursday, December 18th, 2014
Acucraft Custom Peninsula Gas Fireplace
You Can't Have Cigars Without Fire.
Acucraft Fireplaces created this gorgeous Custom Peninsula Gas Fireplace for the new Davidoff Cigar lounge in Ridgewood, NJ.
This fireplace was designed with side viewing of 78″ wide x 30″ tall, the front viewing area is 28″ wide x 30″ tall.
It is fully customized with the following options:
72″ Long Burner which creates a Tall Lazy Flame
Designed and fabricated to be dropped through a small skylight by disassembling the fireplace into three pieces (top, left & bottom) upon delivery:


Acucraft 3D Rendering – Fireplace fabricated to be dropped through skylight in 3 pieces

Acucraft's patent-pending glass cooling system (additional information below)
Custom Heat Relief System which was designed to provide heat to the room when the thermostat called for heat, and expelled the heat outside when the room did not need additional heat. This was done by an auto damper wired directly to the Honeywell thermostat. The space was equipped with heavy ventilation by the customer to ensure up to 20 guests could enjoy their cigars without lingering smoke and enjoy a comfortable temperature.
Porcelain reflective panels were placed on the back and around the burner
Bronze & copper glass media
This fireplace's output is up to 85,000 BTU depending on the desired height of the flame, and is easily controlled through an on/off wall switch.
Client Rendering for Acucraft Custom Fireplace
To the left is the initial rendering provided by Sia Saint-Pierre, Davidoff of Geneva – Norwalk, CT.
The photos below & to the right showcase one of the testing phases done by Acucraft with all of our fireplaces to ensure we capture the type of flame requested by the client. You can see how the burner produces tall lazy flames.
Acucraft Custom Fireplaces – 72″ Burner – Tall Lazy Flame

GLASS COOLING SYSTEM
Acucraft's patent-pending glass cooling system is the go-to option for many of our clients. This system forces cooler air from outside into the air channel between glass panes to keep the average glass temperature to 145 degrees Fahrenheit.
The image below diagrams how our glass cooling system works.
Acucraft's Patent-Pending Glass Cooling System
The blue arrows represent the glass cooling intake air which is taken from outside, passes between the glass panes keeping them at a touchable temperature but warming that cool air up which can then be transferred back into the space or vented outside (orange arrows).
The yellow arrows represent the combustion air intake which takes air from outside, flows through the fireplace, heats up, and creates a draft which pushes the vented gas to the outside (red arrows).
These two systems work together to maintain a safer, cooler glass temperature as well as providing you with optional additional heat to your space.
Acucraft Custom Peninsula Gas Fireplace – The Davidoff Lounge
To find out more about Acucraft's Custom Fireplaces visit us at:
Phone: (763) 263-3156
Email: info@acucraft.com
Friday, December 5th, 2014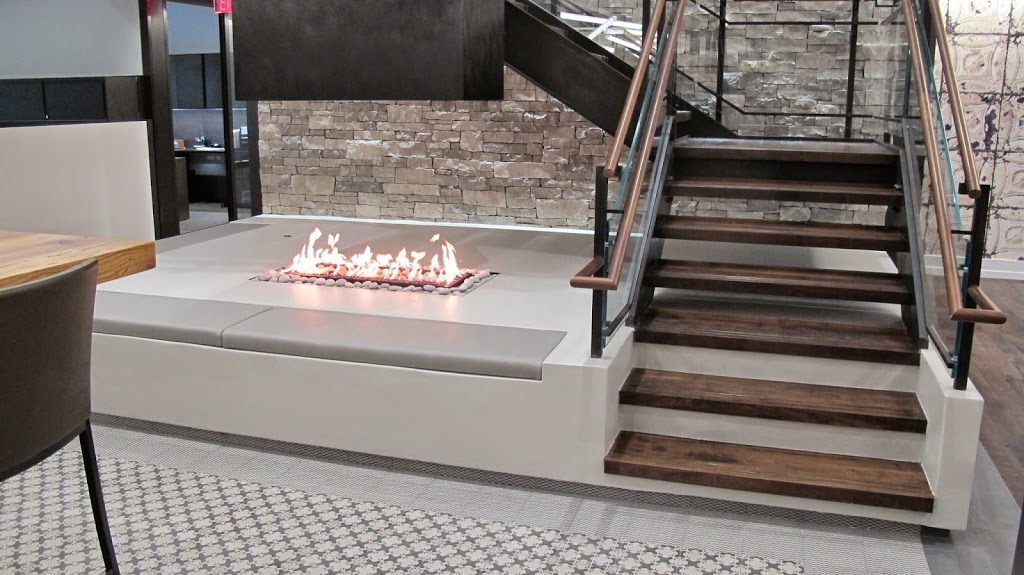 Custom 4-Sided Open Gas Fireplace by Acucraft – Atlas Holdings LLC Corporate Office – Greenwich, CT
Acucraft Fireplaces partnered with Pavarini North East Construction Co., Inc. and HLW International to create this beautiful Custom 4- Sided Open Gas Fireplace for Atlas Holdings LLC in Greenwich, CT. The customer wanted a custom fireplace with a tall, yellow, lazy flame that would be warm & inviting and fit in a more modern space within their corporate office.
Client Rendering
The client did an amazing job with the rendering they provided Acucraft (pictured left). Renderings are a great place to start bringing your vision to life.
After reviewing the client's initial rendering Acucraft presented different
options and landed on the final drawing of the hood & based displayed below:
Acucraft Drawing 1
Acucraft Drawing 2
Based on the specifications from the client, Acucraft engineered the base, hood and flue to this fireplace by including a:
Fully suspended hood, wrapped in black clad, from the ceiling & supported entirely by the roof of the building
Dual Flue System, due to the open area between the base & the hood, to ensure complete frontal velocity
2 power vents & 2 dampers connected to an automated damper control system
(pictured right)
This custom fireplace was designed to be placed in cement and surrounded by seating. The picture below also showcases the openness and height as well as the brilliance of the flame created.
We would also like to extend our gratitude to Chris Dold & Sean Mulligan
with Pavarini Northeast Construction Company, and Babak Ghezelayagh with HLW International for helping design this gorgeous Custom 4-Sided Open Gas Fireplace; we hope to partner again in the future!