August 16, 2017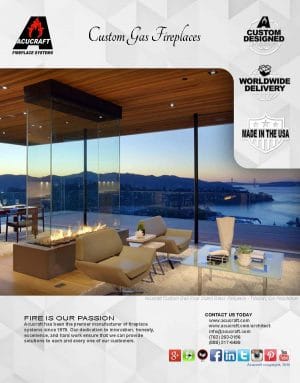 Introducing the New 2017 Custom Gas Fireplace Brochure!
As the premier manufacturer of custom gas fireplaces, it is our goal to provide you with the safest, highest quality product and exceptional customer service. Our fireplace advisors & designers are dedicated to making your dream fireplace a reality!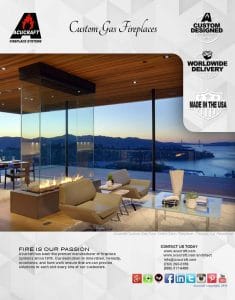 Our new custom gas fireplace brochure features:
    -Indoor Fire Pits
    -Circular Fireplaces
    -Indoor/Outdoor Fireplaces
    -Open Fireplaces
    -Acucraft Certification
    -On-Site Services and more!
Click Here to Request Your Copy
[email protected]   |   888-317-6499
Acucraft Fireplace Certification – Your Safety is Our Priority
Acucraft is the only custom fireplace manufacturer in the world with the ability to third party test and label every custom gas fireplace for our customers. Every custom gas fireplace receives an Acucraft Factory Test before leaving our facility…our Third Party Certification Test provides you with a label and full listing for your fireplace…and our Special Acceptance Field Test verifies the fireplace and all components relative to your specific installation requirements.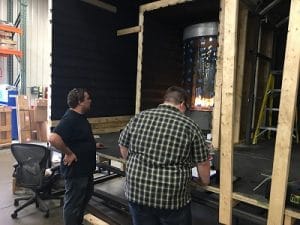 One of the most recent Third Party Certification Tests we completed was for the Google's new "Pearl Place" campus spanning 4-acres and will be the future home of up to 1,500 employees! One of our Fireplace Advisors, Mike, worked closely with Swinerton Builders to find a perfect fire feature for their Sunken Lounge.
Learn more about Acucraft's Fireplace Certification by requesting a copy of our new Custom Gas Fireplace Brochure and talking with one of our knowledgable Fireplace Advisors.
888-317-6499  | [email protected]  |  Request Information
CUSTOM GAS FIREPLACES  |  WOOD FIREPLACES  |  OUTDOOR FIRE  |  GALLERY