Tuesday, February 28th, 2017
The custom gas commercial fireplace we helped design, and manufactured for The Kimpton Hotel Palomar is a perfect example of how We Find Yes.
Mark Melzer of Melzer, Deckert + Ruder, Architects, Inc. came to us in Spring 2016 looking for a unique focal point of the entry lobby at the Palomar Hotel in Beverly Hills, CA that could match the stunning design inspiration done by Craig Hardman of Dawson Design Associates, Inc as well as meet Los Angeles city requirements. Craig was looking for a double ring custom gas fireplace that was made of hot rolled steel or cold rolled steel with a darker, black finish.
Ben, one of our highly skilled Fireplace Advisors, collaborated with Mark and Craig to define their needs and desires.
Once the concept was agreed upon the project moved into Design. Our Lead Fireplace Designer, Adam, worked closely with Mat Epperson, Project Engineer at RD Olson Construction and the team to finalize the design dimensions and requirements:
This particular custom gas fireplace was being put into a commercial setting, so our Glass Cooling System was a must to avoid high glass temperatures. The custom rings were designed to be 3/4″ thick with removable glass panes for cleaning and maintenance. The fireplace stands at over 10′ tall from base to the top of the outer ring and is 28″ deep. The outer ring is 82.5″ in circumference while the inner ring has a circumference of 72″ and includes a 30″ line of fire custom linear burner capable of 35,000-45,000 BTUs.
The photos above show the customer's fireplace making it's way from Production to Finishing and finally onto Testing before shipping to the customer. Every gas fireplace Acucraft builds is made to exceed ANSI standards and must pass all of Acucraft's internal performance tests before shipping out.
We couldn't be happier with how this commercial gas fireplace turned out and how well it fits into the Palomar Hotel's newly redesigned lobby! This fireplace was definitely one of Acucraft's most unique fireplaces built; it was a privilege working with all of the teams involved in bringing this design to life, we look forward to working on future projects!
See it in person:
Kimpton Hotel Palomar – Los Angeles | Beverly Hills – 10740 Wilshire Blvd – (800) KIMPTON – KimptonHotels.com
Start Your Own Fireplace Journey by Requesting a Copy of Our Custom Gas Brochure!
Wednesday, February 15th, 2017
By working with a custom fireplace manufacturer, you have the luxury of creating fireplaces of any size – from small fireplaces for lofts or patios, to very a large fireplace that provides a focal point for great rooms or lobbies. Acucraft has had the opportunity to work on several projects that called for us to build some pretty big (okay, huge!) fireplaces:
Large Wood Fireplaces
A super-sized wood burning fireplace is the perfect way to ground a large gathering space. This custom 4-sided design at The Hermitage Club in West Dover, VT, is our largest wood fireplace yet, measuring 630 cubic feet and offering 75 sq. ft. of viewing area. (View more details on this project here.)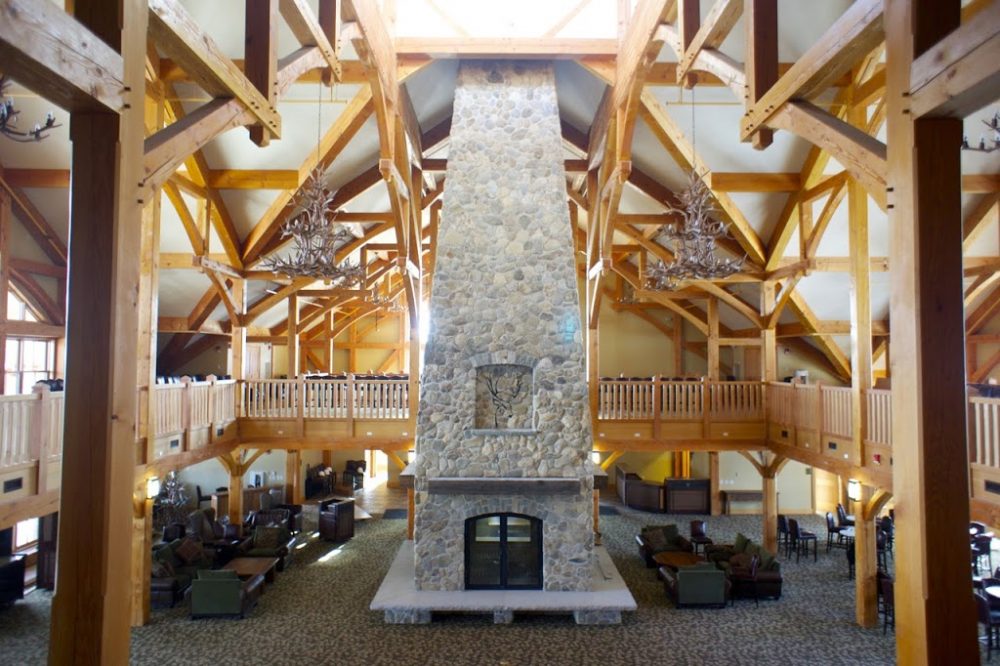 Large Gas Fireplaces
Big gas fireplaces also make a big impact. A remote-controlled linear fireplace like the Blaze 6 offers a 72-inch-wide (or 6-foot) viewing area, as well as an adjustable flame that reaches up to 12 inches high.
With mindful design and planning, linear gas fireplaces can also be stacked or installed side-by-side to give a breathtaking "wall of fire" effect, like this project at the Grand Hyatt in Denver, CO.
Planning for a Big Fireplace
If you're interested in adding a large fireplace to an upcoming residential or commercial project, connect with our Fireplace Advisors today. We'll walk you through our collaborative design process, discuss the estimated project cost and requirements, and guide you step-by-step to build a grand fireplace that fits your unique needs.
Friday, February 10th, 2017
By design, gas fireplaces provide modern convenience: they add warmth and ambiance without the hassle of hauling and storing wood in the room; some are even powered by remote control. However, one of the other benefits of an Acucraft custom modern gas fireplace is that it can be designed to fit the size and aesthetic of any project. Take a look at some of our most popular modern gas fireplaces:
This modern gas fireplace features 4-sides of ceiling-height glass to provide unobstructed views of nearby mountains.
An open indoor fire pit with sleek finishes complements the distinctive interiors of an office.
This 3-sided linear gas fireplace features copper, tile and natural stone elements to match this dining area's eclectic contemporary decor.
Circular gas fireplaces combine a 1970s vibe with modern simplicity.
Linear styles are the ultimate modern outdoor fireplace option, and can be partially enclosed to create a focal point in a large space …
or open, for a modern take on the outdoor fire pit.
Whatever space you're planning, Acucraft can create a modern gas fireplace that fits your project. Request a Custom Gas Fireplace brochure or connect with one of our Fireplace Advisors today.