February 12, 2019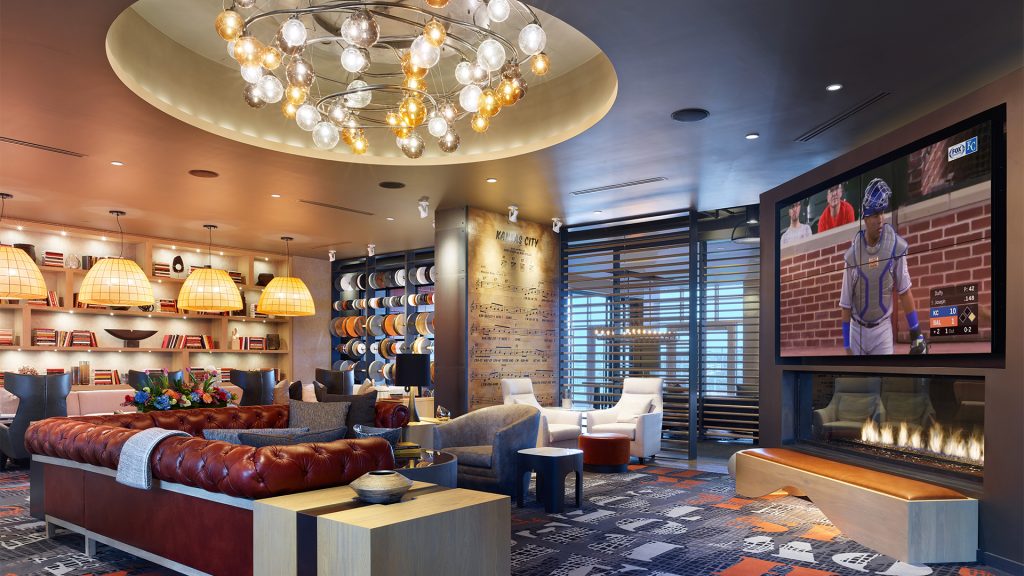 What better way to impress new luxury apartment renters than with five unique custom gas fireplaces?
At Acucraft we pride ourselves on working one-on-one with our customers. By working directly with general contractors we can keep costs down and provide an exceptional product that meets their exact needs. Don't have an architect or designer for your project? No problem! Our expert Fireplace Advisors and Designers work diligently to make your client's fireplace dreams a reality.
When Tim Ockinga of JE Dunn Construction came to us in 2016 looking for fireplace solutions for a new project, he wasn't sure whether to pick Acucraft or Montigo. He was looking for five gas fireplaces for the Two Light Tower Luxury Apartments project, which was still at least a year out for installation. After talking with Jill, Fireplace Advisor, and Adam, Fireplace Designer, he was convinced Acucraft was the right choice for his project. Not only was Tim able to save money by working direct with Acucraft, but he was able to fully customize the fireplaces to meet his needs by working one-on-one with our Fireplace Designers.
Tim chose the following custom gas fireplaces for the amenity space within Two Light Tower Apartments in Kansas City, MO:
Club Lounge: 8′ Linear Single-Sided Gas Fireplace

Viewing Area: 99″W x 26″H
90″ Line of Fire Burner
110,000-120,000 BTUs/Hr
Down-Drafting Flue System
Leasing Lounge: 6′ Linear See-Through Gas Fireplace

Viewing Area: 73″W x 18″H
67″ Line of Fire Burner
80,000-90,000 BTUs/Hr
Down-Drafting Flue System
Lobby: 8′ Linear See-Through Gas Fireplace

Viewing Area: 96″W x 27″H
90″ Line of Fire Burner
110,000-120,000 BTUs/Hr
Party Room: 6′ Linear Single-Sided Gas Fireplace

Viewing Area: 71″W x 18″H
66″ Line of Fire Burner
80,000-90,000 BTUs/Hr

 
Quiet Room: 4′ Tall Linear Single-Sided Gas Fireplace

Viewing Area: 64″W x 50″H
58″ Line of Fire Burner
70,000-80,000 BTUs/Hr
Down-Drafting Flue System
| | | |
| --- | --- | --- |
| | | Tim chose to go with Acucraft's commercial gas fireplaces. Each unit came with our patent-pending Glass Cooling System, ensuring safe-to-touch glass with an average temperature of 145°F. |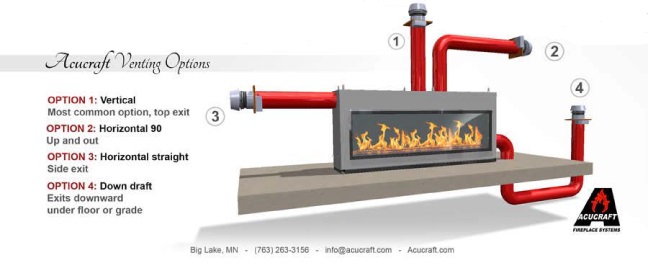 The location of some of the custom gas fireplaces at Two Light Tower Apartments made venting difficult so we worked with Tim on different potential venting options to meet his needs. Three out of five of the fireplaces needed to be down-drafting under the floor while still maintaining a consistent, tall, lazy flame. This is another reason why Tim chose Acucraft. We had the ability to customize the product to his exact needs, including a complicated flue run.
Tim was not only looking for a quality gas fireplace, but he wanted to showcase large flames, sure to impress potential renters. Thanks to our Engineering Services Team, we can offer our customers the tallest flames on the market!
Our Engineering Services Team was with Tim and his crew throughout the designing of his fireplaces as well as throughout the install. For commercial projects, we always recommend choosing one of our on-site services to ensure your installation goes smoothly:
Pre-Installation: an Acucraft Representative can meet with your installation team on site to go through every step of the installation. We recommend having the fireplace and components on site, but not yet installed.
Calibration: upon completed installation of the fireplace, an Acucraft Lab Technician will verify the installation and make any adjustments to your fireplace and components. This service includes training on operation and maintenance.
Maintenance, Repair and Troubleshooting: when you select Acucraft for your custom gas fireplace project, our commitment to you is that we are Together Forever – our philosophy for over 40 years! Our team can assist you through phone calls, FaceTime, email, or be on site when you need them.
It was a pleasure working with Tim and the JE Dunn Construction Team, we look forward to collaborating on future projects!
(888)317-6499   |   [email protected]   |   acucraft.com
Gas Fireplaces   |   Wood Fireplaces   |   Outdoor Fire   |   Custom Fireplaces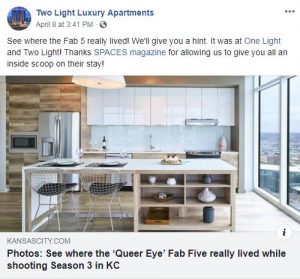 Even the Fab Five from "Queer Eye" recognize luxury. These five gentlemen called Two Light Luxury Apartments their home for four months while shooting Season 3 of Netflix's hit show "Queer Eye." Click Here to learn more about the Fab Five and how the Two Light residents gathered around an Acucraft custom gas fireplace to watch the debut of their favorite show!