Certified Circular Gas Fireplaces

Acucraft custom circular gas fireplaces are designed and manufactured to the highest standard of quality ensuring you a lifetime of enjoyment. With a 360° unobstructed view and a design that is sure to please the eye, your circular gas fireplace will never go unnoticed!
Every certified gas fireplace is tested to the ANSI Z21.50-2016 / CSA 2.22-2016 vented decorative gas appliances code.
Contact Us Today for More Information: 888-317-6499 or [email protected]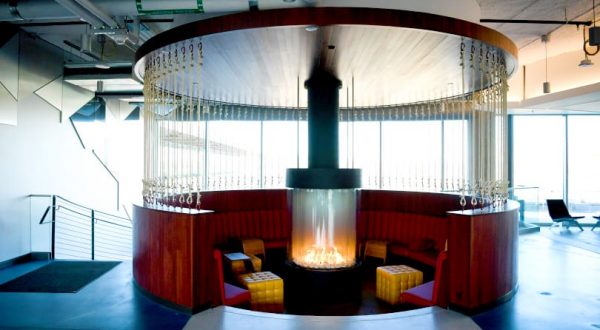 Past Project: Google Headquarters | Boulder, CO
An ever-changing rock climbing course, a retro camper set in a faux campground, and a sunken lounge featuring an Acucraft circular gas fireplace are the perfect amenities for the creative and tech gurus at Google's Boulder campus.
The Google expansion plan for the stunning Colorado campus began in 2017. Emily Richards, Commercial Interior Designer at RNL Design, came to Acucraft looking for a show-stopping gas fireplace as part of their future campus expansion of over 330,000 square feet!
Fireplace Advisor, Mike Hannan, worked closely with Emily on the design of the fireplace as well as Swinerton Builders on the execution and installation of this truly one-of-a-kind fireplace.