Certified Oval Gas Fireplaces

Acucraft oval fireplaces are designed and manufactured to the highest standard of quality ensuring you a lifetime of enjoyment.
Our certified oval fireplaces are tested to the ANSI Z21.50-2016 / CSA 2.22-2016 vented decorative gas appliances standard.
Contact Us Today for More Information: 888-317-6499 or [email protected]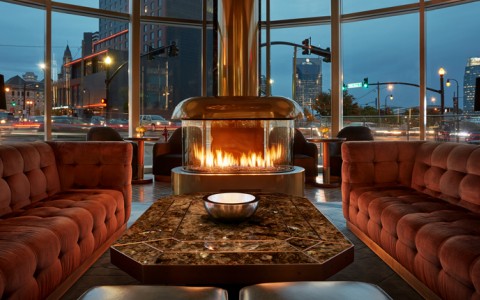 JW Marriott Hotel – Nashville, TN
Heath Grannis, Architect at Stone Hill & Taylor Architects, came to Acucraft in early 2016 looking for multiple fireplaces for the new JW Marriott Hotel in Nashville. Heath initially was looking solely for a linear gas fireplace that was for aesthetics only (no heat), but he was so impressed by Acucraft's offerings that he designed a round fire feature for the hotel bar lounge as well.
Based on Heath's architectural drawings, inspiration photos and technical details from John McMillan and Andrew Johnston, Allegheny Construction Specialties,  the Acucraft Team was able to design this truly unique glass oval fireplace with a custom shroud for customers to enjoy while sipping a craft cocktail or local beer and enjoying the stunning downtown views.