Certified Peninsula Gas Fireplaces

Every Acucraft peninsula gas fireplace is designed and manufactured to the highest standard of quality ensuring you a lifetime of enjoyment.
Our custom certified peninsula fireplaces are tested to the ANSI Z21.50-2016 / CSA 2.22-2016 vented decorative gas appliances.
Contact Us Today for More Information! 888-317-6499 or [email protected]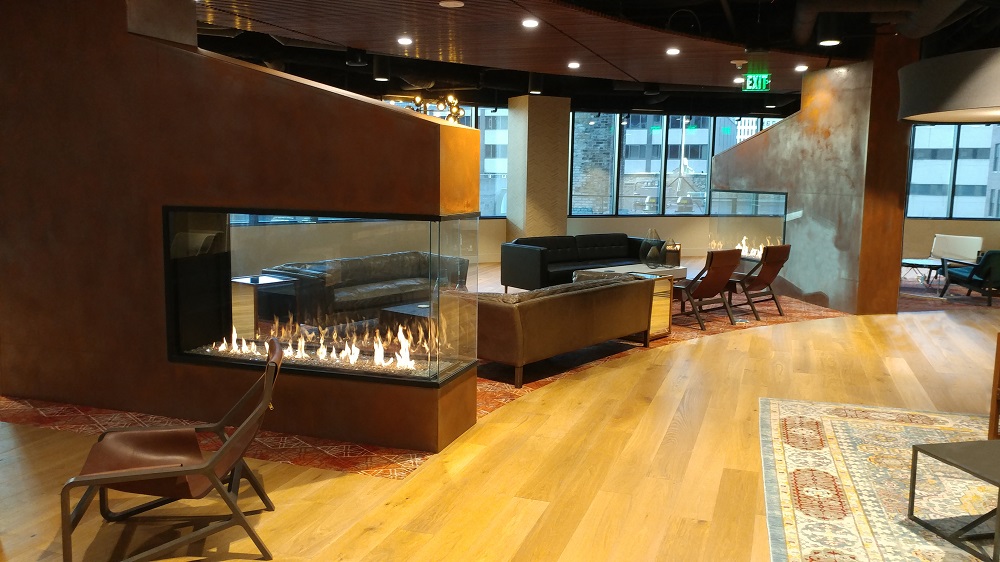 Twin Peninsula Fireplaces Light Up The Fifth Street Towers
"We are just trying to rebrand and reposition the property to appeal to a wider variety of tenants" says Reed Christianson in an interview with the Star Tribune. Even after a $2 million renovation in 2013 the building still needed a major redesign.
In 2016 Shea Design came to Acucraft looking for two commercial indoor fireplaces with glass on all four sides. After reviewing all of the logistical details and flue run required, the team decided to proceed with twin 3-sided peninsula gas fireplaces for the 3rd Floor Lounge renovation.
The Acucraft Team worked closely with Shea Design, LKPB Engineers, Inc. and MP Johnson to design and manufacture these two gorgeous gas fireplaces. The MP Johnson team chose to have an on-site with one of Acucraft's Fireplace Designers to help guide the installation process and ensure all components were calibrated and working properly.
These days you'll find people cozying up to the fireplaces while they work and have meetings. The Engage Lounge has now become of the most popular amenities at Fifth Street Towers!
>>Click Here to Learn More About This Project