Certified See Through Gas Fireplaces

Every Acucraft see through gas fireplace was designed and manufactured to the highest standard of quality ensuring you a lifetime of enjoyment.
Our certified see through fireplaces are tested to the ANSI Z21.50-2016 / CSA 2.22-2016 vented decorative gas appliances.
Contact Us Today for More Information: 888-317-6499 or [email protected] 
6′-16′ Certified See-Through Linear Gas Fireplaces – The BLAZE Series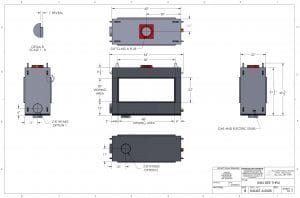 4′-8′ Certified See-Through Linear Gas Fireplaces – The SIGNATURE Series
Acucraft Linear See Through Fireplace at the Center of One of Starbuck's Most Elaborate Locations
Inspired by the 19th century historic Blaine, WA lighthouse that once stood at the entrance to Semiahmoo Bay, Starbucks' opened one of their most elaborate locations in the country in 2018.
With a 48′ tall lighthouse tower, a magnificent spiral staircase, an expansive coffee lounge, and a sunny patio this location was the perfect setting for a see through fireplace. Scott Meaker, Northwest Commercial Construction, and Mike Hill, Otis Investments LLC, had a vision of a patio where locals could enjoy a warm cup of coffee and cozy up next to a gorgeous linear fireplace on chilly mornings and brisk fall afternoons.
Acucraft worked closely with their team to ensure their vision was brought to reality, and Scott & Mike couldn't be happier with the end result! The fireplace has become a focal point of this quaint seaside town.
>>Click Here To Learn More About This Project