Circular Gas Fireplaces
Dramatic • Distinctive • 360° Unobstructed Views
360° unobstructed views and a design that is sure to please the eye, a circular gas fireplace creates a sense of adventure and will awaken a bold spirit. Our Circular gas fireplaces will never go unnoticed and will never be forgotten; our highest and brightest flames portrayed in one of the most unique fashions.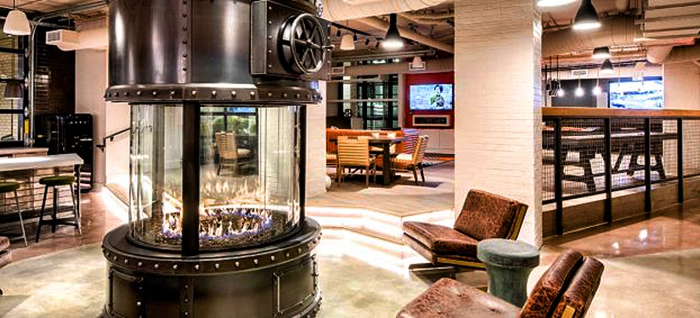 AVA NoMa is the premier apartment building by Avalon Communities. Located in hip and popular downtown Washington, D.C., this sleek and modern apartment building has every amenity you could ever need. Nestled in with the infinity edge swimming pool, 4,800 square foot indoor/outdoor fitness center, and the WAG Pet Spa and Park, is an extraordinary fire feature.
This Circular gas fireplace was built specifically for AVA NoMa residents to gather around and get to know their neighbors during the many social events for residents and friends. The unique finishing on this fireplace is trendy, industrial, and attention-grabbing. Located in the "chill lounge" near a kitchenette and surrounded by lazy chairs, this circular gas fireplace promotes conversation and will keep people talking!
Glass Options
No Glass (Open)
No Glass (Firescreen)
Single Pane
Dual Pane Glass Cooling System
Finishing Options
Standard Matte Black
Mirror Polished Stainless Steel
Brushed Stainless Steel
Corten
Mesh
Media Options
Crushed Glass Media
River Rock
Lava Rock
Semi-Polished & Polished Stones
Logsets & Driftwood Pieces
Circular Gas Fireplace Gallery
Click on image to zoom in