THE CIRCULAR4: Circular Gas Fireplace
At Acucraft we know you want a wood burning fireplace that stands out. In order to do that you need a one-of-a-kind wood fireplace.
Don't settle for a boring, mass-produced gas fireplace. Enjoy 360° unobstructed views and the tallest, most full flames on the market with an Acucraft Circular4 gas fireplace.
---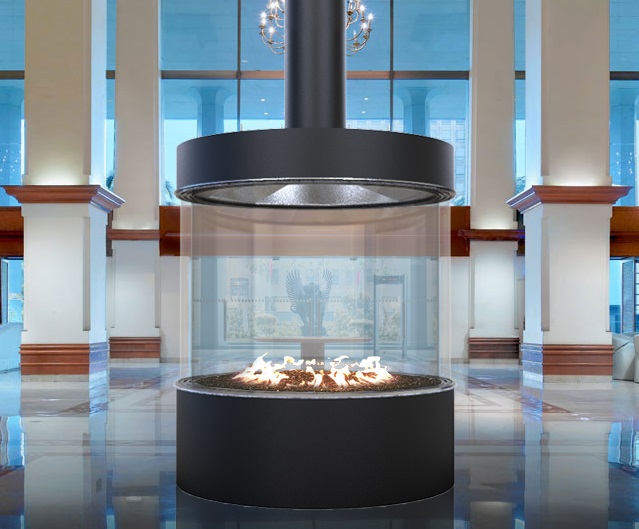 ---
Enjoy the traditional ambiance of an outdoor bonfire with Acucraft's Circular4 circular gas fireplace. Enjoy seamless views and create the ultimate gathering space for endless conversations and enjoyment!
The Circular4 comes standard with a viewing area of 48″ x 47″ that can be enjoyed from every angle.  Or maybe you're looking for something awe-inspiring? Co-create a custom wood fireplace with our Fireplace Advisors and get exactly what you're looking for!
---
Features & Benefits of Single Sided Wood Fireplaces
360° unobstructed view
Guaranteed the tallest flames on the market
Safe to touch dual pane glass cooling system
Natural gas or propane
Select from a variety of crushed glass media, stones and log sets
---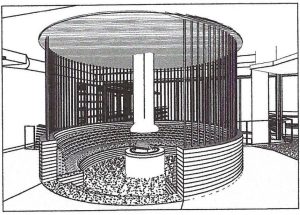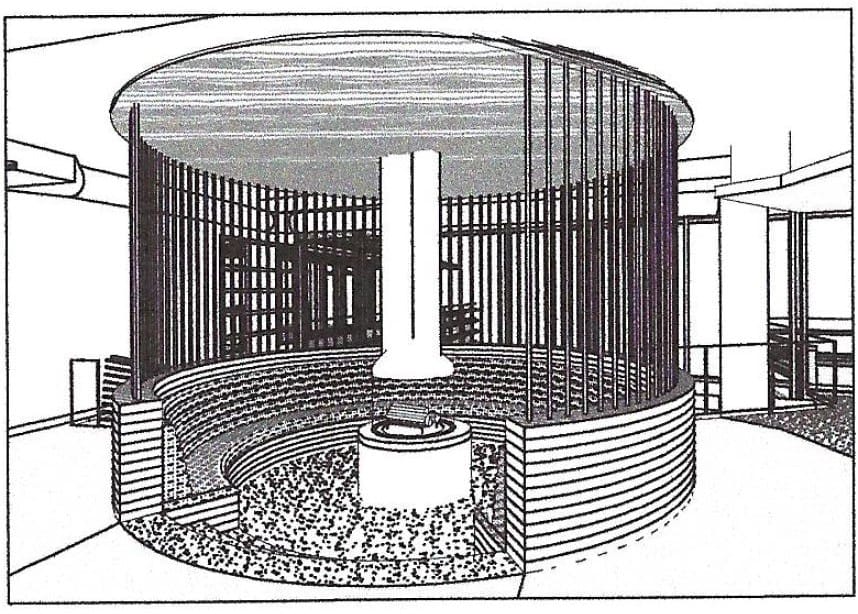 Google Pearl Place – CIRCULAR4 Gas Fireplace
Google is well known for providing it's employees with an office environment that supports innovation and creativity while reflecting the local geography. From the forest to the tundra to the snowy mountain peaks, this 4-story space was designed to mimic these different environmental zones and connect two buildings on the campus to support nearly 1,500 employees!
The campus includes an ever-changing rock climbing area with new courses every month, a retro camper set in a faux campground to host meetings, and a circular gas fireplace in a sunken lounge for employees to enjoy.
Swinerton Builders came in Acucraft in 2017 looking for a unique fire feature for the upgraded Boulder, CO campus. Our team of fireplace experts co-created what is now called the Circular4 circular gas fireplace to mimic a traditional outdoor campfire for their space.
With 360° seamless views, a safe to touch dual pane glass cooling system, and the tallest flames on the market, this circular gas fireplace was the perfect addition to their space!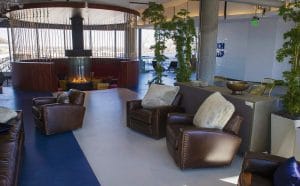 CIRCULAR4 Finishing Options
1/4″ Glass Media
1/2″ Glass Media
River Rock
Semi-Polished Stones
Polished Stones
Lava Rock
Log Sets
Black Porcelain Reflective Panels
LED Lighting with Remote
Circular Gas Fireplace Gallery
Click on image to zoom in