Linear Gas Fireplaces
Acucraft linear fireplaces incorporate beautifully into any residential or commercial interior design.
Our modern linear gas fireplace designs are available in any size and can be made in single-sided (classic), see-through (tunnel) or choose one of our patent-pending indoor outdoor styles.
---
Linear Gas Fireplace Gallery
Click on image to zoom in
Linear Fireplace Standard Size Options
Acucraft's linear gas fireplaces can be co-created with one of our expert Fireplace Advisers, or you can select from our standard luxury fireplace designs:
---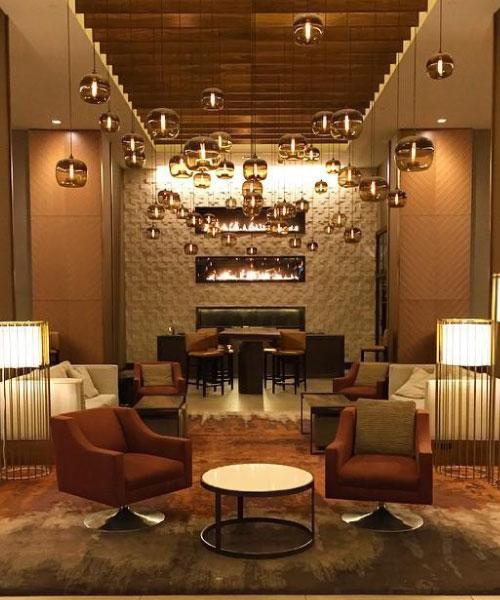 "We love our fireplaces!" – Grand Hyatt, Denver
Two gorgeous linear gas fireplaces sit stacked upon each other in the lobby bar of The Grand Hyatt in Denver, CO. With over a 100′ flue run including multiple turns, Acucraft's team worked hand-in-hand with RJM Construction to ensure the fireplaces boasted the the largest flames on the market along with black porcelain reflective panels inside each firebox to create an endless flame for hotel guests to enjoy with their nightcap. >>Learn More About This Project
---
At Acucraft we know you want a one-of-a-kind fireplace.
The problem with most fireplace manufacturers is that they all make the same product, which can leave you feeling stuck and frustrated!
Stop being limited by boring, mass-produced fireplace designs and work directly with one of the world's leading fireplace manufacturers.
Connect with your personal Fireplace Advisor today to start creating the perfect linear gas fireplace for your space.
Standard Linear Fireplaces
Glass Options
No Glass (Open)
No Glass (Firescreen)
Single-Pane
Dual Pane Glass Cooling System
10 Minute Conversion Kits Available
Finishing Options
Standard Black Matte
Mirror Polished Stainless Steel
Brushed Stainless Steel
Corten
Mesh
Media Options
Crushed Glass Media
River Rock
Lava Rock
Semi-Polished & Polished Stones
Logsets & Driftwood Pieces