Linear Front with Right or Left View Gas Fireplaces
At Acucraft we know you want a fireplace that stands out. In order to do that you need one-of-a-kind linear front with right or left view gas fireplaces.
The problem is all other fireplace manufacturers make the same product, which can make you feel stuck and frustrated!
Stop being frustrated with limited, boring, mass-produced products and instead work with the world's leading direct sell manufacturer and have a one-of-a-kind fireplace you will love forever.
---
Captivate your audience with a multi-view gas fireplace designed with one long viewing side of the fire and a shorter side either on the right or left. Enlarge your space with a front glass fireplace with an additional viewing opportunity on the right or left side.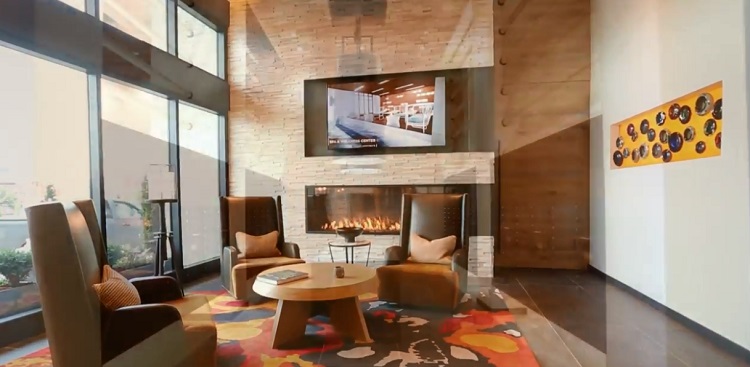 Stunning Lobby Fireplace in Luxurious High-Rise
Beyond Luxury. Beyond Expectation. Two Light Luxury Apartments are some of the most sought after apartments in Kansas City, MO. With luxury amenities including a floating sundeck, club lounge and five gorgeous gas fireplaces, you can understand the appeal!
One of those five fireplaces sits warmly in the Two Light lobby where potential residents can kick up their feet next to an Acucraft gas fireplace and enjoy a Royals came while waiting to tour the grounds.
The Acucraft Team worked hand-in-hand with JE Dunn Construction to co-create these modern five fireplaces. Today you'll find residents enjoying the fireplaces throughout the high-rise!
Glass Options
No Glass (Open)
No Glass (Firescreen)
Single-Pane
Dual Pane Glass Cooling System
Finishing Options
Standard Black Matte
Mirror Polished Stainless Steel
Brushed Stainless Steel
Corten
Mesh
Media Options
Crushed Glass Media
River Rock
Lava Rock
Semi-Polished & Polished Stones
Logsets & Driftwood Pieces
Linear Gas Fireplace with Front & Right or Left View Gallery
Click on image to zoom in