High-Tech Wood Fireplaces
The 1970's brought with it an oil crisis and economic struggle. During these tough times our founder, Roger Hansen, developed a high-tech wood fireplace that operated using two separate air flow systems. His design was revolutionary, and in 1979 Acucraft Fireplace Systems was born.
Acucraft's high-tech wood burning fireplaces are perfect for cold weather climates where you're looking for supplemental. Acucraft's high-tech wood burning fireplaces include the Z-MAX, Chalet, Chalet See-Through and the Great Room (HT). These legacy fireplaces are built to give you the ultimate wood-burning experience.
---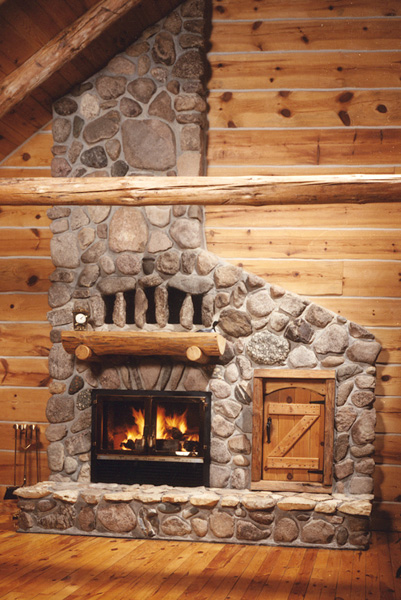 The Z-MAX  high-tech fireplace is operated with a single door; the Chalet, Chalet See-Through, and Great Room have double doors.
Air is drawn into the lower grill by a thermostatically-controlled fan. Then air is forced through the back passage and warm air is vented back into the space through the top vents. The Chalet SS and Great Room use a 14-tube heat-exchange system.
All High Tech Fireplaces (excluding Z-MAX) can be made to accommodate Masonry installation.
---
Features & Benefits of High-Tech Wood Fireplaces
100% outside air for combustion
Single or double door options
Heated air can be dispersed in-home or outside
Can be made for masonry or zero-clearance finishes
---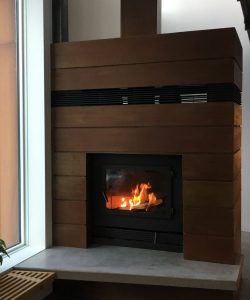 The Z-MAX High-Tech Wood Burning Fireplace
The Z-MAX  is a zero-clearance fireplace, which means it can be framed with 2 x 4 construction and it does not require footings.
Outside air enters the firebox into four different areas to provide an amazingly clean, efficient and long-lasting burn. Once the air becomes heated by the firebox, it rises up the back of the metal chamber and exits out the louvres. A 210 CFM thermostatically controlled variable speed blower is factory mounted under the firebox and can be used to provide additional control over the desired amount of heat. The Z-MAX comes standard with an arched front, single door, and a viewing area of 27"W x 19"H.
---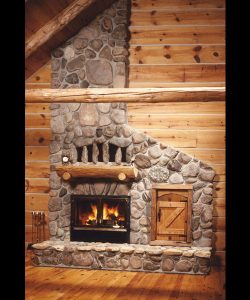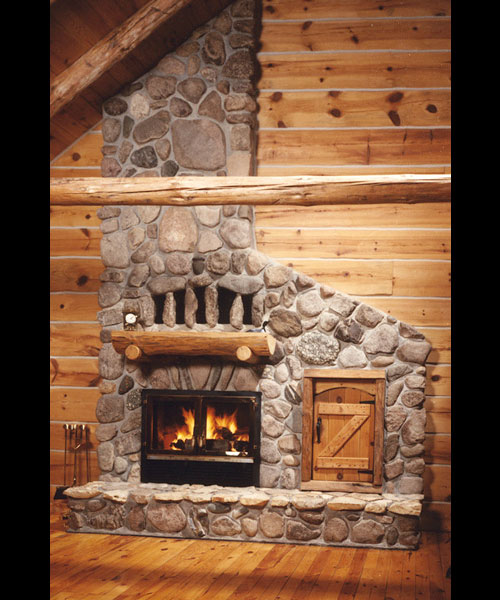 The Chalet High-Tech Wood Burning Fireplace
The Chalet wood fireplace was one of the first fireplaces ever created at Acucraft. The Chalet was designed during the oil crisis of the 1970's when people were looking for other ways to heat their homes; the Chalet high-tech fireplace was where Acucraft began.
Available in single-sided or see-through with single or double doors, the Chalet is the perfect wood burning fireplace for someone looking to heat their home with a traditional wood burning fireplace.
---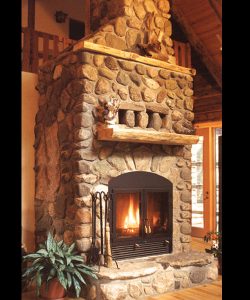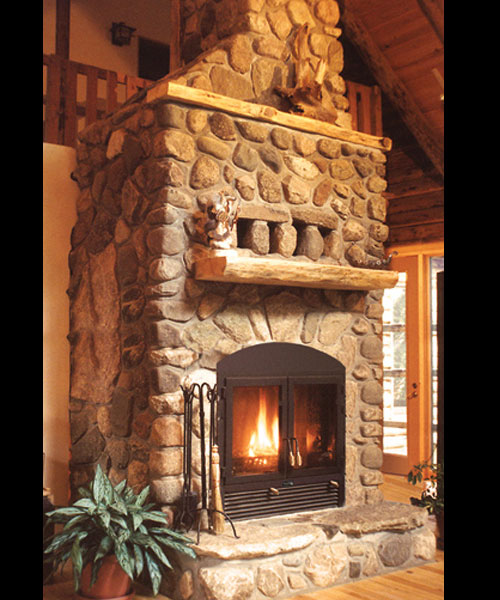 The Great Room High-Tech Wood Burning Fireplace
The Great Room high-tech fireplace is perfect for cold climates and whole home heating. Enjoy not only the traditional ambiance of a crackling wood burning fireplace, but heat your home without costly gas expenses. The Great Room is a perfect fireplace for any home or cabin, even during power outages, you can feel safe as you heat your home and loved ones with your wood burning fireplace.
---
>>Click Here to Learn Even More About Our High-Tech Wood Fireplace Lineup!
Finishing Options
Arched or Rectangular Fronts & Doors
Single or Double Doors
Multiple Handle Options
Standard Black Matte Finish
Patina Finish
Hammered Finish
Forged Finish
Rustic Finish
Medieval Finish
Multiple Grid Styles
Fire Screen
304 Kitchen-Grade Stainless Steel Cooking Grill
Cooking Arm
High-Tech Wood Burning Fireplace Gallery
Click on image to zoom in