Masonry Wood Fireplaces
At Acucraft we know you want a wood burning fireplace that stands out. In order to do that you need a one-of-a-kind wood fireplace.
Acucraft's history began with masonry wood burning fireplaces back in the 1970's during the oil crisis when people were looking for alternative fuel sources to heat their homes. The masonry series fireplaces are designed to be built with a stone masonry surround. Room air enters through the lower grill and into the firebox with the help of a blower. Heated air exits back into the room through the upper grill. Even after a fire has been extinguished, the warm stones of a Masonry fireplace will continue to emit heat.
---
---
Whether you're curled up next to the fire enjoying your favorite book or having endless conversations with friends & family, an Acucraft masonry wood burning fireplace will warm your heart and home.
Choose from one of our standard single sided wood fireplaces, or maybe you're looking for something awe-inspiring? Co-create a custom wood fireplace with our Fireplace Advisors and get exactly what you're looking for!
---
Features & Benefits of Single Sided Wood Fireplaces
100% outside air for combustion
Single or double door options
Heated air can be dispersed in-home or outside
---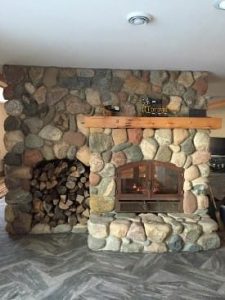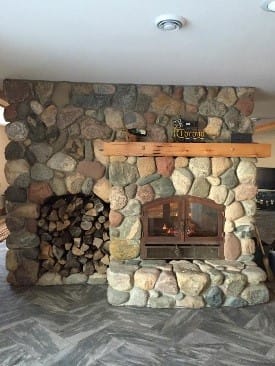 The Chalet Masonry Wood Burning Fireplace
The chalet wood burning fireplace was one of the first fireplaces in Acucraft's history. Available in single-sided or see-through this masonry fireplace is perfect for any home or cabin hideaway where you can enjoy supplemental heat and the traditional ambiance of a crackling wood fire.
---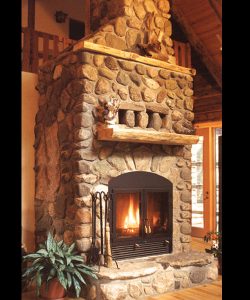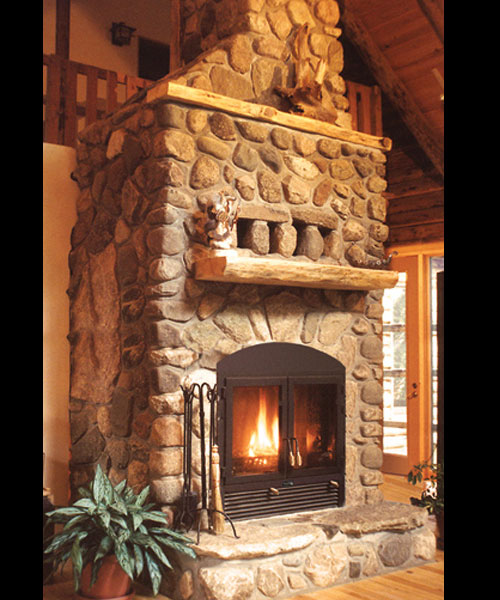 The Great Room Masonry Wood Burning Fireplace
With up to 12 hours of burn time, 150,000 BTUs and the heating capacity to heat up to 3,000 square feet, the Great Room masonry fireplace fits warmly within any space. Enjoy the traditional hiss and crackle of a wood burning fireplace while simultaneously heating your home.
---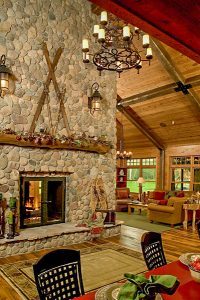 The Lodge Masonry Wood Burning Fireplace
The Lodge fireplace has an expansive 45″W x 35″ viewing area and is one of the largest masonry fireplace on the market. Available in single-sided or see-through, the Lodge can be enjoyed from one room or two. Heating up to 3,000 square feet, 150,000 BTUs and up to 12 hours or burn time the Lodge fits seamlessly in living rooms and great rooms of any modern home or rustic cabin hideaway.
Finishing Options
Arched or Rectangular Fronts & Doors
Single or Double Doors
Multiple Handle Options
Standard Black Matte Finish
Patina Finish
Hammered Finish
Forged Finish
Rustic Finish
Medieval Finish
Multiple Grid Styles
Fire Screen
304 Kitchen-Grade Stainless Steel Cooking Grill
Cooking Arm
Masonry Wood Burning Fireplace Gallery
Click on image to zoom in