THE PENINSULA SERIES: 3-Sided Gas Fireplaces
At Acucraft we know you want a wood burning fireplace that stands out. In order to do that you need a one-of-a-kind wood fireplace.
Don't settle for a boring, mass-produced linear gas fireplace. Seamlessly combine your space with a 3-sided glass peninsula gas fireplace and enjoy the tallest, most full flames on the market. The PENINSULA Series fireplaces are perfect for any commercial or residential space!
---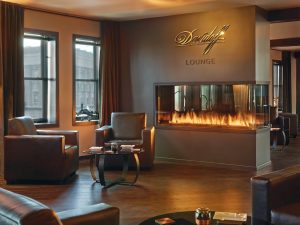 ---
Our PENINSULA Series fireplaces come in 5 sizes, perfect for any space: 3′ sealed, 5′ open with firescreen, 5′ sealed, 8′ sealed, and the grand 9′ sealed peninsula gas fireplace.
These fireplaces are a stunning way to divide a special space with an attractive focal point showcasing the tallest, safest and most beautiful flames on the market. Sure to be enjoyed by patrons in hotels, restaurants or by your friends & family in your home.
Looking for something awe-inspiring? Co-create a custom peninsula gas fireplace with our Fireplace Advisors and get exactly what you're looking for!
---
Features & Benefits of Single Sided Wood Fireplaces
Choose your viewing size: 3′, 5′, 8′ or 9′
3-sided safe to touch dual pane glass cooling system or open hearth (no glass) with firescreen
Guaranteed the tallest flames on the market
Natural gas or propane
Select from a variety of crushed glass media, stones and log sets
---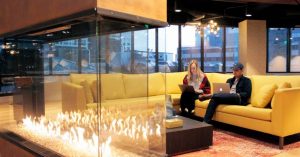 Fifth Street Towers – Dual Peninsula Gas Fireplaces
"We are trying to rebrand and reposition the property to appeal to a wider variety of tenants." says Reed Christianson, part of the leasing team for Fifth Street Towers. Built in 1984 and 1988 these towers have become a Minneapolis staple, but even after a $2 million renovation in 2013, the buildings needed a major face lift.
Some of the new amenities to the towers include: a new conference center, gym, lounge, a rooftop deck, and a wellness center with rooms for nursing mothers and nap pods. Jordan, Project Coordinator at Shea Design, came to Acucraft with a vision for two custom indoor fireplaces for the 3rd Floor Lounge.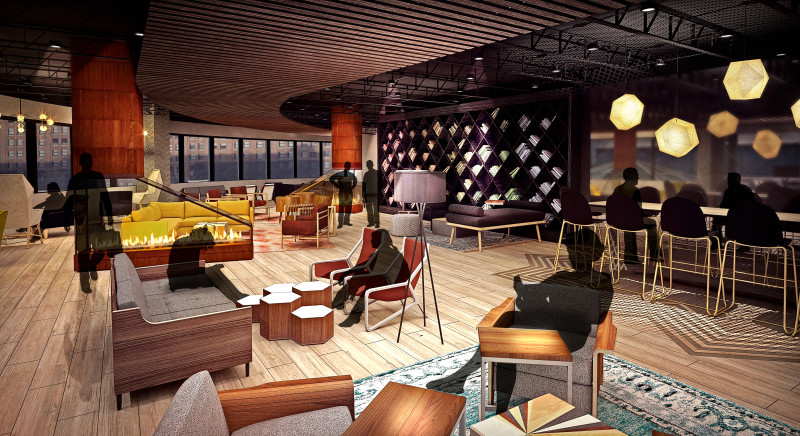 Working with Shea Design, IMEG (formerly LKPB Engineers, Inc.) and MP Johnson, our team of fireplace experts co-created two gorgeous 3 sided peninsula gas fireplaces as part of the towers' renovation. Once the two fireplaces were delivered to the job site, the MP Johnson team scheduled an on-site visit with one of Acucraft's Fireplace Technicians to review all of the fireplace components and installation process.
The tenants at Fifth Street Towers all agree that the renovation has been a complete success and everyone has been enjoying the lush amenities including these two large peninsula gas fireplaces!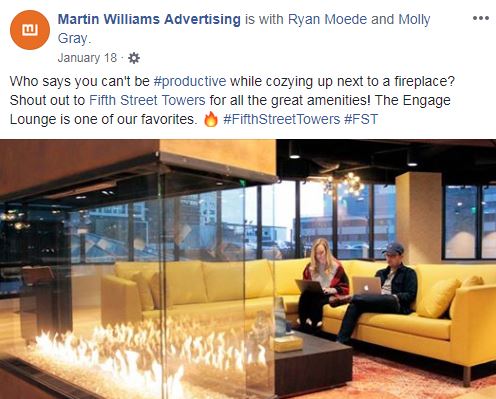 PENINSULA Gas Fireplace Models
3′ Peninsula Sealed
5′ Peninsula Open with Firescreen
5′ Peninsula Sealed
8′ Peninsula Sealed
9′ Peninsula Sealed
Finishing Options
1/4″ Glass Media
1/2″ Glass Media
River Rock
Semi-Polished Stones
Polished Stones
Lava Rock
Log Sets
Black Porcelain Reflective Panels
Mesh Interior
LED Lighting with Remote
Matte Black Frame
Brushed Stainless Steel Frame
Mirror Polished Stainless Steel Frame
Peninsula Gas Fireplace Gallery
Click on image to zoom in