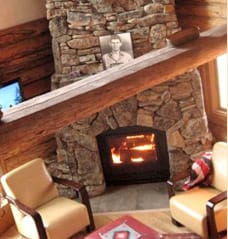 THE Z-MAX FIREPLACE
A High-Quality, Zero Clearance Wood Fireplace
Our Z-MAX Fireplace is a zero clearance wood-burning fireplace that offers a 27" x 19" viewing area! It has up to 130,000 BTUs/hour, a burn time of up to 10 hours and has the capacity to heat up to 3,000 square feet! Read our blog to learn more about Whole Home Heating with the ZMax!
The Z-MAX has one operable door. Construction of the door consists of high temperature ceramic glass, with a lifetime warranty, gasketed to a rugged 22 pound door frame. The door latching system is double-pinned (top and bottom) for a long term tight seal.
How it Works:
The air within your home is drawn in the bottom into the louvered vent by a thermostatically controlled 220 CFM fan. It is forced through the back air passage of the system, heated, and then circulated through the vent on top of the system.
» View the Z-Max Fireplace Photo Gallery
Details
Lifetime warranty
Single-Door Operated
High temperature ceramic glass
Door is gasketed to a rugged 22 pound door frame
Double-pinned door latching system
Thermostatically controlled 220 CFM fan
Max BTUs : 130,000 BTUs/Hr
Heats Up To : 3,000 Sq Ft
Burn Time : Up To 10 Hours
Specifications
Door Opening : 27″W x 19″H
Class A Flue : 8″ ID Round – 10″ OD
Combustion Air Intakes : 4″
Insulated Panel Dimensions : 46″W x 50 ½"H x 23″D
Zero Clearance Framing : 50″W x 54 ½"H x 23″D
Estimated Weight : 900 LBS
Firebox Cubic Ft : 5.5

Request Info
Additional specifications and information available. Please request more info.
Please complete our product information request form below.
We will contact you back shortly to answer any questions you
have about this product.