March 2, 2016

QUALITY + VALUE + ADJUSTABILITY
Acucraft now offers a 6′ long linear standard gas fireplace with remote adjustable flame: The BLAZE6.
The BLAZE6 gas fireplace still includes the Quality you've grown to appreciate, the Value you love, and the Adjustability you want! By selling directly to our customers we are able to maintain the integrity of our product and price this unit at thousands less than our competitors!

The BLAZE6 standard gas linear fireplace comes with these standard features:
Firebox with insulated panels & black interior
Standard black frame
5-setting remote control for adjustable flame
Black crushed glass media
Single pane glass

Starting at $9,900.00
Specifications & Requirements:
Viewing Area: 72″ wide x 24″ tall
45,000 – 90,000 BTUs (dependent upon flame height selected)
Weight = 1,341 pounds
8″ Flue
8″ Heat Relief
8″ Combustion Air Inlet
8″ Room Air Intake
Power Vent
Proven Draft System
Automated Draft Control
The BLAZE6 linear gas fireplace has additional Interior, Glass, & Finishing options to suit your needs!
Interior Options Include:
Crushed glass media in various color options
Logset
River rocks
Mesh backer
Reflective black porcelain panels on back & sides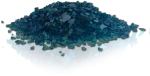 Glass Options Include:

Acucraft's Patented Air Shield Technology
Add heat to your space while keeping the glass temperature under fireplace standards.

Acucraft's Patent Pending Glass Cooling System
Forces air from outside into the air channel between glass panes.
Frame Finishing Options Include:
Patina
Hammering
Strapping
Clavos
304 Stainless Steel