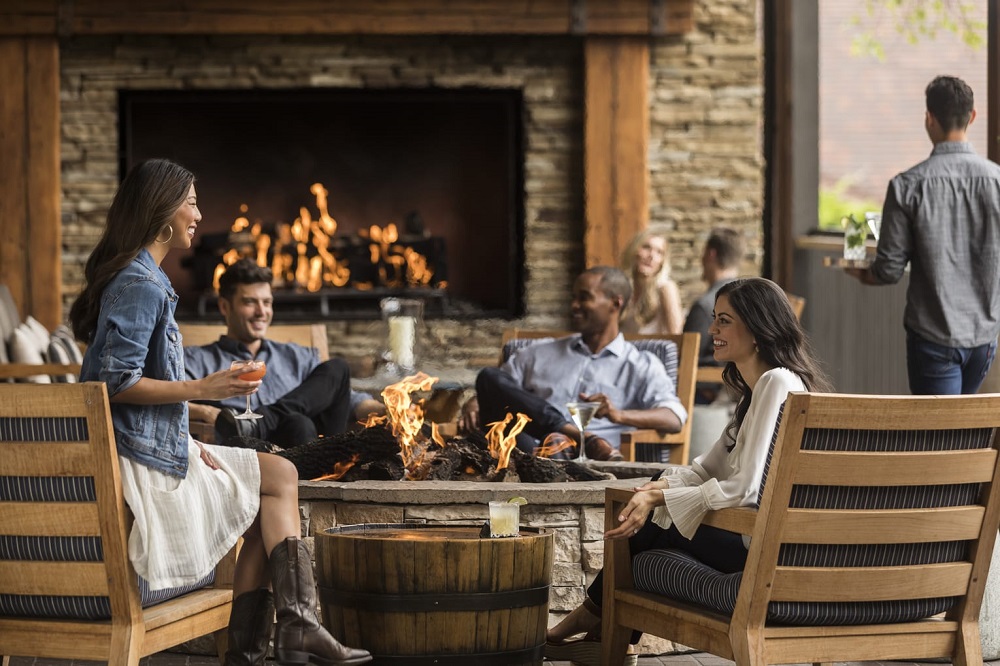 Four Seasons Resort Custom Open Gas Fireplace
Custom Outdoor Fireplace at Four Seasons Resort in Dallas, TX – The Outlaw Taproom
If you've ever visited a Four Seasons Resort you know they are filled with only the finest products and have some of the most luxurious resorts in the world. Acucraft was fortunate to be chosen as the manufacturer for a custom outdoor fireplace for their new Outlaw Taproom at the Dallas, TX resort. As a luxury fireplace manufacturer, Acucraft has worked with many hospitality companies including: The Ritz, Marriott Hotels, Hilton Hotels and more.
Todd Hart, Commercial Contractor at Newland Interiors LLC, came to Acucraft looking for an outdoor gas fireplace for a new project, the Outlaw Taproom at the Four Seasons Resort in Dallas, TX. Todd was on a tight timeline for this project and wanted a unique outdoor fireplace that had an large open viewing area and a huge flame for this new modern and rugged saloon where guests of the resort could enjoy innovative craft cocktails, local Texas beer and the sounds of Janis Joplin and Stevie Ray Vaughn next to a rustic fireplace on their covered patio.
Todd was looking for an open gas fireplace that could tie together the rustic ambiance of an 1800's reclaimed cypress fireplace mantle with the modern black-marble bar of the saloon. Fireplace Advisor, Ben, worked hand-in-hand with Todd to come up with the perfect fire solution for this space. Fireplace Designer, Robin, worked one-on-one with Todd to bring his open gas fireplace with huge flames and a mammoth logset to life.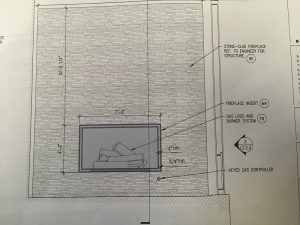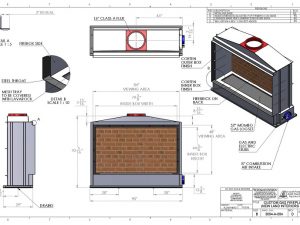 OPEN GAS FIREPLACE
One of the most unique attributes of this fireplace is it's 84″W x 48″H open and unrestricted viewing area. Not many manufacturers are able to design and produce open gas fireplaces, which is one of the many fireplace designs Acucraft has mastered. All of our open fireplaces are fully equipped with an automatic draft control system and power venting for safety.
CORTEN STEEL
The Four Seasons also wanted this fireplace to have all visible steel be Corten to match the rustic atmosphere of the taproom. Corten steel has grown in popularity and provides a weathered rust-like appearance to the steel which in turn becomes a protective coating. In addition to the Corten finish, the interior of the firebox was lined with heavy expanded metal mesh for custom brick to be installed by the customer.
CUSTOM DRAWINGS and MANUAL
Once Todd approved his final fireplace drawings our Engineering Services team prepared a full submittal, including custom installation manual, for him to review and approve. From there his fireplace went into production, was tested in our internal test lab, and was shipped to the Four Seasons in Dallas, TX.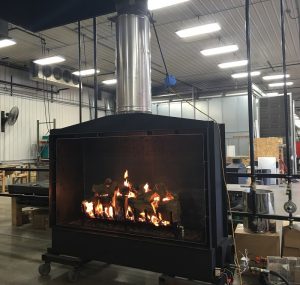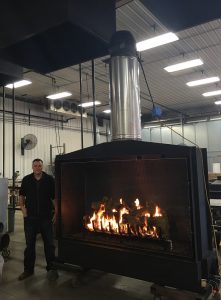 It was a pleasure working with Todd and the Newland Interiors team; we look forward to future projects and hope everyone at The Outlaw Taproom and Four Seasons Resort – Dallas are able to enjoy their fireplace!
"My experience with Acucraft has been great. I think you guys are very organized and seem always on-hand for any assistance. The overall design of the fireplace looks great and fits well with the owner's own vision. I appreciate the call and hope that we have another chance to work together on a future project. I'll be sure to let you know if we need more help getting another fireplace designed and produced." -Todd Hart, Newland Interiors LLC

>>Click Here to start your own fireplace project today!
(888)317-6499   |   [email protected]   |   acucraft.com
Gas Fireplaces   |   Wood Fireplaces   |   Outdoor Fire   |   Custom Fireplaces
Photos courtesy of Four Seasons Resort and Club Dallas at Las Colinas, Koi Images and Events.