Double Sided Gas Fireplaces
Our double sided gas fireplace indoor/outdoor let you decide the ambiance you want to create with the option of entertaining family and guests outdoors or inside. Transition from the cozy comfort of an indoor fireplace experience to a natural, rustic setting at a moment's notice.
Acucraft's two separate airflow systems ensure a tall, lazy flame with less turbulence. The Combustion Air System supplies the fireplace with air from outside and will not use air from the home for combustion; which also helps improve the level of efficiency in our indoor outdoor gas fireplaces. The Heat Relief System pulls warmed air from around the firebox out into your space or can be vented outside.
Whether you're looking for an ultra-modern, sleek frameless see-through fireplace, or a more traditional open hearth gas fireplace with logs, our team will help find the perfect double sided fireplace for your space! Need some inspiration? Don't miss out on our Fireplace Trends 2021: Eight Inspiring Fireplace Designs article!
Choose from one of our unique models or create a truly one-of-a-kind double sided fireplace.
The SIGNATURE Series: ideal for residential projects where two viewing areas can be enjoyed
CUSTOM Options: if you're looking for something custom-designed, our team of fireplace experts will help design the perfect fireplace for your space
Dual-Pane Glass Cooling System: if safety is key, then our safe-to-touch glass is key
Open (No Glass): for a more traditional open hearth view, an open fireplace with safety screen is the perfect option
Scroll down to read how Acucraft helped a nationwide fast-food chain create its most memorable location.
---
Fast-food chain hires Acucraft to help create a picturesque seaside location
After being featured in Forbes, Business Insider, Trip Advisor, Buzzfeed and other media coverage, executives at Golden Gate Bell LLC decided that the Taco Bell in Pacifica, California needed an upgrade befitting its unique location and oceanside vantage point. Golden Gate Bell LLC chose CM Architecture and First Street Development for the renovation project, and when Vice President & Architect, Brent Smith, went looking for a custom fireplace, Acucraft answered the call.
One of the client's biggest priorities was to avoid interrupting the large ocean views while providing the necessary space to enjoy conversations and camaraderie.
Spatial constraints, limited guest seating, and an insistence on maintaining ocean views meant Acucraft's indoor outdoor see through gas fireplace was the perfect complement to the project. The indoor outdoor gas fireplace would act as an additional window through which customers could experience the peace and tranquility of their surroundings.
Acucraft's Project Manager worked closely with the client to ensure their timeline was met and their indoor outdoor gas fireplace was delivered and installed on time and on-budget.
---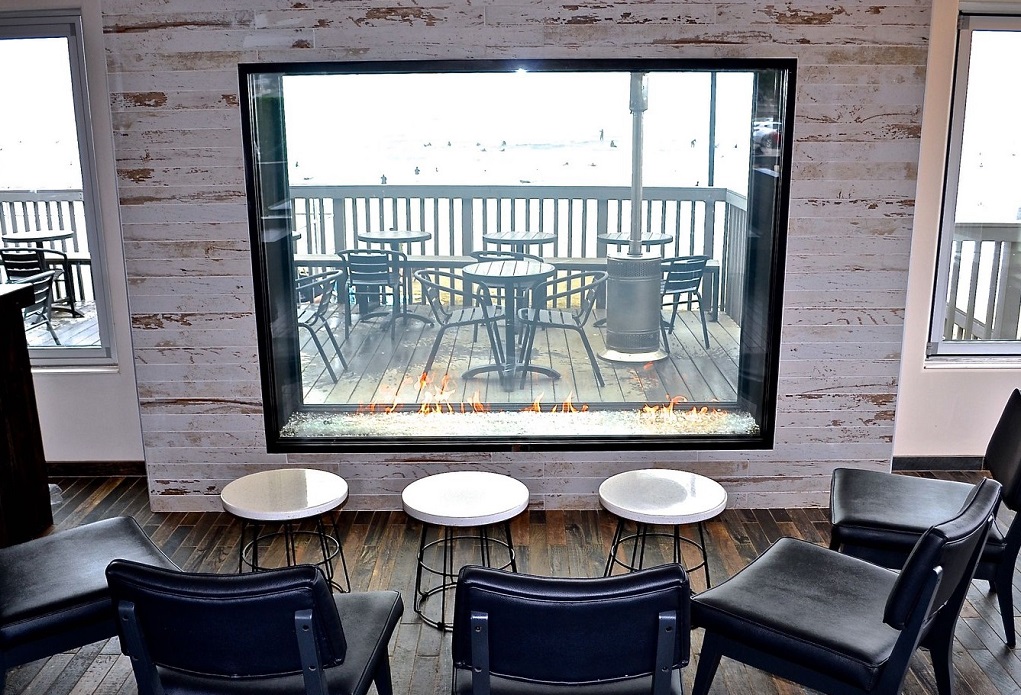 If a double sided gas fireplace indoor/outdoor is on your list then you've come to the right place! Speak with our fireplace experts today: 888-317-6499!
Double Sided Gas Fireplace Indoor / Outdoor Models
Glass Options
No Glass (Open)
No Glass (Firescreen)
Single-Pane
Dual Pane Glass Cooling System
Finishing Options
Standard Black Matte
Mirror Polished Stainless Steel
Brushed Stainless Steel
Corten
Mesh
Media Options
LED Lighting
Crushed Glass Media
River Rock
Lava Rock
Semi-Polished & Polished Stones
Logsets & Driftwood Pieces
Indoor Outdoor Gas Fireplace Gallery
Click on image to zoom in