Linear Gas Fireplaces for Any Space
Acucraft's modern linear fireplaces are available in any size and can be constructed to any specifications in single-sided (classic), see-through (tunnel) or indoor-outdoor styles.
Our BLAZE series of linear gas fireplaces will provide flexibility to your restaurant or hotel guests, while our SIGNATURE series promises to transform your living room or home office into your own personal retreat. Our indoor-outdoor linear gas fireplaces can be enjoyed sealed (featuring dual-pane glass cooling) or open (featuring a fire screen and no glass).
Converting from one option to the other is seamless and takes just 10 minutes using one of our specialized kits. Or if you're looking for a truly unique linear fireplace, work one-on-one with our Fireplace Experts to custom design the fireplace of your dream!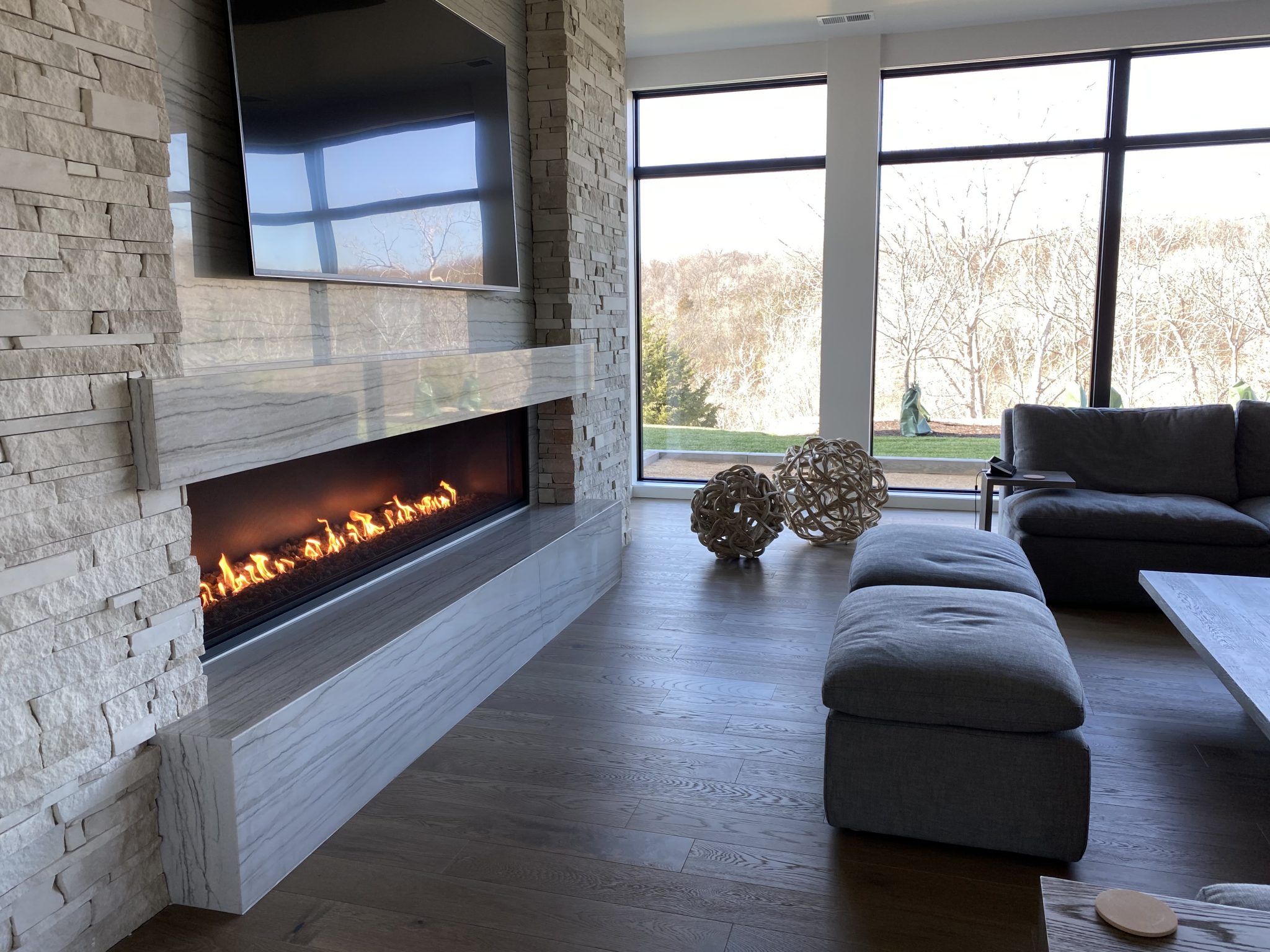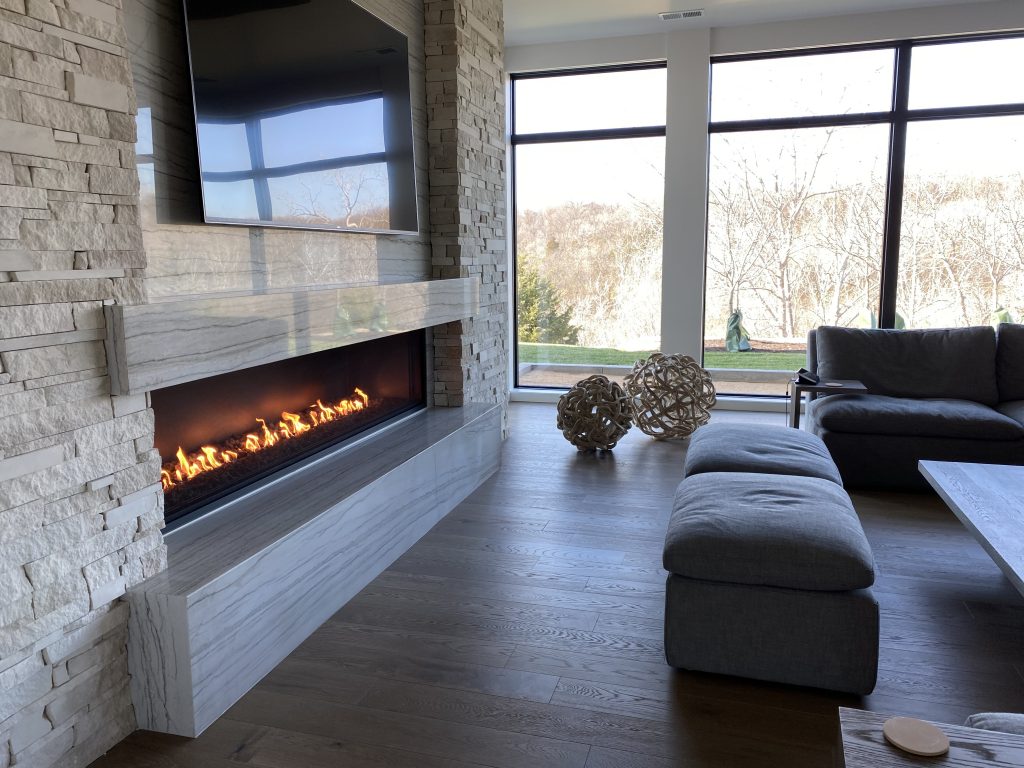 Linear Gas Fireplace Features & Options
Investing in a linear gas fireplace that doesn't meet your exact specifications or create the perfect look and feel is pointless. Our linear fireplaces come with a variety of features and options that will ensure it perfectly accents your home or property.
Glass Options
Whether you contain your gas fireplace behind cooled glass or opt to forego the glass altogether, how you surround your flame makes a statement about the room and the ambiance you want to create.
Open Viewing Area (no glass)
Open Viewing Area with Firescreen (no glass)
Single-pane with Firescreen
Dual-Pane Glass Cooling System
Finishing Options
You can opt for the timeless elegance of stainless steel, the traditional stability of black matte, or finish your fireplace with something more daring. Your finish is the first impression your linear gas fireplace makes, so make it stand out.
Standard Black Matte
Mirror Polished Stainless Steel
Brushed Stainless Steel
Corten
Frame Finishing

Japanese Brown (our most popular option!)
Patina
Aged Bronze
Copper
Media Options
Wood and river rock create an organic, rustic feel, while crushed glass and polished stones suggest a subtle sophistication. Make sure the media you choose for your fireplace matches your room and intent.
Crushed Glass Media
River Rock
Lava Rock
Semi-Polished & Polished Stones
Log Sets & Driftwood Pieces
LED Lighting with Remote
Scroll down to read how Acucraft helped a secondary education institution rebound after tragedy struck its upper campus building.
Acucraft linear fireplace featured in secondary education institution rebuild after tragedy strikes
After a gas main explosion destroyed part of the Minnehaha Academy campus in 2017, school officials sought a way to help rebuild the school and reconstruct the fabric of the student community.
School officials sought a more natural focus for the campus that would allow staff and students to enjoy the picturesque views, host science classes outdoors, and reduce energy costs … even on gloomy days.
Acucraft engineers worked with Cunningham Group Architecture and Metropolitan Mechanical Contractors to build a new upper campus building featuring floor-to-ceiling windows with views overlooking the Mississippi River, an expansive common space with a beautiful BLAZE linear fireplace, and a small prayer chapel at the base of a 46-foot-tall steeple.
The Best Linear Fireplaces
Acucraft's linear fireplaces use the highest quality components and manufacturing standards and offer the tallest, fullest flames on the market.
If you're frustrated with the uninspired, mass-produced fireplaces you keep seeing on the market, Acucraft can help. We're the world's leading direct-selling fireplace manufacturer and our top priority is matching you with a quality fireplace that is unique to your specifications.
Connect with one of our fireplace advisors today. They can help you design a fireplace that makes a unique statement and adds value to your residential or commercial property.
Popular Linear Fireplaces
The SIGNATURE Series: Ranging from 4′-8′ in length with a 20″ high open (no glass) or sealed (with glass cooling) viewing area
The BLAZE Series: Ranging from 6′-16′ in length with up to a 30″ high viewing area sealed with our dual-pane glass cooling system
Linear Fireplace Options
No Glass (Open)
No Glass (Firescreen)
Single-Pane
Dual Pane Glass Cooling System
10 Minute Conversion Kits Available
Standard Black Matte Finish
Mirror Polished Stainless Steel Finish
Brushed Stainless Steel Finish
Corten Finish
Mesh Backer to Finish with Your Materials
Crushed Glass Media
River Rock
Lava Rock
Semi-Polished & Polished Stones
Logsets & Driftwood Pieces