Peninsula Fireplace
An Acucraft peninsula fireplace creates an eye-catching focal point that can divide a residential or commercial space, or tie rooms together with a subtle flair of modern elegance.
This three sided gas fireplace is a popular style among interior designers and architects for its seamless views and practical use of space. Acucraft's peninsula model is a modern 3-sided gas fireplace with countless options for customization.
Our fireplaces are designed with strength, beauty and safety in mind. In premium hotels, luxe apartment buildings, and Michelin Star restaurants, these modern three-sided fireplaces will mesmerize visitors as they pass between spaces. For homeowners, these fireplaces inspire class and comfort in your personal retreat; and are designed to deliver the tallest, fullest flames on the market, with special features like our patent-pending glass cooling system for safety.
3 Sided Glass Fireplace Features & Options
Investing in a luxury fireplace that doesn't meet your exact specifications or create the perfect look and feel is pointless. Our modern peninsula fireplaces come with a variety of features and options that will ensure it perfectly accents your home or property. Not only do we offer beautiful & functional options for our peninsula gas fireplace, they can also be designed for direct vent applications or complex venting systems.
Glass Options
Whether you contain your gas fireplace behind cooled glass or opt to forego the glass altogether, how you surround your flame makes a statement about the room and the ambiance you want to create.
Open Viewing Area (no glass)
Open Viewing Area with Firescreen (no glass)
Single-pane with Firescreen
Dual pane glass cooling
Media Options
Wood and river rock create an organic, rustic feel, while crushed glass and polished stones suggest a subtle sophistication. Make sure the media you choose matches your room and intent.
Crushed Glass Media
River Rock
Lava Rock
Semi-Polished & Polished Stones
Log Sets & Driftwood Pieces
Venting Options
Choose a dual intake and exhaust system for commercial installations, or single intake and exhaust for residential. No matter the space we'll find the perfect venting solution for your 3 sided direct vent gas fireplace.
Direct Vent
Single intake / Single exhaust
Dual intake / Dual exhaust
Safety Testing & Certification
Every Acucraft gas fireplace is safety tested prior to being shipped to the customer and is backed by our Lifetime Warranty. We also offer 3rd party certification to ANSI standards within our internal test lab through our partnership with LabTest Certification, Inc. Acucraft is the only fireplace manufacturer in the world to have an internal test lab with the ability to 3rd party certify products. So whether you're shopping for a peninsula gas fireplace in Canada or the United States, Acucraft can provide certification with label for your project, putting your mind at ease!
Interested in a peninsula fireplace wood burning? Learn more about our custom built wood fireplaces here.
Keep scrolling to learn more about a decorative, modern peninsula fireplace designed and manufactured by Acucraft for Blue Mountain Ski Resort in the Appalachian Mountains.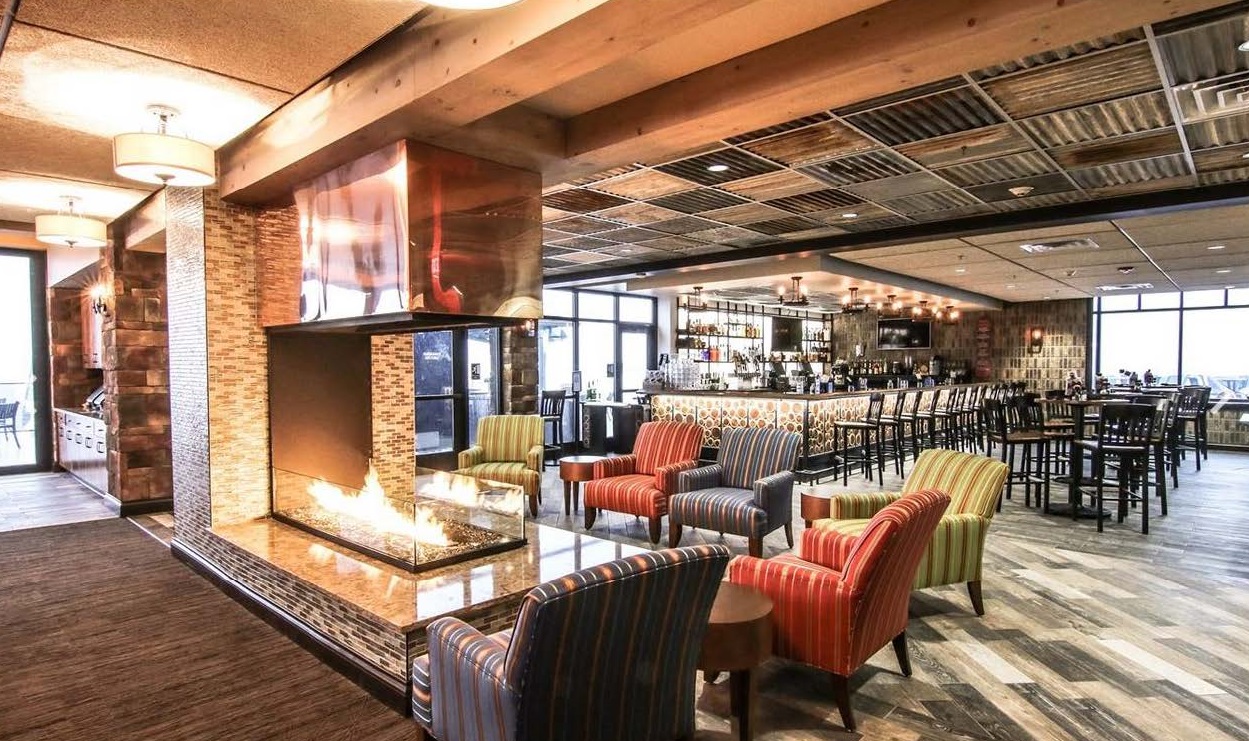 Blue Mountain Ski Resort: Modern Peninsula Fireplace
Located along the Appalachian Mountains in Little Gap Valley, Blue Mountain Ski Resort is home to the highest vertical, most varied terrain, and some of the longest ski runs in Pennsylvania. With such an impressive landscape, the ski resort needed to have accommodations and amenities to match, which is why they partnered with Serfass Construction Company and Acucraft Fireplaces.
Our team of fireplace experts designed and manufactured two custom gas fireplaces for the new hangout: a custom indoor outdoor see through gas fireplace and a custom open peninsula gas fireplace with a glass barrier.
Read more about the luxury custom gas fireplaces created and manufactured by Acucraft for Blue Mountain Ski Resort.
A custom peninsula fireplace from Acucraft is designed to be one-of-a-kind, with the tallest, fullest flames to enhance the ambiance of any residential or commercial space.
Acucraft is the world's leading direct-selling fireplace manufacturer with premium choices for both commercial and residential products. Our top priority is matching you with the quality fireplace that meets your specifications – and surpasses your expectations.
Connect with one of our fireplace advisors today. They can work with you to inspire a new level of comfort and class in your home or commercial space.
Peninsula Gas Fireplace FAQs
What is a peninsula fireplace?
A peninsula fireplace is a modern gas fireplace model with 3 sides providing multiple viewing areas. Peninsula gas fireplaces can have different glass options, from open flames to fire screens to dual pane glass. These fireplaces are the perfect way to tie rooms together with a subtle flair of modern elegance.
What are the benefits of purchasing a peninsula fireplace from Acucraft?
Acucraft's peninsula gas fireplaces are designed with strength, beauty, and safety in mind. Our gas fireplaces have the fullest flames on the market, with safety features like our patent-pending glass cooling system and an ANSI safety certification. Plus, all of our gas fireplaces have countless selections for customization, including glass options, venting options, and media and finishing options.
Where does a peninsula fireplace look best?
Peninsula fireplaces look great for both commercial and residential use. Whether you want a statement piece to create comfort and beauty in your home or want to mesmerize your guests as they walk through your lobby, these fireplaces are customizable to fit the look and feel of your space. For more guidance, reach out to our team for a consultation.
Powered by HTML5 Responsive FAQ
Peninsula Fireplace Design Ideas
No Glass (Open)
No Glass (Firescreen)
Single-Pane
Dual Pane Glass Cooling System
Single intake / termination
Dual intake / termination
Standard Black Matte Finish
Mirror Polished Stainless Steel Finish
Brushed Stainless Steel Finish
Corten Finish
Mesh Backer to Finish with Your Own Materials
Crushed Glass Media
River Rock
Lava Rock
Semi-Polished & Polished Stones
Logsets & Driftwood Pieces
Available in the United States and Canada
Fill out the form below to request more information!
Peninsula Gas Fireplace Customer Photos