December 23, 2022
2023 Fireplace Trends: Top Ten Fireplace Ideas to Inspire Your Next Design
Fireplaces can range from rustic traditional hearths to sleek contemporary designs, and the trends are always changing. Browse the top fireplace trends of 2023 and find some inspiration to create your ideal cozy nook.
No matter the time of year, a fireplace is the perfect cozy companion to any home, lodge, or commercial space. Before you get ready to gather around the fire in your new space, check out these popular fireplace designs. You'll see beauty and functionality combine to create the ideal centerpiece for your next social gathering.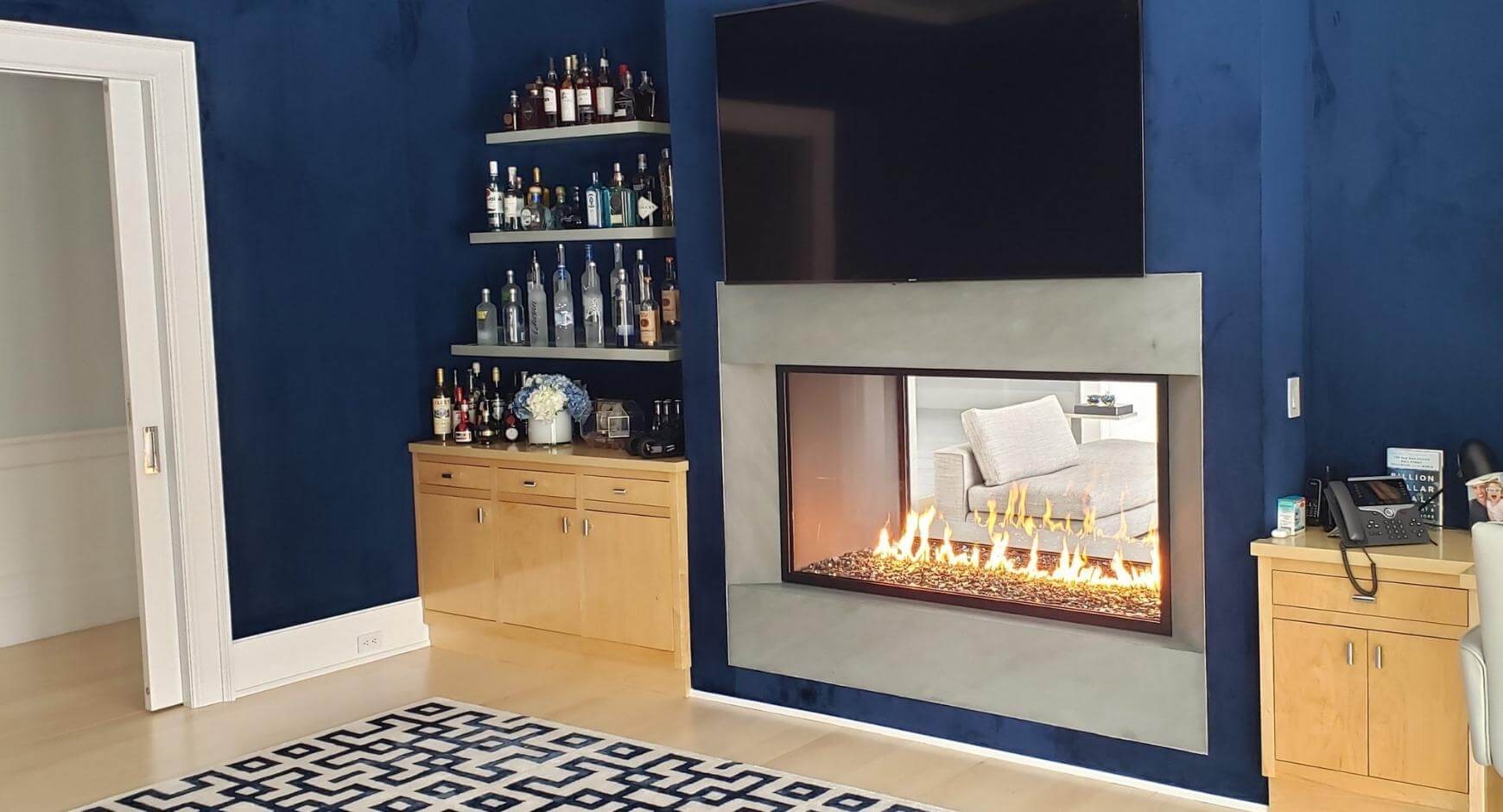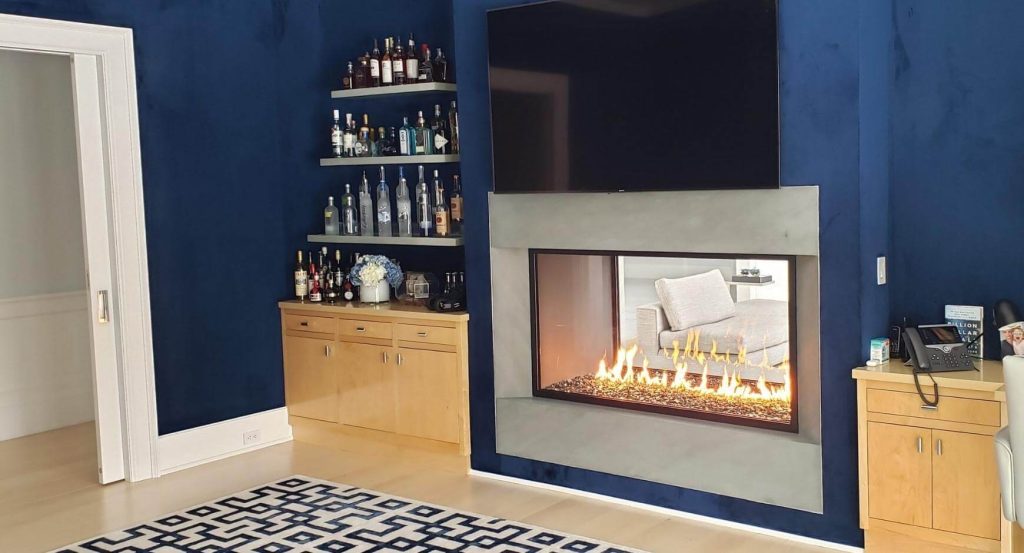 Browse Acucraft's fireplace selection today to get started designing your cozy centerpiece. 
2023 Fireplace Trends With Examples
Current fireplace trends are moving towards grandeur and simplistic designs with large viewing areas and tall, striking flames. A few of the fireplace trends of 2022 will carry into the new year, including frameless and convertible fireplaces that are the hallmarks of great modern design.
Whether you're in the market for a sleek marbled fireplace or a rustic floor-to-ceiling stone centerpiece, Acucraft has the expertise to build the custom luxury fireplace of your dreams. Check out our collection of the best fireplace designs that are sure to be a hit in the coming year.
Frameless Fireplaces
Traditional Gas Fireplace Look
Big Flames With A Gas Fireplace
More Warmth From The Fireplace
Four-Sided Glass Fireplaces
Open Fireplaces
Wood Fireplaces With Big Viewing Areas
Fireplaces For More Than One Room
Fireplaces With Log Sets
Versatility (Convertible)
Frameless Fireplaces
Indoor linear was one of the most popular fireplace designs of 2022, and it continues to be among the hottest trends of the new year. Once you've seen one of these frameless linear wood or gas fireplaces light up a room, it's easy to understand why their clean, sharp edges are so trendy.
This fireplace style is often surrounded by marble, tile, or stone decoration. It can also be designed as a classic single-sided piece or a see-through tunnel. One of the key advantages of indoor linear fireplaces is that they can be integrated with home entertainment systems. That makes them incredibly easy to use.
Example of Frameless Fireplaces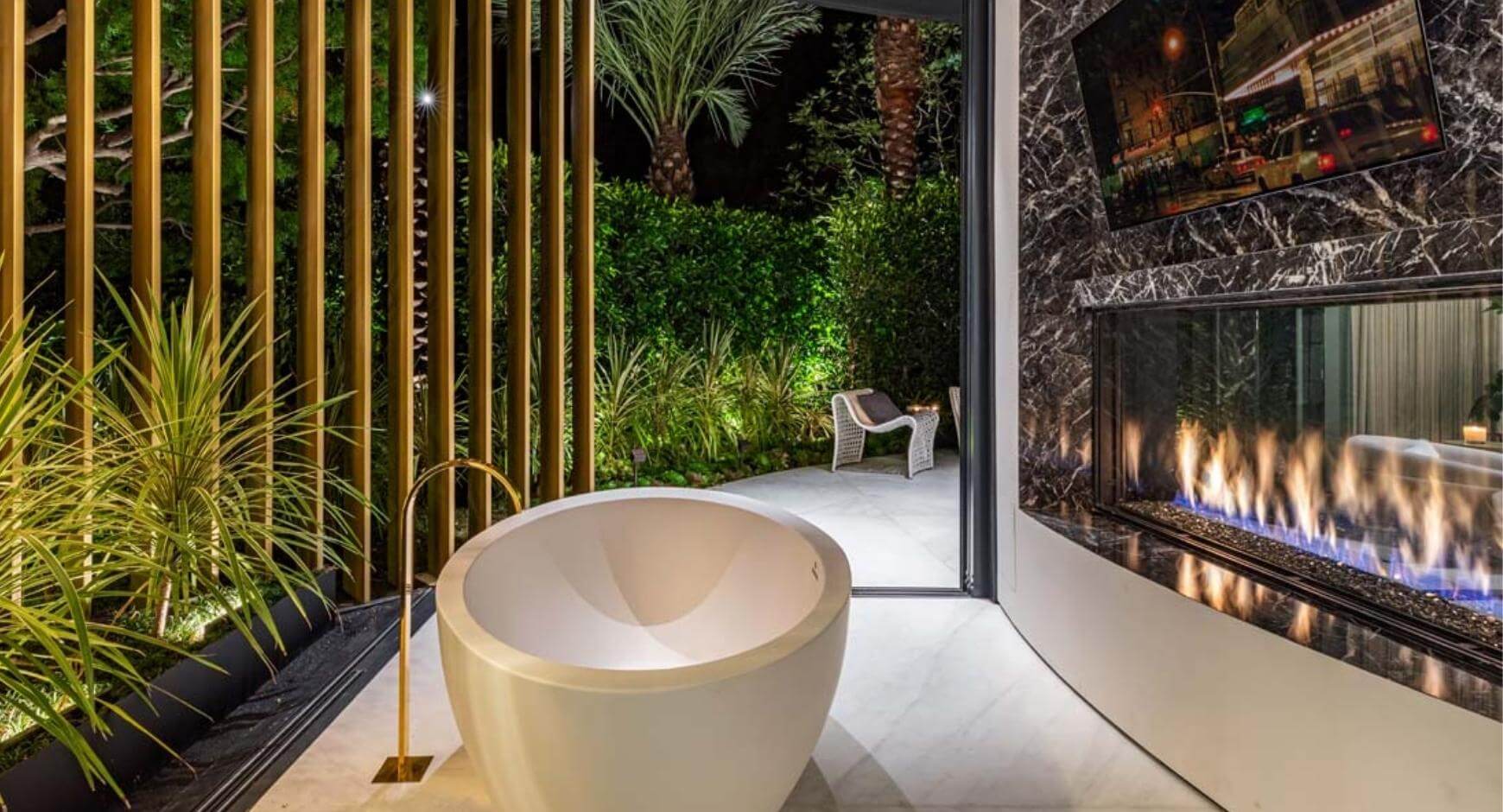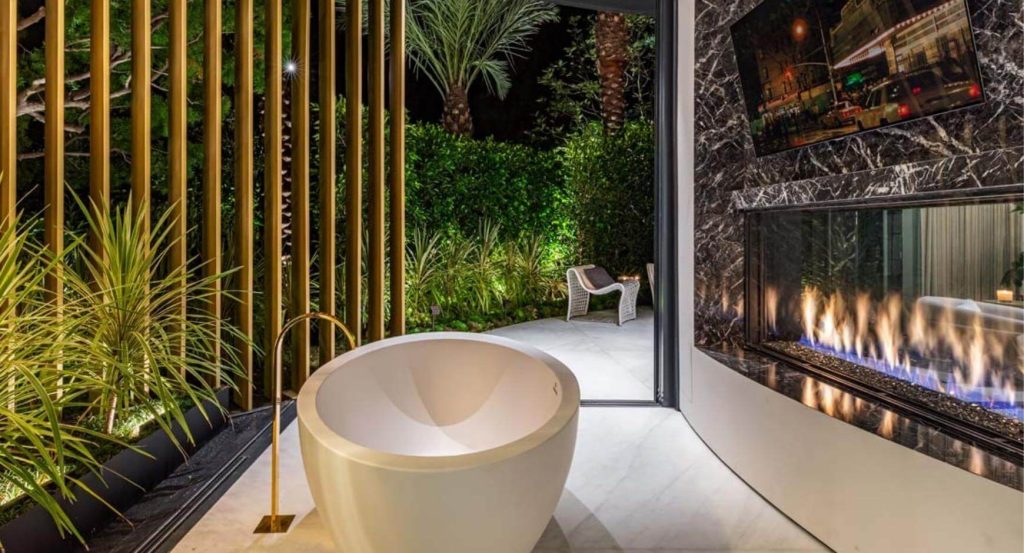 The Acucraft Signature Series includes frameless options with the choice to include glass media instead of wood or stone for an elegant and sophisticated look. The above photo shows a frameless fireplace set in a large stone slab wall. It's increasingly popular to see linear fireplaces built flush with the wall. These fireplaces don't have a mantel at all, creating a seamless look.
Traditional Gas Fireplace Look
Gas fireplace trends have been the center of modern interior design for a long time, but 2023 could be the year that gas fireplaces find a more traditional look. Traditional fireplace styles are most popular for rustic cabins and hotels with a quiet, comfortable feeling.
Wood burning fireplaces are often used to complete the relaxing atmosphere, but when it comes to wood vs gas fireplaces, there are benefits to either side. The quick start and additional safety features are one of the reasons some people prefer the gas fireplace, and with the custom stone surrounds and tall flames, you can still get the rustic look and feel of a traditional wood burning fireplace.
Example of Traditional Gas Fireplace Looks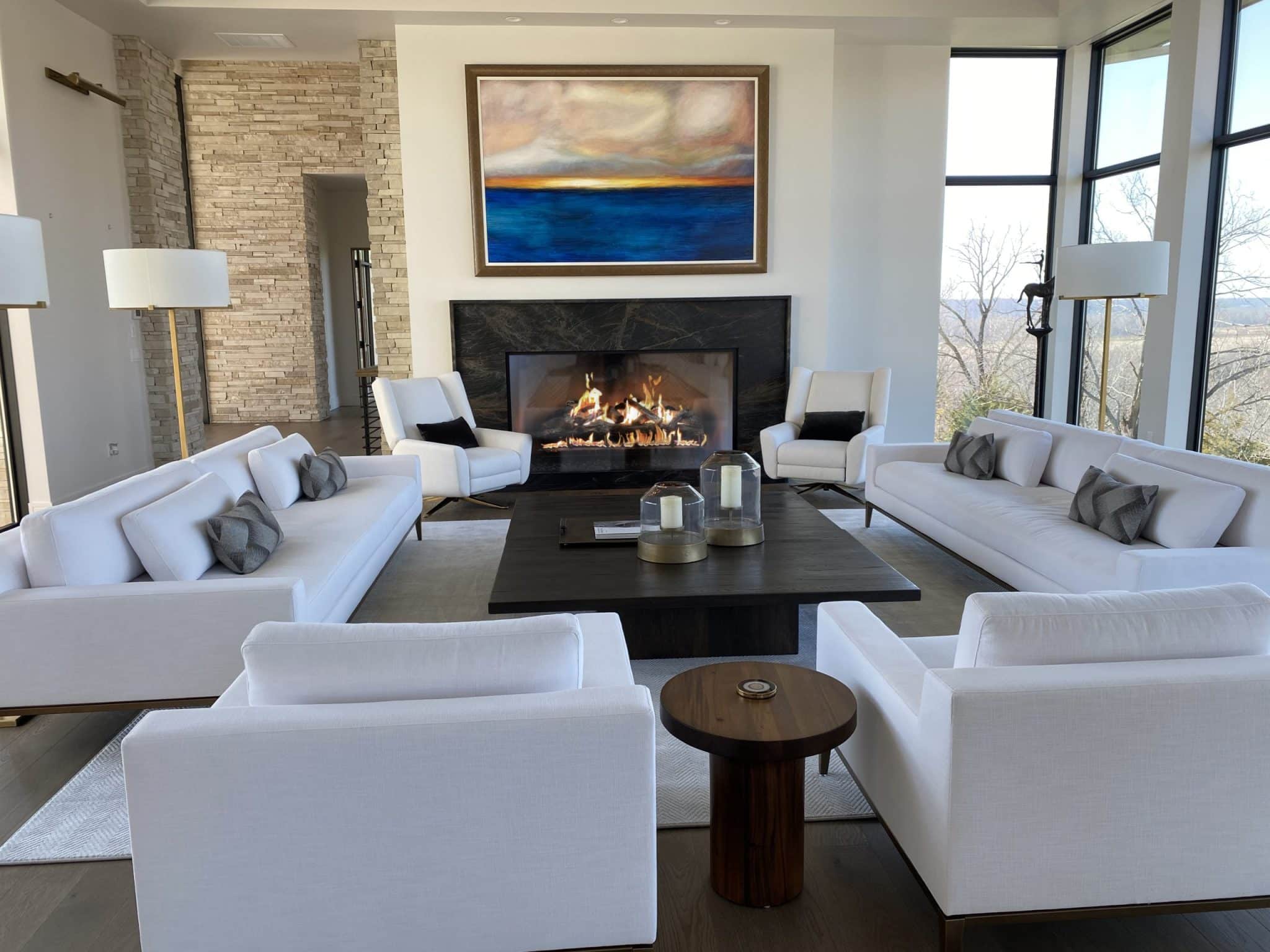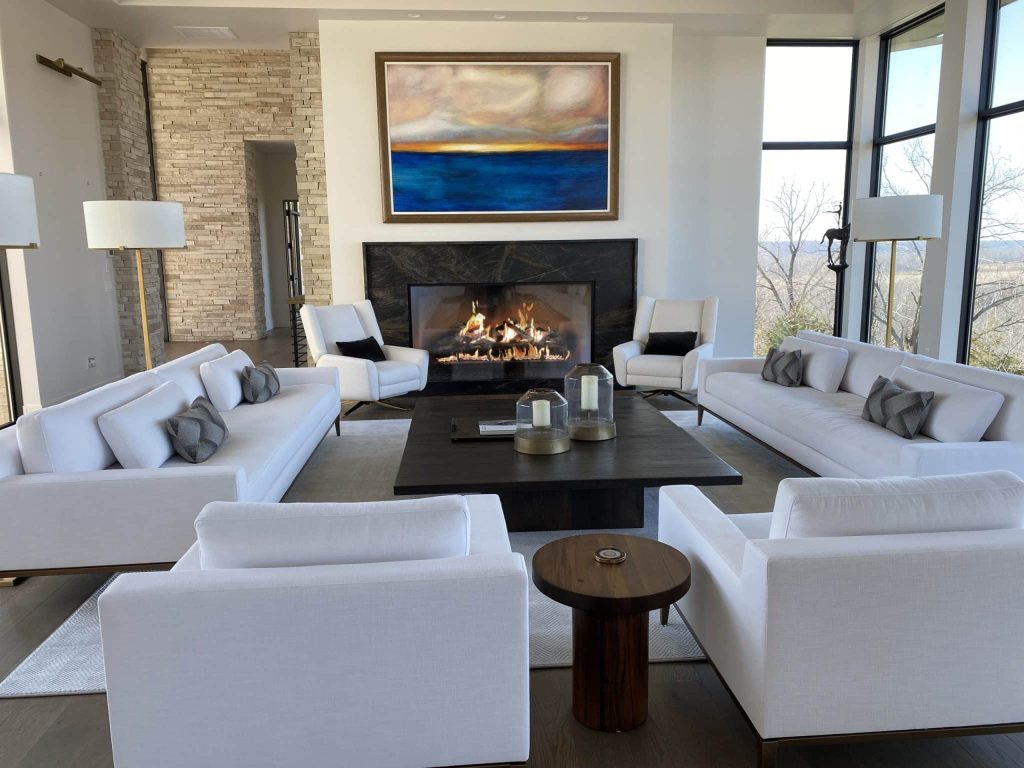 Gas fireplace looks can be some of the most unique as the large hearth and vertical flue of wood burning fireplaces is not entirely necessary. You can let your wildest interior fireplace ideas come to life with the combination of traditional and modern fireplace designs found in these gas fireplaces. For an inside look at the range of possibilities, check out these 15 inspirational designs for a living room fireplace and Acucraft's Timeless Gas Fireplaces collection.
Big Flames With A Gas Fireplace
Combining the linear and extra-large looks, the latest fireplace fashions include a lot of tall flames and open views. When we say tall, we mean it. Our flames are guaranteed to be the tallest on the market, and we have dramatic floor-to-ceiling fireplace designs to complement them.
None of the stylish trending fireplaces of 2023 would be complete without the tall flames to fill the stage. They make some of the most interesting and distinctive gas fireplaces, best for contemporary fireplace designs that have elegant yet dramatic styling. A fireplace like this is certain to be a talking point at any gathering.
Example of Big Flames With Gas Fireplaces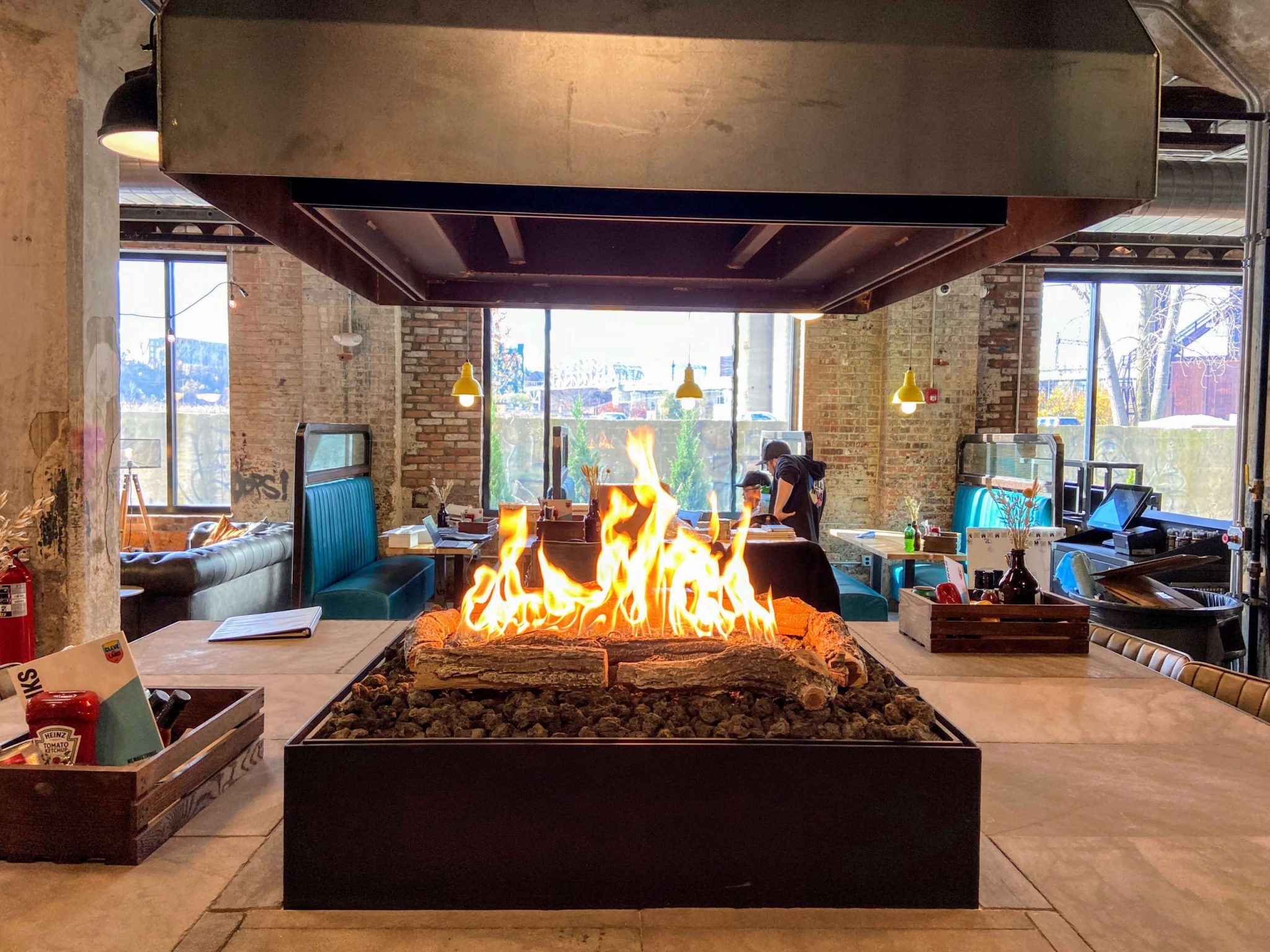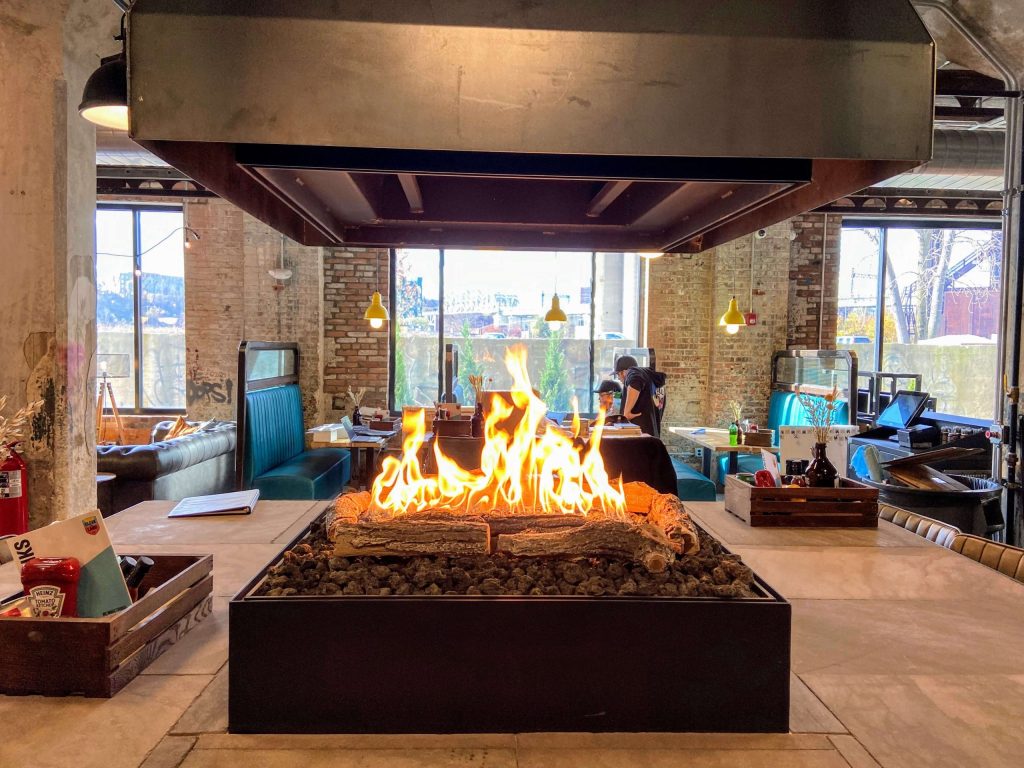 Tall flames make a dramatic statement, especially when paired with open gas fireplaces or gas fireplaces without safety glass. While this fireplace design may not be practical for every household or commercial space, when it works, it looks amazing. Take the photo above, for instance. The open fireplace and tall flames can create an eye-catching and romantic atmosphere in a small rustic restaurant.
More Warmth From The Fireplace
Warmth is one of the main benefits of having a fireplace. It's what makes curling up by the hearth with a book so comforting. It doesn't matter if your fire is gas or wood burning as both can keep you plenty warm on winter nights. You can maximize your fireplace's warmth by increasing the size of the gas flames or the breadth of your burning area.
Our gas flames are the tallest on the market, and our options for fireplace design can give you 360-degree access to the fires' warm glow. Acucraft's many custom fireplace experts have the ability to make your home as cozy as possible, satisfying any living room designer.
Example of More Warmth From Fireplaces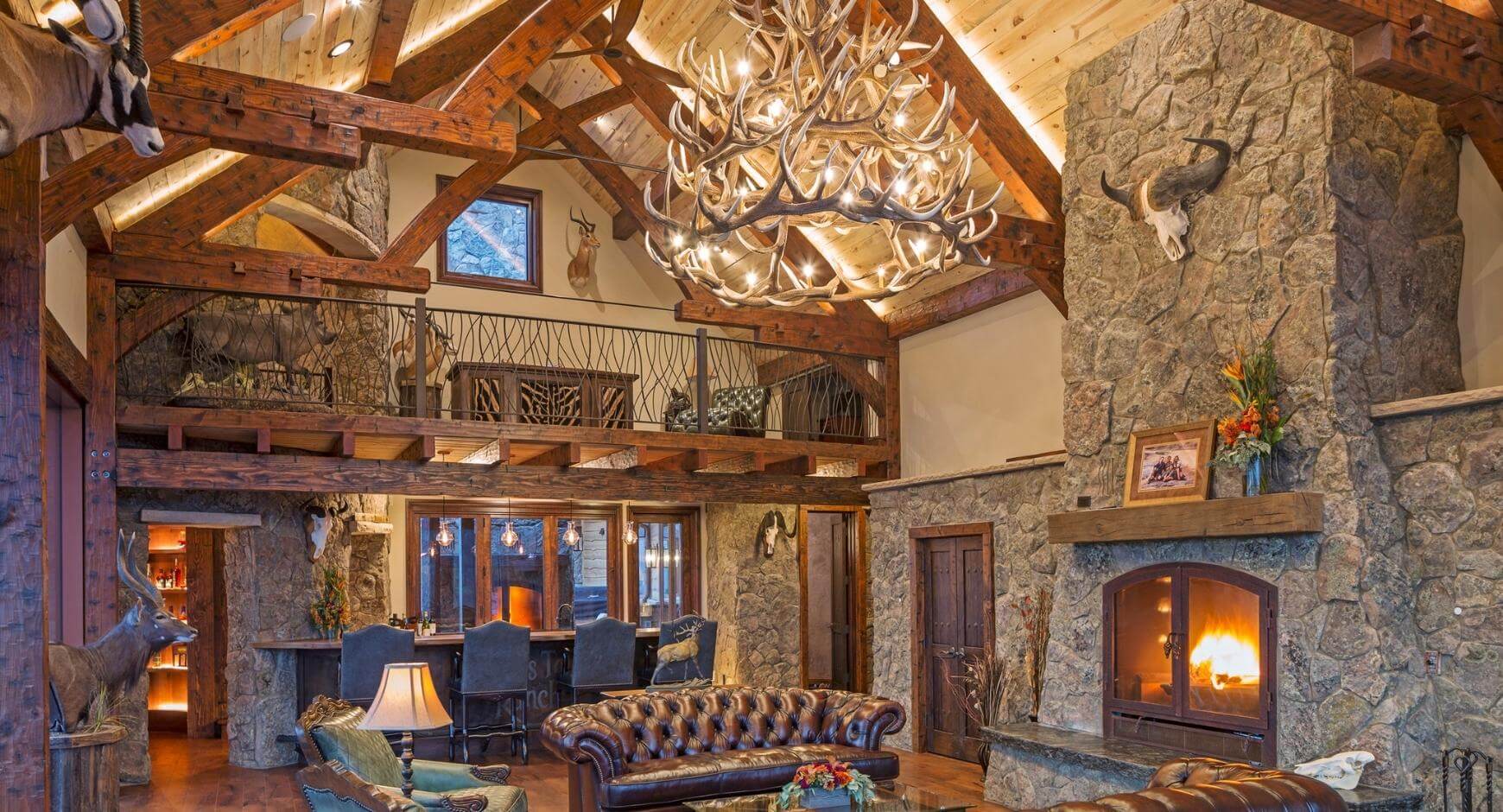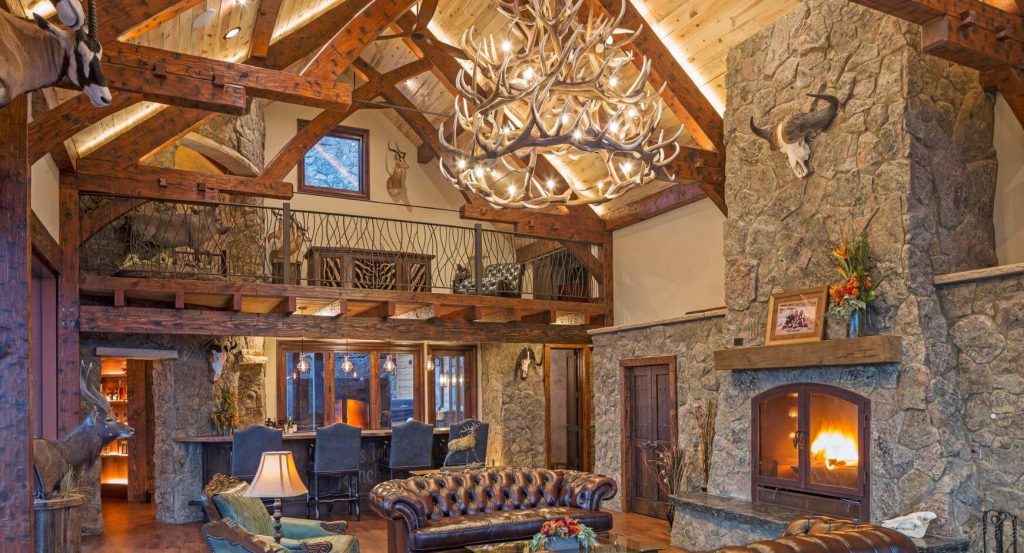 Few people are aware that there are six different types of wood burning fireplaces, and each has its own unique benefits. Closed hearth fireplaces like in the photo above have a lot of versatility when it comes to how much warmth is let into your room with their operable fire doors.
Four-Sided Glass Fireplaces
The see-through glass fireplace (also called a four-sided glass fireplace) is another functional and sophisticated design in 2023 fireplace trends. It falls in step with other popular fireplace styles, and its clean, linear designs will bring warmth and light to a living or dining room.
With this style, you will be able to see the fire from any angle. This is what makes it one of the more popular interior fireplace designs. The see-through glass fireplace is the perfect option for minimalists. It doesn't have to be big and flashy to make a statement—its simplicity says everything.
Example of Four-Sided Glass Fireplaces
The best fireplace designs feel like they were made specifically for their space, much like the photo above. This custom four-sided glass fireplace was designed and manufactured for a home in California. It's clear why the see-through glass fireplace is one of the top trending fireplace ideas of 2023.
Open Fireplaces
2023 fireplace trends are bold and daring, with open flames that let the flickering light dance around the room. Open fires are terrific for restaurants as guests being greeted by the flames are reminded of the fires searing delicious foods in the kitchen. Hotels, museums, and other commercial spaces can also be ideal scenarios for the enticing open flames.
Open fireplaces are one of the luxury fireplace designs that many choose to use in their homes. They make a space feel welcoming and cozy. All our open fireplaces can be fitted with removable fire screens or fire doors for added safety when the setting calls for it.
Example of Open Fireplaces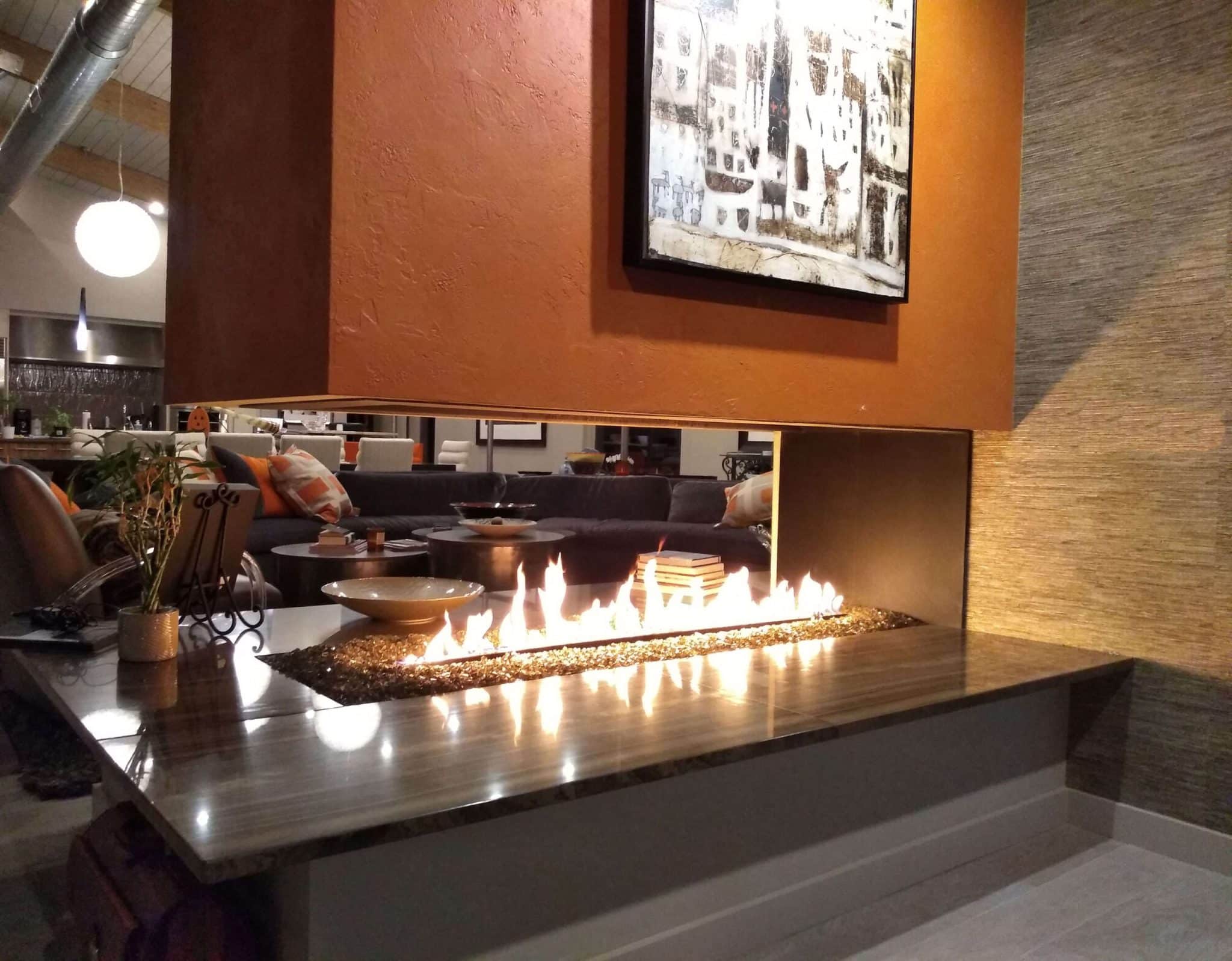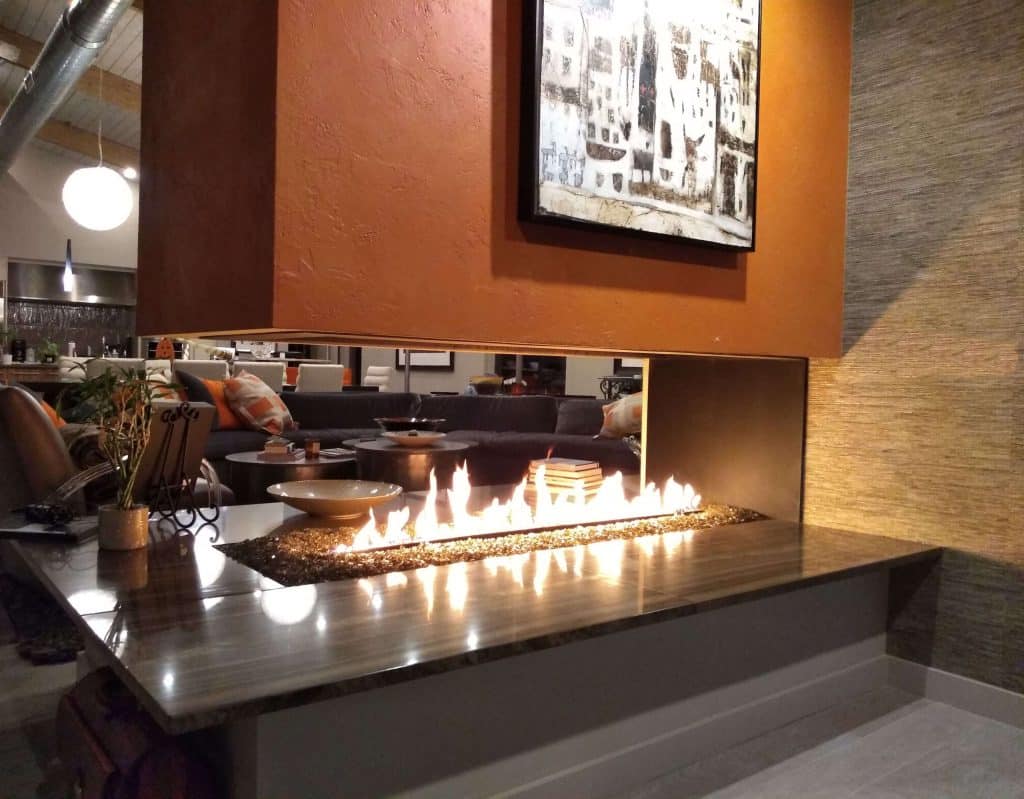 Create a beautiful window between separate lounge areas with an open peninsula fireplace seen in the photo above. The glow of the flames reflects on the adjacent pottery adding a moving element to your interior decor. With an ample list of fire media to choose from, this space can be as modern or rustic as your wildest interior fireplace ideas.
Wood Fireplaces With Big Viewing Areas
Extravagant fireplaces with beautiful chimneys and large viewing areas are here to stay. This bold fireplace style is an excellent option for those with a flair for the dramatic. The expansive openings create the perfect ambiance.
For homes with high ceilings, a huge chimney overlaid with stone offers a wonderfully rustic look. You can choose white paint or metal chimney colors if you prefer a cleaner look. These bold fireplaces can impress guests in commercial spaces like hotels, museums, and event spaces. They can also serve as a breathtaking focal point in larger homes.
Example of Wood Fireplaces With Big Viewing Areas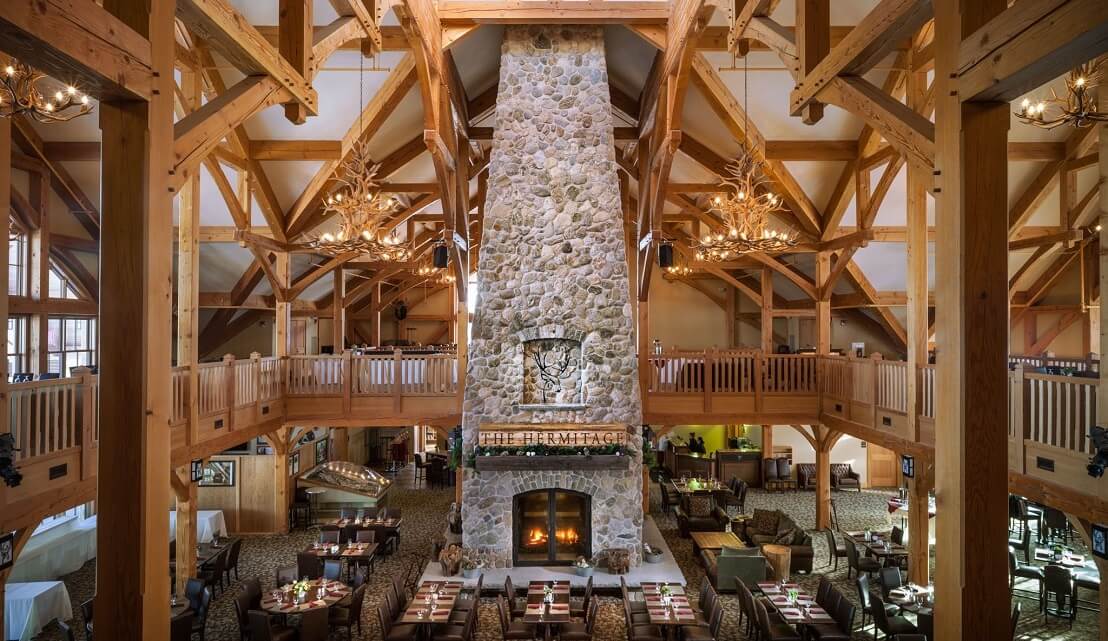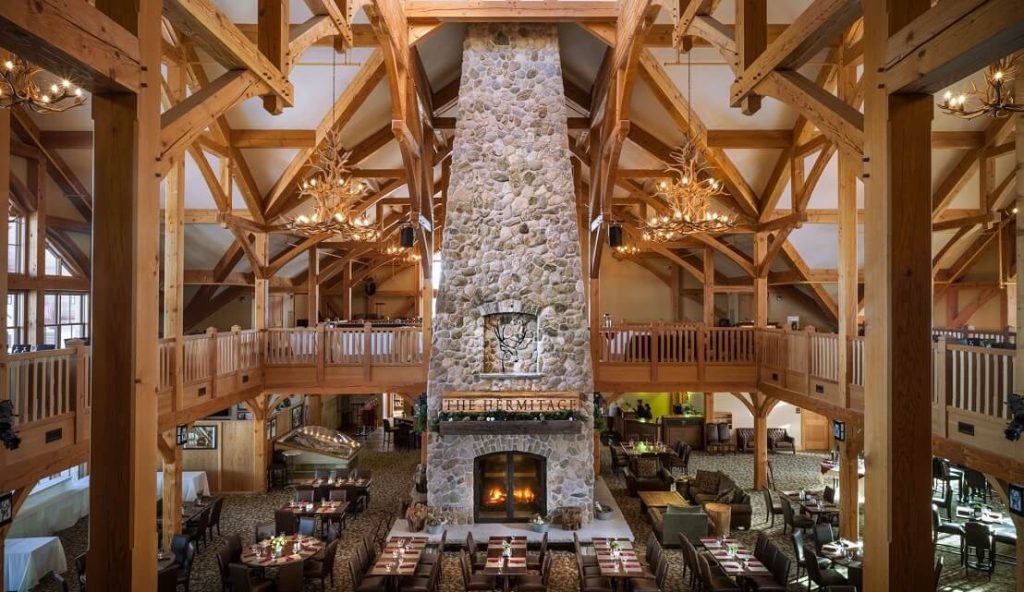 Wow your guests with a towering display of modern craftsmanship, stone, and fire. This grand Acucraft fireplace is a stunning centerpiece in this room. It's also a shining example of the beautiful custom jobs that Acucraft manufactures. Want to know more about how we created this masterpiece? Read about our custom-built fireplaces.
Fireplaces For More Than One Room
Versatility is one of the top fireplace trends right now, and two-sided fireplaces are on the rise because they can be used in more than one room. Whether you like beautiful stonework with a rustic mantel or you want the viewing area to be flush with a tile or metal veneer, these fireplaces can fit any design style in either room.
A beautiful summer night outside on the deck isn't complete without a fire, and neither is a cozy winter evening on the couch. Indoor/outdoor gas fireplaces can be a great way to keep your evening by the fire going when the weather turns bad. Our indoor/outdoor wood fireplaces also have the option to convert between open and sealed fires.
Example of Fireplaces For More Than One Room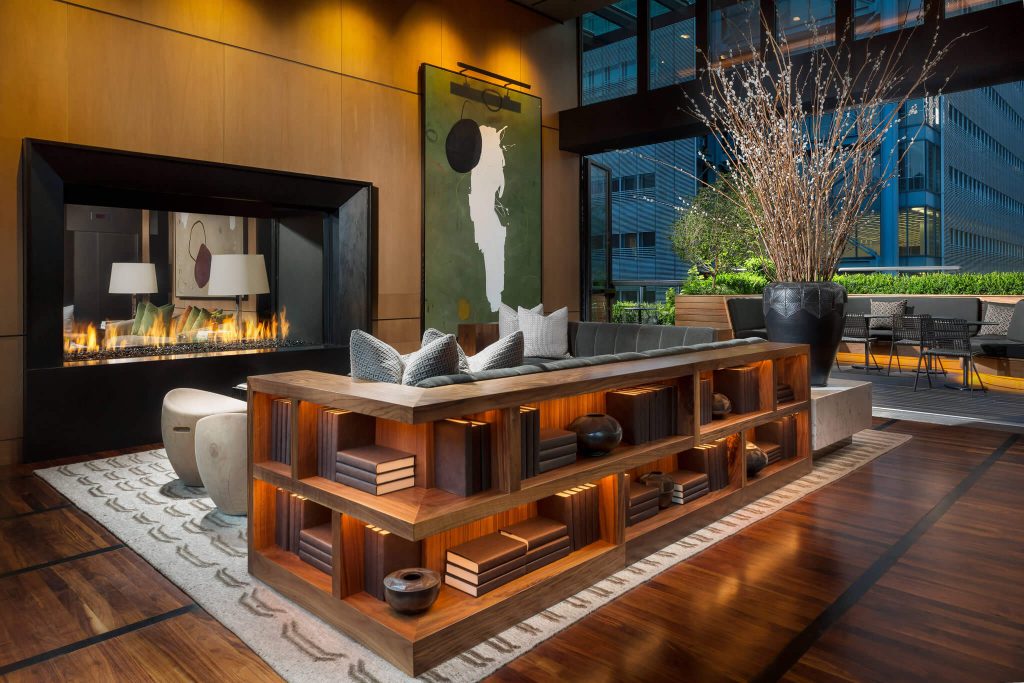 This one-of-a-kind double sided fireplace looks like a window on fire. And, it's only one example of the beauty and ambiance that dual-sided fireplaces can add to any space— commercial or residential. With double the pleasure gained from one fireplace, it's no wonder these have been one of the top trending fireplaces in this past year.
Fireplaces With Log Sets
Log sets are another way to customize a gas fireplace and make it match your aesthetic and style. Gas fireplace log sets combine the convenience of a gas fireplace and the ambiance of a wood burning fireplace.
Our fireplaces with logs have the largest, fullest flames on the market that provide an optimal viewing area, designed to your needs. The fireplace and logs are highly customizable and can provide a traditional look to your area.
Example of Fireplaces With Log Sets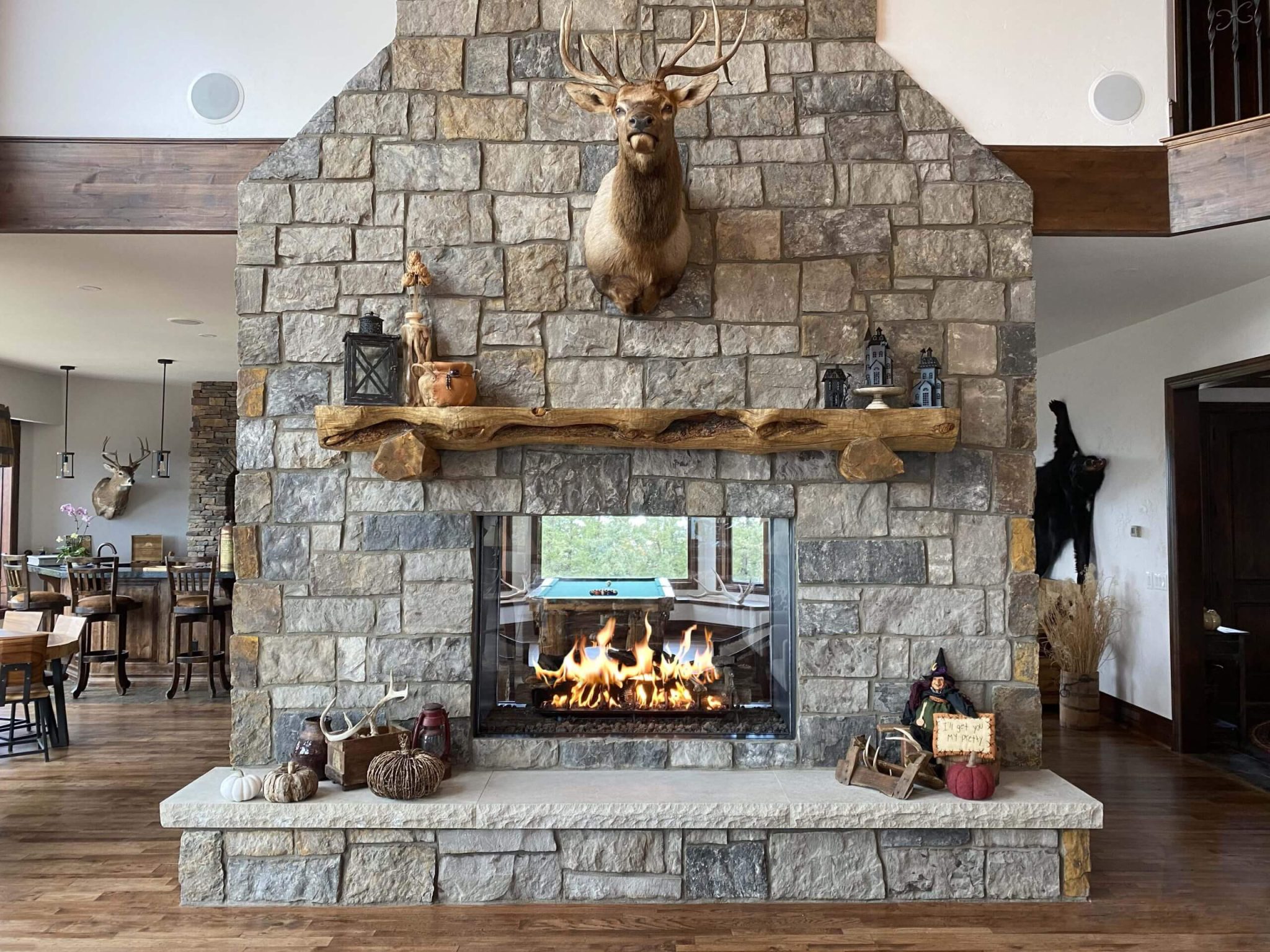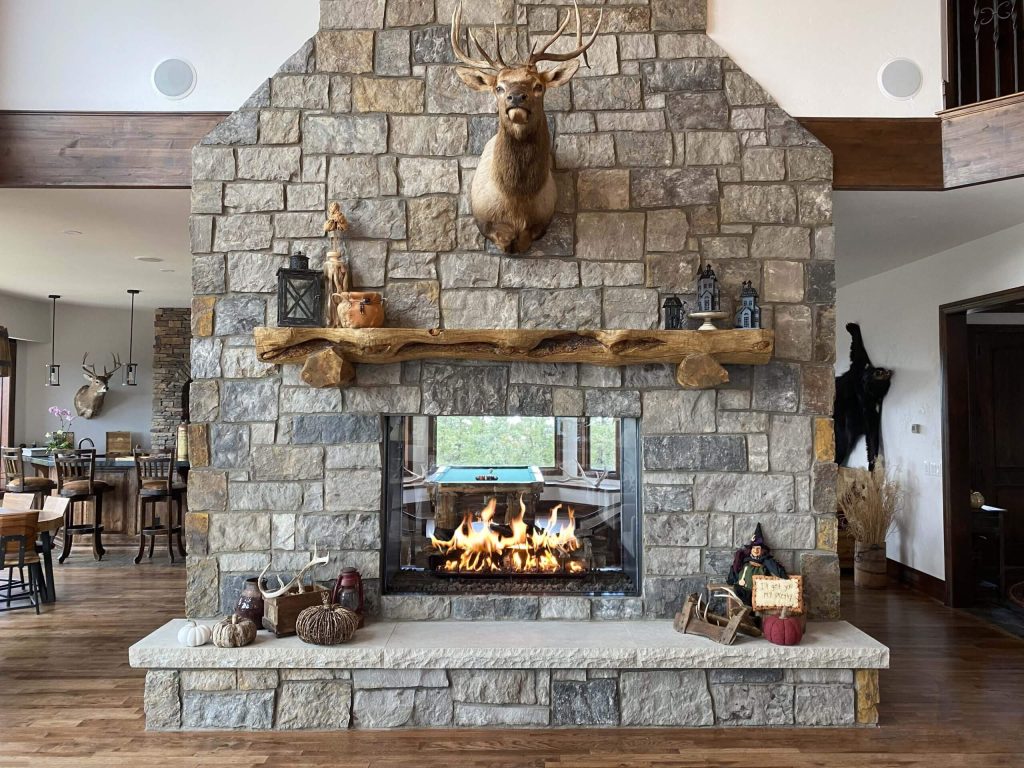 Our custom fireplaces and log sets can be created for any space and any style. Our Timeless Series uses our own logset burners with proprietary technology that looks and feels great. Log sets can be used in enclosed fireplaces like the one pictured above or in open, no glass fireplaces.
Versatility (Convertible)
There are countless decisions you have to make when considering a new fireplace. One of the most important is whether you want to burn gas or wood. You may prefer a sealed gas fireplace if you have children, entertain often, or simply like the convenience and safety of a sealed gas fireplace. However, for others, stoking the flames and cozying up with a good book is just what they need.
A convertible fireplace allows you to have the best of both worlds. Our Hearthroom Series fireplaces can be converted from wood to gas (and vice versa) in as little as 30 minutes. The latest fireplace trends forecast this type of versatility to be in high demand for both homeowners and commercial use.
Example of Versatile Fireplaces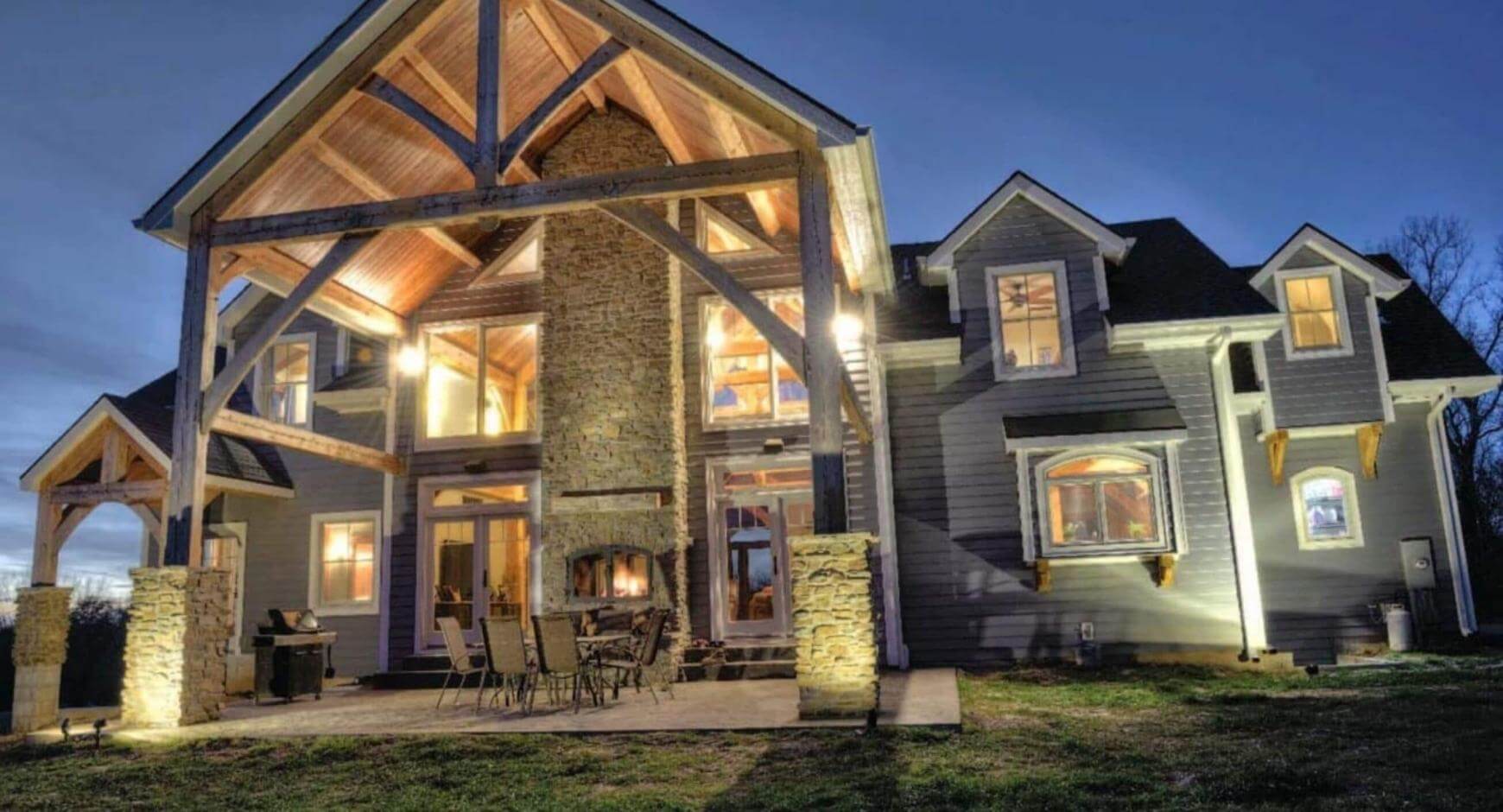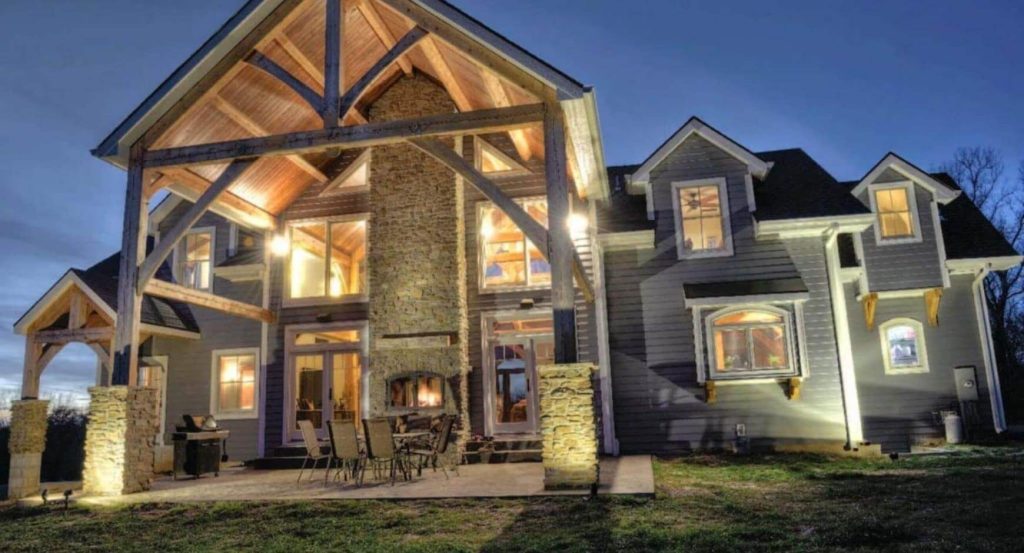 Our custom fireplaces can be outfitted to accompany any home aesthetic. You can find one for a rustic lodge, or you can choose a grand stone chimney that is three stories tall. They can compliment grandeur with the tallest, fullest flames on the market. Choosing a Hearthroom Series convertible fireplace will help eliminate one decision from the many design choices you will need to make.
Explore Acucraft's Fireplace Selection
Fireplaces are more than a source of warmth, they're an integral part of any interior design. Whether you're designing a grand hotel lobby, or simply adding value to your home with a living room fireplace, you deserve the best. These trending fireplace designs will surely capture your guests' attention and keep them entertained long into the night. There is no better investment to make in your home or business than a cozy fireplace.
At Acucraft, we know fireplace design. Bold and open views with modern framing are some of the emerging fireplace trends in 2023, but there is no limit to what we can accomplish. Find design inspiration in our gallery of amazing custom fireplaces, and check out our blog to learn about the latest fireplace trends and designs.