December 28, 2021
2022 Fireplace Trends To Inspire Your Next Design
No matter the time of year, a fireplace is the perfect cozy companion to any home, lodge, or commercial space. Browse the best fireplace trends for 2022. You'll see beauty and functionality combine to create the ideal centerpiece for your next social gathering.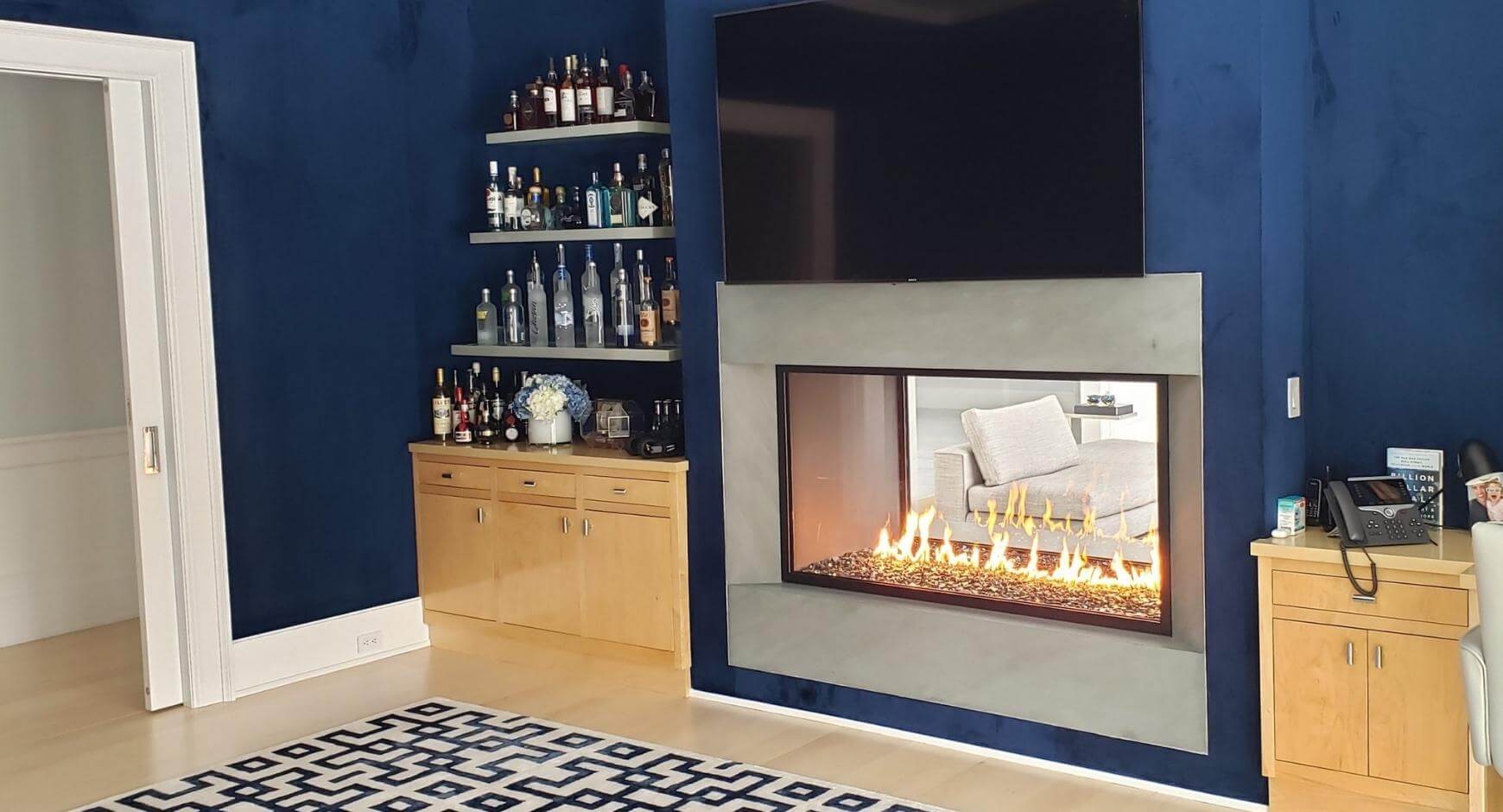 Fireplace Trend 1: Frameless Fireplaces
Indoor linear was one of the most popular fireplace trends of 2020. And, it continues to be among the hottest trends of the new decade. Once you've seen one of these frameless linear wood or gas fireplaces light up a room, it's easy to understand why their clean, sharp edges are so trendy.
This fireplace style is often surrounded by marble, tile, or stone decoration. It can also be designed as a classic single-sided piece or a see-through tunnel. One of the key advantages of indoor linear fireplaces is that they can be integrated with home entertainment systems. That makes them incredibly easy to use.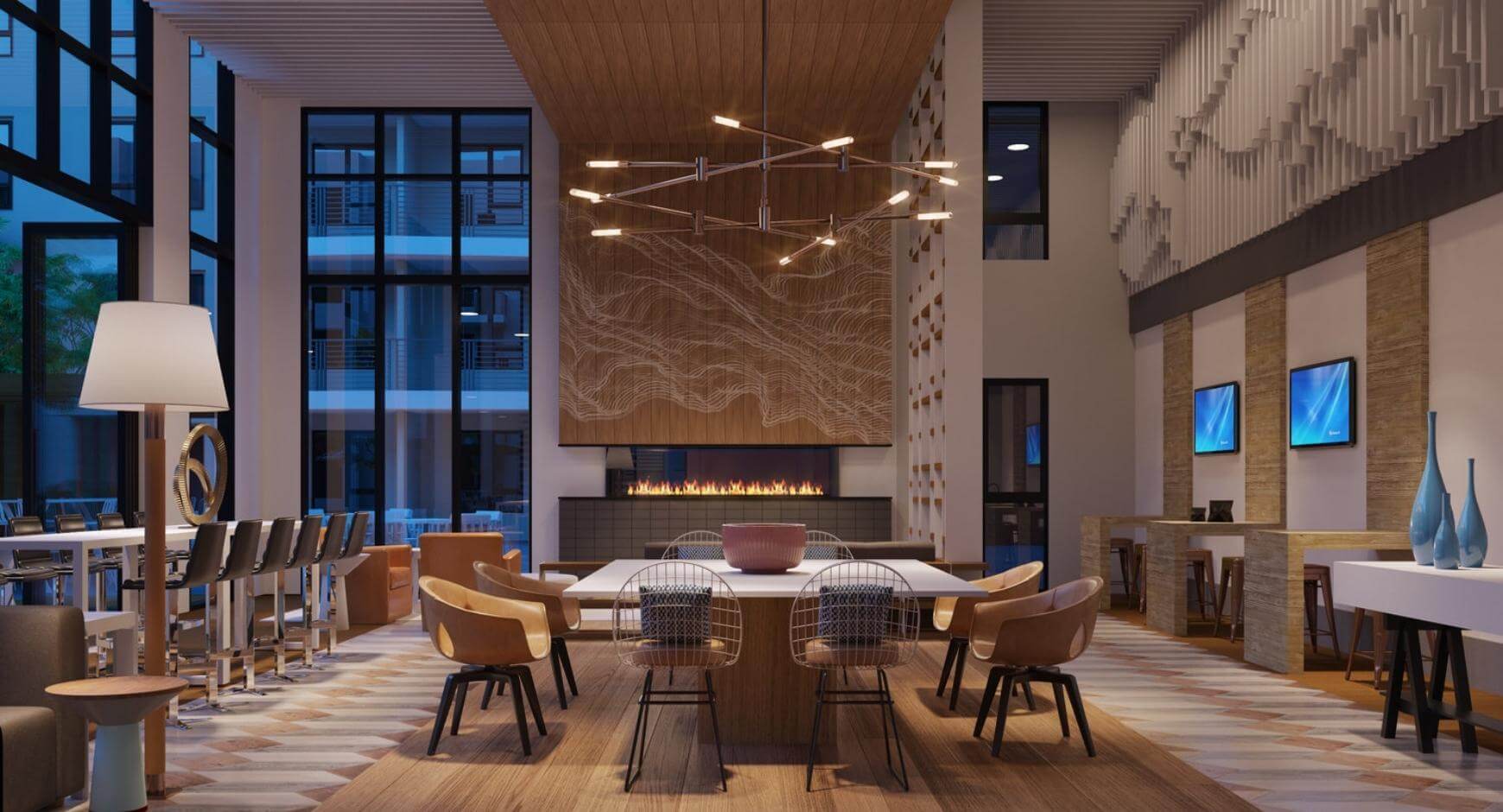 Examples of Frameless Fireplaces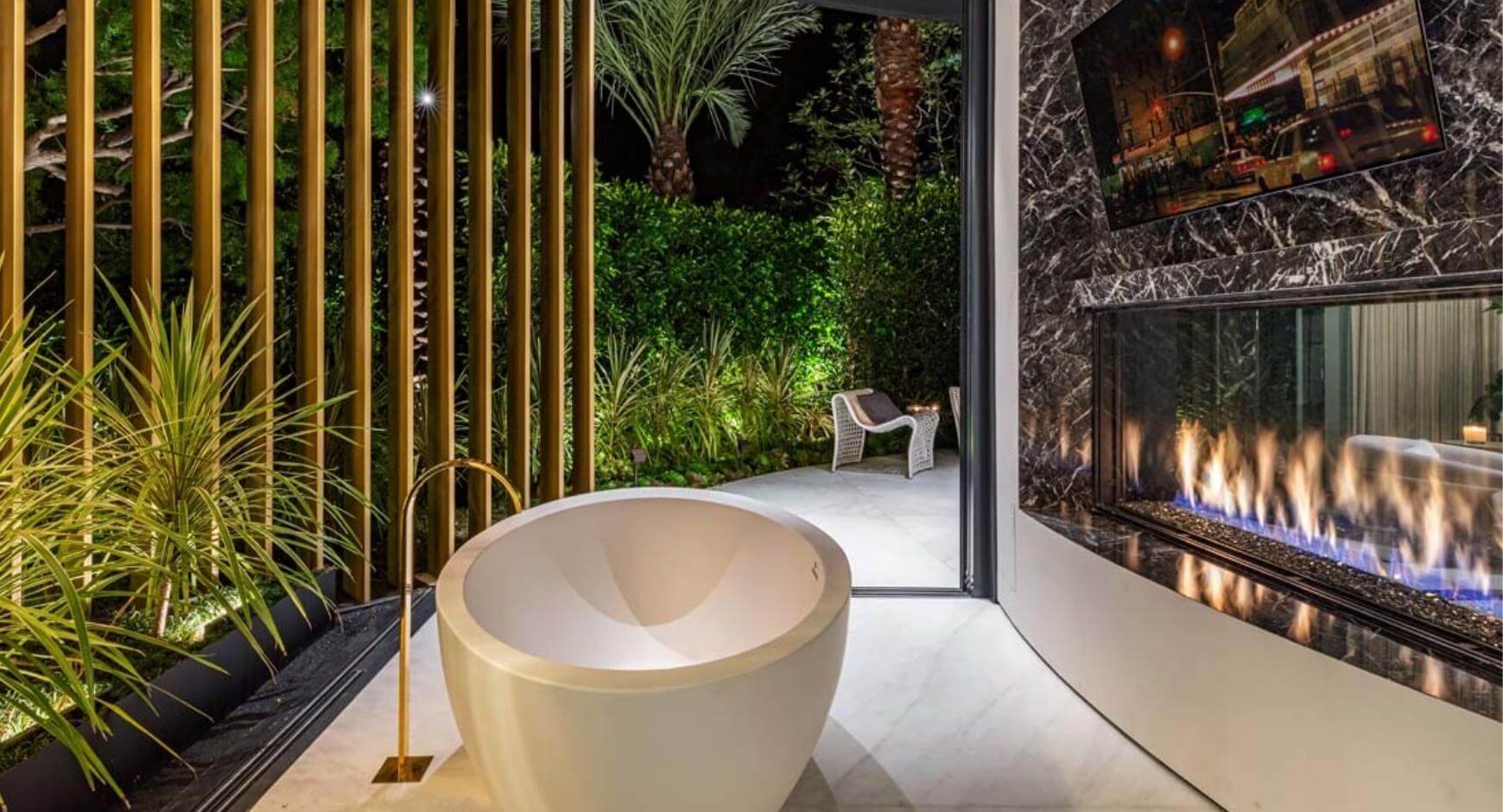 The Acucraft Signature Series includes frameless options with the choice to include glass media instead of wood or stone for an elegant and sophisticated look. In the above photo, we see a frameless fireplace set in a large stone slab wall. It's increasingly popular to see linear fireplaces built flush with the wall. These fireplaces don't have a mantel at all, creating a seamless look.
Fireplace Trend 2: Versatility (Convertible)
There are countless decisions you have to make when considering a new fireplace. One of the most important is whether you want to burn gas or wood. You may prefer a sealed gas fireplace if:
You have children
You entertain often
You like the convenience and safety of a sealed gas fireplace.
However, for others, stoking the flames and cozying up with a good book is just what they need.
A convertible fireplace allows you to have the best of both worlds. Our Hearthroom Series fireplaces can be converted from wood to gas (and vice versa) in as little as 30 minutes. The forecasted fireplace trends of 2022 will likely see this type of versatility in high demand for both homeowners and commercial use.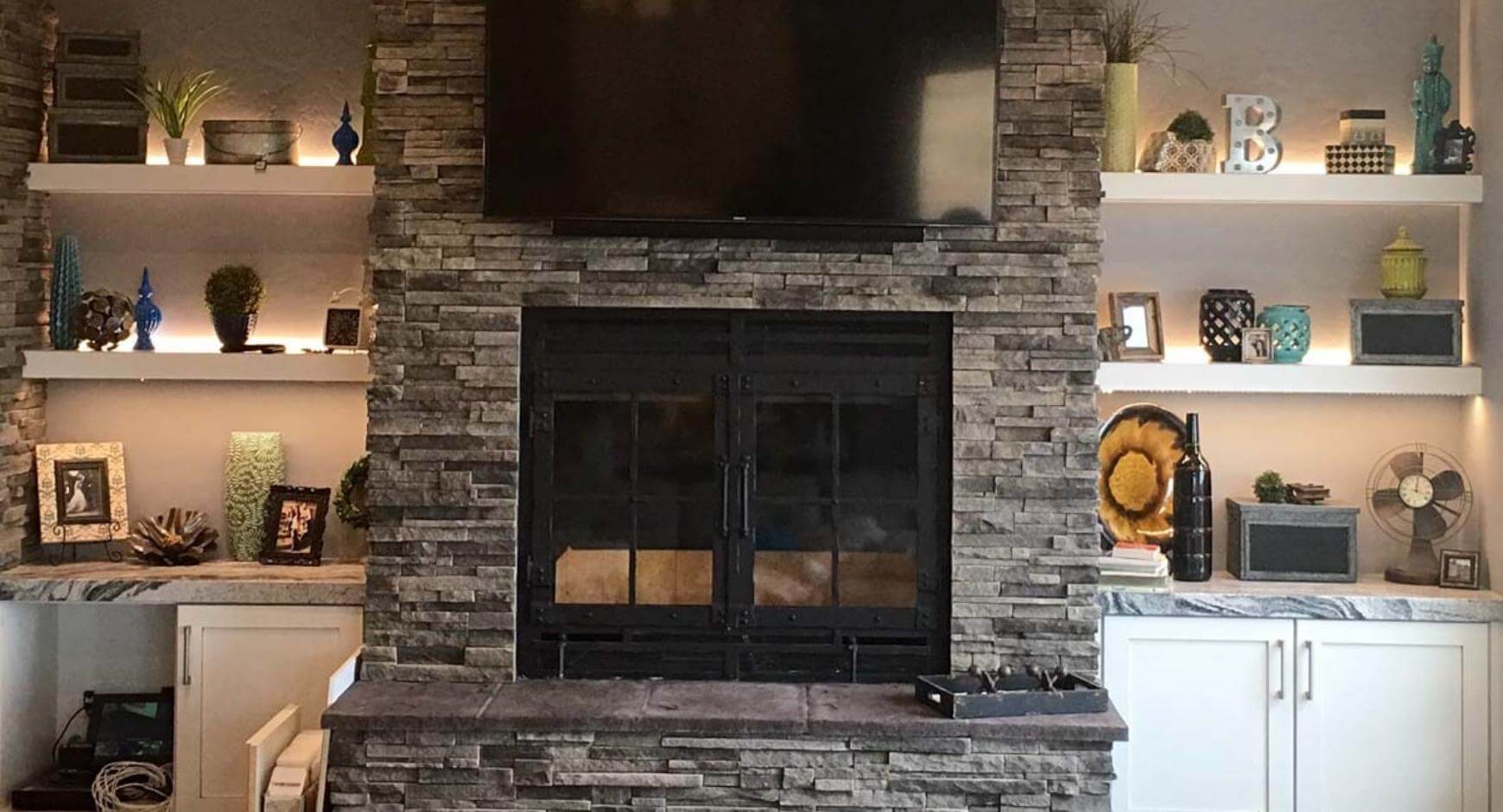 Example of Versatile Fireplace Trends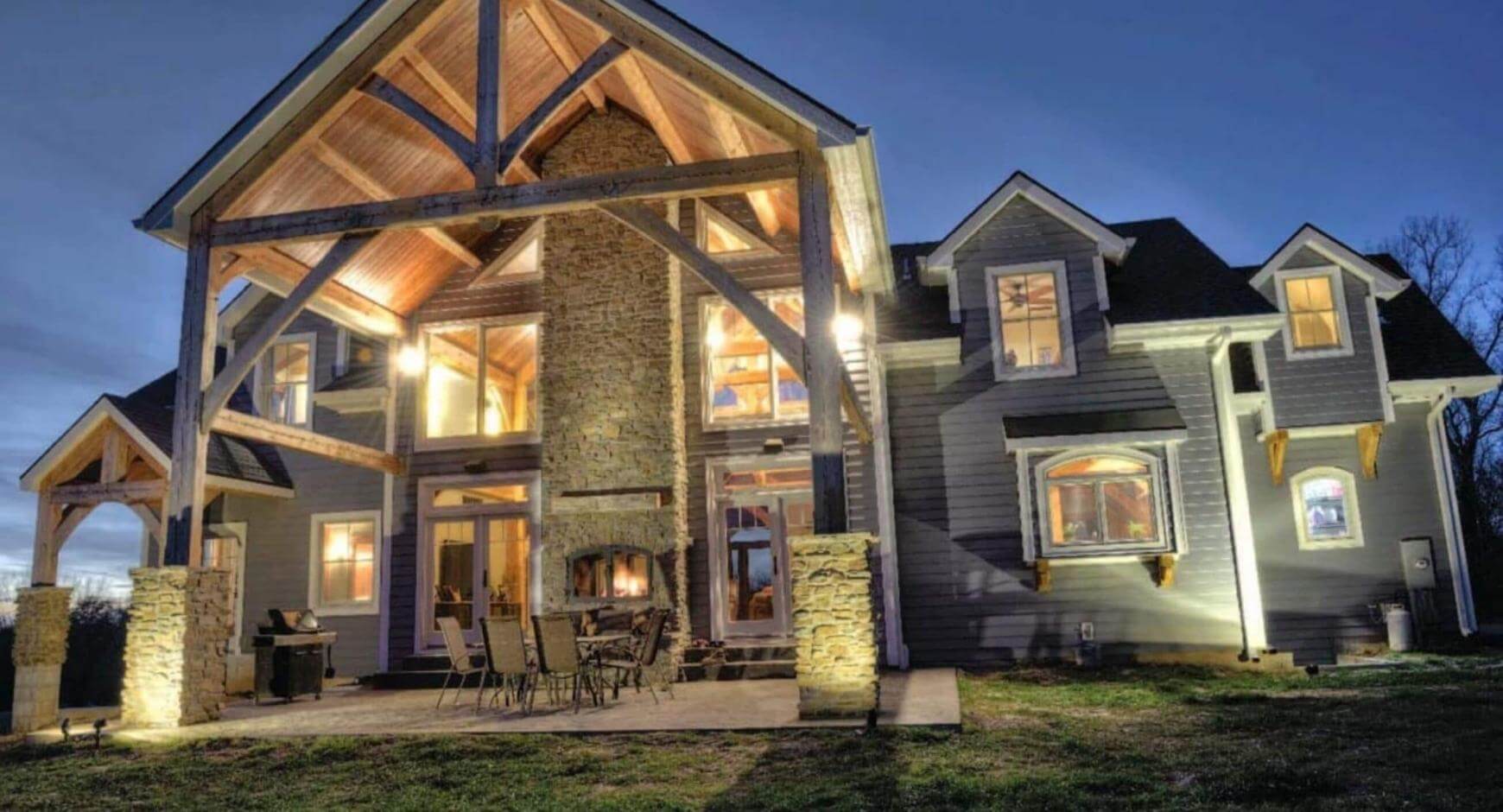 Our custom fireplaces can be outfitted to accompany any home aesthetic. You can find one for a rustic lodge or you can choose a grand stone chimney that is three stories tall. They can compliment grandeur with the tallest, fullest flames on the market. Choosing a convertible fireplace will help to eliminate one decision from the multitude of design choices you will need to make.
Fireplace Trend 3: Three-Sided Corner Units
The three-sided corner unit, or 'peninsula fireplace', has a clean, modernized look, and it offers unique views from every angle. Of all the trendy fireplace looks in 2022, the peninsula fireplace is the most practical use of space. Architects and designers love it because it can add an element of warmth and coziness without sacrificing open space.
Our built-in corner fireplaces are designed to be luxurious, safe, and strong. They can be beautiful statement pieces. These fireplaces are sure to complement:
If you want a gas fireplace anywhere in the interior of your home, the simple installation of this option makes a corner unit ideal.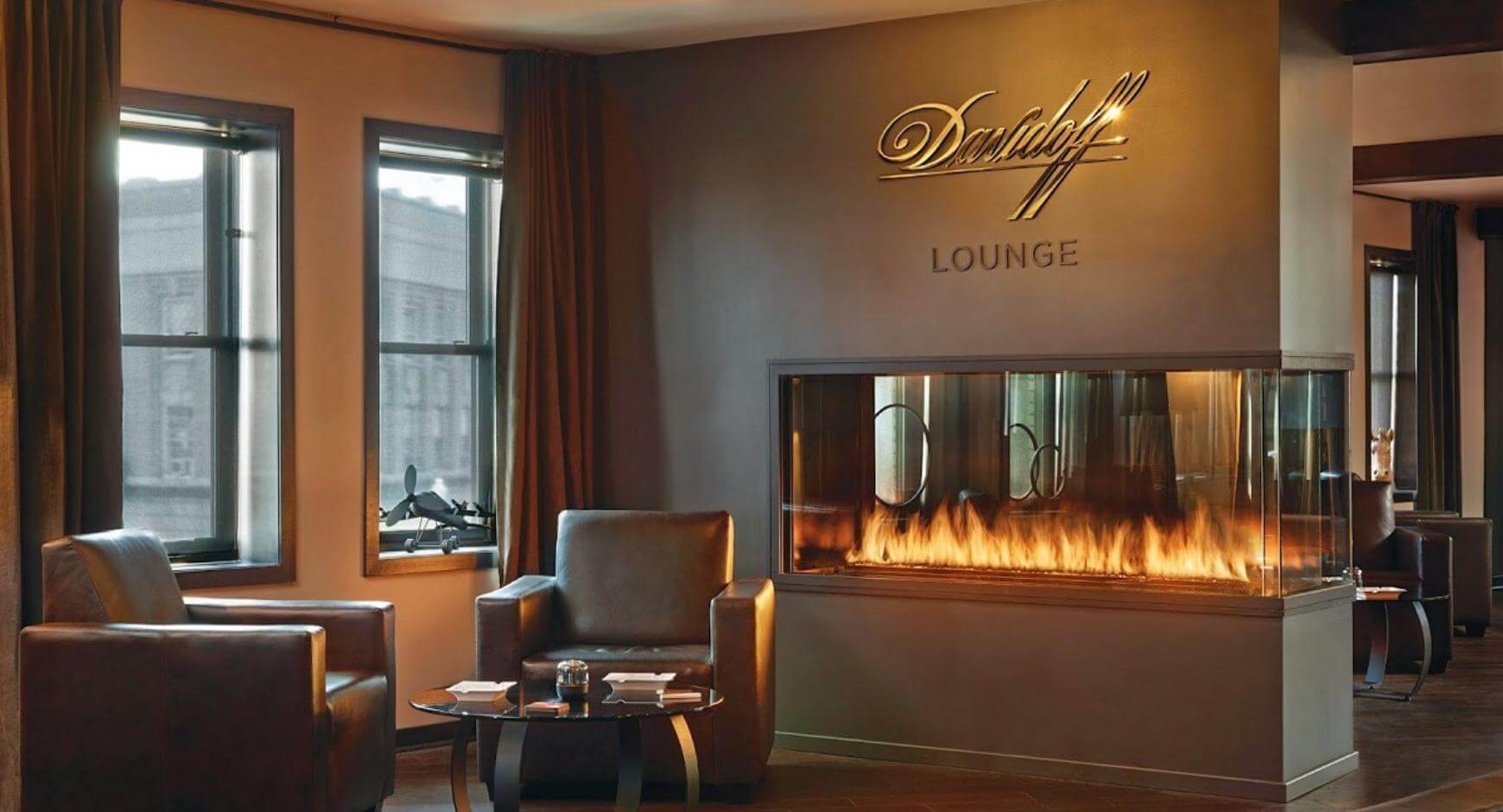 Example of Built-In Corner Fireplaces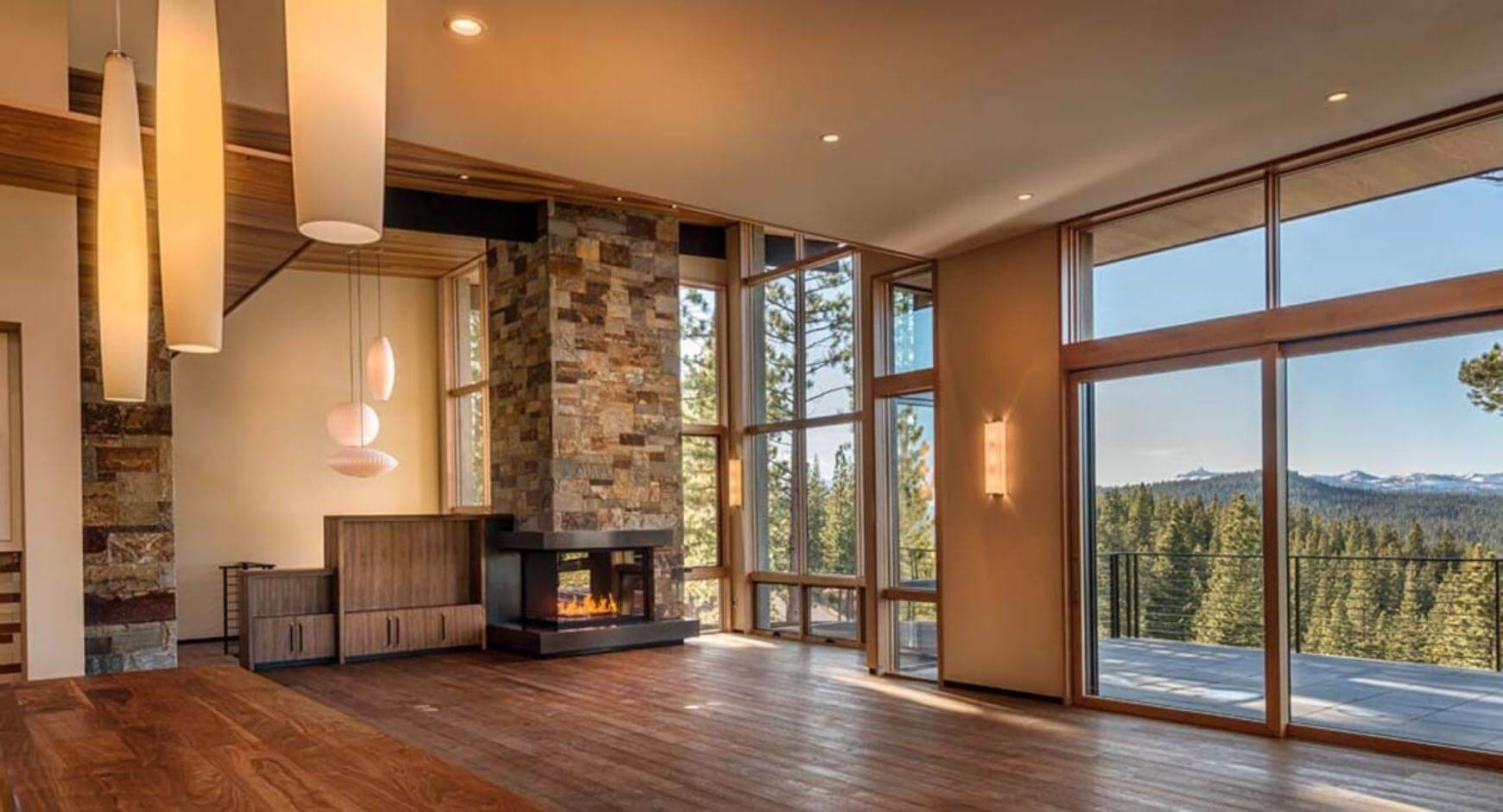 This three-sided stone corner unit is the perfect centerpiece for an elegant living room design. Will a polished, state-of-the-art fireplace complete your space? Dive into our photo galleries for corner gas fireplace ideas such as the Peninsula fireplace designs to find out.
Fireplace Trend 4: Extra Large Fireplaces
Extravagant fireplaces with beautiful chimneys and large viewing areas are here to stay. For those with a flair for the dramatic, this bold fireplace style is an excellent option. The expansive openings create the perfect ambiance.
Pairing a dark, oversized hearth with light stonework will command attention in your space. For homes with high ceilings, a huge chimney overlaid with stone offers a wonderfully rustic look. If you prefer a cleaner look, you can choose white paint or metal chimney colors.
These bold fireplaces can impress guests in commercial spaces like:
Hotels
Museums
Event spaces
They can also serve as a breathtaking focal point in larger homes.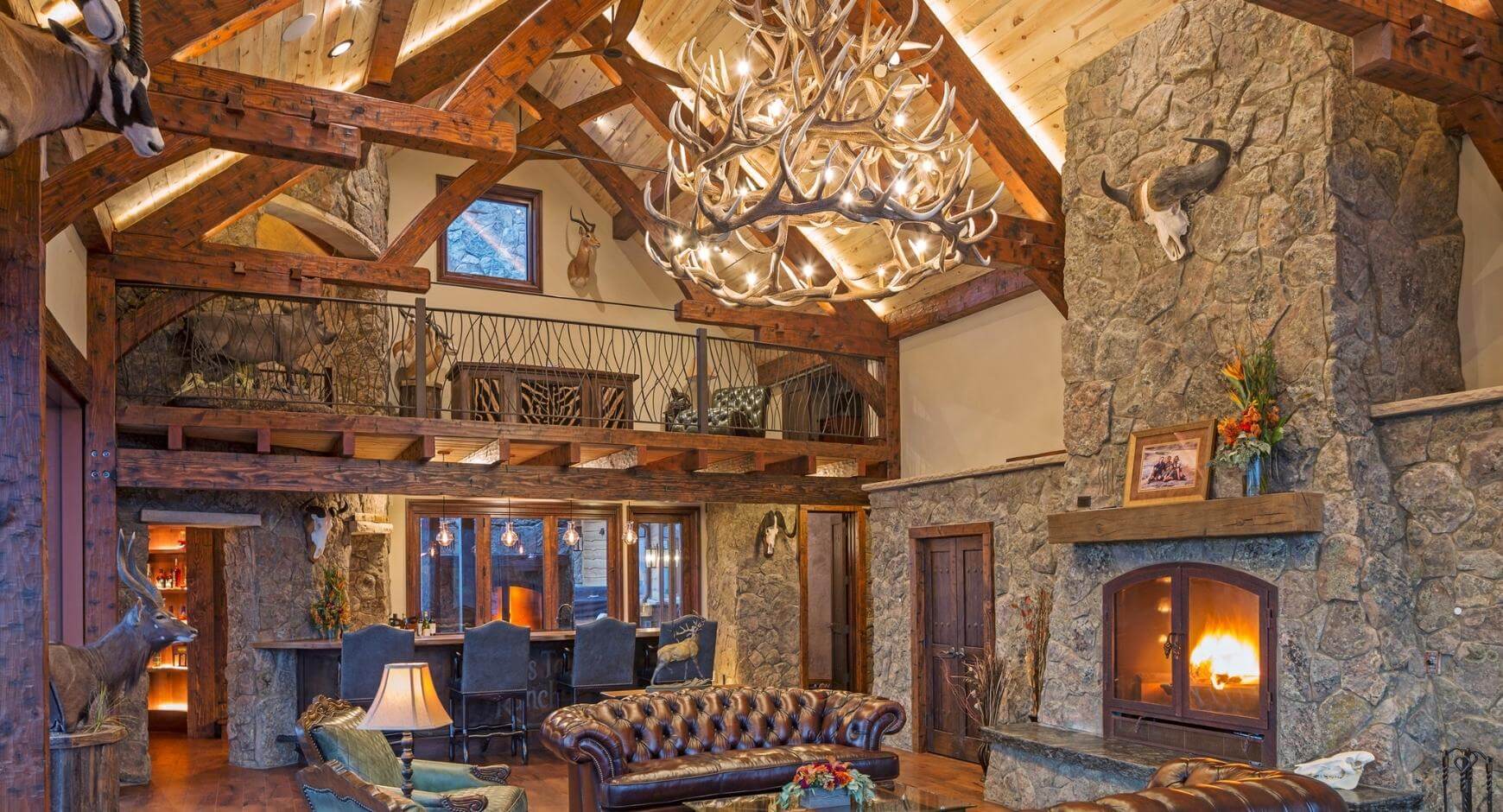 Example of Large Fireplaces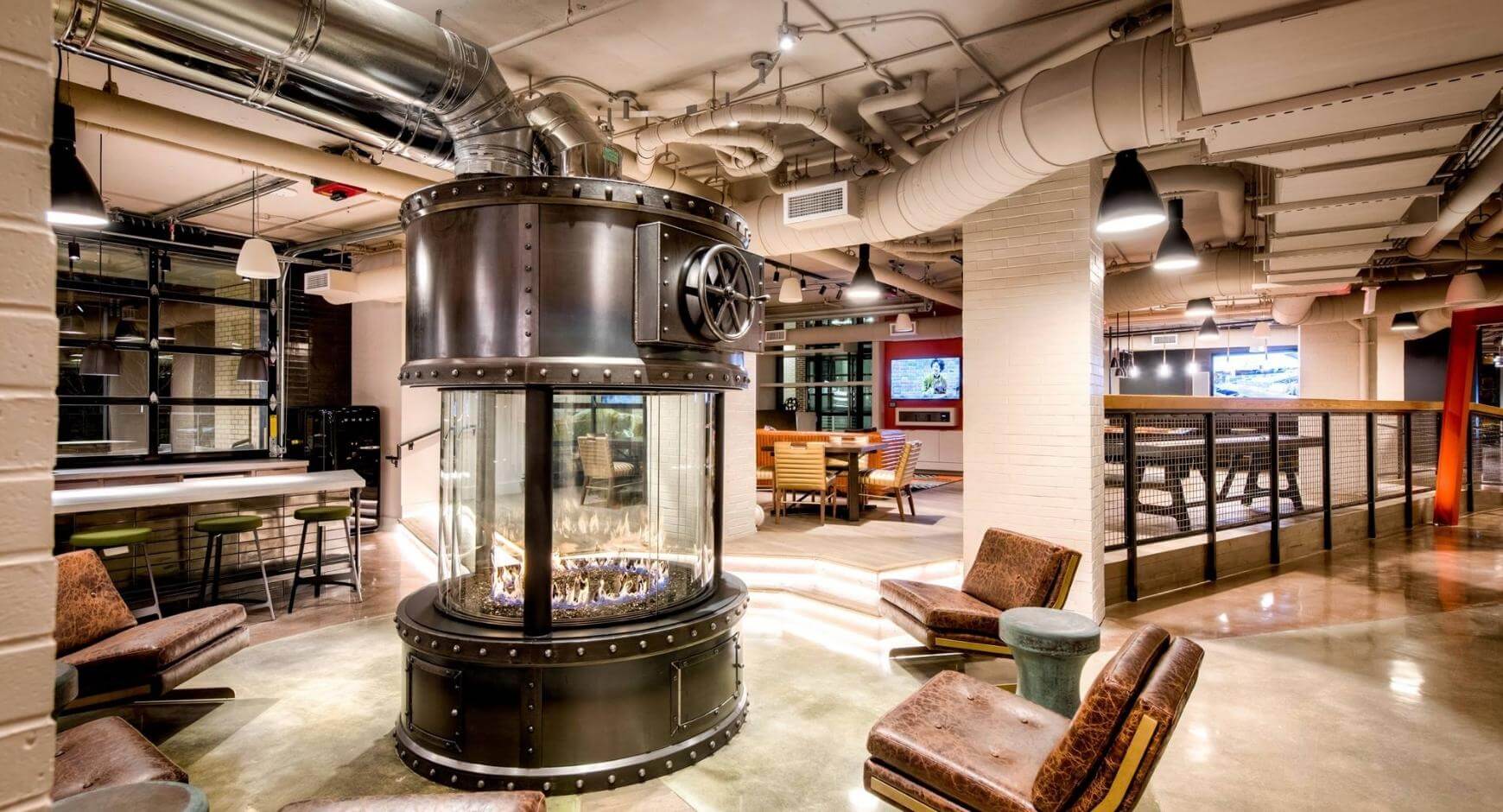 This round Acucraft fireplace is a stunning centerpiece in this room. It's also a shining example of the beautiful custom jobs that Acucraft manufactures. Want to know more about how we created this masterpiece? Read about our custom-built fireplaces.
Fireplace Trend 5: Indoor/Outdoor, Double-Sided Fireplaces
Versatility is one of the top fireplace trends right now. Indoor/outdoor fireplaces are on the rise because they can be used year-round. A beautiful summer night outside on the deck isn't complete without a fire, and neither is a cozy winter evening on the couch.
Indoor/outdoor gas fireplaces can be a great starting point for fireplace inspiration. Whether you like beautiful stonework with a rustic mantel, or you want the viewing area to be flush with a tile or metal veneer, these fireplaces can fit any design style while providing warmth both indoors and outdoors. Our indoor/outdoor wood fireplaces also have the option to convert between open and sealed fires.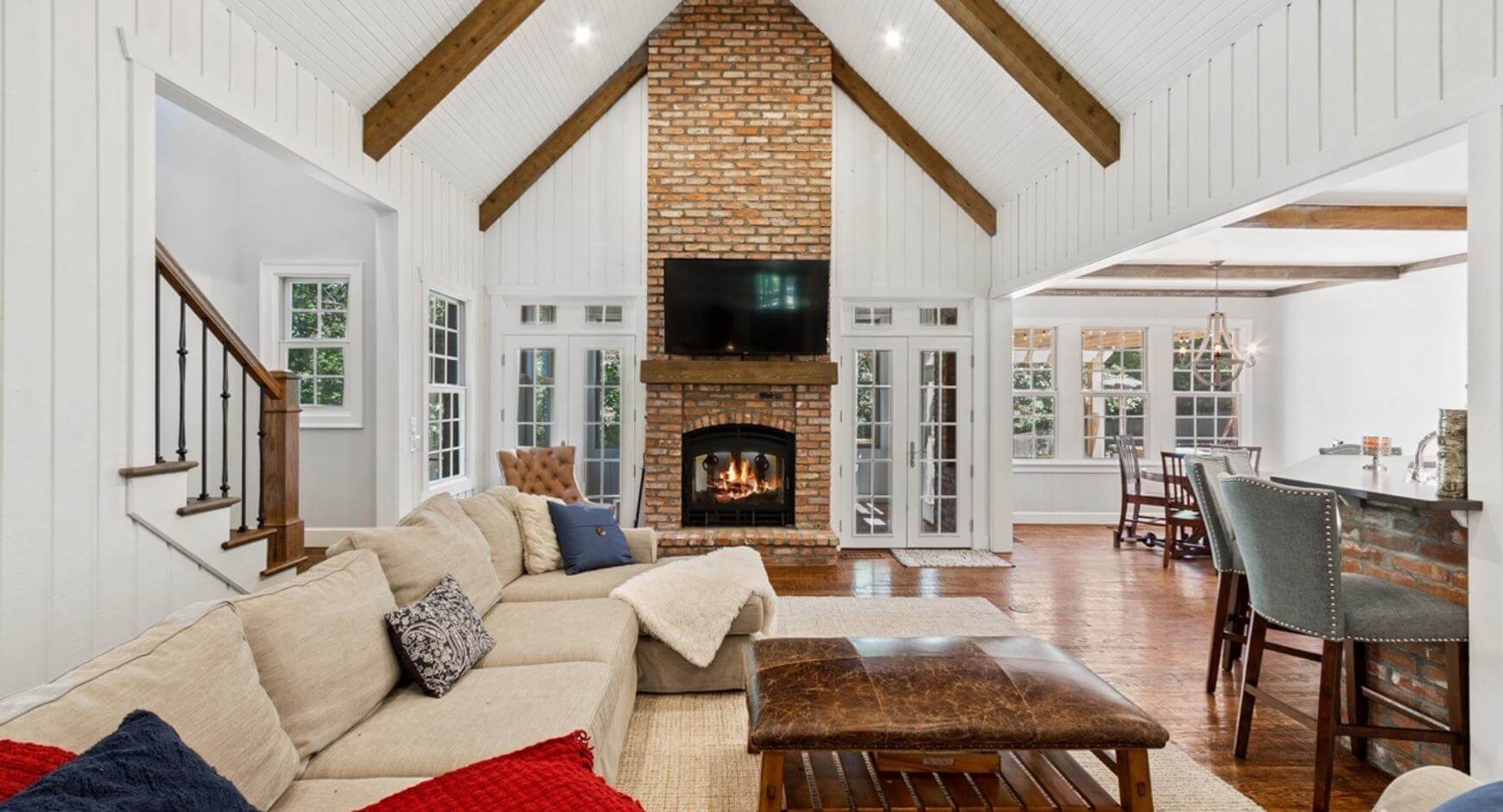 Examples of Indoor/Outdoor Fireplace Designs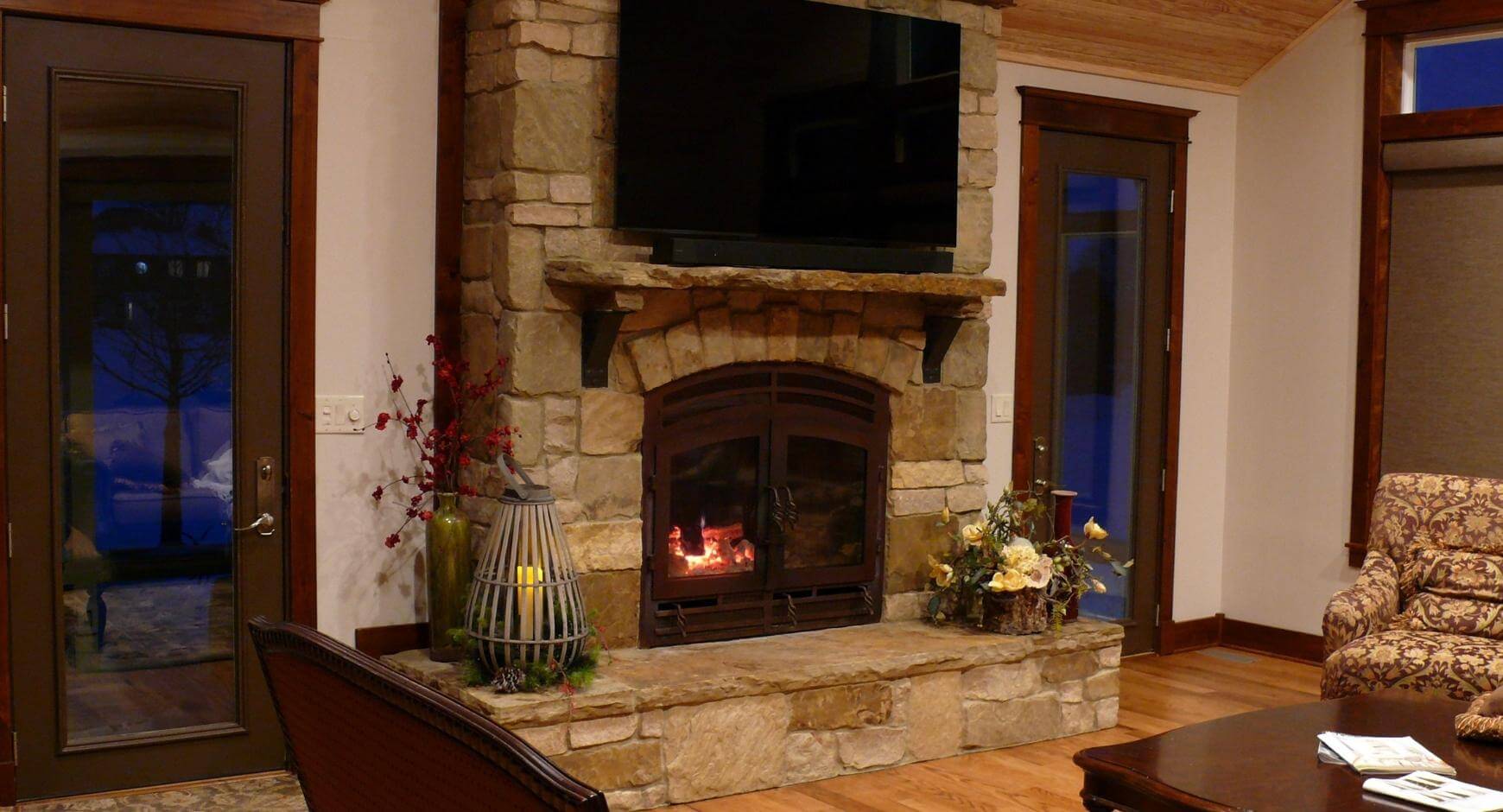 Your favorite indoor fireplace styles can also make great outdoor fireplaces, like in the above photo. This one-of-a-kind double sided fireplace looks like a window with fire in it. And, it's only one example of the beauty and ambiance that dual-sided fireplaces can add to any space— commercial or residential.
Fireplace Trend 6: Tall, Vertical Fireplaces
Combining the linear and extra-large looks, the latest fireplace fashions include a lot of tall, vertical fireplaces. When we say tall, we mean it. Our flames are guaranteed to be the tallest on the market and we have dramatic floor-to-ceiling fireplace designs.
Of all the stylish indoor fireplace trends of 2022, the tall fireplaces are some of the most interesting and distinctive. They're best for modern spaces that have elegant yet dramatic styling, as well as those that have high-ceilings. A fireplace like this is certain to be a talking point at any gathering.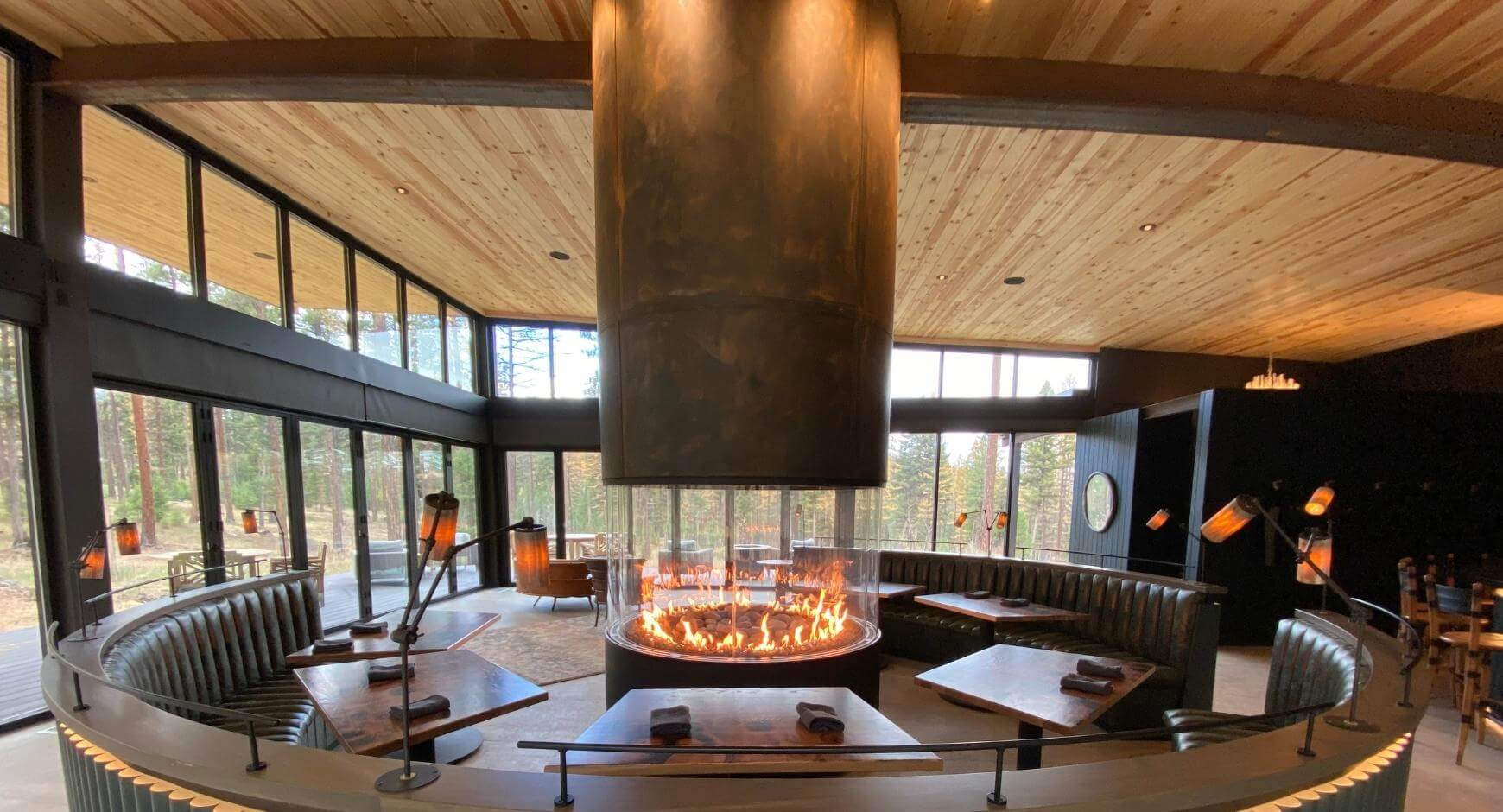 Example of Vertical Fireplace Design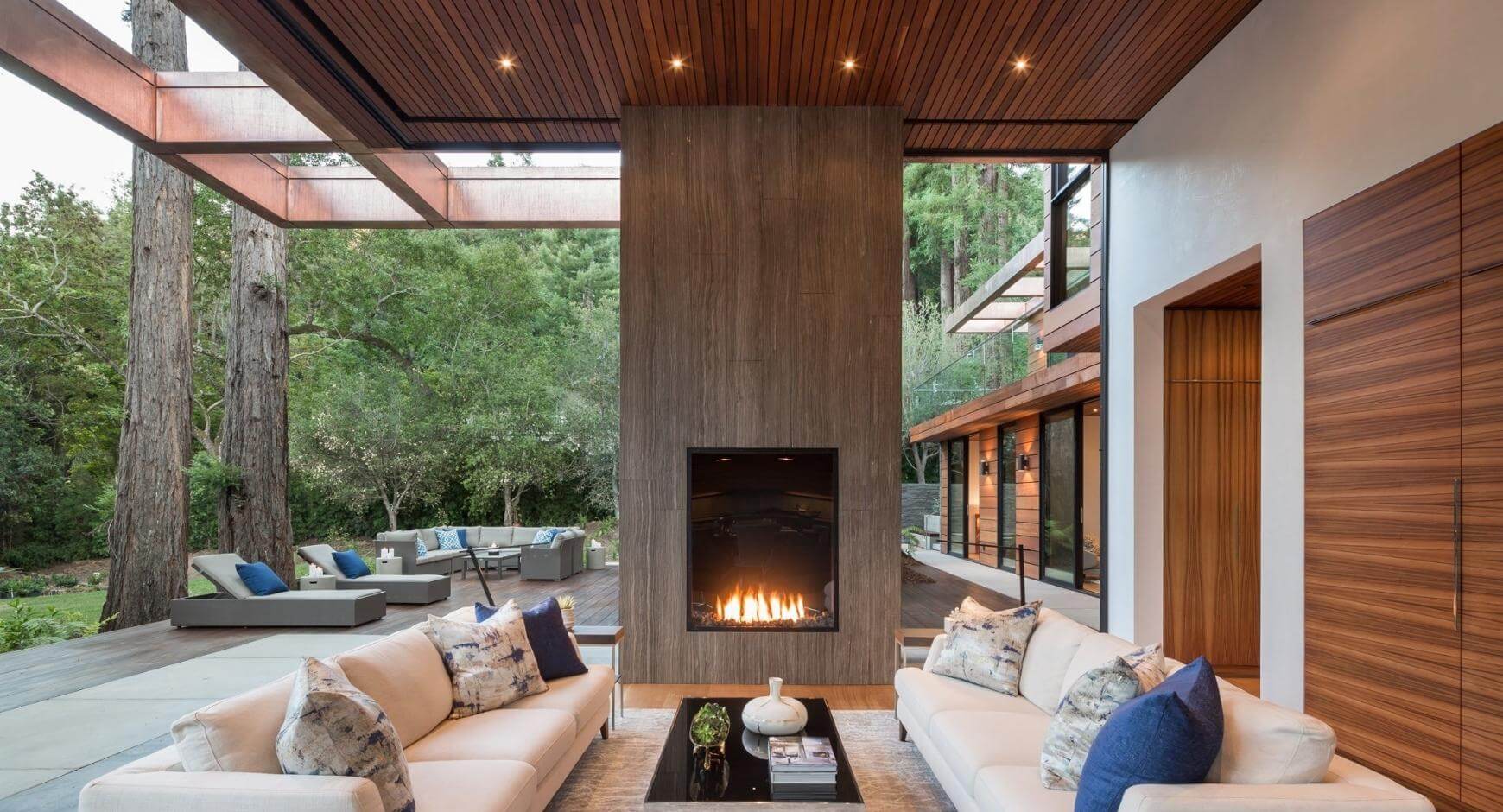 Acucraft's Traditional Series includes square and tall rectangular fireboxes. They are often accompanied by an extraordinary brick or stone frame. By comparing the above examples, it's clear just how dramatic and modern these designs can look.
Fireplace Trend 7: Four-Sided Glass Fireplaces
The see-through glass fireplace (also called a four-sided glass fireplace) is another functional and sophisticated trend in 2022 fireplace designs. It falls in step with other popular fireplace styles, and its clean, linear designs will bring warmth and light to a contemporary space.
With this style, you will be able to see the fire from any angle. This is what makes it one of the more popular interior fireplace designs. The see-through glass fireplace is the perfect option for minimalists. It doesn't have to be big and flashy to make a statement—its simplicity says everything.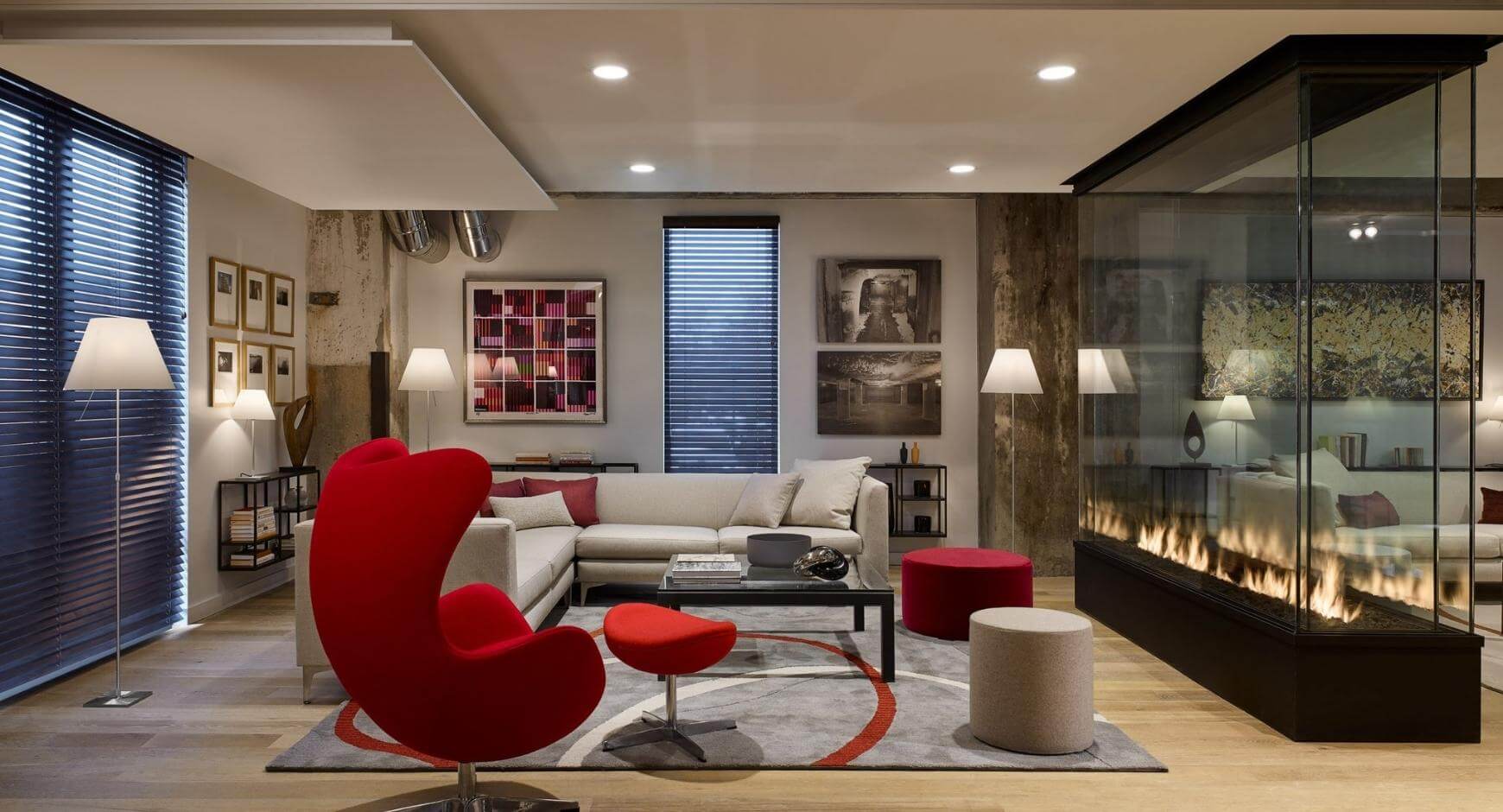 Four-Sided Glass Fireplace Designs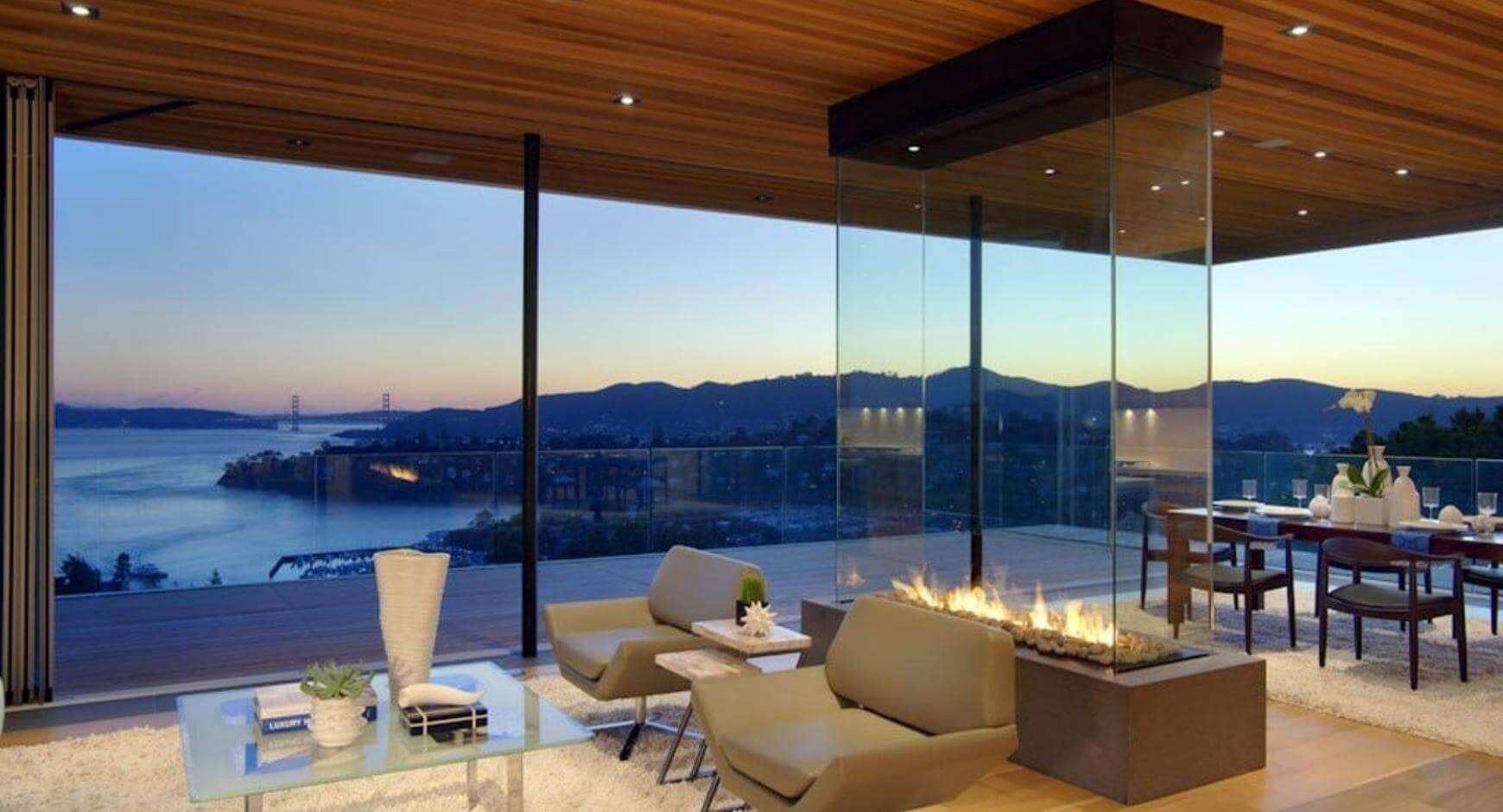 The best fireplaces feel like they were made specifically for their space, much like the photo above. This custom four-sided glass fireplace was designed and manufactured for West Square Apartments in Boston, MA. It's clear why the see-through glass fireplace is one of the trendiest fireplace concepts of 2022.
Fireplace Trend 8: Single Flue (Single Intake)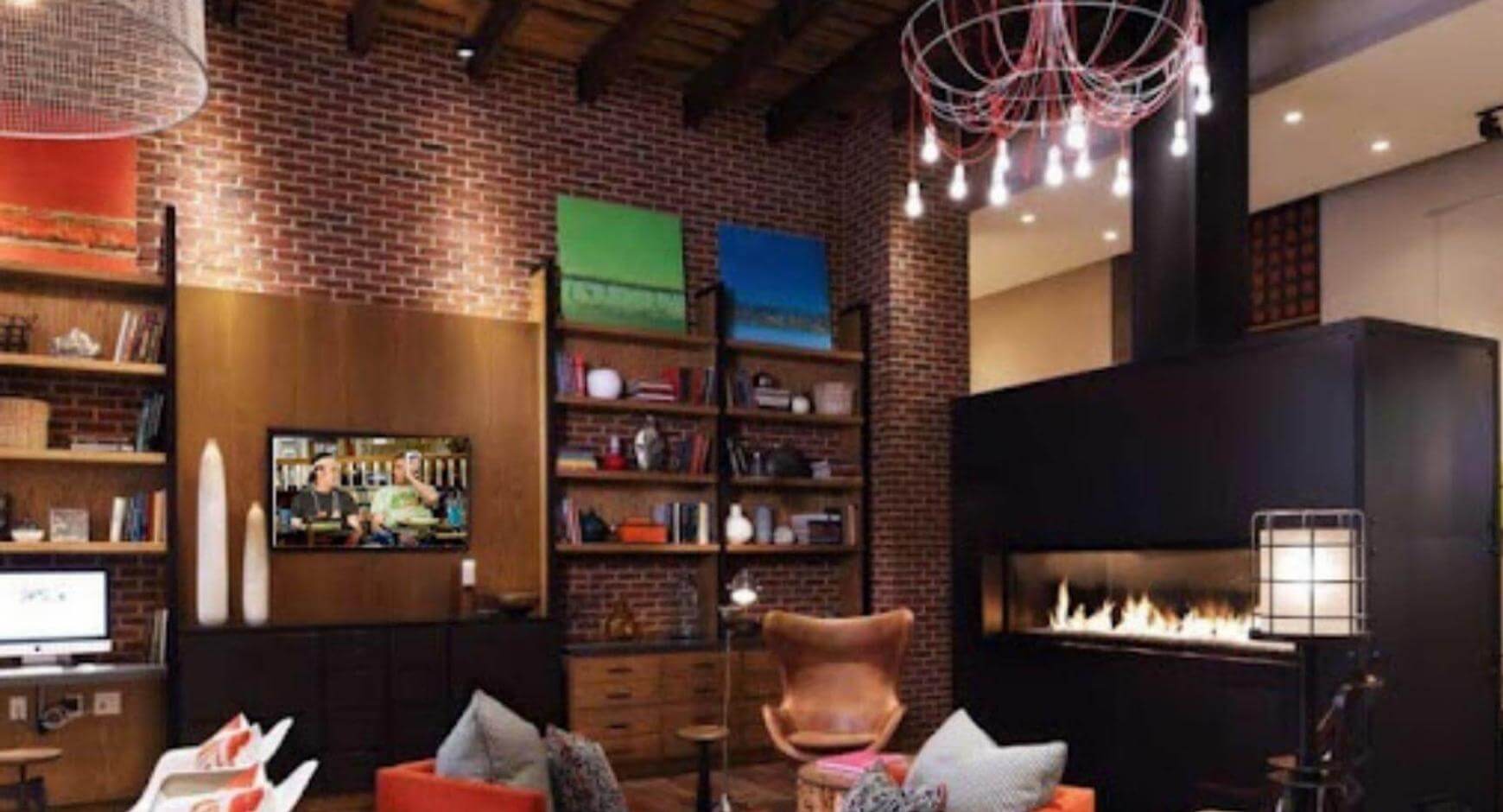 A flue is basically a pipe that, like a chimney, vents smoke and combustion gasses out of your space. It helps keep your indoor air free of toxins and carbon monoxide, while you enjoy the warmth and ambiance of your luxury fireplace. Like many other vital components of functional fireplace design, the flue can be tailored to suit your needs.
When choosing between single versus double intake for custom fireplaces, single flues seem to be the more popular choice. When exposed, it speaks to both form and function. This compliments trendy mid-century modern stylings and industrial decor.
Exposed Flue Fireplaces with Single Intake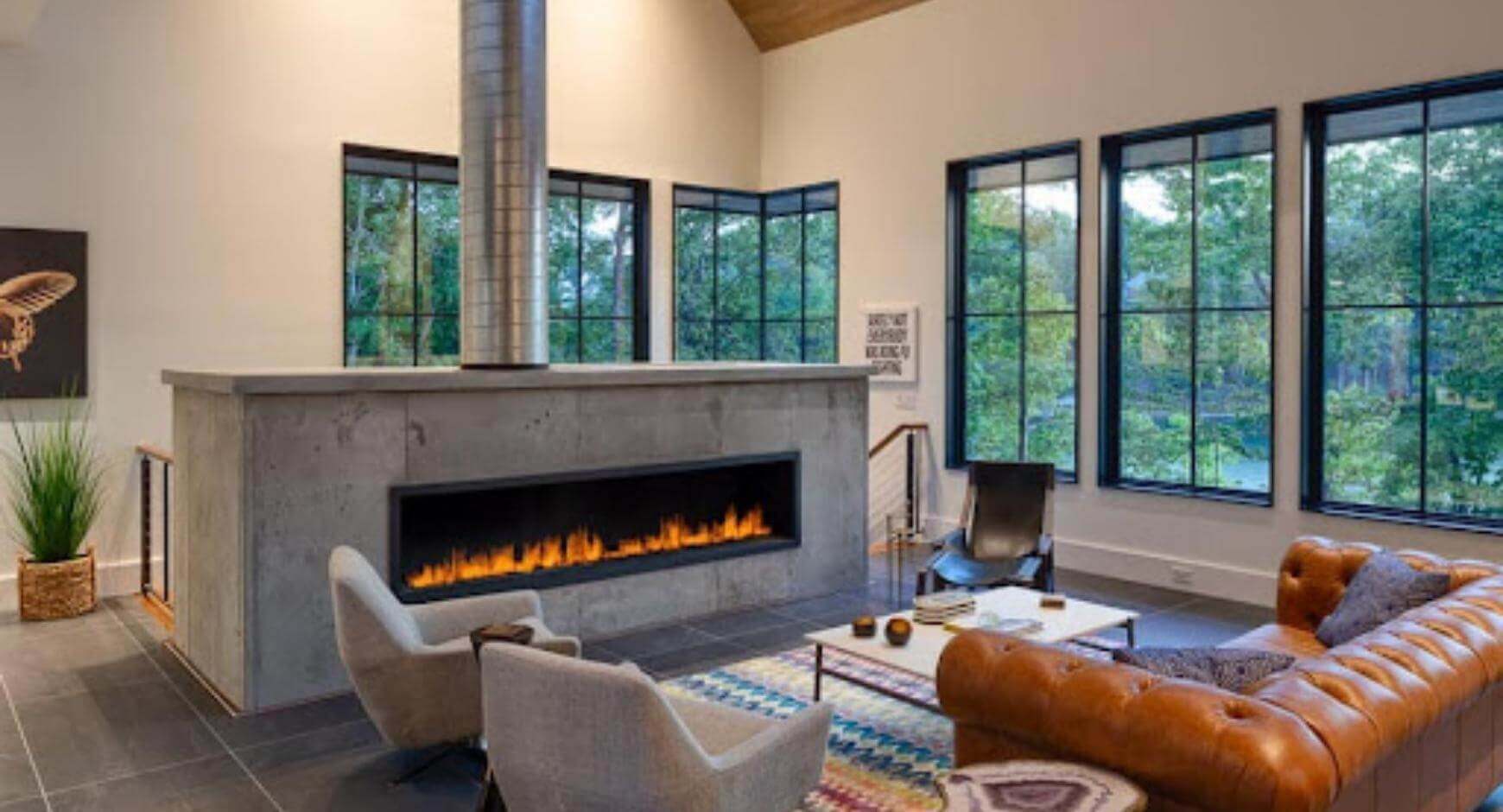 Most flues will be hidden from sight. However, the industrial style of interior design has established a place for exposed single flues. Modern fireplace ideas like these exposed flues add a touch of character to a room, whether the purpose of the piece is to delight guests or bring households together.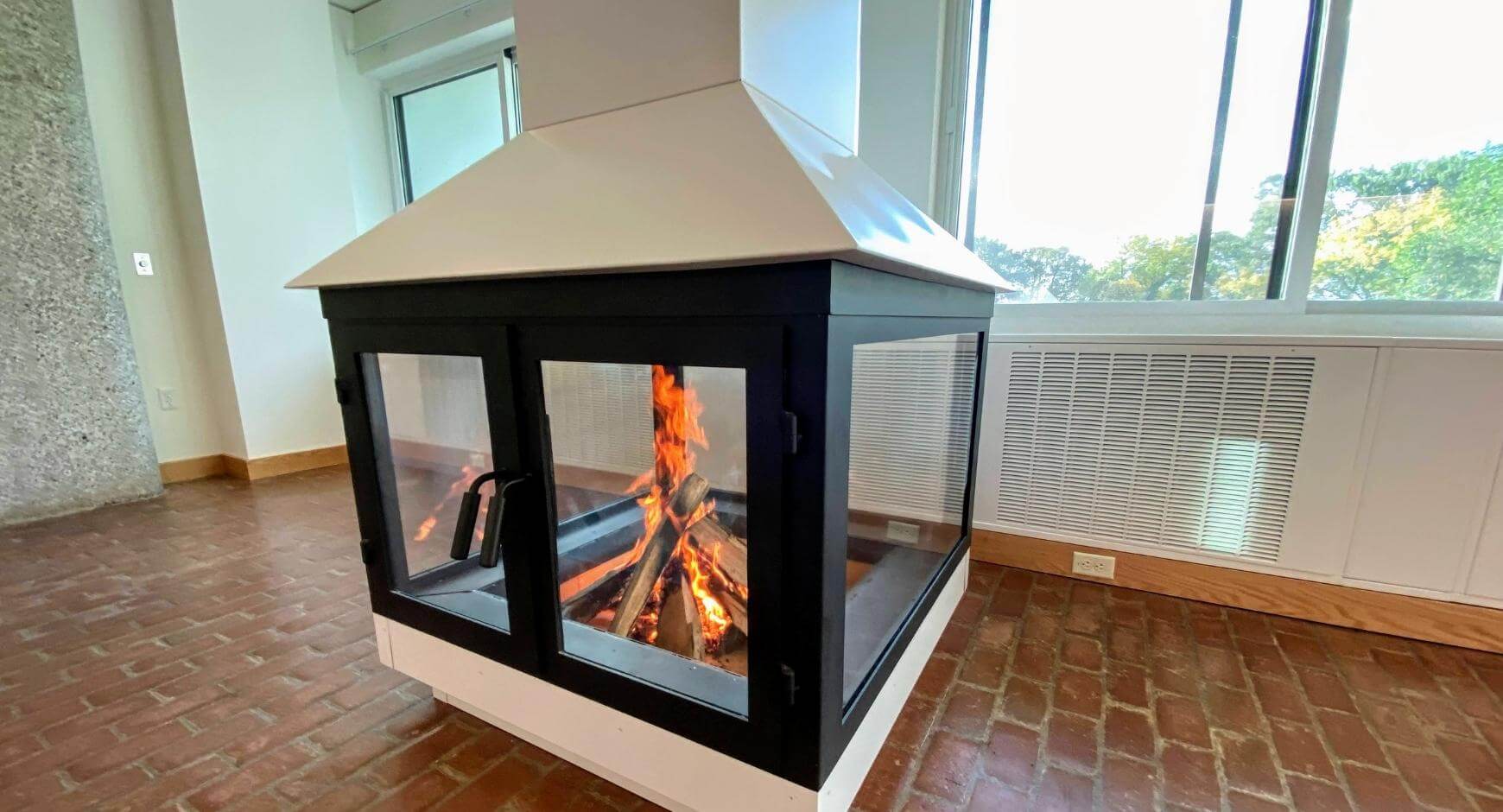 Single intake flues can be added to a wide variety of fireplace designs. For example, you can add them to:
See-through four-sided glass fireplaces, like the unit pictured here
Linear styles, like those featured above
Fireplace Trend 9: Unique Stone Fireplaces
Since stone facades used to be the only elements around that could withstand heat, they have always been used in fireplace design. The latest fireplace designs have taken the stone facade from a rustic beauty to a clean and sophisticated masterpiece. The contrast created by the clean white lines of this marble fireplace is highlighted by the brilliant flames flickering beneath it. Unique stones make for a truly custom fireplace fashion that only the experts at Acucraft can provide.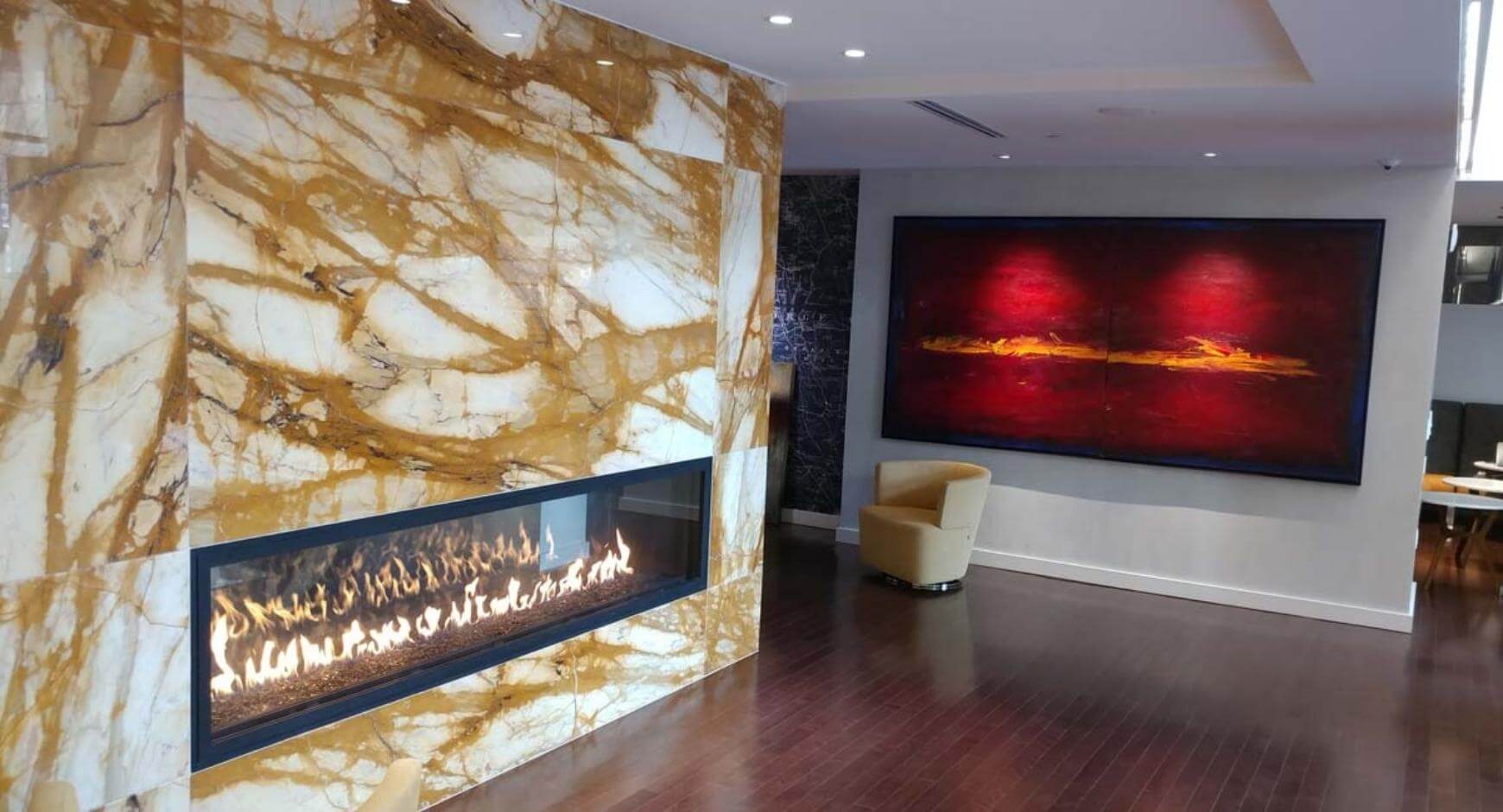 Trendy Stone Fireplaces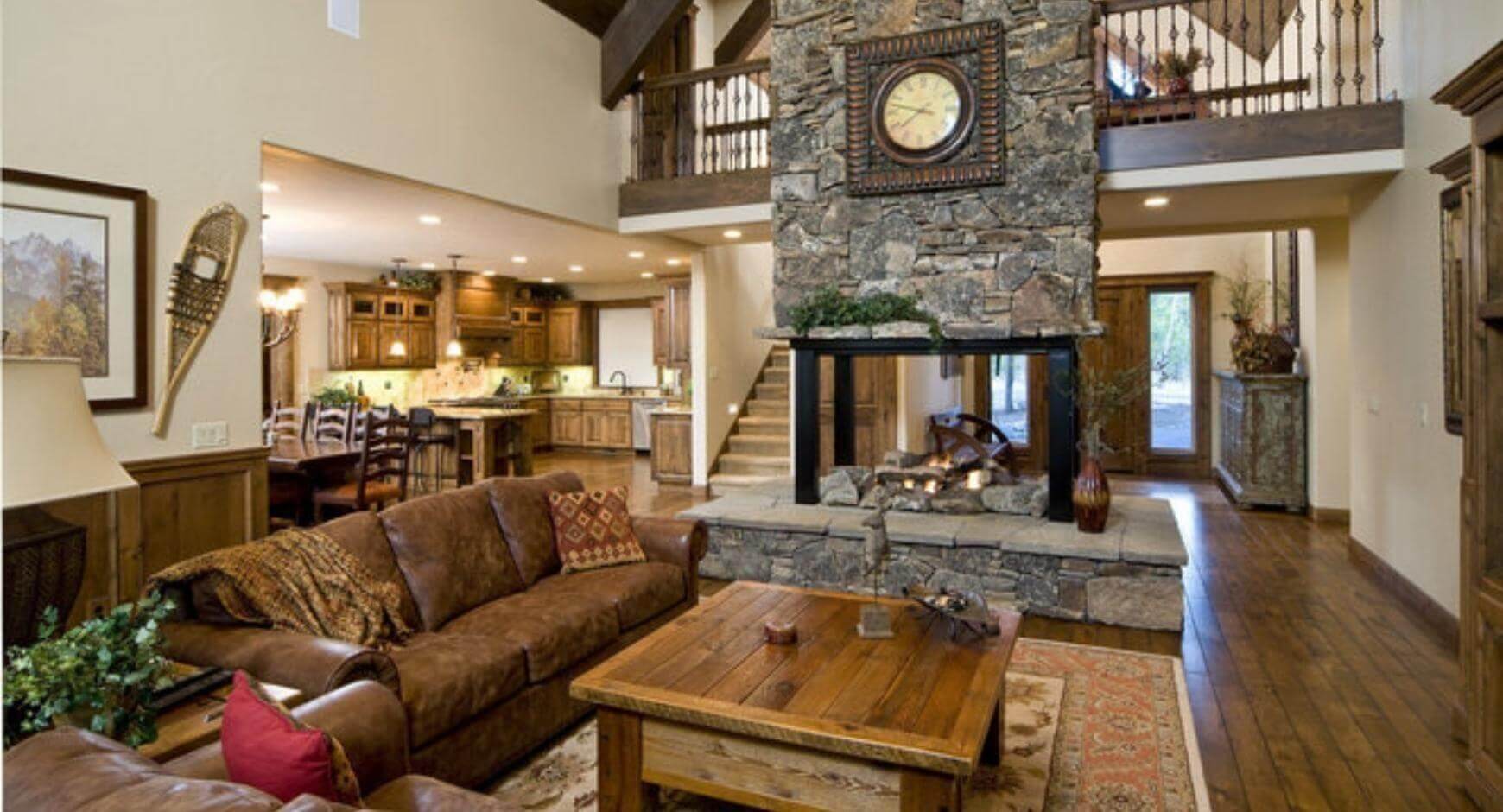 Stone facade is a great option for high-ceiling fireplaces you may have. The four-sided glass fireplace shown above makes use of the tall stone chimney to connect the loft and main level. Thanks to the 360 degree viewing angles it provides, this fireplace can be an eye-catching part of more than one room at once.
Discover the Latest Trends; Explore Acucraft's Custom Fireplaces
Fireplaces are more than a source of warmth—they're an integral part of interior design. At Acucraft, we know fireplace design. Bold, linear, and modern are the emerging fireplace trends in 2022. Find design inspiration in our gallery of amazing custom fireplaces and learn about the latest fireplace trends and designs in our blog.