January 27, 2021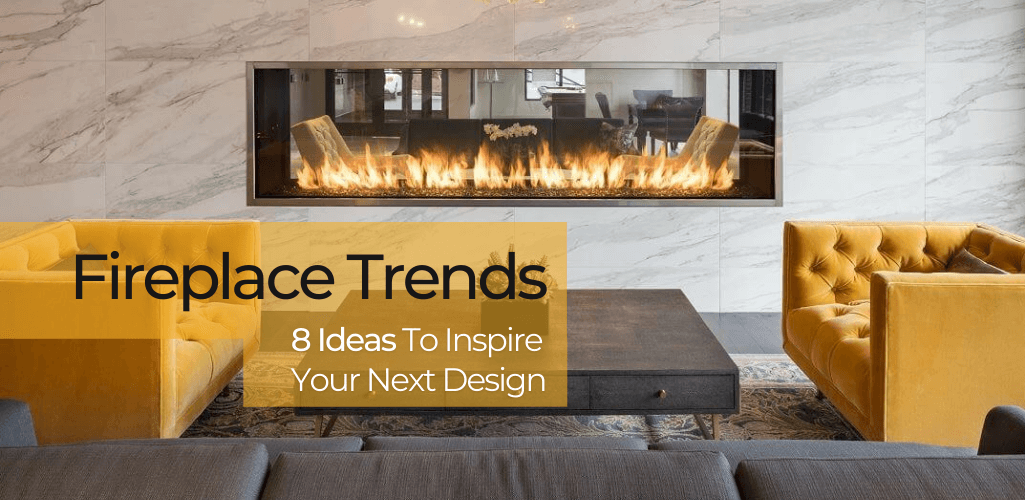 Fireplace Trends 2021: Eight Inspiring Fireplace Designs
No matter the time of year, a fireplace is a beautiful and cozy addition to any space – commercial or residential. In both homes and places of business, the most majestic fireplace designs can create a gorgeous centerpiece to a room or a breathtaking division between areas.
This year's most popular fireplace trends focus on beauty and functionality.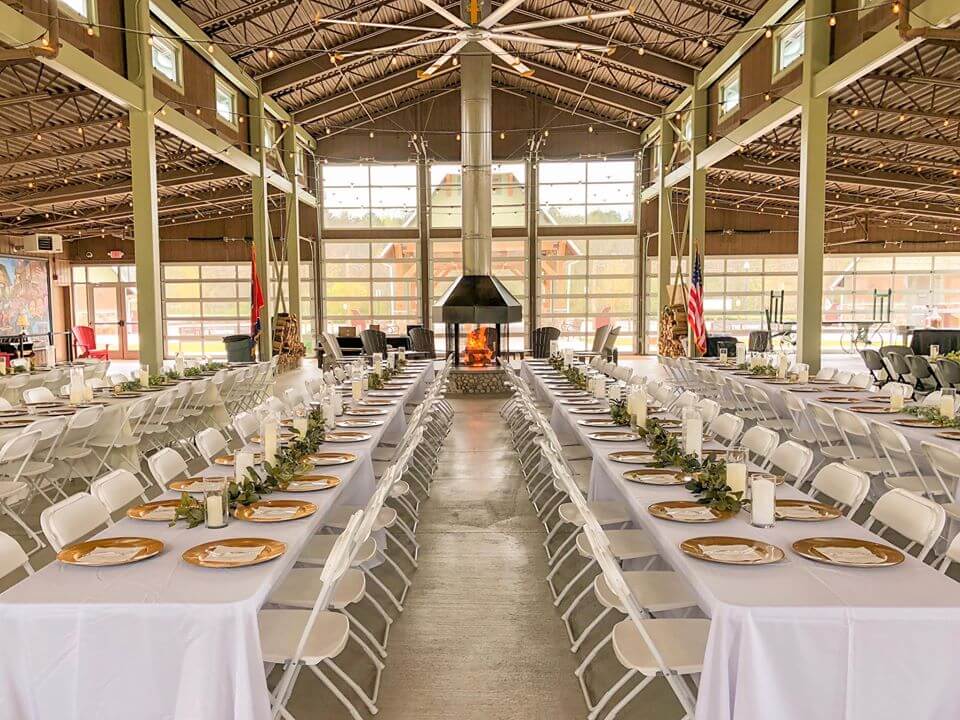 From seamless indoor linear fireplaces to enchanting double-sided fireplaces, find a design to match your style in this list of eight fireplace trends. Or, visit our blog to explore more modern fireplace ideas. There are also more cutting-edge fireplace designs in our gallery and you can request a brochure today to begin your fireplace journey.
Trend 1: Frameless Fireplaces
Indoor linear was one of the most sought-after fireplace trends of 2020 and continues to be among the hottest trends of the new decade. Once you've seen one of these frameless linear wood or gas fireplaces light up a room, it's easy to understand why their clean, sharp edges are so trendy. This seamless fireplace style is often surrounded by marble, tile, or stone decoration and can be designed as a classic single-sided piece or a see-through tunnel.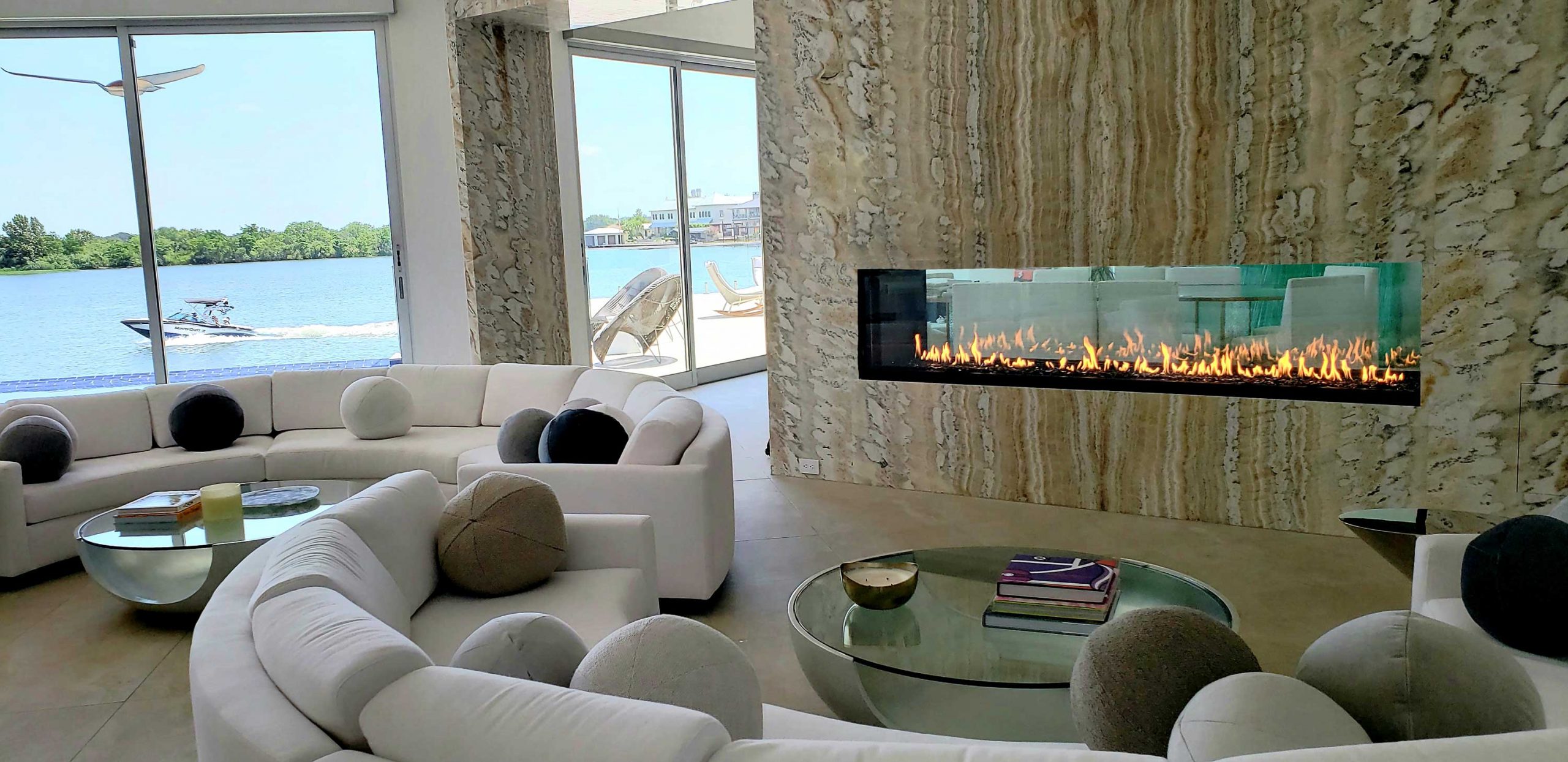 This style also plays a big role in the fireplace mantel trends of 2021. It's increasingly popular to see linear fireplaces built flush with the wall without a mantel at all, creating that seamless look. One of the key advantages of indoor linear fireplaces is that they can be integrated with home automation systems, which makes them incredibly easy to use.
Examples of Frameless Fireplaces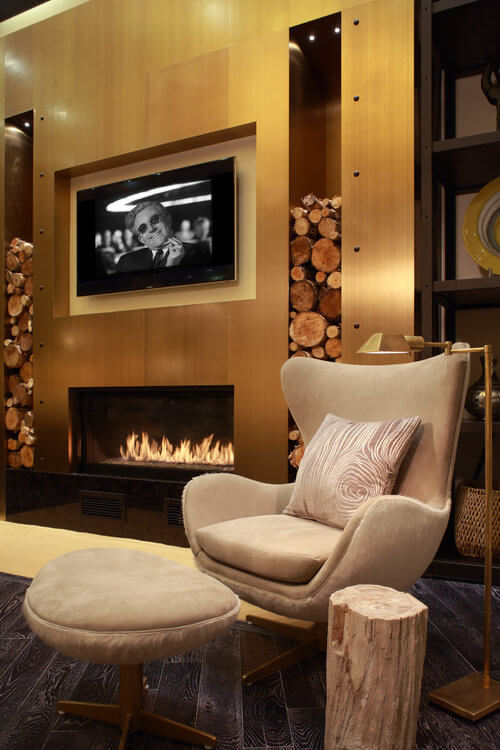 The Acucraft Signature Series includes frameless options with the choice to include glass media instead of wood or stone for an elegant and sophisticated look. In this photo above, we a seamless firebox resting beneath a sleek entertainment system. Explore more TV-over-fireplace design trends in our guide for fresh inspiration.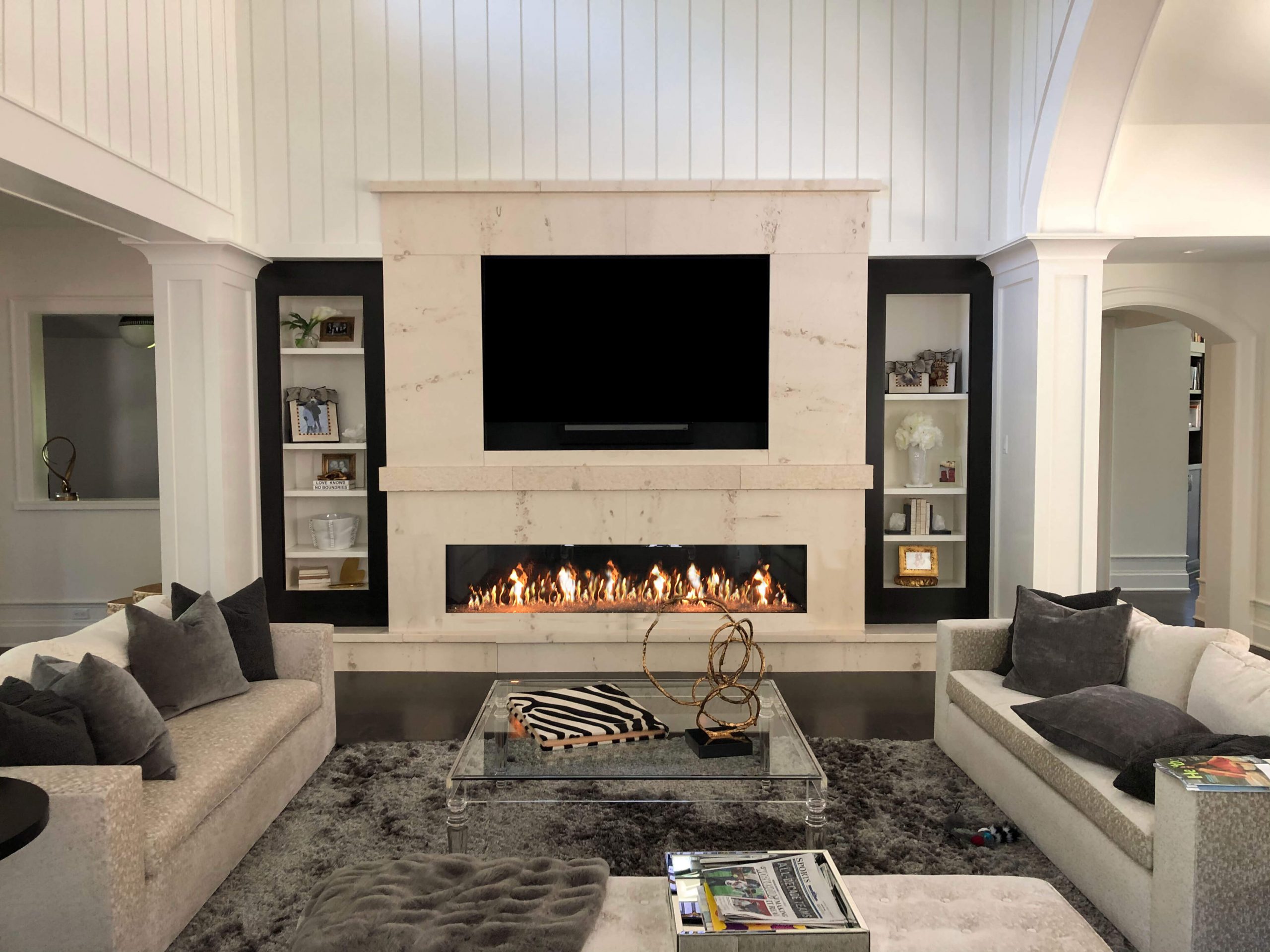 Other linear fireplace options at Acucraft, like the Blaze Series, features a sleek and modest 2" frame. Get in touch to learn more about the unique features of both series.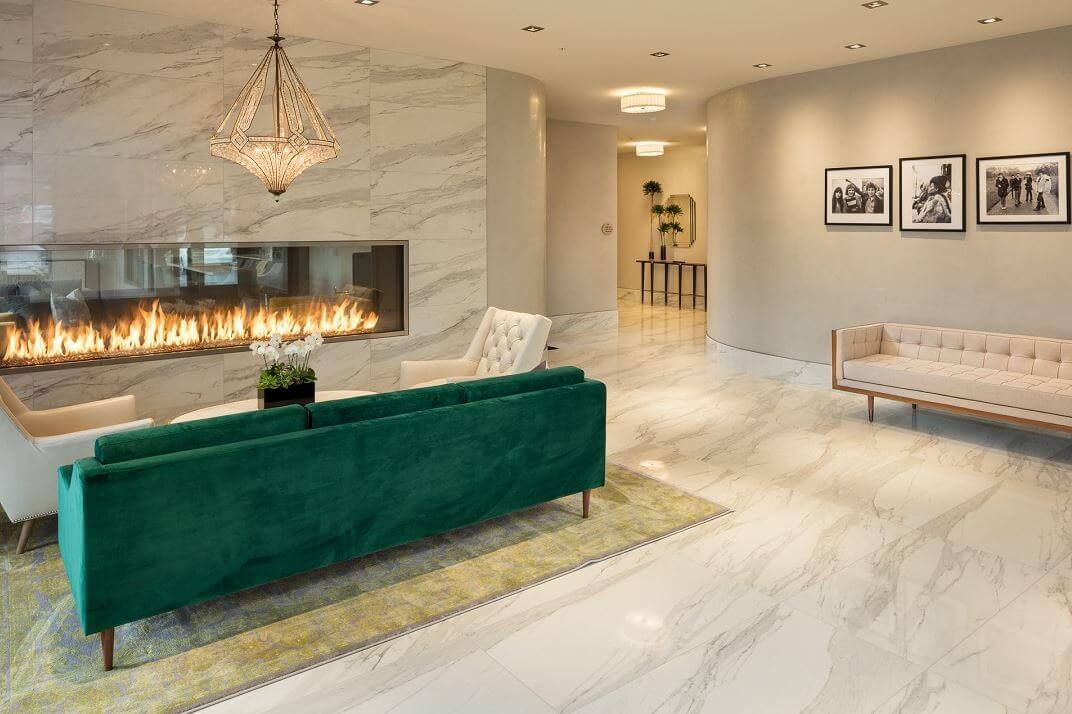 Trend 2: Versatility (Convertible Fireplaces)
There are countless options when it comes to fireplace designs, but which one is right for you? It can be tough to decide whether you want wood or gas, open or closed viewing, but with our designers at Acucraft, you don't have to choose one over the other. Our Signature Series can be converted from open viewing to sealed (and vice versa) as seen in the examples below.
2021 fireplace trends reveal that this type of versatility is in high demand. For those who entertain often or have children, the convenience and safety of a sealed gas fireplace may sometimes be preferable to tending an open fire. Other times, stoking the flames and cozying up with a good book is just what you need. A convertible fireplace allows you to do both.
Examples of Versatile Fireplace Trends
This Acucraft Hearthroom 36 indoor-outdoor wood fireplace has a black finish and basket handles with real wood burning. In the third photo, the doors have been removed to allow for open viewing.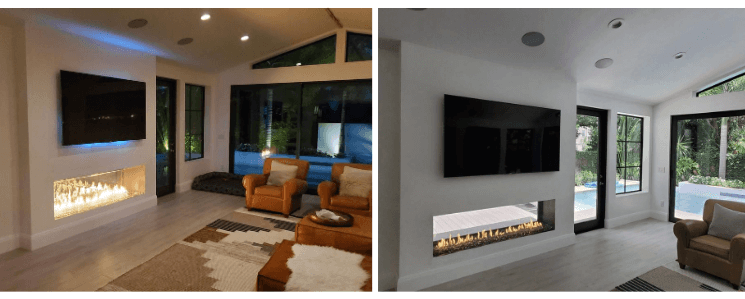 This Signature 6 indoor-outdoor linear gas fireplace, with black reflective glass media on the interior side, is a magically versatile design. As seen in the right photo, the glass can be removed for open viewing in the living room, still viewable from the pool deck outside.
If a versatile fireplace sounds like your ideal solution, explore Acucraft's Signature Series. On the other hand, our Hearthroom Series also offers a fireplace that can be converted from wood to gas (and vice versa). Reach out to our fireplace advisors today to learn more about this unique option. 
Trend 3: Three-Sided Corner Units
The three-sided corner unit, or 'peninsula fireplace', has a clean, modernized look and offers unique views from every angle. Of all the trendy fireplace looks in 2021, the corner office is the most practical use of space. Architects and designers love it because it can add an element of warmth and coziness without sacrificing open space.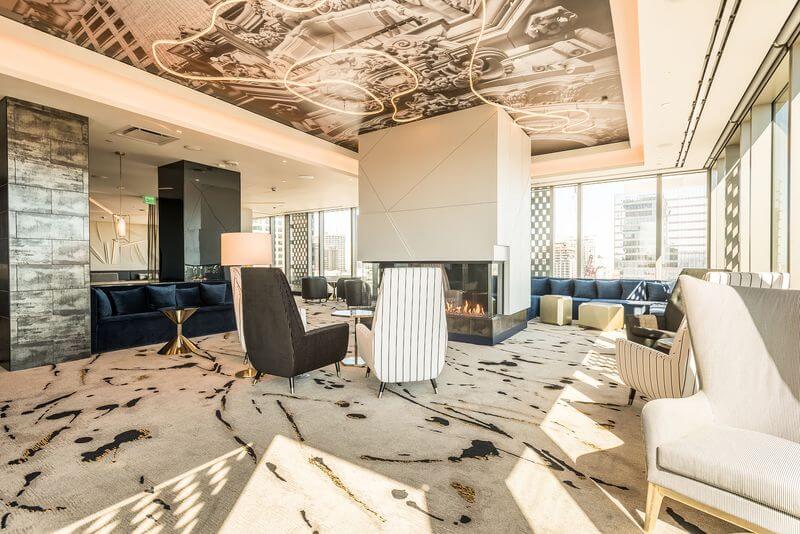 Our three-sided corner units are designed to be luxurious, safe, and strong. The Panoramic Fireplace and the Peninsula Three Sided Gas Fireplace are beautiful statement pieces that perfectly complement a refined aesthetic in homes, restaurants, and hotels. If you want a gas fireplace anywhere in the interior of your home, a corner unit is ideal because the installation is simple.
Example of Three-Sided Corner Fireplaces
Many of the latest three-sided fireplace designs, like this custom open gas peninsula fireplace with a glass protective barrier, are brimming with stylish fireplace tile inspiration for 2021. This unit is a focal point in the space, accentuated by the surrounding mosaic tiles.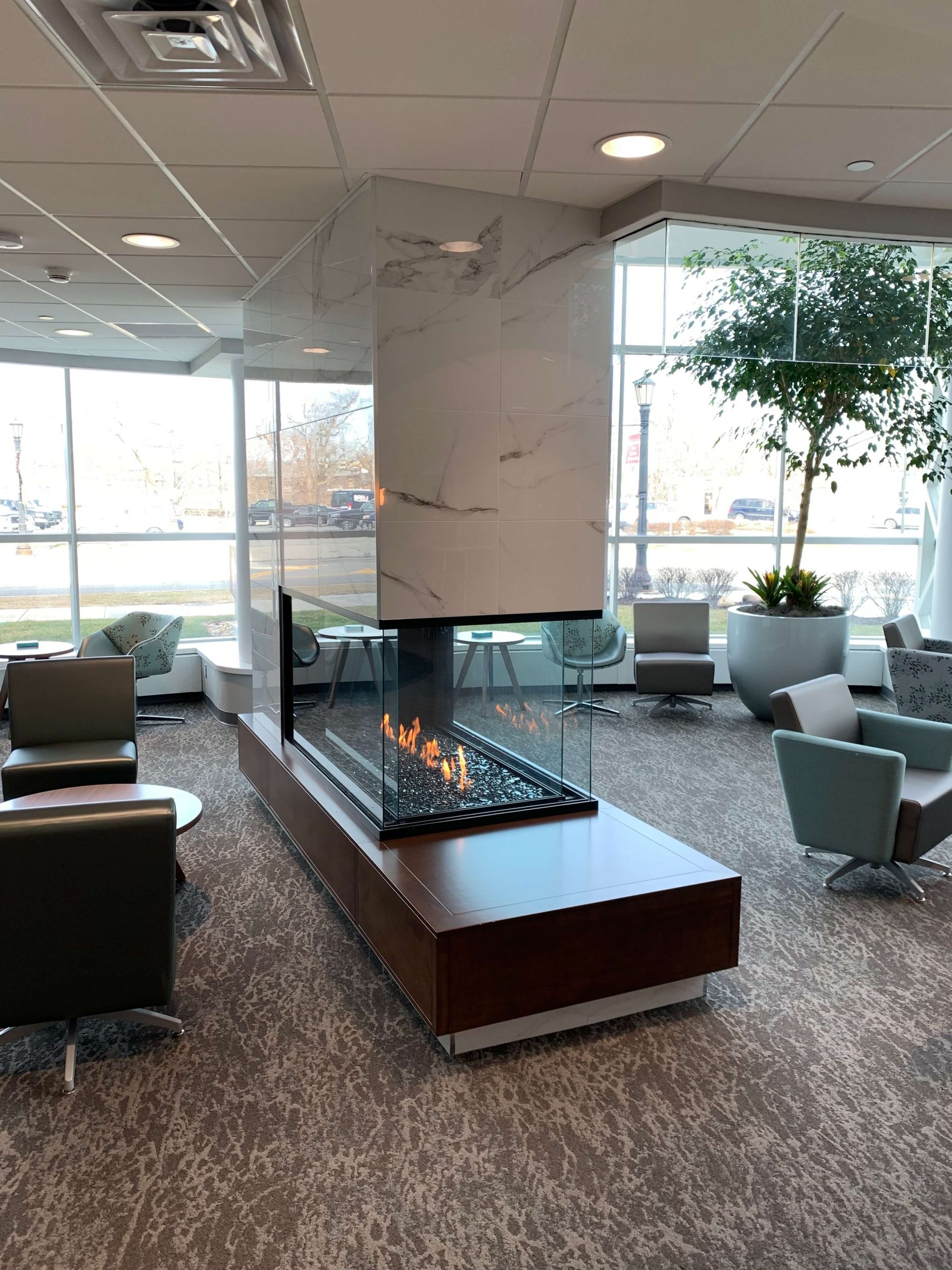 Will a polished, state-of-the-art fireplace complete your space? Dive into our photo galleries for Panoramic and Peninsula fireplace designs.
Trend 4: Extra Large Fireplaces
Extravagant fireplaces with beautiful chimneys and large viewing areas are here to stay. For those with a flair for the dramatic, this bold fireplace style is an excellent option. The expansive openings create the perfect ambiance and cozy warmth.
Pairing a dark, oversized hearth with light stonework will command attention in your space. For homes with high ceilings, a huge chimney overlaid with stone offers a wonderfully rustic look. If you prefer a cleaner look, other chimney color ideas include all white paint or metal.
These bold fireplaces can impress guests in commercial spaces like hotels, museums, or event spaces but can also serve as a breathtaking focal point in larger homes.
Example of Large Fireplace Design
This custom Acucraft four-sided wood fireplace is a stunning centerpiece in this room and a shining example of beautiful stonework on the chimney. Want to know more about how we created this masterpiece? Read about this custom 4-sided wood fireplace made for The Hermitage Club – it's the largest we've built, yet.
Trend 5: Indoor/Outdoor, Double-Sided Fireplaces
Versatility is one of the top fireplace trends right now. The indoor/outdoor fireplace is on the rise because it's a hit year-round. A beautiful summer night outside on the deck isn't complete without a fire, and a cozy winter evening on the couch isn't complete without a fire, either.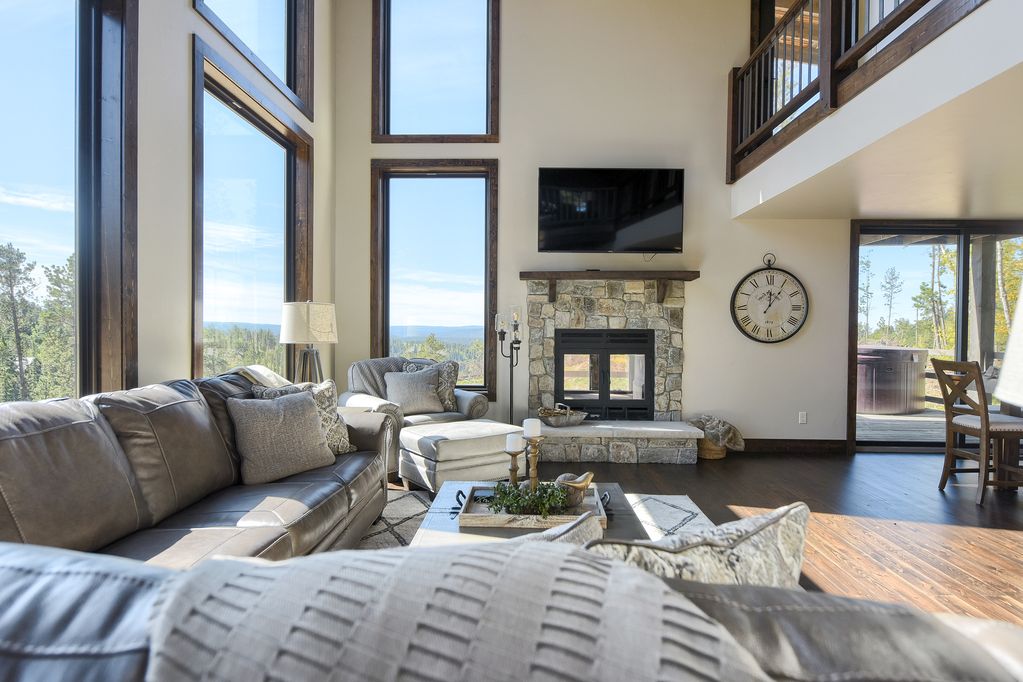 Indoor/outdoor gas fireplace looks can vary widely. Whether you like beautiful stonework with a rustic mantel, or you want the viewing area to be flush with a tile or metal veneer, your fireplace can fit your design style while providing warmth both indoors and outdoors. Our indoor/outdoor fireplaces also have the option to convert between open and sealed fires.
Examples of Indoor/Outdoor Fireplace Designs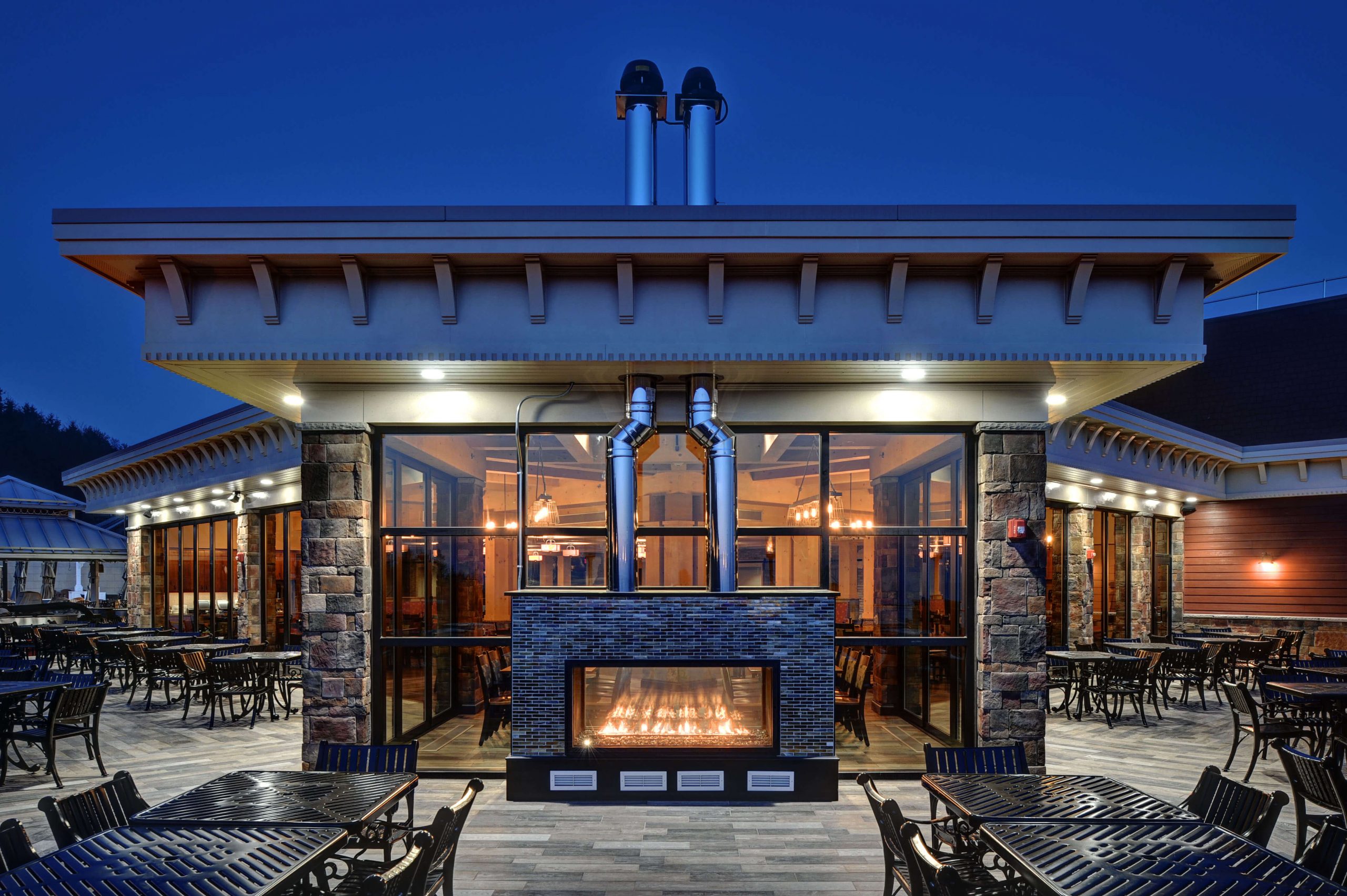 Both of these units are custom gas indoor-outdoor fireplaces by Acucraft. These photos reveal the beauty and ambiance that see-through indoor/outdoor fireplaces can add to any space; commercial or residential.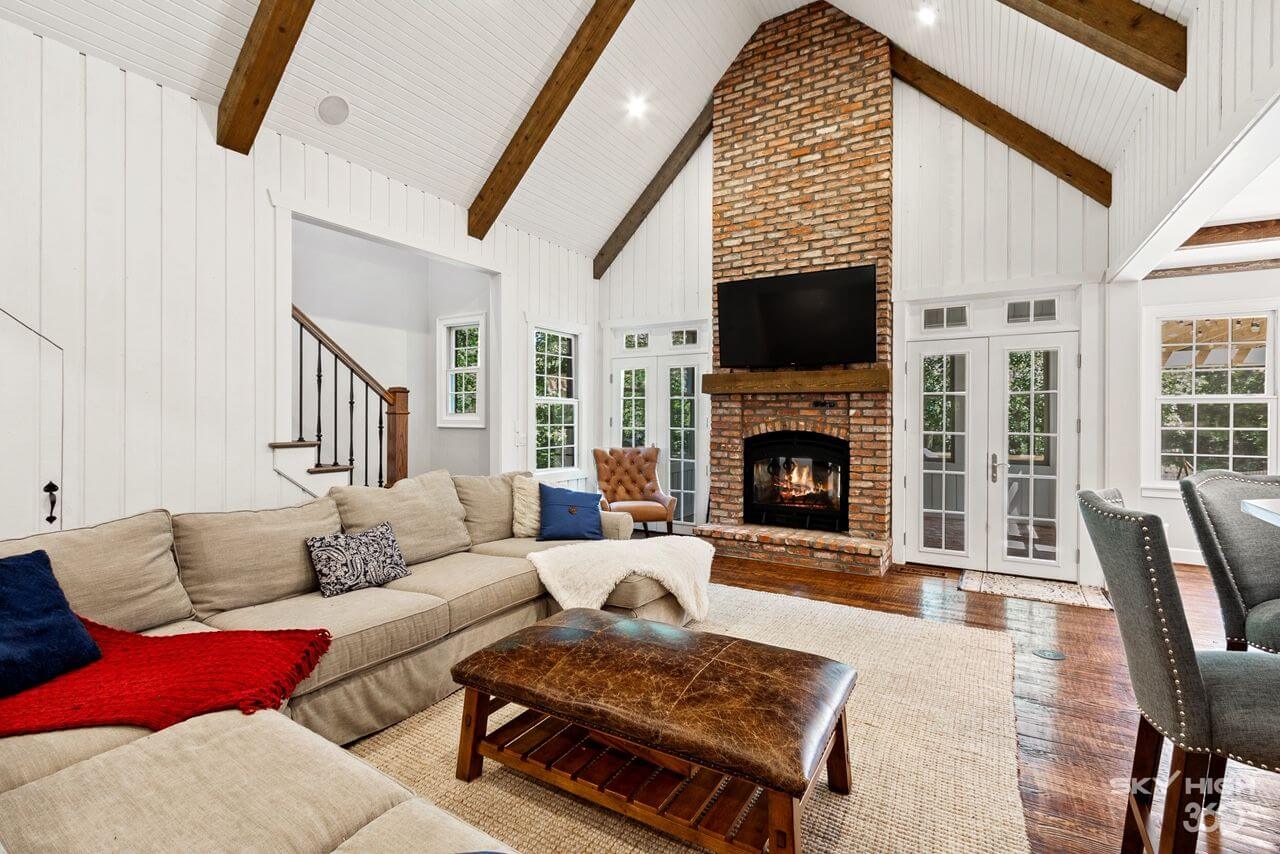 This indoor-outdoor wood burning fireplace is from Acucraft's Hearthroom 36 Series and features a single door with a black finish, allowing onlookers to gaze through the flames and into the outdoors. Browse our indoor/outdoor fireplaces for inspiration or explore other designs with a TV mounted above the fireplace.
Trend 6: Tall, Vertical Fireplaces
Combining the linear and extra-large looks, the latest fireplace designs include a lot of tall, vertical fireplaces. When we say tall, we mean it – whether we're talking about the towering heights of our flames (tallest on the market, guaranteed) or bold and dramatic floor-to-ceiling features.

Of all the stylish indoor fireplace designs of 2021, the tall, vertical option is one of the most interesting and distinctive. It's best for a modern space and with elegant yet dramatic styling – and high-ceilings. A fireplace like this is certain to be a talking point at any gathering.
Example of Vertical Fireplace Design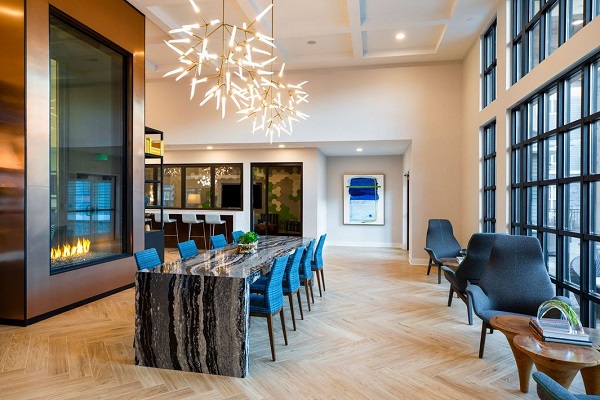 This is a custom vertical fireplace by Acucraft. This customer chose a floor-to-ceiling fireplace with a massive, see-through viewing window. Feeling inspired? If you'd like to discuss your custom fireplace vision with a professional reach out to our team, today.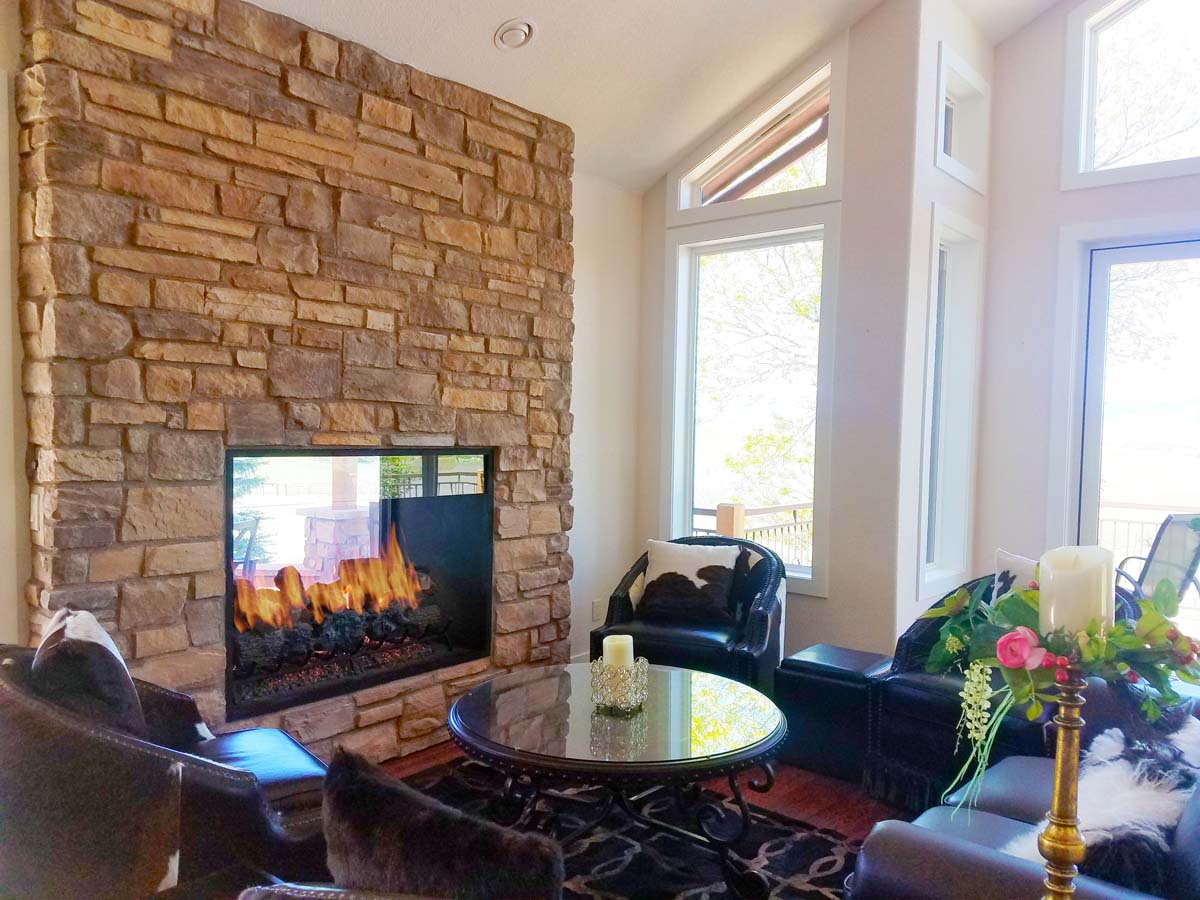 Acucraft's Traditional Series includes square and tall rectangular fireboxes which are often accompanied by an extraordinary brick or stone surround. Comparing these examples, the flexibility is clear just how dramatic –or modest– the firebox can be within the larger feature.
Trend 7: Four-Sided Glass Fireplaces
The see-through glass fireplace (also called a four-sided glass fireplace) is another beautifully functional and sophisticated trend in 2021 fireplace designs. It falls in step with other popular fireplace styles, highlighting clean, linear designs that still bring warmth and light to a contemporary space.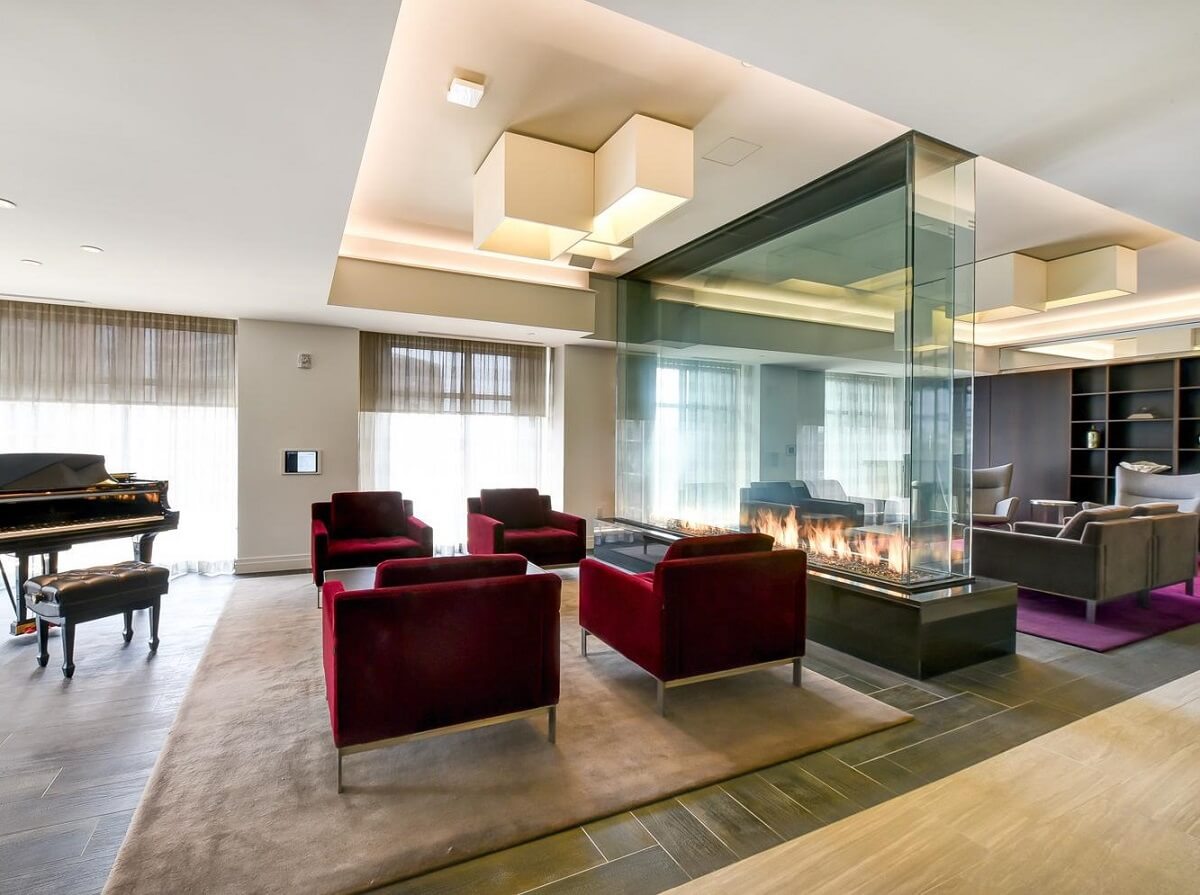 With this style, the fire can of course be seen from any angle. This is what makes it one of the more popular interior fireplace designs. The see-through glass fireplace is the perfect option for the minimalist. It doesn't have to be big and flashy to make a statement—its simplicity says everything.
Four-Sided Glass Fireplace Design
This is a custom four-sided gas fireplace with glass media we designed and manufactured for West Square Apartments in Boston, MA. It's crystal clear why the see-through glass fireplace is one of the trendiest fireplace concepts of 2021.
Trend 8: Single Flue (Single Intake)
A flue is basically a pipe that, like a chimney, vents smoke and combustion gases out of your space. It helps keep the air indoors free from toxins and carbon monoxide while you enjoy the warmth and ambiance of your luxury fireplace. Like many other vital components of functional fireplace design, the flue can be tailored to suit your needs.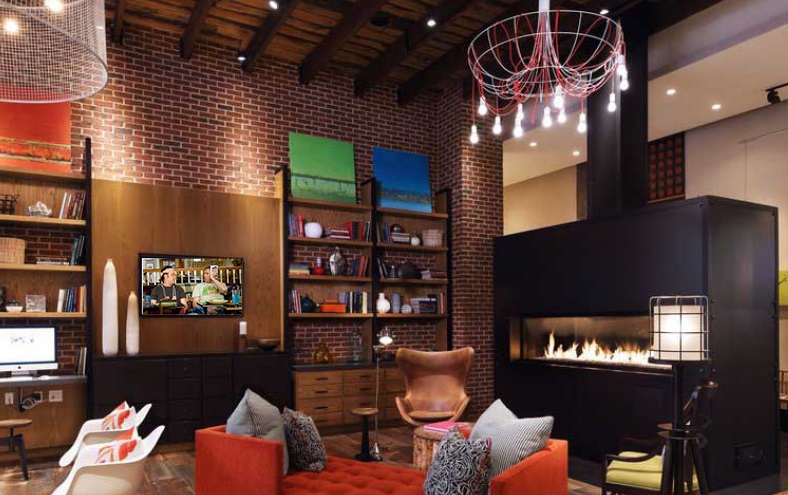 When choosing between single versus double intake for custom fireplaces, we've seen that single flue has become an especially popular choice. When exposed, it speaks to both form and function; complimenting trendy mid-century modern stylings and industrial decor.
Exposed Flue Fireplaces With Single Intake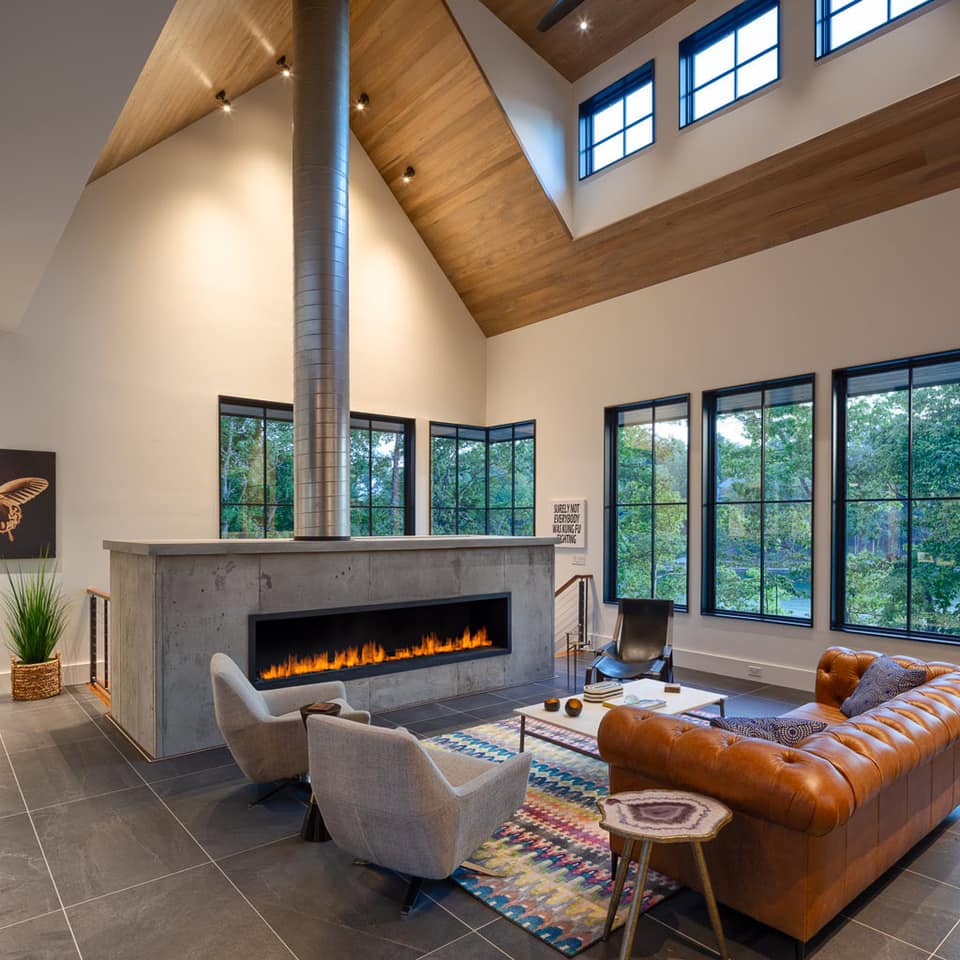 Most flues will be hidden from sight, but the industrial style of interior design has established a place for exposed single flues. These exposed flues add contemporary flair and character to a room, whether the purpose of the piece is to delight guests or draw households together.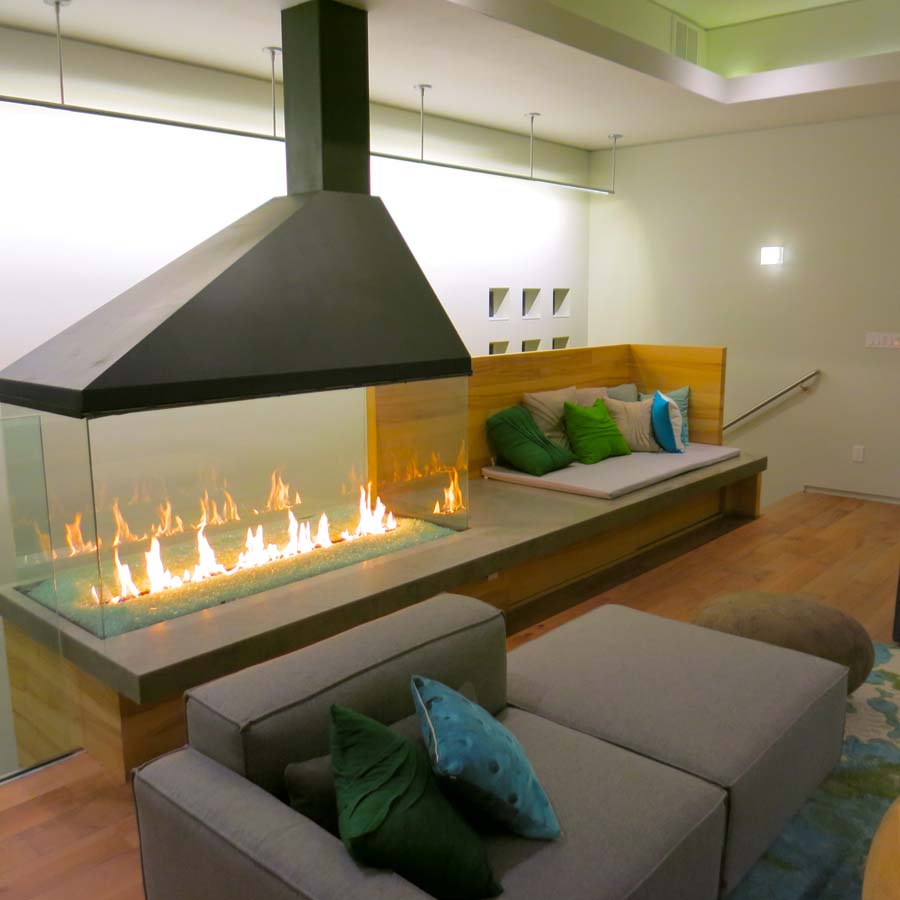 Single intake flues can be added to a wide variety of fireplace designs including see-through four-sided glass fireplaces like the unit pictured above, and round styles like those in the photo below.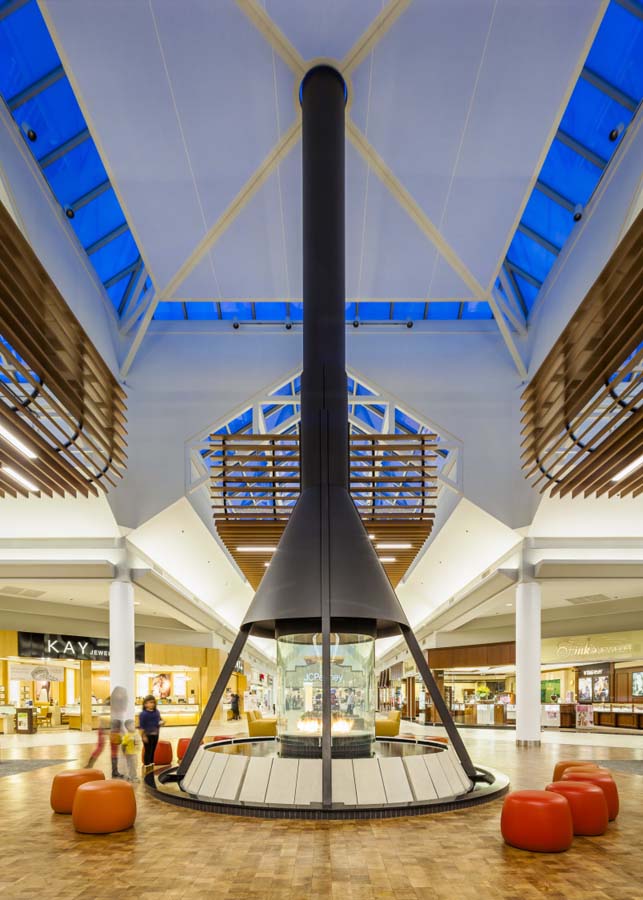 Discover Hot Trends; Explore Acucraft's Custom Fireplaces
Fireplaces are more than a source of warmth—they're an integral part of interior design. At Acucraft, we know fireplace design. Bold, linear, and modern are the emerging trends for the best fireplaces in 2020.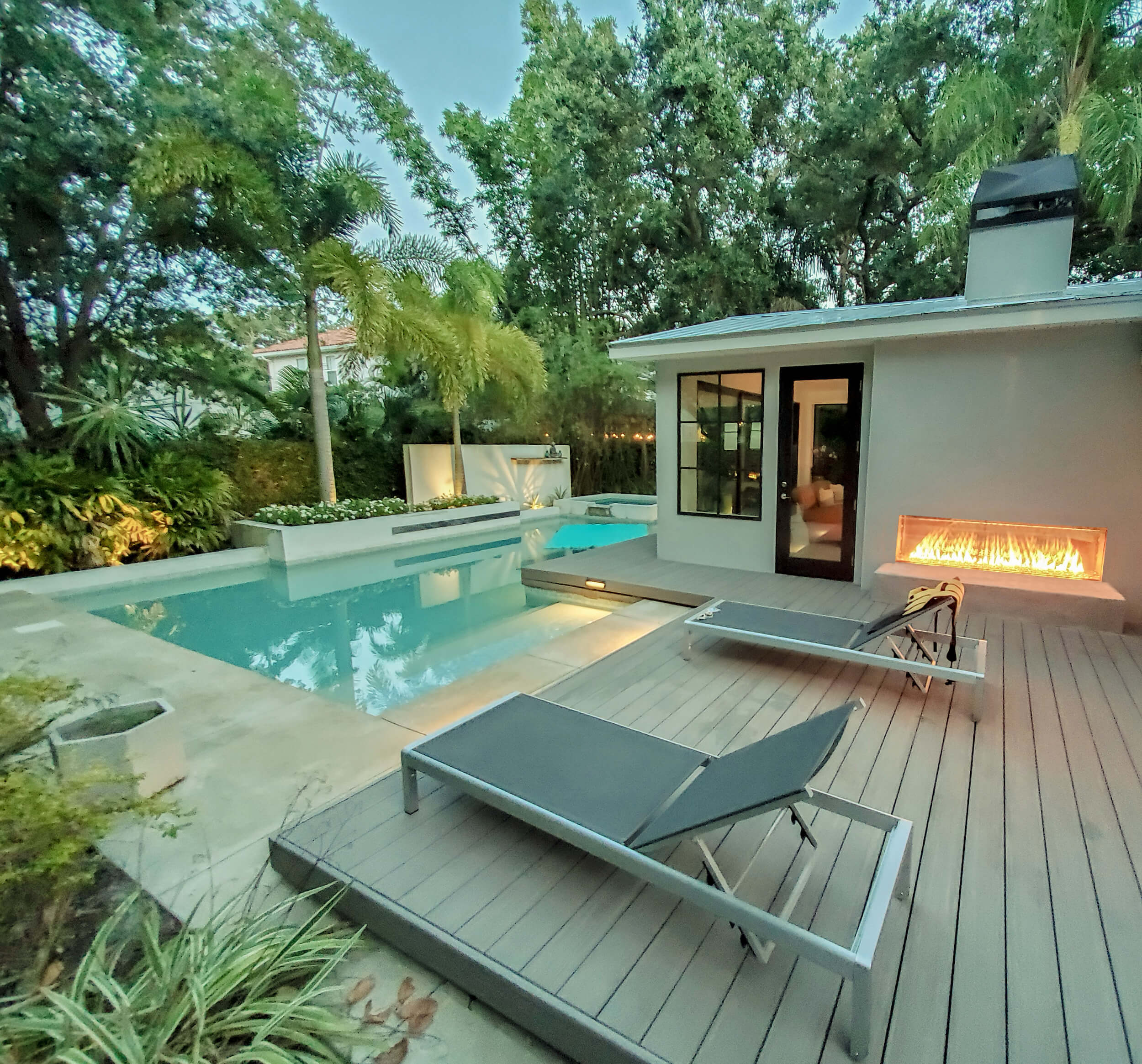 Get inspired by Acucraft's popular custom gas and wood fireplaces.
Linear: Clean yet striking frameless designs, one-sided linear fireplaces are among the most popular for custom wood and gas.
Circular: Round or concentric, this style grabs attention from all 360-degrees – a bold focal point for contemporary homes or commercial spaces.
Open Hearth: Acucraft can manufacture convertible fireplaces that can be easily transformed from a sealed unit into an open one – or vice versa – in minutes.
Vertical: This floor-to-ceiling type of indoor fireplace is another dramatic focal point, drawing eyes upward to towering flames.
Double-sided: Divide two spaces seamlessly to allow enjoyment of the flames from both rooms. Two-sided (or see-through) and indoor/outdoor fireplaces are both similar in purpose; they bring the best of both functionality and form to your interior design.
Four-Sided: Also called island style, this is another design that allows enjoyment from all sides without blocking views.
Peninsula: A three-sided design can serve as a transitioning feature to add distinction to separate sections of a single room.
Panoramic: Like the peninsula fireplace, this kind can be viewed from three sides. However, these units are typically installed along a wall, as opposed to extending out from one.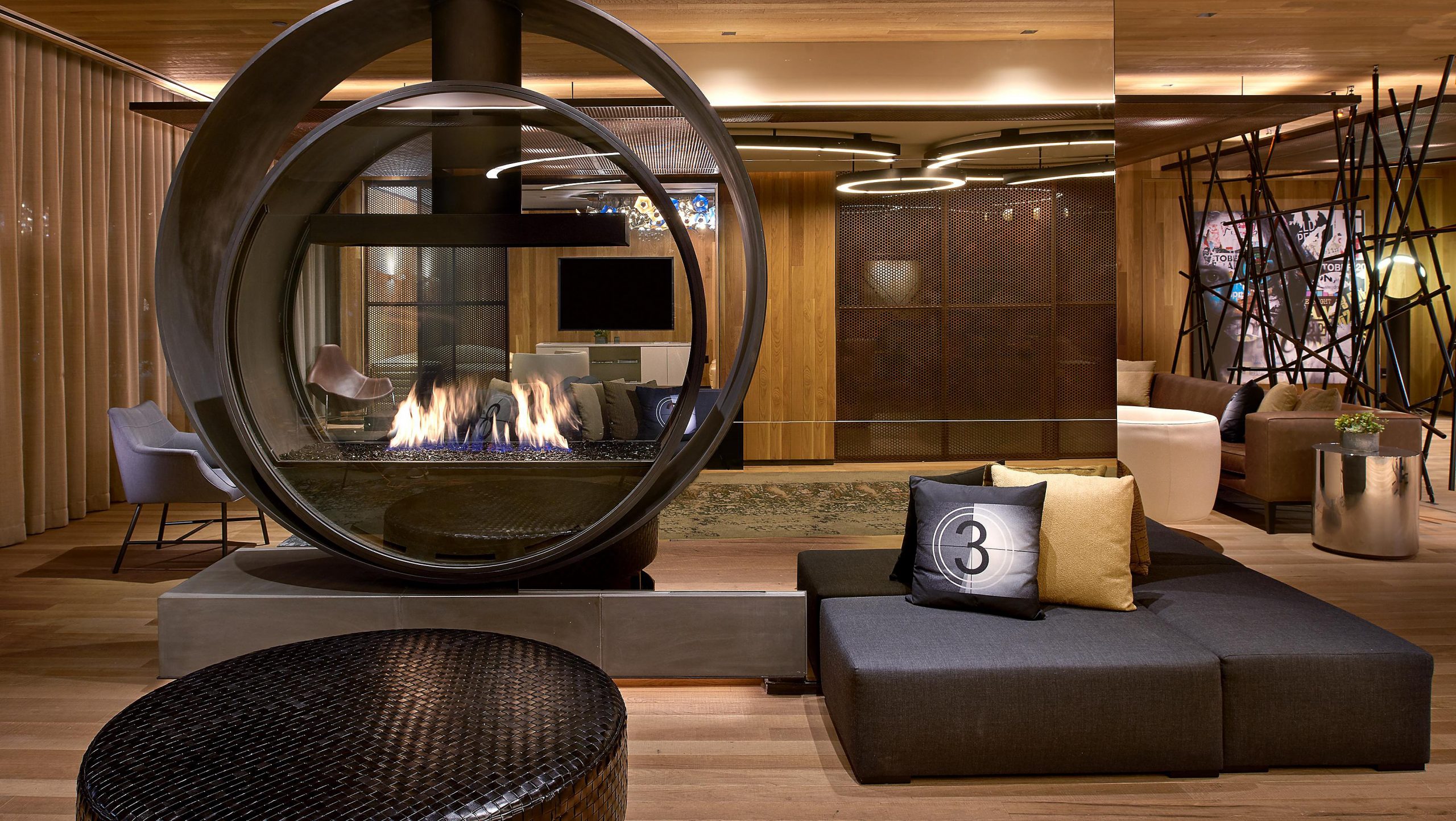 Curious what else is happening with fireplace trends in 20210? Big, bold, beautiful.
Explore our blog for more modern fireplace ideas, discover cutting-edge fireplace designs in our gallery, or request a brochure today to begin your fireplace journey.