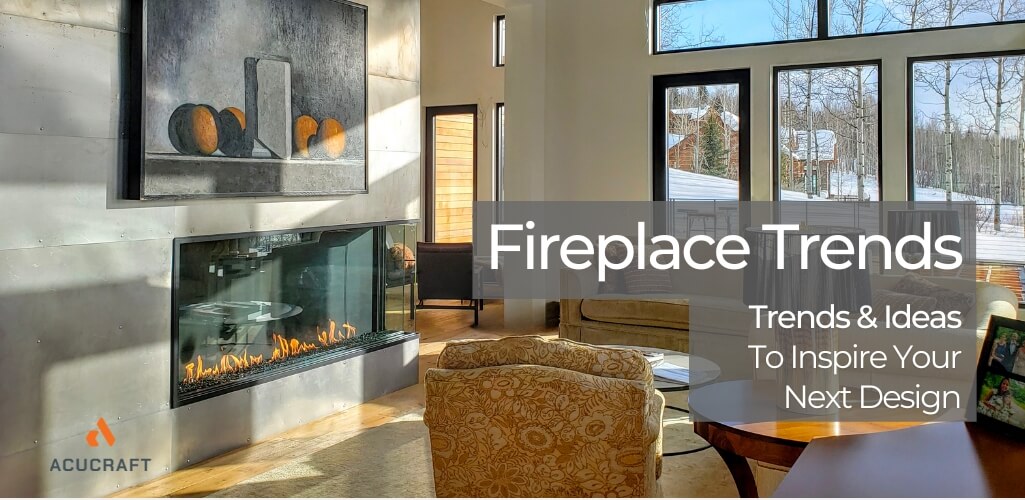 Fireplaces can range from rustic traditional hearths to sleek contemporary fireplace designs, and the trends are always changing. Browse our 2024 fireplace trends, and find inspiration from Acucraft's fireplace designs to create your ideal cozy nook.
No matter the time of year, a fireplace is the perfect cozy companion to any home, lodge, or commercial space. Before gathering around the fire in your new space, check out these popular fireplace designs. You'll see beauty and functionality combine to create the ideal centerpiece for your next social gathering.

Browse Acucraft's fireplace selection today to get started designing your cozy centerpiece. 
2024 Fireplace Trends With Examples
Current fireplace trends are moving towards contemporary designs with large viewing areas and tall, striking flames. A few of the fireplace trends of 2023 will carry into the new year, including frameless and double-sided fireplaces that are the hallmarks of great modern design.
Whether you're in the market for a sleek marbled fireplace or a rustic floor-to-ceiling stone centerpiece, Acucraft has the expertise to build the custom luxury fireplace of your dreams. Check out our collection of the best fireplace designs that will be a hit in the new year.
Space Conscious Fireplace Design
Transforming compact living spaces into luxurious retreats is an art. Perfect for intimate settings, fireplaces like compact wood-burning fireplaces and bespoke corner multiview gas fireplaces are tailored to maximize your space without compromising on style or supplemental warmth. These designs are meticulously crafted, considering every dimension and viewing angle, ensuring that your cozy corner becomes a focal point of luxury and comfort, regardless of size.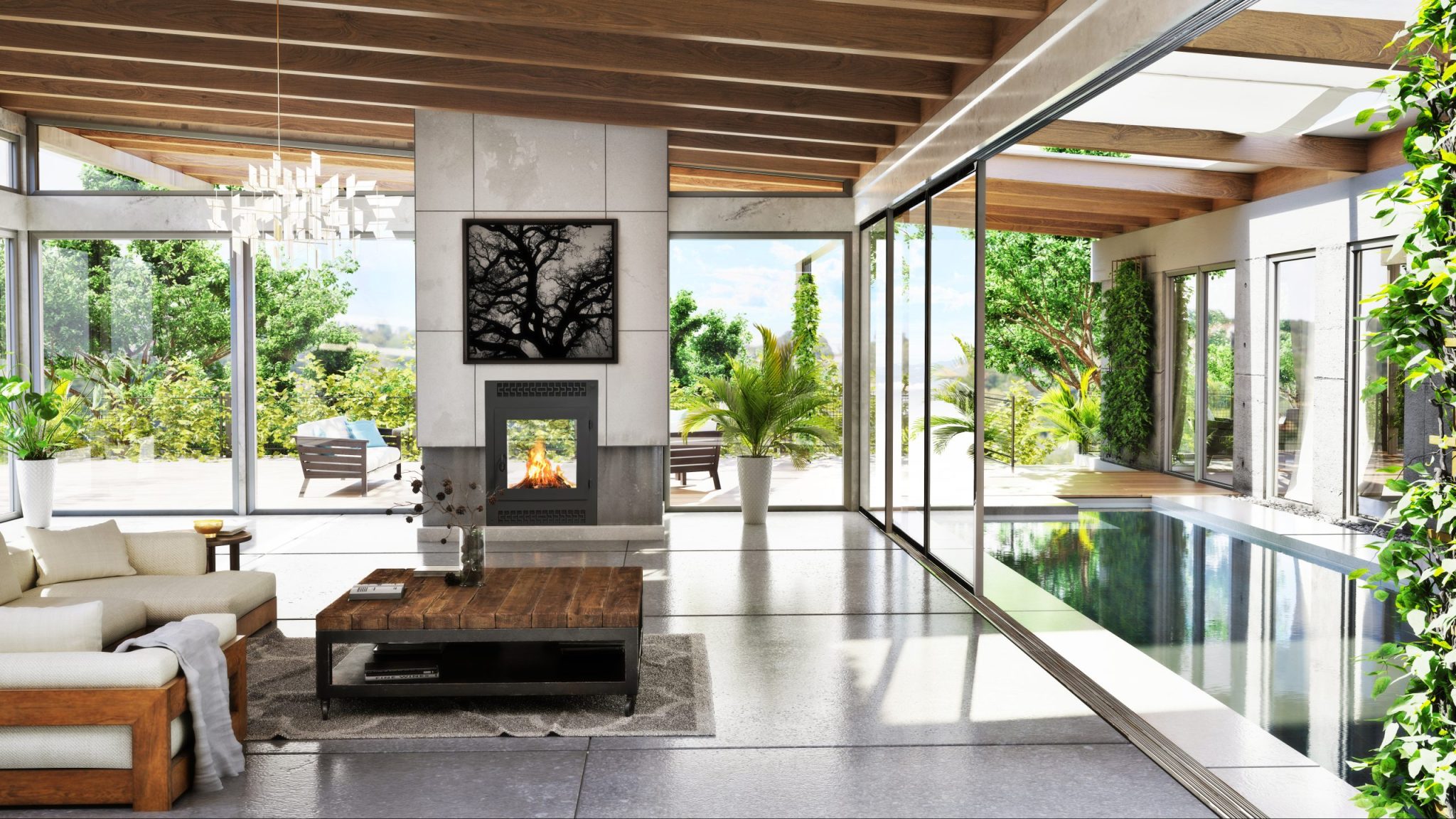 Example Of A Space Conscious Fireplace Design
Acucraft's American Wood-Burning Fireplace is the perfect option for conserving space when installing a fireplace. The American Series can come as a single-door fireplace or a two-sided fireplace, giving you more options when coming up with timeless fireplace design ideas.
Sustainably Made Fireplaces
In the realm of luxury, eco-friendly fireplaces and sustainability are not just features but statements of elegance and responsibility. Sustainably crafted fireplaces are a testament to this ethos, blending the latest fireplace design trends with a deep commitment to environmental stewardship.
As a discerning buyer, choosing our fireplaces means embracing a harmonious lifestyle where luxury and ecological mindfulness coexist. Our dedication to reducing greenhouse gas emissions ensures that your choice is not just about the aesthetic appeal of a luxury fireplace trend but also about positively impacting the planet.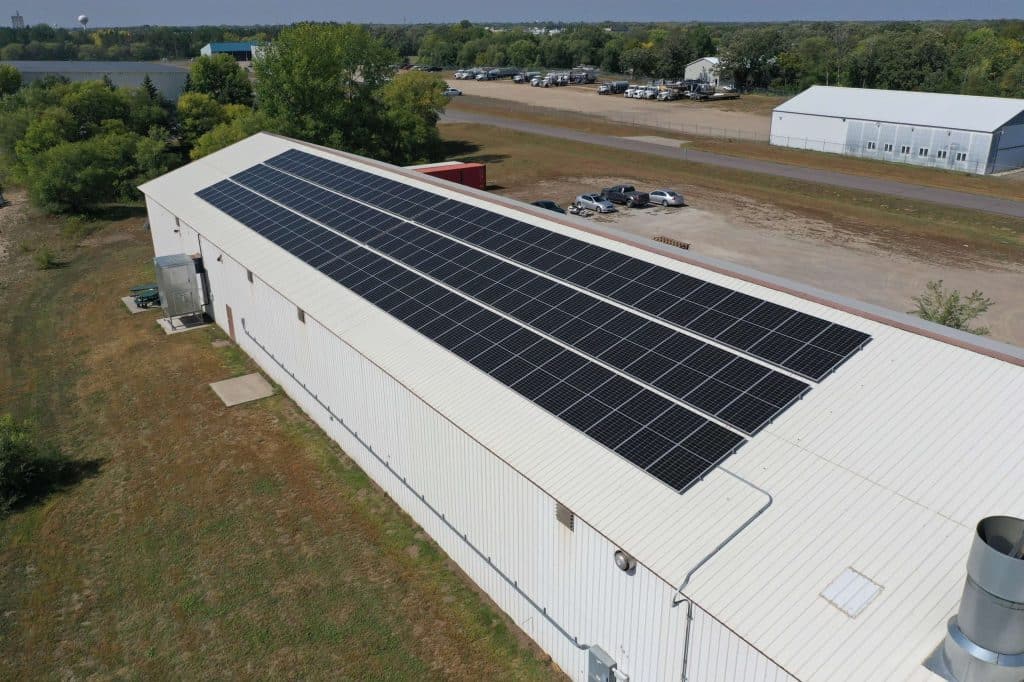 Example Of A Sustainably Made Fireplace Operation
Acucraft is proudly powered by the sun to create luxury fireplaces. We believe in the power of solar energy and have taken a major step towards a sustainable future by incorporating solar power into our manufacturing facility.
Over the next 25 years, our solar energy will help avoid 1,117 metric tons of CO2. That's equivalent to:
28,683 trees planted
235 passenger vehicles taken off the road for a year
125,904 gallons of gas consumed
1,199,537 pounds of coal burned
Frameless Fireplaces
Indoor linear was one of the most popular fireplace designs in the last few years, and it continues to be among the hottest trends in 2024. Once you've seen one of these frameless linear wood or gas fireplaces light up a room, it's easy to understand why their clean, sharp edges are so trendy.
This fireplace style is often surrounded by marble, tile, or stone decoration. It can also be designed as a classic single-sided piece or a see-through tunnel. One of the key advantages of indoor linear fireplaces is that they can be integrated into a space without taking up too much room.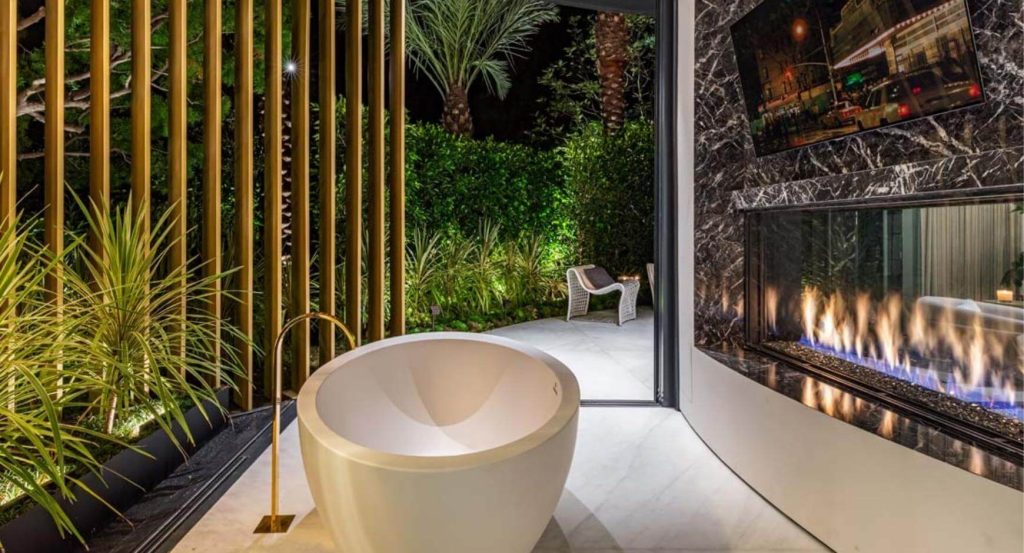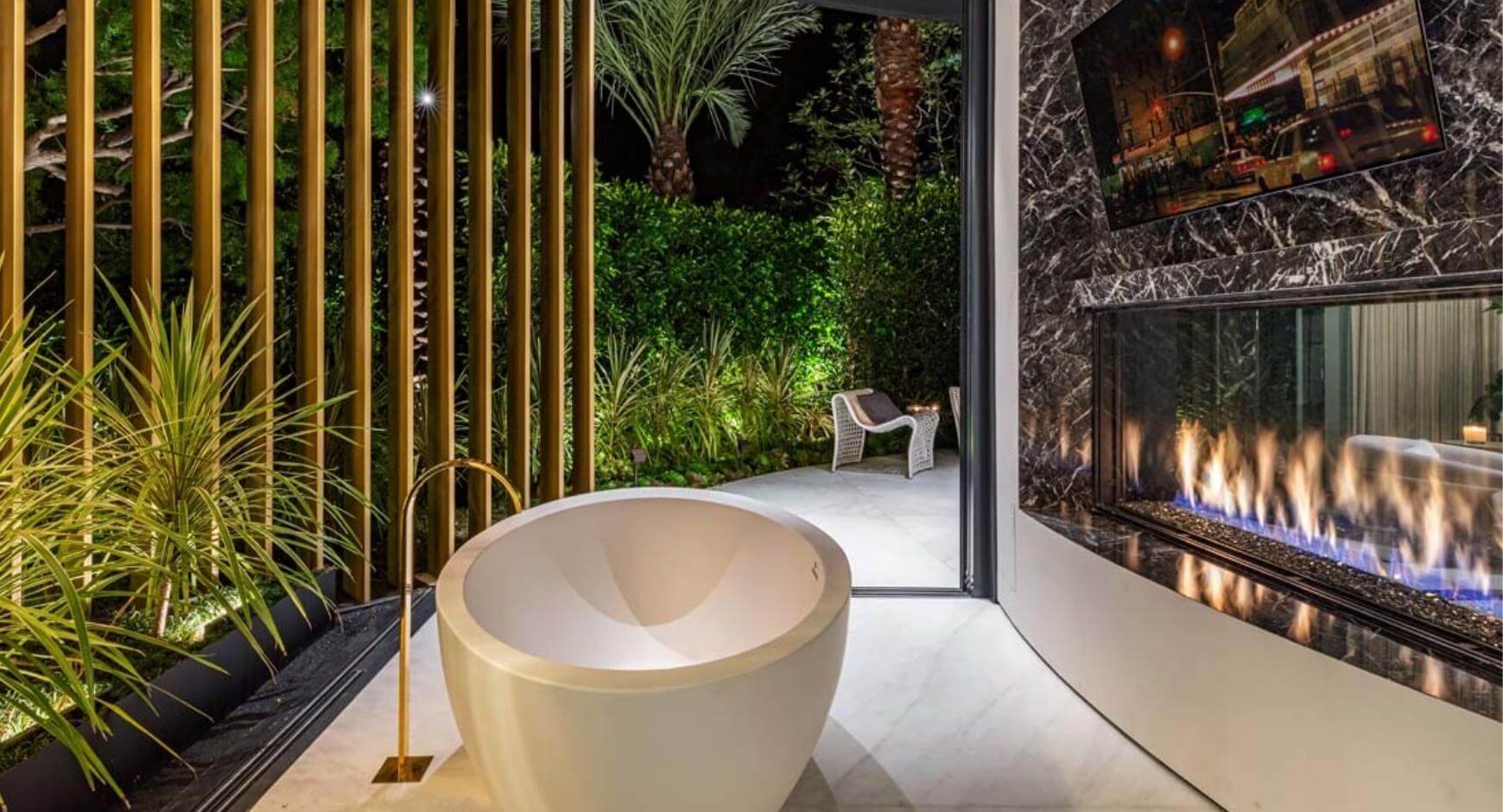 Example Of A Frameless Fireplace
The Acucraft Signature Series includes frameless options with the choice to include glass media instead of wood or stone for an elegant and sophisticated look. The above photo shows a frameless fireplace set in a large stone slab wall. It's increasingly popular to see linear fireplaces built flush with the wall. These fireplaces don't have a mantel, creating a seamless look.
Traditional Fireplaces With A Modern Look
Gas fireplace trends have been the center of modern interior design for a long time, but 2024 could be the year that gas fireplaces find a more traditional look. Traditional fireplace styles are most popular for rustic cabins and hotels with a quiet, comfortable feeling.
Wood-burning fireplaces are often used to complete the relaxing atmosphere, but when it comes to wood vs gas fireplaces, there are benefits to either side. The quick start and additional safety features are reasons some people prefer the gas fireplace. With the custom stone surrounds and tall flames, you can still get the rustic look and feel of a traditional wood-burning fireplace.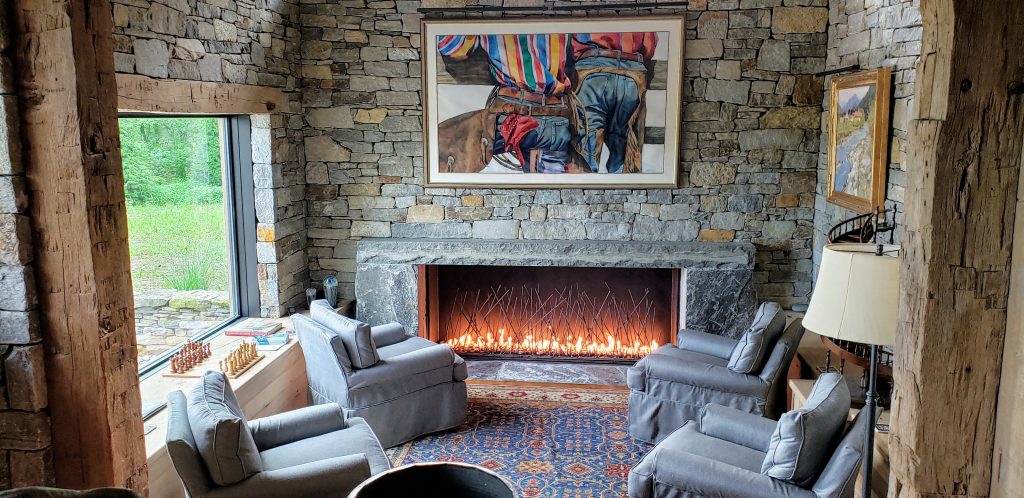 Example Of A Traditional Fireplace With A Modern Look
Gas fireplace looks can be some of the most unique as the large hearth and flue of wood-burning classic fireplaces are not entirely necessary. You can let your wildest interior fireplace ideas come to life with the combination of traditional and modern luxury fireplace designs found in these gas fireplaces. For an inside look at the range of possibilities, check out these 15 inspirational designs for a living room fireplace and Acucraft's Timeless Gas Fireplaces collection.
Big Flames With A Gas Fireplace
Embrace the grandeur of towering flames with our gas fireplaces, a symphony of linear elegance and expansive views. Our designs set a new standard in the market, boasting the tallest flames that rise in majestic harmony. These fireplaces are not just design elements; they are modern architectural statements designed to captivate and mesmerize, ensuring that your space is transformed into a spectacle of luxury and awe-inspiring beauty.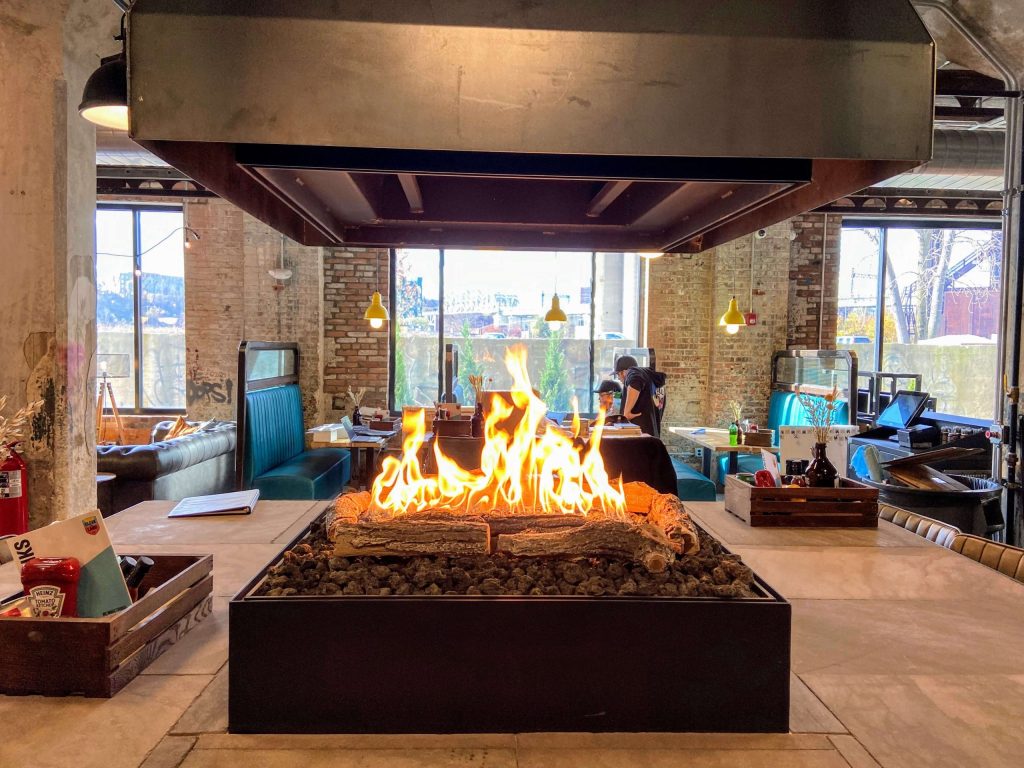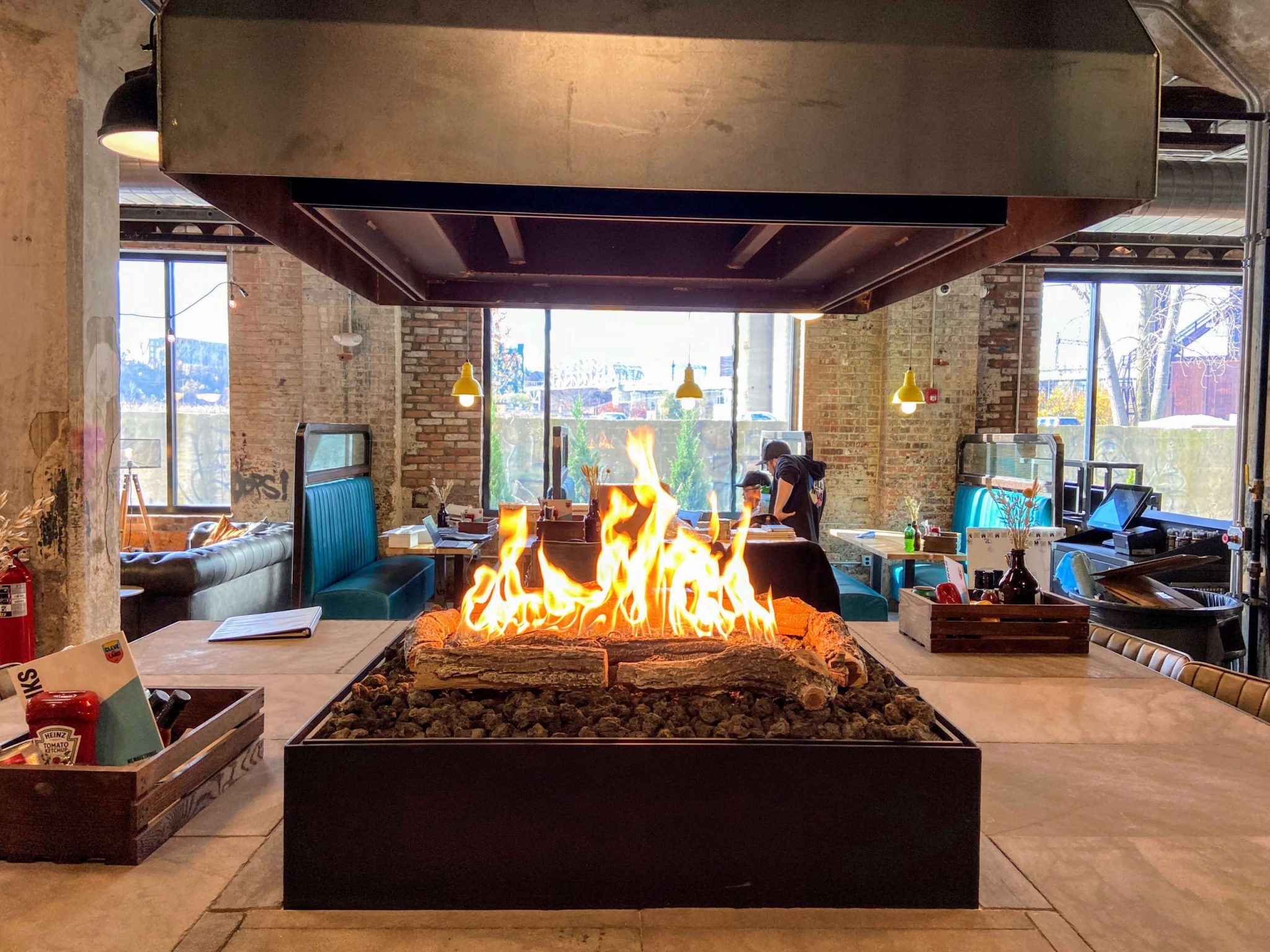 Example Of Big Flames With A Gas Fireplace
Tall flames make a dramatic statement, especially when paired with open gas fireplaces or gas fireplaces without safety glass. While interior fireplace designs like this may not be practical for every household or commercial space, when they work, they look amazing. Take the photo above, for instance. The restaurant's open fireplace, with its tall, dancing flames, not only casts a warm and inviting glow but also adds a touch of sophistication, making the overall ambiance effortlessly fun and memorable for patrons.
Outdoor Fireplaces, Pits, And Burners
While most people think of campfires when it comes to outdoor fire elements, outdoor fireplaces are becoming a hot trending fireplace idea. They elevate the outdoor experience when incorporated into an already cozy outdoor seating area, whether on a business patio or your porch in the backyard. Custom fire pits and burners can also add elegance to your outdoor area, inviting your family and guests to stay outside longer and enjoy the fresh air around a luxurious fire.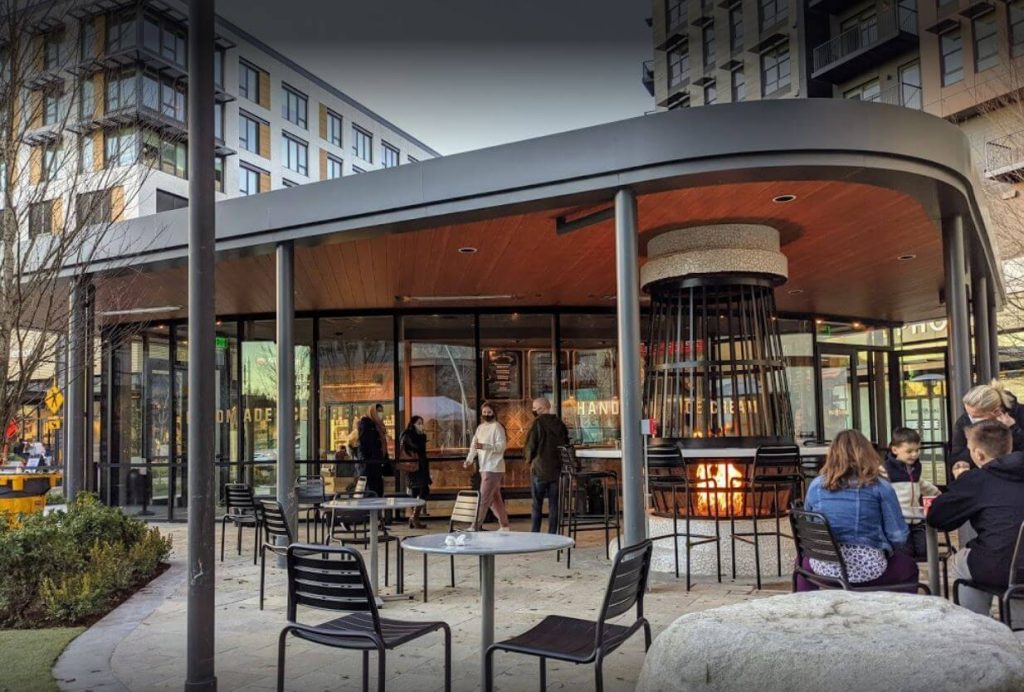 Example Of An Outdoor Fireplace
Modern fireplace ideas like having an outdoor fireplace on a business patio will make your space stand out from others. This custom round gas fireplace in front of a cafe allows people to sit around it while enjoying their food or drinks. The supplemental warmth from the fire will keep the customers happy, especially when it's chilly outside.
Wood-Burning Fireplaces With Big Viewing Areas
Extravagant fireplaces with beautiful chimneys and large viewing areas are here to stay. This bold fireplace style is an excellent option for those with a flair for the dramatic. The expansive openings create the perfect ambiance.
For homes with high ceilings, a huge chimney overlaid with natural stone offers a wonderfully rustic look. These bold fireplaces can impress guests in commercial spaces like hotels, museums, and event spaces. They can also serve as a breathtaking focal point in larger homes.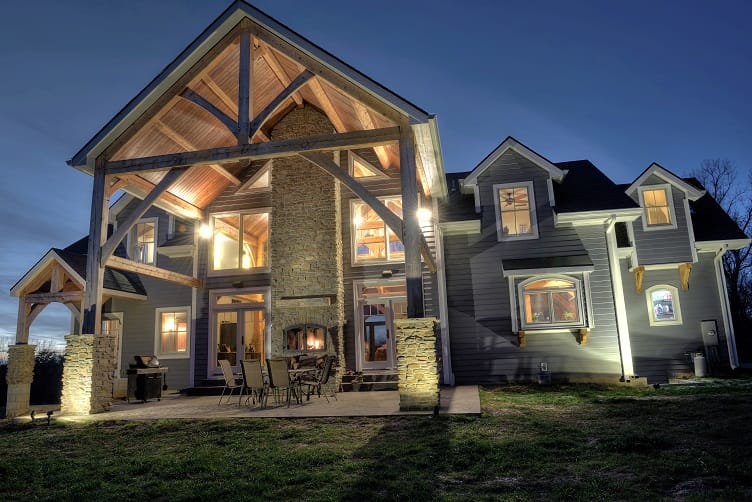 Example Of A Wood-Burning Fireplace With A Big Viewing Area
Wow your guests with a towering display of modern craftsmanship, stone, and fire. This indoor/outdoor Acucraft fireplace is a stunning fireplace for both the living room and the outdoor patio. It's also a shining example of the beautiful wood-burning fireplaces Acucraft manufactures.
Fireplaces For More Than One Space
Versatility is one of the top fireplace trends right now, and two-sided fireplaces are on the rise because they can be used in more than one room. Whether you like beautiful stonework with a rustic mantel or you want the viewing area to be flush with a tile or metal veneer, these fireplaces can fit any design style in either room.
A beautiful summer night outside on the deck isn't complete without a fire, and neither is a cozy winter evening on the couch. Indoor/outdoor gas fireplaces can be a great way to keep your evening by the fire going when the night turns cold. Our indoor/outdoor wood fireplaces also have the option to convert the interior side between open and sealed fires.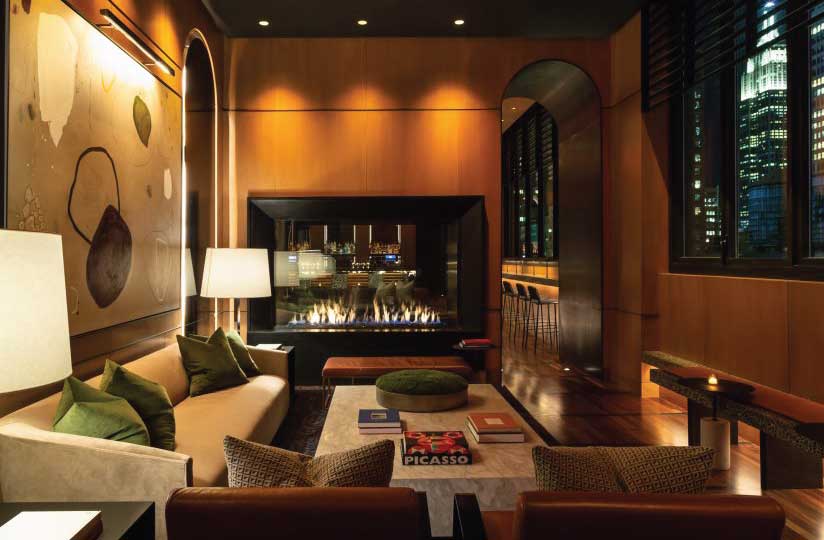 Example Of A Fireplace For More Than One Space
This one-of-a-kind double-sided fireplace looks like a window on fire. And, it's only one example of the beauty and ambiance that dual-sided fireplaces can add to any space – commercial or residential. With double the pleasure gained from one fireplace, it's no wonder these have been one of the top trending fireplaces in this past year.
Statement Mantels
The actual fireplace is only a part of statement fireplaces. The fireplace's mantel can help make your fireplace stand out even more. Before thinking about putting up decorations, consider the dimensions of the fireplace and the style of the fireplace and mantel. Fireplace surrounds and mantels can range from being made of wood or stone, and the mantel's dimensions can also vary. Make sure when you put up decorations or mount a TV above the fireplace that they are safely placed according to the fireplace manufacturer's recommendation.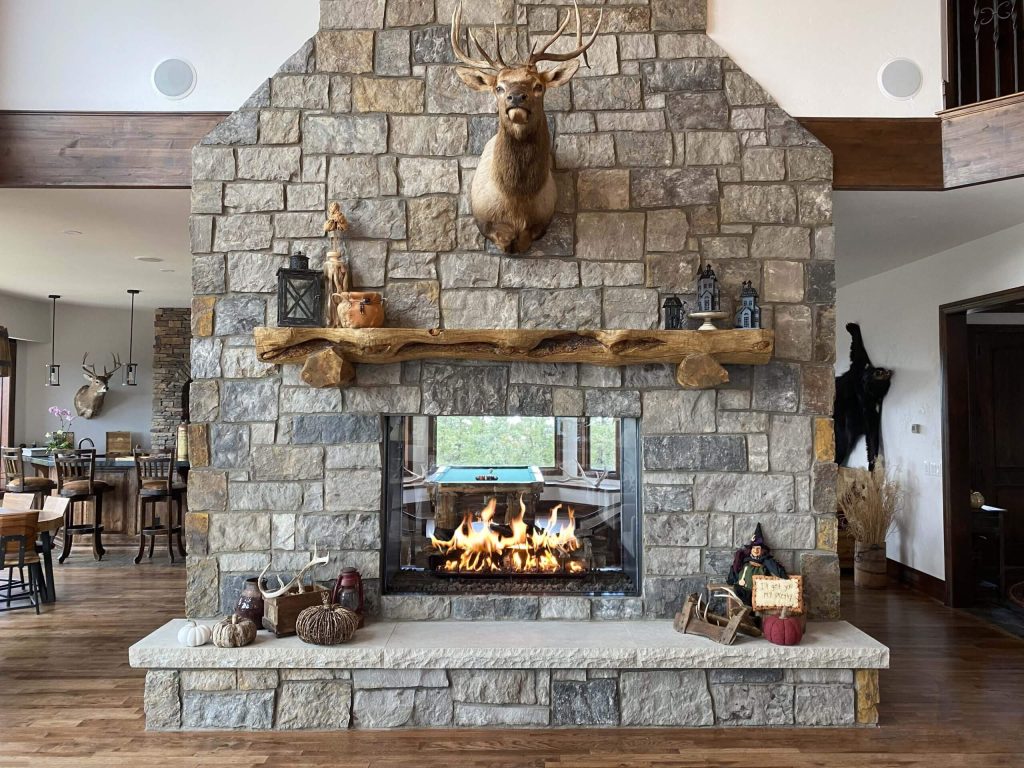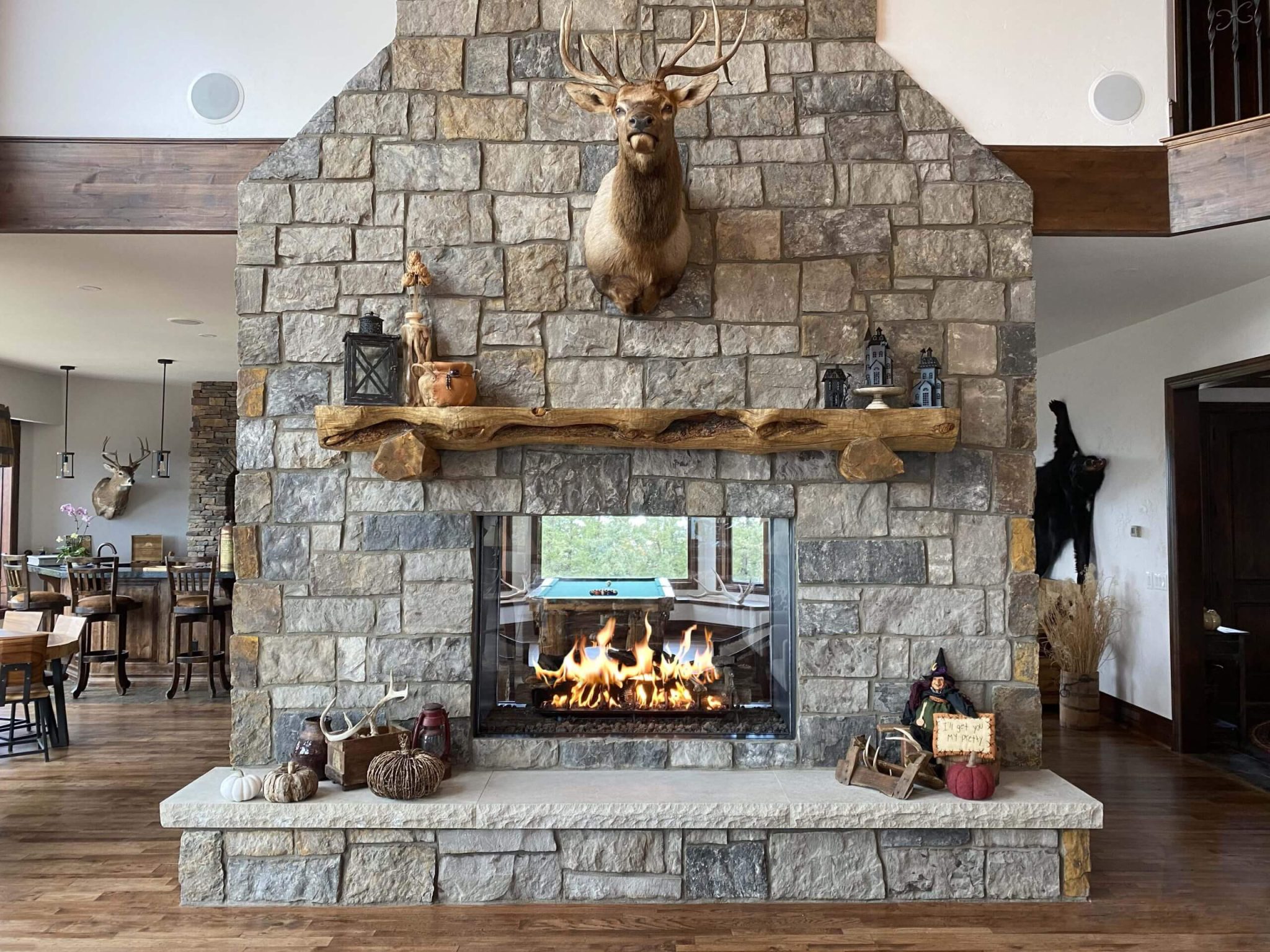 Example Of A Statement Mantel
Step into a world of rustic elegance with this stunning see-through gas fireplace that treats the living and dining room. Clad in a rich, textured stone emanating timeless charm, it's crowned with a bold, statement wood mantel that commands attention. The mantel, adorned with an array of lanterns, casts a warm, inviting glow, creating an enchanting play of light and shadow. This exquisite detail seamlessly blends the allure of old-world craftsmanship with contemporary sophistication.
Fireplaces With Integrated Seating
Integrated seating with a fireplace is emerging as a chic fireplace trend. This design element seamlessly blends function and style, transforming the fireplace into an interactive centerpiece. Whether a plush couch echoes the fireplace's elegance or a circle of benches embraces the dancing flames, each seating arrangement is a testament to thoughtful, purpose-driven design.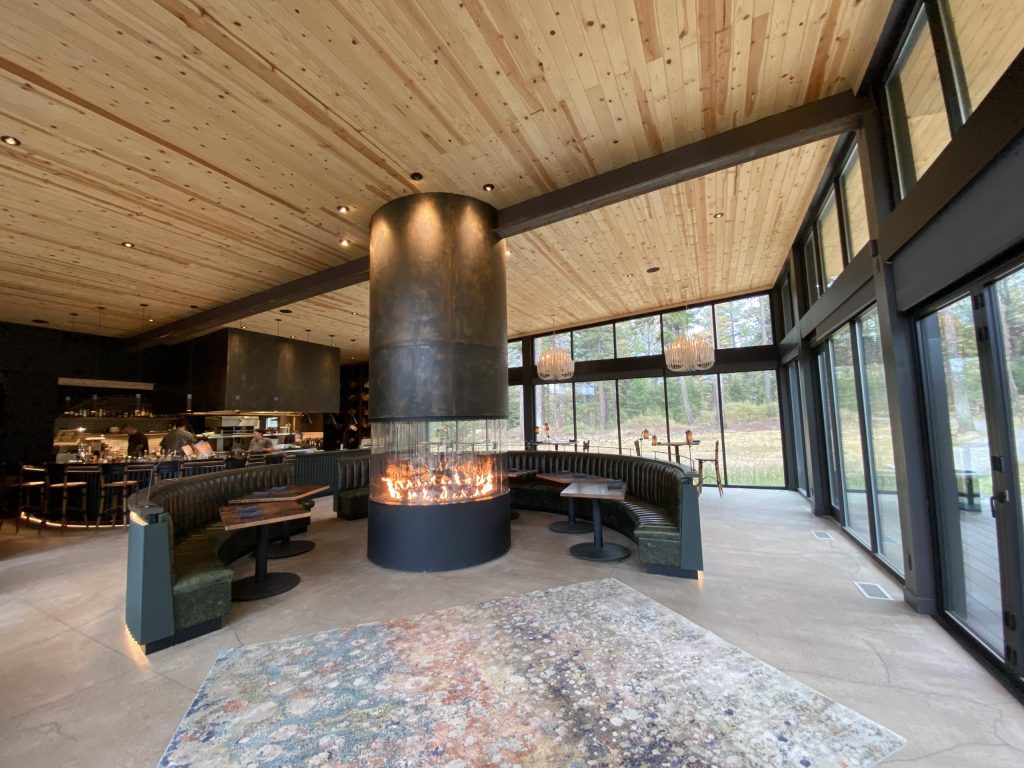 Example Of A Fireplace With Integrated Seating
Instead of having a fireplace in the entrance or waiting area, this restaurant is sharing the supplemental warmth from this round fireplace with its customers during dinner by integrating seating around it. It is both a visual spectacle and a soft-lighting source for people dining at any time of the day.
Acucraft: Your Custom Fireplace Experts
Fireplaces are more than a source of warmth. They're an integral part of any interior design. Whether you're designing a grand hotel lobby or simply adding value to your home with a living room fireplace, you deserve the best. These trending fireplace designs will surely capture your guests' attention and keep them entertained long into the night. There is no better investment to make in your home design or business than a cozy fireplace.
At Acucraft, we know fireplace design. Bold and open views with modern framing are some of the latest fireplace trends in 2024, but there is no limit to what we can accomplish. Find design inspiration in our gallery of more amazing custom fireplaces.