Open Gas Fireplace No Glass
Modernize any room with Acucraft's open gas fireplace indoors; they offer the perfect sleek design, seamless view, and provide traditional open-hearth ambiance.
Transform any space into a sophisticated and modern gathering area. Several of our fireplace models, like the Signature series, can be made with an open view. Acucraft's open gas fireplaces are designed to maintain the tallest, fullest flames on the market.
Open view (no glass)
Suspended glass
Partial glass safety barrier
If you're looking for a fireplace with safe-to-touch glass, you can find those here!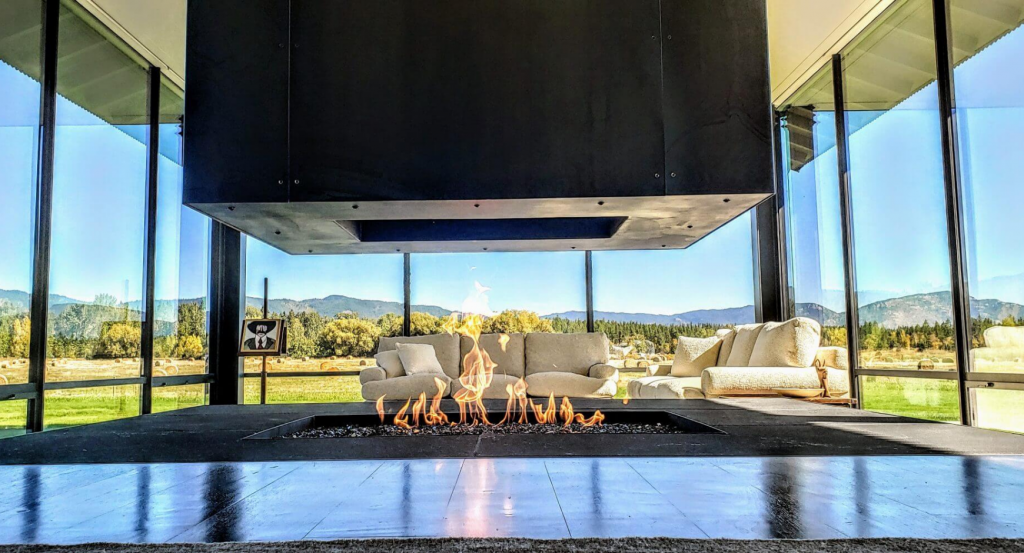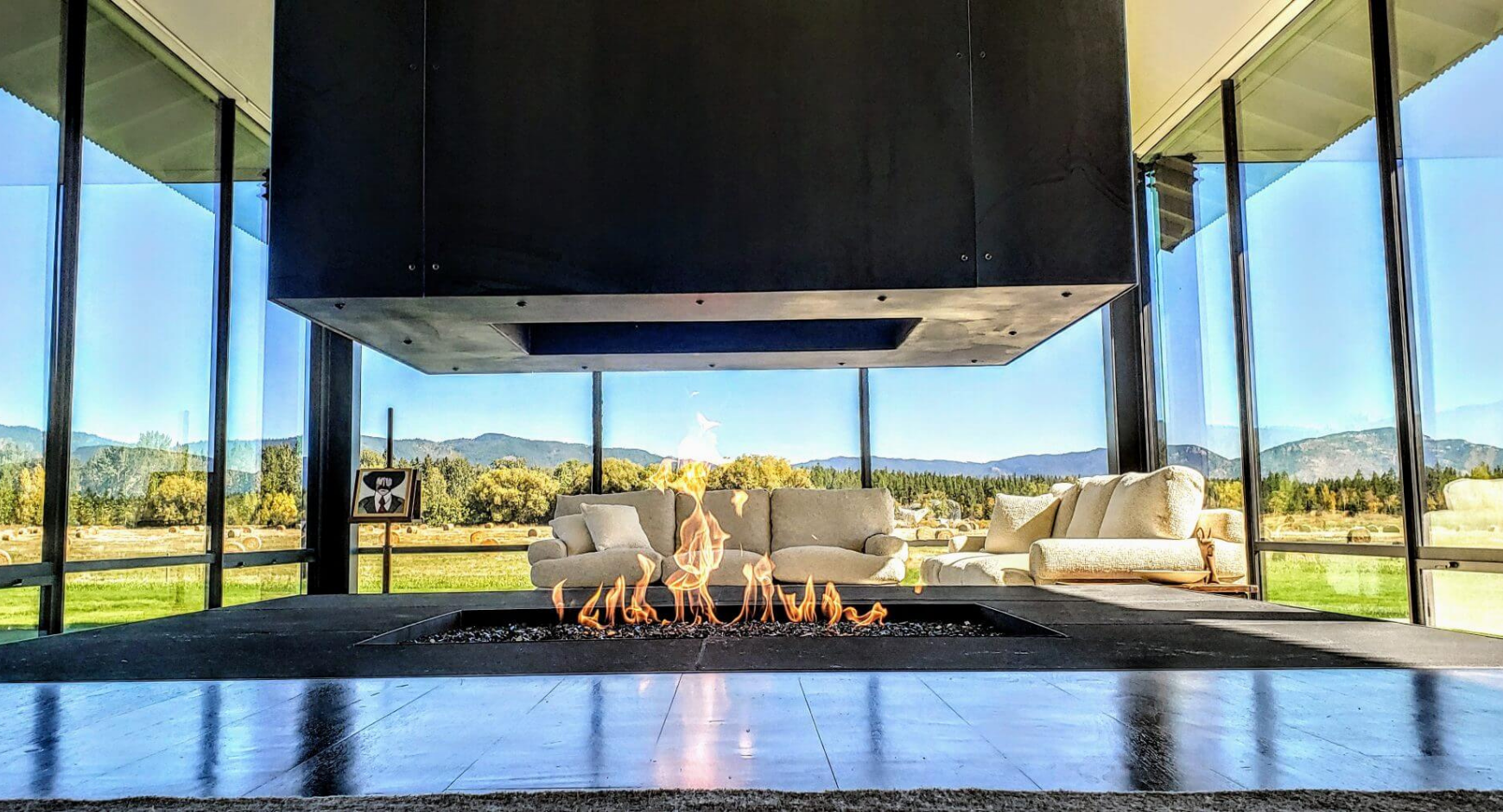 Choosing Your Open-Hearth Fireplace
Open fireplaces bring the campfire directly into your living room by eliminating the glass or screen barrier. There are a few things to keep in mind as you decide between a gas or wood-burning fireplace. While some of us prefer the crackle and smell of a wood fire, others prefer the remote start and easy use of a gas fireplace.
Acucraft's custom-made fireplaces outperform competitors every time. What else sets us apart?
Popular Large Open Gas Fireplace Customizations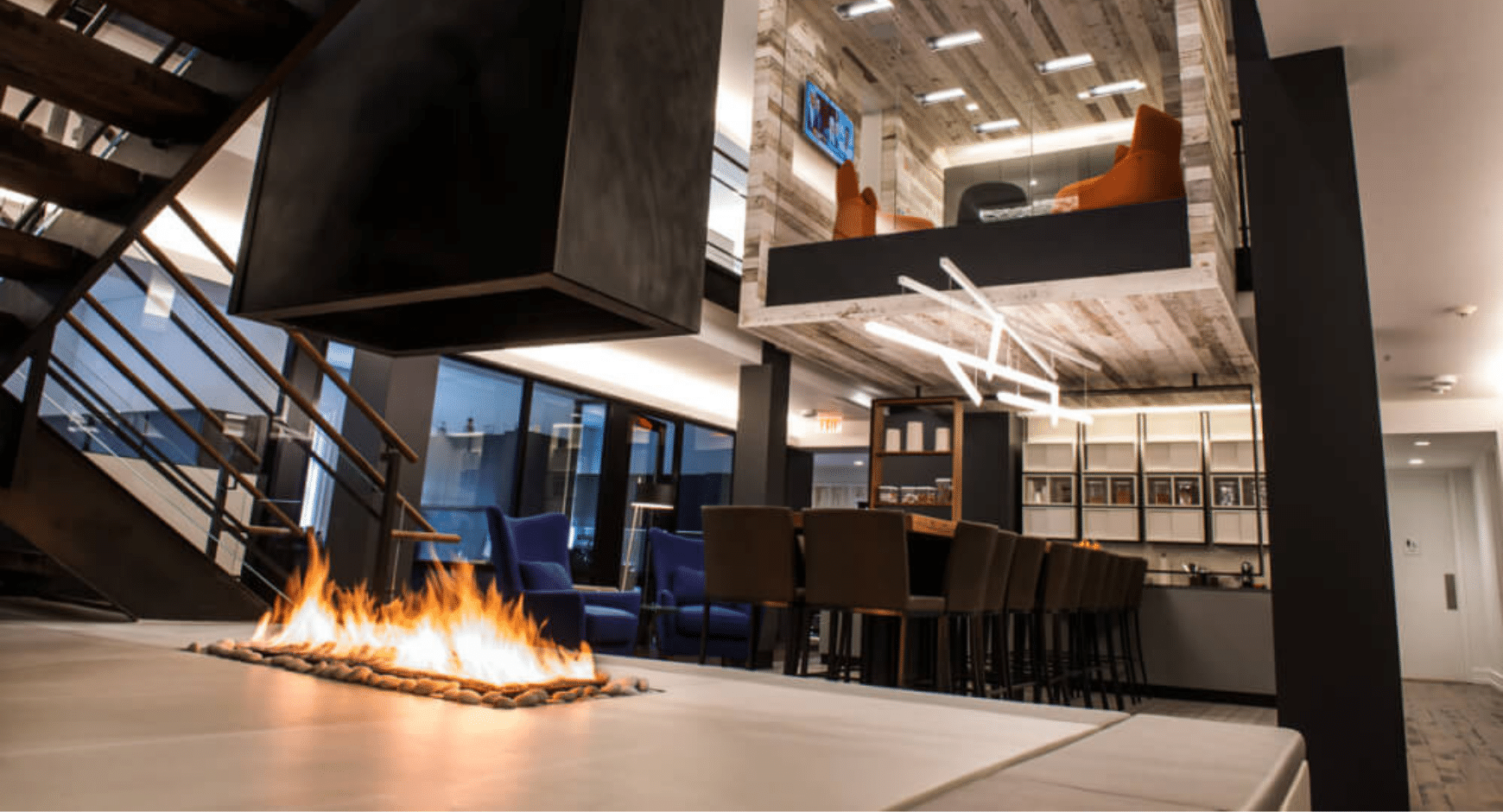 Completely Open, No Glass
The option for an unobstructed, seamless view without glass creates an elegant, minimalist design. While not as pet or kid-friendly, it offers a clean appearance from the hearth to the flames.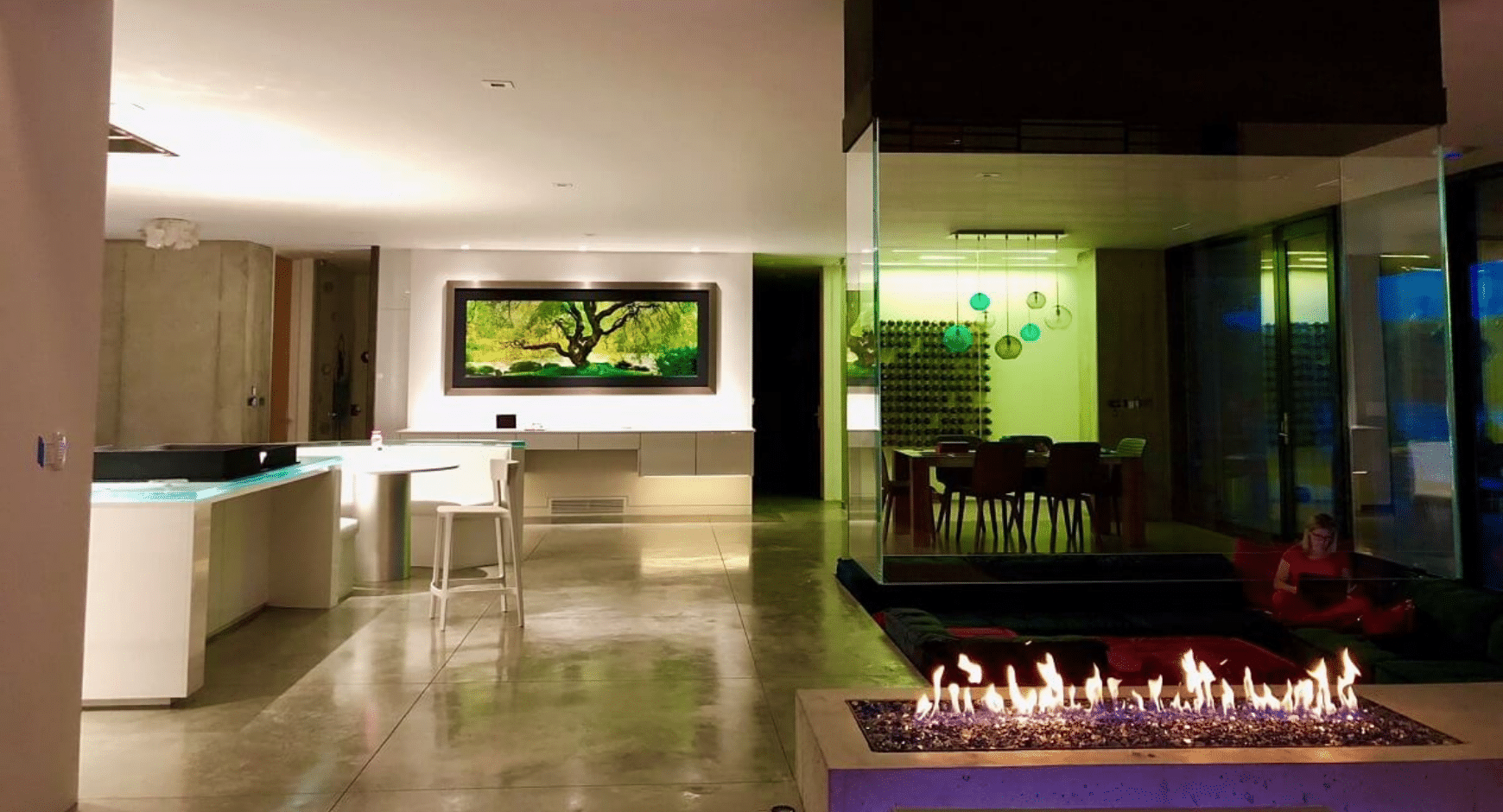 Suspended Glass
The simple sophistication of a clean glass pane along the top of the fireplace adds both charm and functionality. A suspended glass fireplace creates a heat barrier that channels warmth to the floor and keeps your mantle artwork or TV from overheating.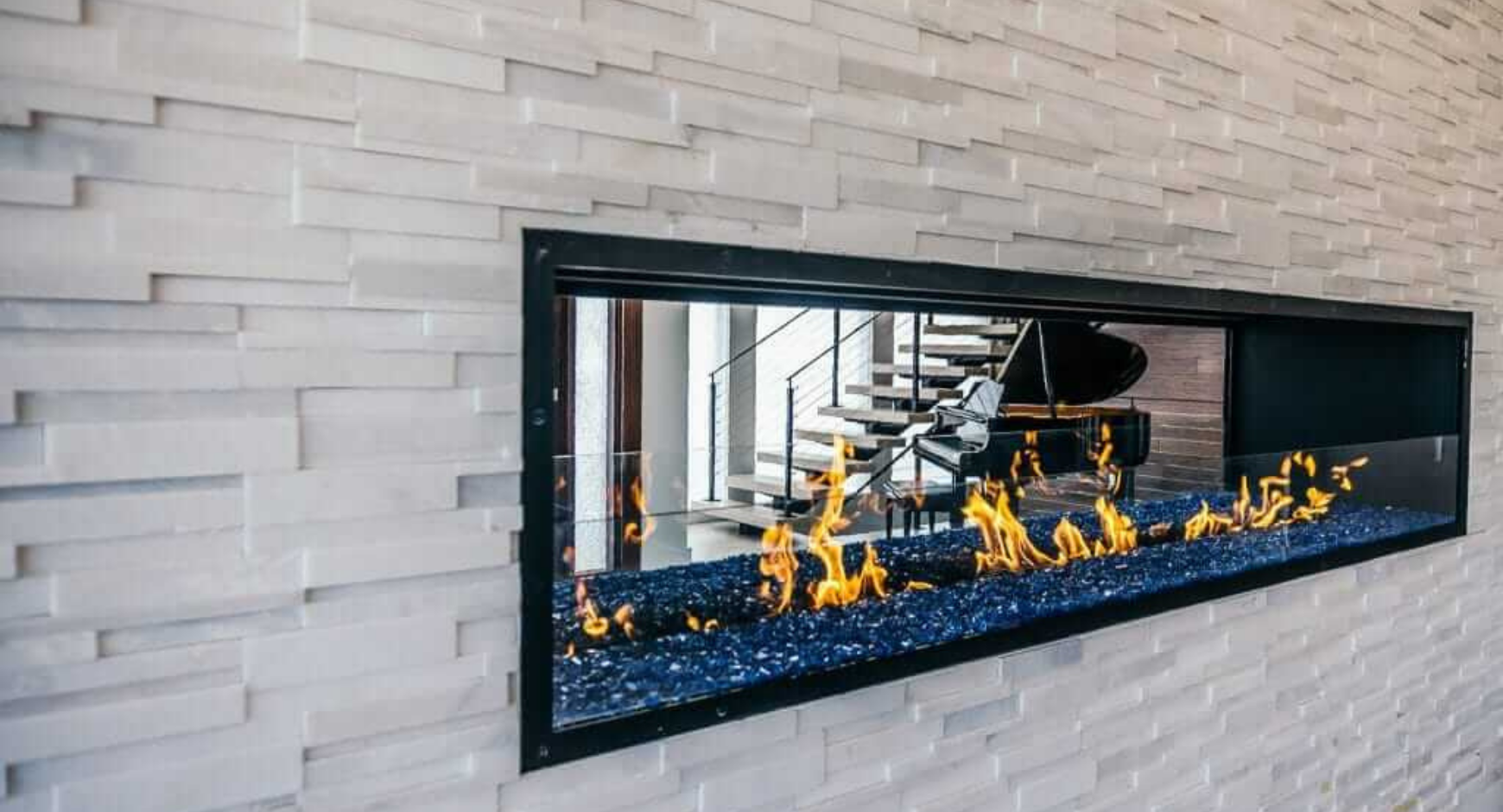 Split Glass
The split glass option provides the sleek and modern look of the no-glass design while maintaining the element of safety. Split glass refers to a pane of glass that doesn't cover the entire viewing area. Instead, it just covers a portion of the viewing area from the bottom up, creating a safety barrier.
---
Convertible: Open Gas Fireplaces With And Without Glass
An open-front gas fire is a beautiful choice for any home, but should you need to, it's nice to know you can put on a glass cover in as little as 10 minutes. This convertible option allows you to experience the best of both worlds; safety and sophistication all in one.

Key Features of a Large Open Gas Fireplace Without Glass
Gas fireplaces without glass have become a rapidly growing trend in modern interior design. Great for indoors, large open fireplaces also make a cozy addition to a deck or patio.
The atmosphere created by open flames is both relaxing and enticing. With the option for convertible glass enclosures, they can also make a great fireplace for families. The limitless customizable options and features allow you to design a fireplace that truly fits your personal taste.
Safety: Multiple backup safety features ensure your fire won't start if the conditions aren't perfect and will automatically shut off if a flame is no longer present.
Glass Options: A gas fireplace with no glass is a stunning sight, but the option for suspended or split glass sets Acucraft apart from the rest, with style and sophistication abound.
Convertible Glass: The option to have either a completely open or completely sealed viewing area within a matter of minutes ensures your guests can allow their kids to run and play without worrying about injury.
Remote Start: These days, convenience is king. Whether you're busy preparing for your guests to arrive or just don't want to get up off the couch, controls for your open gas fireplace make life even easier.
Power Venting: Acucraft's patented venting technology gives you the option to use your fire's warmth to create ambiance indoors or simply expel it outside.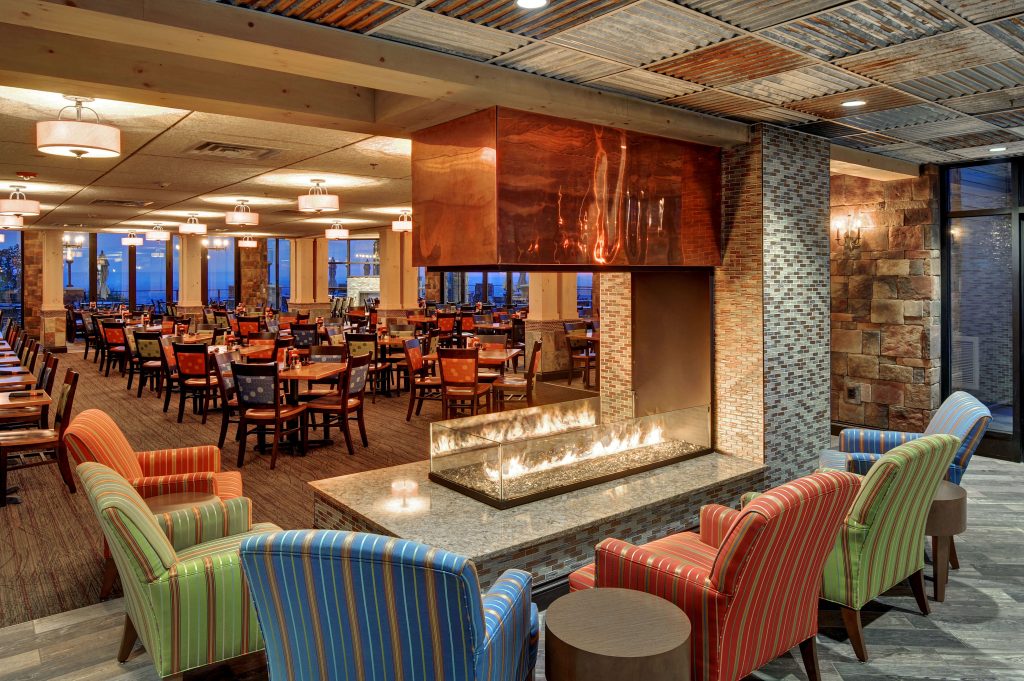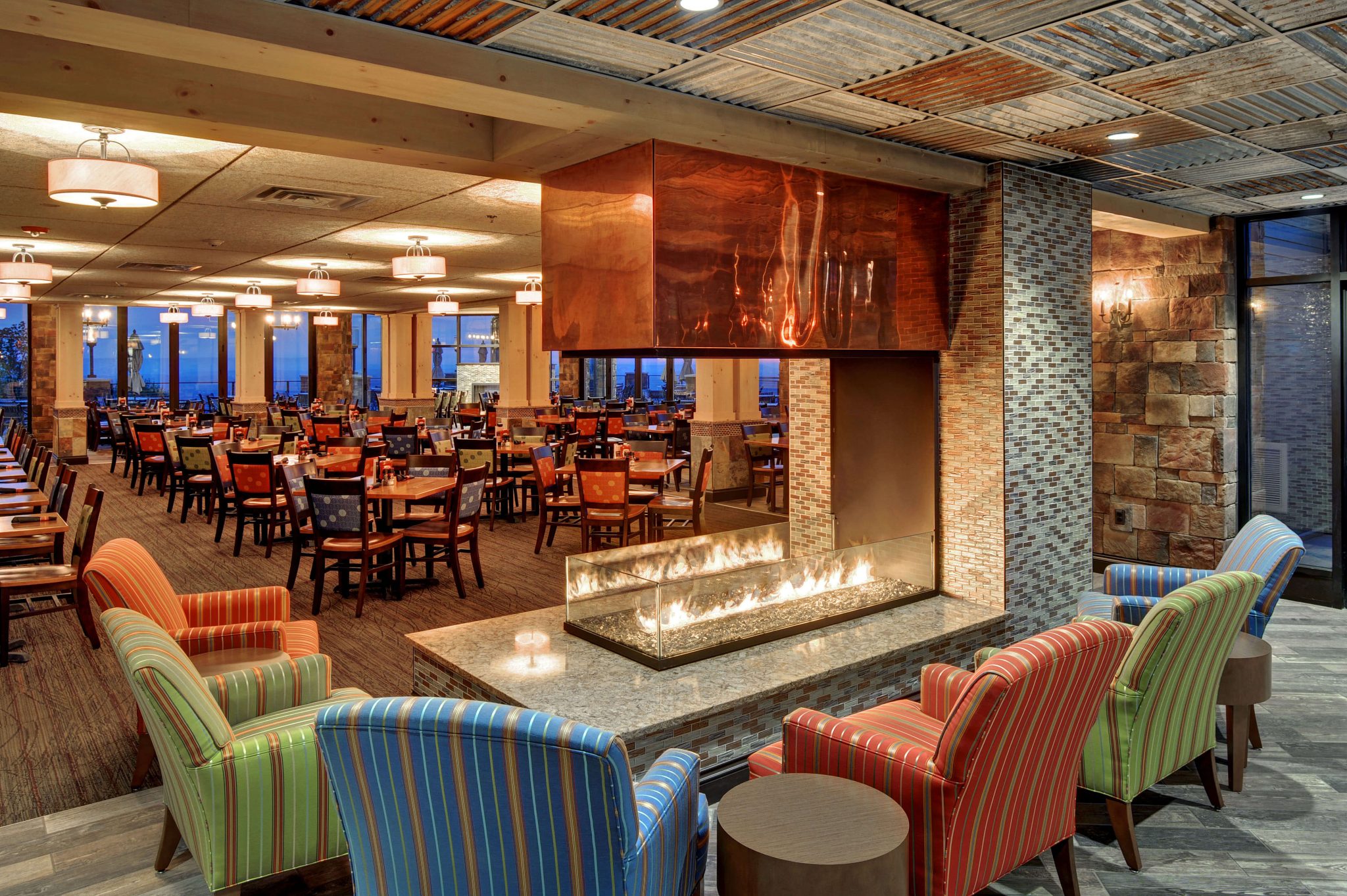 Advantages of Indoor Open Gas Fireplaces
An open gas fireplace –without glass– may seem like an impossible feat – but at Acucraft, bold style, safety, and innovation are a part of every design.
Our various safety features ensure your fireplace won't turn on if the conditions aren't right, leaving your guests in amazement at your indoor open fire. For those who seek a fireplace that makes a statement and grabs guests' attention, an open gas fireplace is just what you've been looking for.
Fullest flames on the market
Power ventilation system
Endless customizable options
Multiple control options available
Choose an Acucraft Open (No Glass) Fireplace
At Acucraft, our selection of media options and finishes set us apart from the competition. Combine the most realistic log sets with the tallest and fullest flames on the market, and you've got an open gas log fireplace that will leave your guests speechless. Don't take our word for it. See what our customers have to say about our custom fireplaces with unbeatable features.
Open Gas Fireplace FAQs
Are open gas fireplaces safe?
Yes, at Acucraft, when we design open gas fireplaces we keep safety at the forefront. All of our open gas fireplaces are tested & listed to ANSI (gas) and UL (wood) standards for use in the United States and Canada. Plus, safety & functional testing is completed prior to shipping and our fireplaces include a mesh safety screen to use during operation.
Can I remove the glass from my gas fireplace?
Other manufacturers offer gas fireplaces with glass that is not removable unless you're doing maintenance or cleaning; and even then, many fireplaces don't allow for glass removal. At Acucraft we want you to have the best of both worlds while providing you with a safe fireplace. Our Signature Series linear gas fireplace can be enjoyed open or sealed at any time with our conversion kits.
Why should I choose an open gas fireplace from Acucraft?
Acucraft's custom-made fireplaces outperform competitors every time and have many benefits. Our open gas fireplaces have been thoroughly tested to ensure they are the safest and best performers in the industry and we can customize a gas fireplace to be completely open, open with a firescreen, or open with partial glass (safety barrier). If you're looking for a prefabricated fireplace, our Signature Series fireplaces are also convertible. It just takes 10 minutes to convert them from open to closed – and vice versa. To learn more about the benefits of our open gas fireplaces, contact our team of experts today.
Powered by HTML5 Responsive FAQ
Open Gas Fireplace Models
Finishing and Media Options
Frame and frameless options
Brushed stainless steel frame
Mirror polished stainless steel frame
Glass media
Lava, river rock, and stones
Log sets
Fill out the form below to request more information!
Open Gas Fireplace Customer Photos