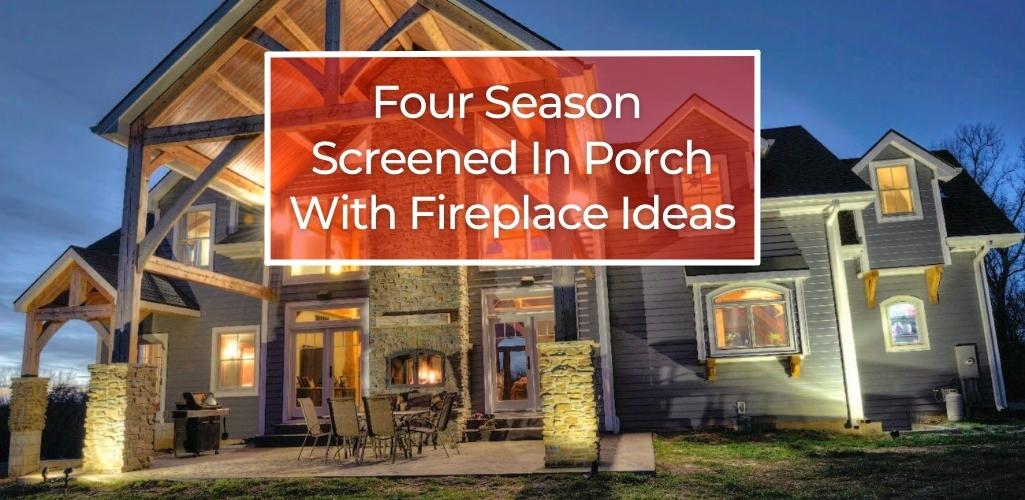 A screened in porch with a fireplace is an excellent gathering place. It offers a comfortable retreat all year long in addition to serving as the focal point for conversations and memories shared with loved ones for years to come. 
Porch fireplaces create a wonderful atmosphere for entertaining. However, it can be difficult to make a decision when it comes to adding that focal point to your 3 or 4 season porch. The design team at Acucraft has a fireplace to fit any decor, from contemporary to rustic. Discover new screen porch fireplace ideas to find one that's right for you.

Start designing your ideal screened in porch fireplace with a custom gas outdoor fireplace from Acucraft.
Four Season Room Ideas For Your Deck, Patio, & Screened-In Porch
Building a fireplace in a gathering space like a deck, patio, or screened in porch can be the perfect combination of enjoying the outdoors and maintaining the comforts of home. You can listen to the crackling wood and roaring flames without being chased by smoke or mosquitos.
Screened in porch ideas with fireplaces can be as simple as adding a fire pit table or as grand as opening up the outside wall to install an indoor/outdoor double-sided fireplace. Your ideal fireplace is waiting to be discovered at Acucraft. Spark your design inspiration with these 10 stunning back porch fireplace ideas.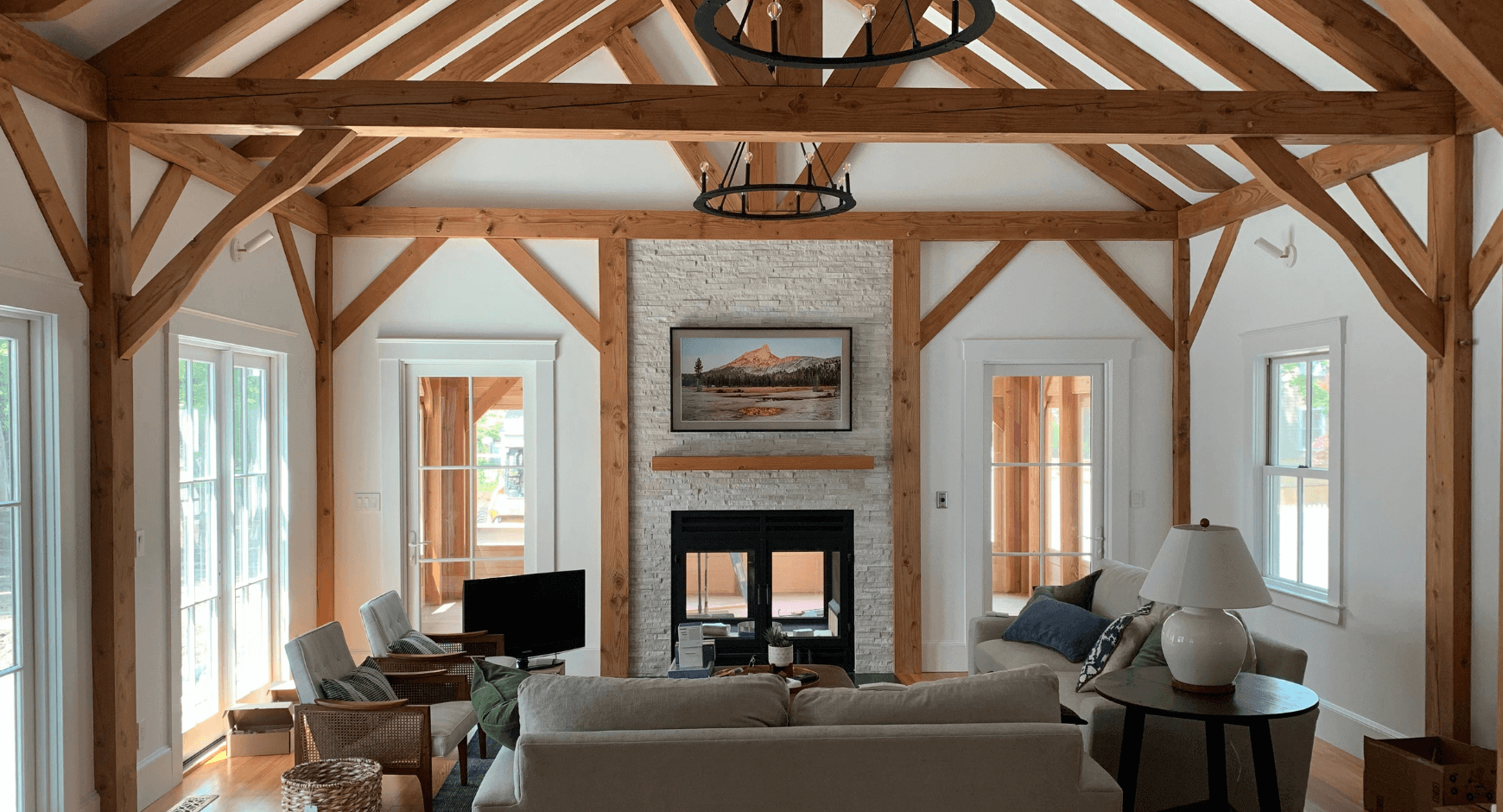 Traditional 4 Season Room
4 season room ideas often incorporate fireplaces to make the space more comfortable all year long. The only difficult decision to make is which kind of fireplace you want, gas or wood burning fireplace? The convenience of a remote starter is nice to have, but the crackle of a wood fire is undeniably relaxing.
Similar to the photo above, many four season porch ideas include modern decor that reflects the interior design of the house rather than the outdoors. A sunroom fireplace like this is the perfect space to gather with a good book or watch a game with friends. The versatility of the space is matched only by the finishing options for your custom fireplace.
Choose from single or double doors
Arched or rectangular fronts
Warmed air can be circulated or expelled
Easily convertible from wood to gas at anytime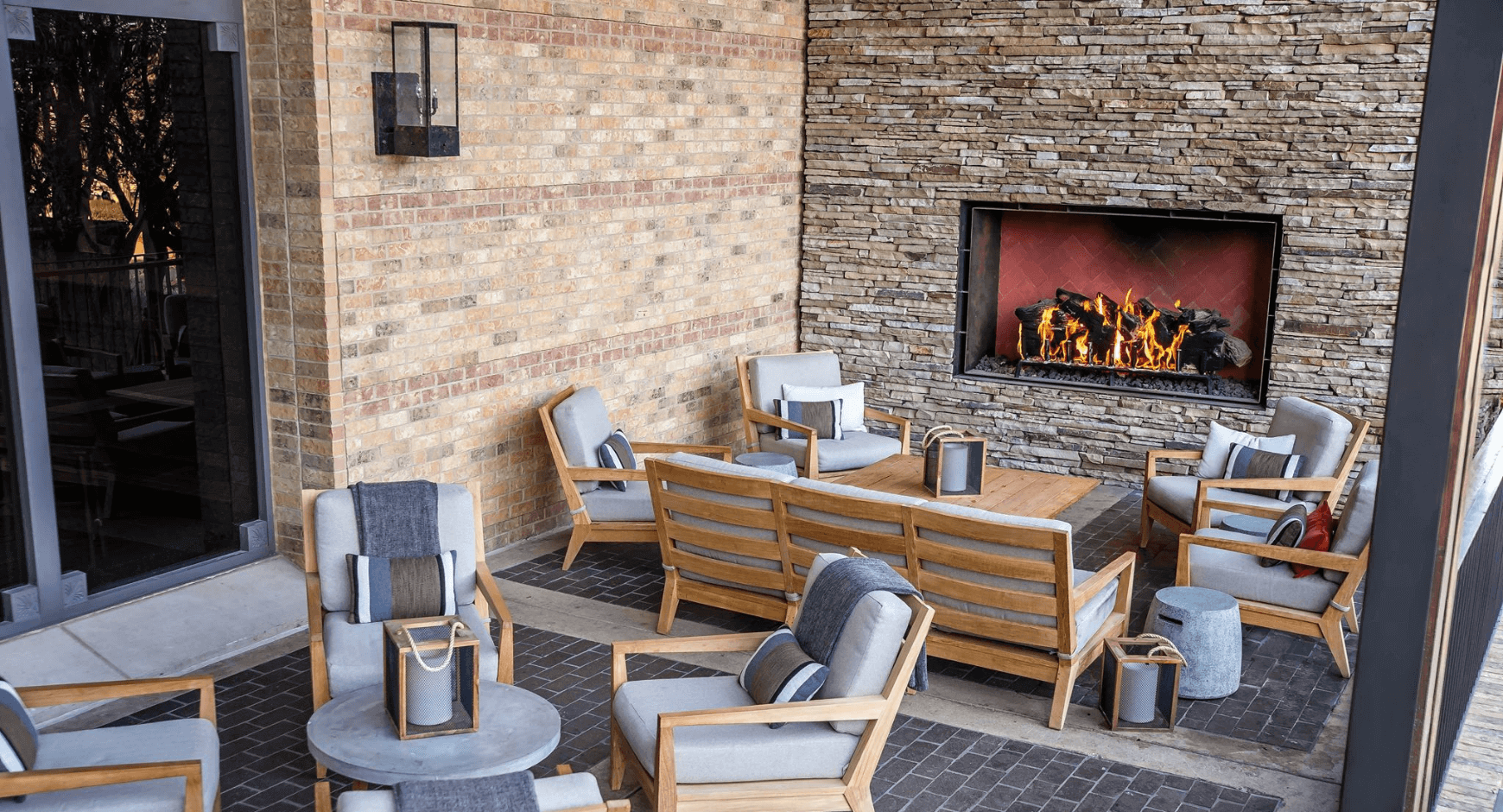 Cozy Covered Patio
A covered patio protects against the sun and rain, but a covered patio with a fireplace will add that element of comfort to make it an enjoyable space year-round. Turning it on can be as simple as clicking a remote, creating a relaxing atmosphere after cooking a big family meal.
The back porch fireplace in the photo above features a modern stone facade that accents the home and sets the stage for a stunning fire. These modern fireplace designs make a beautiful addition to a covered patio and come ready to light. Some benefits that our customers love are:
Dual pane cooling system with safe-to-touch glass
Most realistic vented gas logs available
Interior LED lighting
Power venting system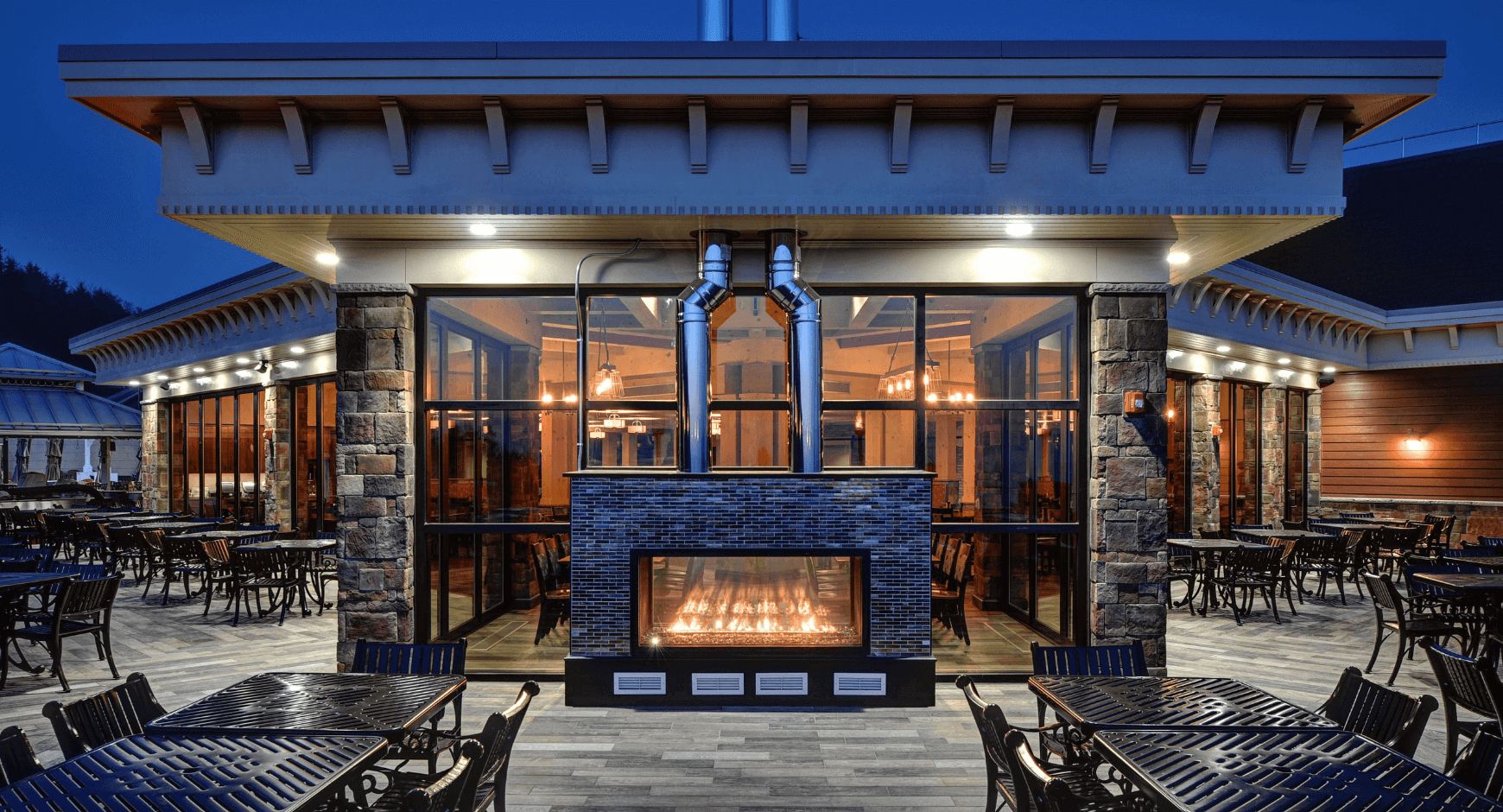 Indoor/Outdoor Fireplace
When looking for all season room ideas, there are few additions with as many benefits as an indoor/outdoor fireplace. The additional space for seating and communal areas on either side adds tremendous value to your opportunities for leisure. Enjoy your evenings outside in the warm summer air, and easily move those evenings indoors when it starts to get cold.
The unique look of an indoor/outdoor fireplace will surely be a conversation piece that will stick with your guests long after they're gone. It's worth noting in your sunroom fireplace ideas as well as any hotel or restaurant patio you may be designing. Some additional features that home and hotel owners alike love are:
Featured safe-to-touch glass
Unique mixed media options
Wide variety of finishing options
Ability to vent warmed air inside or outside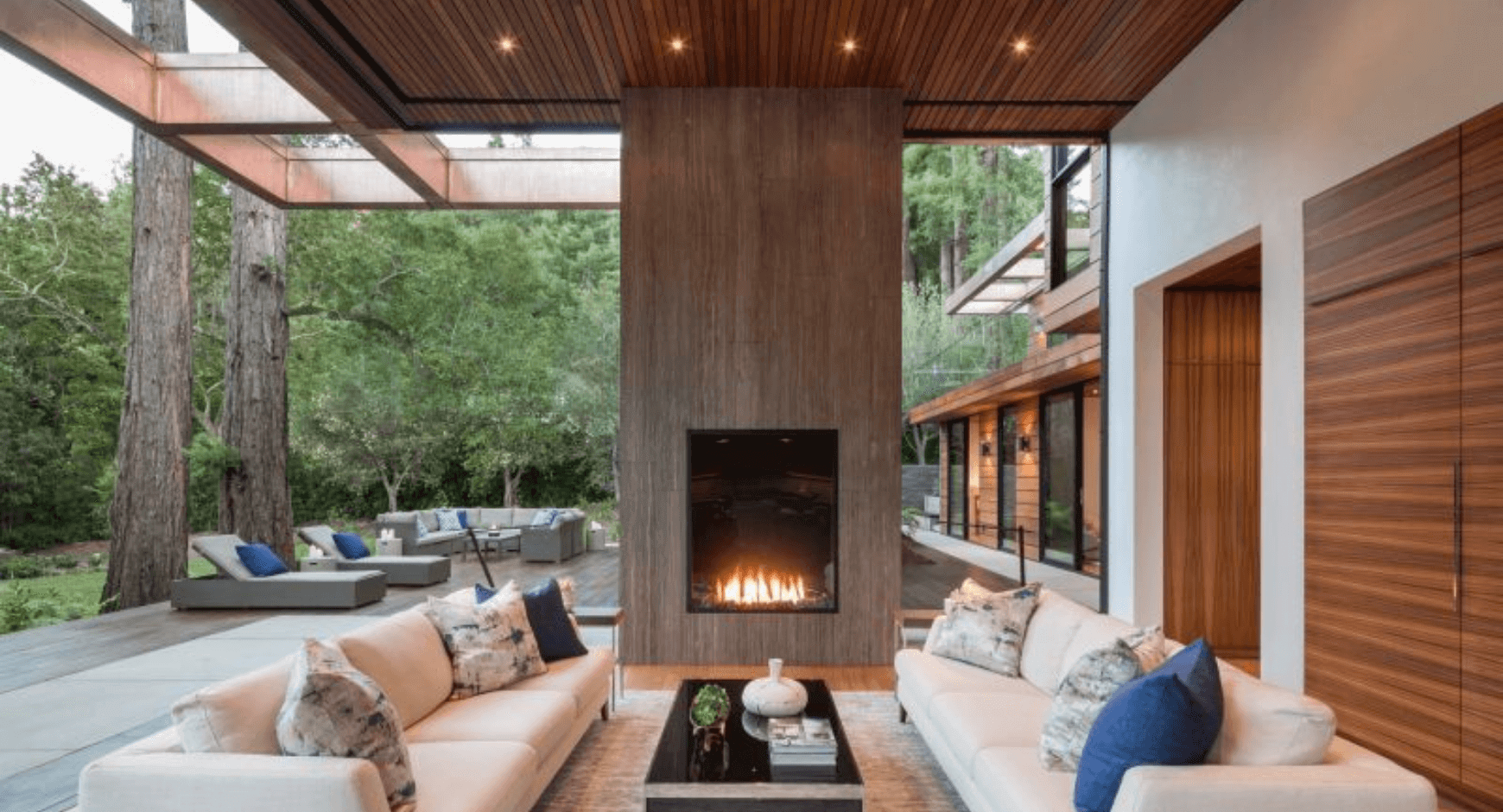 Outdoor Covered Patio Fireplace
Patio gas fireplaces can be as decadent and stylish as you desire. Combine functionality and comfort with a taste of modern art and create a piece that seamlessly fits your home. Whether you want your fireplace to act as an architectural centerpiece or a supplemental design element, Acucraft's custom gas fireplaces can be installed in most places.
Take the custom floor-to-ceiling fireplace in the photo above, for instance. It can act as both a structural and a design element with its unique wood-grained facade. These back porch fireplace ideas will surely stand out among the rest with the unique options available to you, including:
Low-profile or frameless options
Open or sealed viewing area
Nearly limitless media options
Tallest fullest flames on the market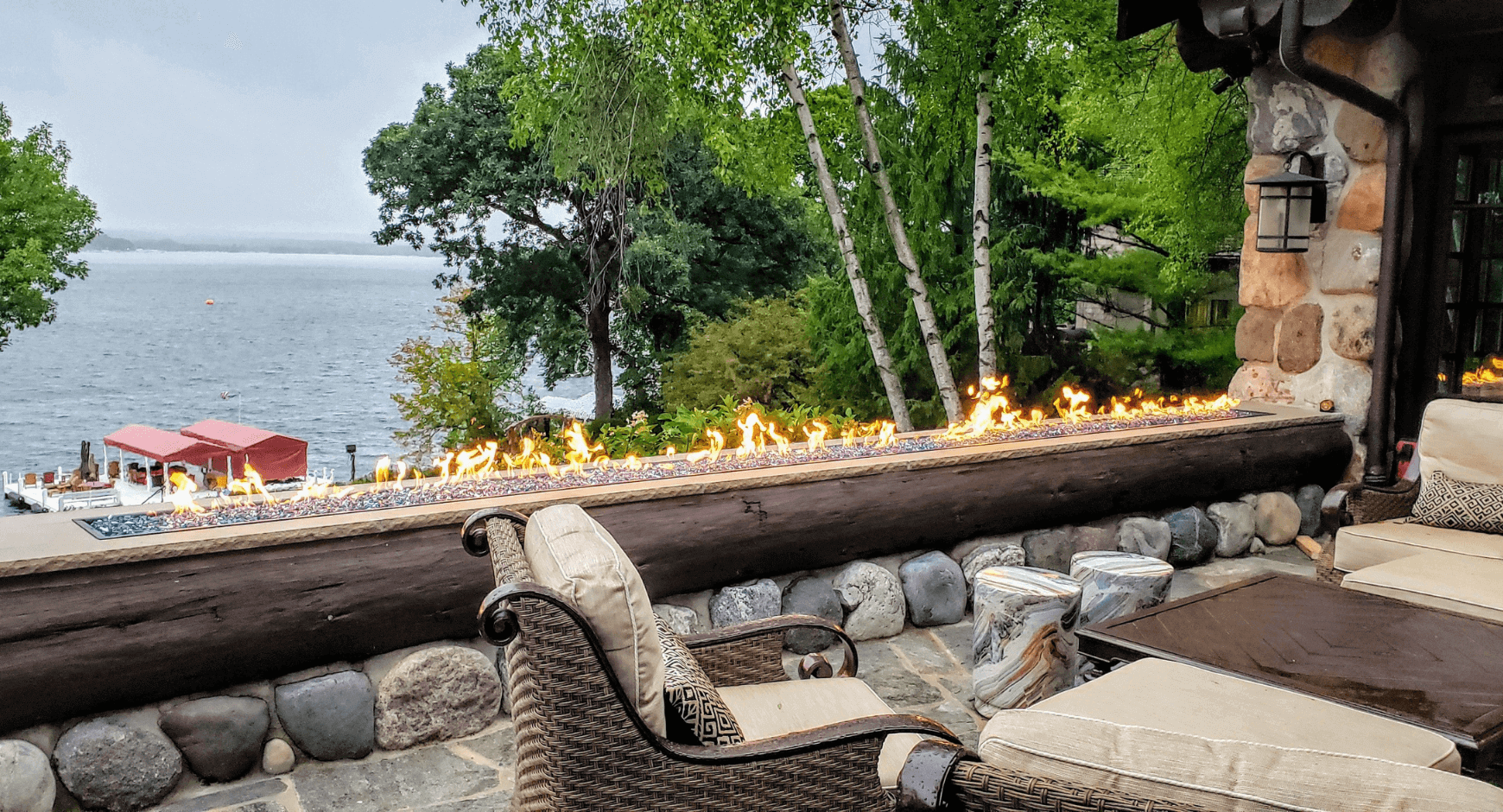 Outside Deck Fireplace
It may not seem like the obvious choice to set a fireplace on a wood deck, but it is often done with stunning brilliance. An open-fire table is one of the top fireplace trends of 2023 because who doesn't love watching the flames dance around the scenery of your backyard.
Deck fireplace ideas often include an open fire pit or fire table, but none are built with the exquisite craftsmanship and uniqueness found at Acucraft. Each table is custom-designed to fit your space and comes with more options and features than you knew you needed.
Operates in rain, wind, and snow
Comes in a variety of fireproof finishes
Offers different flames reaching from 8 to 24 inches
Designed to fit any size and any style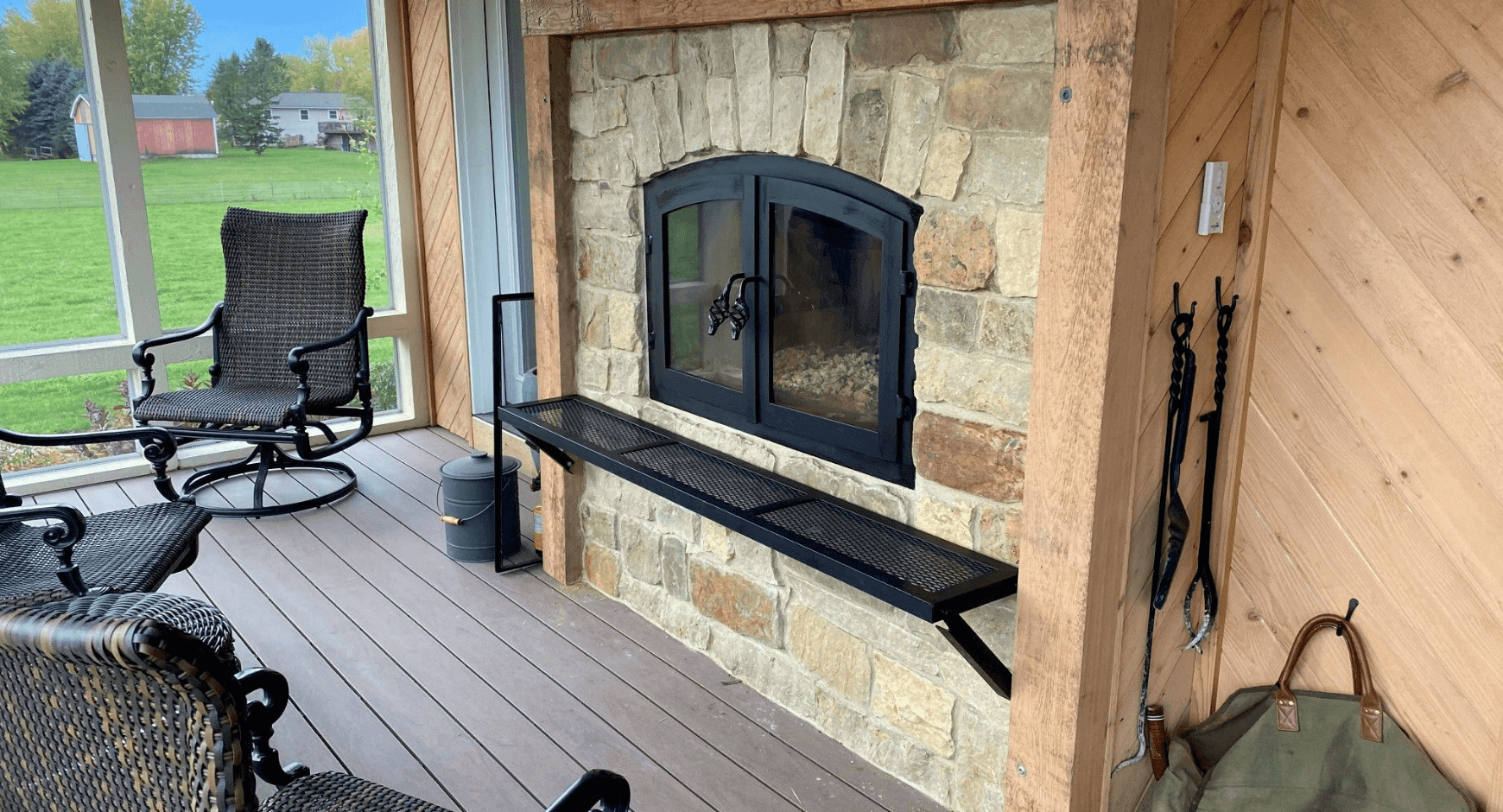 Farm Style Deck Fireplace
There is nothing quite like kicking your feet up next to a crackling fire in the great outdoors. When you add the peace of mind knowing your fire is safe from the wind and rain, there is nothing left to do but enjoy the night.
This rustic screened in porch with a fireplace makes an impressive addition to any outdoor space. They're discreet enough to be out of the way when it's too hot to make a fire while still adding to the deck's aesthetic. The option of having a single or double door makes it a very versatile design with many benefits, such as:
100% outside air for combustion
Style options to fit every aesthetic and personality
Cutting-edge air movement technology
Air can be circulated or expelled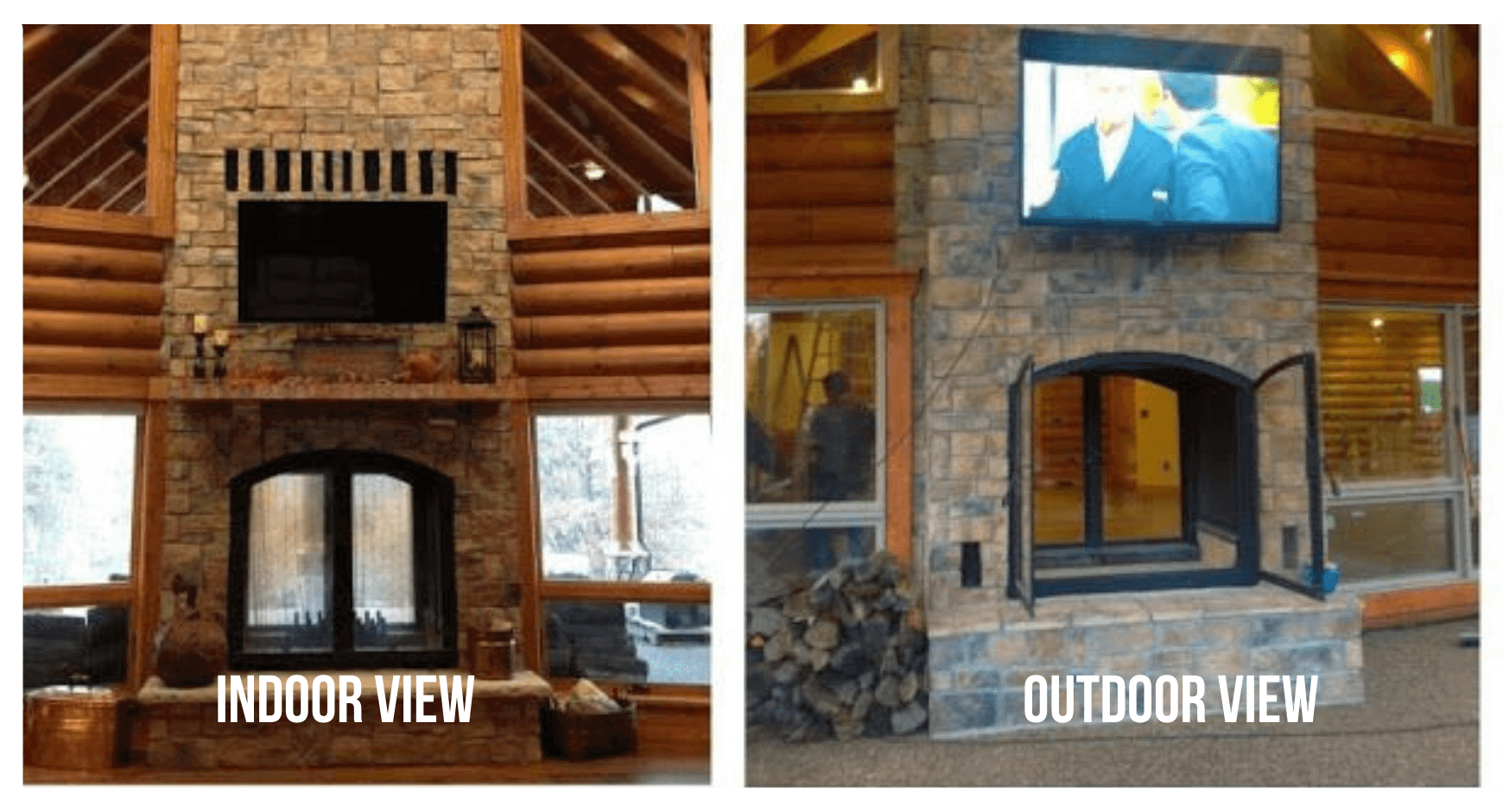 Woodsy Covered Patio
A screened in porch with a fireplace and TV is the ideal spot for a game night, a movie night, or watching an important sporting event with family and friends. Acucraft's power venting system ensures the safety of any TV or art piece that is hung at least 12 inches above the fireplace.
Add to that the benefits of an indoor/outdoor wood fireplace, and you're ready for any gathering, rain or shine. The level of versatility here, along with many other features, makes this design a no-brainer for any game night enthusiast.
Operable doors on both sides of the fireplace
Styles to fit every personality
Cutting-edge air movement technology
100% outside air for combustion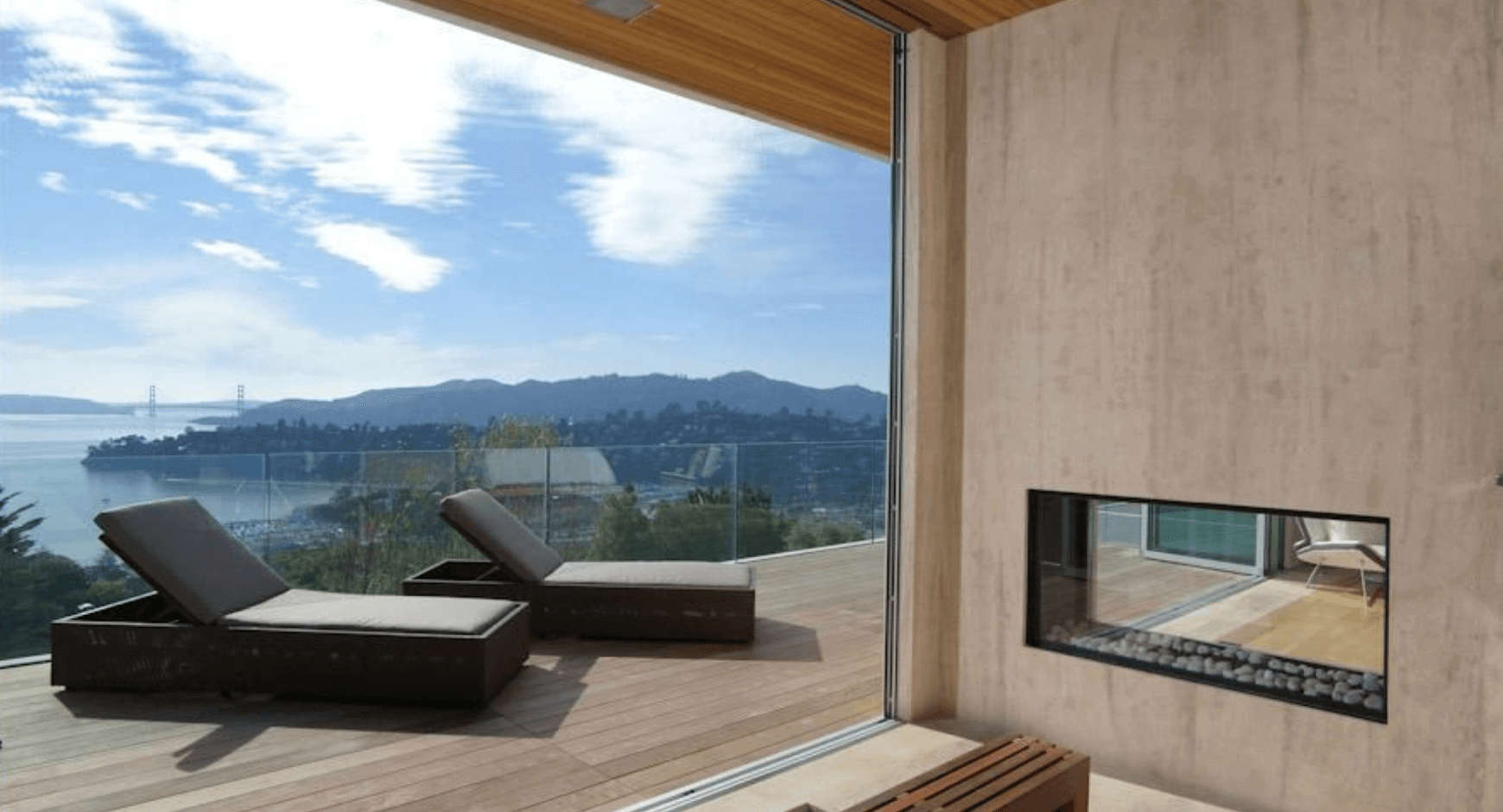 Rooftop Patio with a Fireplace
A custom fireplace can add dynamic style to even the most spectacular patio. There is no competing with the view in the photo above, but there is a way to accentuate its beauty with a see-through gas fireplace.
This custom fireplace from Acucraft turned an ordinary wall into a shared space with plenty of views to go around. It adds ambiance to the patio without taking up gathering space or obstructing the natural flow of your home's design. This can't be done with any off-the-shelf fireplace, as our unique models boast the greatest benefits:
Flexible installation
Safe-to-touch glass
Interior LED lighting
Nearly limitless media options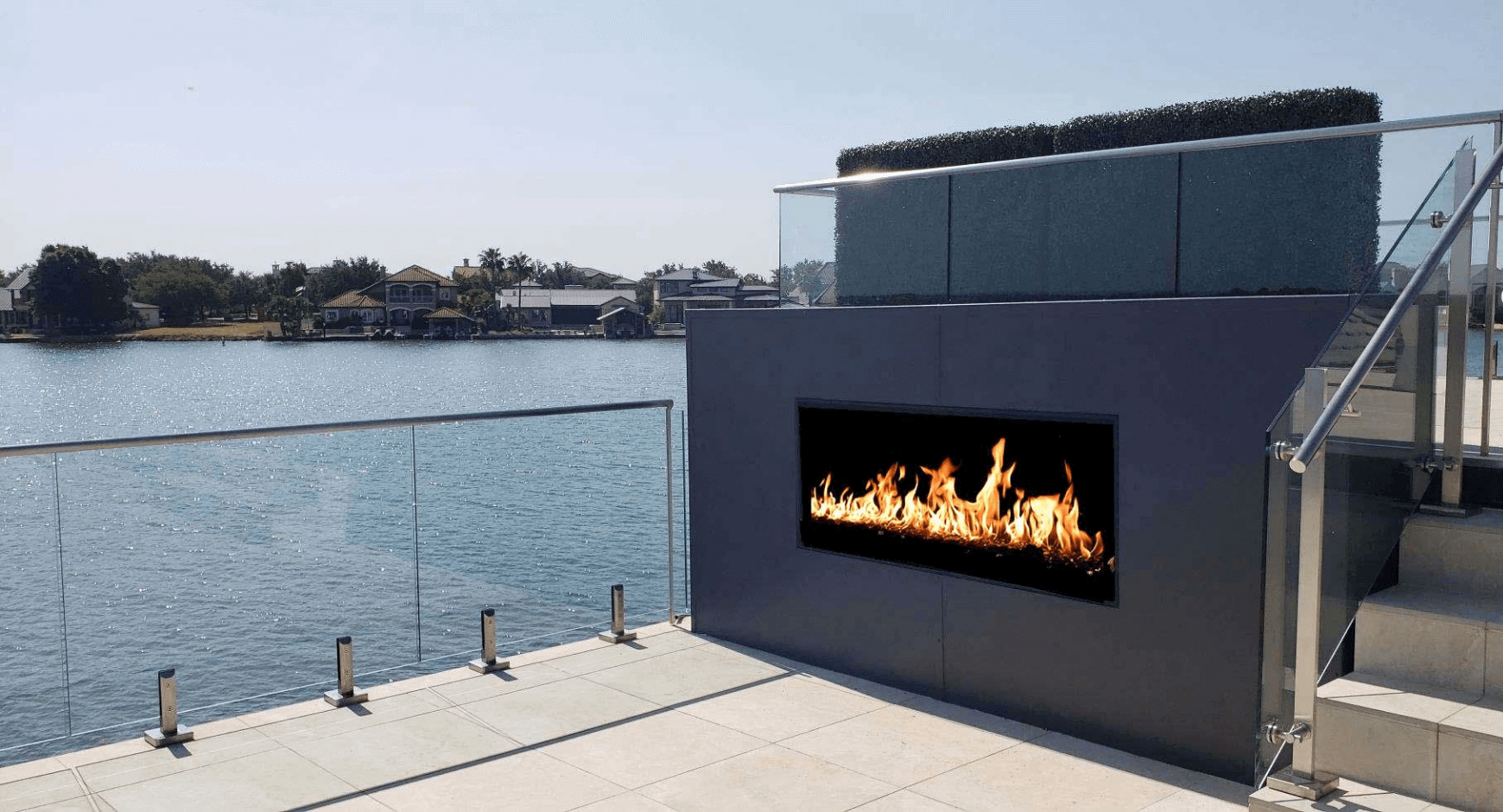 Outdoor Corner Fireplace
Acucraft's Signature Series of gas fireplaces are a great fit for the corners and ledges of your deck that you didn't think could be of use. Their unique versatility allows them to fit the exact size and shape of the area you're looking to accent.
Deck designs with fireplaces often appear clunky and intrusive, but Acucraft's sleek design ensures it will stay out of the way when not in use. If you're not sure if your outdoor fireplace idea has the right amount of space, contact the experts at Acucraft to find the perfect fit without having to sacrifice. Every fireplace we offer, whether small or large, comes with a ton of amazing benefits:
Open or sealed viewing area
10-minute conversion kits
Tallest flames on the market
Remote LED lighting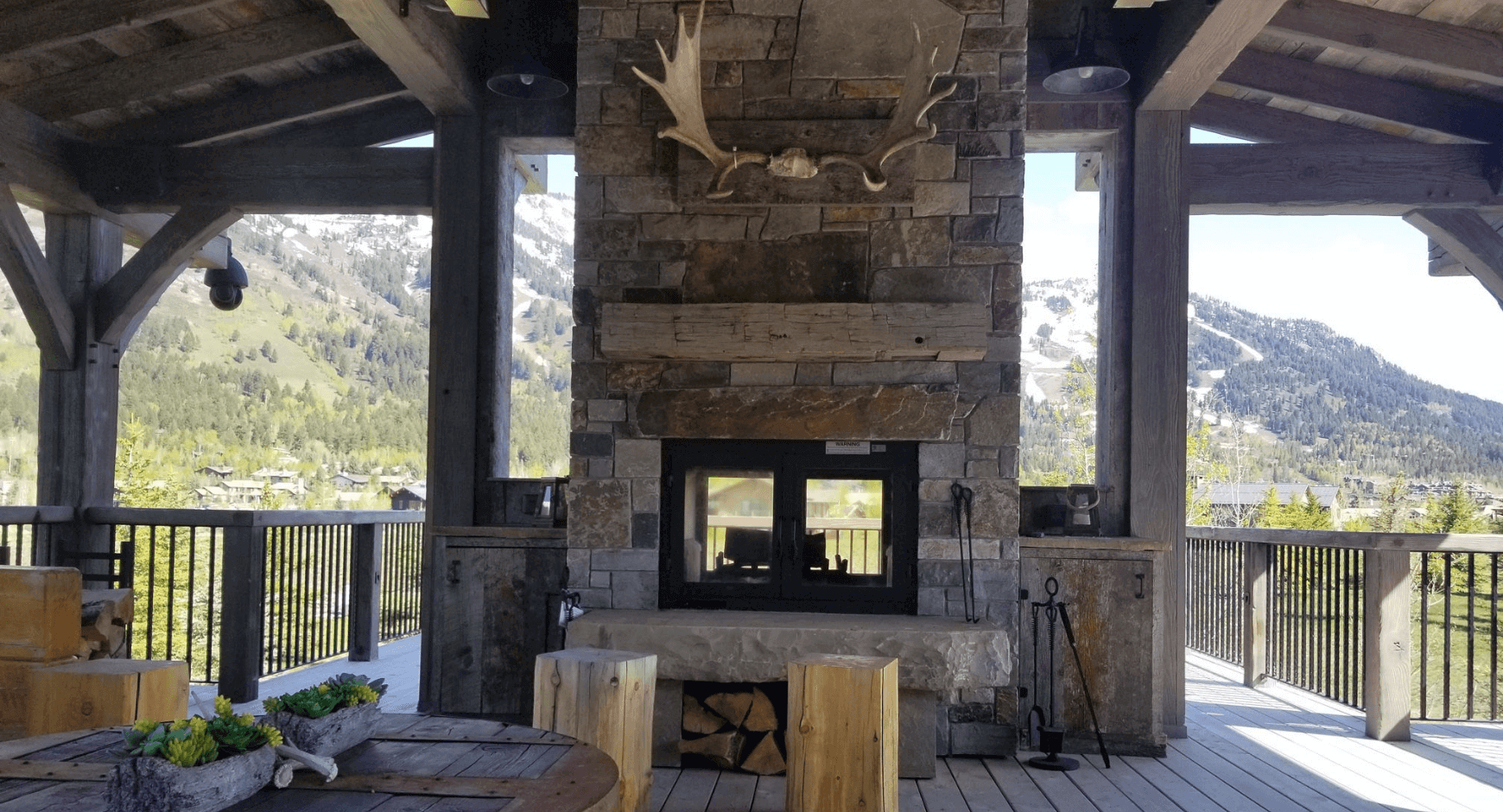 Mountainous Deck Fireplace
An outdoor fireplace is an excellent way to accentuate the beauty around you and tie it into your home's aesthetic. There are a wide variety of framing and stonework options to match the backdrop of your covered patio. It's the perfect solution to getting the most from your fireplace without obstructing your view.
The photo above features one of Acucraft's see-through wood fireplaces. With a rustic stone facade and large timber mantel, it complements the Colorado landscape wonderfully. The custom options don't stop there, as you'll be given a ton of choices including:
Multiple frame/door options
Variety of fireproof finishes
Fire screen options
Several grid styles 
Elevate Your Outdoor Space With a Luxury Fireplace From Acucraft 
Screened porches with fireplaces are so much more comfortable, relaxing, and enjoyable year-round than those without. Whether your outdoor space is a screened-in porch, an open deck, or a covered patio, a luxury fireplace is a worthwhile addition.
Fireplaces bring an element of coziness to any room, create a gathering space, and, when you design your fireplace with Acucraft, are a striking design element unto themselves. Contact our expert fireplace designers to learn more about designing your own fireplace. Visit our blog for more inspiration, or stop by the showroom to see the latest models firsthand.