May 21, 2021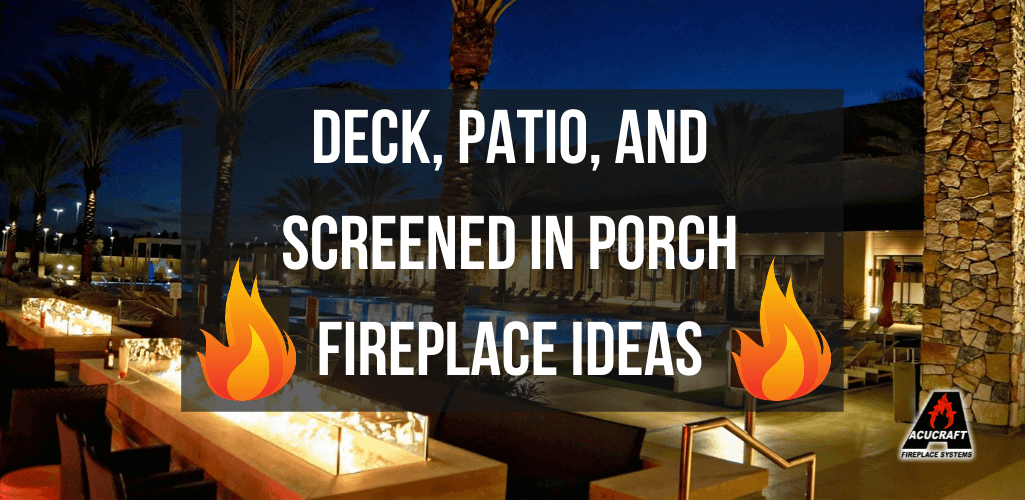 12 Deck, Patio, and Screened-In Porch Fireplace Ideas
A screened-in porch with a fireplace is an excellent gathering place. It not only creates ambiance but also provides you with a cozy hideaway throughout the year. It will be the focal point of your living space and create conversation and memories to share with loved ones for years to come.
Outdoor fireplaces, whether gas or wood-burning, provide a great atmosphere to entertain guests or simply relax with your family. However, when it comes time to add that centerpiece to your patio or deck, the decision-making process can be daunting.
From wood-burning fireplaces with rustic iron doors to modern see-through gas fireplaces, Acucraft's team has a design to match any style. Our hope is that this blog will help you discover some new outdoor fireplace ideas and find one that's right for you.
Work with our fireplace designers to build your dream fireplace today.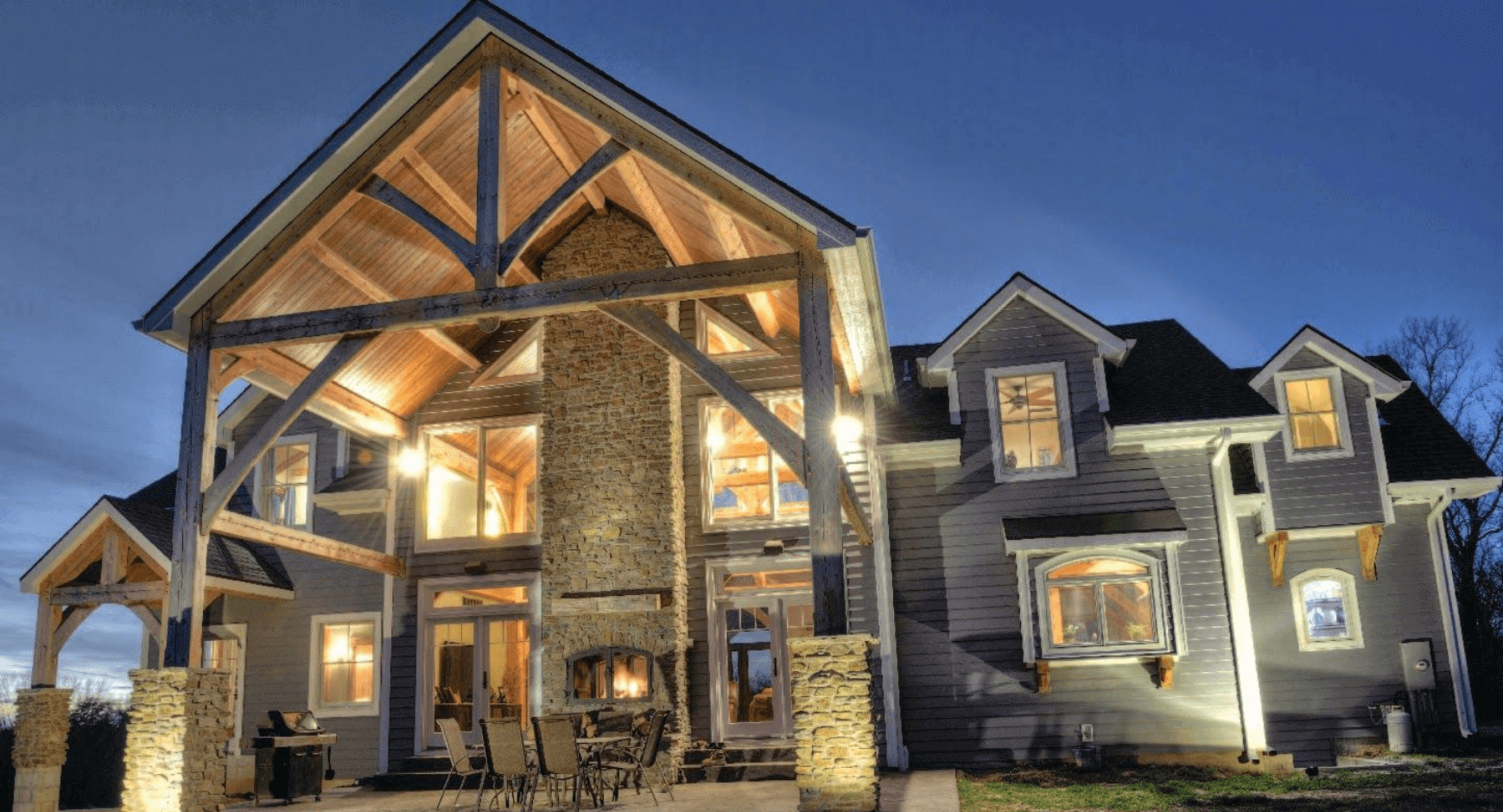 12 Open, Covered, and Screened-In Decks with Fireplaces
An outdoor fireplace in a gathering space like a deck or patio can be the perfect combination of enjoying the outdoors with friends and maintaining the comforts of home.
You can take your comfort one step further by adding a fire pit to a screened-in porch or a sunroom with a fireplace. Here, you can sit and enjoy the crackling wood without being chased by smoke or bitten by mosquitos.
Your ideal fireplace is waiting to be discovered at Acucraft. Spark your design inspiration with these 12 stunning outdoor fireplace ideas.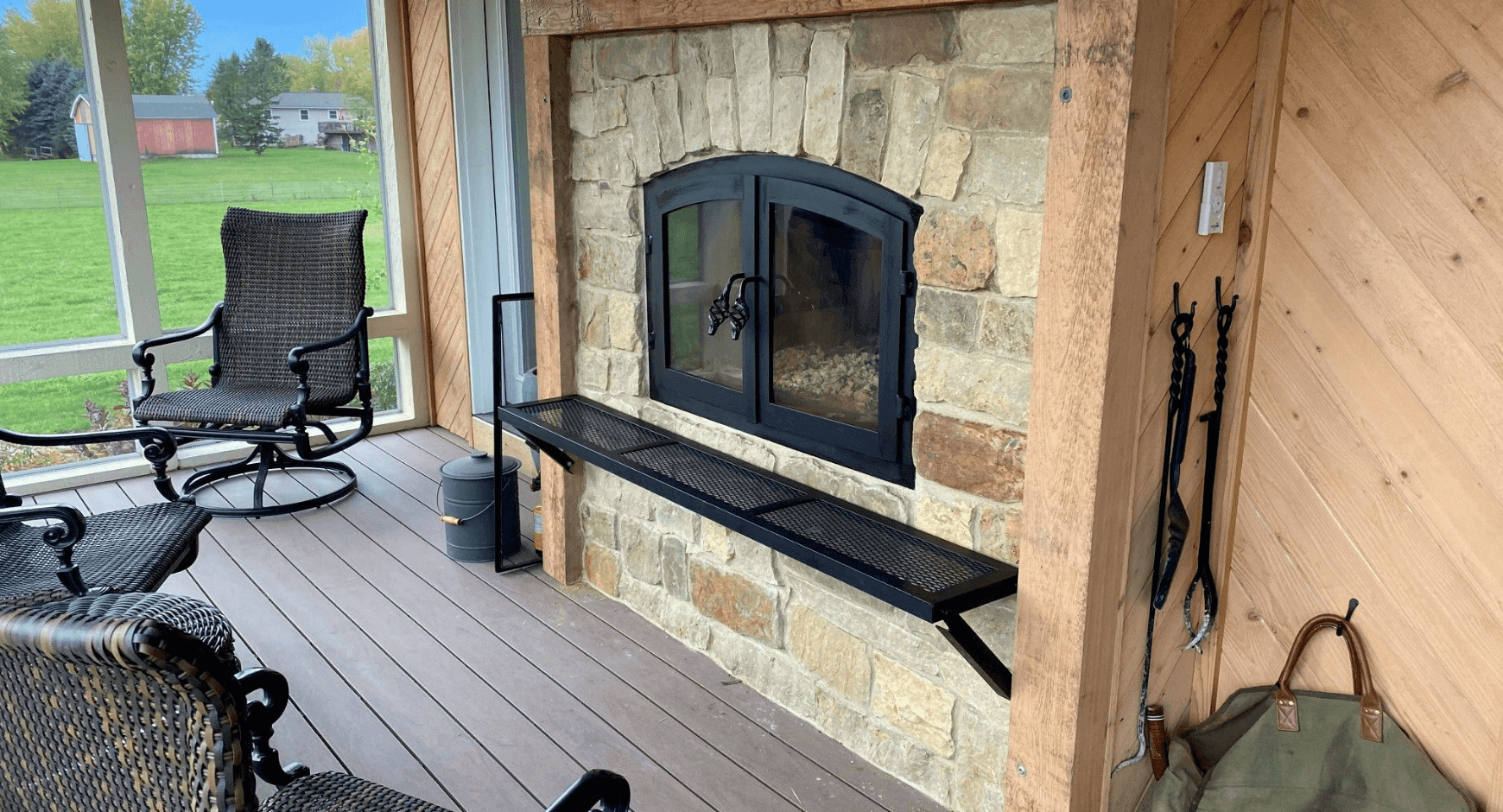 1. Farm Style Screened-In Deck with a Fireplace
There is nothing quite like kicking your feet up next to a crackling fire in the great outdoors. When you add the peace of mind knowing your fire is safe from the wind and rain, there is nothing left to do but enjoy the night.
These beautiful front-facing wood fireplaces make an impressive addition to any screened-in deck. They're discreet enough to be out of the way when it's too hot to make a fire while still adding to the deck's aesthetic. The option of having a single or double door makes it a very versatile design with many benefits, such as:
100% outside air for combustion
Style options to fit every aesthetic and personality
Cutting edge air movement technology
Air can be circulated or expelled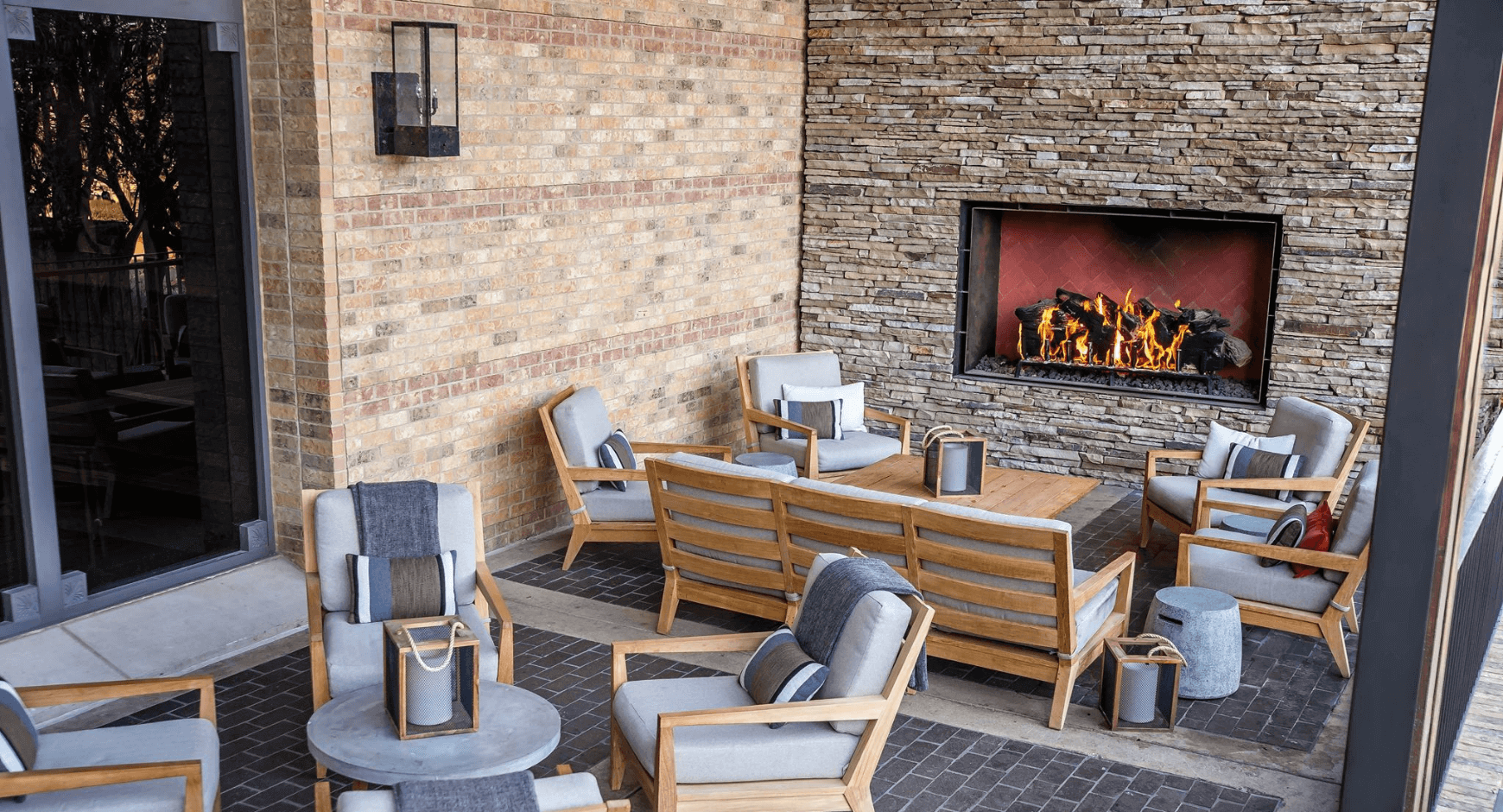 2. Covered Patio with a Fireplace That Creates a Cozy Gathering Space
A covered patio protects against the sun and rain, but a covered patio with a fireplace will add that element of comfort to make it an enjoyable space year-round. Turning it on can be as simple as clicking a remote, creating a relaxing atmosphere after cooking a big family meal.
These front-facing gas fireplaces make a beautiful addition to a covered patio and come ready to light. Some benefits that our customers love are:
Most realistic vented gas logs available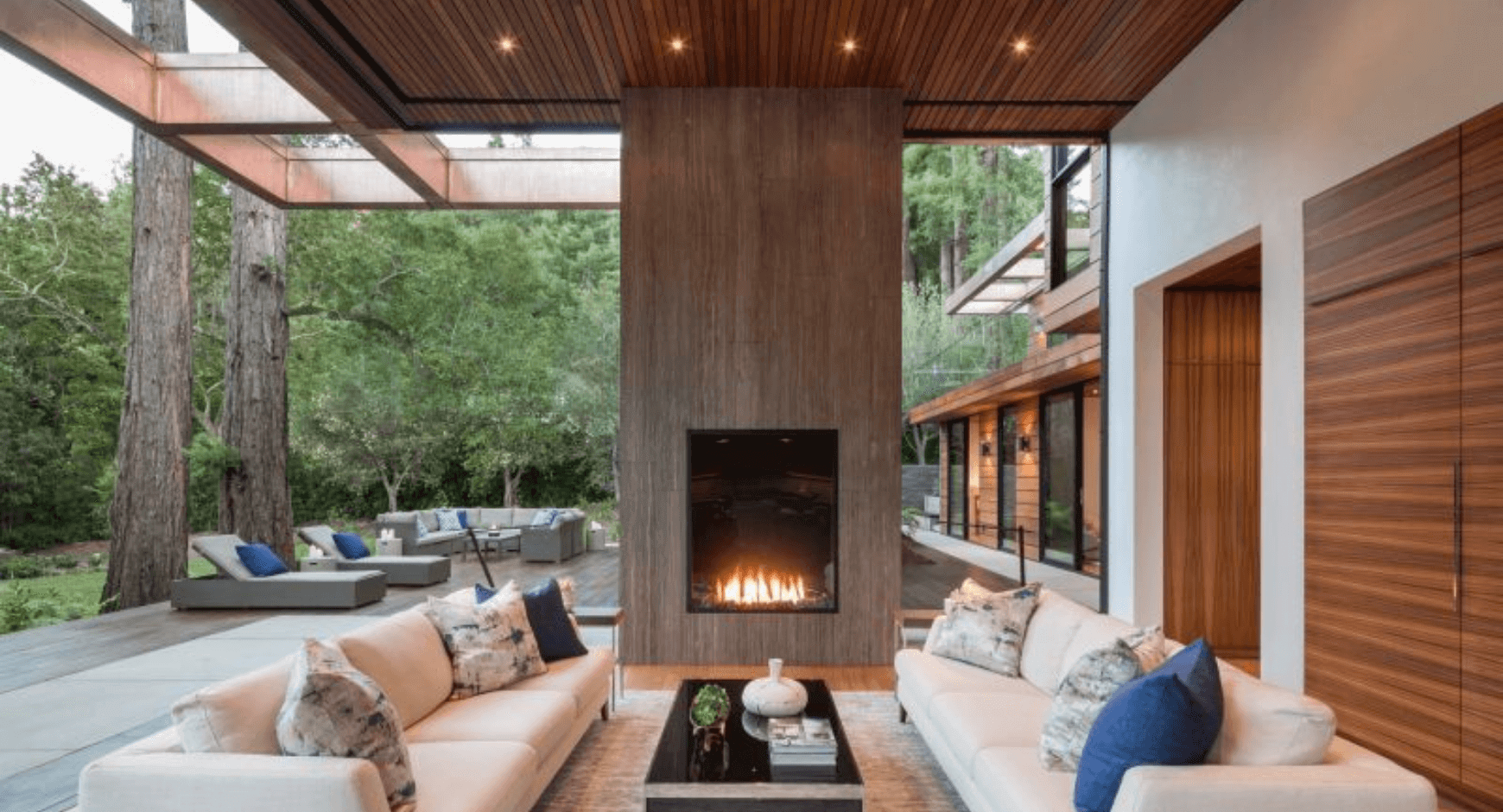 3. Outdoor Covered Patio with a Fireplace and Striking Contrasting Wood and Stone Features
Patio gas fireplaces can be as decadent and stylish as you desire. Combine functionality and comfort with a taste of modern art and create a piece that seamlessly fits your home. Whether you want your fireplace to act as an architectural centerpiece or a supplemental design element, Acucraft's front-facing gas fireplaces can be installed in most places.
Any covered patio with a fireplace will stand out among the rest with the unique options available to you, including:
Low profile or frameless options
Open or sealed viewing area
Nearly limitless media options
Tallest fullest flames on the market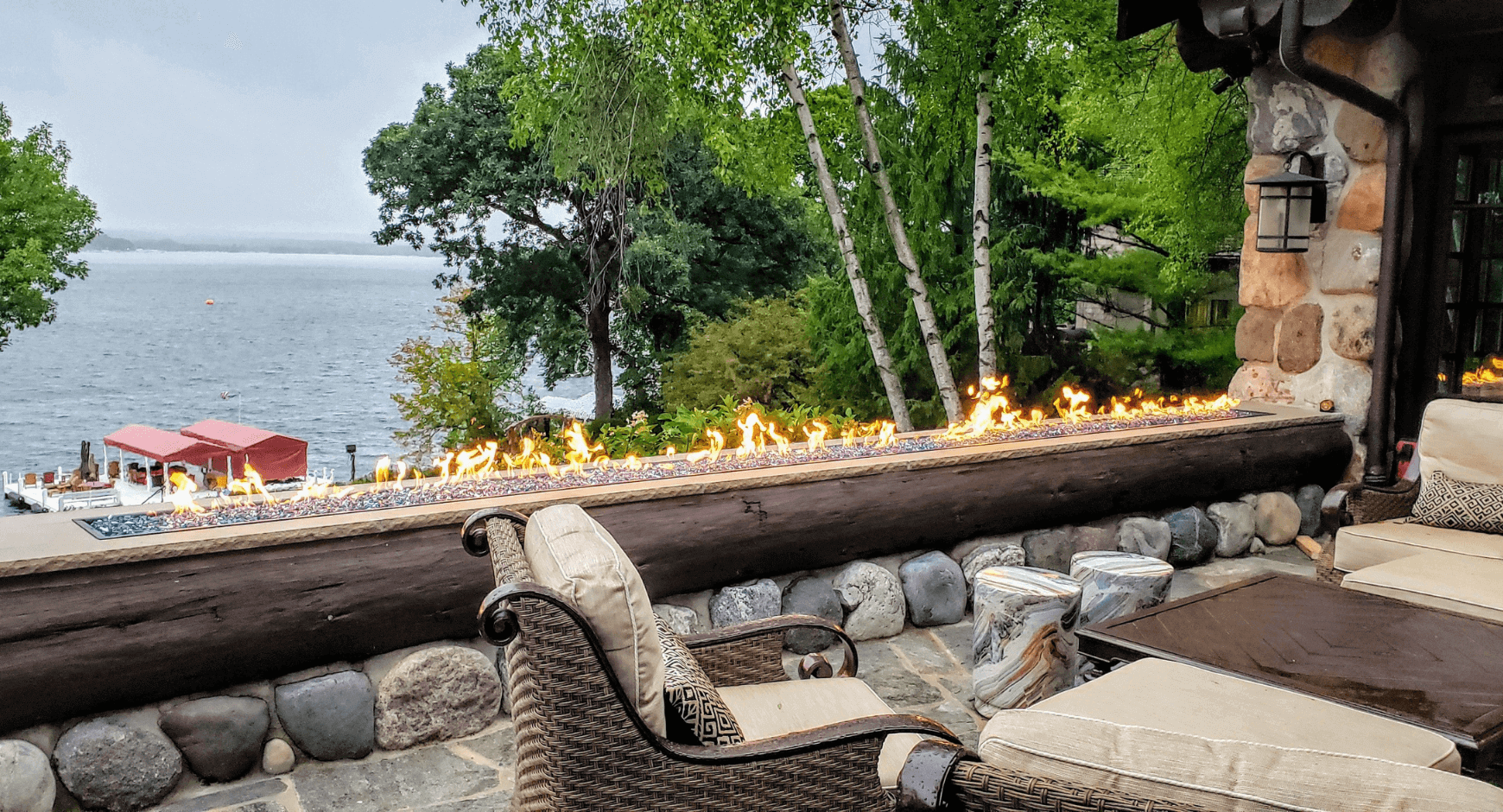 4. Outside Deck with a Fireplace Featuring Unique and Eye-Catching Open Flames
It may not seem like the obvious choice to set a fireplace on a wood deck, but it is often done with stunning brilliance. An outdoor fire table is always a popular option as the flames can dance around the scenery of your backyard.
Deck fireplace ideas often include an open fire pit or fire table, but none are built with the exquisite craftsmanship and uniqueness found at Acucraft. Each table is custom-designed to fit your space and comes with more options and features than you knew you needed.
Operates in rain, wind, and snow
Comes in a variety of fireproof finishes
Offers different flames reaching from 8 to 24 inches
Designed to fit any size and any style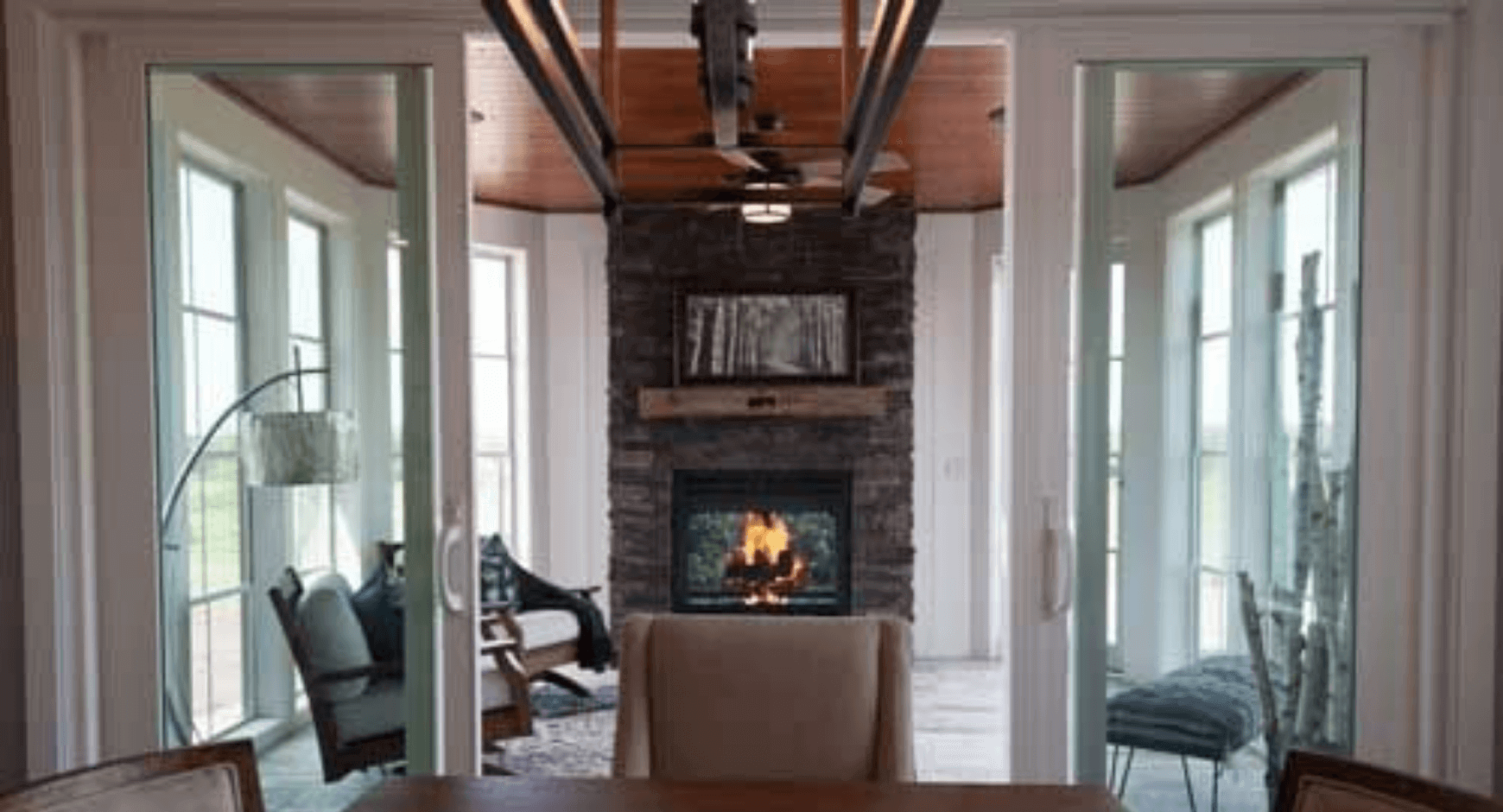 5. Modern 3 Season Room with a Fireplace Featuring Beautiful Stone Work
A sunroom with a gas fireplace sets the mood for relaxation and contemplation. All you need is a good book and a comfy chair. When the weather is too turbulent to gather outside, a three-season room with a fireplace will be the happy medium that pleases everyone.
One of our modern indoor/outdoor wood fireplaces surrounded by stonework will bring any room to its full potential. Additional benefits include:
Warmed air can be circulated or expelled
Easily convertible from wood to gas at anytime
Choose from various finishing options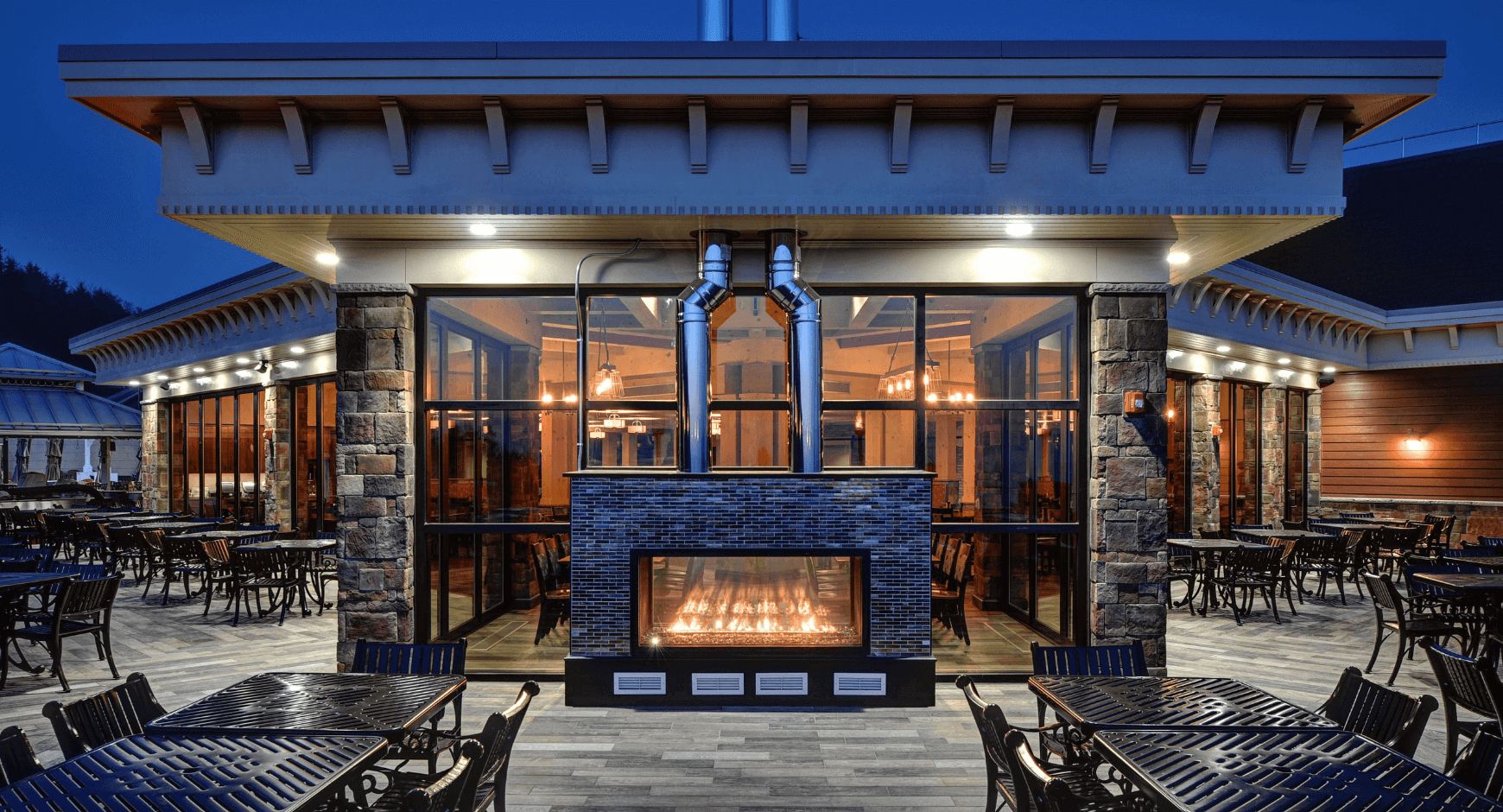 6. Indoor/Outdoor Fireplace Ideas for a Commercial Setting
An indoor/outdoor gas fireplace is a brilliant addition to your back patio, as well as any hotel or restaurant patio. The additional space for seating and communal areas on either side adds tremendous value to your guests' opportunities for leisure.
The unique look of an indoor/outdoor fireplace will surely be a conversation piece that will stick with your guests long after they're gone. Some additional features that restaurant and hotel owners love are:
Unique mixed media options
Wide variety of finishing options
Ability to vent warmed air inside or outside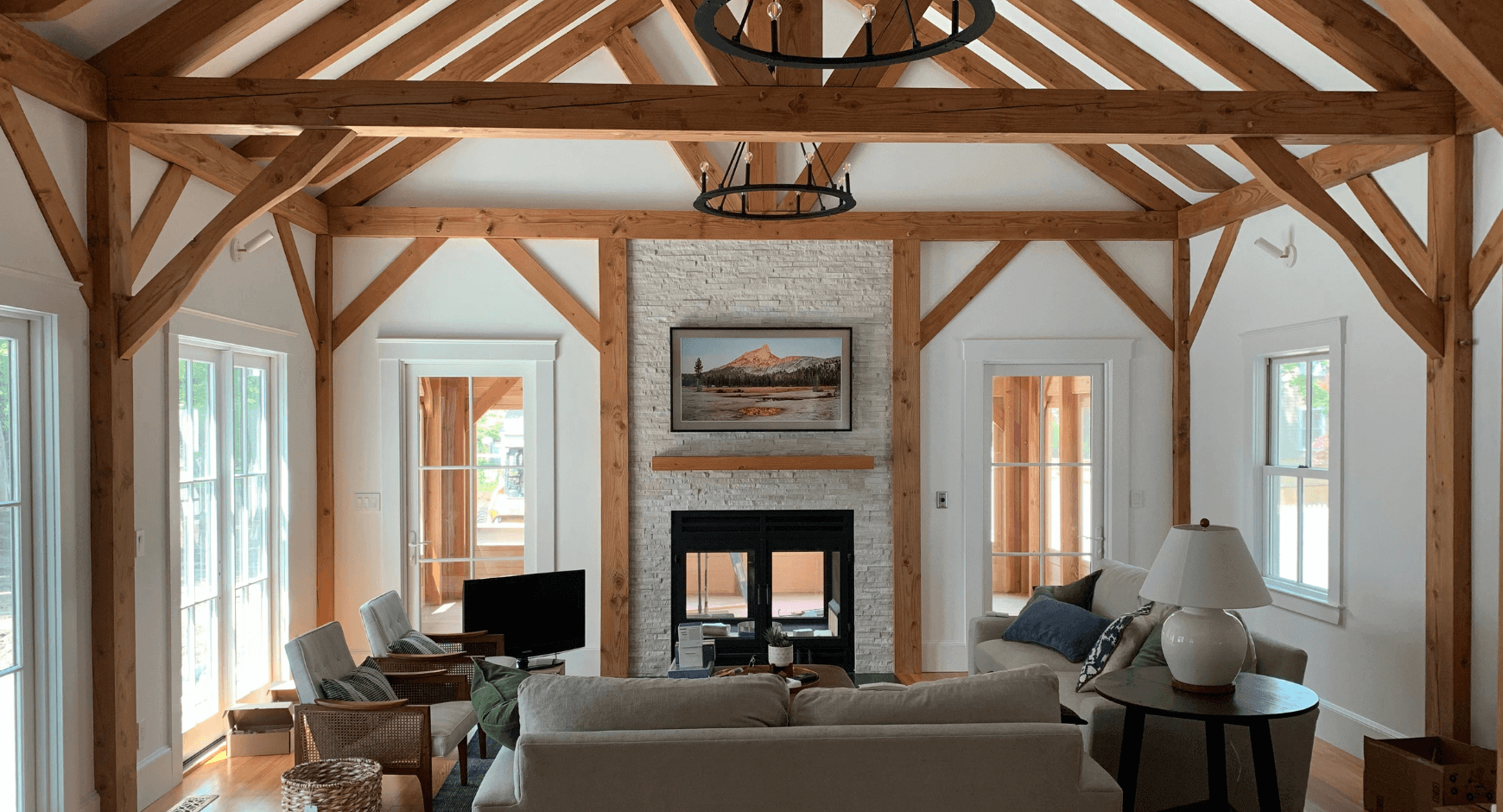 7. Traditional Four Season Room with a Fireplace
Four-season rooms with fireplaces are ideal for any climate. Having an indoor/outdoor wood fireplace makes for glorious evenings outside in the warm summer air and equally beautiful evenings in the screened-in porch when it's cold outside.
A bonus of this fireplace design is when the bugs come out or the wind picks up, you can simply take the party inside and enjoy your fire from the other side.
Choose from single or double doors
Arched or rectangular fronts 
Warmed air can be circulated or expelled
Easily convertible from wood to gas at anytime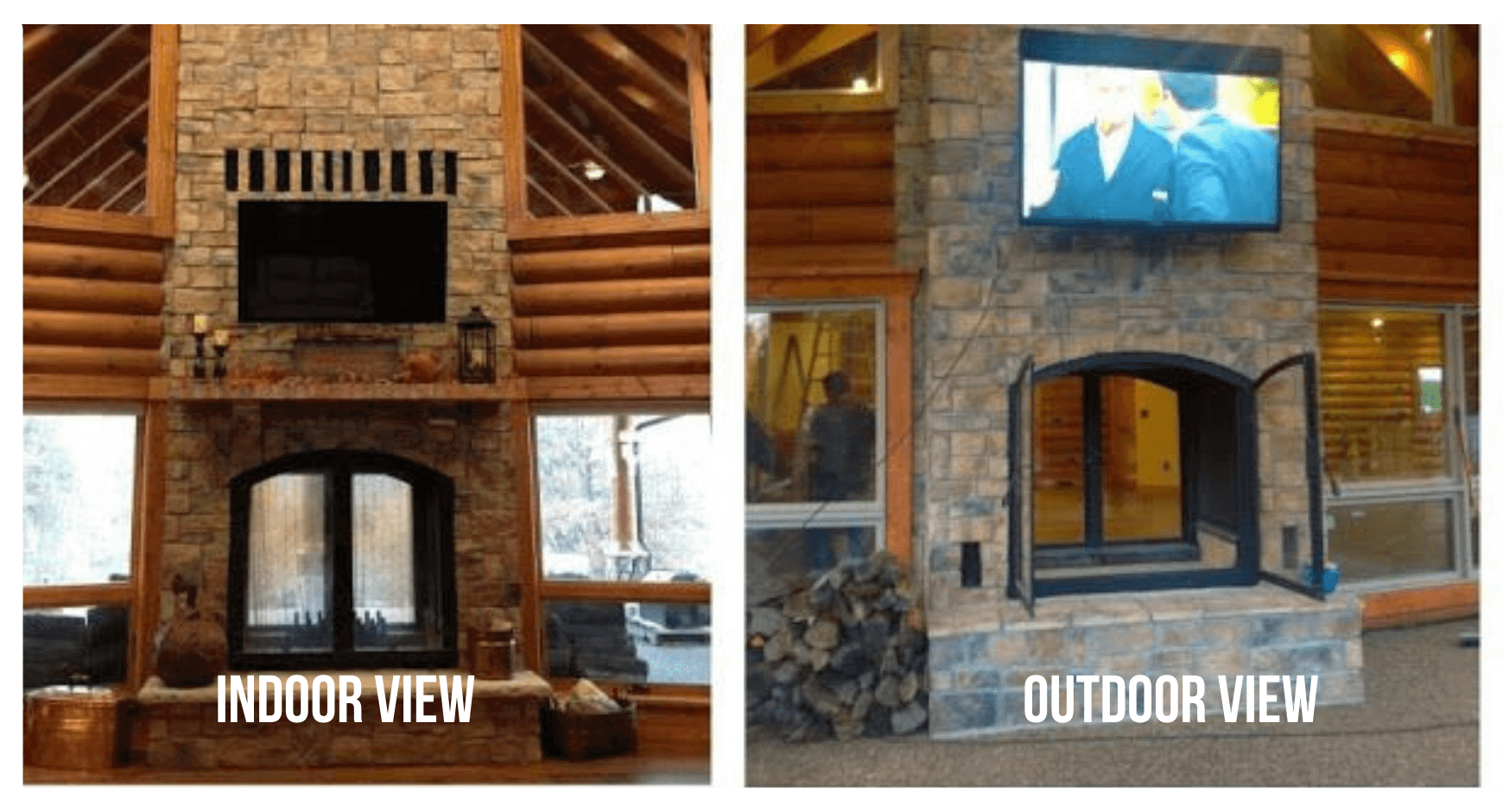 8. Woodsy Covered Patio with an Indoor/Outdoor Fireplace and TV
A covered patio with a fireplace and TV is the ideal spot for a game night, a movie night, or watching an important sporting event with friends. These indoor/outdoor wood fireplaces allow you to be ready for any gathering, rain or shine.
Acucraft's power venting system ensures the safety of any TV or art piece that is hung at least 12 inches above the fireplace. The level of versatility here, along with many other features, makes this design a no-brainer for any game night enthusiast.
Operable doors on both sides of the fireplace
Styles to fit every personality
Cutting edge air movement technology
100% outside air for combustion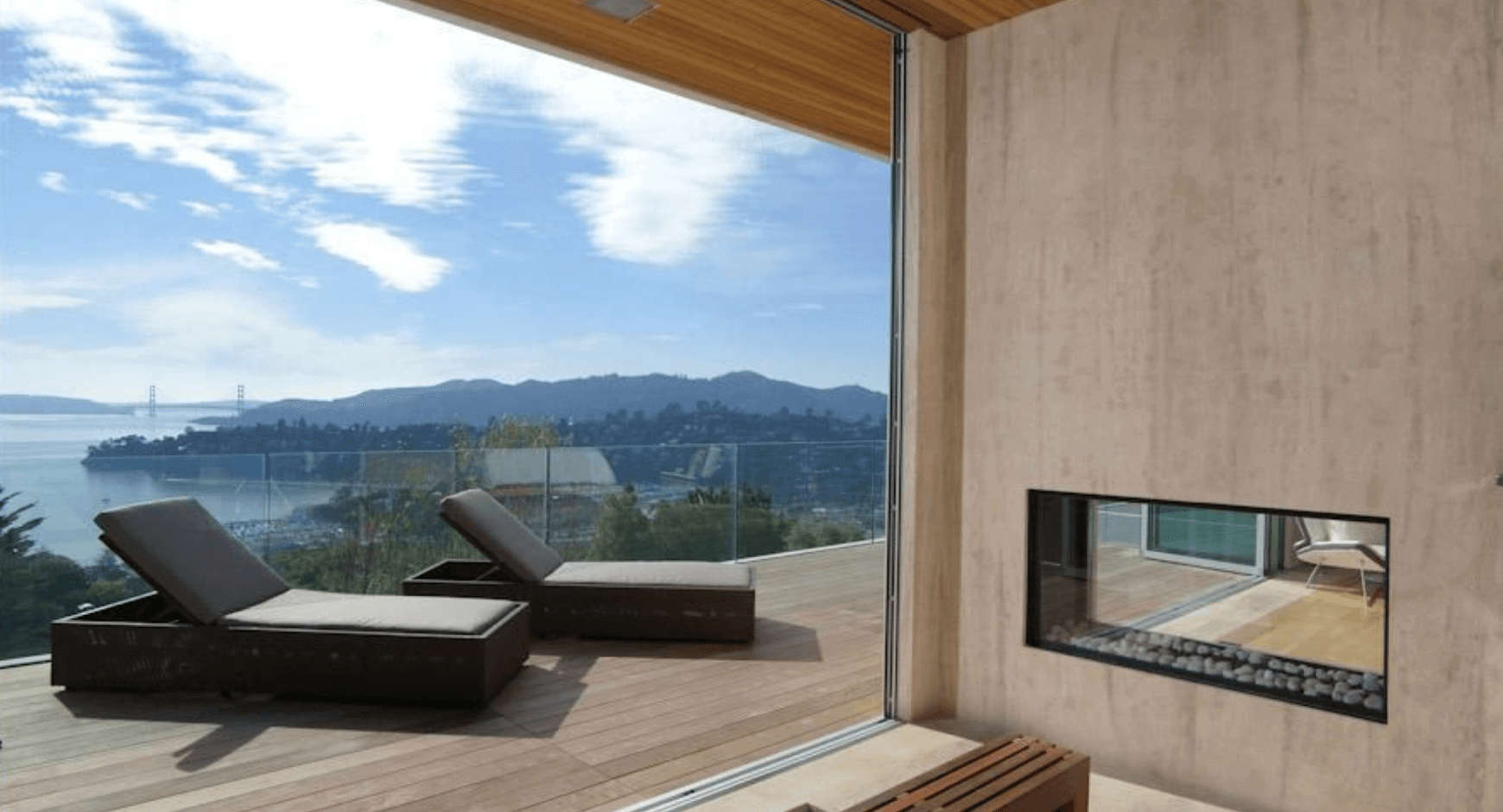 9. Rooftop Patio With a Gas Fireplace and a Breathtaking View
A gas fireplace can add dynamic style to even the most spectacular patio. This see-through gas fireplace turns an ordinary wall into a shared space with plenty of views to go around. It will add ambiance to your patio without taking up gathering space or obstructing the natural flow of your patio.
Nearly limitless media options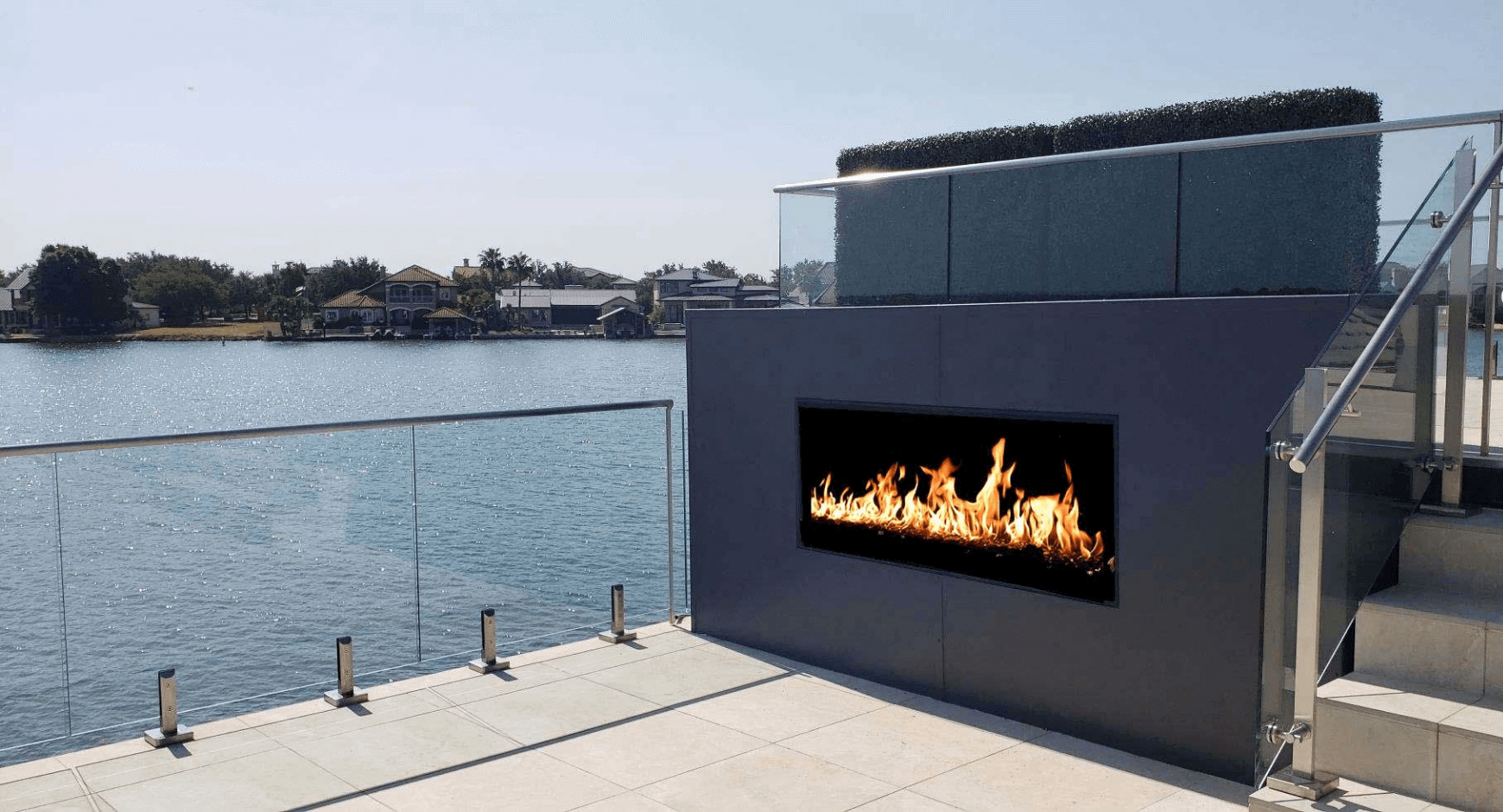 10. Sleek and Elegant Outdoor Corner Fireplace Ideas
Acucraft's Signature Series of gas fireplaces are a great fit for the corners and ledges of your deck that you didn't think could be of use. They are able to fit the exact size and shape of the area you're looking to accent. Deck designs with fireplaces often appear clunky and intrusive, but Acucraft's sleek design ensures it will stay out of the way when not in use.
Open or sealed viewing area
10 minute conversion kits
Tallest flames on the market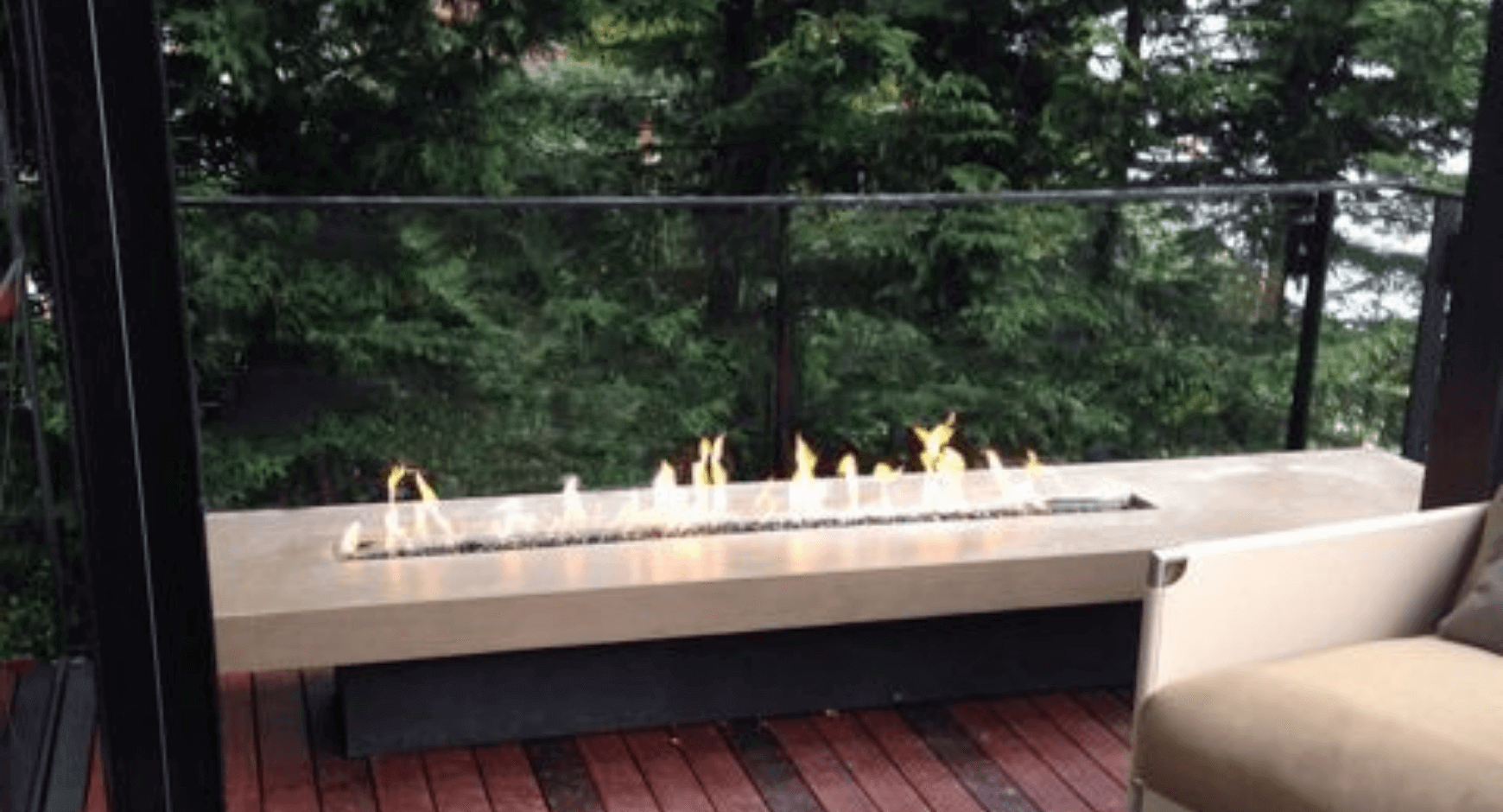 11. Low Profile Fire Table in a Screened-In Porch
If you want a gas fireplace for a screened-in porch, you may want to consider an outdoor fire table. Our fire tables are custom-built to match your exact screen porch fireplace idea. They can be made wide enough for dining or just the right size to set a cocktail on. When it comes to quality and assurance, Acucraft has your back porch fireplace covered.
Lights in rain, wind, or snow
Nearly limitless media options
Large variety of fireproof finishes
Multiple options for flame size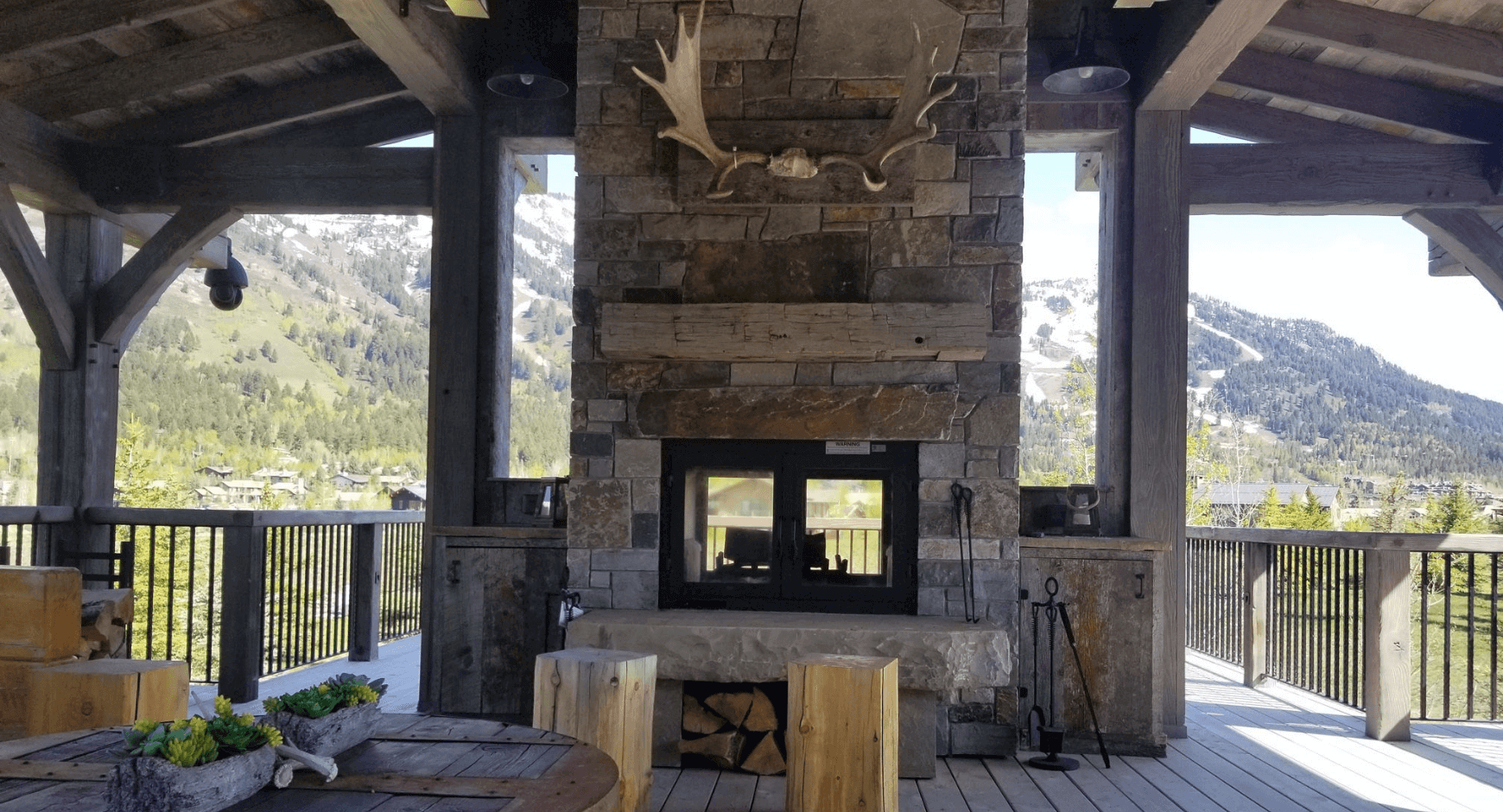 12. A Deck Fireplace Design for the Outdoorsy Mountain Dweller
An outdoor fireplace is an excellent way to accentuate the land around you and tie it into your home's aesthetic. There are a wide variety of framing and stonework options to fit the landscape surrounding your covered patio.
The perfect solution to getting the most from your fireplace without obstructing your view just might be Acucraft's see-through wood fireplaces.
Multiple frame/door options
Variety of fireproof finishes
Outdoor Fireplace FAQs
People often wonder if it's safe or efficient to have either gas or wood-burning outdoor fireplaces. There are numerous crucial questions to ask when installing a gas fireplace, or any other fireplace, really. Here we'll dive into a few that often concern patio fireplaces.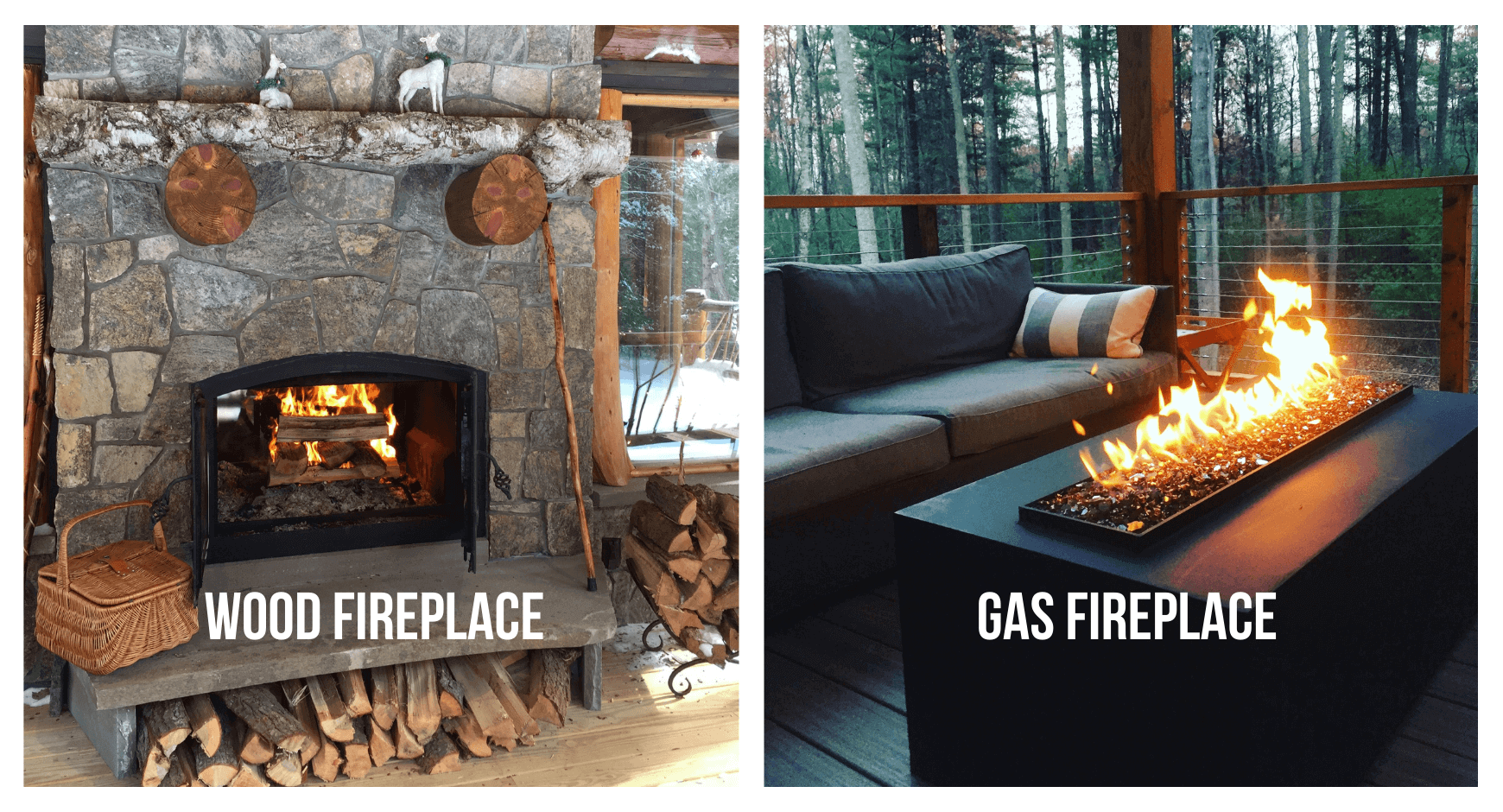 Outdoor Fireplace: Gas or Wood?
There are many benefits to both gas and wood fireplaces, and each has its place in the home, but deciding which is right for you is a personal choice.
The crackle of the fire and smell of burning cedar logs may draw some to a wood-burning fireplace. In comparison, the ease of use and lack of clean-up are equal reasons for some to choose a gas fireplace. Here are a few questions to ask yourself when having the gas vs. wood fireplace debate.
Do you have easy access to firewood?
How often do you plan to use the fireplace?
Do you have time to cut and store wood?
What type of aesthetic are you trying to achieve?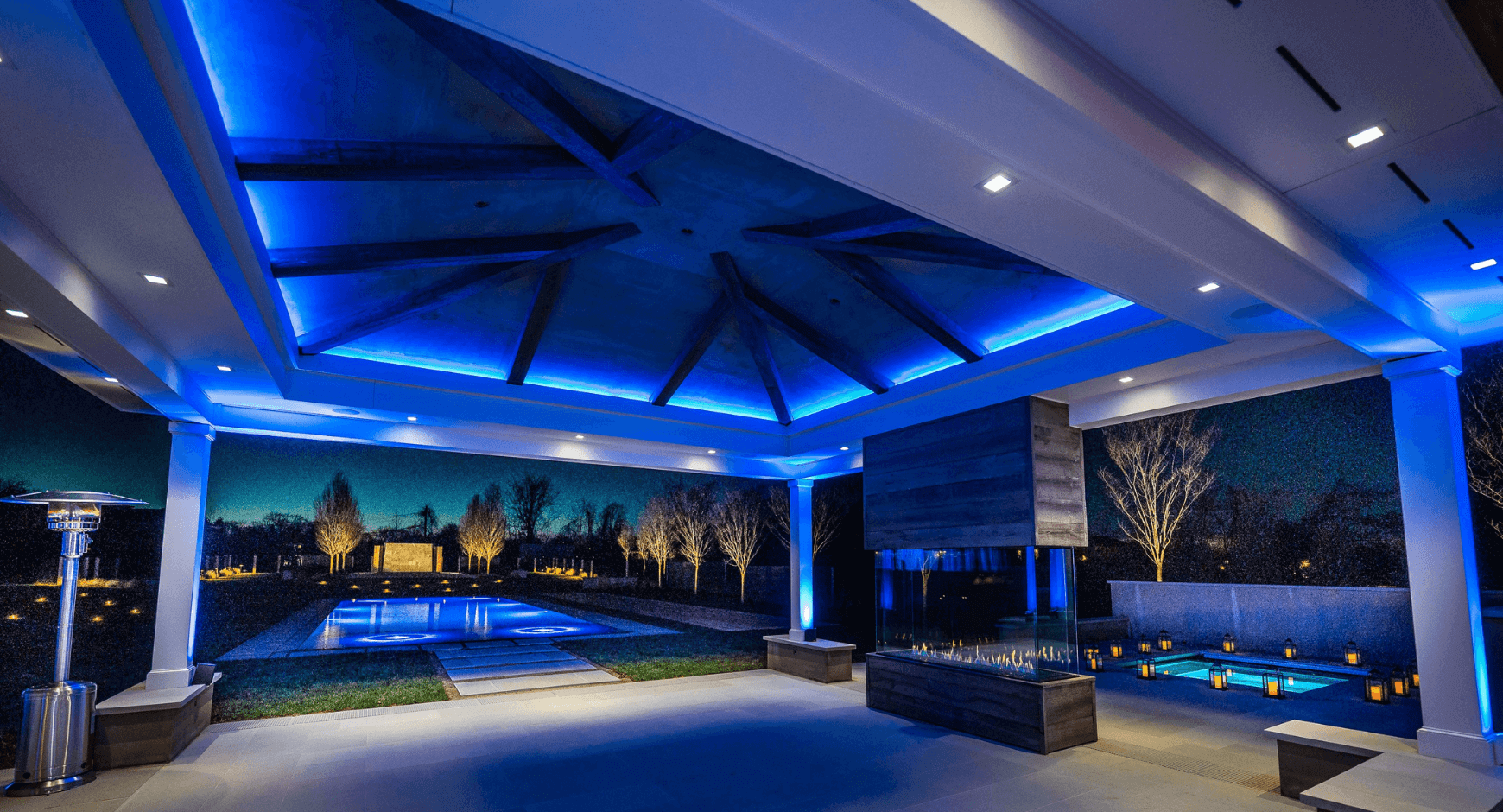 Can I Add a Fireplace to a Preexisting Outdoor Space?
Yes. Although a screened-in porch with a fireplace is not always the first thought when building a home, they are often added years later. There will be significant cost differences between installing a deck and installing a screened-in deck with a fireplace. For a better understanding of where the costs lie, take a look at Acucraft's custom gas fireplace options and consider these factors:
Will it fit into an existing wall?
Would a fire table be a better use of space?
Do you want a covered porch fireplace or uncovered?
Would an indoor/outdoor fireplace fit into your living space?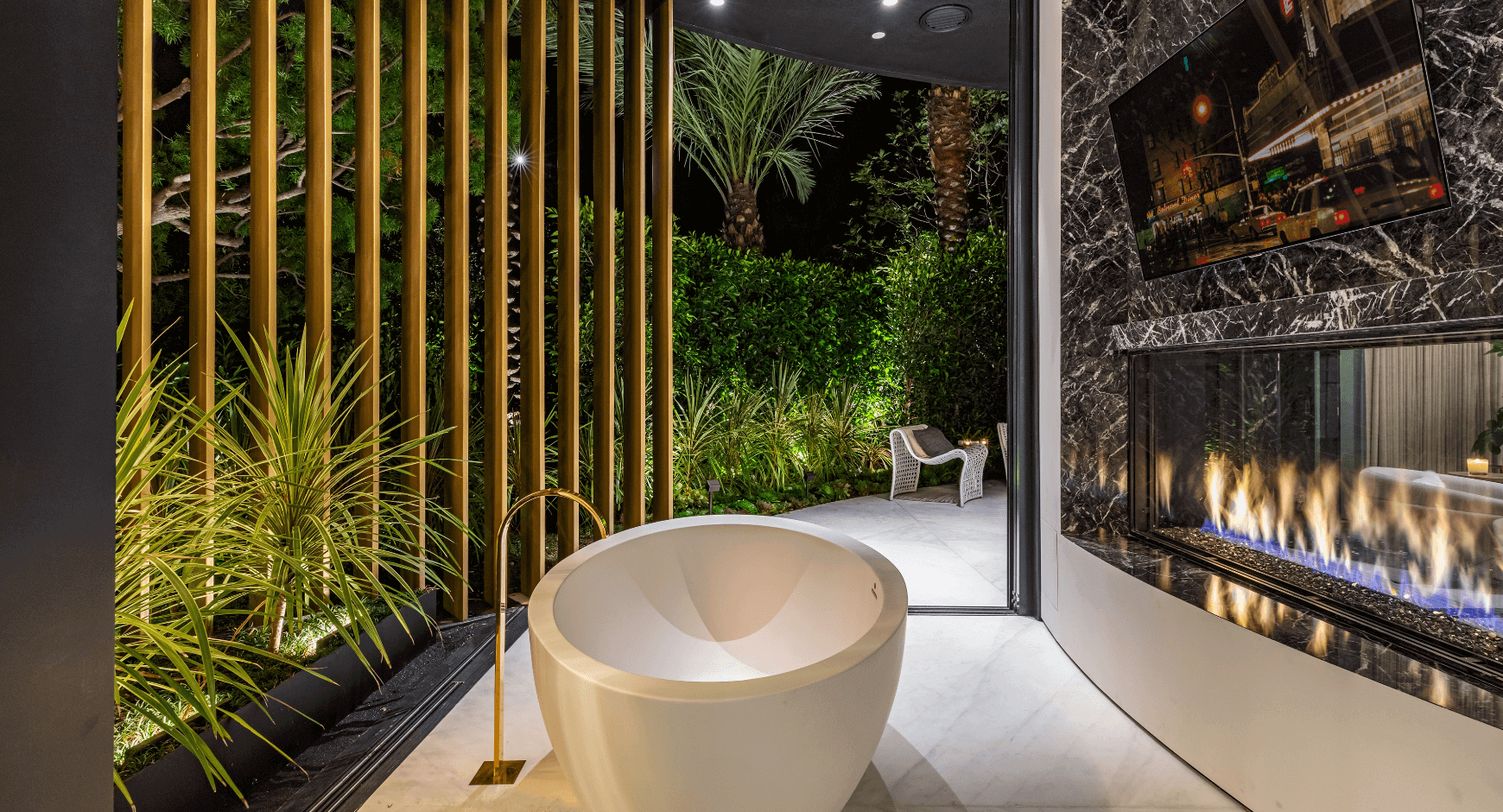 Can I Mount a TV Above My Outdoor Fireplace?
Communal areas in homes typically center around the TV. People often wonder if they can add a fireplace to the same wall since the family already gathers there.
The general rule with Acucraft's fireplace designs is that 12 inches of room between the fireplace and TV will ensure the safety of both items. Mounting a TV outdoors comes with other precautions to consider, but mounting a TV above a fireplace can be pretty simple.
Upgrade Your Outdoor Space With a Luxury Fireplace From Acucraft
Whether your outdoor space is a screened-in porch, an open deck, or a covered patio, a luxury fireplace is a worthwhile addition. Fireplaces bring an element of coziness to any room, create a gathering space, and, when you design your fireplace with Acucraft, are a striking design element unto themselves.
Contact our expert fireplace designers to learn more today.