30 Hot Modern Fireplace Ideas and Contemporary Designs 
These modern fireplace ideas and designs will take your breath away and spark major inspiration. Explore unique fireplaces, from four-sided open fires to minimalist linear designs, to create the sleek and cozy focal point you need.
Today's market is over-run with basic fireplaces that lack the style and character that make them ideal for gathering around. Bring that fun and entertaining centerpoint back into your home with a unique modern fireplace design. Use this blog to gather inspiration for your fireplace ideas, modern or traditional, to create the perfect cozy nook in your home.


Design your perfect fireplace with the endless custom options available at Acucraft. 
Modern Fireplace Ideas: 15 Gas & Wood Designs 
Your first decision when looking for a fireplace is whether you want a gas or wood-burning fireplace. From there, you have many fireplace styles to choose from, including open hearth, double-sided, corner, peninsula, and floor-to-ceiling. Modern fireplace design ideas can transform any space into the perfect gathering area with enough style and aesthetic options to match any home decor.
What makes fireplace designs contemporary or modern is a minimalistic approach that focuses on clean lines and natural materials. This style of minimalist modern fireplaces is becoming increasingly popular in 2022's fireplace trends. Take a look at these eye-catching modern contemporary fireplace designs and get inspired to create your own.
Modern Fireplace Wall Ideas
A fireplace wall is modern design's newest trend. Both functional and ornate, these fireplace ideas range from dazzling centerpieces to subtle compliments for your interior decor. Be as bold or subdued as you like with these modern fireplace designs.
Modern Marble Fireplace Wall Designs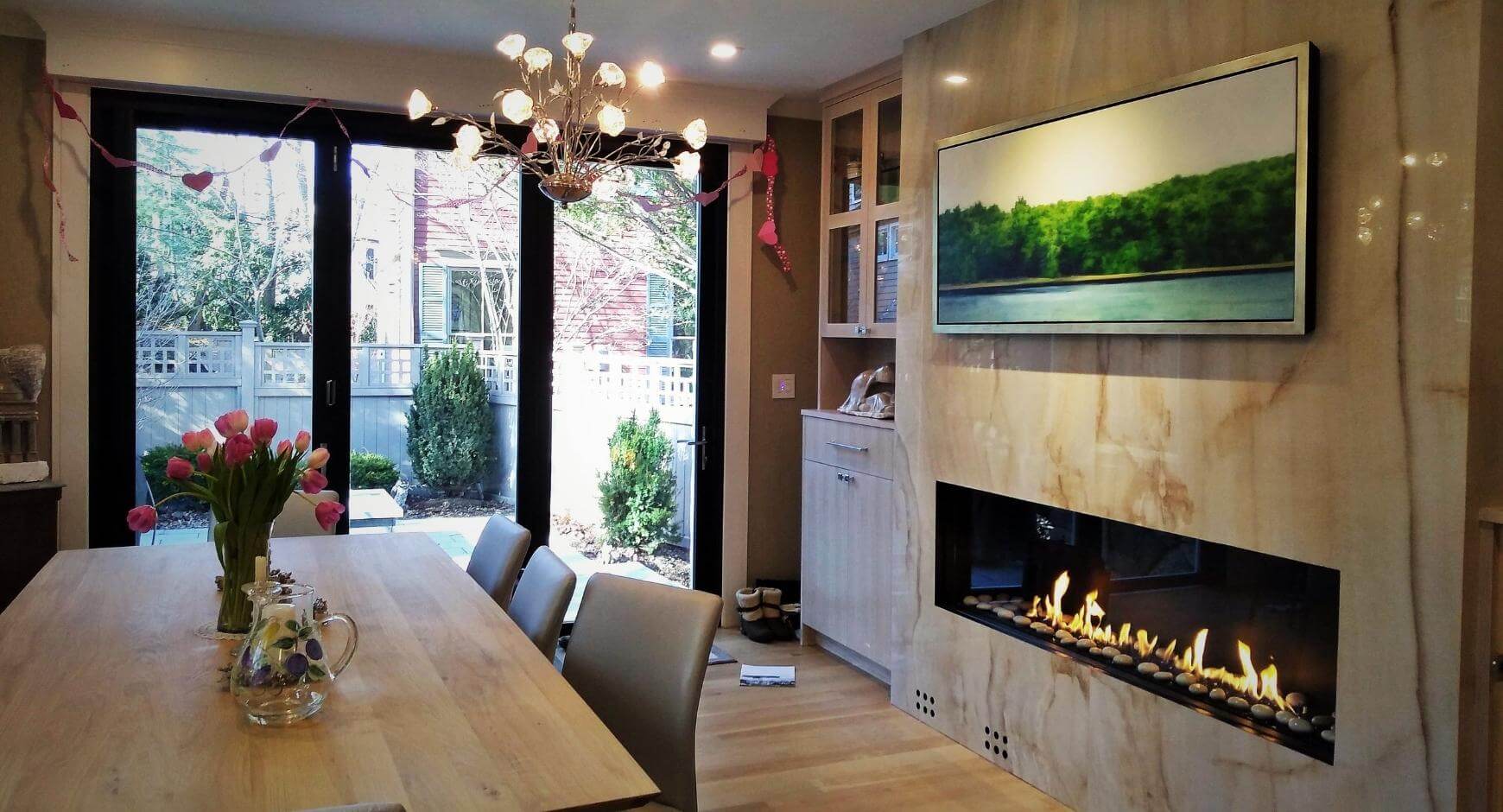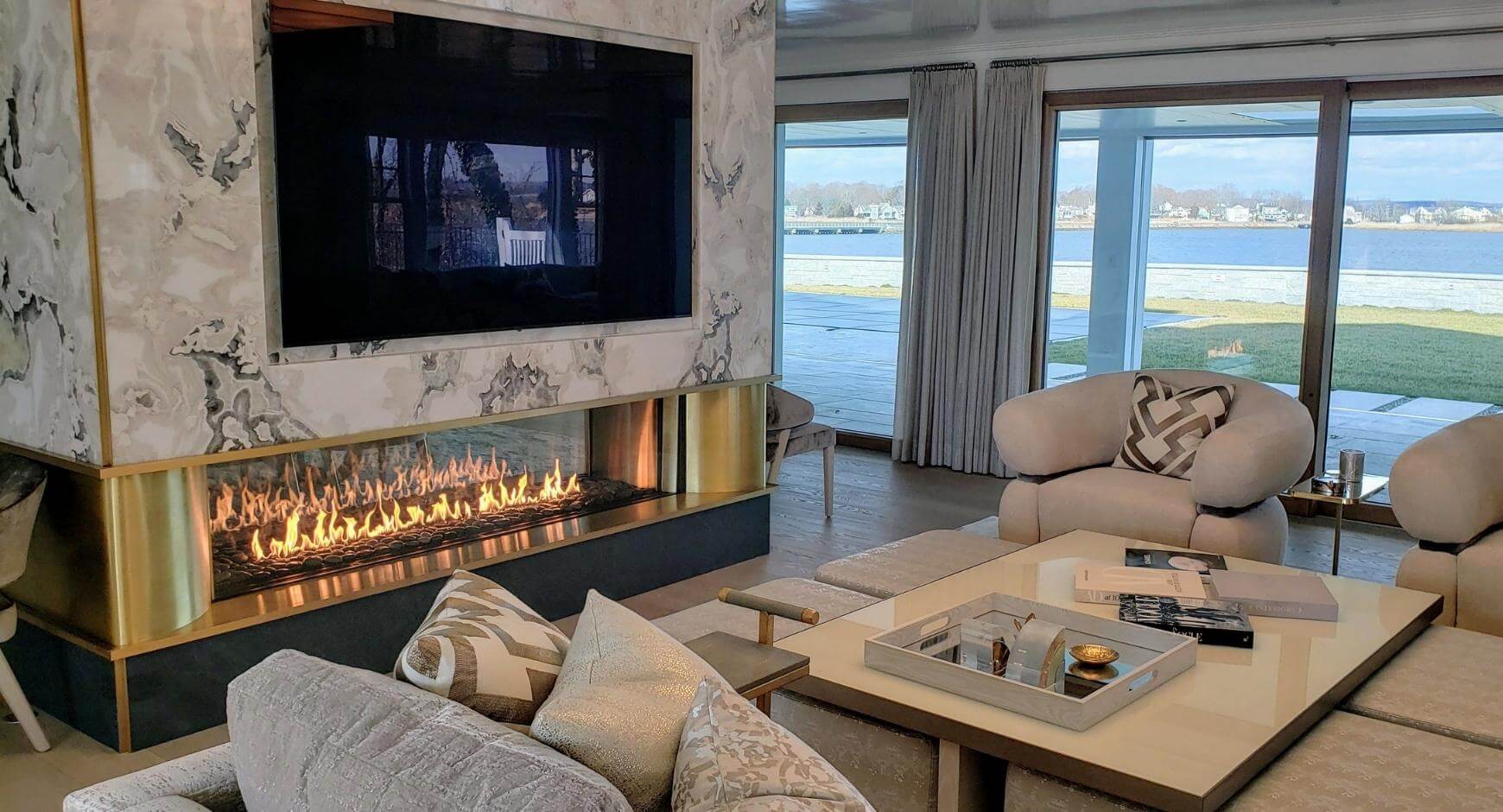 Fireplaces with marble faces are among today's most elegant modern flush fireplace wall ideas. Though their aesthetic is distinct and sophisticated, marble fireplaces can function as the statement piece of the room or as a breathtaking design element that balances the entire space.
Marble can be clean and white or textural with earthy tones. This Signature modern marble fireplace's surround blends beautifully with the rest of the room and decor. The aesthetic is so cohesive that the fireplace becomes a quiet, subtle component in the room's decor, sharing attention with other design elements and artwork.
Floor-to-Ceiling Fireplace Designs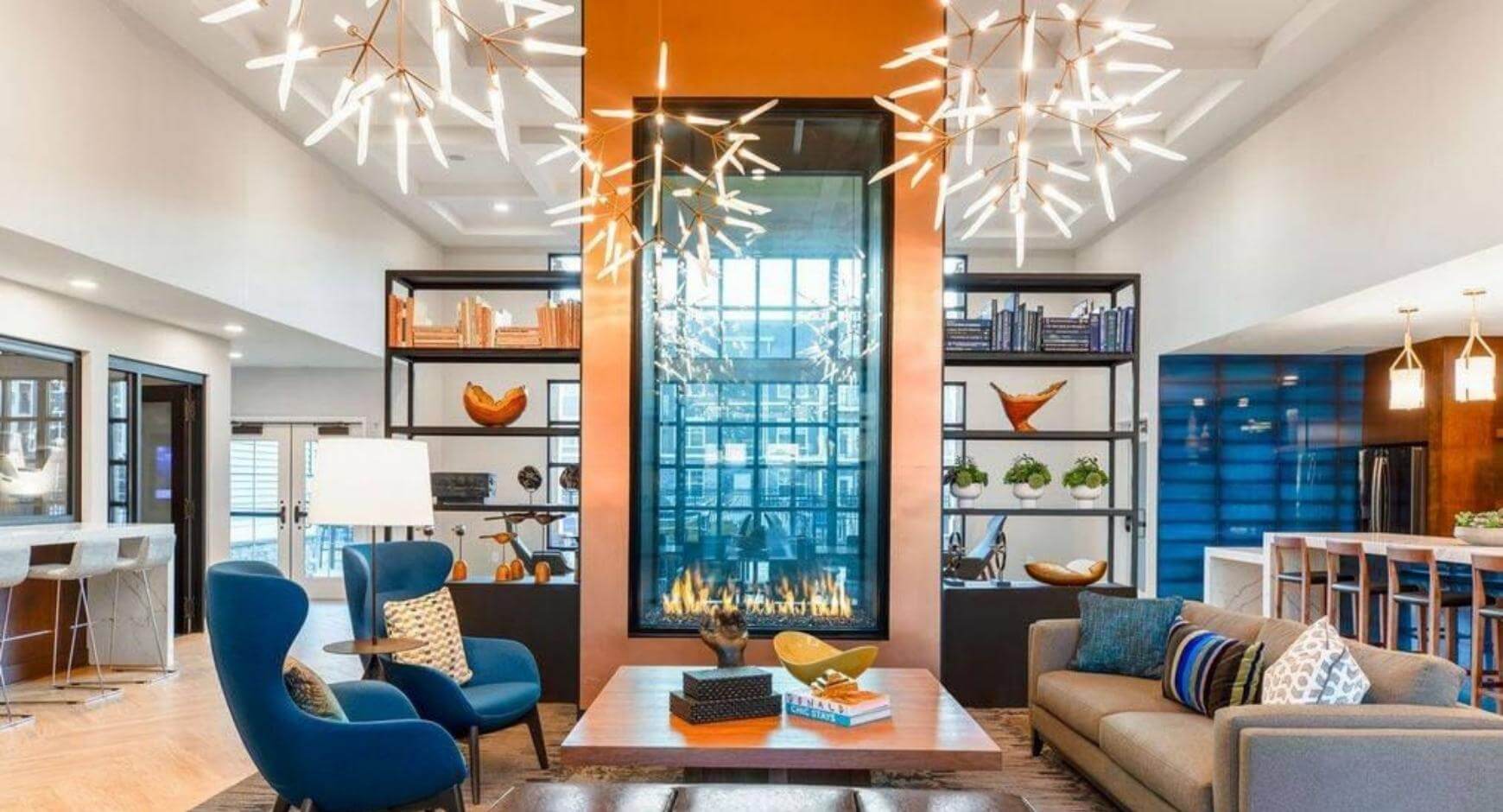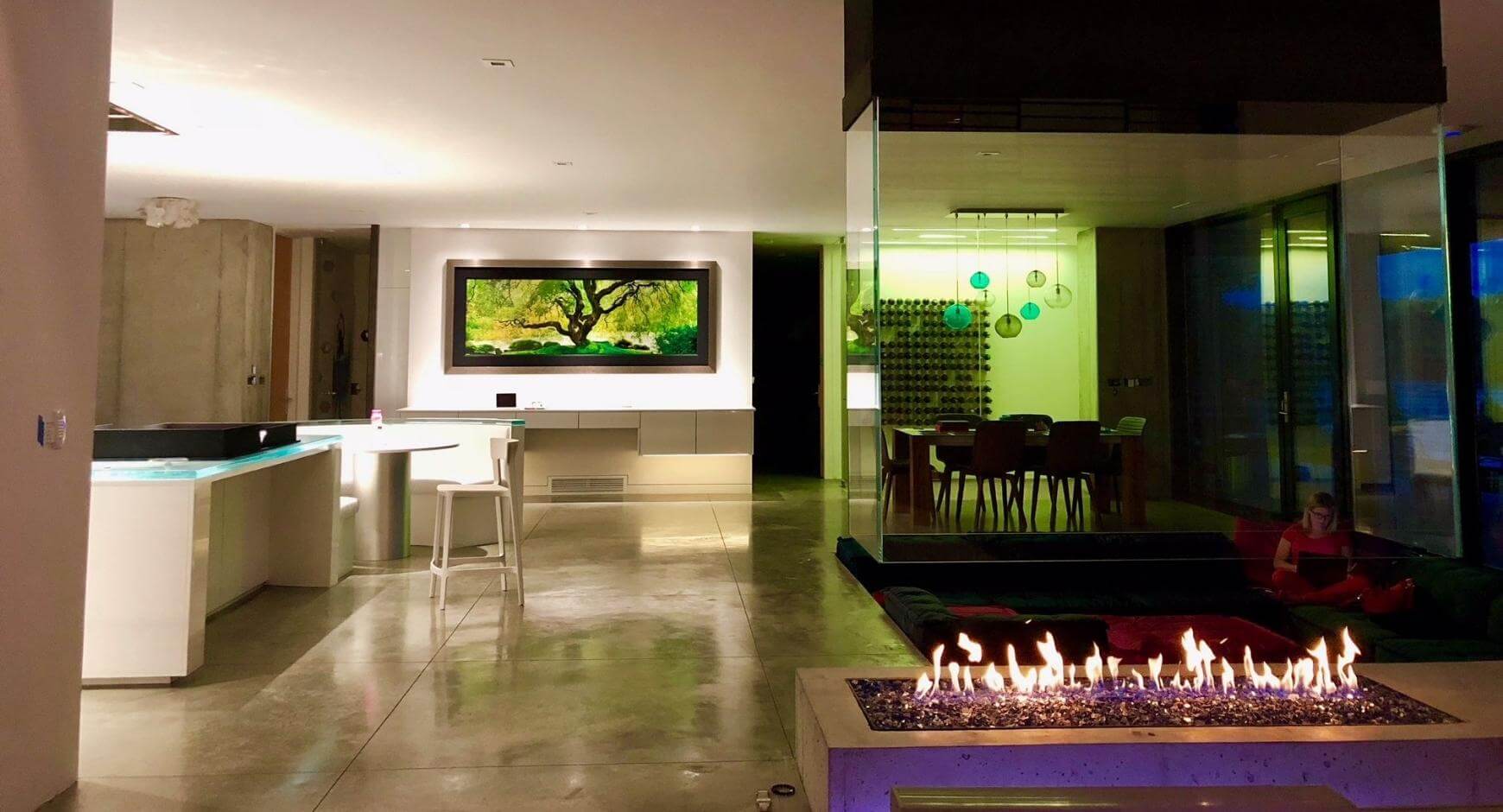 There is a certain show-stopping intrigue that only a towering floor-to-ceiling fireplace can provide. Floor-to-ceiling fireplace designs can be standalone, tall, and four-sided, like the one pictured here, or single-sided with a more dramatic stone surround. In both cases, they can create a powerful statement in the room without overpowering it.
The room's aesthetic and feel can be completely transformed by simply drawing the fireplace from the wall. The hearth itself is linear and compact; the eye is drawn directly to the glass, which allows the viewer to see through to the other side of the room. This translucent effect prevents the piece from feeling like a barrier and instead helps to open up the room as a powerful focal point.
Modern Stone Fireplace Ideas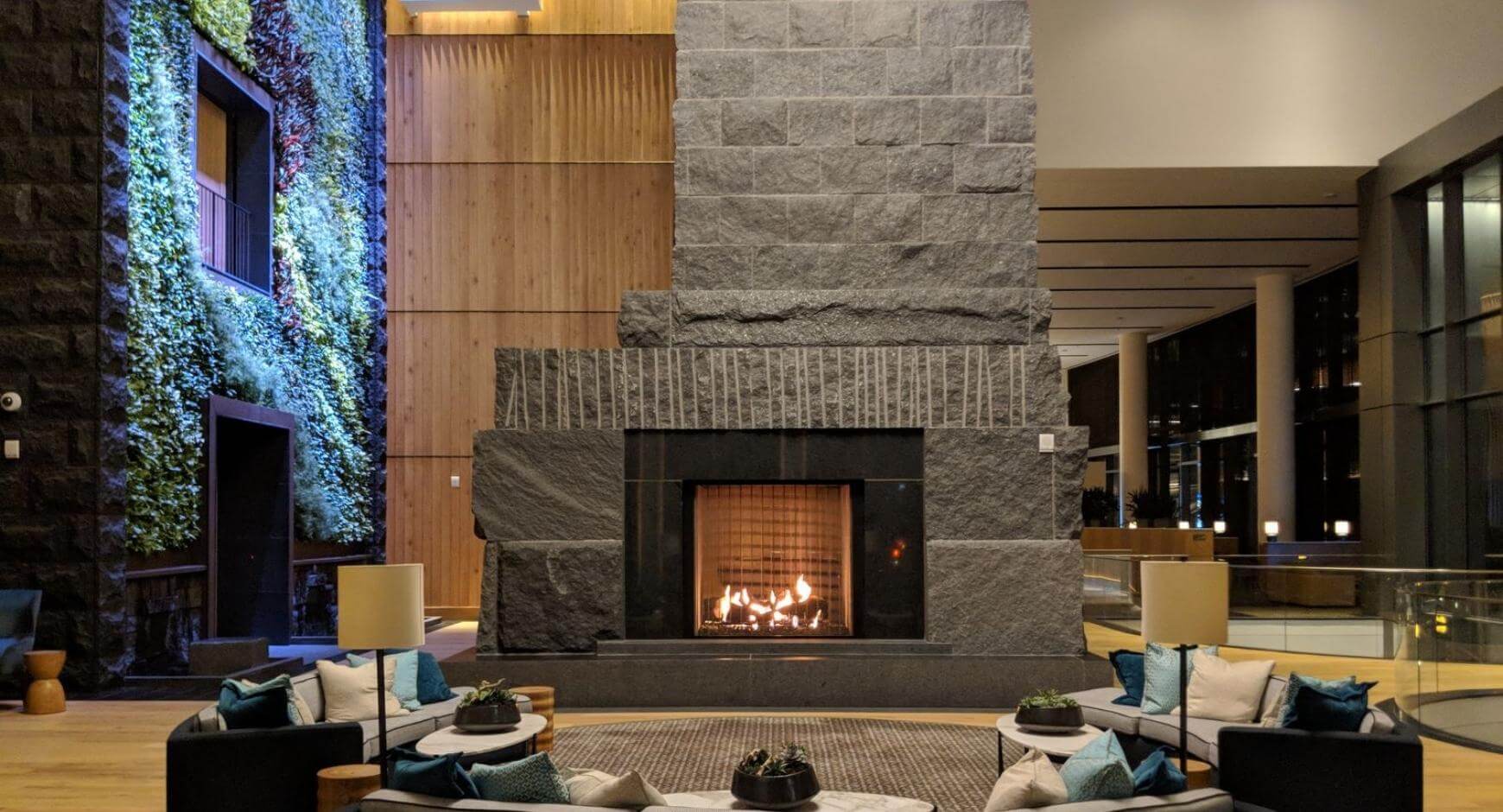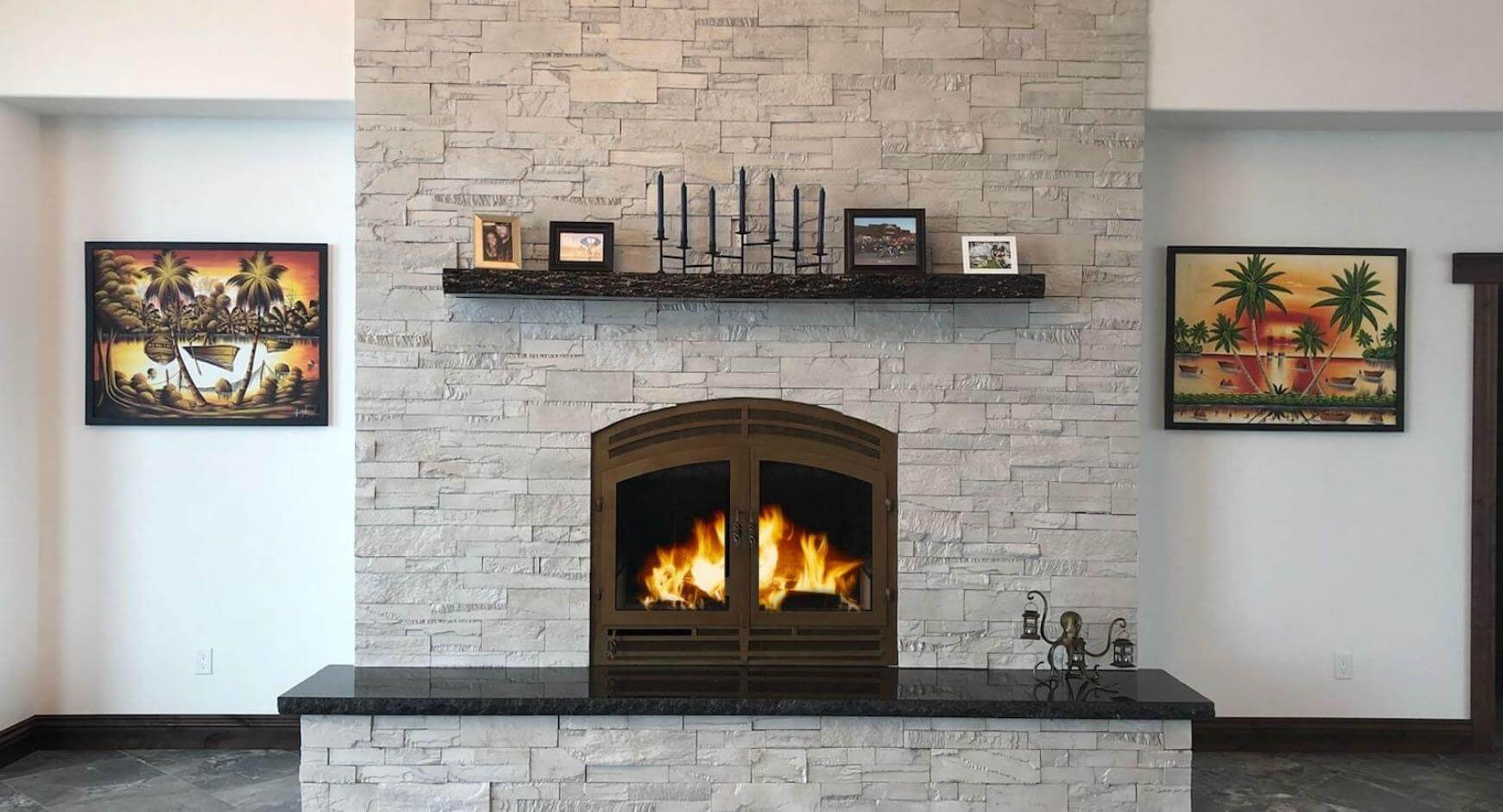 Looking for more of a mid-century modern fireplace design? Breathtaking modern stone fireplace designs can be a reminder of the quaint, historical beauty of classic masonry fireplaces made of brick, stone, and mortar.
The stacked stone configuration can resemble that of a hand-placed brick pattern. The modern fireplace surround examples here show a more abstract recollection of traditional masonry units. The face retains that beautifully rugged stone look and feel while achieving a distinctly modern sheen and sharpness.
Modern Fireplace Designs: Wood Burning
Wood-burning fireplaces have been around for millennia and create a beautiful contrast when coupled with modern finishes. The crackle of burning logs and split wood aroma help create the most relaxing atmosphere. Take a look at these wood fireplace ideas with modern designs.
Modern Wood Fireplace Style: Double-Sided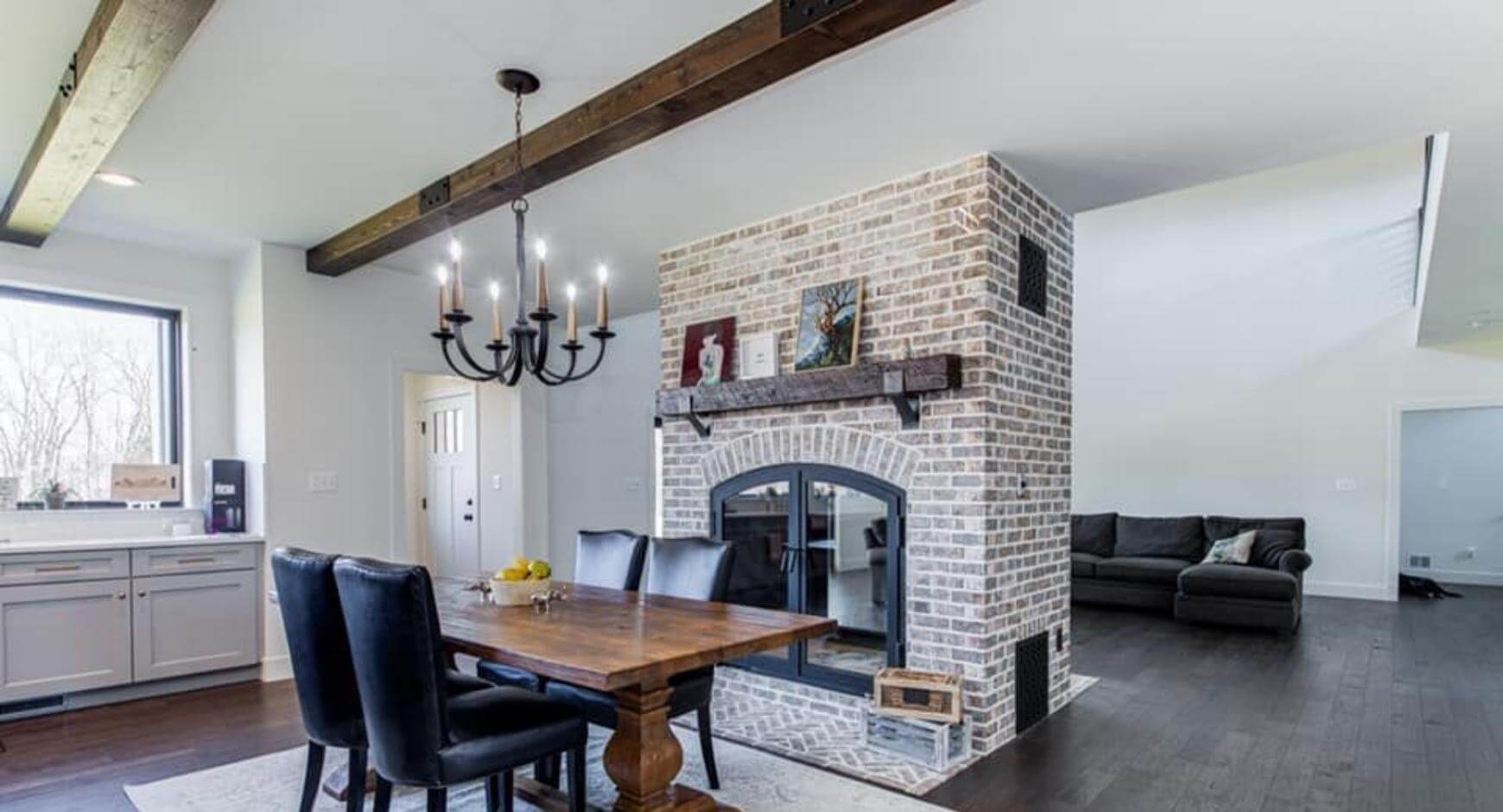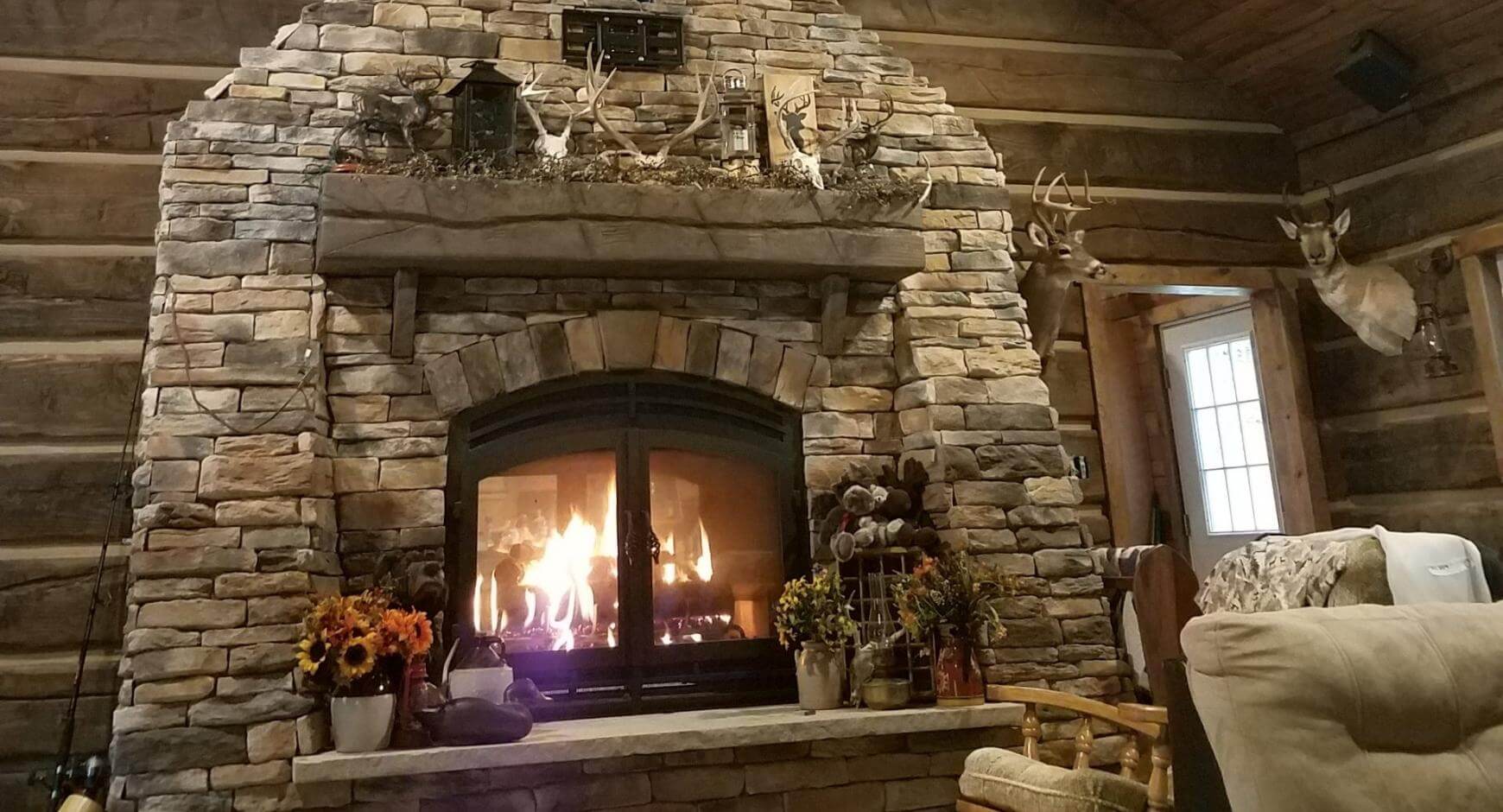 Double-sided, floor-to-ceiling pieces illustrate that even classic fireplace designs can fit a modern aesthetic. Perfect for entertaining in large spaces, this wood-burning fireplace allows viewers to admire the warmth and beauty of the natural flames from either side.
Double-sided fireplaces may not work for every home, but if you have a joining wall between the living room and master bedroom, there is no better way to connect the two spaces. You can double the value and use of your fireplace by opening up the visibility and access to both sides.
Indoor Outdoor Wood Fireplace Styles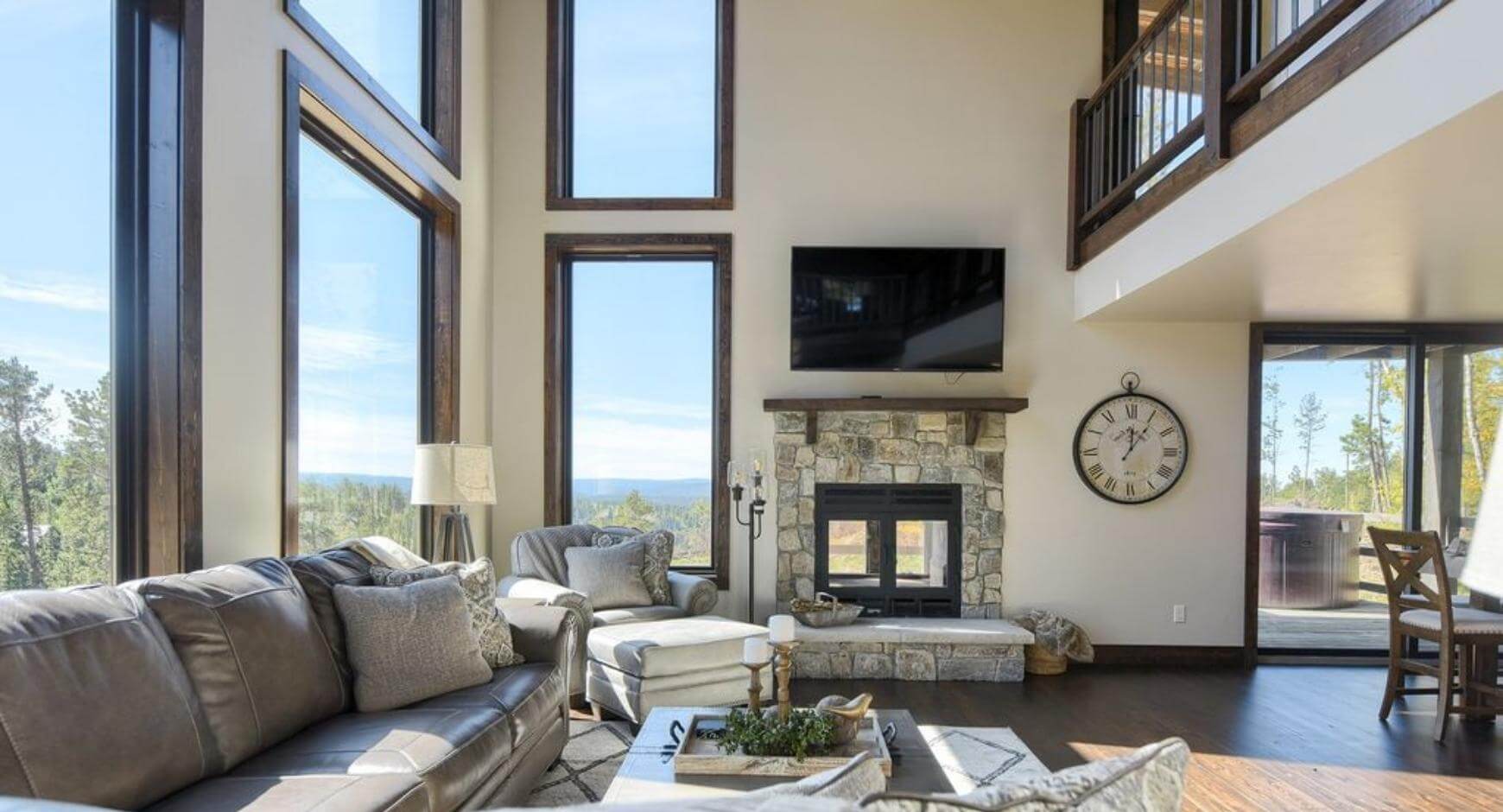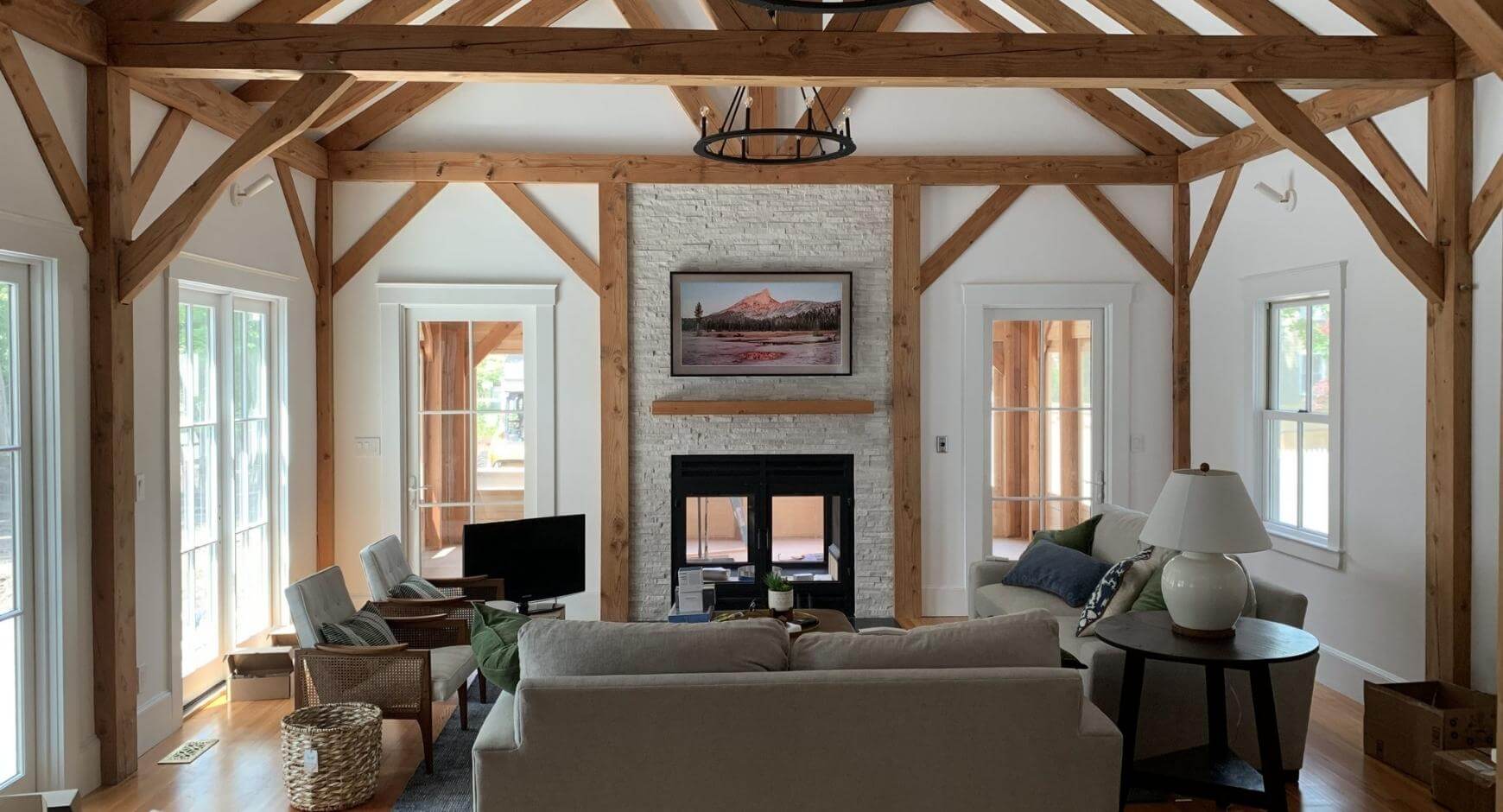 Much like a double-sided fireplace design, indoor/outdoor fireplaces allow visitors to enjoy the ambiance of a luxury fireside in two spaces at once. Though the see-through feature enables visitors both indoors and outdoors to admire the flame, it's the onlookers on the outside who get a surprise peek into the building through the unit itself.
The indoor/outdoor fireplace can open up otherwise small spaces, bringing the charm of a nearby patio area into the lounge space. Whether you wish to connect a small patio or a large backyard to your living room, you can still achieve the look of a classic stone face with a modern appeal.
Acucraft can make your dream poolside firepit a reality; get in touch with our fireplace advisors to start designing yours today.
Modern Fireplace Designs: Gas Burning
Although most love the traditional feel of a wood fireplace, gas units are at the heart of modernization in this industry. Modern gas fireplaces let you integrate awe-inspiring artistry into your contemporary fireplace ideas for jaw-dropping designs.
Modern Linear Gas Fireplace Designs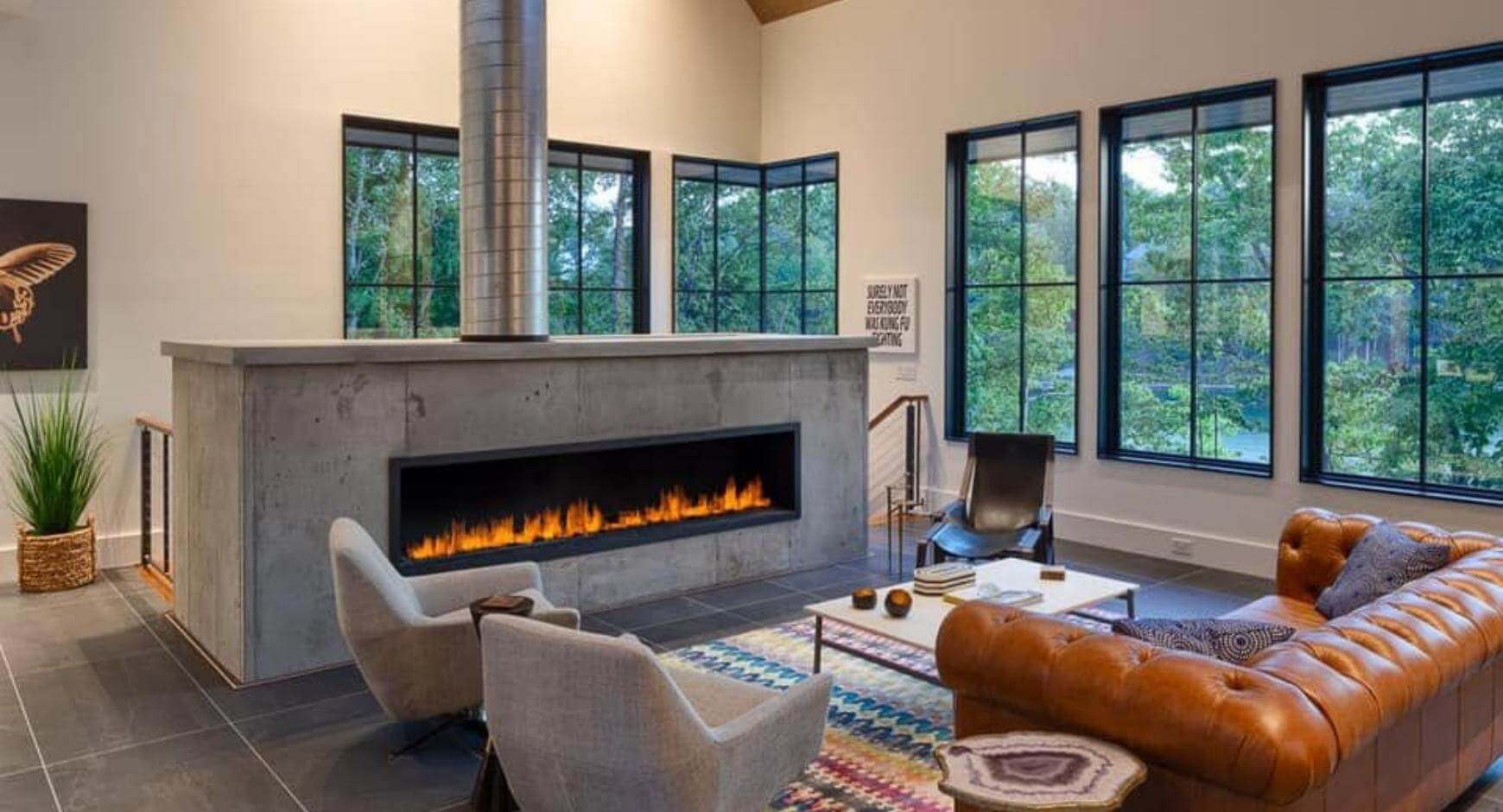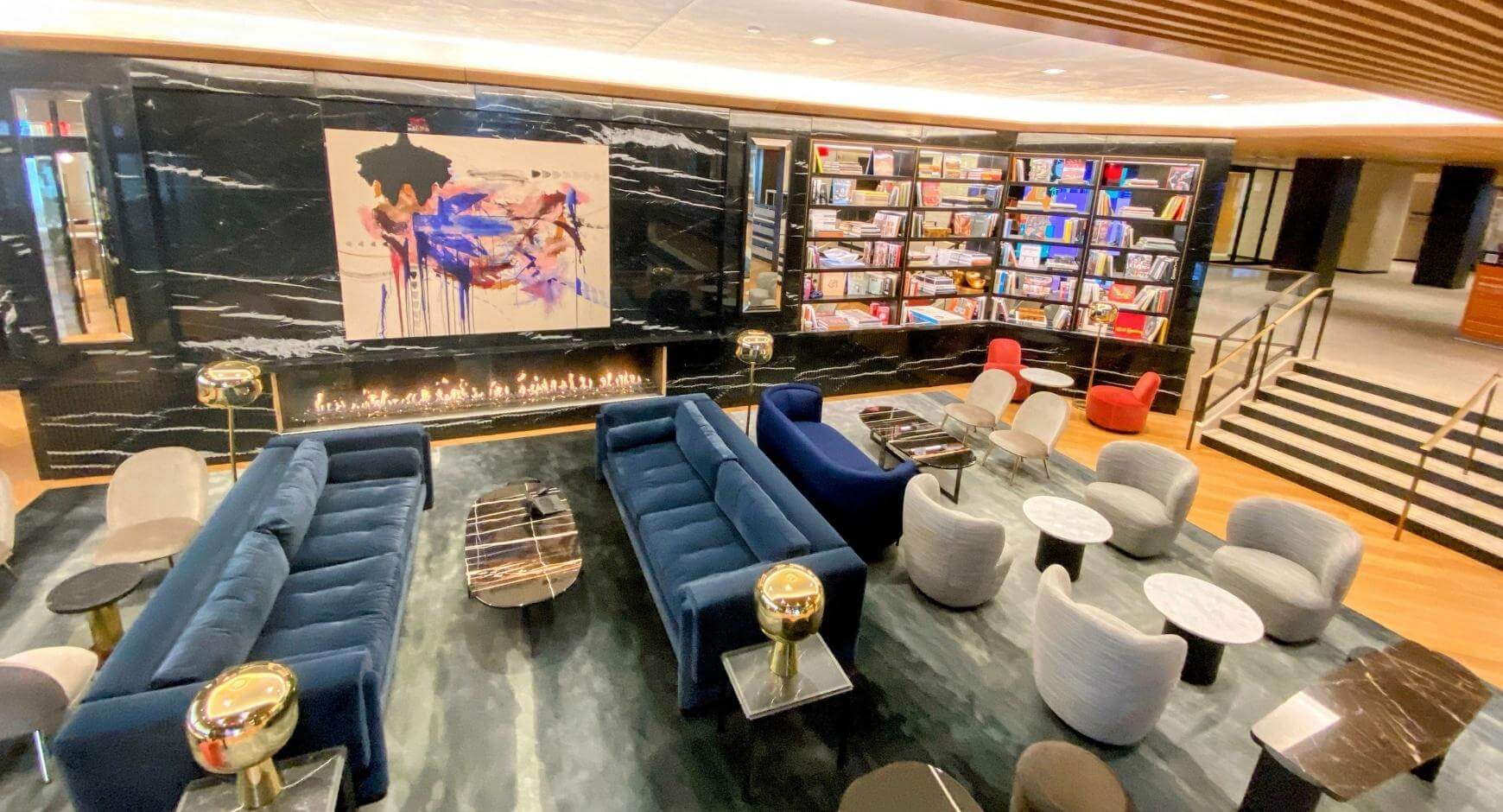 Linear gas fireplaces are incredibly versatile in terms of interior design. You can integrate these pieces into modern farmhouses, industrial designs, minimalist aesthetics, and much more. Given the modesty of these pieces, linear fireplaces are well-suited for private homes and other small spaces with an intimate ambiance.
These examples show how strategic placement of the fireplace can tremendously benefit the overall look, as each one works to complement another element in the room. Modern linear gas fireplaces can lead the eye toward admiring other decors, artwork, plant life, or anything else.
Modern Corner Fireplace Ideas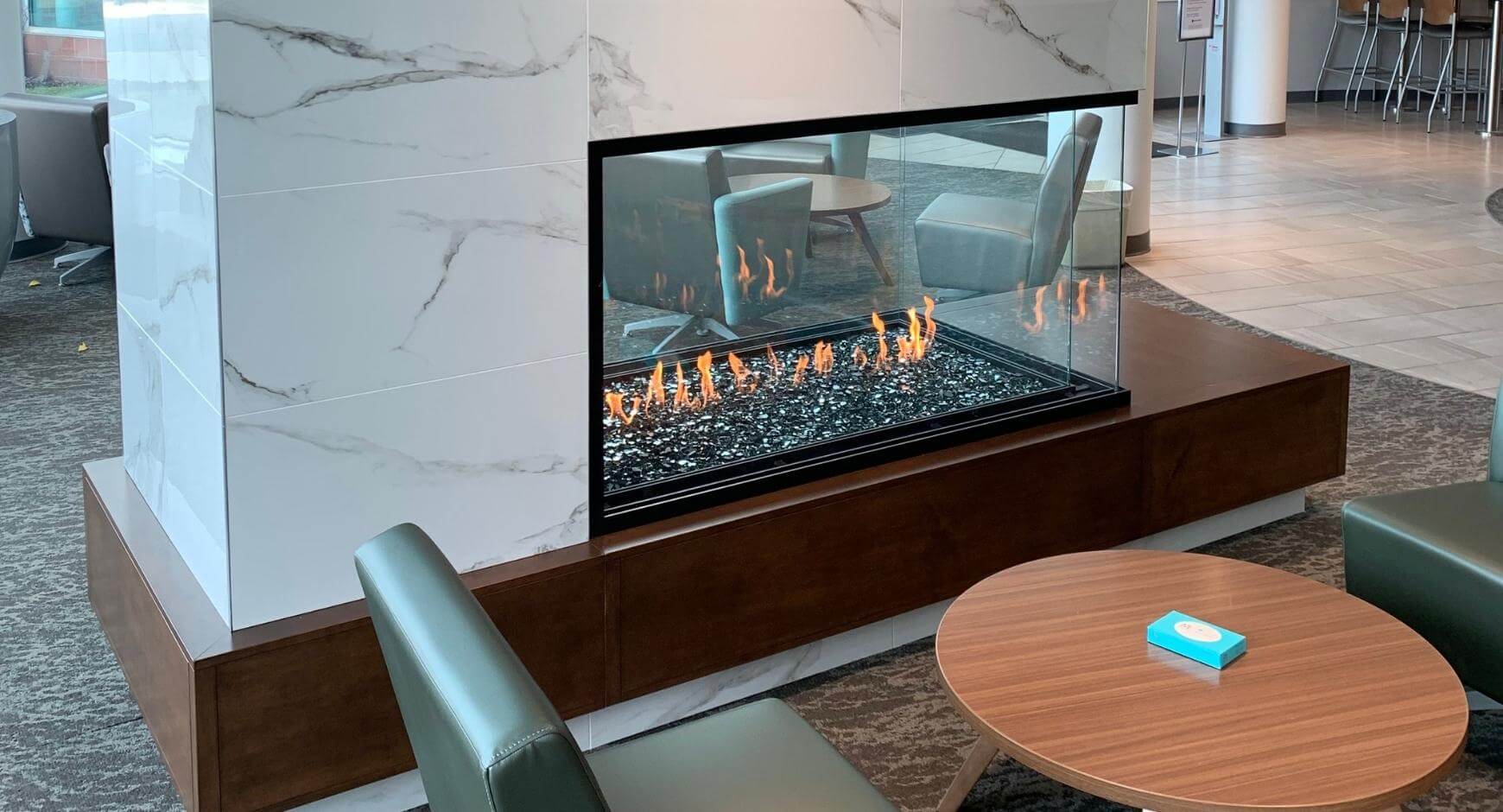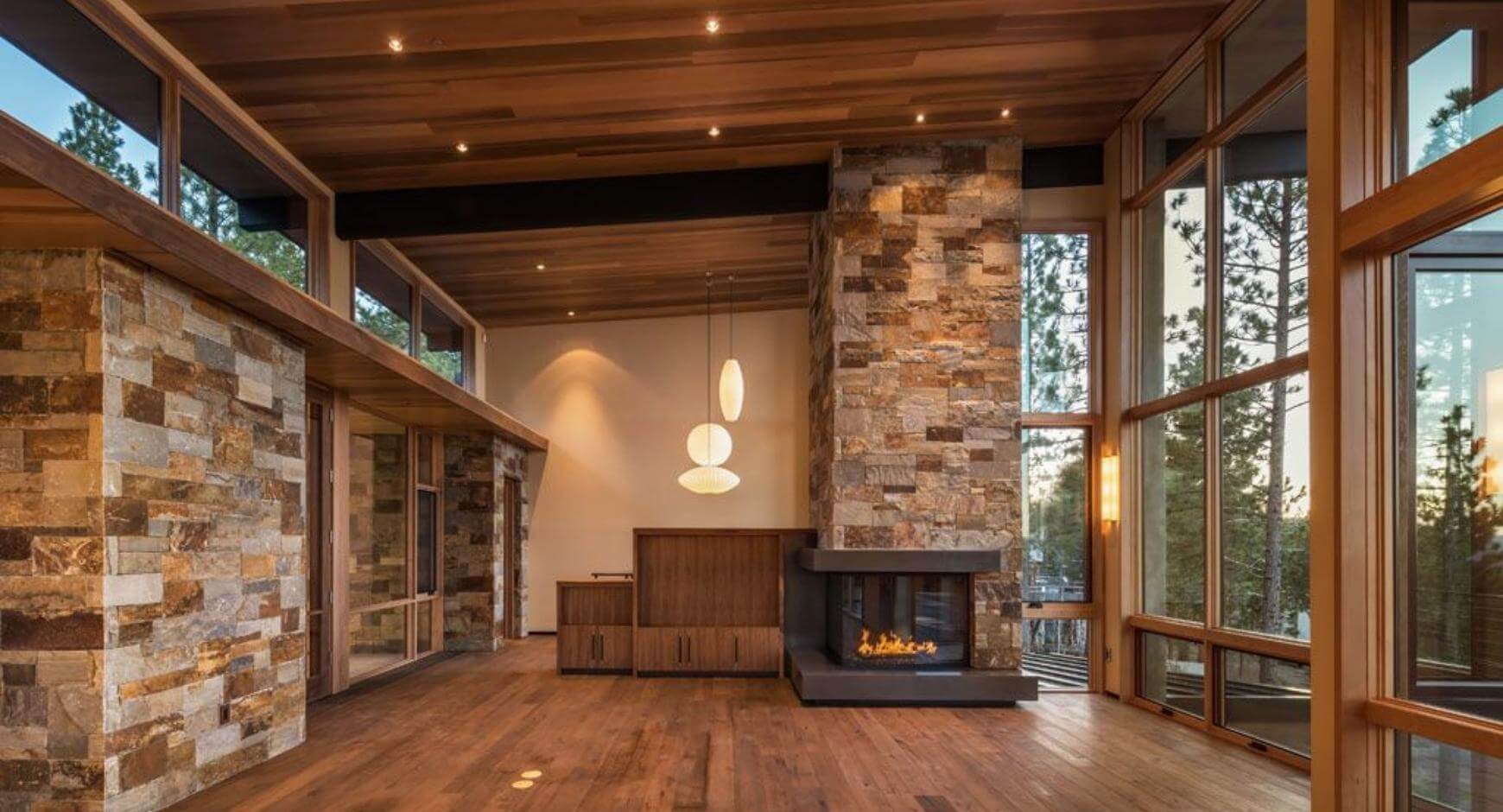 This standalone stone floor-to-ceiling piece shown in the latter of these modern corner fireplace pictures is a perfect example of how traditional aesthetics and modern geometric floor-to-ceiling fireplace ideas can come together.
Three-sided fireplaces are ideal for living rooms, family rooms, and dens in the home. However, the peninsula is also an excellent style of modern gas fireplace for formal spaces designed for large gatherings. With either, you could choose an open or closed design with the appropriate media to make the fire stand out as you wish.
Four-Sided Gas Fireplace Designs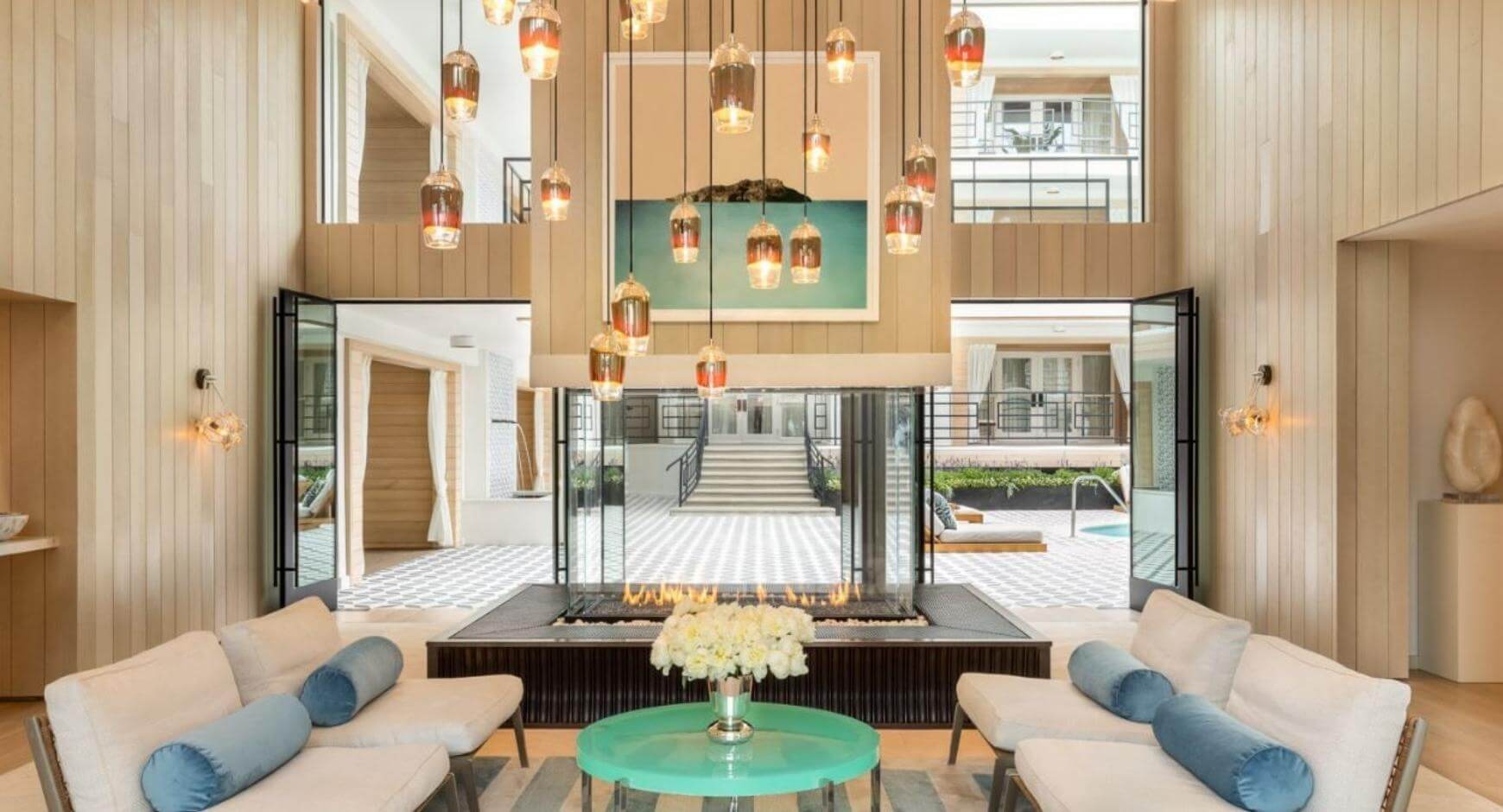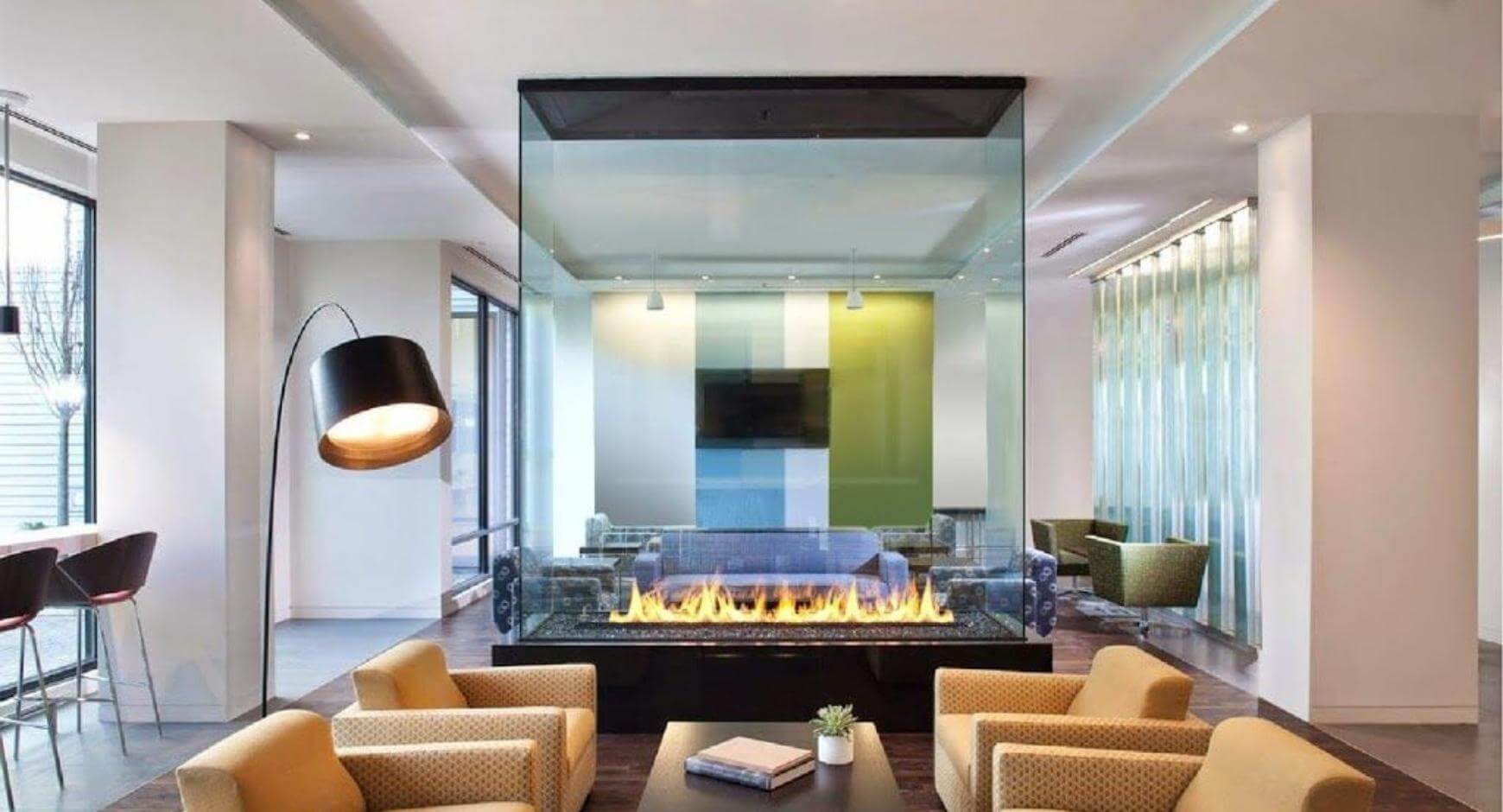 Modern four-corner gas fireplaces, also referred to as four-sided fireplaces, serve as true focal points for any space they inhabit. Viewable from any angle, this stunning feature will become the centerpiece of any room.
Instead of concentrating in the center, the fire spreads viewable from every angle. These are ideal statement pieces for large community gatherings or conference centers.
Modern Chimney Ideas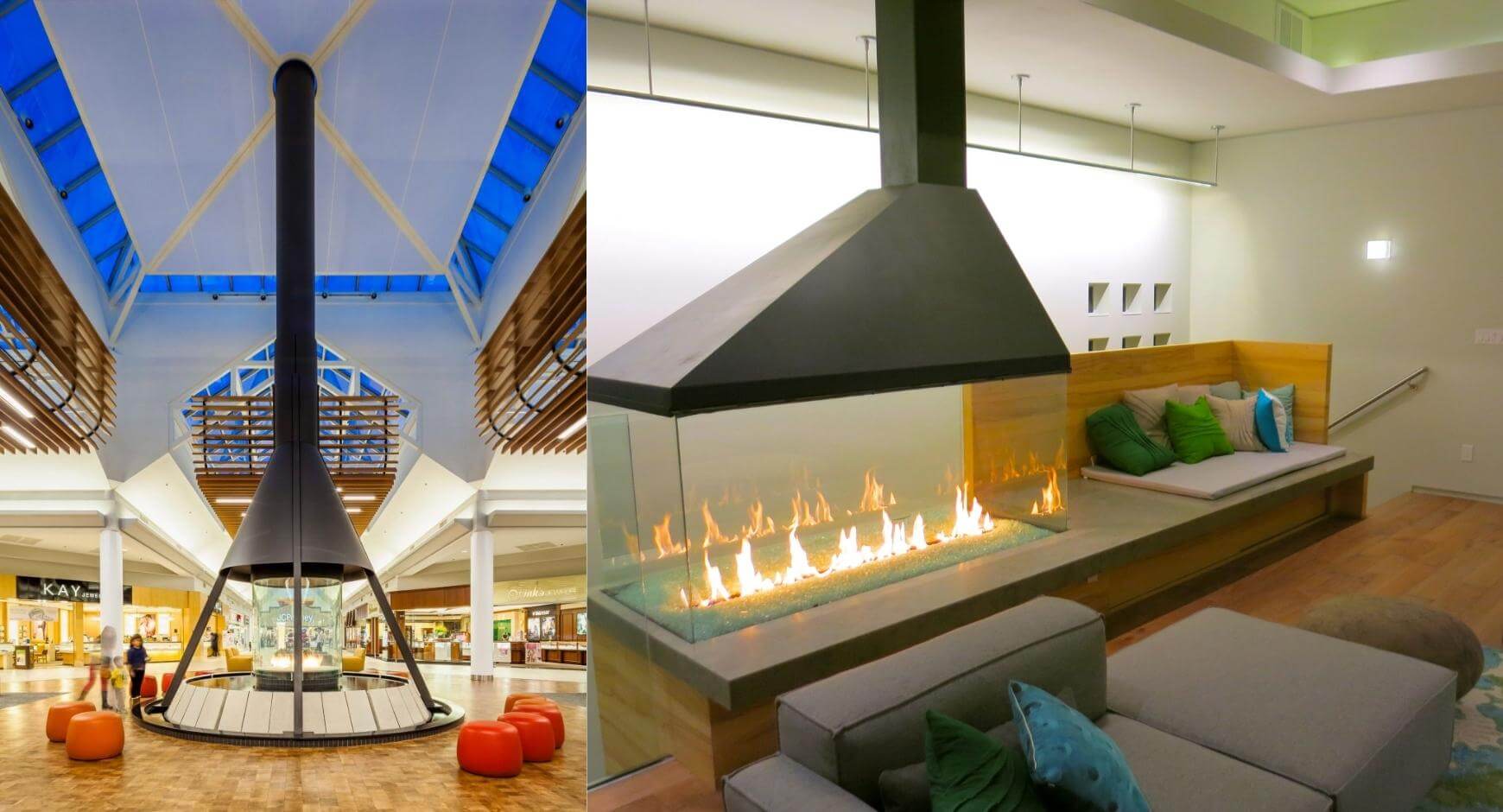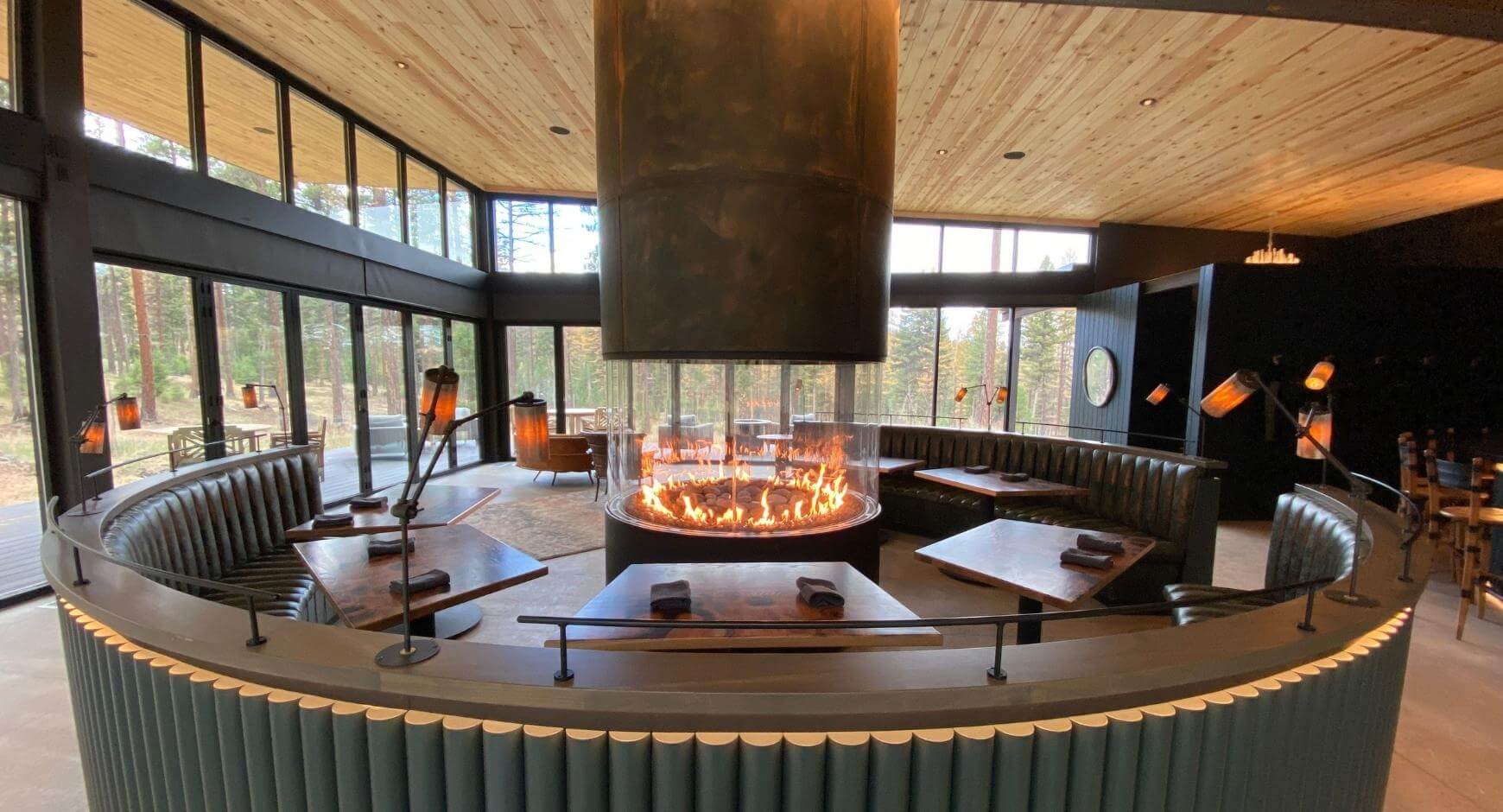 Modern chimney design blends form and function to create an industrial design aesthetic. There are unique chimney ideas for modern fireplaces of all shapes and sizes that can accentuate the beauty of the fire below. Contrast the 360-degree views of a round glass fireplace with a towering chimney to draw guests into the space.
These towering chimney ideas are perfect for hotel lobbies and cozy seating areas. However, an exposed chimney can also complete the industrial chic of a modern townhome. Instead of hiding the framework of your fireplace behind a wall, embrace it with an exposed flue.
Contemporary Fireplace Ideas
Let contemporary art take center stage in your fireplace design. Although most people typically consider fireplaces to be restricted to rectangular or otherwise boxy configurations, these futuristic pieces demonstrate that if you can dream it, Acucraft can be the partner that builds it.
Black Fireplace Ideas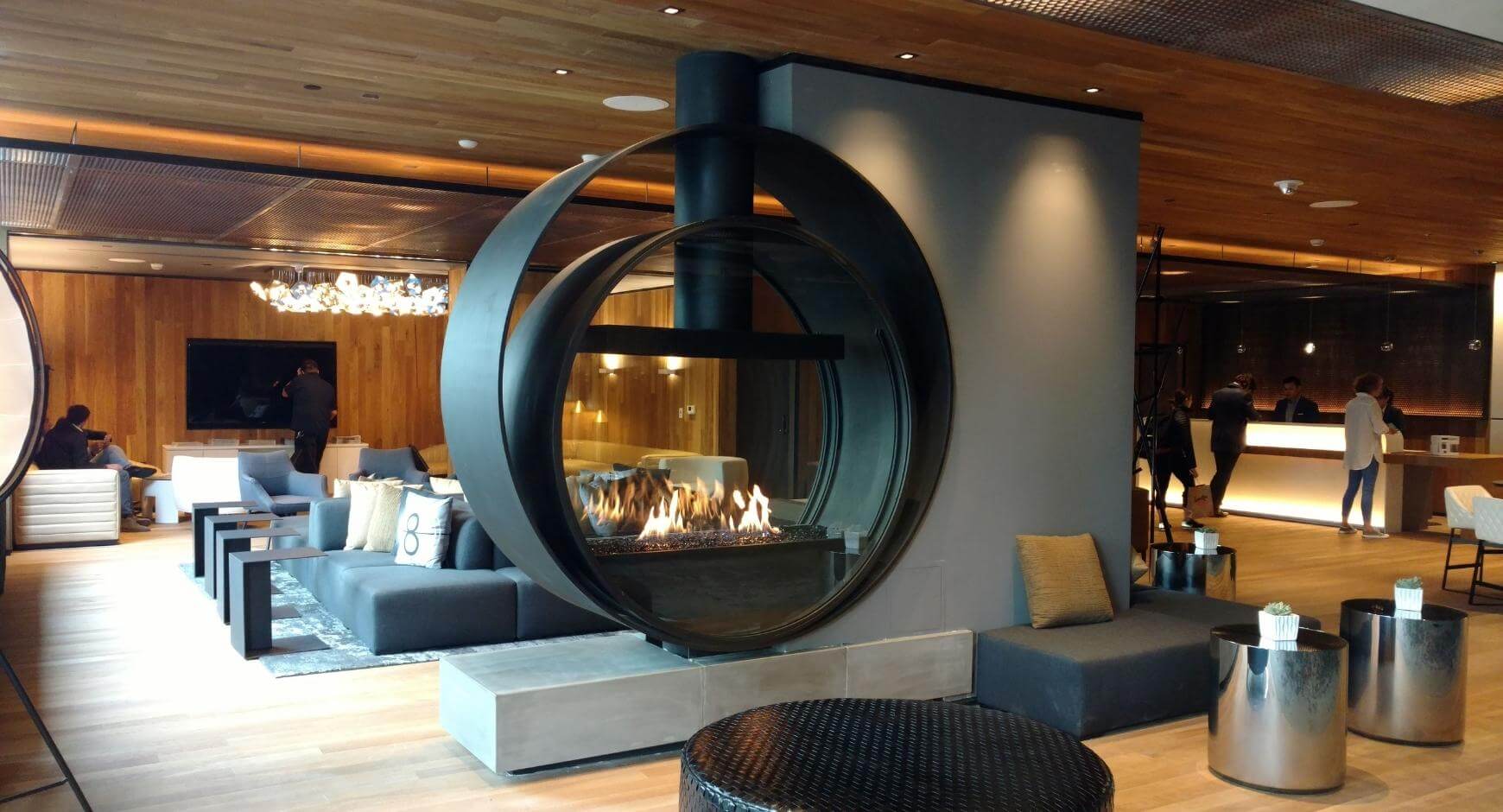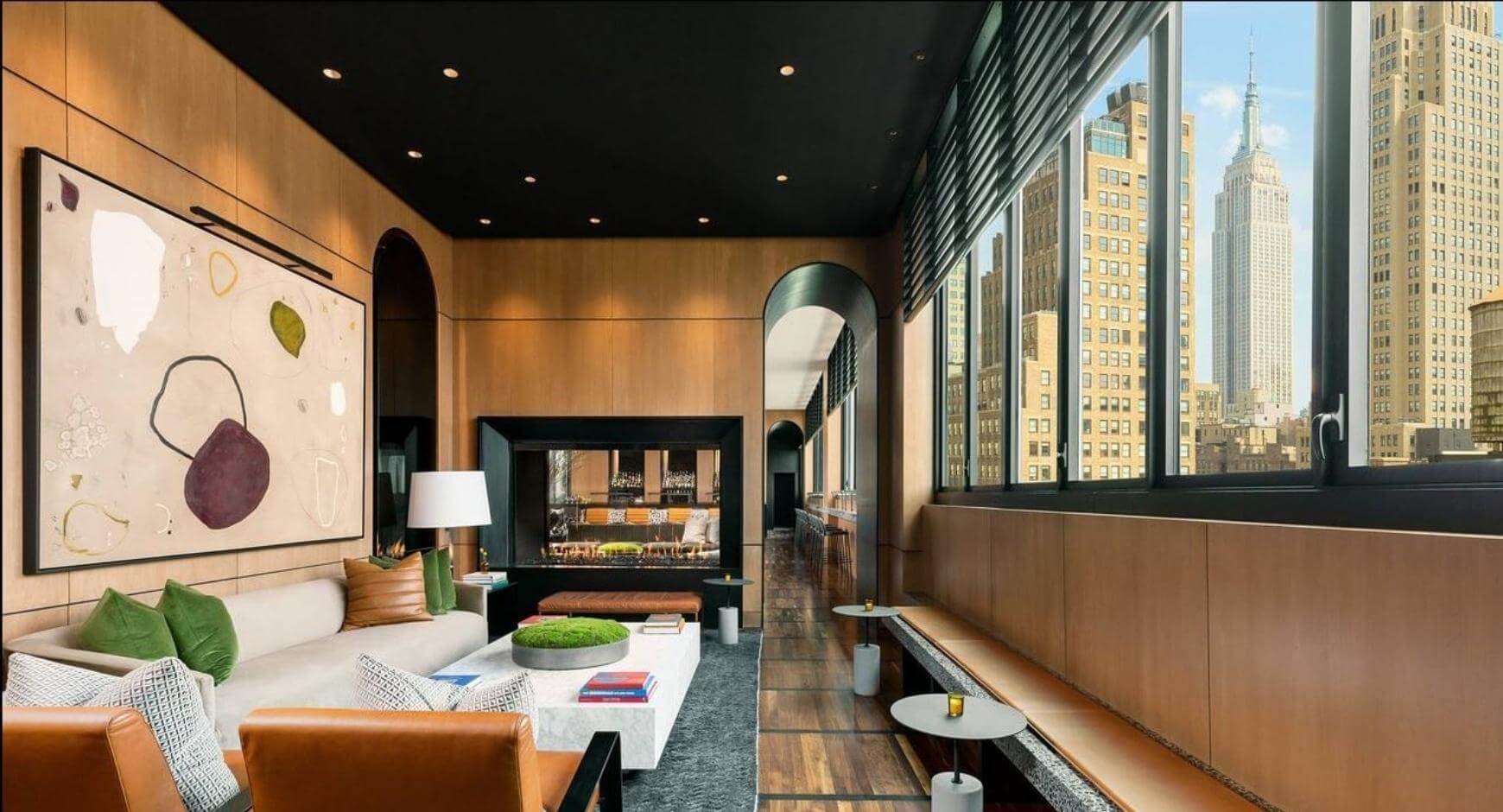 This concentric custom fireplace is one of the more unique pieces ever constructed by Acucraft. While the dark hue allows it to blend beautifully with the rest of the room, the stunning shape makes it stand out from its surroundings. With its glass panes, this piece achieves an intriguing sense of dimension as the fire reflects against the glass. To its benefit, the flue is nearly invisible as it blends perfectly with the piece.
Designs like this one are ideally suited for restaurants, lobbies, and other large spaces for gathering and entertaining. They serve as a conversation starter and can be viewed from any side.
Open Fireplace Ideas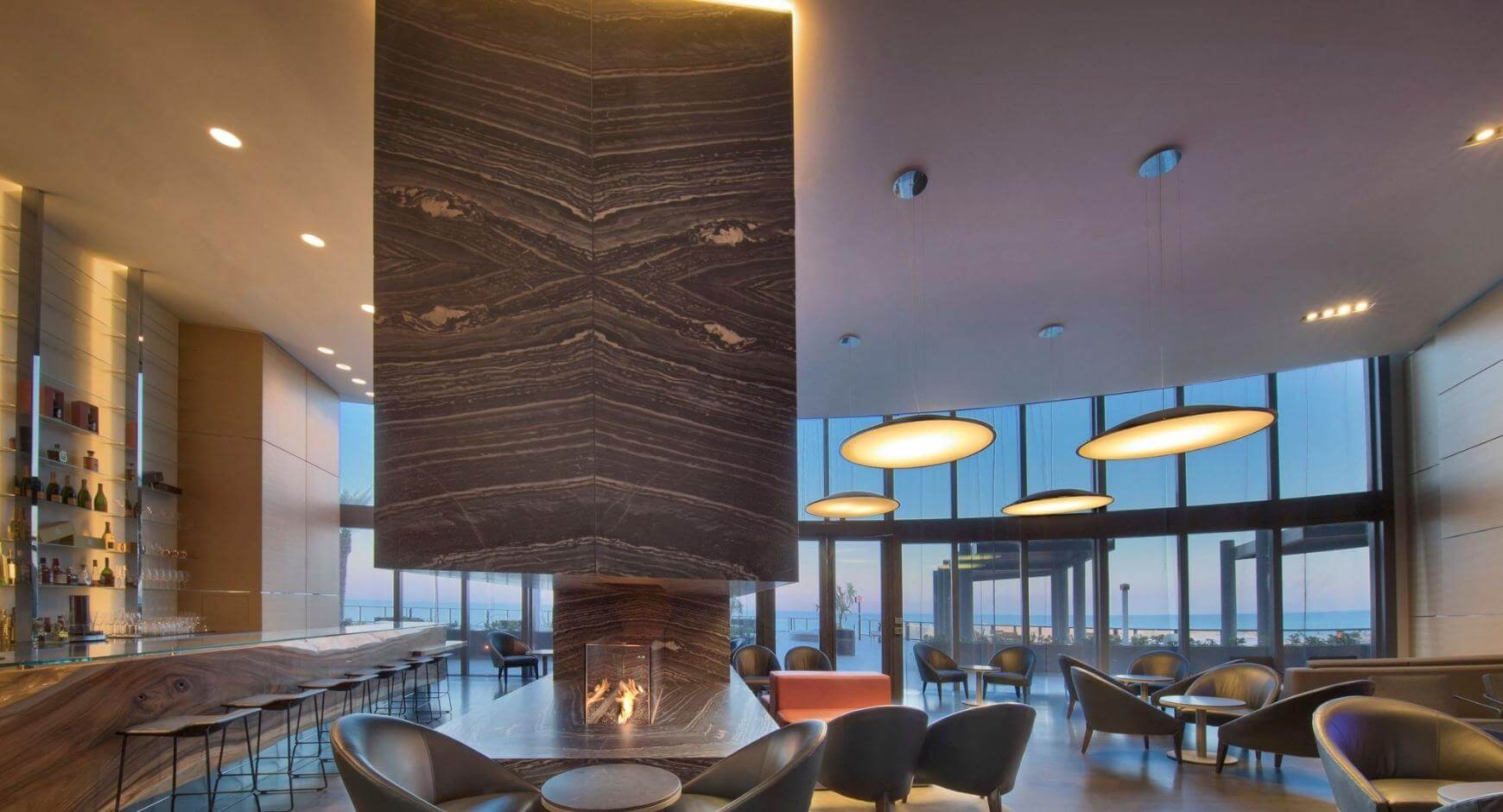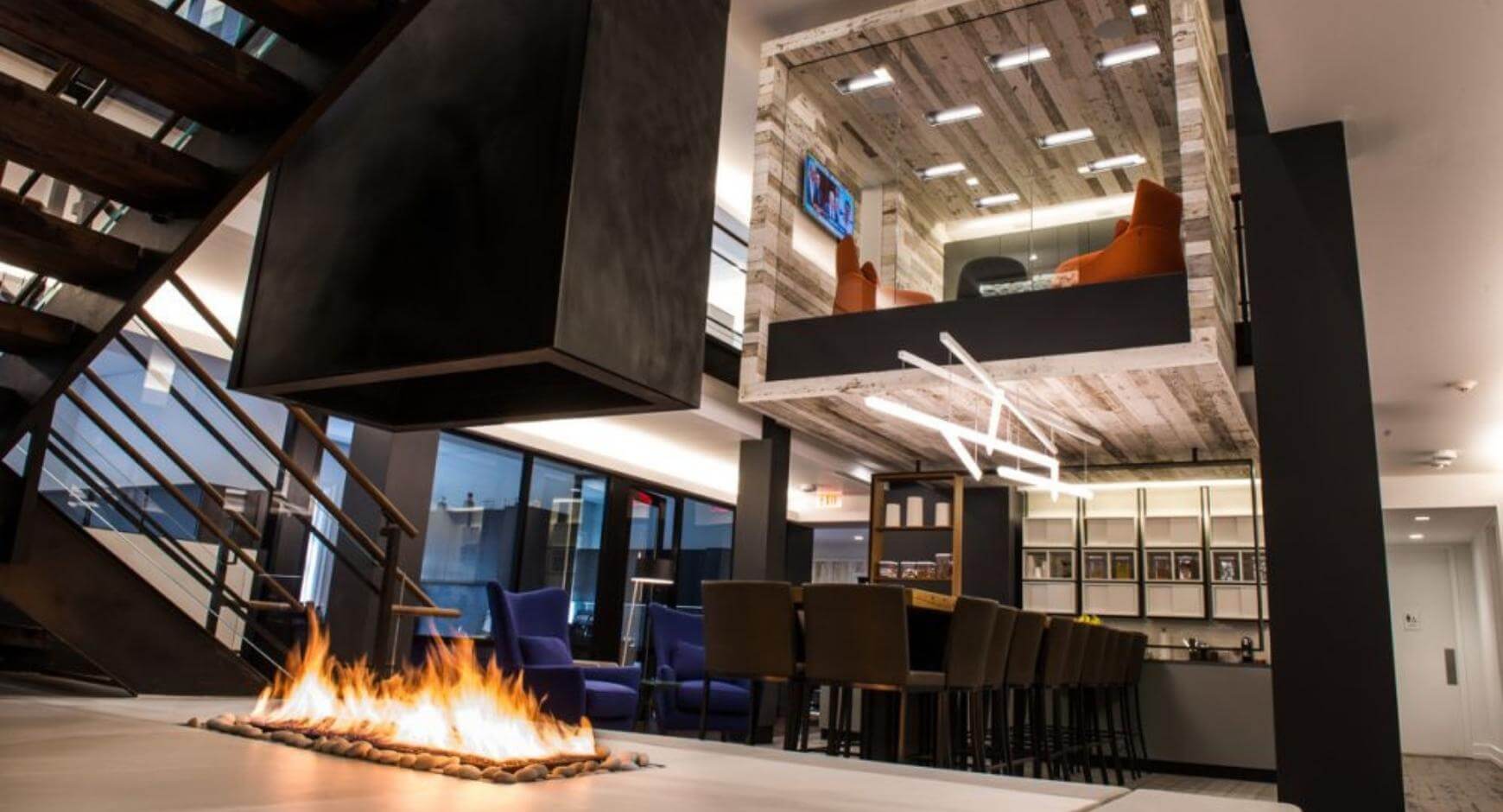 Open fireplaces give the best 360-degree views unobstructed by even the slightest reflections in glass panels. Whether fully open, half glass, or a quarter glass descending from the flue, it's a modern design for any home or business.
They can be accompanied by various mediums, from river rocks to glass, faux logs, and lava rock. An optional removable fire screen ensures you can really feature those flames at any gathering, even with little ones running around.
Convertible, Contemporary Fireplace Designs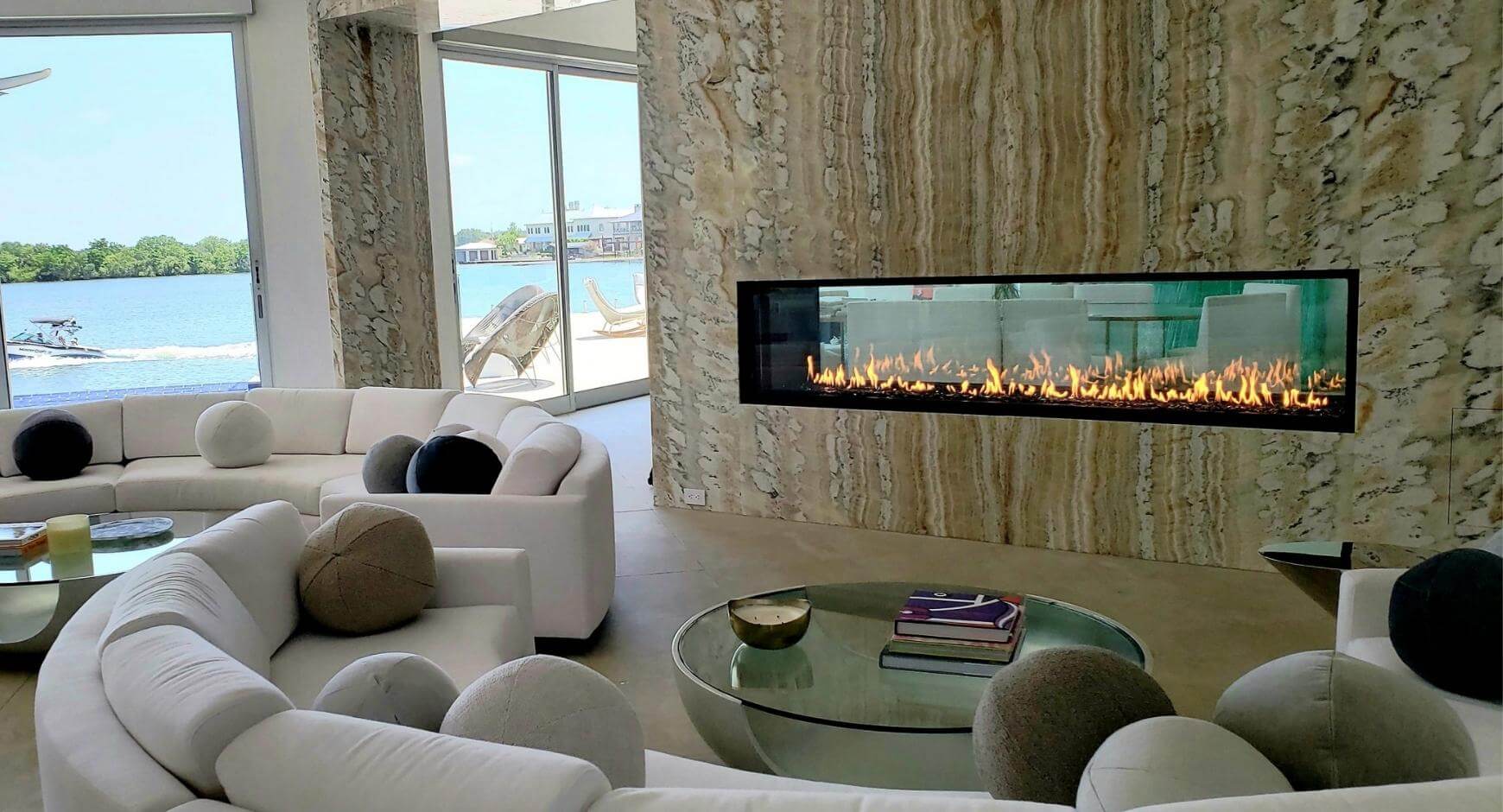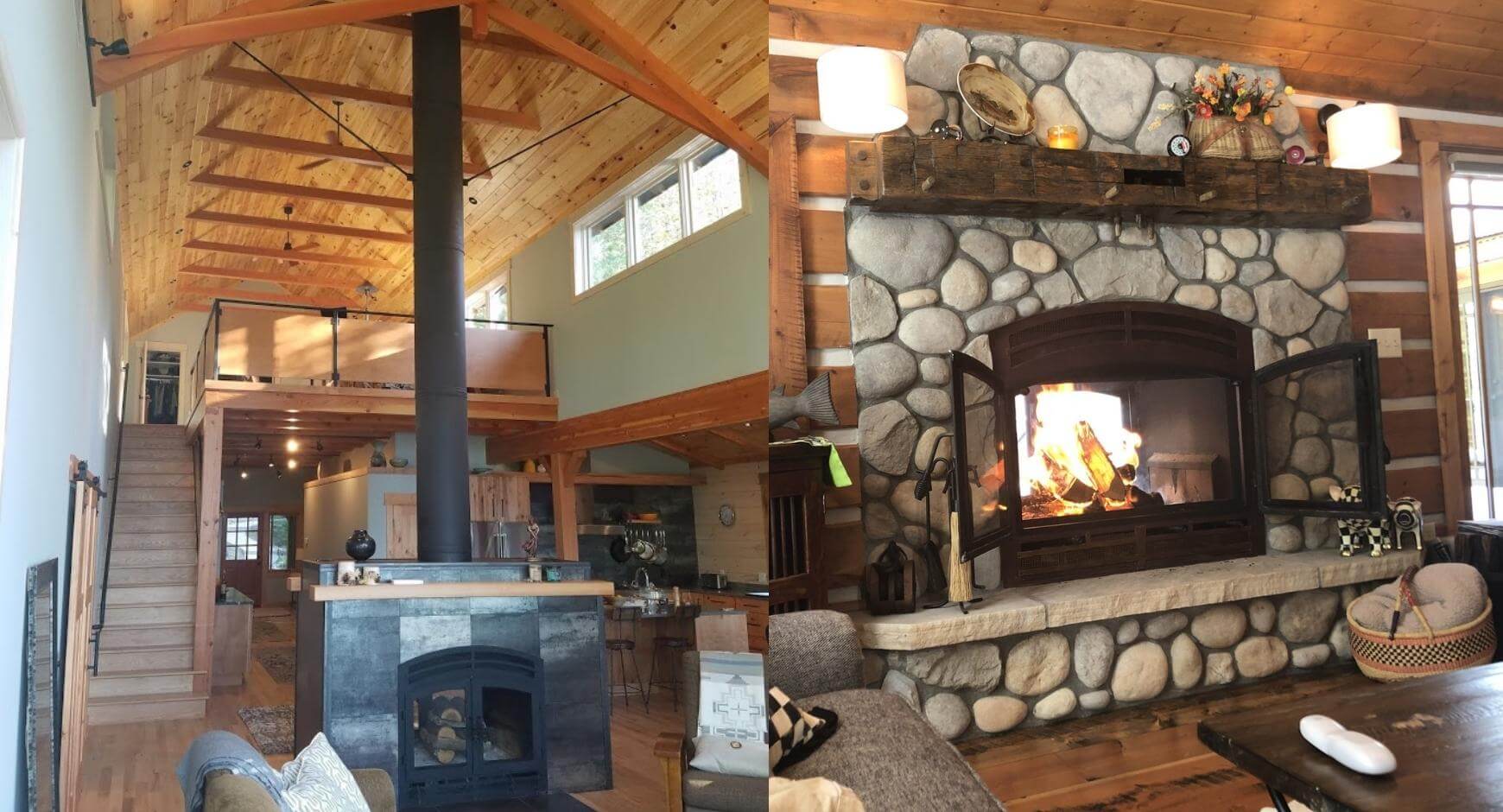 An open, modern gas fireplace is where contemporary fireplace design becomes genuinely versatile. Acucraft's Signature Series can be converted from open viewing to sealed and vice versa in a matter of minutes. This is where function meets form in contemporary fireplace design.
After all, modern-looking fireplaces should come with modern amenities like the ability to switch from gas to wood in as little as 30 minutes, like our Hearthroom Series. Completed with a clean stone surround and stark black frame and this fireplace is modern design at its finest.
Start designing your dream fireplace today with help from the experts at Acucraft. 
Modern Fireplace Styles for Outdoor Spaces
Outdoor fireplaces can open up a whole new world of possibilities, especially when fire and water features are combined. Outdoor gas fireplaces and fire tables can be a game-changer in terms of artistry, architecture, and experience.
Modern Fire Pit Table Designs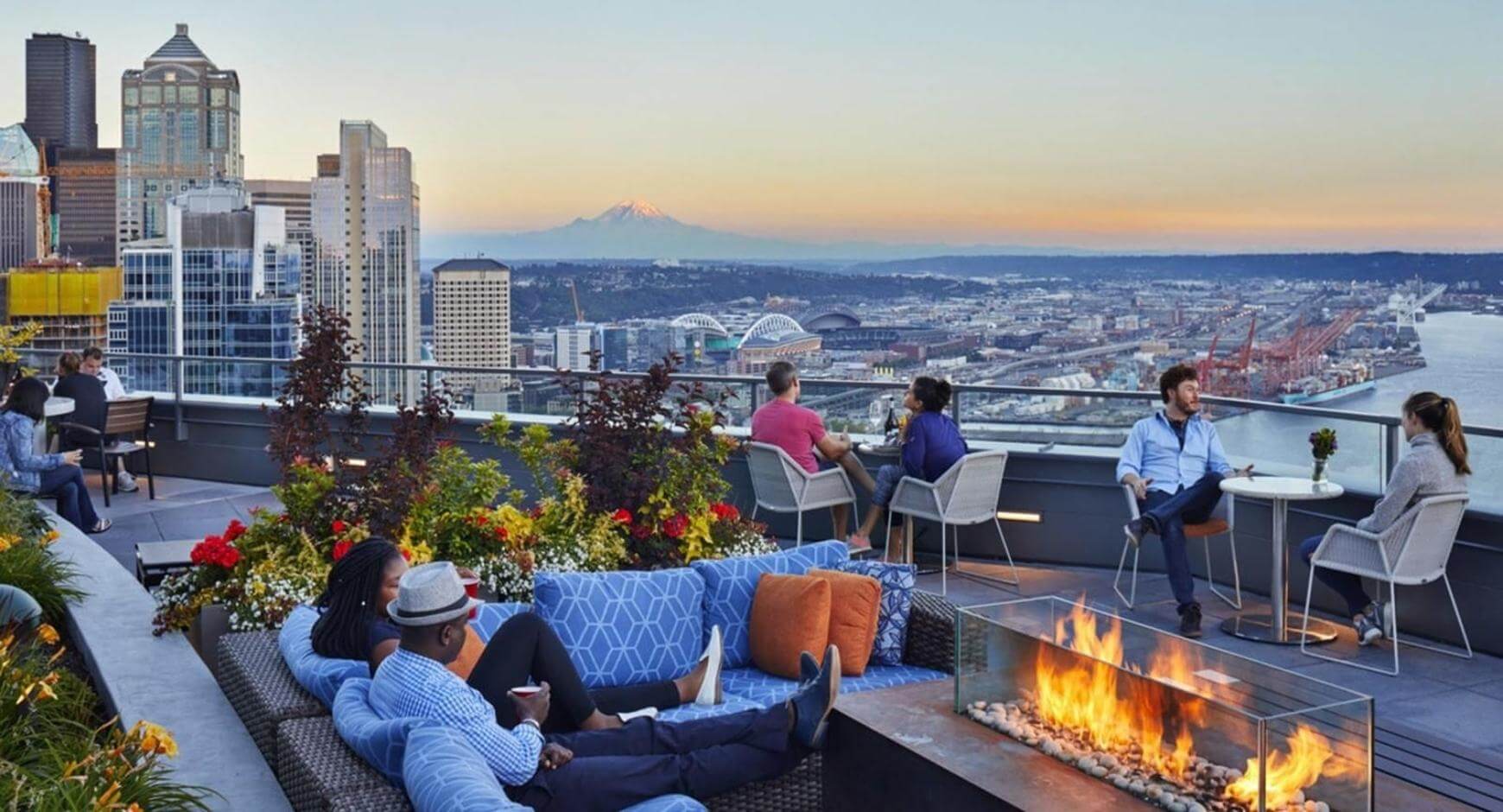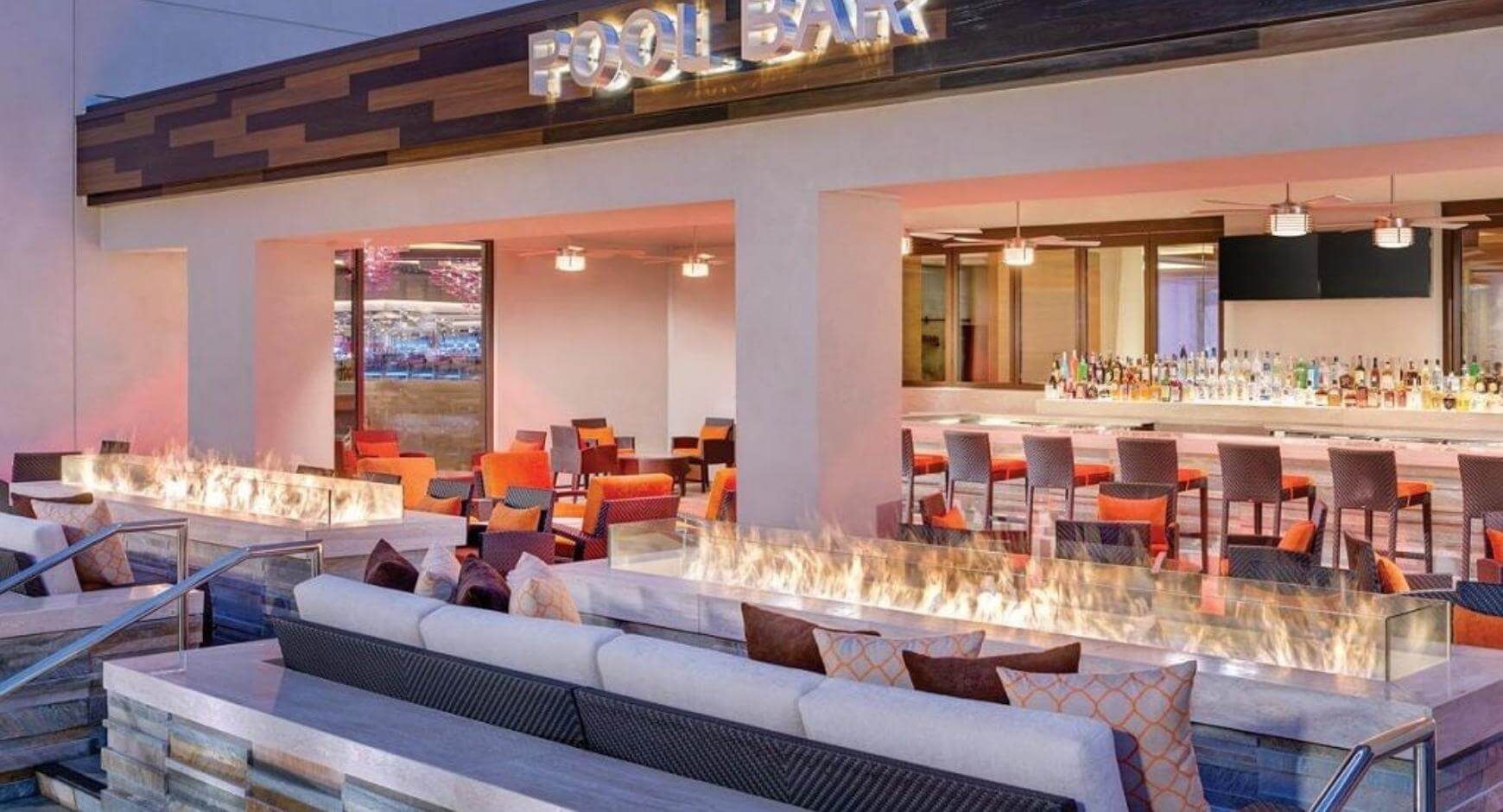 Fire pit tables are the ideal romantic accent for any restaurant or bar lounge. This simple feature keeps your guests comfortable and delighted well into the night. The value a fireplace can add is not only found in its resale but in the added time spent enjoying the long nights outdoors. A fire pit table is an excellent addition to a home patio set up for a quick fire to light up the night with friends.
Outdoor Pool Fire Features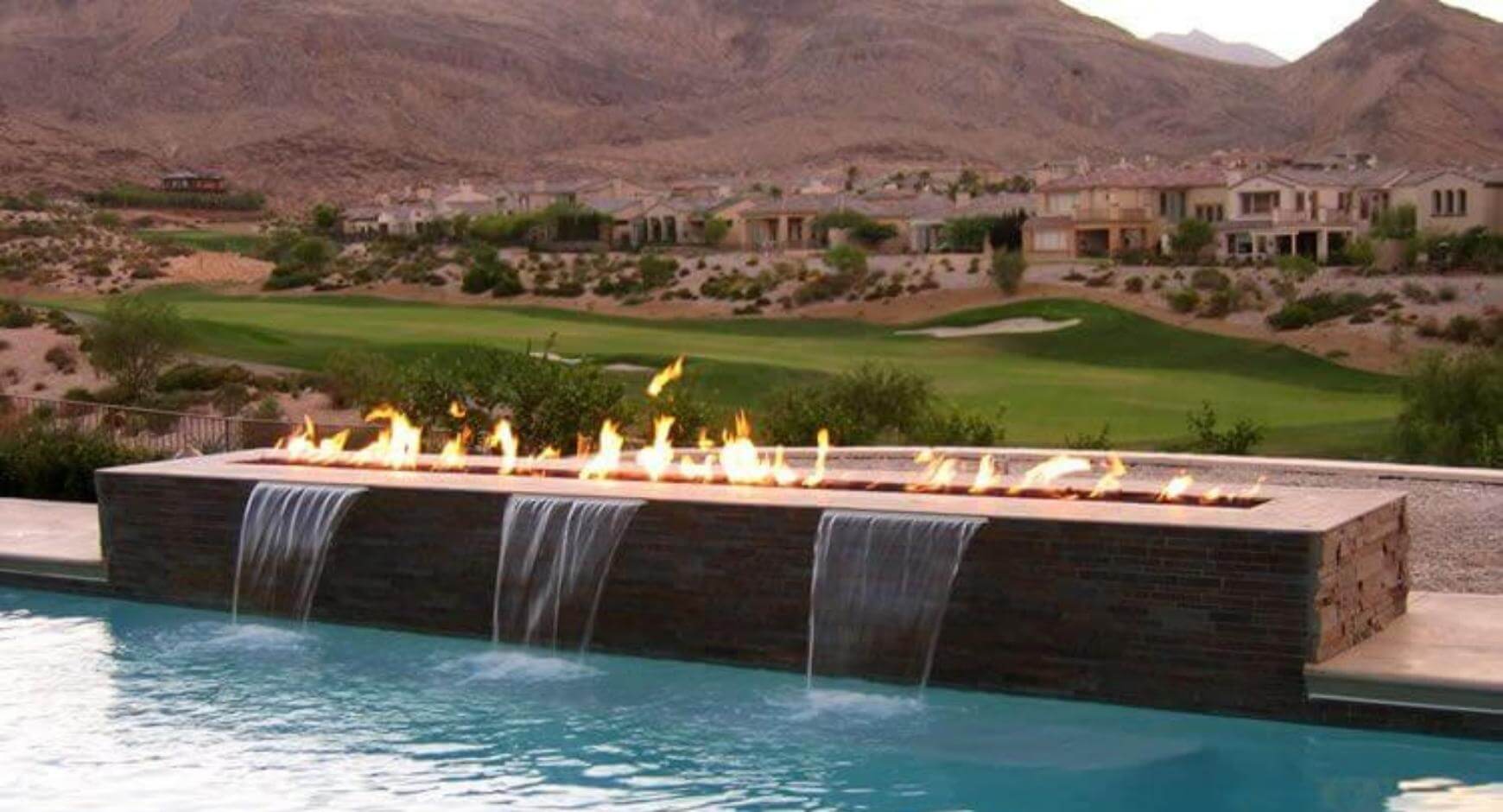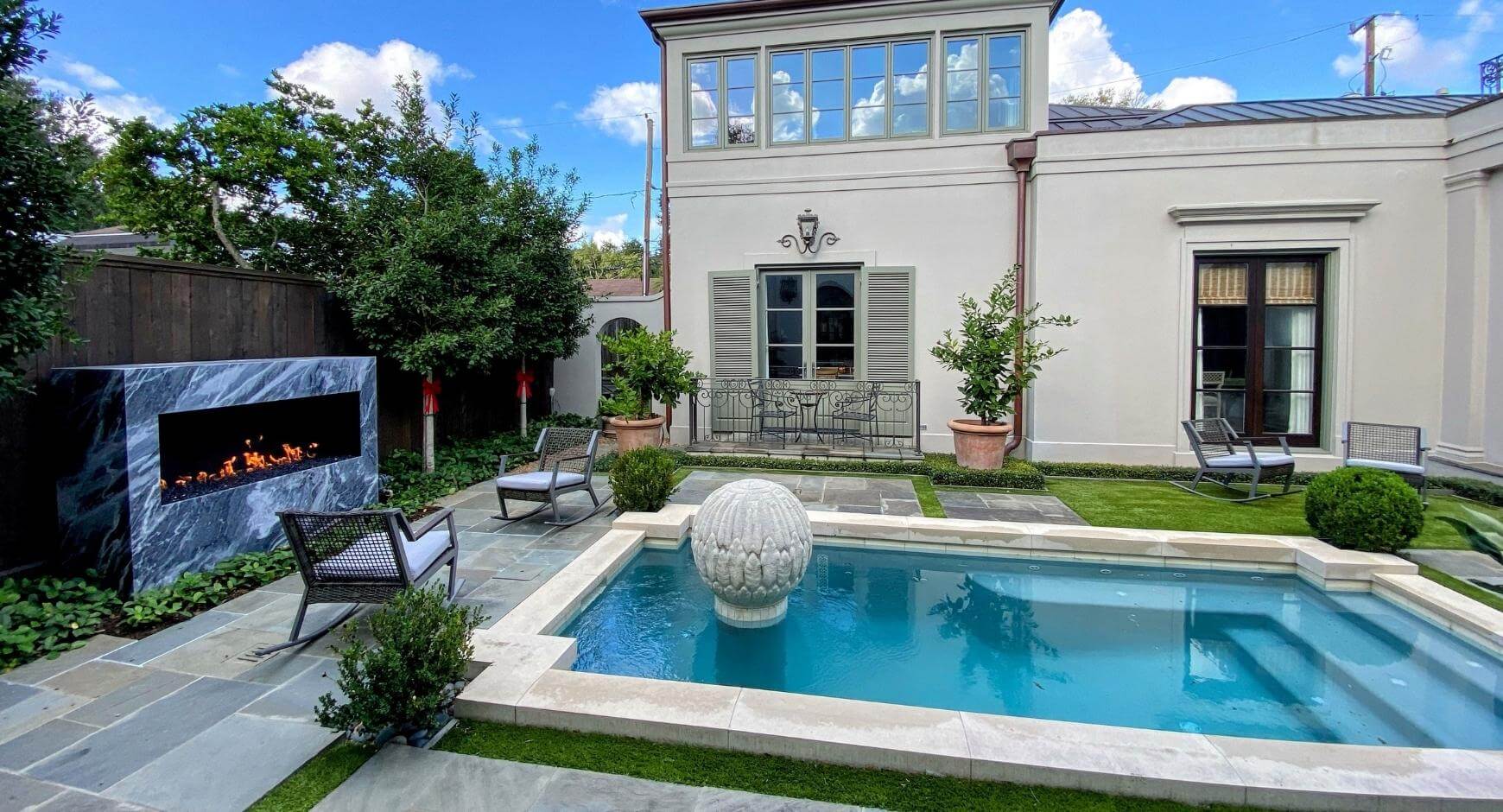 The juxtaposition of fire and water creates a sense of defying nature in any space. Surround your fire feature with a bed of smooth stones or river rocks for the look of a flowing stream. A poolside open fireplace can provide a unique ambiance for those lounging by the water.
Modern Outdoor Fireplace Ideas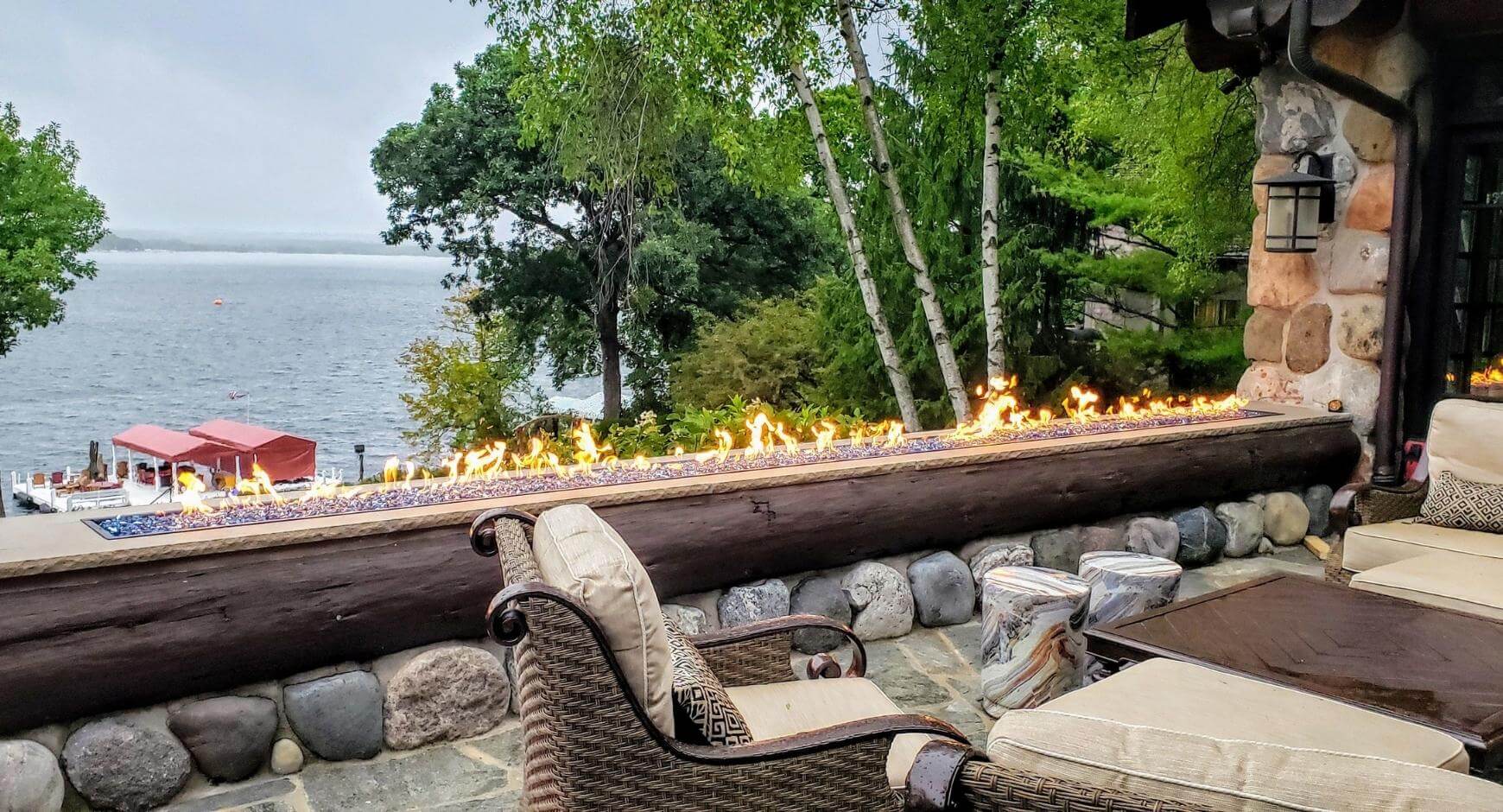 Whether it's a fire pit, fire wall, or an indoor/outdoor fireplace, there is no better way to enjoy a night outside than relaxing next to a fire. When designing your own, you can incorporate the natural elements around you, from timber to sandstone and quarried rock. Modern fireplace surround ideas are the perfect place to tie the surrounding beauty into your home. Reflect on the world around you and see what elements you'd like to add to your fireplace design.
Bring your dream outdoor fireplace to life with the custom craftsmanship at Acucraft.
Customize Your Modern Luxury Fireplace With Acucraft
Whether you want to install a linear fireplace indoors or a modern stone fireplace surround outside, you can select from gas, wood, or convertible alternatives and get precisely the ambiance you've been dreaming of. You can emphasize contemporary art in your chosen build or go with a modest look instead to tie your space together.
Fireplace manufacturing has come quite far in recent years. Gone are the days of being restricted to a boxy, boring fireplace made of brick, stone, and mortar. With these modern fireplace ideas, you have a clear place to start designing a unique fireside.