December 3, 2020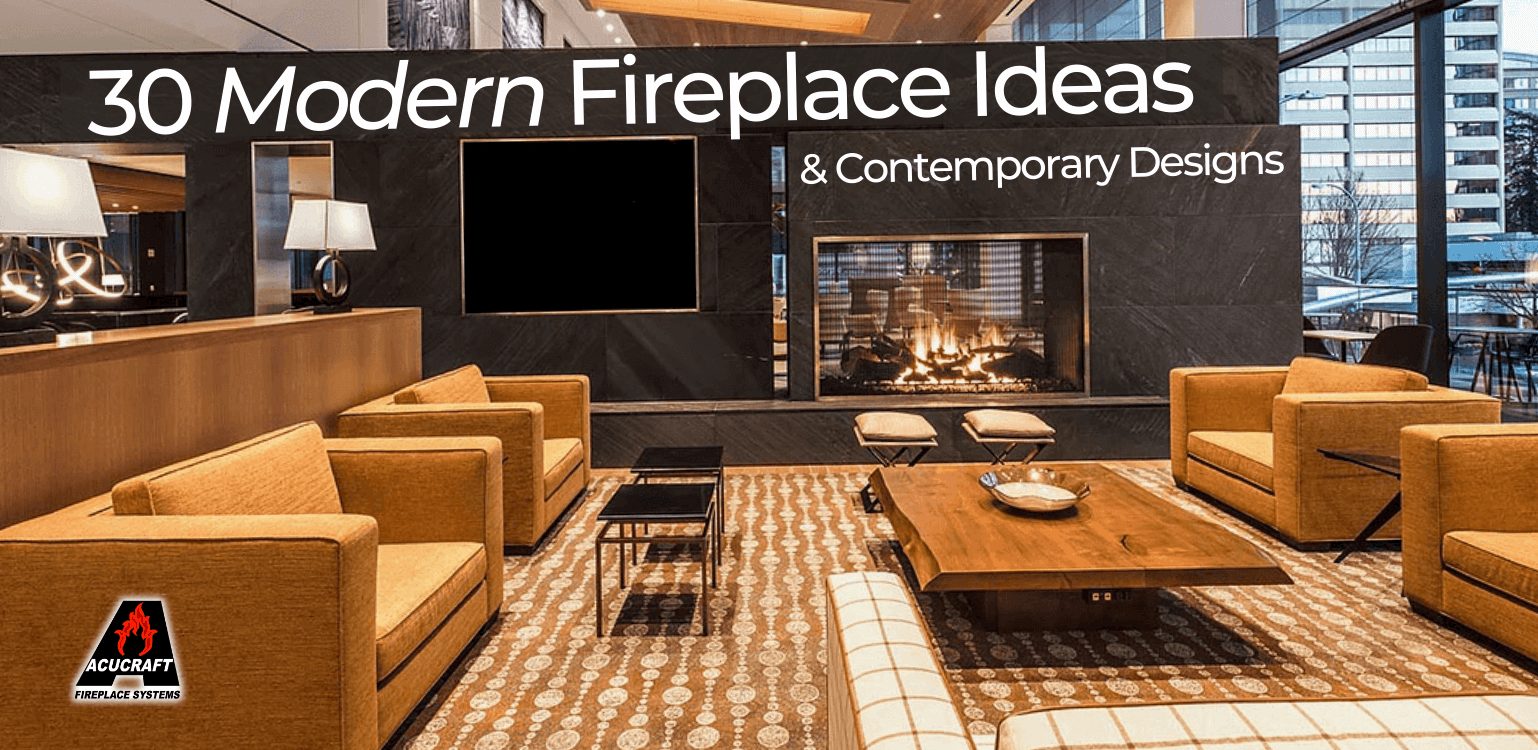 30 Hot Modern Fireplace Ideas and Contemporary Designs 
It's about time to reinvent your space, and you know that a modern fireplace is the sleek and cozy focal point you need. You're looking for creative modern fireplace ideas and designs that are unique, functional, and will stand out from the rest.
After all, the market is overflowing with run-of-the-mill units that are all beginning to look the same. Consider the possibility that perhaps you've been looking in all the wrong places for cutting-edge, modern fireplace design inspiration. The fireplace industry has grown to achieve unprecedented versatility in the old traditional hearth's look and feel.
From contemporary circular gas fireplaces with show-stopping surrounds to minimalist linear units in both wood-burning and gas, customization opportunities are endless. We've created this guide to present an in-depth look at the year's best modern fireplace ideas with design examples.
Modern Fireplace Ideas: 30 Gas & Wood Designs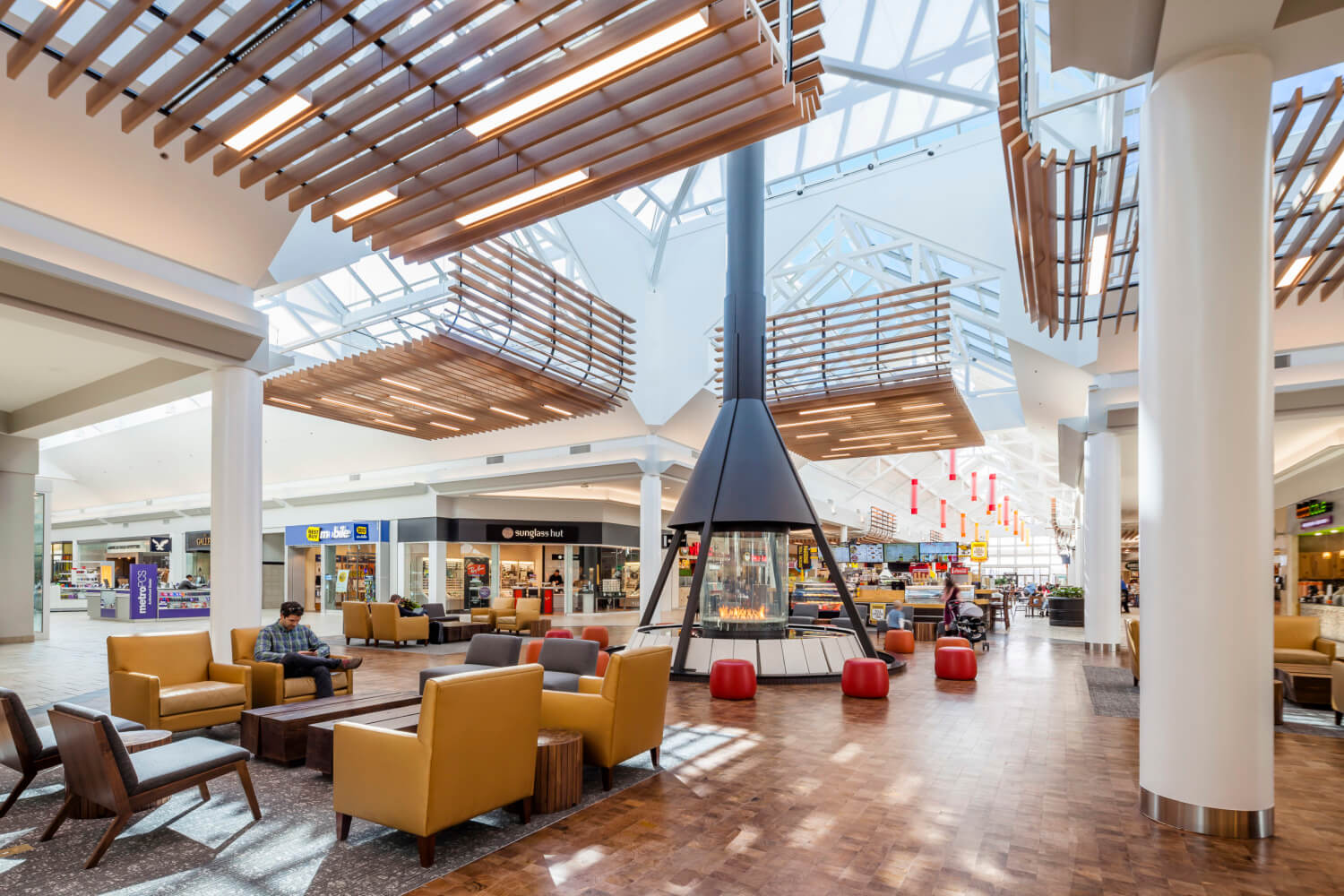 Modern design options can be customized to create the perfect fireplace for any space, whether you're looking for a classic wood-burning fireplace or an ultra-convenient gas unit.
Wood fireplaces, while known for their traditional appeal, can be made as showstopping modern designs with plenty of aesthetic flexibility. Gas fireplaces, on the other hand, are known for their versatility and range of creative contemporary customizations.
Both options can also be used for sleek modern outdoor fire features. In this guide, we'll explore modern fireplace ideas and examples including:
Whether they are gas or wood, contemporary designs can take your fireplace to the next level. These modern ideas and our guide to the latest fireplace trends are kindling to spark major inspiration for your next project. 
Modern Fireplace Wall Ideas
Fireplaces can add a dramatic edge and aesthetic to a room. Whether it's a modest, linear piece, or an awe-inspiring floor-to-ceiling installation, these ideas are unlike any other in terms of their subtle elegance.
Floor-to-Ceiling Fireplace Designs
There is a certain show-stopping intrigue that only a towering floor-to-ceiling fireplace can provide. Floor-to-ceiling fireplace designs can be standalone, tall, and four-sided, like this one pictured below, or single-sided with a more dramatic stone surround. In both cases, they can create a powerful statement in the room without being overpowering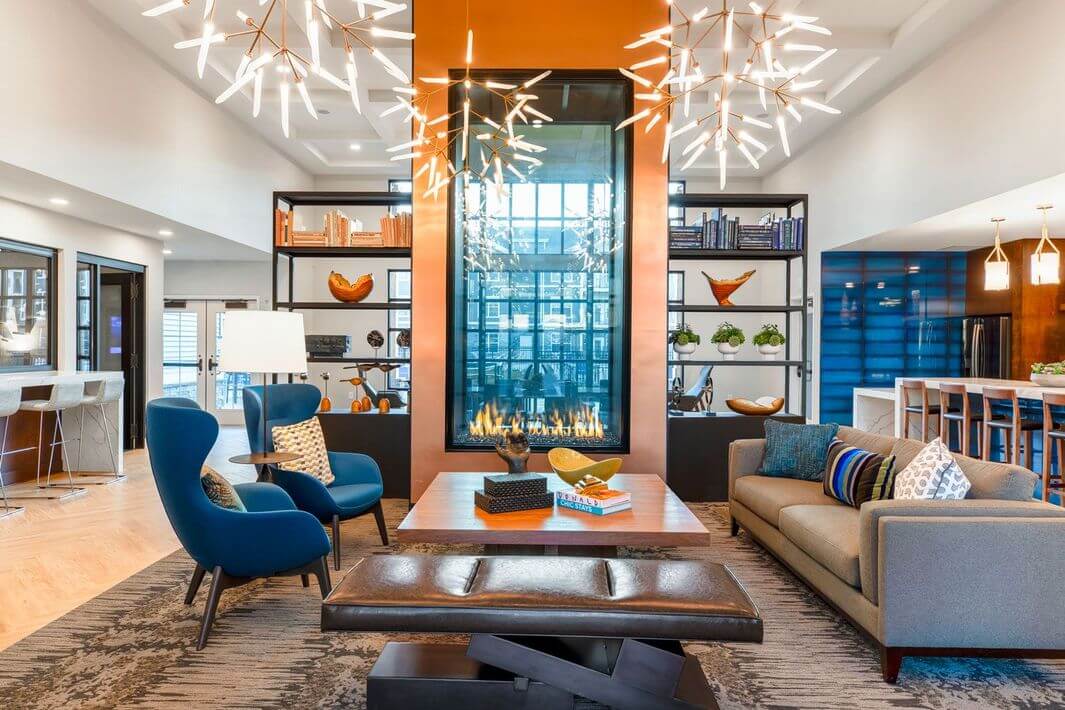 By simply drawing the fireplace out from the wall, the room's aesthetic and feel have been completely transformed. The hearth itself is linear and compact; the eye is drawn directly to the glass which allows the viewer to see through to the other side of the room. This translucent effect prevents the piece from feeling like a barrier and instead helps to open up the room as a powerful focal point.
This modern fireplace design is ideal for large entertainment rooms, lobbies, or other gathering spaces. As visitors feel invited to lounge and view the flame from either side they can admire the fireplace while they move freely around the space.
Modern Fireplace Design With TVs
One of the most popular places homeowners tend to install their modern luxury fireplaces is below the TV. This design choice is typical in functional living room spaces and allows viewers to enjoy their favorite shows or movies while cuddled up in front of a warm fire.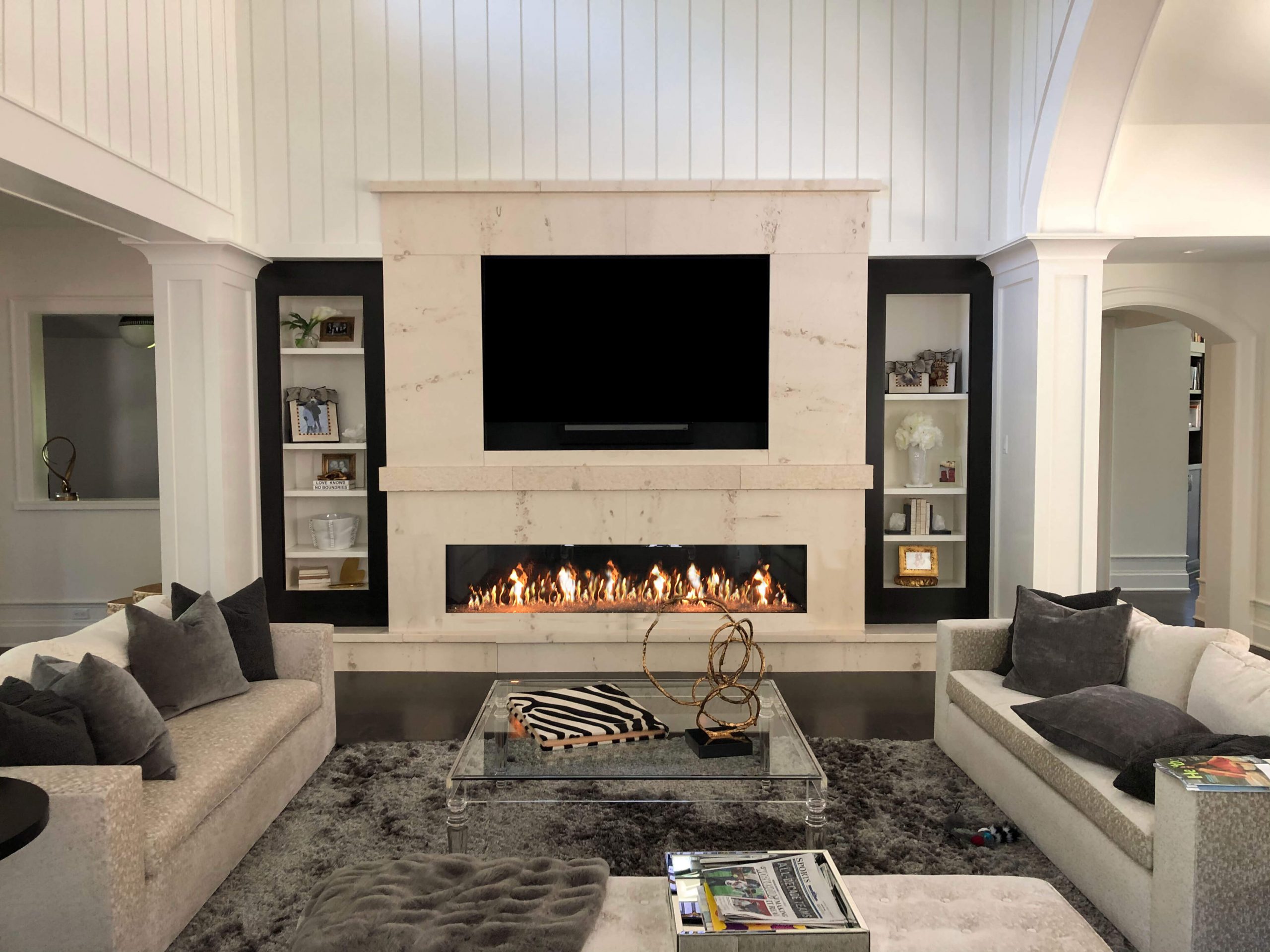 Placing a TV above a fireplace is frequently debated; Without the right technology, the excess heat from a fireplace can damage your TV and nearby tech in the long-run.
This is why Acucraft's cool-touch glass fireplaces, like this white marble fireplace from our Signature Series, for example, are essential for those looking for cozy movie nights. These units are complete with cutting-edge air movement technology to save any sensitive items in proximity from danger from the warmth.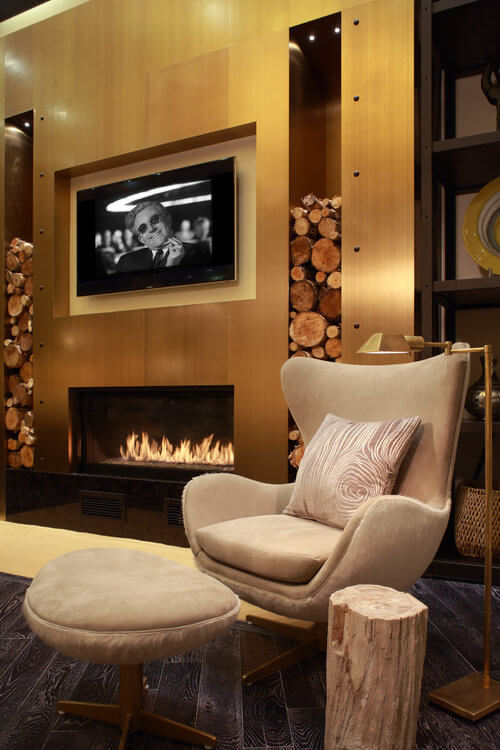 These units can serve as the room's focal point, like the linear fireplace with the marble face. Although it comprises only the lower third of the whole entertainment unit, it draws the eye more readily than the accompanying TV.
Those seeking a more delicate look may better appreciate the forged, bronze finish of the second modern fireplace design idea which is perfect for a rustic or industrial home interior. The vertically stacked wood adds a rustic flair without sacrificing modern appeal.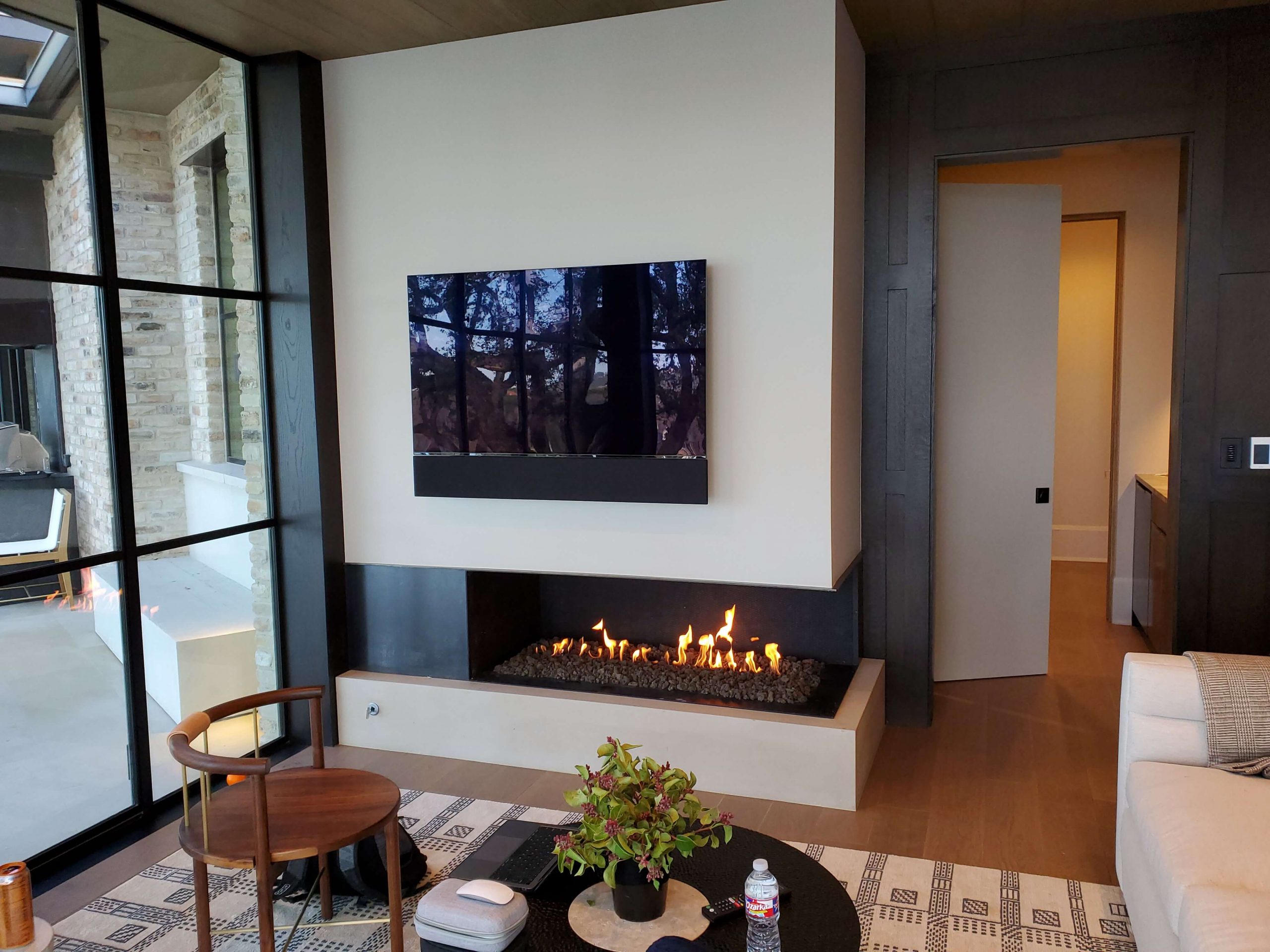 On the other hand, the more recessed, open gas fireplace, complete with stone decor on the hearth, is perfect for the modern minimalist aesthetic. This style can be used to supplement a geometric layout, TV included, for an intriguing visual concept that is equally balanced with the fire.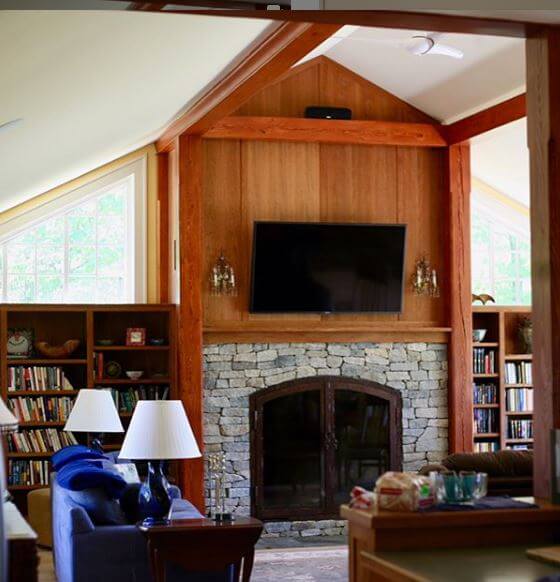 This handsome mid-century modern single-sided wood-burning fireplace features a stone surround and clean contemporary wood panels for a warm and inviting home library. A modest TV is mounted safely above the fireplace, creating an airy yet undeniably cozy atmosphere.
Modern Marble Fireplace Designs
Fireplaces with marble faces are among the most elegant modern fireplace wall ideas today. Though their aesthetic is distinct and sophisticated, marble fireplaces can function as the statement piece of the room or as a breathtaking design element that balances the entire space.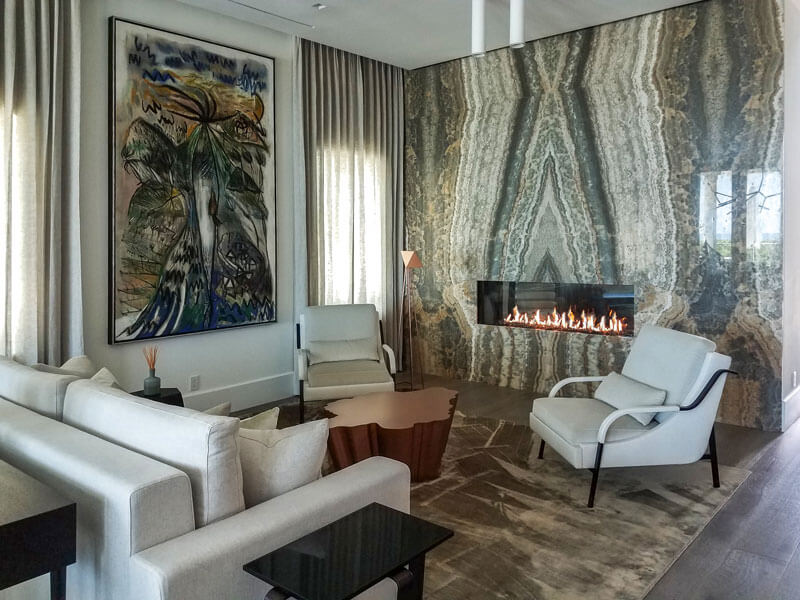 Marble can be clean and white, of textural with earthy tones. This Signature modern marble fireplace's surround blends beautifully with the rest of the room and decor. The aesthetic is so cohesive, in fact, that the fireplace itself becomes a quiet, subtle component in the room's decor, sharing attention with other design elements and artwork.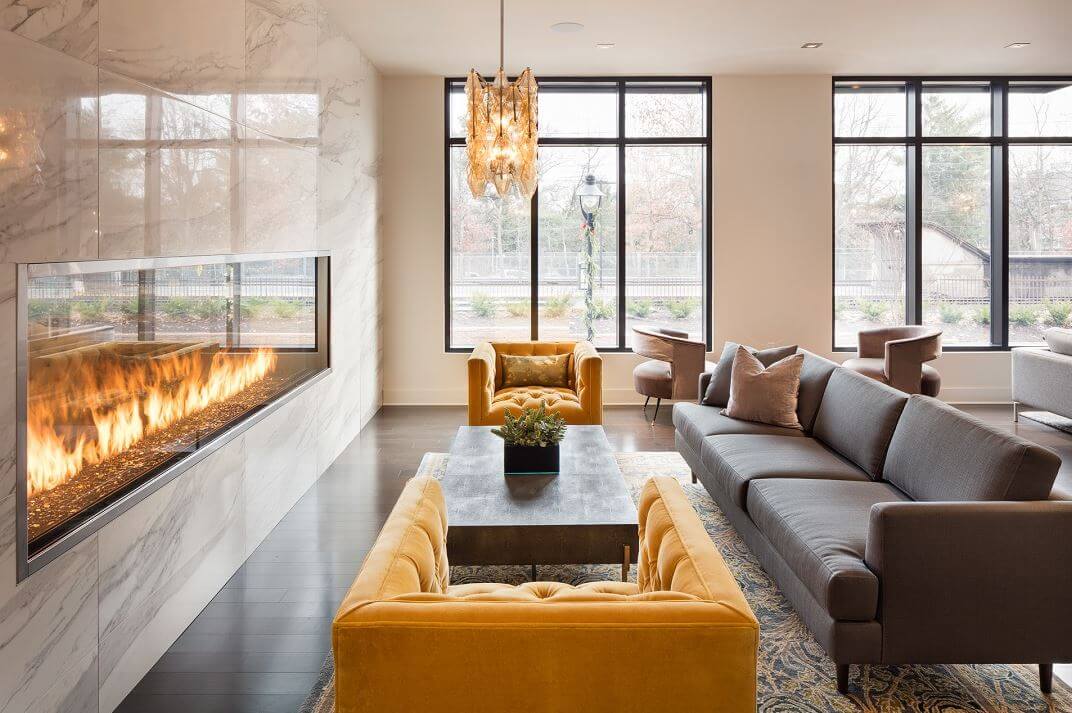 It's clear how truly awe-inspiring a linear fireplace can be depending on its size and placement in the space. As a single-sided unit, linear is perfect for entertaining or social lounge spaces that encourage interaction and conversation.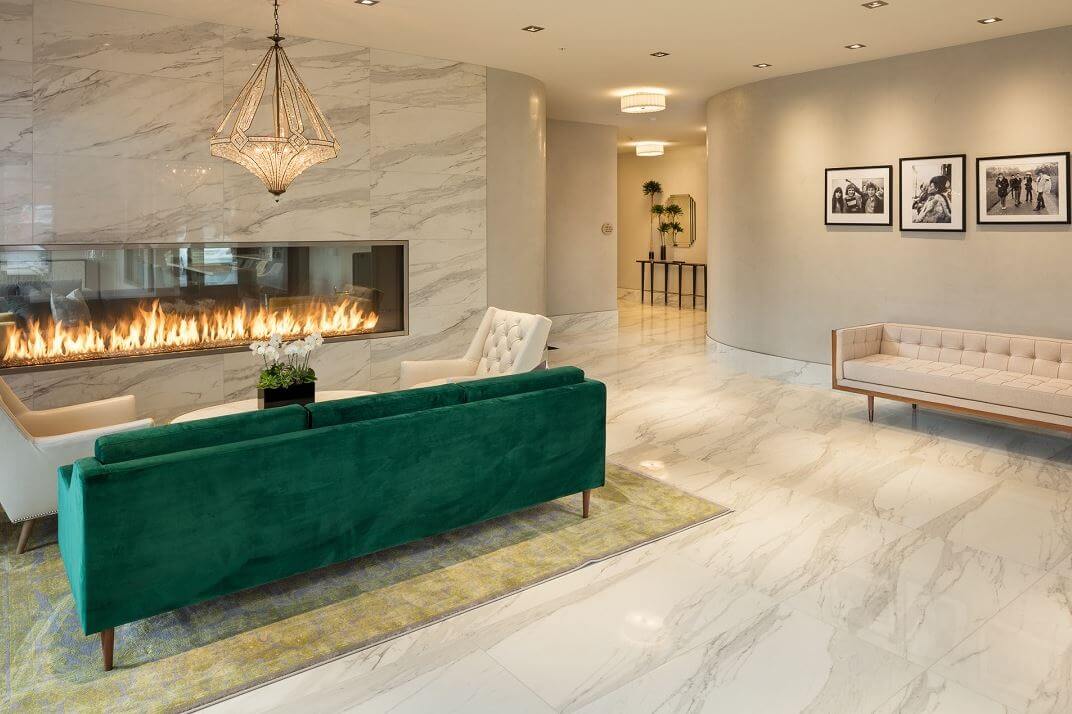 This linear fireplace from Acucraft is constructed with a similar design outcome in mind from the example above, but the additional see-through feature connects with other sections of the space.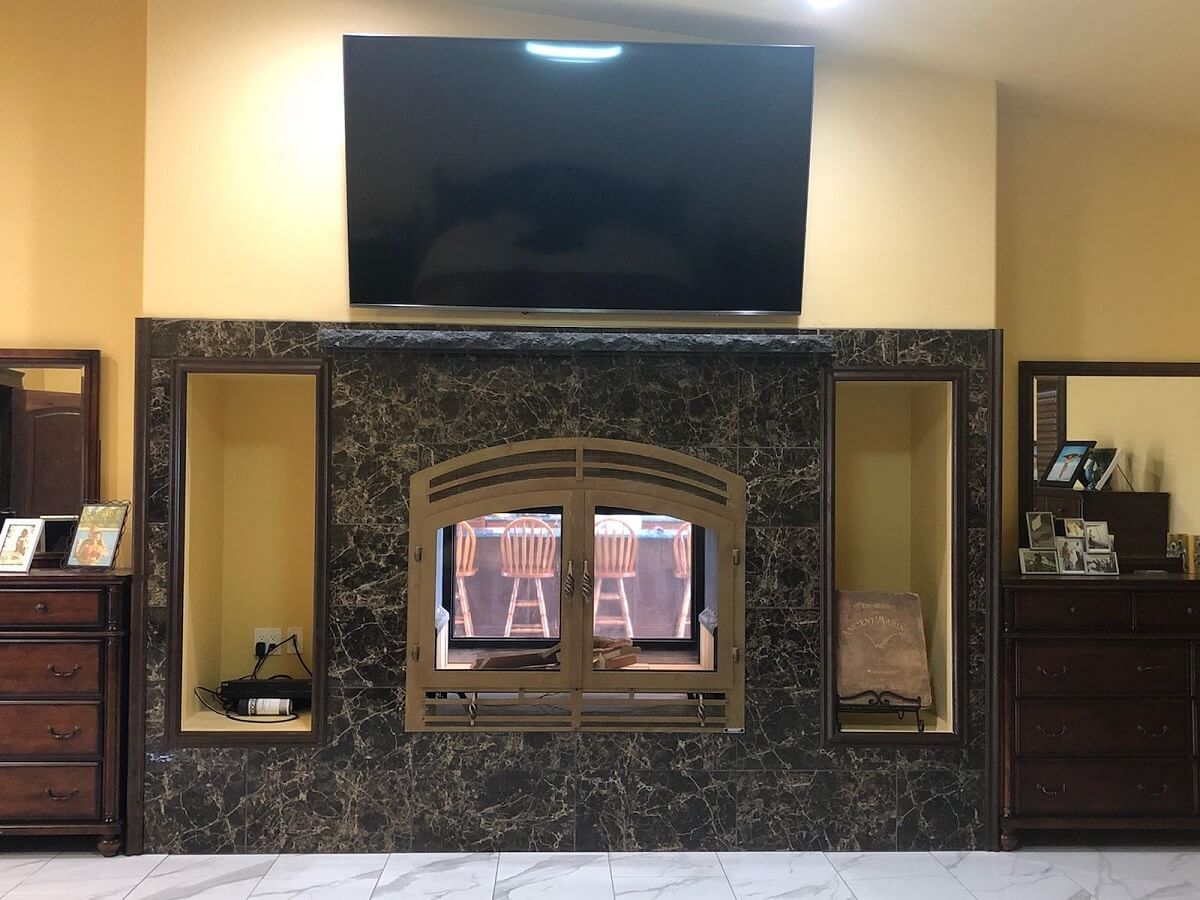 Before we get into the modern innovations of see-through fireplaces, here's a design to admire: a modern black marble, wood-burning fireplace that can be viewed from two rooms at once. This fireplace, from Acucraft's Hearthroom series, features an elegant copper patina finish with sleek charming handles.
Modern Stone Fireplace Designs
Looking for more of a mid-century modern fireplace design? Breathtaking modern stone fireplace designs can function as a reminder of the quaint, historical beauty of the classic masonry fireplaces which were made of brick, stone, and mortar.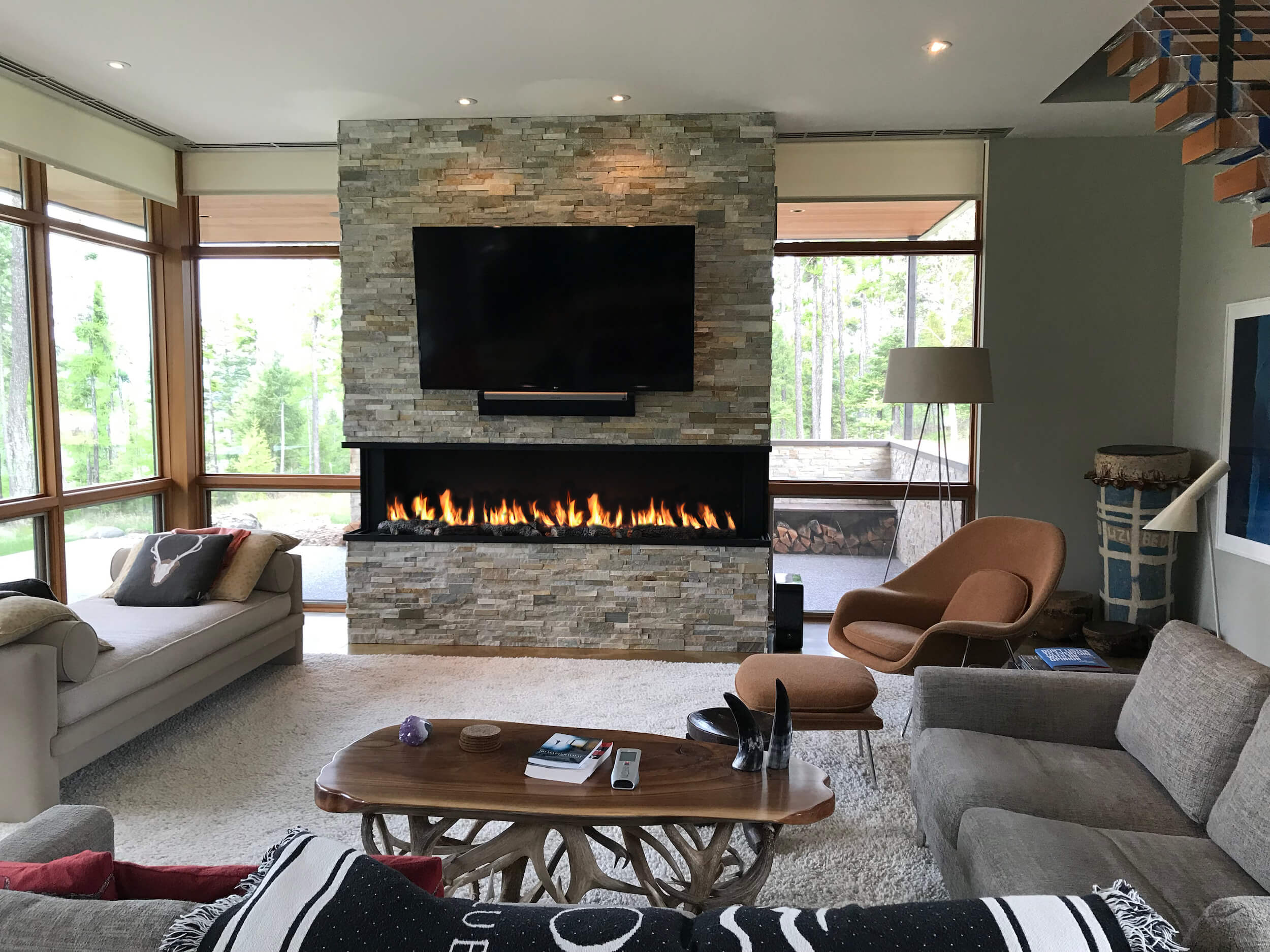 The stacked stone configuration can resemble that of a hand-placed brick pattern. The modern fireplace surround examples here show a more abstract recollection of traditional masonry units.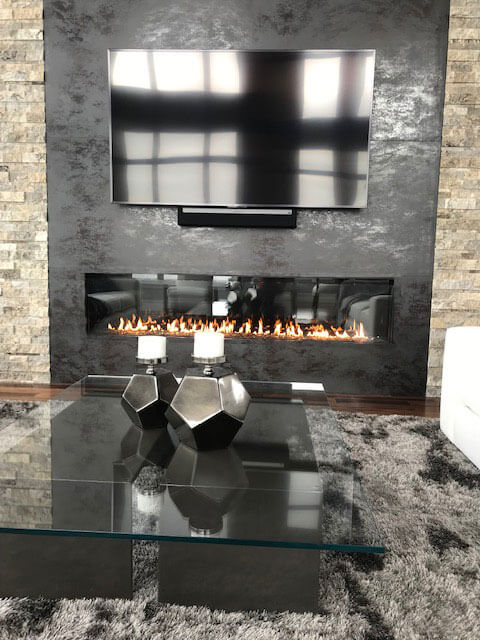 The face still retains that beautifully rugged stone look and feel while achieving a distinctly modern sheen and sharpness.
Modern Wood Fireplace Designs
Wood fireplaces will always have a special place in many of our hearts. Though gas fireplaces require more hands-on effort to use, nothing beats the gentle crackling and natural, earthy scents that flow from wood burning on the hearth. 
Even with a desire for a more traditional fireplace, you don't have to settle for a subpar design. Acucraft's one-of-a-kind wood-burning fireplaces are the greatest example of how you can achieve a classic feel with a custom contemporary wood fireplace.
Modern Double-Sided Wood Fireplace Ideas
Double-sided, floor-to-ceiling pieces illustrate that even classic fireplaces can be designed to fit a modern aesthetic.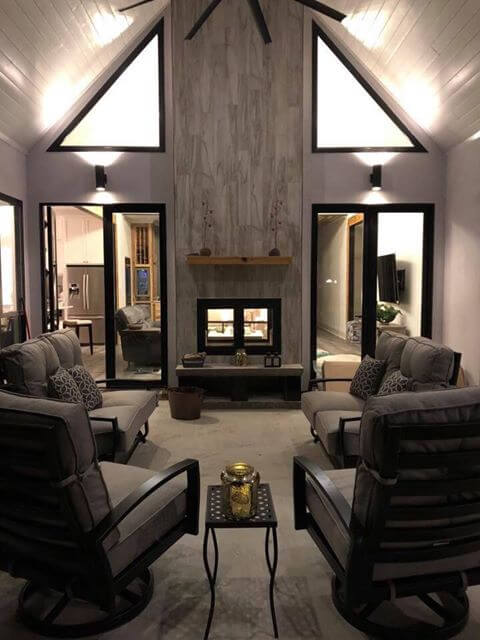 Perfect for entertaining in large spaces, this wood-burning fireplace allows viewers to admire the warmth and beauty of the natural flames from either side.
Even if you do not prefer a gas unit, you can still have the beautiful, modern minimalist look of a linear, contemporary fireplace in your space. Linear pieces are ideal for an open floor plan and can create the impression that the fireplaces extend from wall to wall.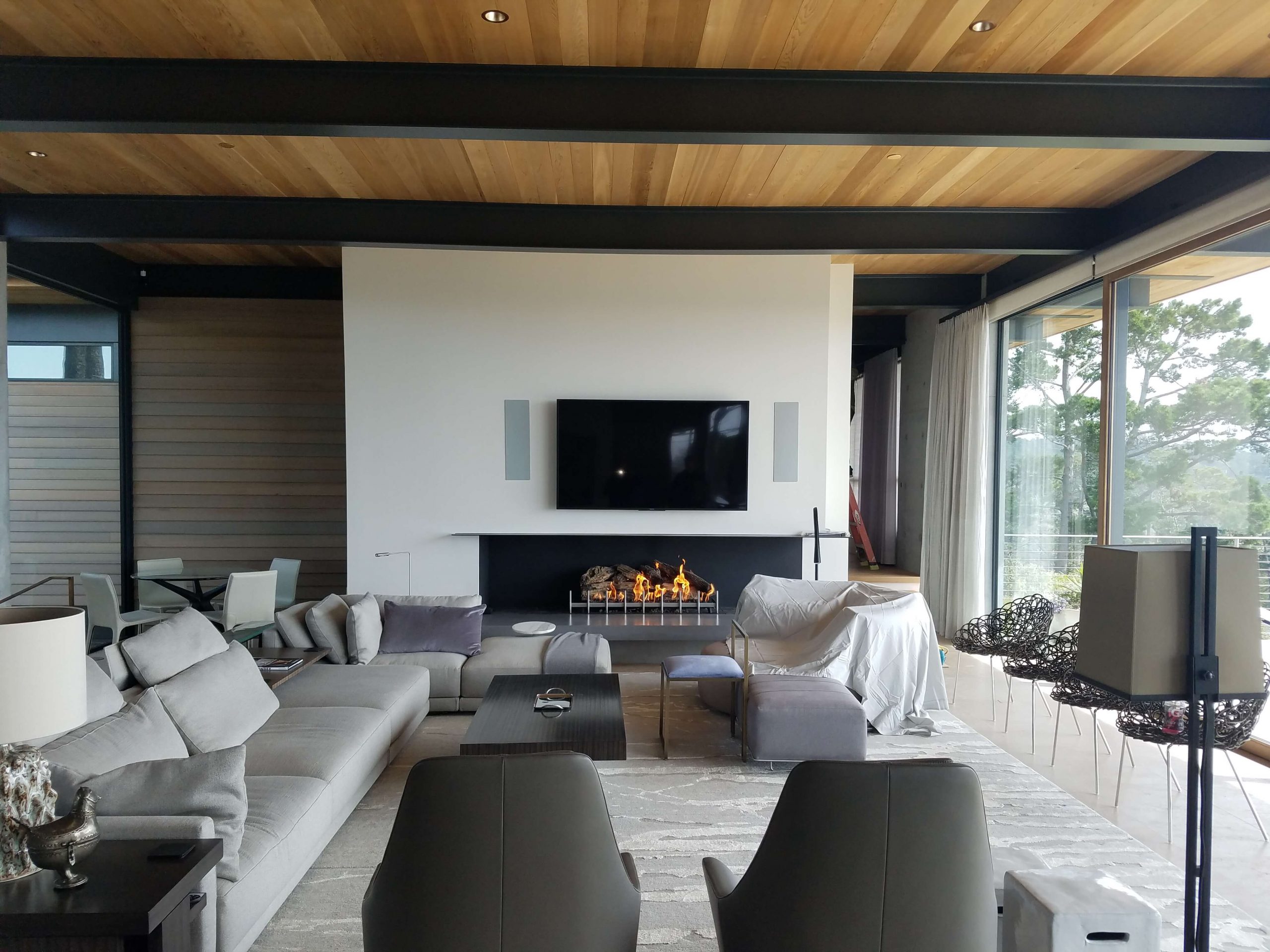 With a wood-burning unit, as opposed to a gas flame, the fire is concentrated in the center. This is because the wood needs to remain grouped together to maintain the ideal blaze. Still, Acucraft's superior designs provide comfort for all gathered near the hearth, so you don't have to compromise ambient warmth for the classic wood alternative.
Modern round fireplaces are some of the most unique units on the market. They effortlessly draw the eye and function as a gathering point, even in the outdoors. These are ideal for large entertainment spaces such as a wedding venue or outdoor restaurant seating.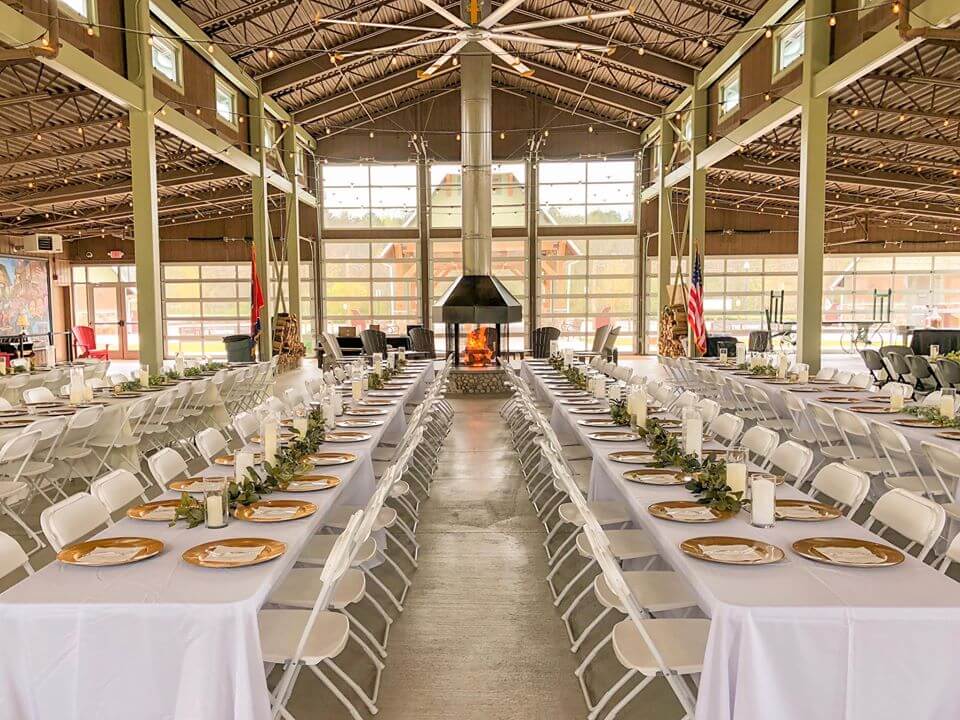 The modern wood fireplace surround is perfect for a wood-burning unit since, as mentioned above, the wood needs to be concentrated in one spot in order to maintain the perfect flame and ambient warmth.
Modern Gas Fireplace Designs
Although most love the traditional feel of a wood fireplace, gas units are at the heart of modernization in this industry. Modern gas fireplaces provide the option to integrate awe-inspiring artistry into your contemporary fireplace ideas for jaw-dropping designs.
Here are a few of Acucraft's head-turning, modern gas fireplace designs below to get an idea of the countless personalizations available when choosing gas over wood. 
Modern Round Gas Fireplace Ideas
Modern round gas fireplaces, also referred to as circular fireplaces, serve as true focal points for any space they inhabit. Viewable from all 360-degrees, this stunning feature is certain to become the centerpiece of any room.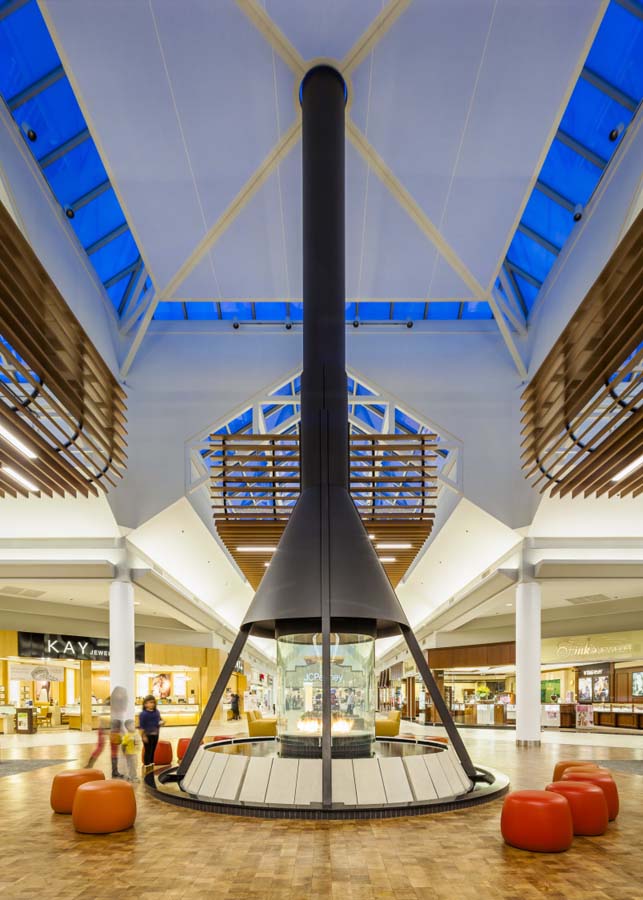 Instead of being concentrated in the center like a wood-burning flame, the fire dances around the unit's perimeter, ready to be admired from every angle. These are ideal statement pieces, best suited for large community gathering or conference centers.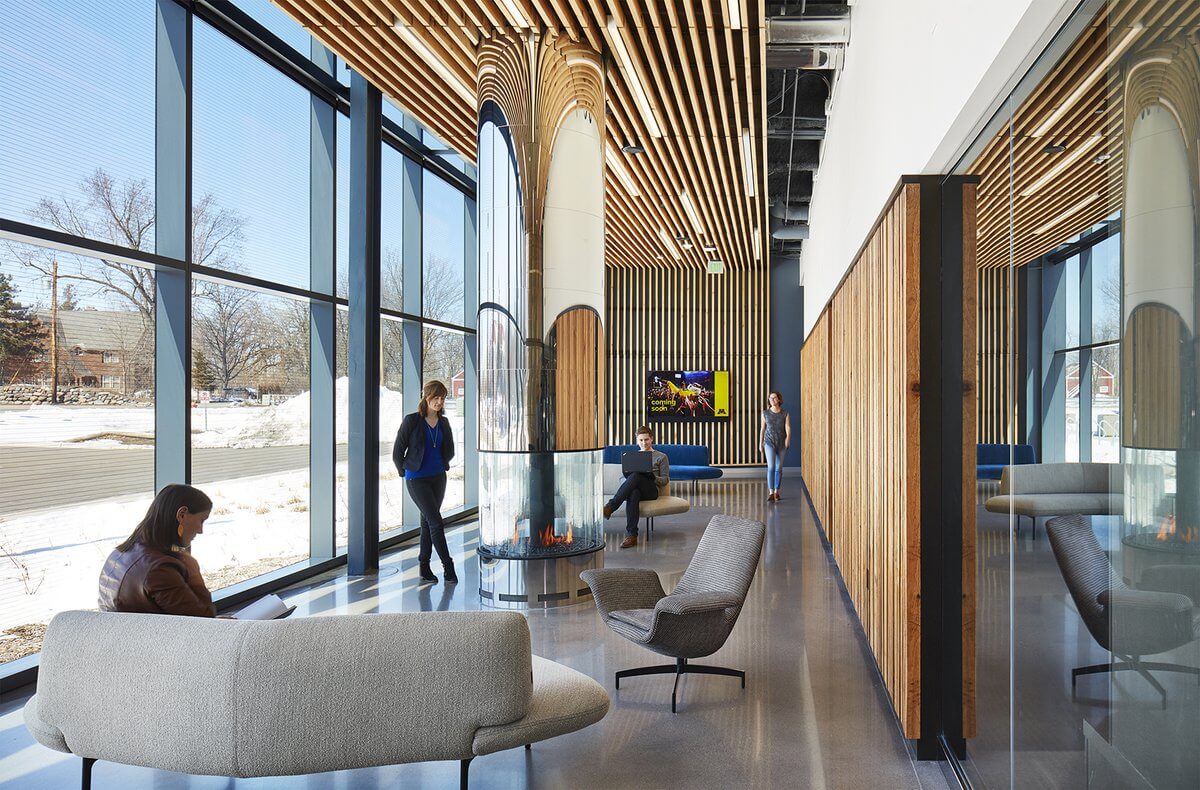 One great aspect of the glass plane among these modern fireplace surround ideas is that viewers can get a clear perspective on the beautiful media, bringing the entire piece to life. The reflections on the mirror-polished stainless steel in the example here create a self-perpetuated futuristic aesthetic without having to paint or otherwise decorate the fireplace.
Other types of media can surround a round fireplace for added style like…
Crushed glass
River or lava rock
Semi-polished or polished stones
Driftwood and other artificial log sets
Corner fireplaces are ideal for houses and commercial spaces where the flames are not intended to be the central focal point in the room, but instead a sophisticated supporting feature.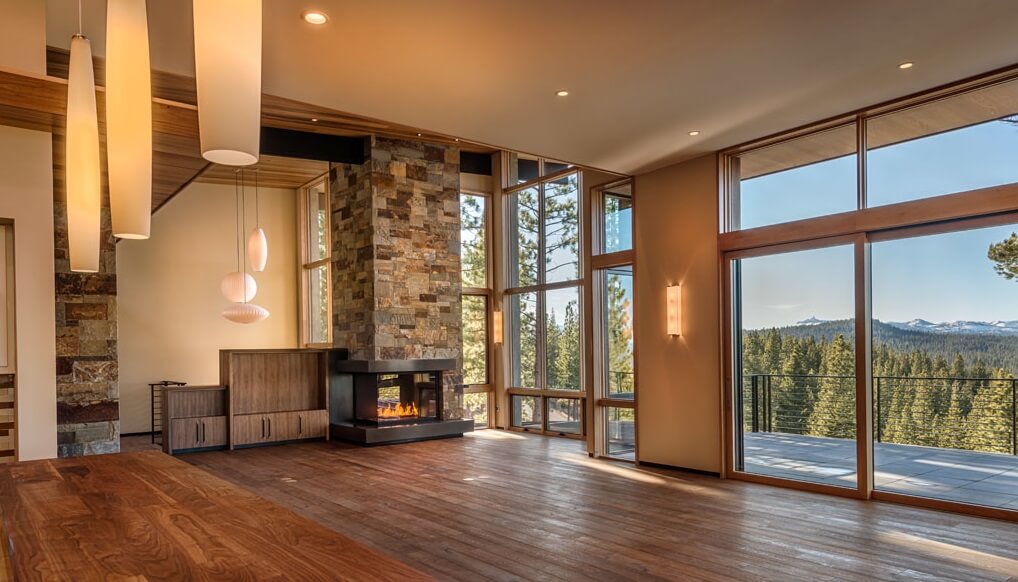 This standalone stone floor-to-ceiling piece shown in the first of these modern corner fireplace pictures is a perfect example of how traditional aesthetics and modern geometric floor-to-ceiling fireplace ideas can come together. Still, the piece is not an overpowering component in the room.
The fire, positioned in the left third of the pillar and surrounded by metal borders, ensures that it is but one part – not the center or focus – of the room. Quite the opposite, yet not dramatically so, is this peninsula fireplace.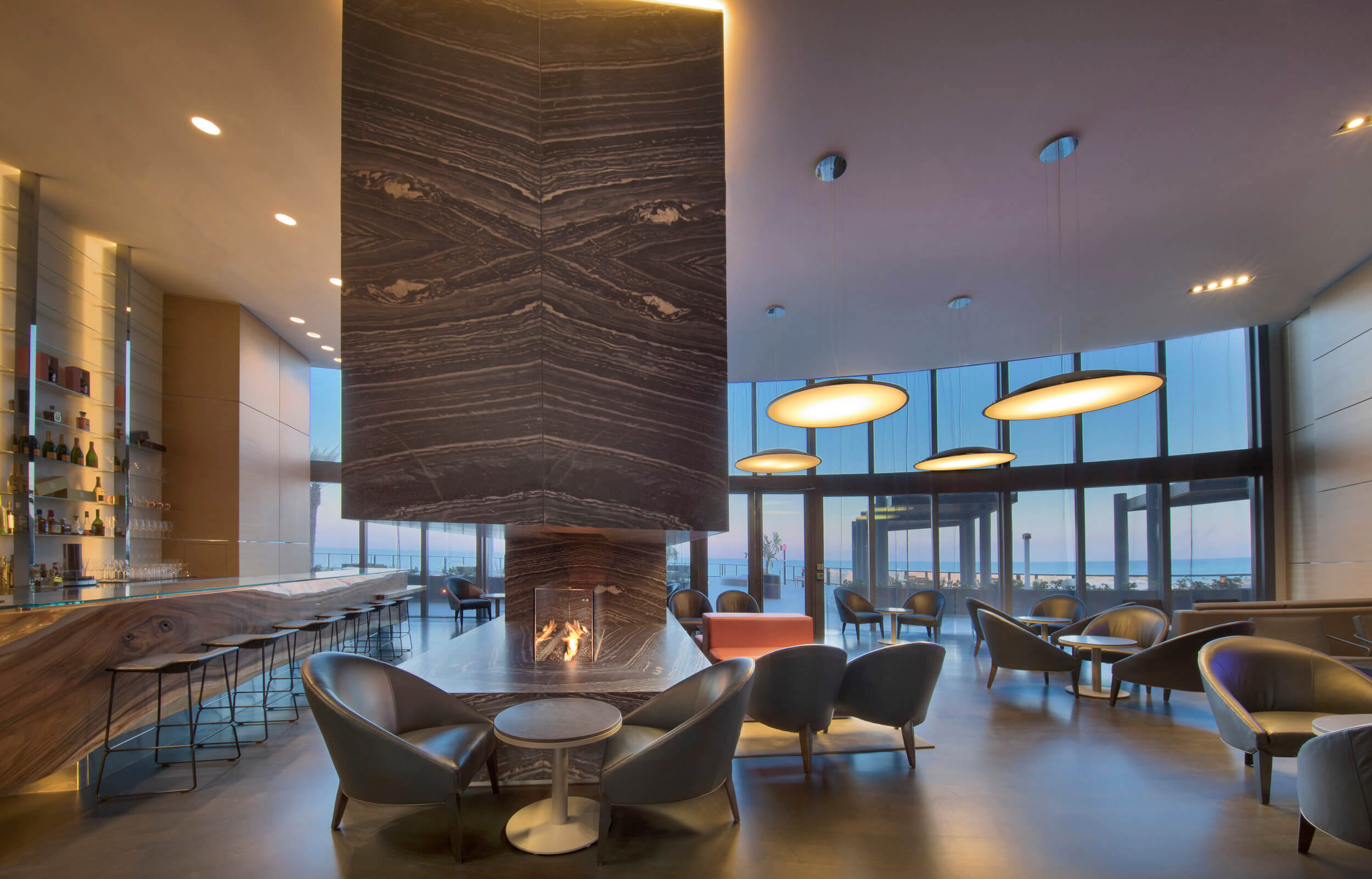 While it is certainly a conversation piece, dividing the room yet leaving a visual opportunity for connection between the two sections, the fire itself is modest. This peninsula unit strikes a delicate balance in cohesion between the fireplace and accompanying decor in the room.
While the first approach to three-sided fireplaces is ideas for living rooms, family rooms, and dens in the home, the peninsula is an excellent style of modern gas fireplace for formal spaces designed for large gatherings. With either, you could choose an open or closed design with the appropriate media to make the fire stand out as you wish.
Linear gas fireplaces are incredibly versatile in terms of interior design. You can integrate these pieces into modern farmhouses, industrial designs, minimalist aesthetics, and so much more. Given the modesty of these pieces, linear fireplaces are well-suited for private homes and other small spaces with an intimate ambiance.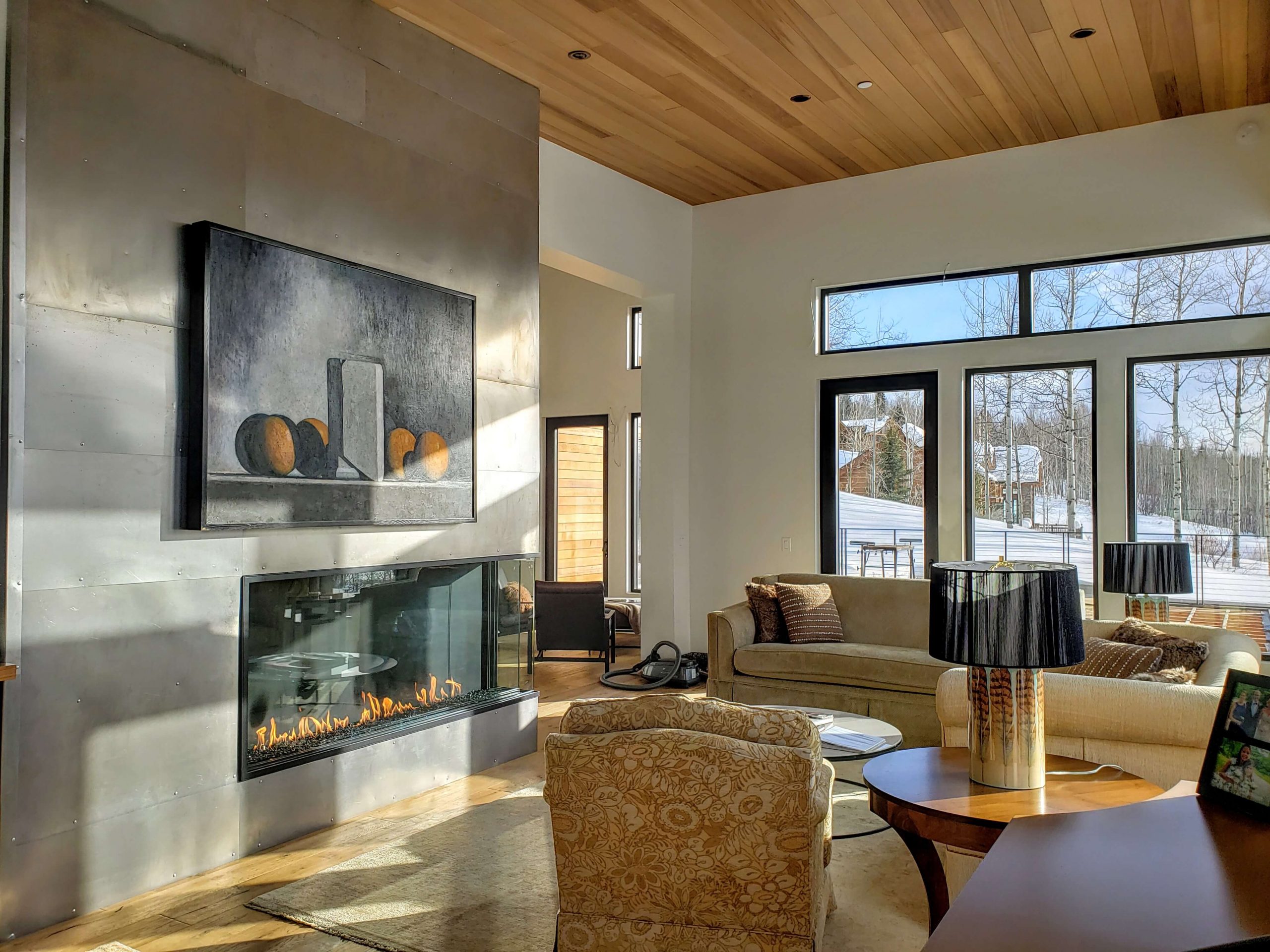 These examples show how strategic placement of the fireplace can tremendously benefit the overall look, as each one works to compliment another element in the room. A viewable side on the top modern fireplace wall naturally leads the eye into the next room, bringing adjacent rooms together. This side view is perfect for allowing all viewers to feel the gentle blaze.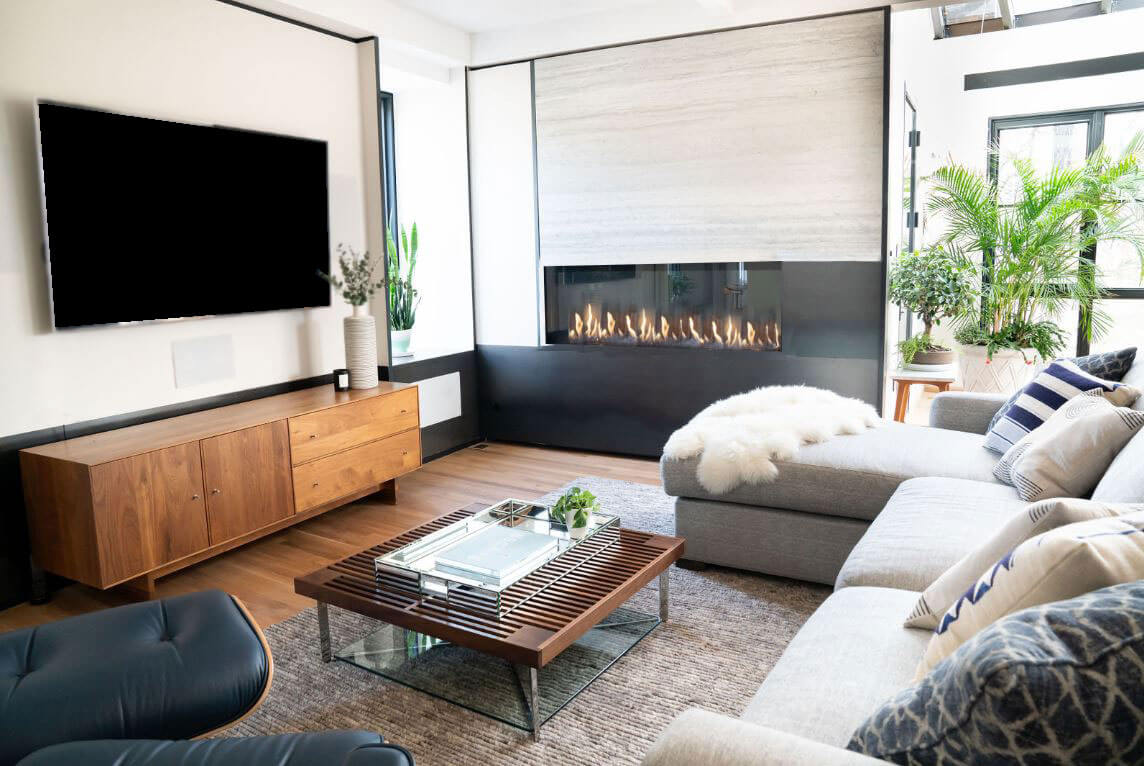 Modern linear gas fireplaces can also lead the eye toward admiring other decors, whether that is artwork, plantlife, or anything else. Though the fireplace has this entire wall to itself, it does not overwhelmingly command attention but rather draws a gentle gaze toward its corner of the room.
Modern Outdoor Fireplace Designs
Outdoor fireplaces can open up a whole new world of possibilities, especially when fire and water features are combined. Outdoor gas fireplaces and fire tables can be a game-changer in terms of artistry, architecture, and experience.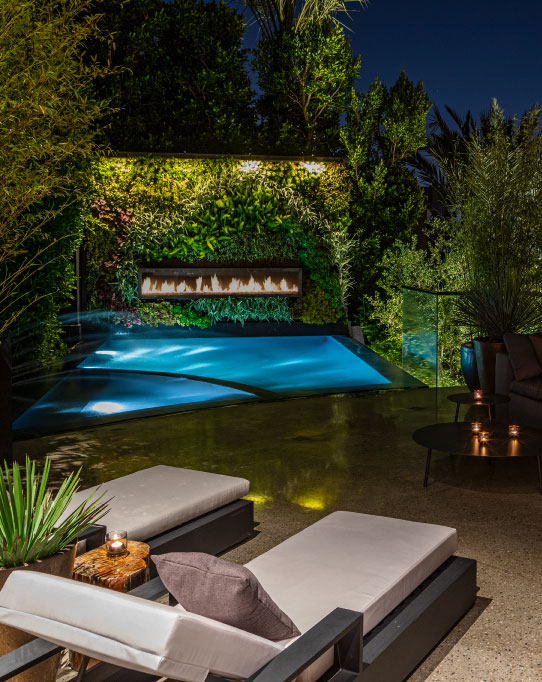 Here are some modern and contemporary design ideas for outdoor fireplaces – when you want a luxury poolside fire feature or a jaw-dropping fireplace that can be viewed from both inside and outside. Acucraft manufactures custom luxury fireplaces for the outdoors with the tallest, fullest flames on the market.
Much like a double-sided fireplace design, indoor/outdoor fireplaces allow visitors to enjoy the ambiance of a luxury fireside in two spaces at once. Though the see-through feature allows visitors both indoors and outdoors to admire the flame, it's the onlookers on the outside who get a surprise peek into the building through the unit itself.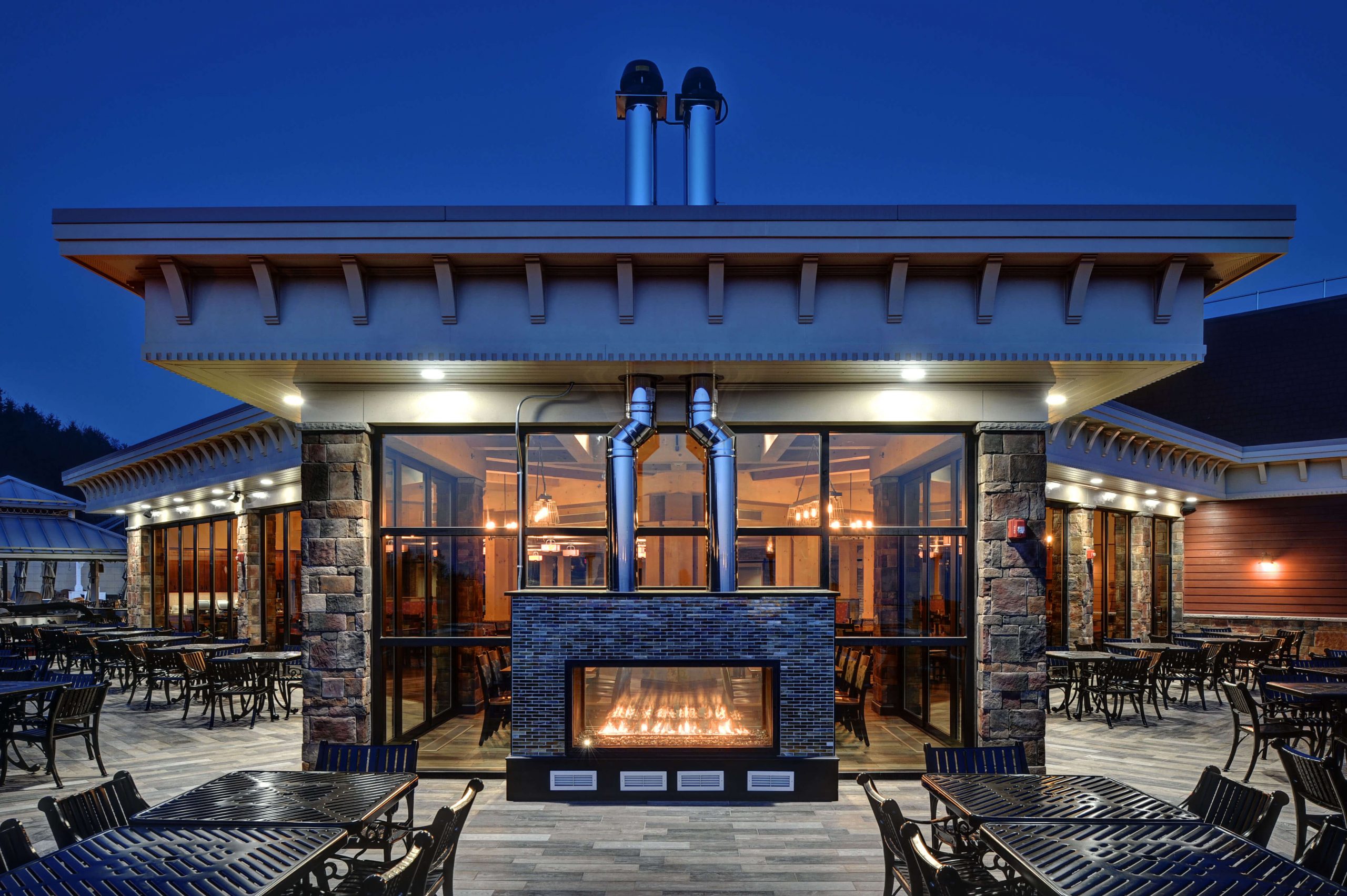 The gritty textures and neutral tones of stone fireplaces remind viewers of simpler times when materials were harvested directly from the earth. The stone surround of this indoor/outdoor fireplace is reminiscent of the traditional masonry look, while the steel flues create a modern, industrialized appearance.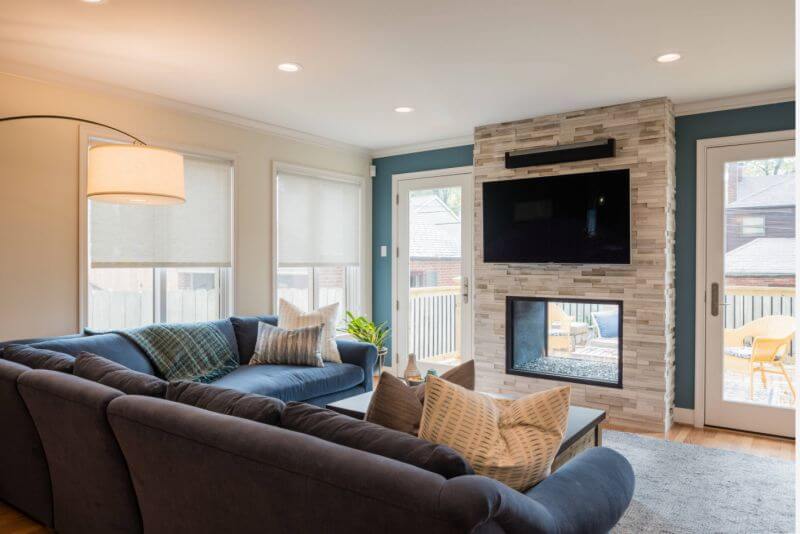 In this living room, the indoor/outdoor fireplace opens up the otherwise small space, bringing the charm of the nearby patio area (where it can also be enjoyed outdoors) into the lounge space. Whether you wish to connect a small patio or a large backyard to your living room, you can still achieve the look of a classic stone face with a modern appeal.
Outdoor Water Feature Fireplace Designs
The juxtaposition of fire and water creates a sense of defying nature in any space. For the look of a flowing stream, surround your fire feature with a bed of smooth stones or river rocks.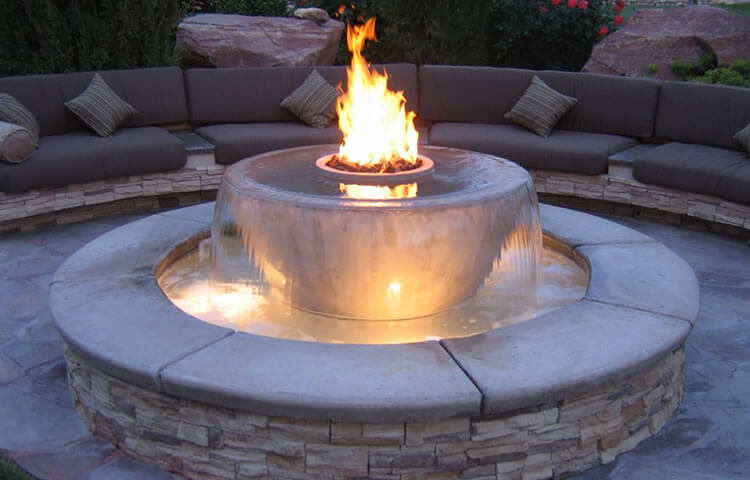 This contemporary fireplace surround, a flowing fountain reflective of "eternal flames", is a prominent symbol in many cultures around the world. As the water pours endlessly from the fountain, so does the fire burn from the center.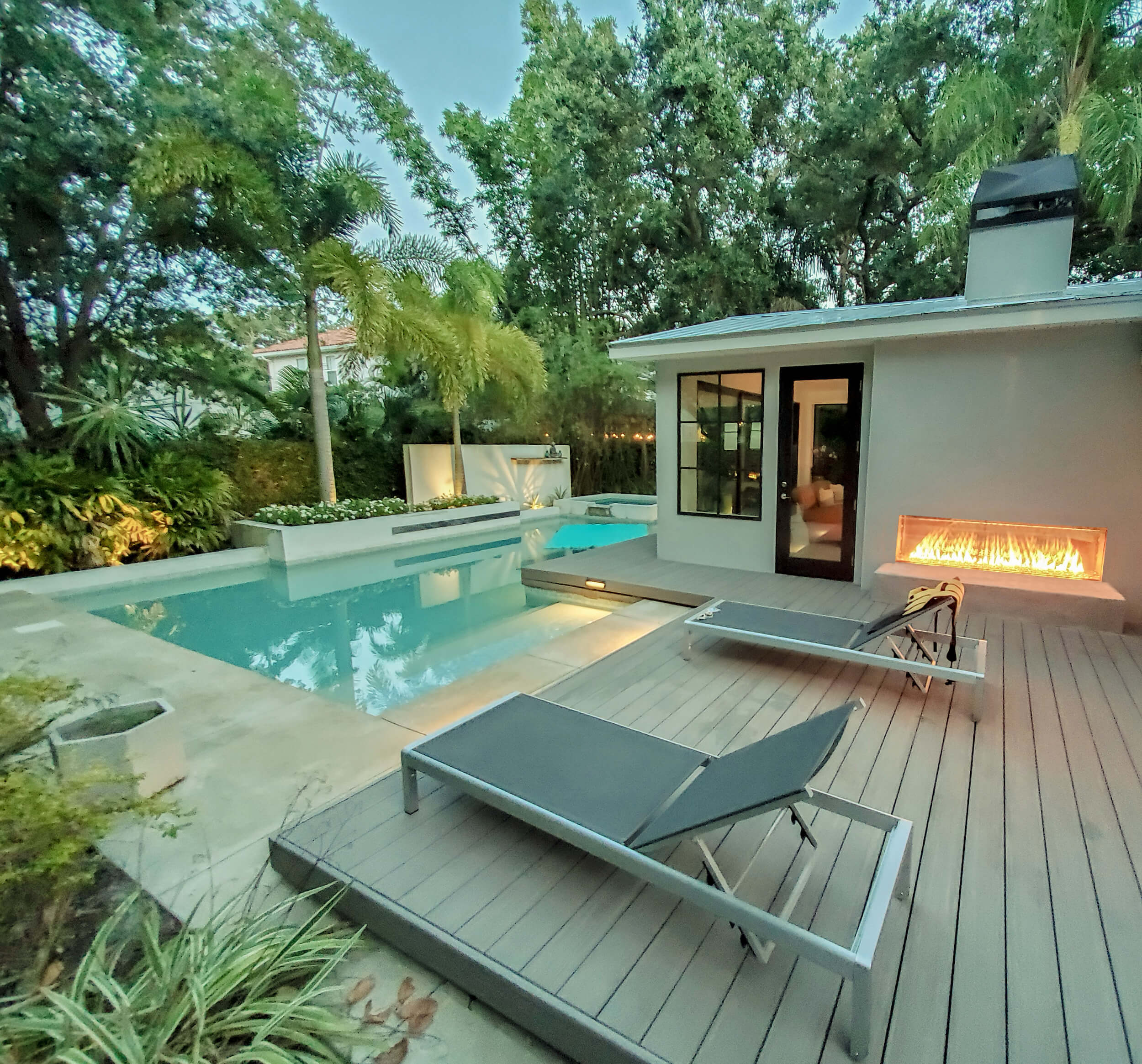 A poolside indoor/outdoor open fireplace can provide a unique ambiance both for viewings inside and those lounging by the water. Acucraft can make your dream poolside firepit a reality; get in touch with our fireplace advisors to start designing yours today.
Contemporary Fireplace Ideas
Let contemporary art take center stage in your fireplace design. Although most people typically consider fireplaces to be restricted to rectangular or otherwise boxy configurations, these futuristic pieces demonstrate that if you can dream it, Acucraft can be the partner that builds it. 
This concentric custom fireplace is one of the most unique pieces ever constructed by Acucraft. While the dark hue allows it to blend beautifully with the rest of the room, the stunning shape makes it stand out from its surroundings. With its glass panes, this piece achieves an intriguing sense of dimension as the fire is reflected against the glass. To its benefit, the flue is nearly invisible as it blends so perfectly with the piece.
Designs like this one are perfectly suited for restaurants, lobbies, and other large spaces for gathering and entertaining. They serve as a conversation-starter and can be viewed from either side, allowing guests to admire the flames and design from wherever they please.
Four-sided fireplaces, also known as "island fireplaces," are also ideal for accommodating large gatherings in which you intend for your guests to be able to enjoy the flames from anywhere in the space. These, of course, can be viewed from all sides, and so can easily be made into the room's focal design element.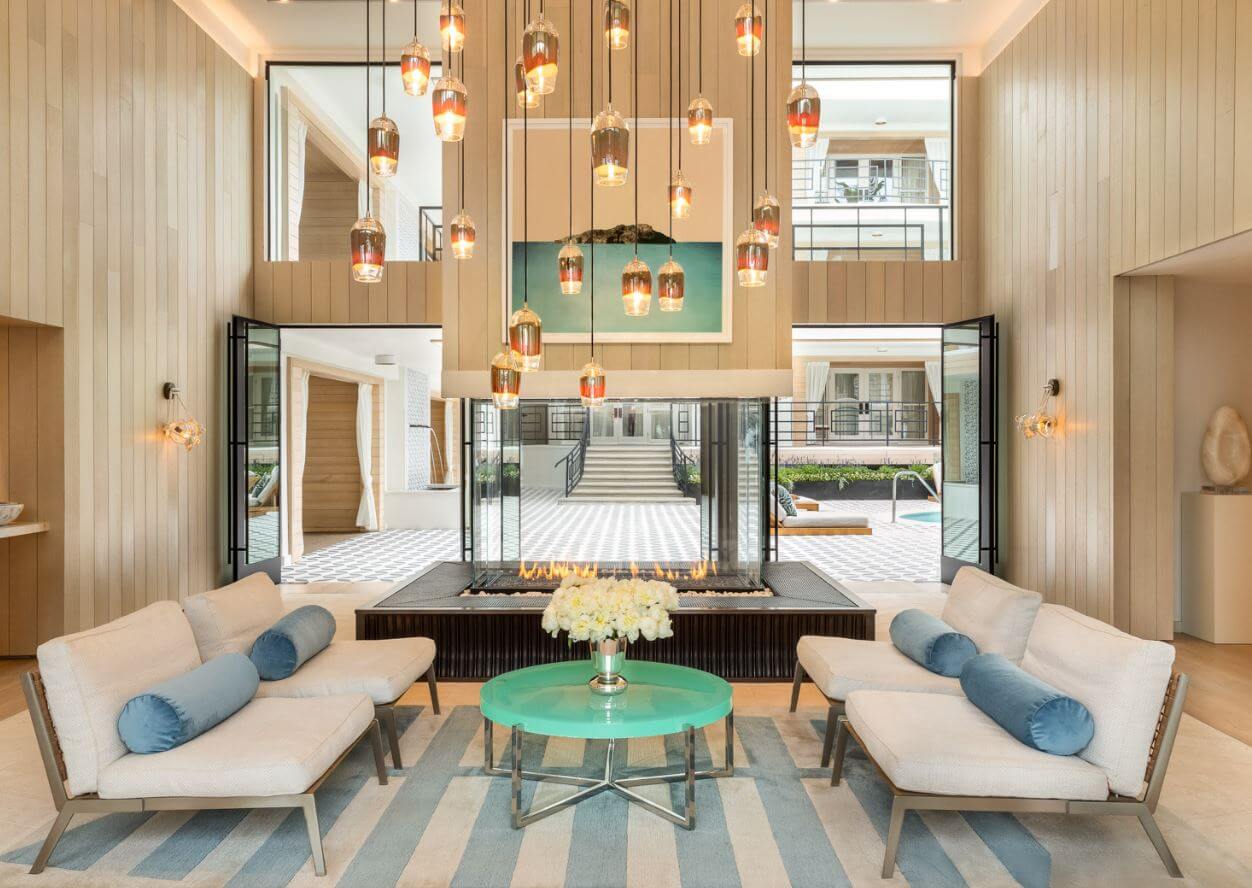 This example demonstrates how seamlessly such a unit would fit into a hotel lobby, where visitors can rest nearby indoors or admire the mesmerizing flames from the outside.
Convertible, Open Fireplace Designs
An open, modern gas fireplace is where contemporary fireplace design becomes truly versatile. Acucraft's Signature Series can be converted from open viewing to sealed and vice versa in a matter of minutes. This is truly where function meets form in contemporary fireplace design.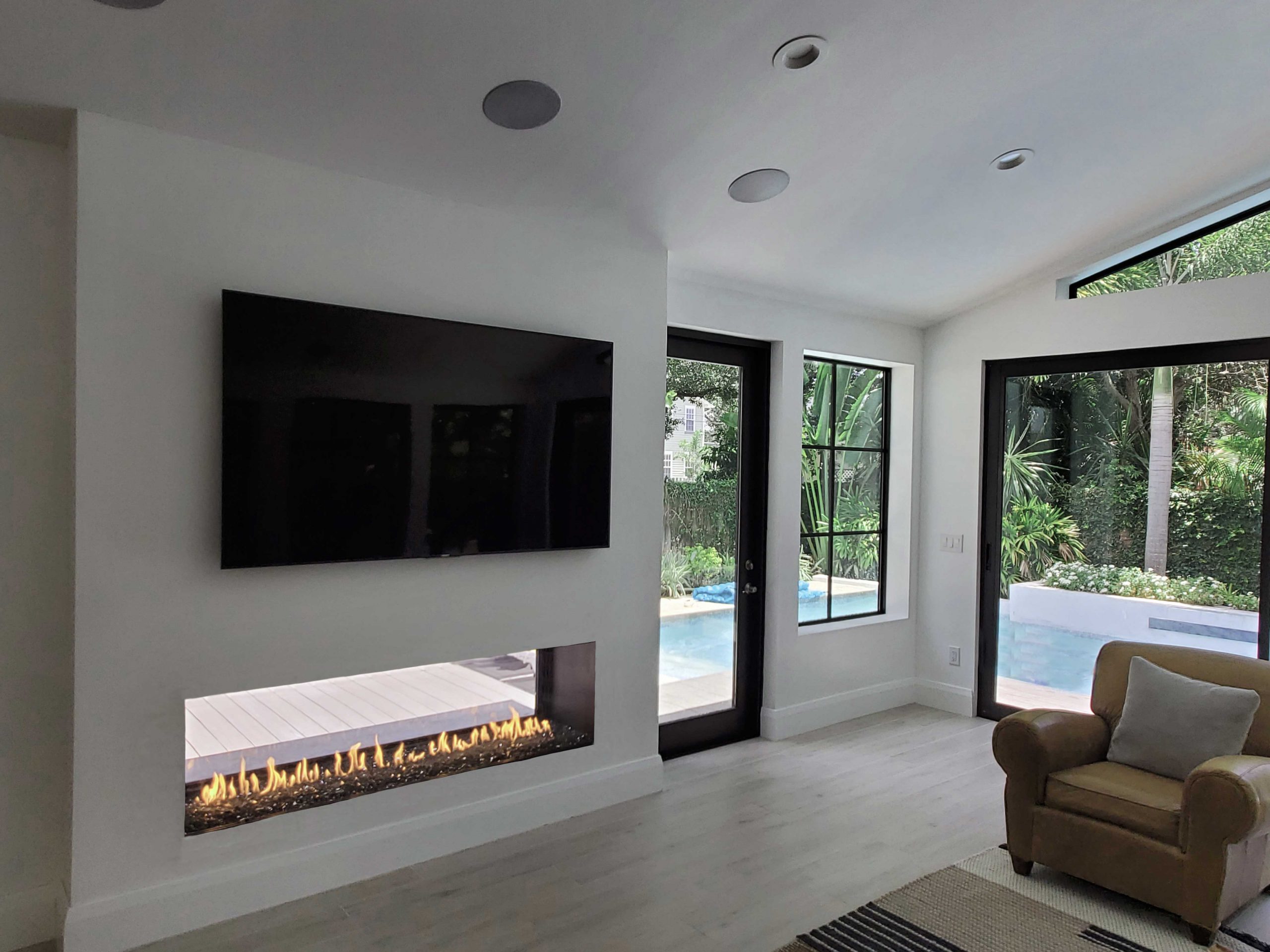 This example features the poolside indoor/outdoor fireplace we shared earlier. This convertible design is open in the top picture and closed in the bottom.
Customize Your Modern Luxury Fireplace With Acucraft 
Whether you want to install a linear fireplace indoors or a modern stone fireplace surround outside, you can select from gas, wood, or convertible alternatives and get precisely the ambiance you've been dreaming of. You can emphasize contemporary art in your chosen build, or go with a modest look instead to tie your space together. 
Fireplace manufacturing has come quite far in recent years. Gone are the days of being restricted to a boxy, boring fireplace made of brick, stone, and mortar. With these modern fireplace ideas, you have a clear place to start designing a unique fireside.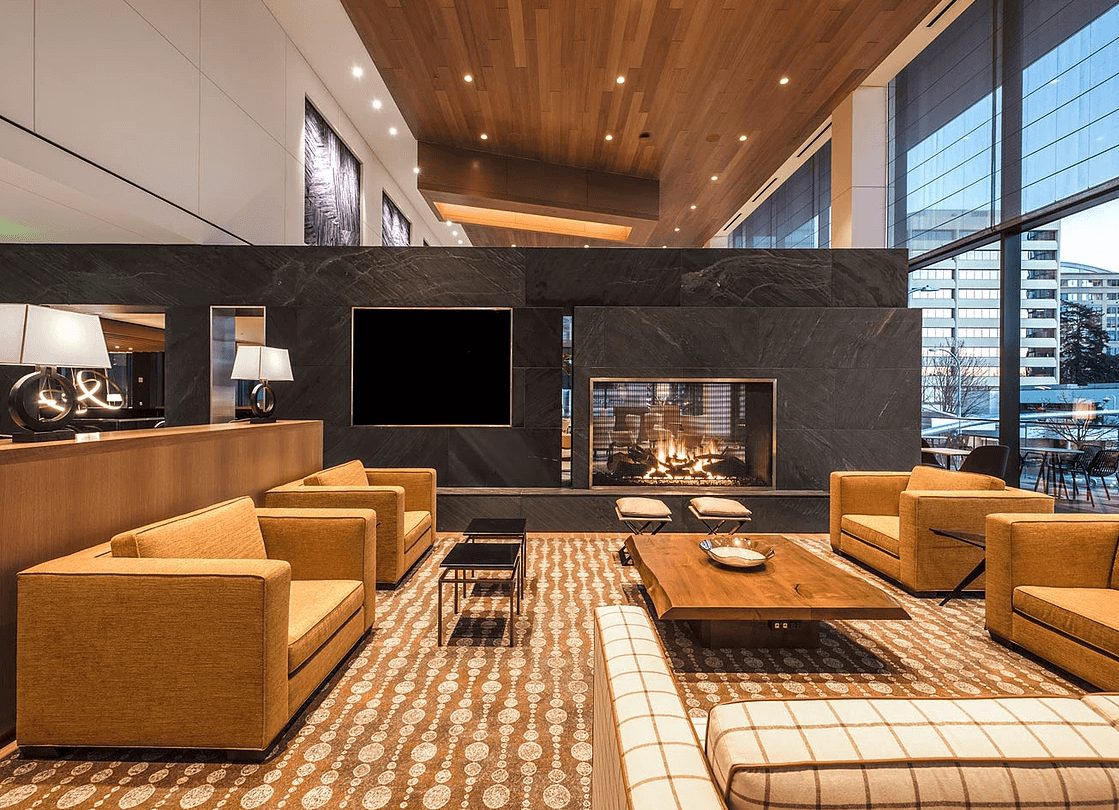 Popular customizations for modern fireplace designs include…
Round or Circular: This style delivers the ultimate focal point with 360-degree attention-grabbing views.
Open: With no glass panes or mesh, this fireplace style is entirely exposed for maximum warmth and beauty. Acucraft can offer convertible fireplaces that can be simply transformed from a sealed unit into an open one – or vice versa – in a matter of minutes.
Peninsula or Three-Sided: Another three-sided luxury modern fireplace, this unit is constructed as its own wall, creating two distinct sections of a single room.
Panoramic: Like the peninsula fireplace, this kind can be viewed from three sides. However, these units are typically installed along a wall, as opposed to extending out from one.
With Acucraft, the opportunities for creating an awe-inspiring fireplace are endless. Don't settle for a run-of-the-mill design. Get in touch with our consultants today for a fireplace that stands out.