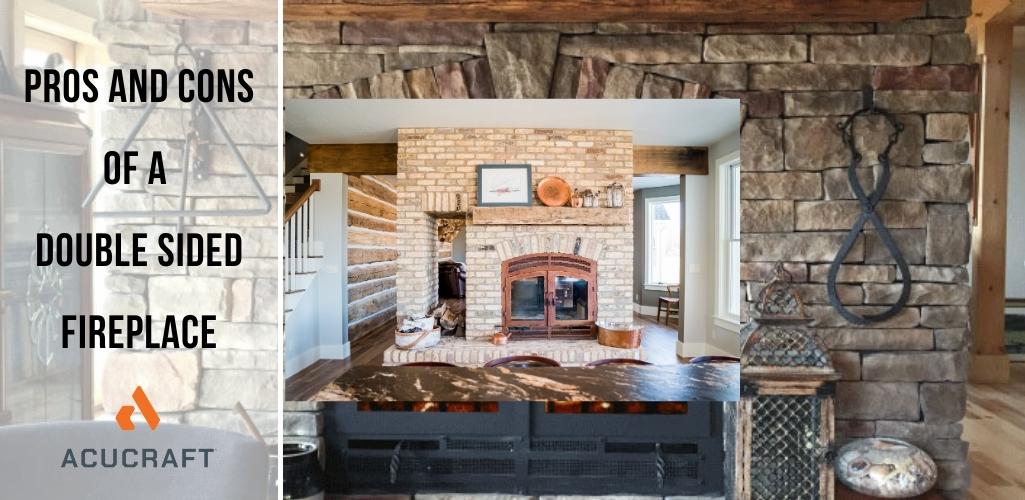 A fireplace is the home's perfect cozy companion, a source of relaxation and entertainment that truly lights up a room. When the floor plan allows it, a double-sided fireplace can double those benefits. Learn about the pros and cons of double-sided fireplaces to find out if it's right for you. 
For over 30 years, Acucraft has perfected the double-sided wood fireplace concept, combining ingenuity with fine craftsmanship to give you the ultimate fireplace experience. With many different styles, sizes, and designs to choose from, you can create a pass-through fireplace design that suits your home and your aesthetic.
Enjoy the atmosphere of a wood fire under the stars and seamlessly transition inside to sit by the same fire when the weather turns. The various ways a two-sided fireplace can tie a home together are truly unlimited.

Explore Acucraft's beautiful double-sided wood and gas fireplaces.
What is a Double-Sided Fireplace?
Whether you call it a double-side fireplace, double-faced fireplace, two-sided, or see-through, the concept remains the same, which is to exist in between two spaces and provide ambiance for both – not to be confused with an indoor/outdoor fireplace, which always bridges the gap between the indoors and outdoors.
Although a double-sided fireplace can serve that purpose, it can also exist in a wall between any two rooms. A double-sided fireplace can be wood burning or gas burning, depending on your preference for aesthetics and ease of use.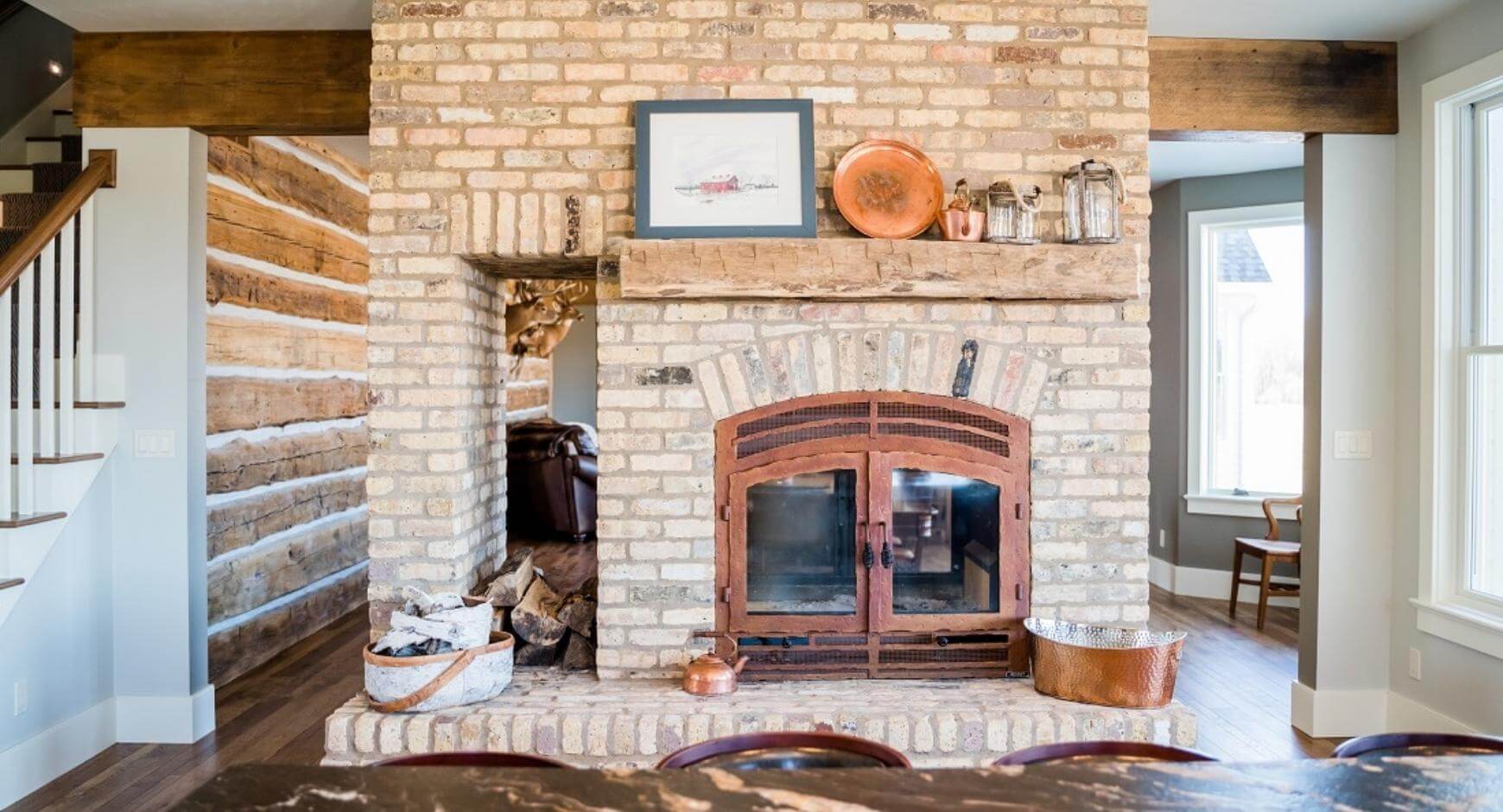 Two-Way Fireplace Benefits and Considerations 
The double fireplace pros and cons list tends to be pretty one-sided because what could be the downside to having a fireplace in multiple rooms? When looking at how a double-sided fireplace works compared to a traditional fireplace, the difference is minimal. The small amount of added cleaning is worth the effort when you see our favorite two-sided fireplace ideas.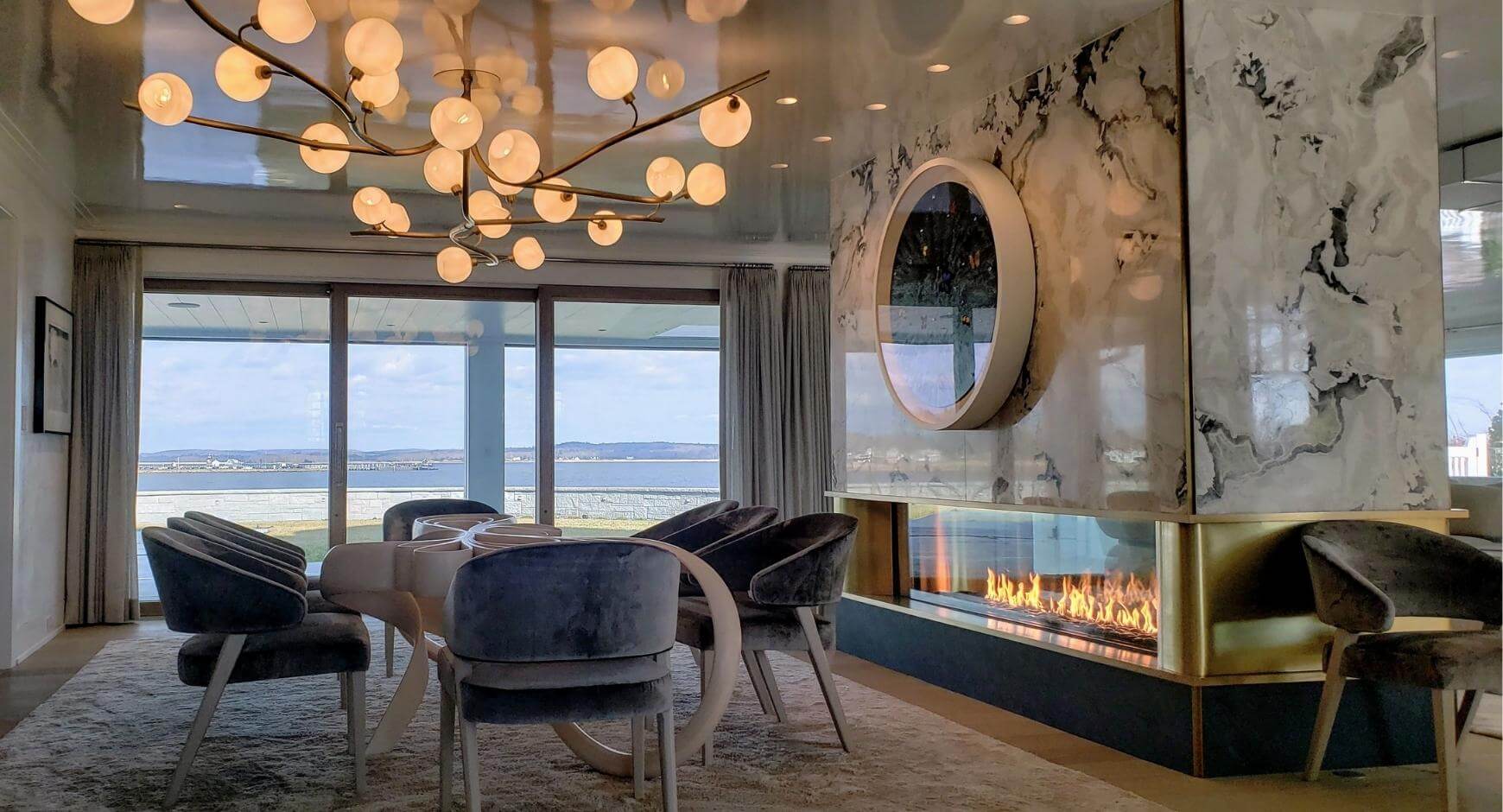 Benefits of a Double-Sided Fireplace
Double-sided fireplace ideas range from grand indoor/outdoor wood-burning fireplaces to double-sided linear gas fireplaces that fit seamlessly between any two rooms. If you're interested in updating your home with a fireplace, why not make it a double fireplace to make the most use of your space? If you're not convinced, check out the list below to see the benefits of making your fireplace double-sided.
Endless Style Options: Whether you're interested in a two-sided linear fireplace, or a wood-burning double-door fireplace, there are endless ways to customize each, and the doors are always fully operable, whether you want them open, closed, or fully removed with a firescreen. Choose your stone surround, the patina of your doors, handles, log sets, fire screens, and so much more.
Even Heat Distribution: Traditional fireplace designs tend to keep the warmed air close to the fire, but two-sided fireplaces can provide that supplemental warmth to multiple rooms. Set one side of the fireplace in the main bedroom and stay cozy all winter long.
Range of Sizes: Traditionally, Acucraft's wood-burning fireplace comes in three desirable sizes: 36" wide, 44" wide, and 48" wide. The sizes allow for the best combination of burn time and viewing areas. However, if you are looking for something dramatic, Acucraft can create a 2-sided fireplace in just about any size you'd like!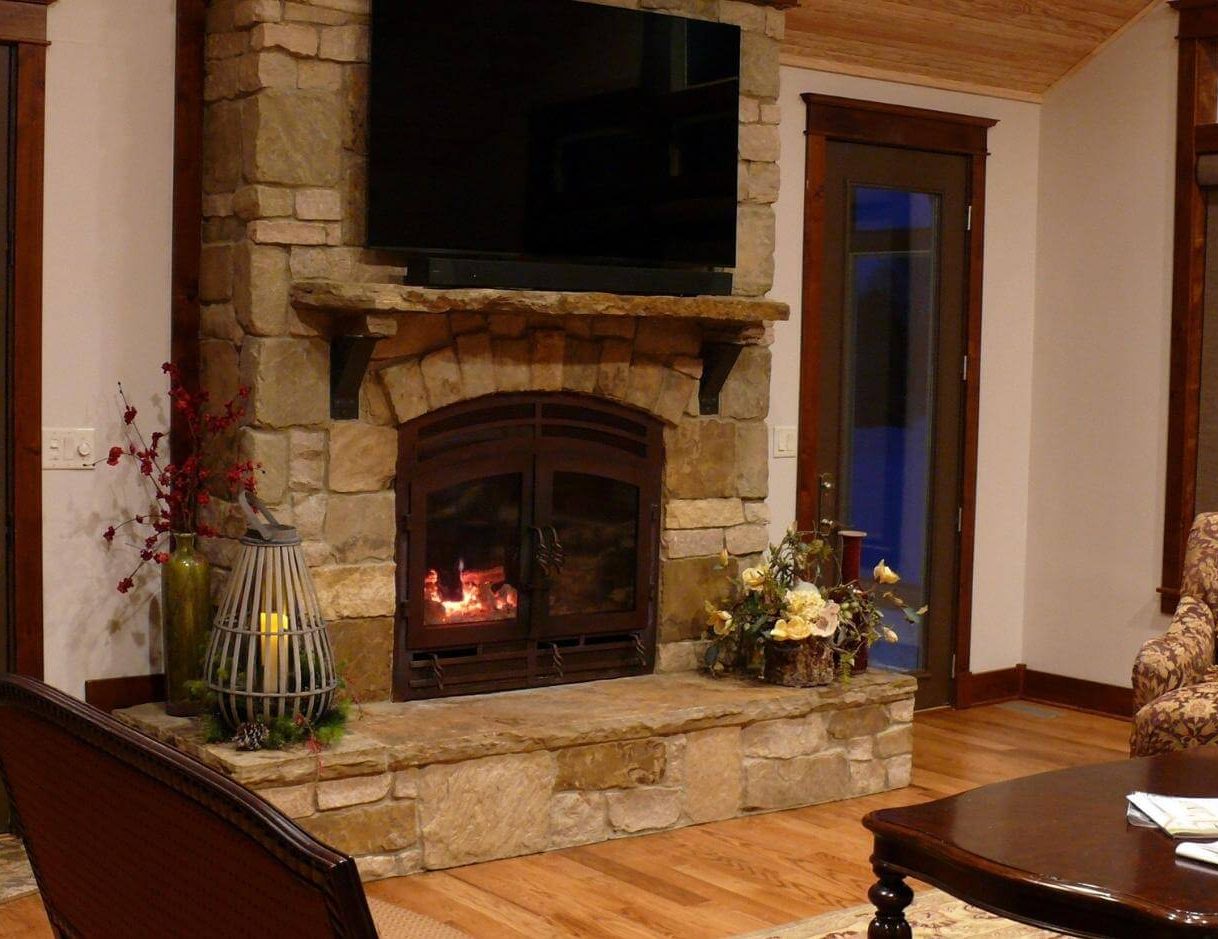 Cons of a Double-Sided Fireplace
The best double-sided gas fireplace won't do any good if you don't have the right wall to place it in. Fireplaces are often a consideration made during the construction of a home, but when they are added in later, you may encounter some problems.
However, where there's a will, there's a way. If you're remodeling your home or undergoing a renovation project, that's the perfect time to add a custom fireplace. When considering where to place your double fireplace, keep these thoughts in mind:
Finding Wall Supports: Since a double-sided fireplace will sit inside your wall, it needs to be in an area that is supported yet doesn't support the load of the house above it. Finding the ideal section of wall can be difficult in some homes.
Contrasting Styles: A double-sided stone fireplace will ideally have the same facade on both sides, but when the interior of one of the rooms clashes with the design, you may choose to use different finishes on either side of the fireplace.
Increased Cost: Two-way fireplaces are a relatively new design trend, and the market has yet to bring the prices down with increased production. Nonetheless, with such a beautiful centerpiece, it pays to be at the forefront of fireplace design.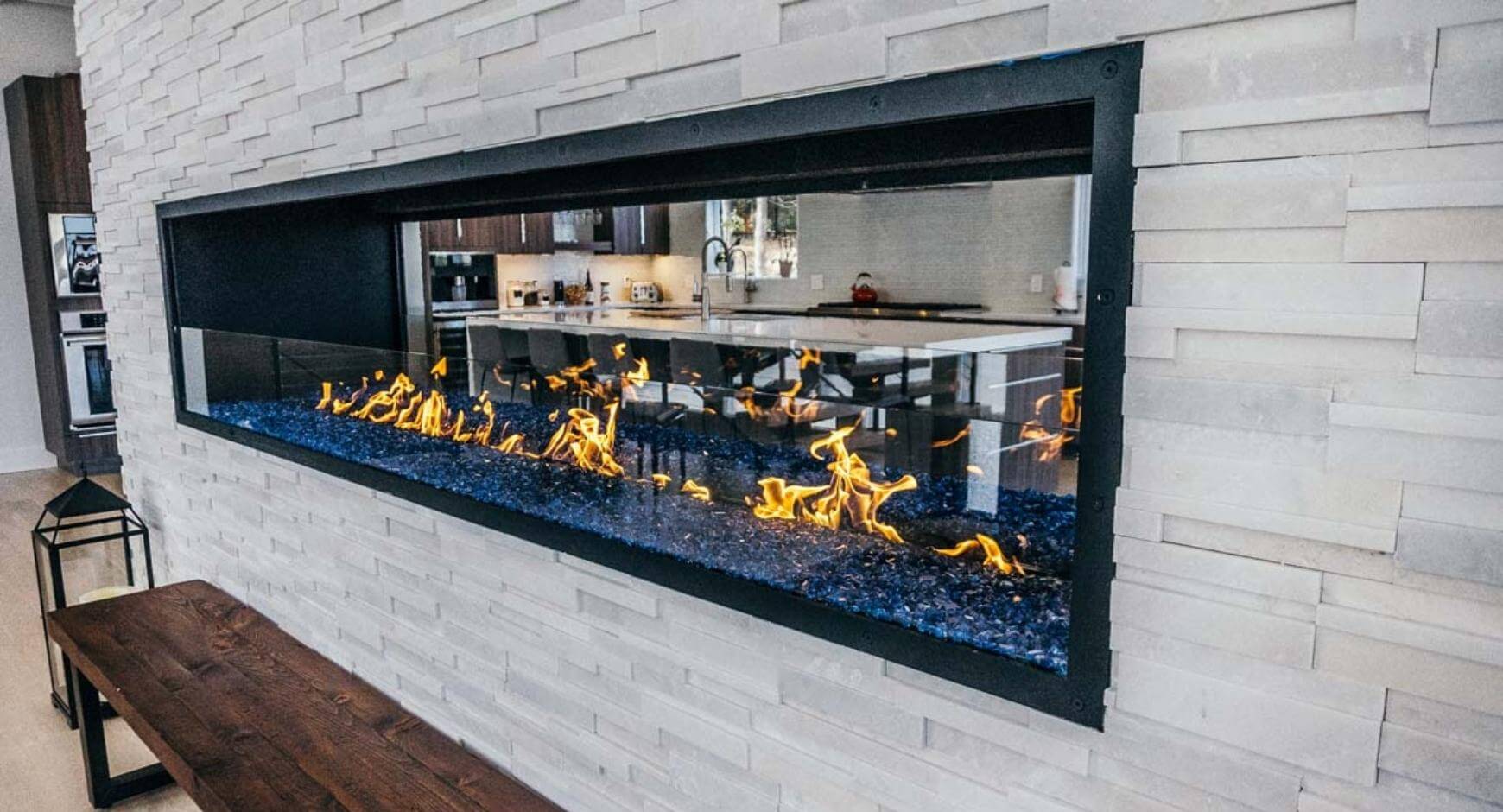 Is a Two-Sided Fireplace Right for You?
If you're having trouble envisioning how a two-sided fireplace will look in your home, check out these trending modern fireplace ideas. We've seen double-sided fireplaces in the kitchen, bathroom, entryway, and living room that look absolutely stunning.
Wherever you envision your fireplace, consider how the reverse side of that wall might look with a fire of its own. While it may not work for every room, double the fireplace is always double the fun, so ask yourself these questions before making a decision.
Which two spaces would you like a fireplace, and do they share a wall?
Would you prefer the crackle and aroma of a double-sided wood fireplace?
Is a double-sided gas fireplace's ease of use and remote capabilities more your style?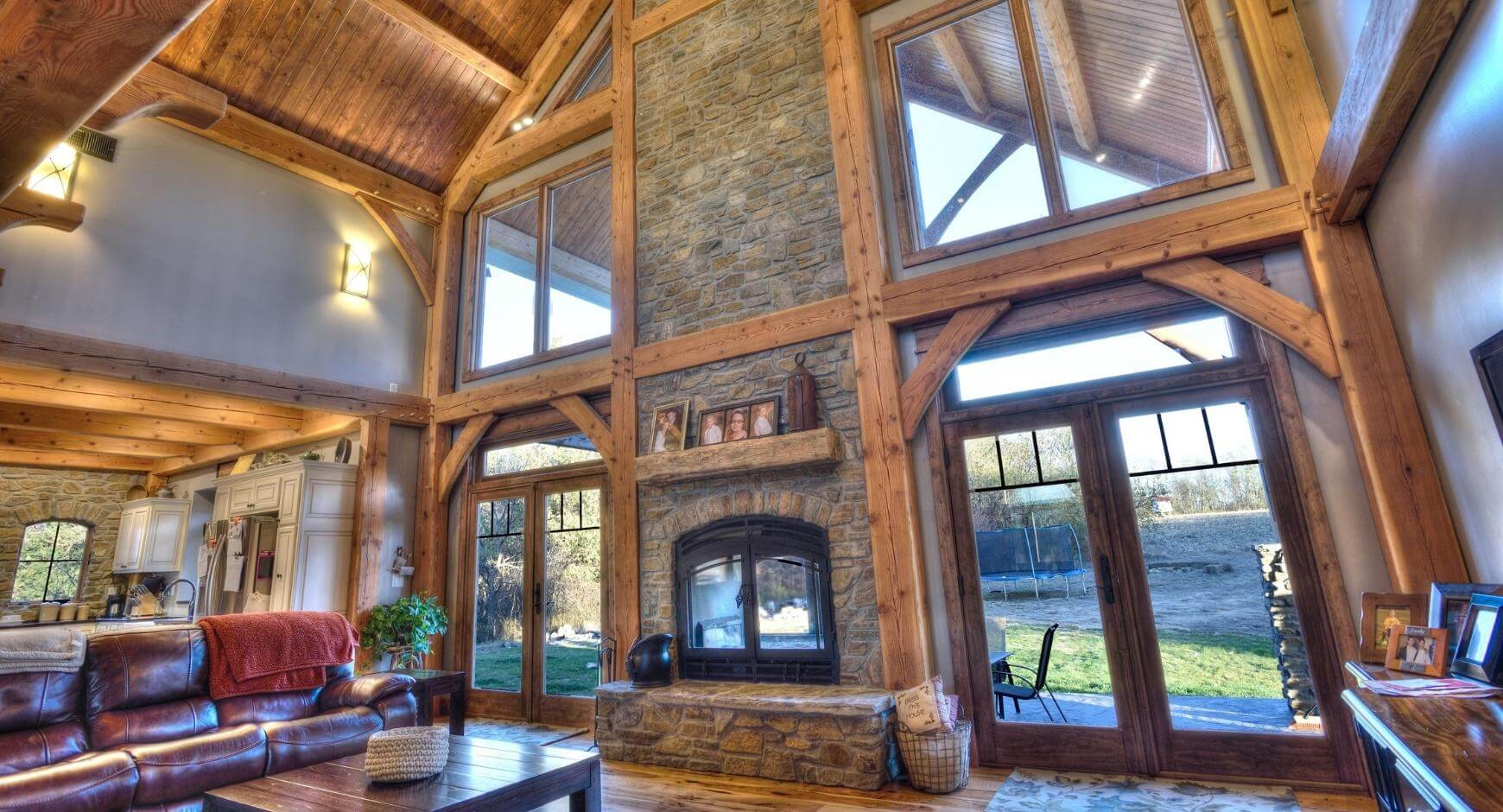 Design Your Dream Double-Sided Fireplace with Acucraft
The advantages of a fireplace are not all about style and a lower heating bill, but the joy and memories you will create around them. With Acucraft's double-sided wood fireplaces, you get all those advantages and more. Start making memories around your dream fireplace today by calling the experts at Acucraft. Check out our blog to learn more about our custom fireplaces and find some inspiration for your own design.