15 Inspirational Designs for a Living Room Fireplace
Nothing makes a house a home quite like a warm and inviting living room with a fireplace. Living room fireplace designs run the gamut from seamless and modern to rustic and traditional. Explore these 15 beautiful examples of living room fireplaces to find inspiration for your own design.
Whether you're building your dream home, designing someone else's, or renovating, there is no wrong time to install a fireplace in the living room. According to the National Association of Real Estate Appraisers, adding a fireplace to a home can increase the resale value by as much as 6-12 percent. It's an investment in your quality of life that will pay itself off in more ways than one.


Contact the fireplace experts at Acucraft to customize the perfect fireplace for your living room today. 
15 Beautiful Living Rooms with Fireplaces
If you're looking for a little inspiration to reimagine your living room design with a fireplace, you've come to the right place. This stunning collection of fireplace living room designs is sure to spark an idea or two for your own custom fireplace. Enjoy our top 15 picks for beautiful living room fireplace ideas.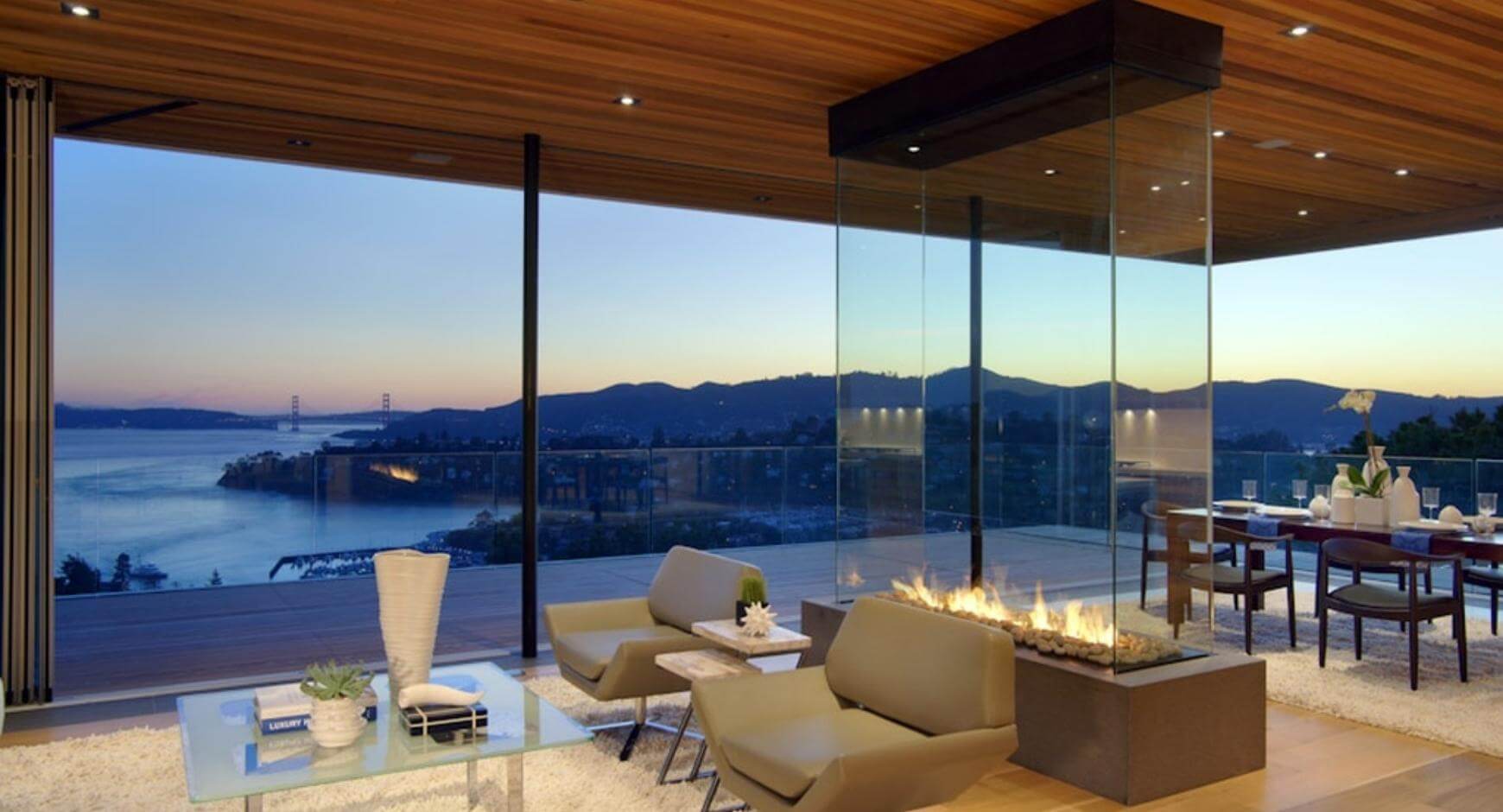 Floor-to-Ceiling Glass
A floor-to-ceiling fireplace in the living room doesn't need to feel like a wall separating two gathering spaces. Take this four-sided gas fireplace, for example; it fits perfectly into its space without cutting off any of the living room's striking views. Designing around a fireplace can be much easier when that fireplace fits the home's aesthetic. Floor-to-ceiling glass fireplaces come with some advantages:
Unobstructed 360-degree views
Contemporary aesthetic
Ties separate spaces together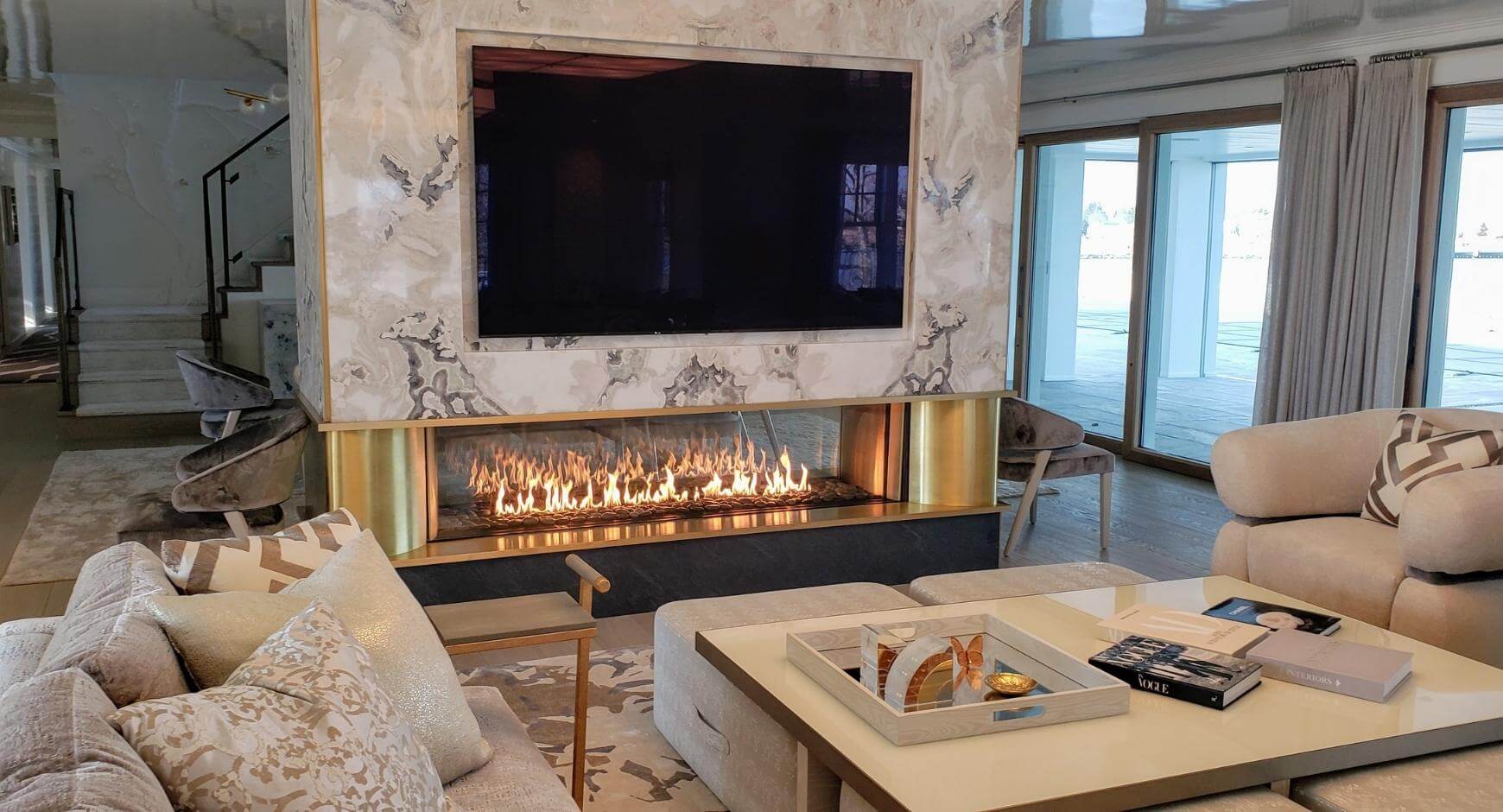 Marble and Gold Surround 
If art deco is more in line with your tastes, you'll love this marble and gold fireplace design. It's the kind of living room fireplace you might find in the Great Gatsby's luxury mansion. Completing the look with a see-through gas fireplace gives you two rooms with fireplaces for the price of one. When considering living room ideas with a fireplace and TV, you won't find a design more elegant than this one.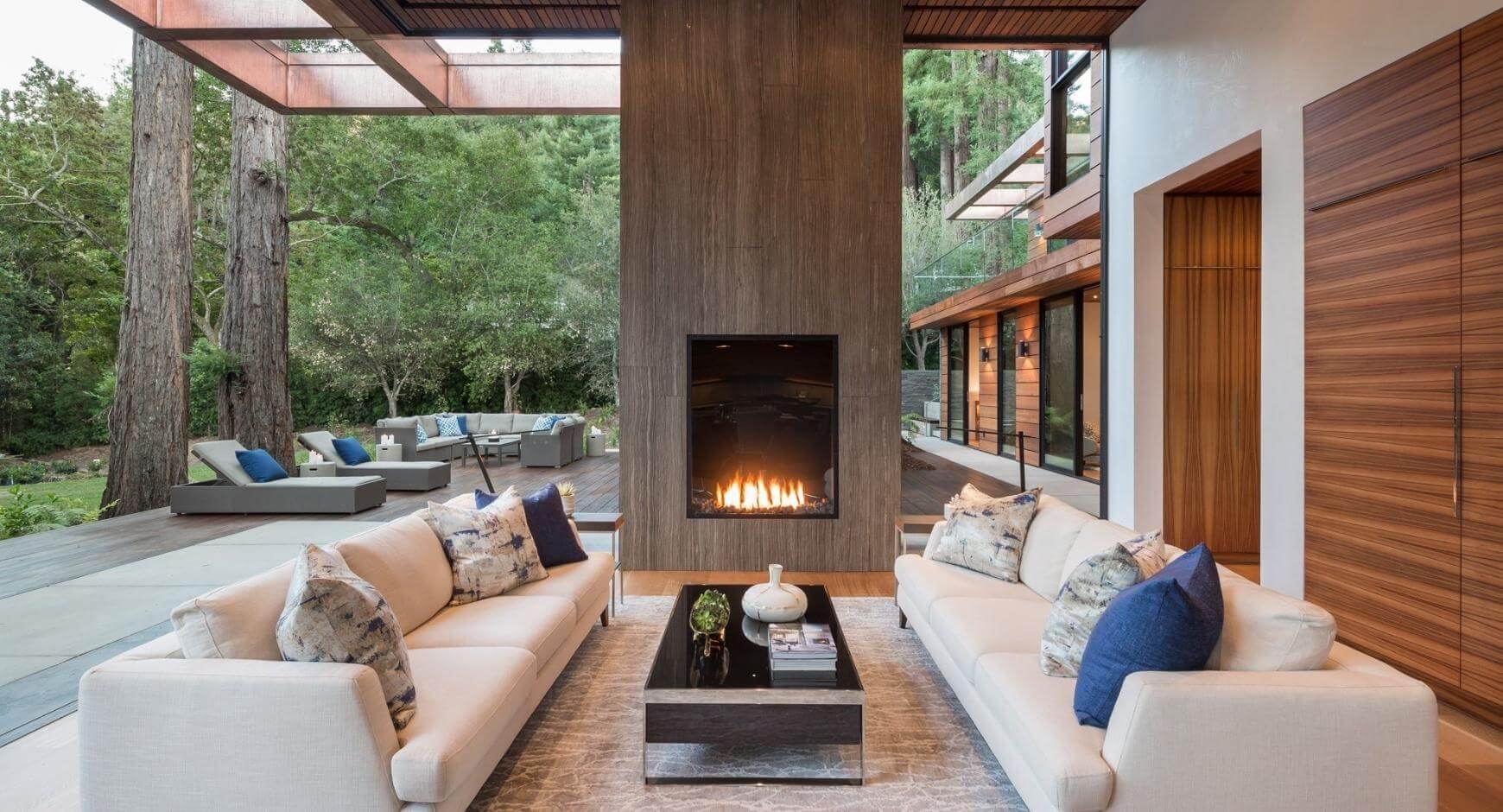 Gray Wood Grain for the Outdoor Living Room
Outdoor living rooms go beyond a traditional patio or deck area to bring the style and comfort of a small living room with a fireplace outside. This fireplace's gray wood grain surround mimics the great trees around it to bring the two worlds together. A simple front-facing gas fireplace is at the core of this naturally beautiful design. If you're considering an outdoor living room with a fireplace, you'll love these added benefits:
Sit fireside without dodging smoke
Contain your fires for added safety
Enjoy the outdoors in comfort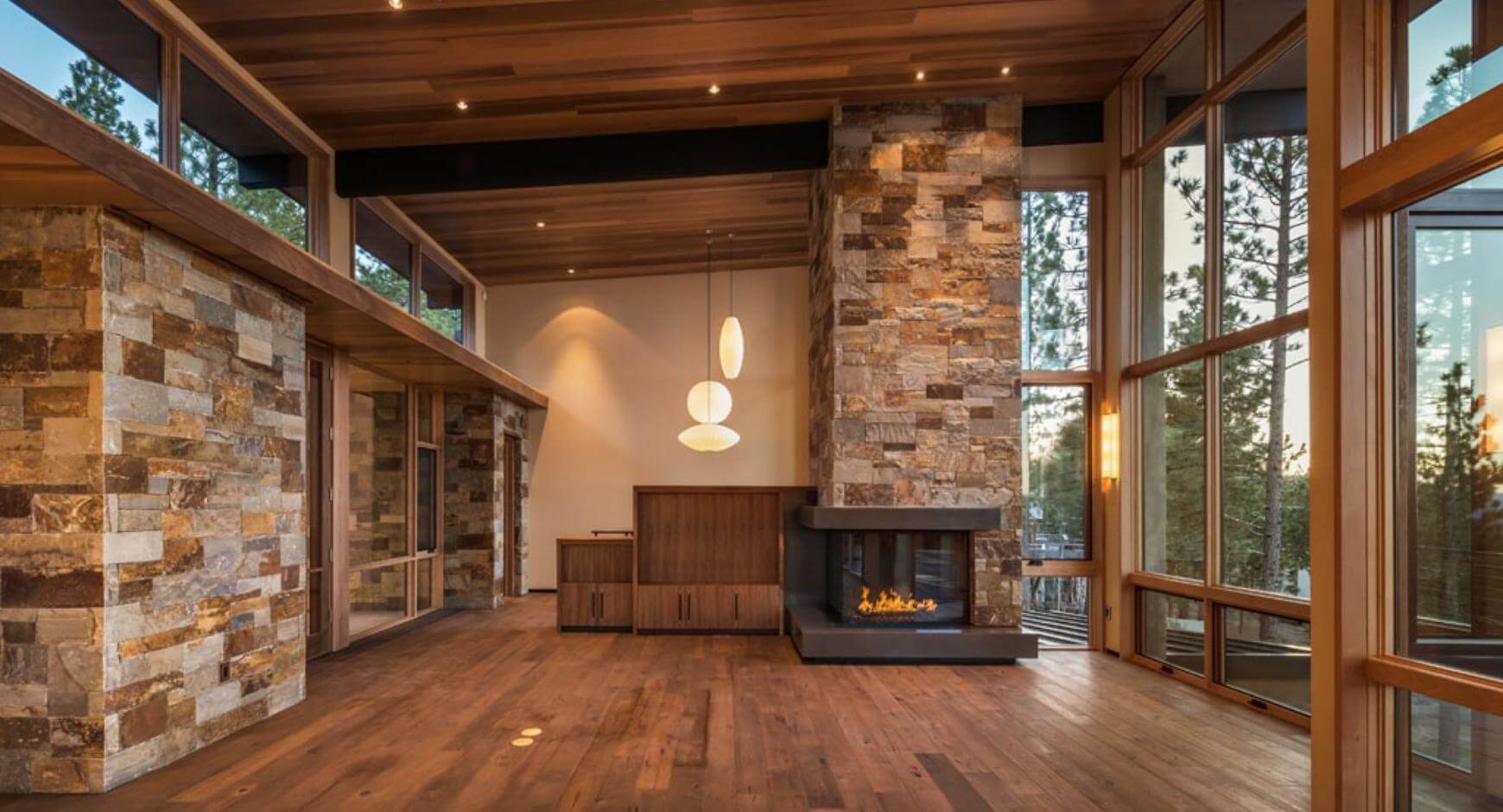 Contemporary Corner with Stone Surround
If your living room fireplace ideas straddle the line between contemporary and traditional, you'll love this custom gas corner fireplace. The clean straight lines that are a hallmark of modern design contrast beautifully with the rustic stone surround. When it comes time to begin decorating a living room with a fireplace like this, you can go in either direction with stunning results.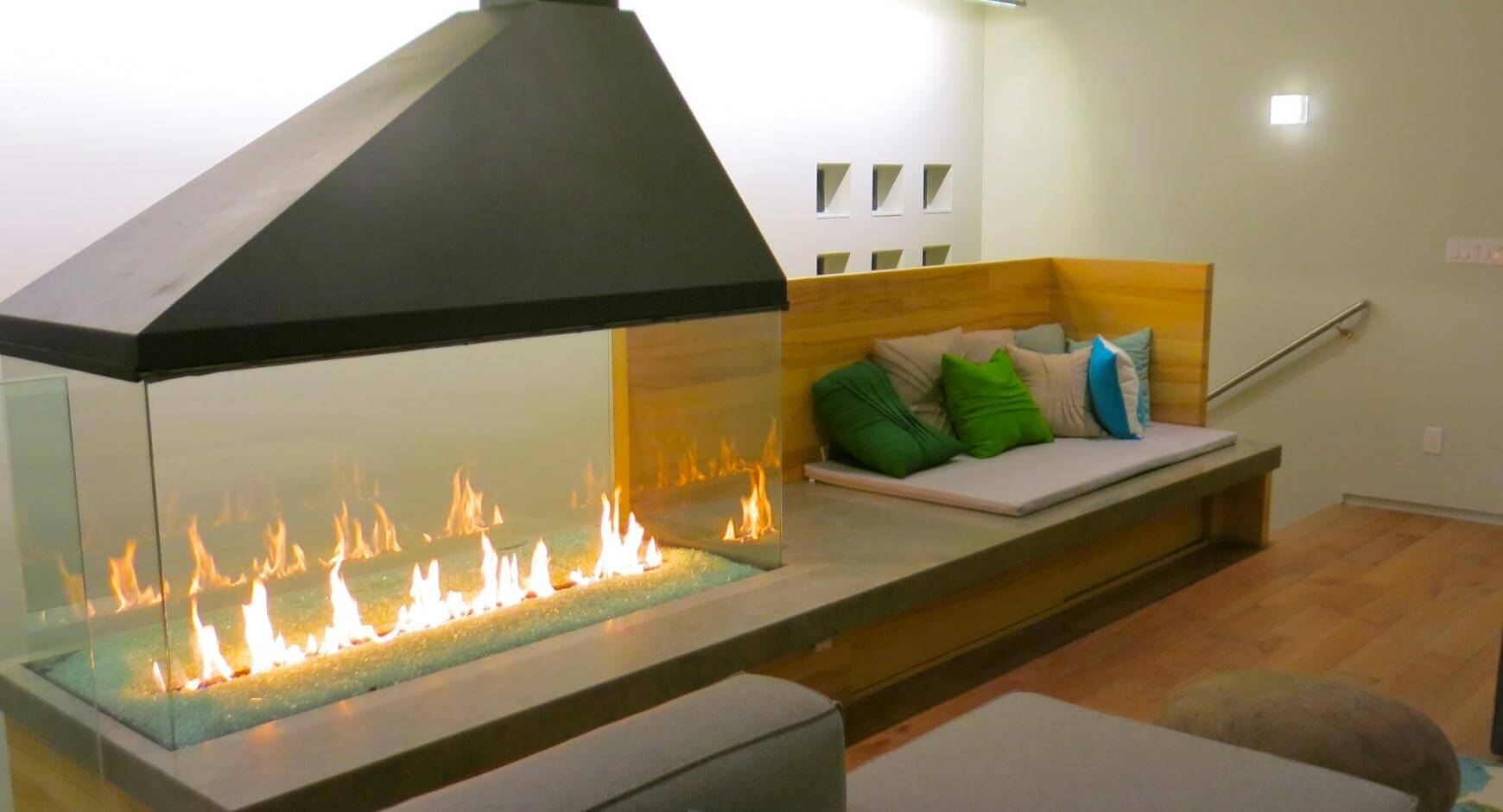 Put a Unique Spin on an Exposed Flue
In any small living room with a fireplace, it's important to make the most out of the space, and there's no better way to do that than with a four-sided gas fireplace. If the floor-to-ceiling glass doesn't align with your style, you can try something unique like an exposed flue for a more industrial look. Modern fireplace design is incredibly versatile and carries countless advantages:
Seamless appearance
Combines form and function
Sophisticated, contemporary aesthetic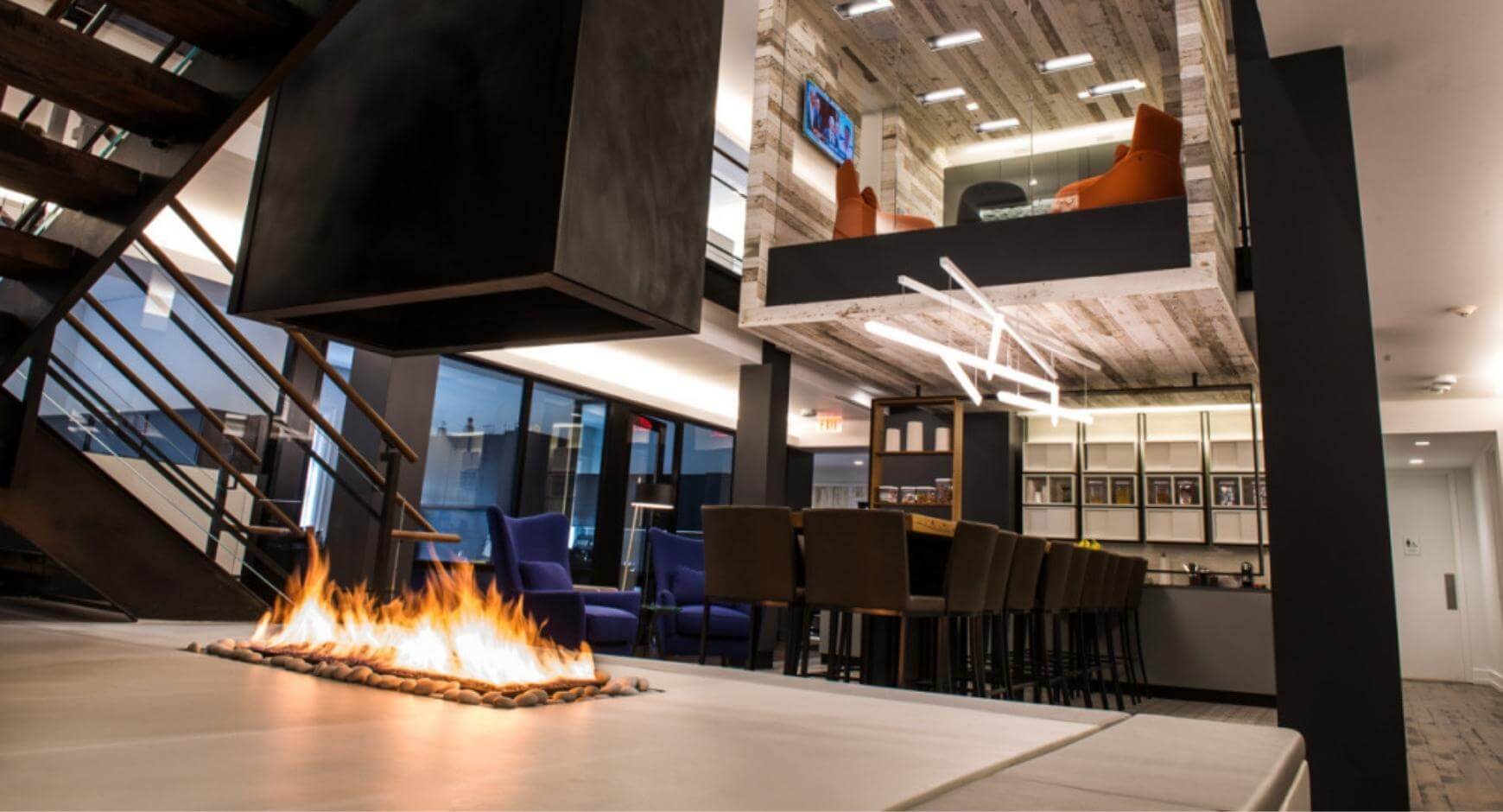 Open Design Concepts
Designing around a fireplace can be difficult when you have young children or pets running around. However, if your circumstances permit it, an open gas fireplace makes for a brilliant centerpiece.
As open design concepts have become a more influential trend, our designers at Acucraft responded in kind by designing an open gas fireplace based on the same concept. Now, you can fully embrace this interior design trend. It's a bold look that offers the chance to cook some tasty s'mores whenever the mood strikes.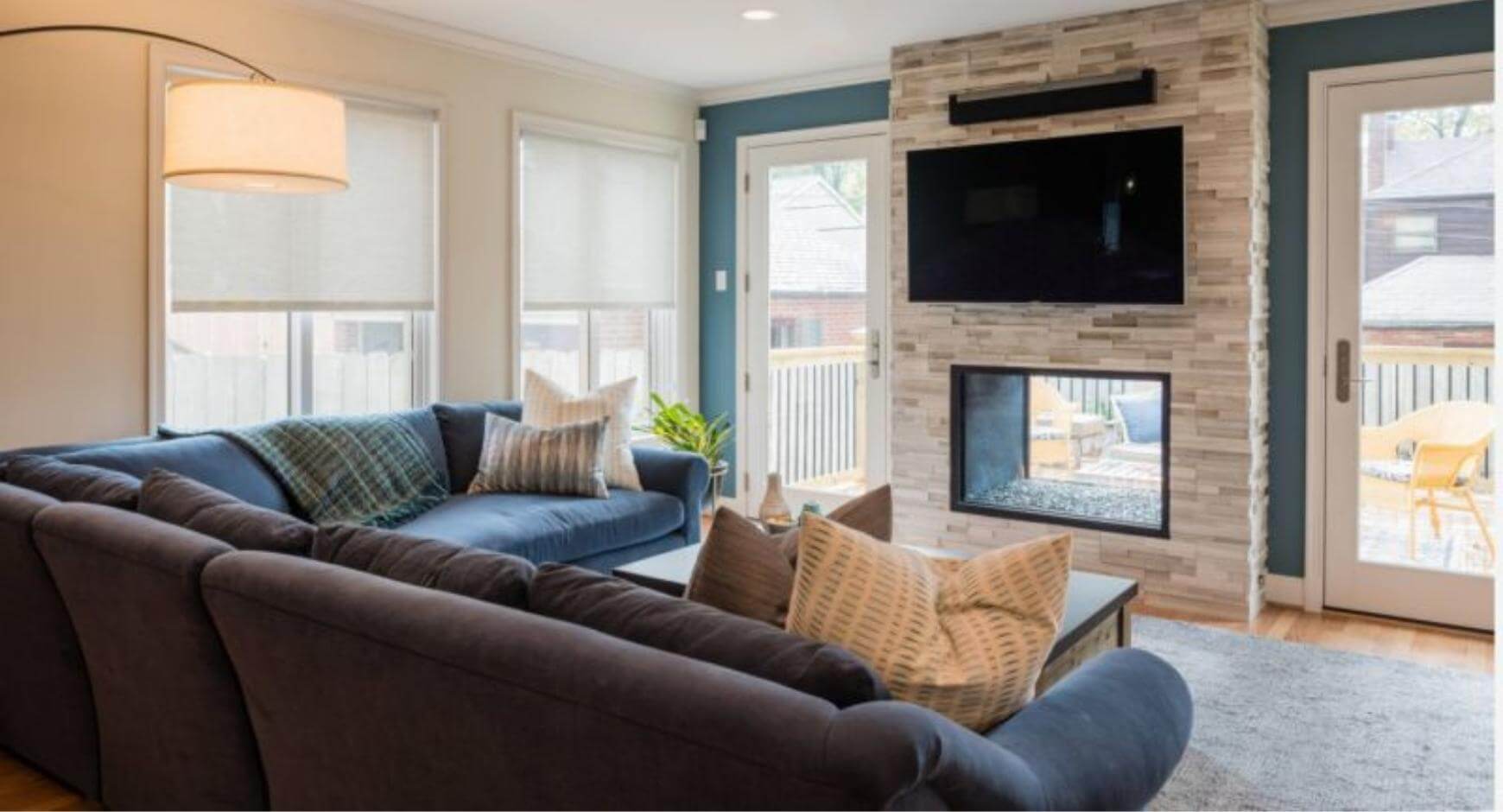 Stacked, Thin Stone Veneer
Fireplace ideas for small living rooms like this one make great use of the space with both a TV above and an adjacent outdoor space. An indoor-outdoor gas fireplace is the perfect addition to a living room and patio area. While it may not be possible for every home, if you have the opportunity to add a double-sided fireplace you'll love the advantages:
Escape inclement weather and stay comfortable
Upgrade both entertainment areas simultaneously 
Create a cohesive flow between areas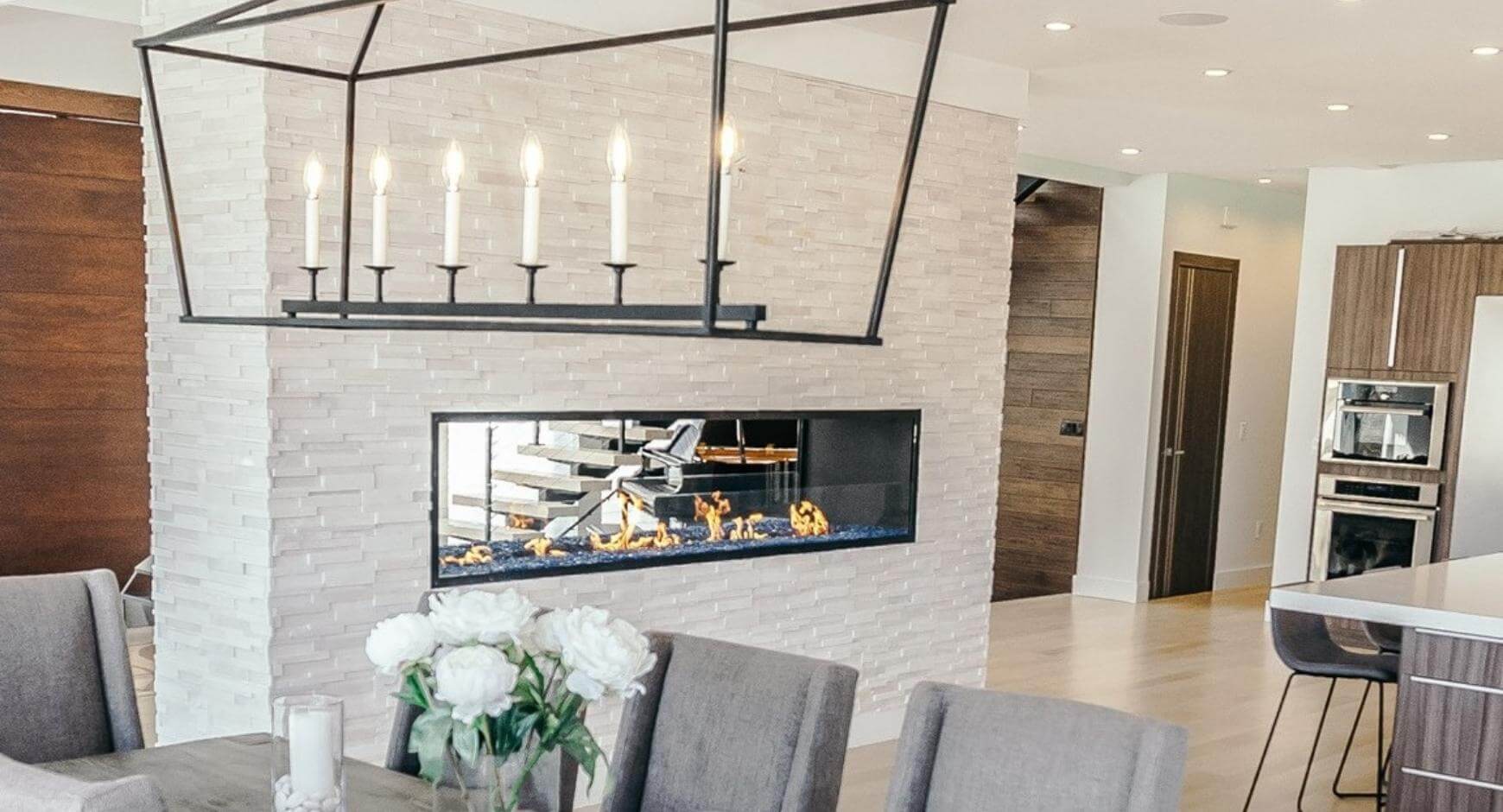 Simple White Brick
You can decorate a living room with a fireplace in a wide array of extraordinary ways, but sometimes the simple designs work best. This classic white brick surround beautifully compliments the see-thru linear gas fireplace it houses. It's a timeless aesthetic that's both simple and sophisticated and sure to get a ton of compliments at your next gathering.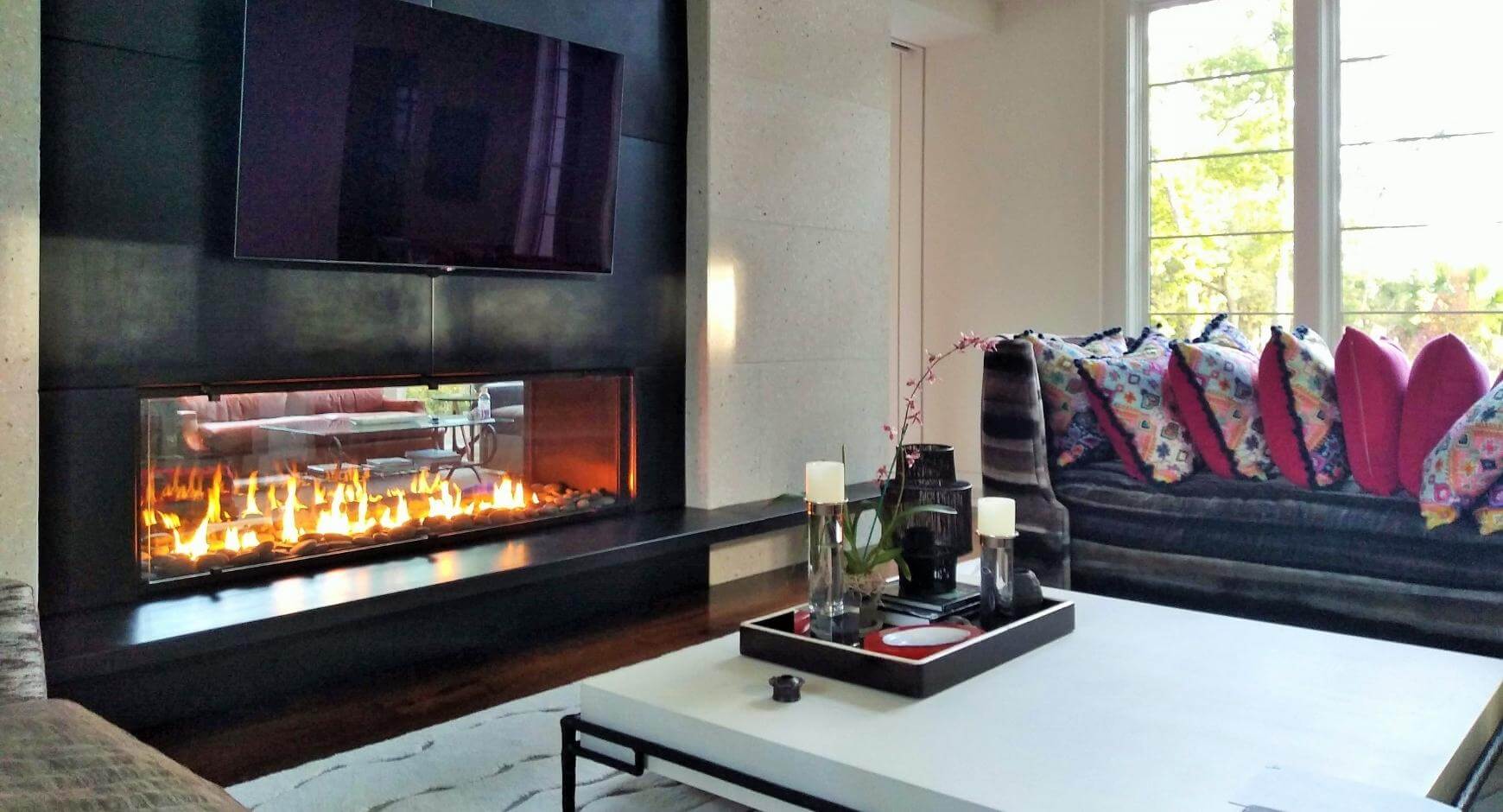 Sleek and See-Through 
Fireplace designs don't always need to take center stage in your living room. Some prefer a frameless and subtle design that complements the existing elements of the house. This see-through gas fireplace, for instance, adds to the room's aesthetic without becoming the main focus. It's also possible to embellish the fireplace on the alternate side with a more intricate surround for a mix of both styles.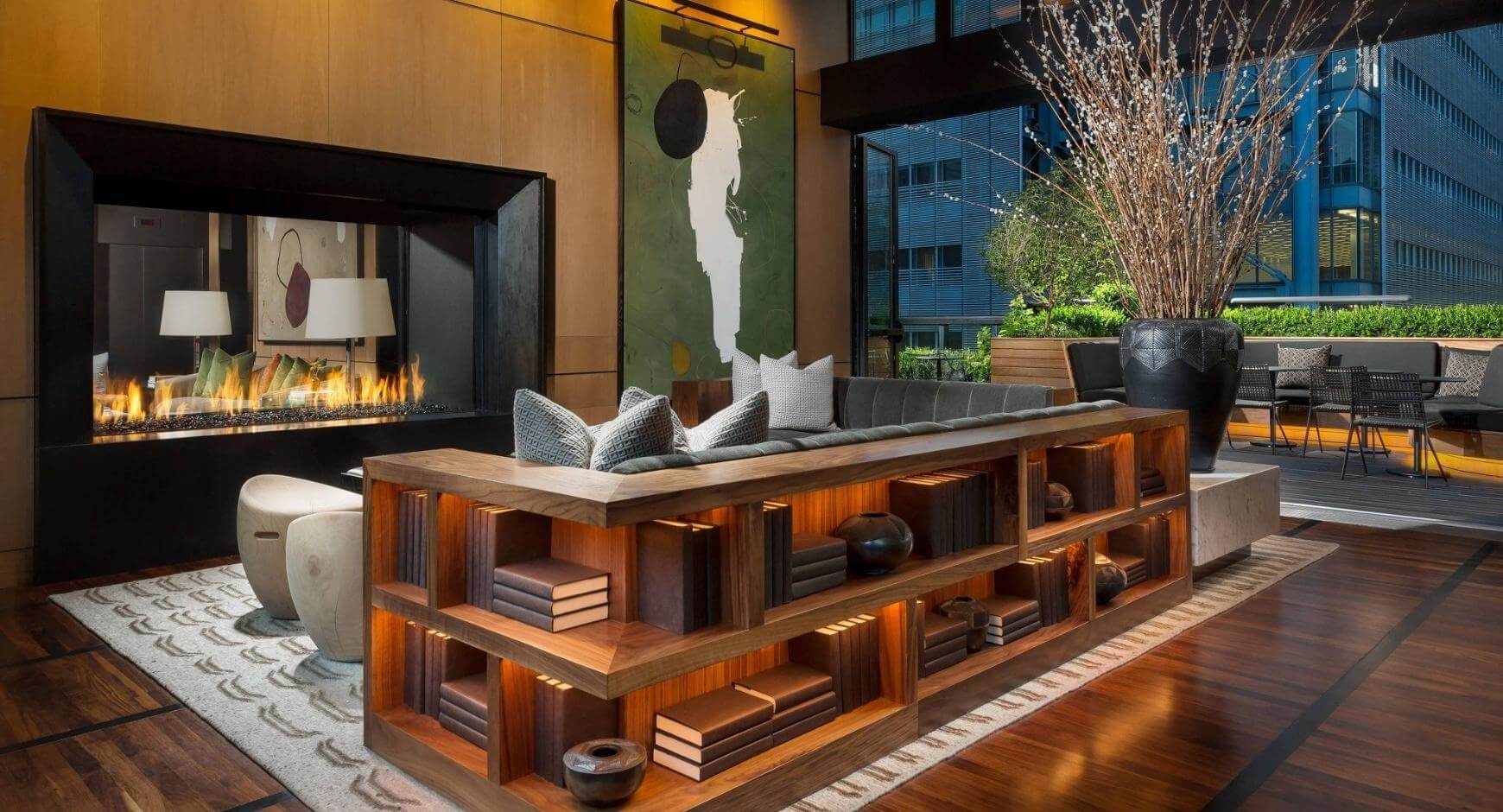 Go Big with a Bold Frame
Acucraft's custom fireplaces can be tailored to match any home's appearance, even the great bold lines of this New York City highrise. The bold border of this living room fireplace captures the style of this home and the city in which it lives. It's no wonder that the see-thru glass fireplace was one of this year's top fireplace trends.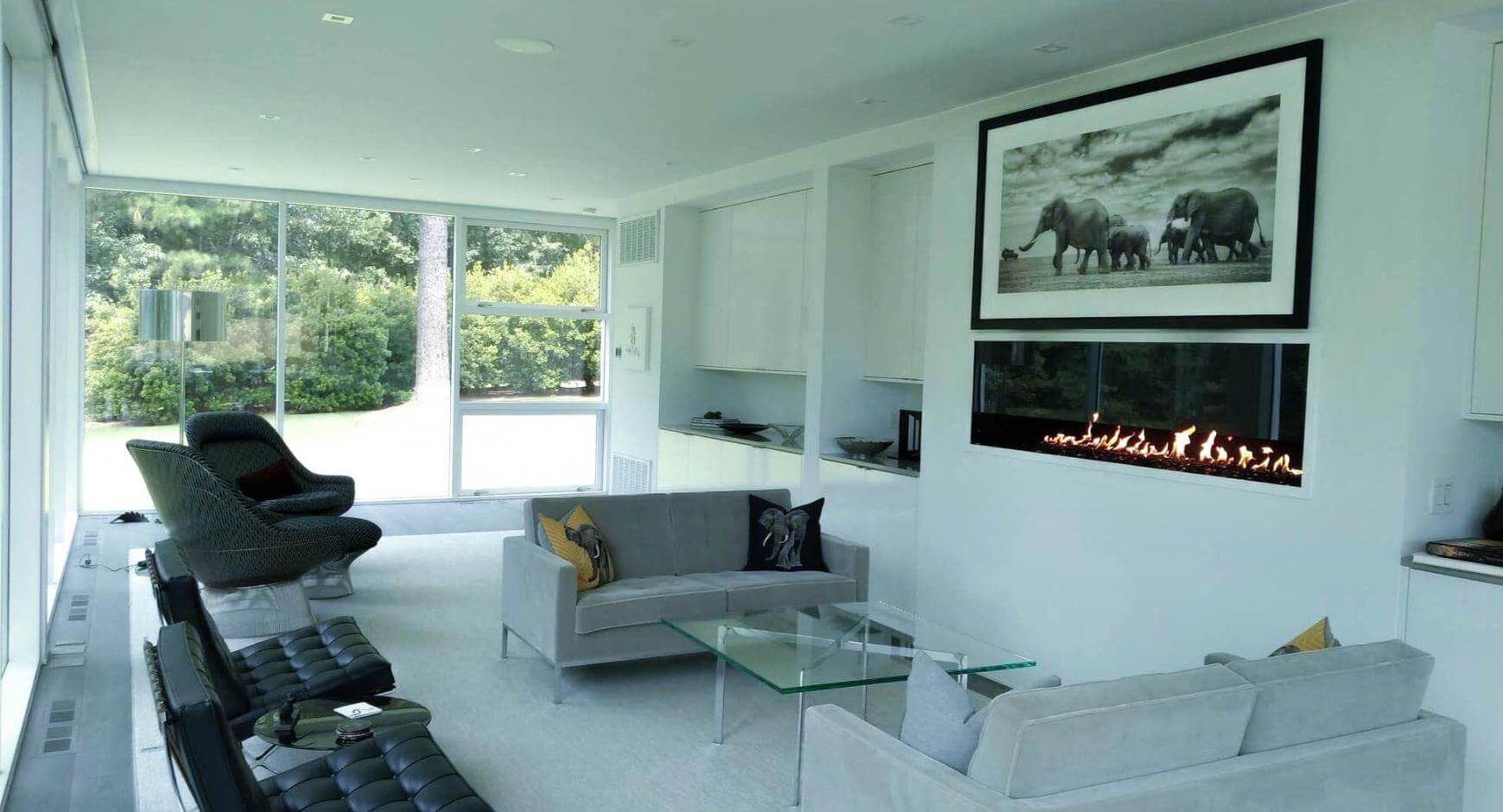 Tasteful and Polished Simplicity 
Less is more when it comes to fireplace design, this linear fireplace design is one of the least embellished pieces you will find. The contrast between linear vs. traditional fireplaces is quite dramatic when it comes to this design. If it's the seamless look you're after, look no further.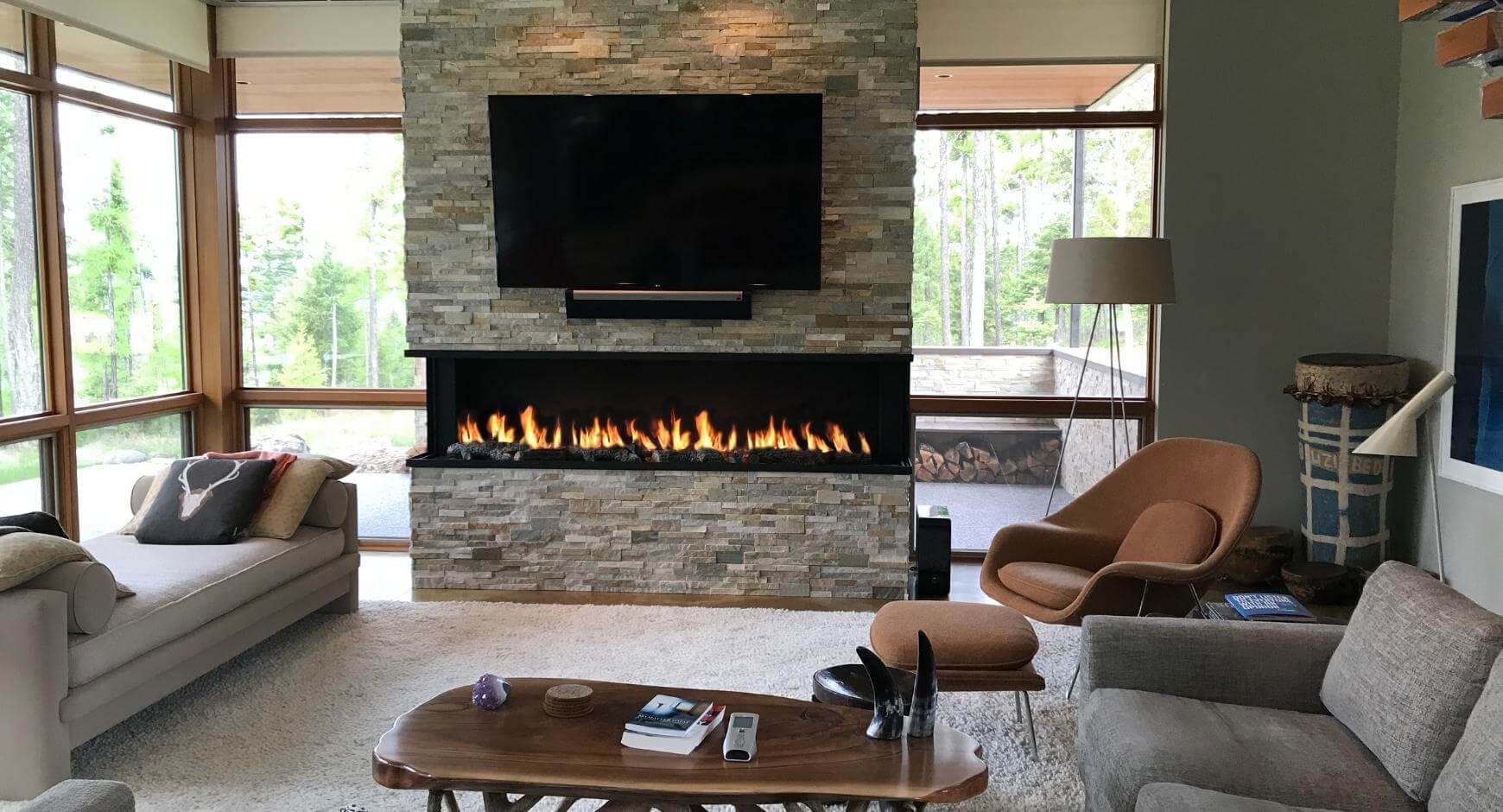 Subtle Stone Veneer with a Panoramic View
Panoramic gas fireplaces, or three-sided fireplaces, are an excellent and unique approach to fireplace design that provides a much wider viewing angle than traditional fireplaces. They make beautiful stand-alone fireplaces when surrounded by the best stone veneer. The distinctive quality of the panoramic design allows it to be set in a more subtle backdrop while remaining a standout piece of your living room.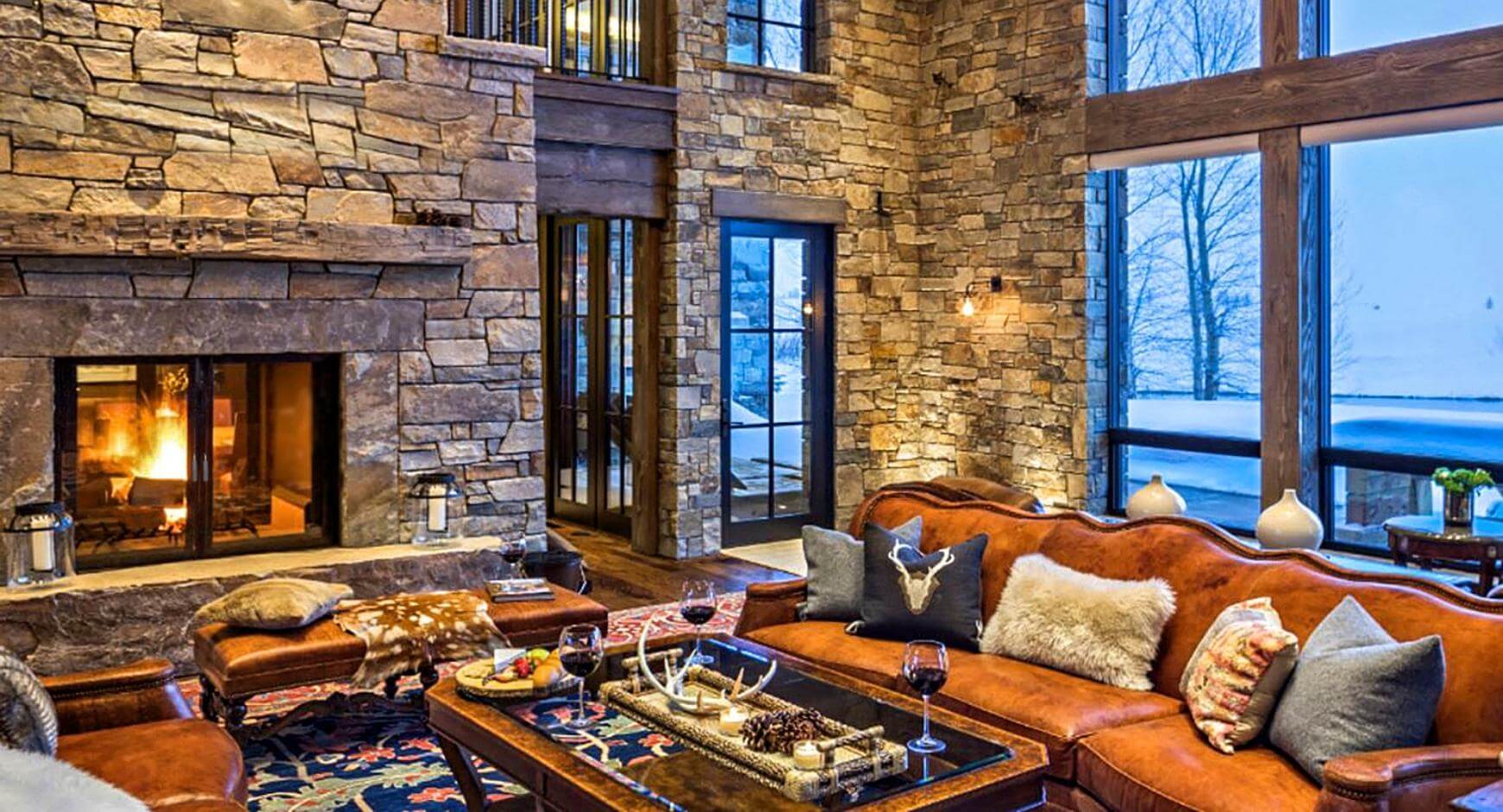 Rustic Stone from Floor-to-Ceiling
Traditional family room designs with a fireplace are a warm and welcome sight to return home to. Natural stone and timbers set the stage perfectly for the warm glow of a classic double-sided wood fireplace. The crackle of burning logs is the cherry on top of this rustic log cabin fireplace design. The unique benefits of a living room fireplace design of this caliber are truly worthwhile:
Supplemental warmth of a wood fire
Relaxing atmosphere of crackling wood
Dual-sided fireplace can supplement warmth to both rooms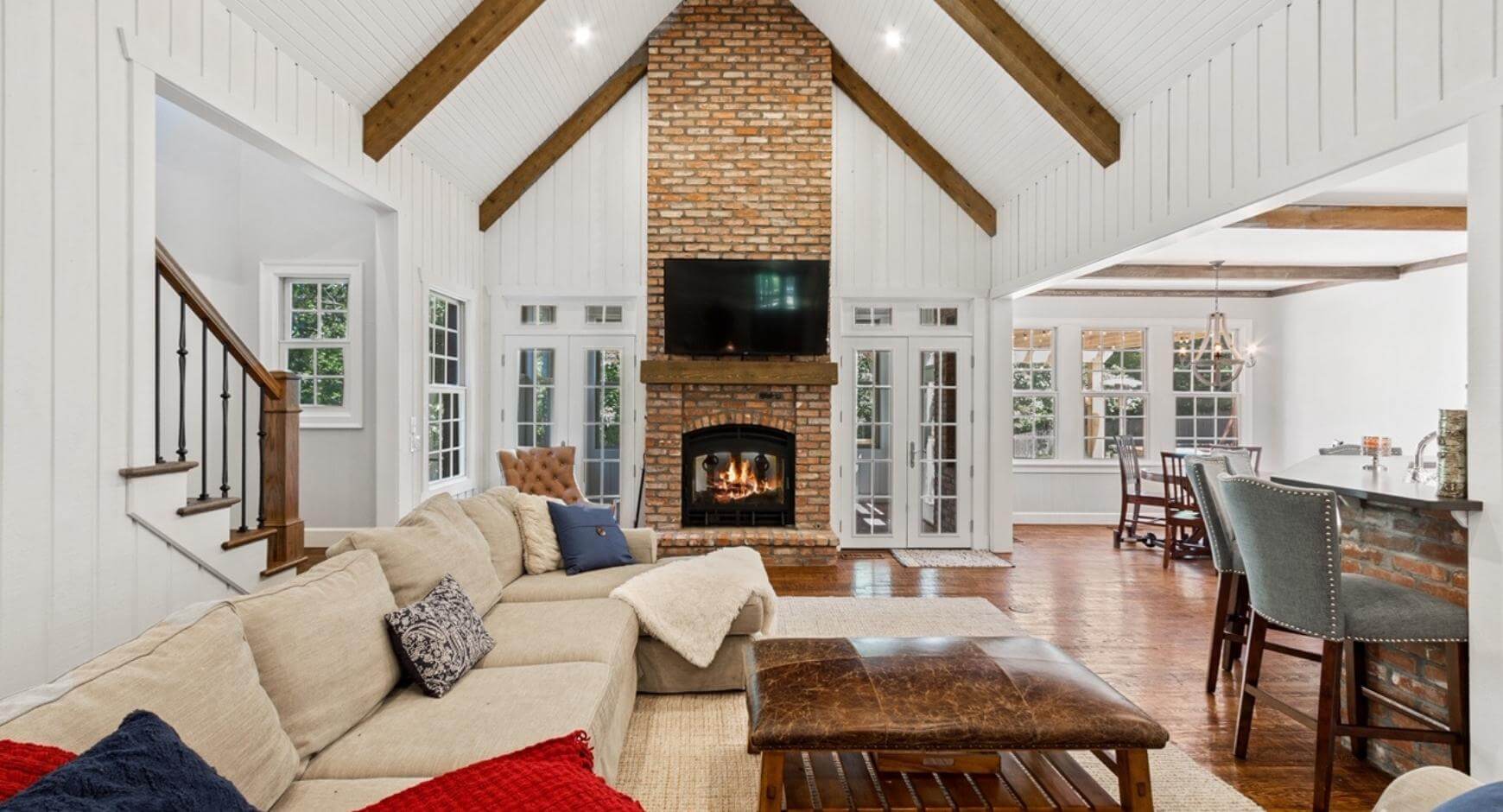 Traditional Brick Contrast
Step back in time to the colonial fireplaces of the past and discover a beautiful contrast when you surround them with updated architecture. The old-world aesthetic of a brick surround is complemented by our Hearthroom series fireplace. To add another element of modern-day convenience, our convertible fireplaces can be switched from wood to gas burning in as little as 30 minutes. There are a number of great benefits to this living room fireplace design:
Easy wood to gas conversions 
Versatile design and functionality
Compliment or contrast any home design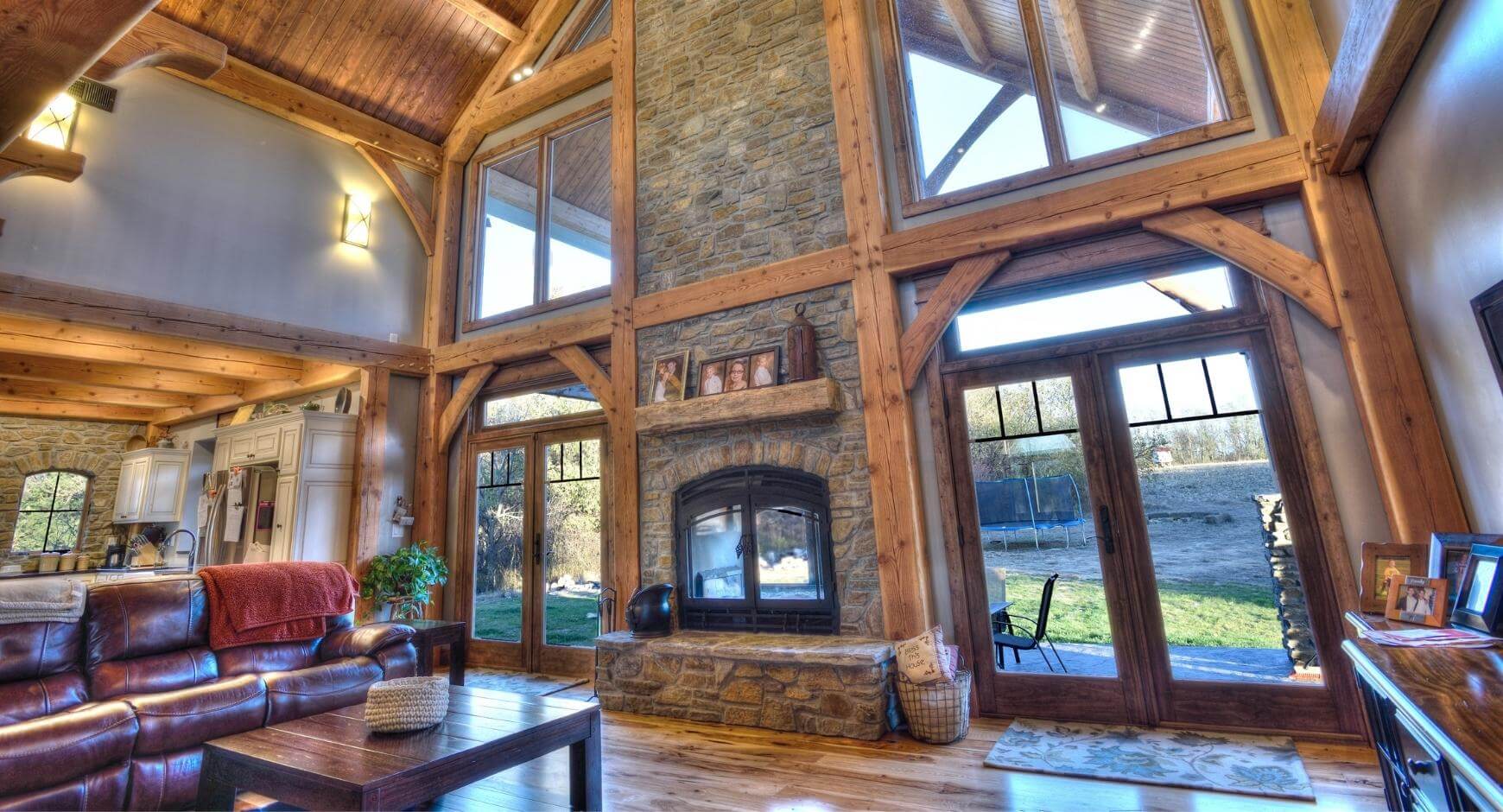 Wood Beams and Windows
An impressive fireplace can transport your mind to the great outdoors, where the breeze blows softly, and the stars shine overhead. Bring those elements into your living room fireplace design with big windows and wood beams. An indoor-outdoor wood-burning fireplace like the one above provides the perfect solution to joining your two favorite spaces. The only thing left to decide is whether you'd like a gas or wood-burning fireplace.
Design Your Dream Living Room Fireplace with the Experts at Acucraft
The possibilities are endless when you design a custom fireplace with the experts at Acucraft. Whether you want an exquisite art deco masterpiece to complete your luxury home or a rustic stone fireplace for the log cabin in the wilderness, we've got you covered. At Acucraft, we manufacture the highest quality luxury fireplaces on the market. Browse our photo gallery and collection of modern fireplace ideas for more inspiration, or contact one of our fireplace experts to start designing your living room fireplace today.