December 27, 2020
Mounting a TV Above a Fireplace: The Heated Debate
The coziest time of the year is approaching once again. The air is crisp and the time is right to change up the aesthetics of your living and entertainment spaces with a fireplace. You're beginning to wonder if you should mount a TV above that fireplace…
Some believe the cinematic experience truly comes together over the gentle sounds of crackling flames and the soft ornamental beauty of a dancing fire. Others aren't so sure it's such a practical choice, citing the heat limitations of modern screens and the impact on their safety and functionality. But, is it really necessary to sacrifice the classic, cozy traditions of gathering by a fireplace for the modern comforts of television?



Can you mount a TV above a fireplace? In short: yes, it's entirely possible to mount a TV over a fireplace – especially if your fireplace features Cool Touch tech for added protection. Having a TV above the fireplace not only looks good, but it can transform your space to feel even sleeker and inviting to everyone who steps inside.
Should You Mount a TV Above a Fireplace?
It's highly common for homeowners and designers to want to place a TV above a fireplace. The aesthetic is practically a standard in interior design in the modern age. In fact, it's often unusual to see the TV more than a few feet away from a living room fireplace. Despite the popularity of this design choice, it doesn't work for every space, and many even wonder, "Is it safe to have a TV above the fireplace?"
Whether or not someone should mount a TV over their fireplace depends on the building's architecture, the efficiency of the installation, and the specific designs of the TV and fireplace themselves. Many homeowners choose to mount their TV above their fireplace mantel for two key reasons:
The size of the TV: The emergence of flat-screen TVs in the home entertainment industry has made it much easier, and more appealing, to place these devices alongside other decorative design and entertainment elements of the home, such as the fireplace.
Visual presentation: The average person tends to spend more than 20% of their day in their home's main living area. This is where most homeowners have their fireplaces installed, too, so the aesthetics must be spot-on for a positive experience.
If you're now inspired to opt for an over-the-fireplace TV mount, expert interior designers may encourage you to consider both sides of the debate before jumping into this decision. For some, the debate isn't particular as much about "is it bad to mount a TV over a fireplace," but rather, "Should you mount a TV above a fireplace?"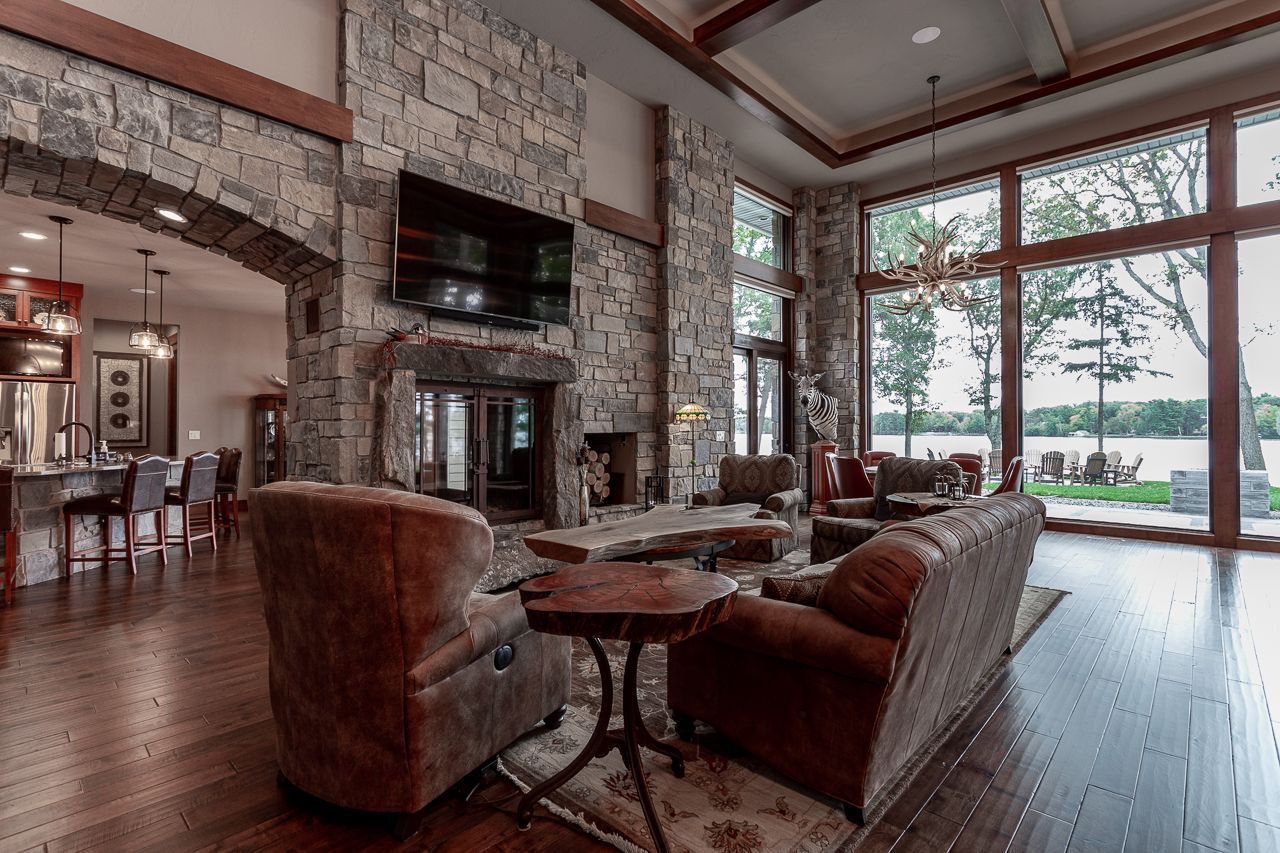 Some experts argue that placing a TV above the fireplace makes it an inappropriate focal point – asserting the impact it could have on quality time and personal connections. Others insist that in many situations, placing a TV over a fireplace is the best use of space and maximizes the enjoyment of both features.
Whichever way you lean, consider for yourself these pros and cons of mounting your TV over the fireplace before you settle.
Pros And Cons Of Mounting a TV Over a Fireplace
There is no need to get caught up in reasons why not to mount a TV above a fireplace – modern technology has made this design choice much safer. Once homeowners could break free of the bulky, boxy, old-timey TVs, there was no going back. This design style has been practically set in stone with the advent of the plasma screen.
Before you commit to the decision, carefully consider the following TV-over-fireplace pros and cons:
Pros
Creates a complete entertainment and lounging area: Mounting your TV above your fireplace allows you to enjoy the quaint aesthetic of a crackling fire against the modern comforts of technological entertainment.
Saves space: Having the TV and fireplace in the same spot streamlines the interior design.
Combines multiple aesthetically-pleasing design elements: Not all fireplaces have to produce a high level of heat output. Choosing the right fireplace can help improve the visual qualities of your entertainment area with low risk.
Cons
Viewing angle can be uncomfortable: People may need to adjust their viewing angle to see the screen if it's not at eye level. Viewing distance may be another factor of concern.
TV may be at risk of irreparable damage: If you cannot control the fireplace's heat output, and it does not have cool touch technology, the TV may get too hot and sustain damage. Heat rises, after all.
Cords and cables might be difficult to hide: It can become a challenge to connect your TV to a power supply or to other devices if your wall wasn't designed with this in mind.
Many people simply get caught up in the worry: Can you use a fireplace with a TV above it? You can enjoy your TV and fireplace simultaneously as long as you have executed a high-quality installation and your fireplace does not produce excessive heat.
Why Mounting a TV Over a Fireplace is Debated
1. TV Monitors Can Be Damaged by Excess Heat 
Heat is not great for electronics. When TVs and similar devices are exposed to excessively high temperatures, they are susceptible to mechanical failure and may sustain lasting damages to their inner components. The possibility of damage is much greater for TVs installed above wood-burning fireplaces, as it's not just the heat they could be exposed to.
In this position, your TV could accumulate build-up from the particles distributed by the smoke emitted by the burning wood. Even if the TV is stored inside an entertainment cabinet, a sooty film can build up on the screen and other electronics, potentially interfering with their functionality.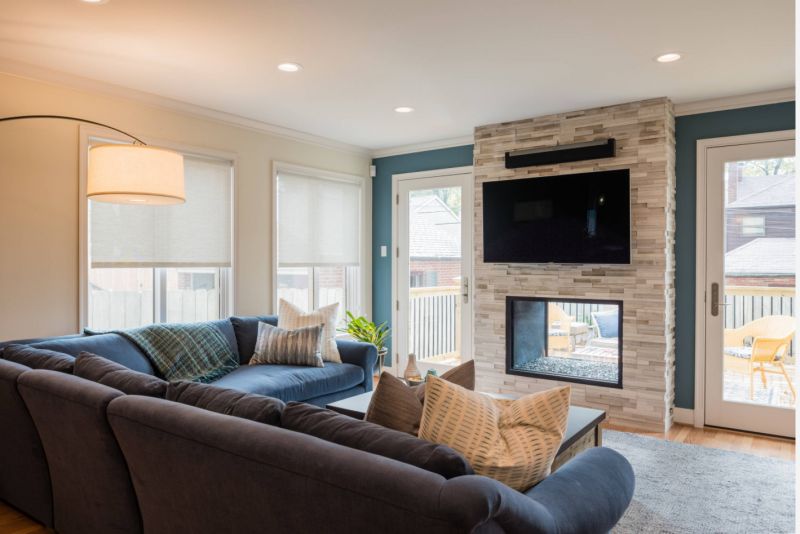 Other issues that can arise in these devices due to excess heating include:
Rapid degradation that significantly shortens their standard lifespan
Shorting in the TV's circuitry
Development of phenols, pyroligneous acid, wood vinegar, and other caustic compounds due to the combustion of the shorting circuits
Sudden changes in temperature could cause a harmful buildup of moisture in the device
You'll need to study the basic specs of your TV before committing to installing it above the fireplace. The models below are some examples of what you can expect:
LG's plasma TVs are typically made to function at temperatures ranging from 32°-104°F
To put this into the context of fireplaces…
Gas fireplaces can typically produce around 7,000-60,000 BTUs
The average wood fireplace can produce 20,000-40,000 BTUs
Acucraft's Cool Touch technology does not allow our gas fireplaces to exceed 172°F, keeping your TV above safe from the possible issues listed above. Chat with our fireplace advisors to learn more. 
Minimum Distance Between Fireplace And TV
The average height for the TV is typically 7" from the top of the mantel to the bottom of the monitor. The minimum mantel height from the top of the fireplace viewing area is 12″, for a total minimum of 19″ to the bottom of the TV. By adhering to this minimum distance between the fireplace and TV, and by taking advantage of Acucraft's Cool Touch tech, you can protect your TV from accidental overheating.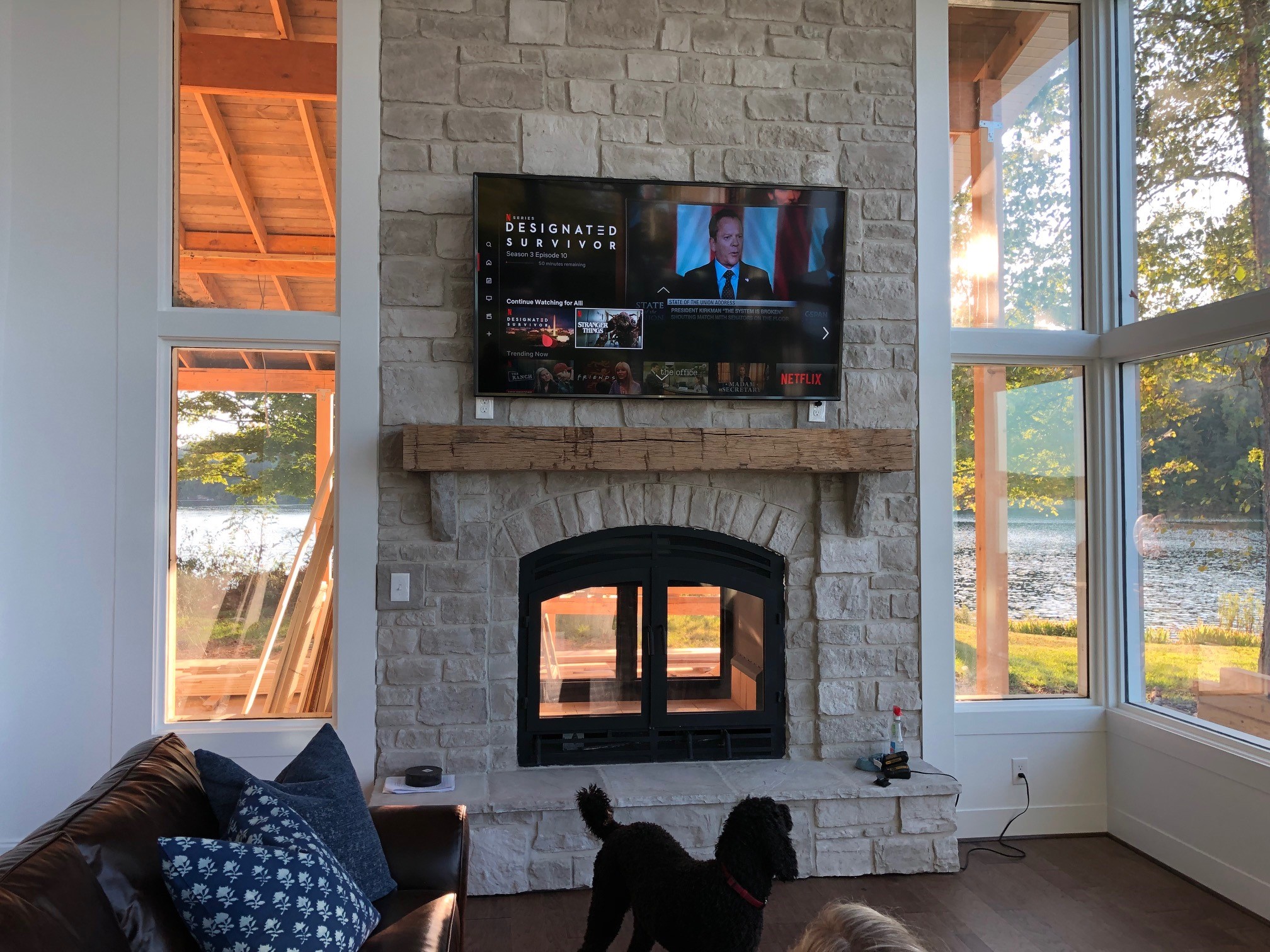 2. TV Height and Viewing Angles Can Be Difficult to Get Right
A primary concern when considering whether or not to install a TV over a fireplace is: How high should your TV be above the fireplace for comfortable viewing? Does TV mounting height simply come down to personal preference?
Ideally, the best angle to watch TV is at eye level when the viewer is sitting down. This way, the viewer can relax without having to strain their neck when looking up for an extended period.
How does screen size factor into the equation? There is no single best size TV for over a fireplace, but here are some expert guidelines for your TV size to help reduce eye strain and create a better viewing experience for your guests:
42-inch screens should be positioned at least 5 ½ feet away from the viewers' seating.
50-inch screens are best viewed from 6 feet away.
60-inch screens would be best installed at a distance of 7 ½ feet from the room's seating.
How High Should a TV Be Mounted?
Above a fireplace, it's relatively easy to meet the general recommendation of 60-80 inches from the floor. However, you should always refer to your installation manual for specific guidelines. Although you can't always have as much control over the installation height as you can the distance from the primary seating (since you have to factor in the fireplace's height), you should still be wary of the TV's distance from the floor.
You'll need to adjust this height according to your own personal preferences, though. If you need to look up so much to the point that it hurts your neck to see the center of the screen, it's too high. Test it out before you make any final adjustments.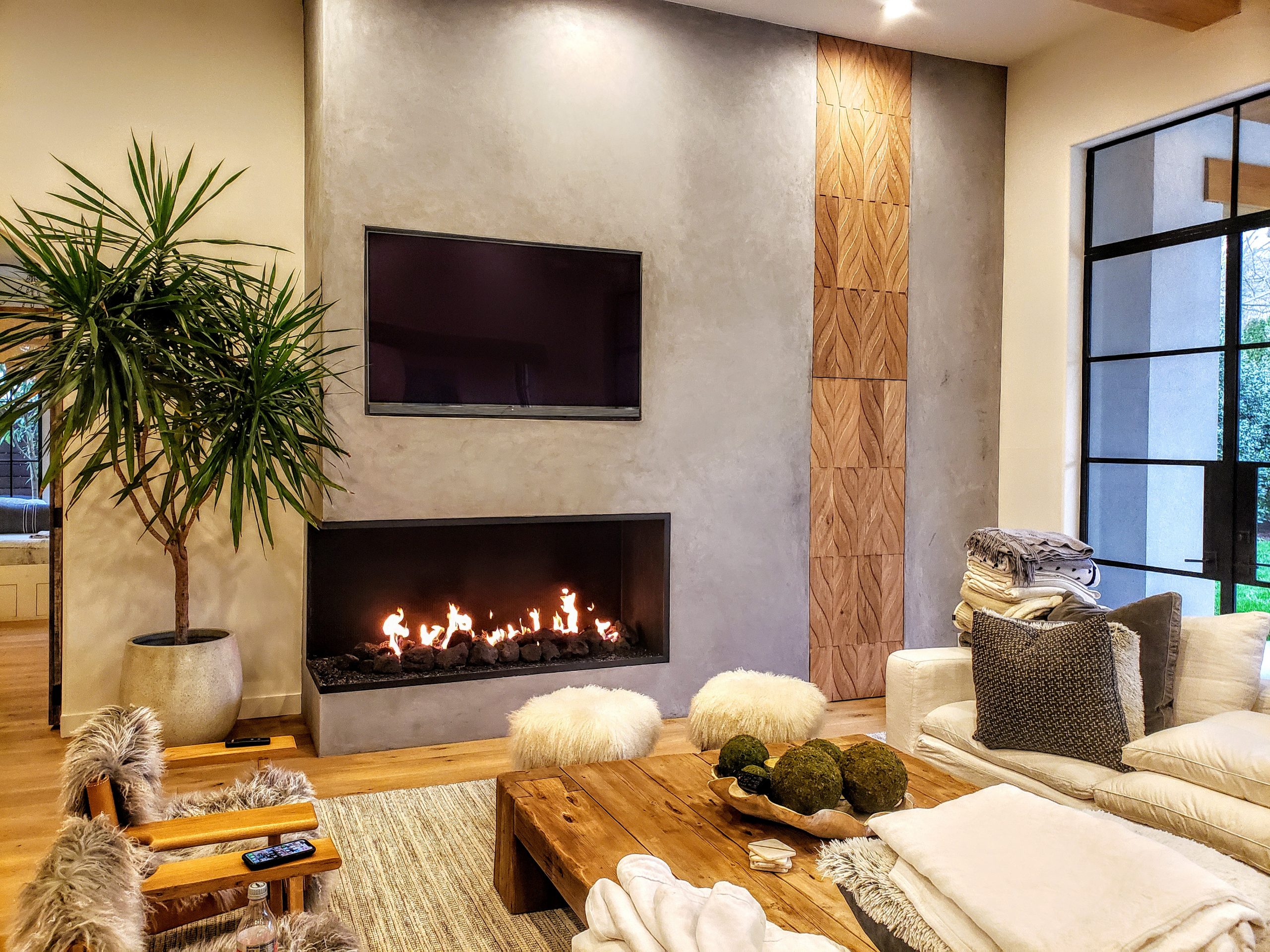 3. Mounting and Wiring Might Be a Challenge
One of the challenges with mounting a TV over a fireplace is controlling where the wires will go. The last thing you want is to have wires exposed or hanging out of the back of the TV, an eyesore that's also vulnerable to overheating.
This is an even greater risk for TVs installed over brick or stone fireplaces, as these can hold the most heat while the flames are present and long after. Fortunately, many commercial and residential architects account for this early on, and will preemptively run wiring above the fireplace in case the property owner decides to put their TV in that position.
Mounting TV Above Brick Fireplace
Can you mount a TV on a brick fireplace? It may seem impossible at first thought, but with the right tools and a high-quality, luxury fireplace, it can be as easy as pie.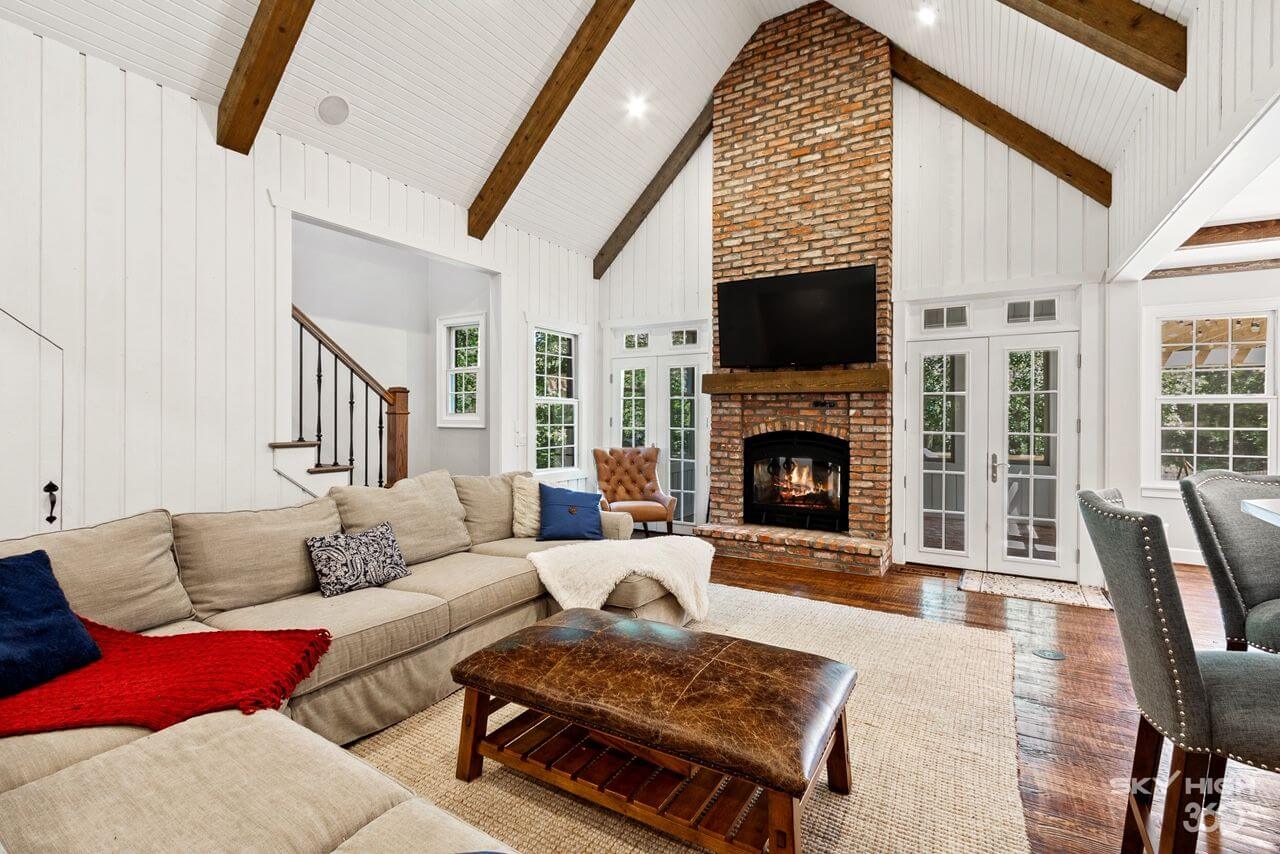 Many homeowners are surprised at how easy it is to hide wiring when mounting a TV above a brick fireplace. In fact, many end up getting lucky with these installations, as they might discover that an outlet was installed next to the hearth.
If this is the case for you, you'll simply need a wiremold to hide the cables. You can easily drill into the brick face with a power drill to place the mount. This way, you won't have to worry about the aesthetics or dangers of exposed cables, and your TV will be positioned safely above the mantle.
Mounting TV On A Stone Fireplace
You may need professional help when mounting a TV on a stone fireplace. For example, if there are several rocks that come together to make the face of the fireplace, hanging a TV on a stone fireplace may call for removing one or more of those rocks to run power from inside or outside of the home.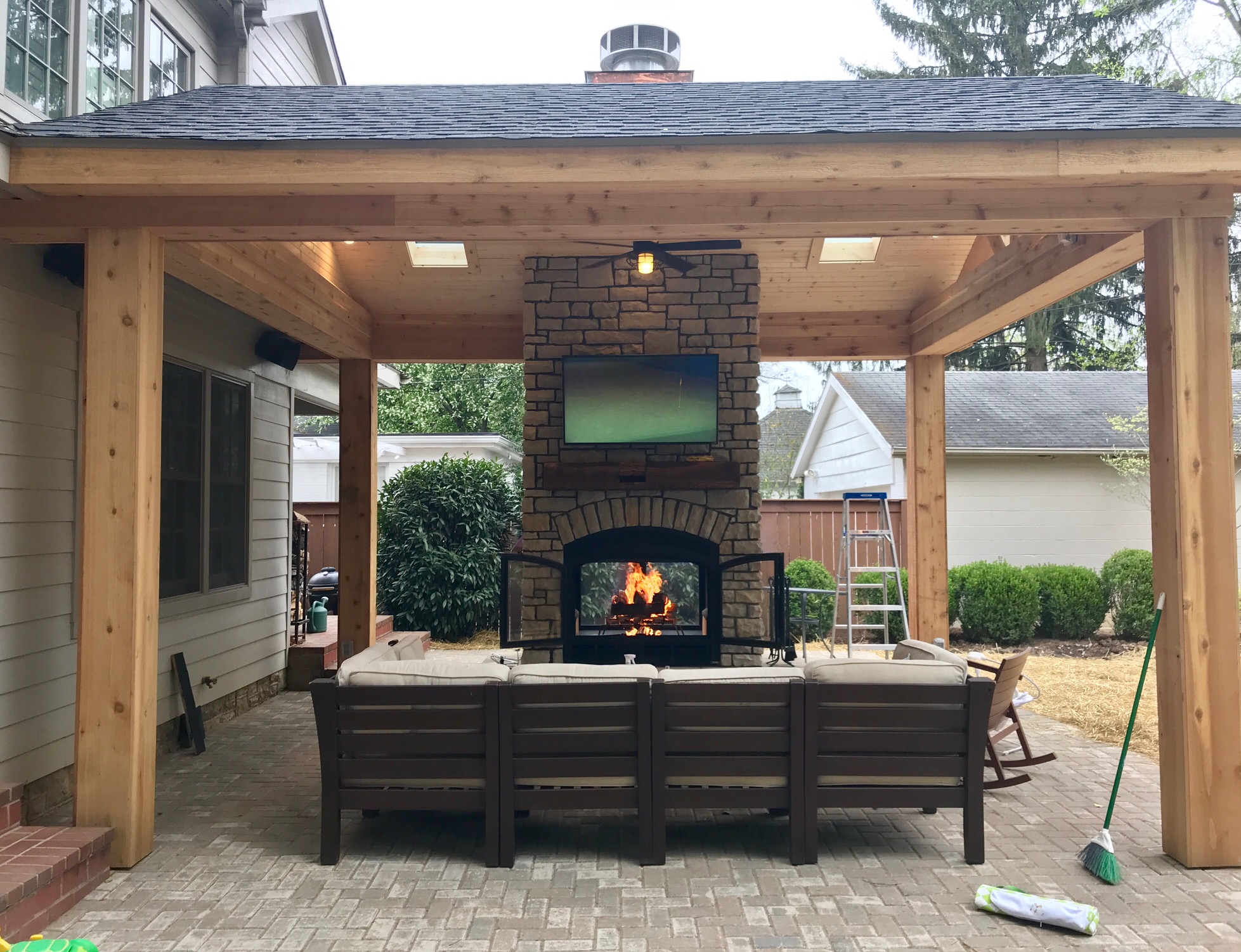 This is not a task that the average homeowner is typically capable of performing safely. Professionals understand that the stone itself is not stable enough to support the TV on its own. Instead, they may need to bypass the stone altogether and mount into the house's framing. You may be unable to discern when this is the case, so professional help is a necessity.
Mounting a TV Over a Wood Burning Fireplace

There are few more risks involved when considering mounting a TV over a wood-burning fireplace. Wood fireplaces emit more smoke than any of the other alternatives, which poses a unique risk to the TV's functionality, integrity, and lifespan, even if you only operate it with the flue open.
Fortunately, Acucraft can offer a few ways around this issue. Our luxury wood fireplaces are designed to operate with minimal to no smoke emission, as proven by our Hearthroom lines' UL-127 certification.
As an additional failsafe, Acucraft offers a wood-to-gas 30-minute conversion kit which allows you to transition from a traditional wood fireplace to a gas unit. This is a great option if you're concerned about your TV. With these protections, you can choose to either install your TV on your own or with professional help, and you won't have to worry about incurring damage.
Now that you've considered all of this, you know the answer to "Can you put a TV over a wood-burning fireplace?" is "Absolutely!". You just need to make sure that you get the best wood units on the market, like the stunning custom fireplaces manufactured by Acucraft. 
Mounting a TV Above a Gas Fireplace
Mounting a TV above a gas fireplace can be much more straightforward than the alternatives. There are many different design styles that can make this work smoothly, from the modern, minimalist linear fireplace to the eye-catching panoramic units. Plus, there are significantly fewer TV-over-gas fireplace issues than there are for wood.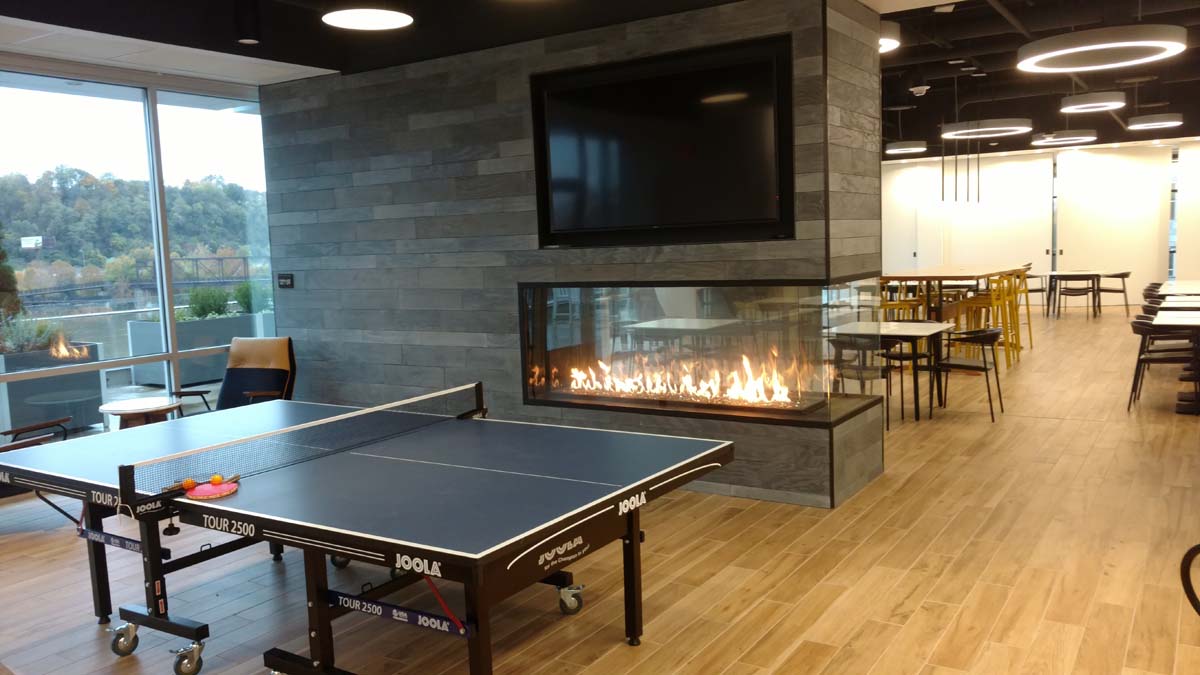 In fact, the flexibility of Acucraft's designs makes the job of mounting a TV over a gas fireplace notably easier. You can adjust the height of your fireplace from 20″ to 30″, choose the length that works best, and add glass paneling to ensure that your TV remains cool and in proper working condition.
The main thing you'll need to consider when choosing to mount a TV over a gas fireplace or not is the distance between your TV and fireplace. Since gas fireplaces don't produce smoke like wood units and because Acucraft's designs are quite cool to the touch, you'll have little to worry about in the way of potential damage.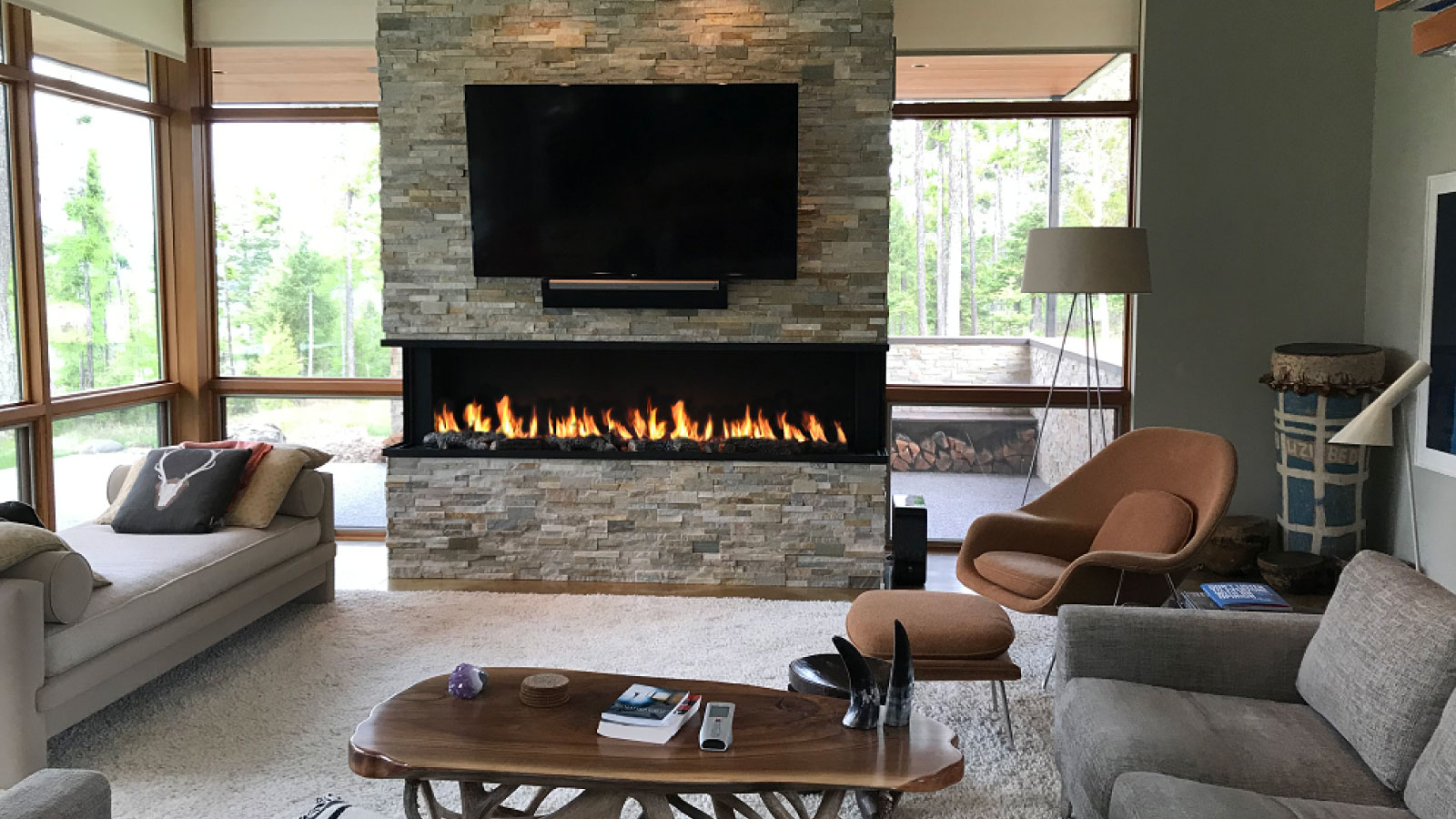 <
4. Dancing Flames May Distract From The Cinematic Experience
Despite how beautiful the gentle flames can be, having a fireplace directly underneath your TV can be distracting for some viewers. This point of debate is highly subjective. Here, the answer to "Is a TV mounted above a fireplace a good idea?" depends entirely on personal opinion.
Resolving this issue is all about finding a balance and identifying what works for you and your guests. Many people prefer to enjoy quiet, romantic movies while flames dance beneath the screen, as it can not only complement but enhance the cinematic experience.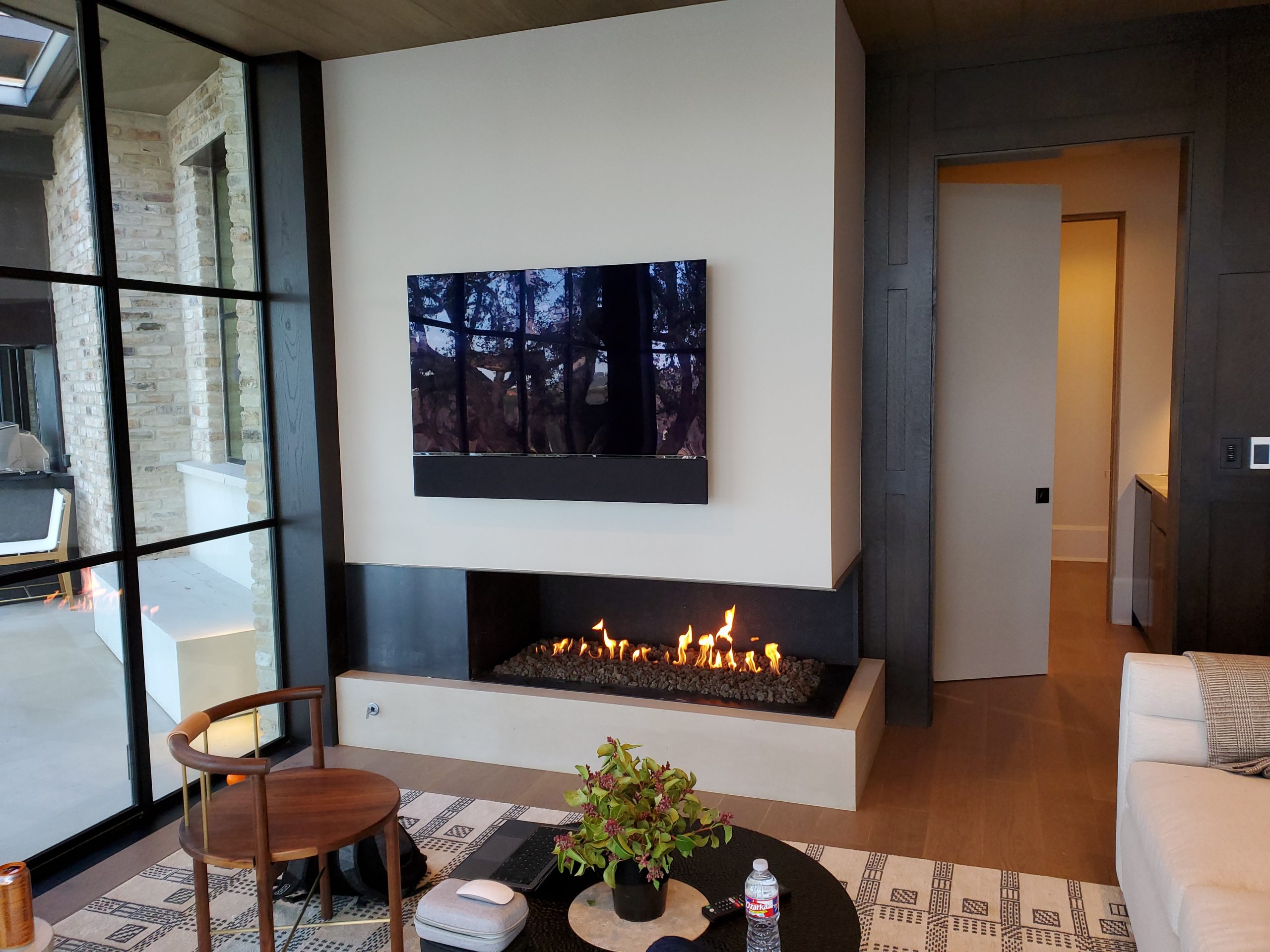 <
When Can You Mount a TV Over a Fireplace? 
While there are certainly some potential drawbacks to consider, if you follow our recommendations and choose the right technology with proper installation conditions, you can enjoy the benefits of both entertainment features. To make this final decision for yourself always refer to, and follow the advice of, your fireplace and television's manufacturer's manual and recommendations.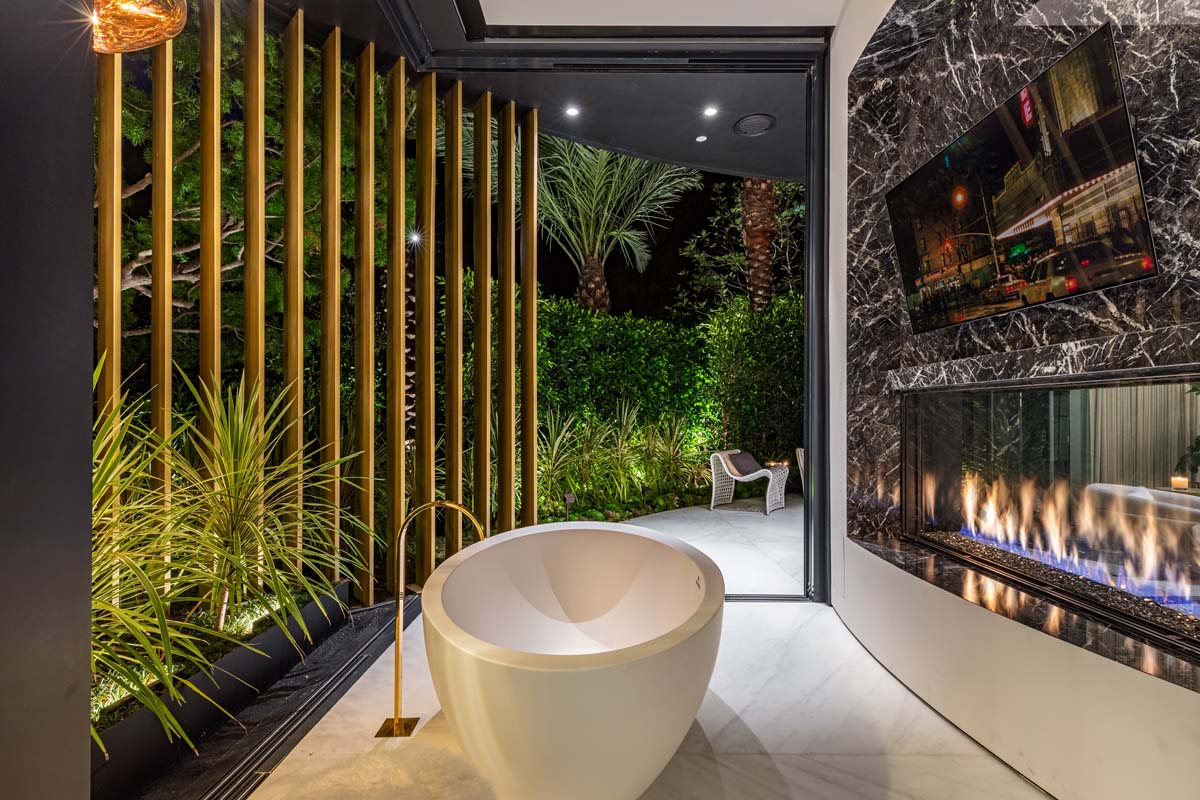 1. Your Fireplace Has Cool-Touch Technology 
Acucraft's Cool-Touch cooling system works by drawing in air from the surrounding environment and funneling it into the firebox to power combustion. The system simultaneously draws air from between the glass panels, which then reduces the surface temperature. This all happens in combination with the fireplace's ventilation, all of which help to make the unit safe to the touch, expelling excess warmth either outside or comfortably into the room.
Acucraft can integrate this technology into any of our custom gas fireplaces, and it is automatically included with Signature Series units. Our Cool-Touch tech is a must-have for homeowners looking to install TVs above the fireplace.

2. Cables And Outlines Are Already Available 
Many homes already have wiring in place for this project. If you already have this aspect set up in your space, you have nothing to worry about when it comes to installing your TV.
Pre-wiring is fairly common, but even if your home doesn't have it, it's not hard to put it in place. Entertainment areas are frequently pre-wired with electrical, HDMI, and coax, and wire tracking options are available to keep those ugly cords out of sight.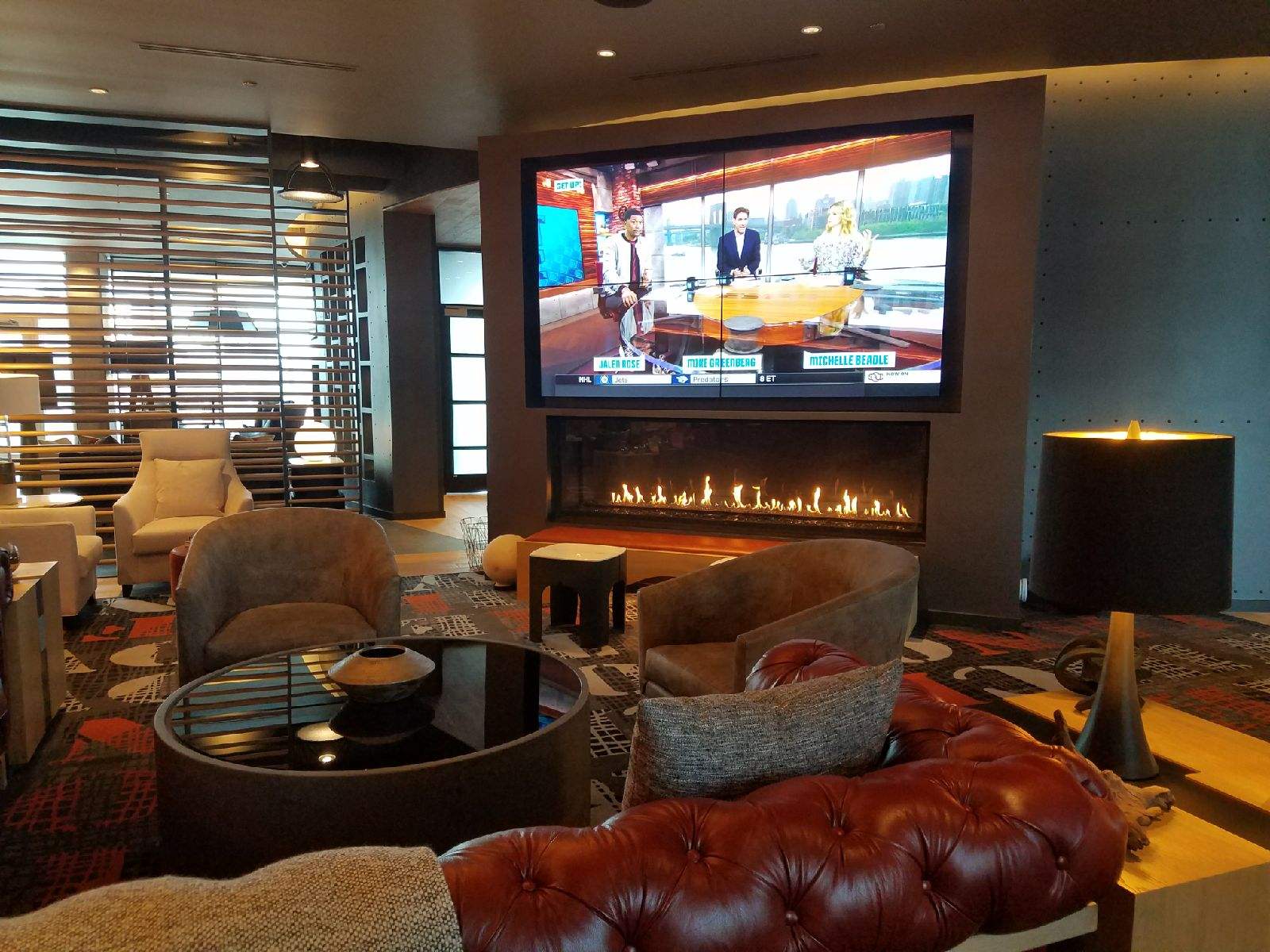 3. Your Space Suits Both in Form and Functionality
Of course, you need to have the space for the installation of both a fireplace and TV to make this work. If your living room has too low of a ceiling, for example, you might not have the space available to mount the TV at a reasonable distance from the fireplace.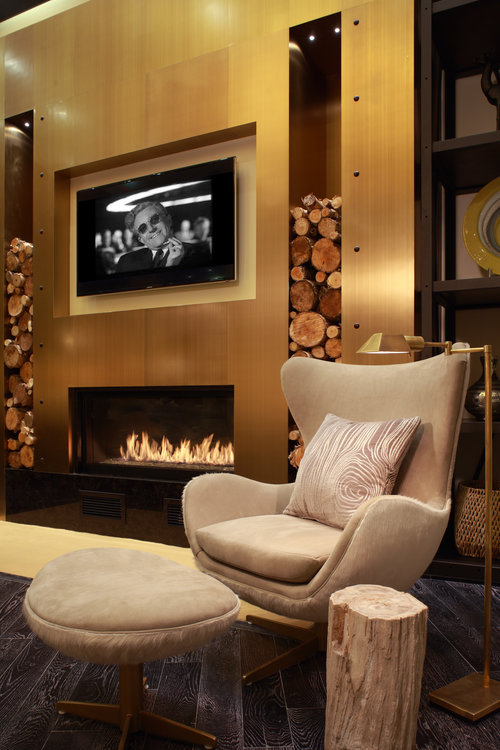 You'll also need to make sure that your room has power outlets where you want your TV and fireplace installed. Without these, you may need to run the power outside the house, which requires professional help (and higher installation costs). There's no need in worrying about concealing your wires around the fireplace if there's nowhere to plug them in.
Custom Fireplace Designs With TVs From Acucraft
So, can you really put a TV above a fireplace? It's absolutely possible. With the right professional help and a luxury custom Acucraft fireplace design, you can have your TV mounted above a wood-burning or gas fireplace. Our custom fireplaces can be made me stone or brick, so you can have the look you want.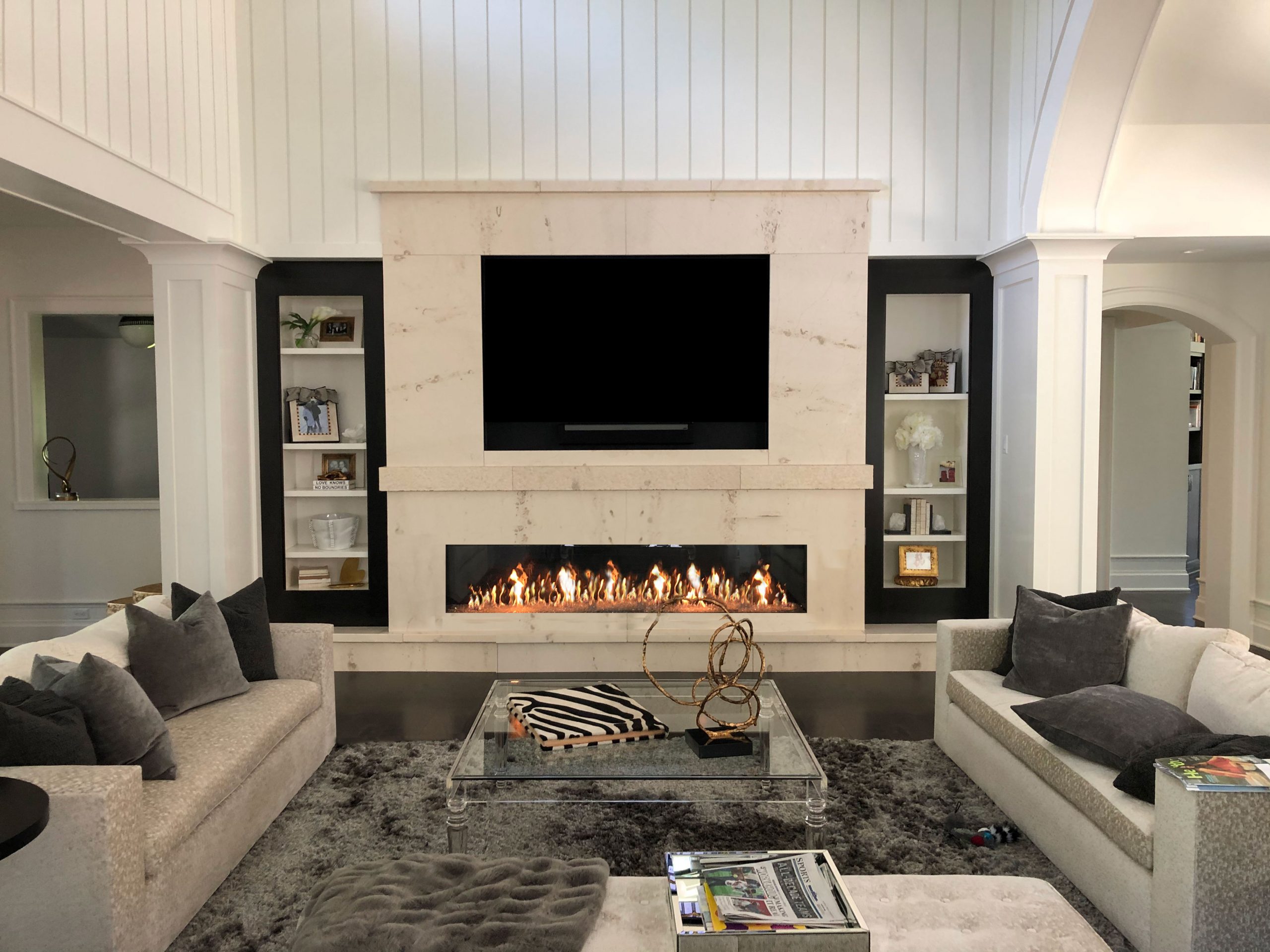 Explore our gallery to view more examples of flat-screen TVs mounted above stunning custom fireplaces. Acucraft fireplaces produce the tallest, fullest flames on the market, so you know you'll get a truly entertaining experience every time.
Then, share your vision for a stunning luxury fireplace with a TV mounted above it, today, to get started. Our fireplace advisors can spark major inspiration and answer any of your questions, or share more details on any of the designs you saw on this page.