Acucraft Cool Touch Glass Fireplaces
When safety is key, choose Acucraft's Cool Touch Glass Fireplaces. Our Patent-Pending Dual Pane Glass Cooling System ensures safe-to-touch glass for any residential or commercial application.
Cool Touch Fireplace Overview
Safely mount a television or piece of art above your fireplace
Enjoy supplemental warmth while protecting delicate hands & fingers from extremely hot glass temperatures
Outside air is pushed between the two panes of glass, reducing the surface temperature while providing you with the tallest, fullest flames on the market
Add glass cooling to any style fireplace, from double sided linear fireplaces to corner or panoramic models
Tested & certified to safety standards where glass safety barrier temperatures cannot exceed 174°F; our Patent-Pending Glass Cooling technology ensures safe-to-touch glass, also known as a "glass safety barrier" or "cool touch fireplace", protecting anyone who is in contact with your fireplace from injury.
Enjoy a worry-free cool touch glass fireplace in your home, or commercial space.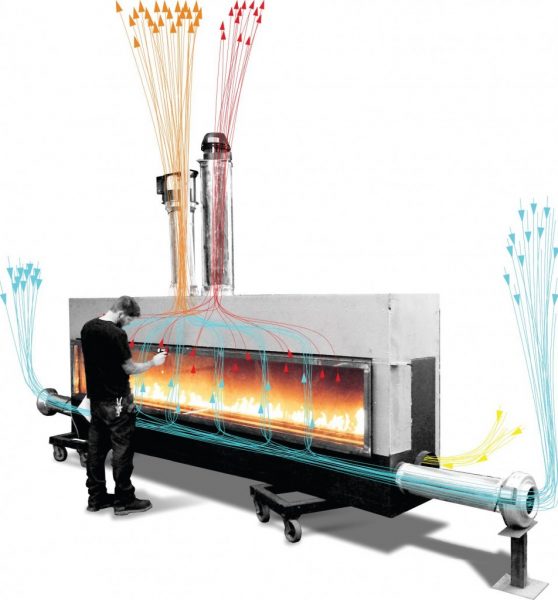 How Does a Glass Cooling System Work?
As seen in the diagram, our Patent-Pending Glass Cooling System draws outside air into the firebox for combustion while also pulling outside air into the channels between the panes of glass, reducing the surface temperature of the glass to a safe-to-touch temperature. Gases are then vented to the outside while heated air can be transferred back into your space or expelled outside.
Our Glass Cooling system can be added to any style custom gas fireplace from circular to four-sided or your traditional linear double sided fireplace. Our versatile Signature Series all come with our cool touch glass.
Learn more about our safe-to-touch glass fireplaces by filling out the form on this page!
Cool Touch Glass Fireplace Gallery
Fill out the form below to request more information!