Acucraft Cool Touch Glass Fireplaces
When safety is key, choose Acucraft's Cool Touch Glass Fireplaces. Our Patent-Pending Dual Pane Glass Cooling System ensures safe-to-touch glass for any residential or commercial application.
Every Acucraft gas fireplace is tested to meet or exceed ANSI standards in addition to our own stringent safety testing within our internal test lab before making it's way to it's final destination.
What is a Cool Touch Fireplace?
At Acucraft, safety is our top priority. We not only offer the highest quality fireplaces on the market, but we also manufacture the safest fireplaces available so you can enjoy a lifetime of happy burning. Our Patent-Pending Glass Cooling System ensures safe-to-touch glass, also known as a "glass safety barrier" or "cool touch fireplace", protecting anyone who is in contact with your fireplace from injury.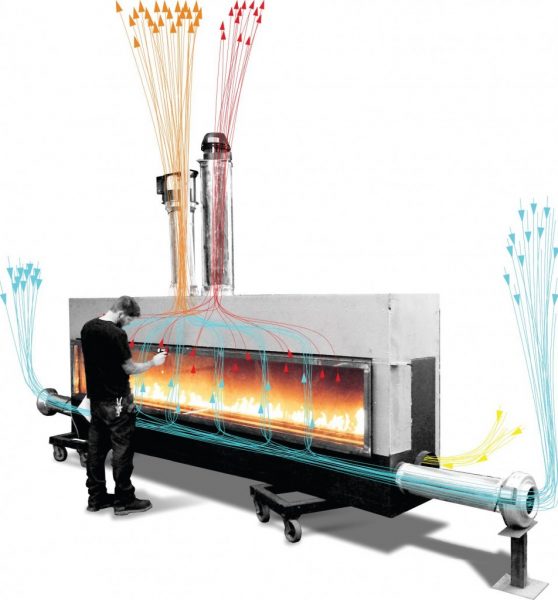 How Does a Glass Cooling System Work?
As show in the above diagram, our Patent-Pending Glass Cooling System draws outside air into the firebox for combustion while also pulling outside air into the channels between the panes of glass, reducing the surface temperature of the glass to a safe-to-touch temperature. Gases are then vented to the outside while heated air can be transferred back into your space or expelled outside.
Our Glass Cooling system can be added to any style custom gas fireplace from circular to four-sided or your traditional linear double sided fireplace. Our BLAZE Series of commercial linear gas fireplaces and our versatile Signature Series all come with our cool touch glass.
Learn more about our safe-to-touch glass fireplaces by filling out the form on this page!
Request More Info by Filling Out the Form Below: