Gas Fireplaces with Logs
If you love the convenience of a gas fireplace but miss the traditional warmth & ambiance of a wood burning fireplace, then Acucraft's gas fireplaces with logsets are the perfect option for you. Choose from an array of log options and driftwood pieces, our Fireplace Advisors will help find the perfect fit for your space.
All of Acucraft's gas fireplaces can be designed to include crushed glass media, polished stone, river rock, earthy lava rock or an array of logsets to create a traditional atmosphere with modern usability. We offer several log options as well as driftwood pieces to accompany any style fireplace.
---
Enjoy an open viewing area (no glass) and mammoth logs like they do at the Four Seasons Resort in Dallas, TX; or cozy up to a traditional see through fireplace with logs with your favorite cup of hot cocoa like this gorgeous fireplace outside of Starbucks in Blaine, WA.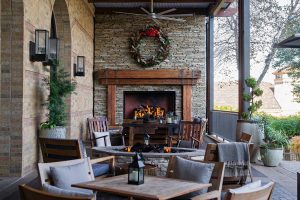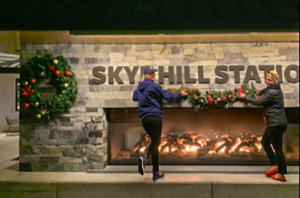 Acucraft customer, Mike Hill of Otis Investments LLC, workd one-on-one with Fireplace Advisor, Mark Kennedy and Fireplace Designer, Adam Redberg to bring their gorgeous see through gas fireplace to life! "These guys are awesome to work with," says Mike. "I told Mark and crew I needed a fireplace that you could actually see. That's where Mark and the team from Acucraft killed this thing! Better than I could have imagined, beautiful fire, large logs, looks really unbelievable."
The custom gas fireplace has become a focal point of this breezy Washington town bringing customers to Starbucks and becoming the backdrop to many family Christmas cards!
Glass Options
No Glass (Open)
No Glass (Firescreen)
Single-Pane
Dual Pane Glass Cooling System
Mesh
Media Options
Crushed Glass Media
River Rock
Lava Rock
Semi-Polished & Polished Stones
Logsets & Driftwood Pieces
Gas Fireplaces with Logsets Gallery
Click on image to zoom in