March 11, 2022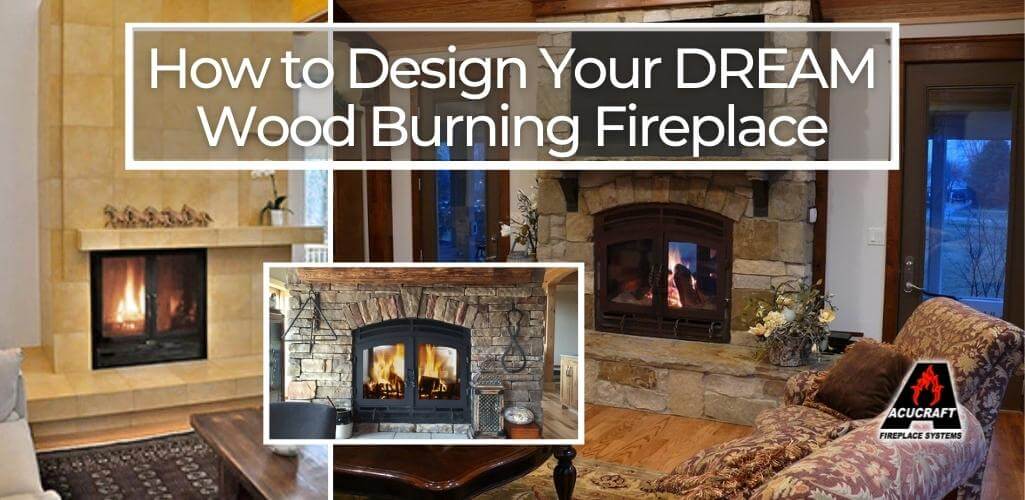 How to Design Your Dream Wood Burning Fireplace
When designing a wood-burning fireplace, understanding your ideal fireplace dimensions is essential. Choosing the perfect fireplace for a space is not always easy, especially if you don't have a thorough grasp of fireplace measurements. Luckily, this guide will give you a better understanding of those key elements so you can move forward with your dream fireplace. 
Beautiful fireplaces come in all shapes and sizes. You might know what type of fireplace you want, and it's important to have a plan for your fireplace dimensions in place before designing your space. Once you know the size of the fireplace you're going to design, including fireplace width and hearth height, you can begin to visualize your perfect fireplace.
No one knows your space better than you. That's why you should be in the driver's seat when it comes to designing your dream wood-burning fireplace. Working with experts who understand fireplace sizes will give you an advantage. Whether you're sticking with a classic look or hopping on an up-and-coming fireplace trend, you want the assurance that your design fits well in its intended area.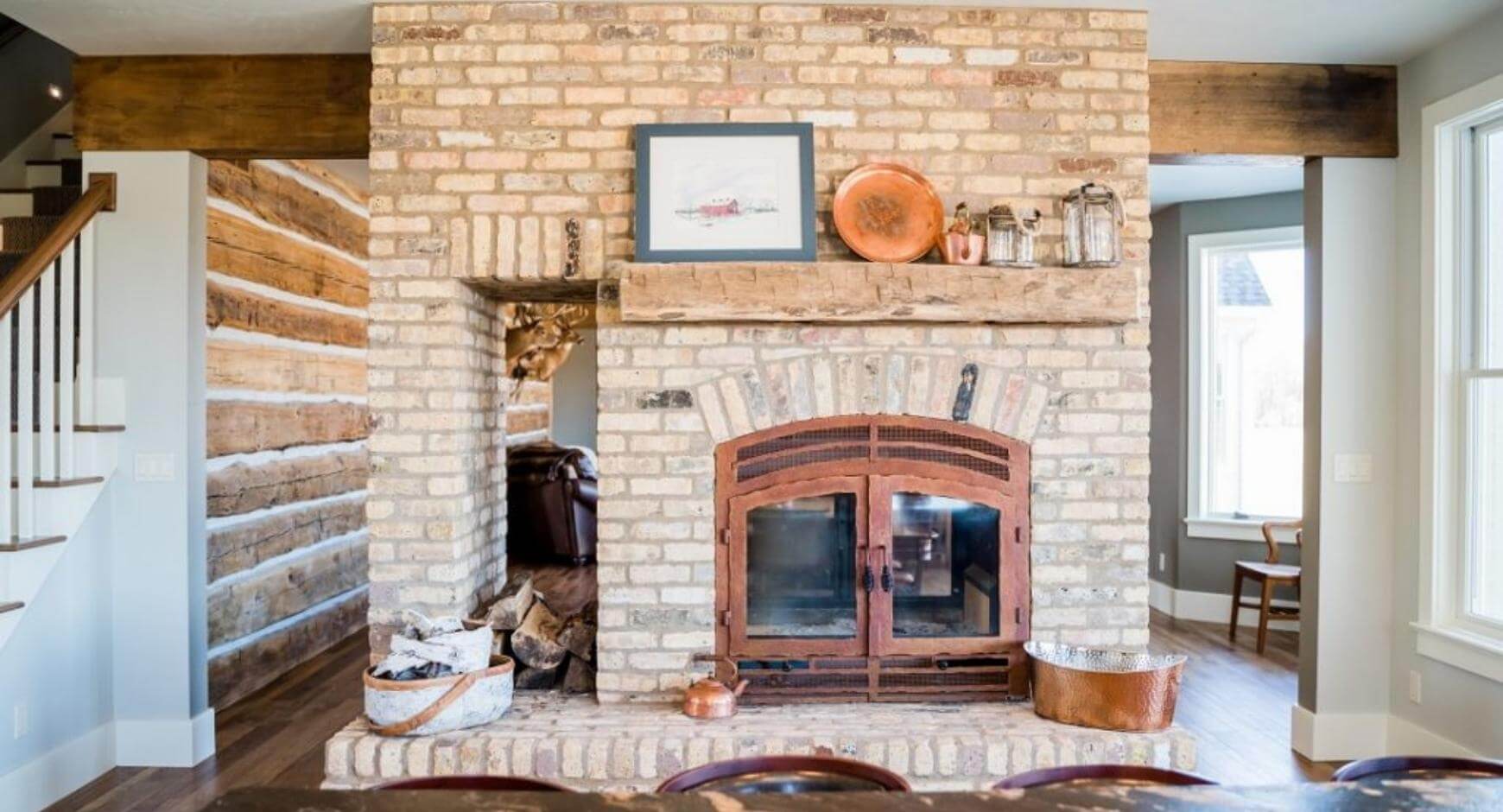 Explore Acucraft's various customizable wood-burning fireplace styles.
Fireplace Design Dimensions 
When you picture your ideal fireplace, you probably don't think about the standard wood-burning fireplace dimensions that accompany it. Instead, you just imagine what looks good in your mind's eye. However, fireplace design dimensions are crucial in creating a fireplace with aesthetic appeal that's also safe to operate.
Common fireplace dimensions that fireplace designers should take into account include fireplace width, fireplace length, wood-burning fireplace depth, and fireplace hearth height. Additionally, a good fireplace design will take typical fireplace opening dimensions and raised-hearth dimensions into account.
Standard Fireplace Dimensions
Fireplace dimension plans allow for both fireplace interiors and exteriors. The interior of a wood-burning fireplace refers to the area where wood is contained and burned, called the firebox. It also extends above the visible portion of the fireplace to include the flue and chimney. The exterior of a fireplace refers to the visible portion, including the opening and the surround.
While there is no set standard fireplace size, the following numbers give a good overview of average fireplace dimensions:
Fireplace opening: The average door opening for our Hearthroom Series ranges from 36''- 48'' wide and 21'' – 42'' tall.
Hearth: The average height of a finished hearth at Acucraft is around 15'' to 18'' tall
Keep in mind that additional space may be needed around your fireplace for ventilation.
Fireplace Size vs Room Size
A fireplace has to fit within the room where it will be installed. A fireplace that is too big or too small for its intended space will look strange and out of place. Acucraft Fireplace Advisor Mike Hannan points out how important it is to look at the room as a whole.
"We've all seen rooms where things don't look right — where things are out of proportion," Mike says. "Consider a fireplace that fits the room visually without overpowering the surround that contains it."
While there's no true standard fireplace width or standard hearth height to strive for when designing your dream wood-burning fireplace, you can work with experts at Acucraft who know the ins and outs of constructing magnificent features in all kinds of rooms and spaces. Check out their ten tips for planning a wood-burning fireplace for more inspiration.
Fireplace Surround Measurements
A fireplace surround refers to all the items surrounding the fireplace. These include the mantel, the hearth, and any other components on the sides that bring the entire fireplace's look together. Acucraft's Mike Hannan has tips for getting the best fireplace surround measurements for your new fireplace.
"For good proportions, measure the width of the fireplace opening," Mike says. "Then plan for one- to two-thirds of this measurement to determine the dimension of each side of the surround. This dimension will help you determine the finished facing material along each side of the fireplace opening."
While you're designing your fireplace surround, you'll find all kinds of material options to choose from. Check out Acucraft's buyer's guide to the best stone veneer for your fireplace.
Fireplace Size and Material Selection
Along with your fireplace size considerations comes your fireplace material selection. The type and size of your fireplace surround's material will determine what you and others see each time you find yourself enjoying a cozy stint by the fire.
Common materials include stone, tile, and brick. When choosing your material, be sure to select one that can be set in multiples to create a consistent, seamless look for your fireplace surround.
Factors to Determine Wood Fireplace Size
When determining wood-burning fireplace sizes, there are a few key factors that will help you decide which is best for you and your space. For example, many people who install fireplaces in their homes choose to mount TVs or works of art above them. These details, along with spatial features in the room, will help you determine the right size for your fireplace.
Accommodating room details: These refer to structures in the room, such as windows and cabinets that your fireplace will need to align with. Your fireplace size should fit nicely with these items, so the entire room looks put together.
Ceiling height: The height of your ceiling affects how tall everything else in the room should be. The standard home ceiling height is nine feet, but houses can have ceilings twice as tall. The higher the ceiling, the taller the fireplace can be.
Combustible mantel height: Combustible mantel fireplaces require a 12-inch clearance from the top of their trim to the combustible mantel. The higher the fireplace is off the floor, the higher the combustible mantle will have to be.
Wood Fireplace Material Considerations
Alongside fireplace size considerations, you must decide what material you want to use for your fireplace surround. These two design factors go hand in hand because certain materials are better suited to particular fireplace shapes and sizes. When building your perfect custom fireplace, you want to ensure every detail is perfect. Below are two items to keep in mind.
Material size: Material options include concrete, stone, brick, tile, and more. These different materials come in different sizes that will drastically change the overall look of your fireplace. For example, a uniform brick surround will look tidy and classic, while a mismatched stone surround will look contemporary and lively.
Aesthetic preference: Your personal style preference will always play a significant role in the design choices you make. Some people love the look of natural stone but hate the look of brick. Whatever option you go with, be sure that your material choices suit your aesthetic preferences and go well with the rest of your space.
Hearth Height: Raised or In-Floor
Your wood-burning fireplace will need a hearth to protect the surrounding area from combustibility. Whether you choose a raised hearth or an in-floor hearth is up to you.
People typically choose raised hearths for a few different reasons. They provide a more inviting place to sit and enjoy the coziness of your fire. Additionally, a raised hearth showcases your fireplace at eye level.
There are functional reasons to choose a raised hearth over an in-floor hearth, too. Having your hearth raised makes it easier to load wood into the fire without having to bend too deeply.
Acucraft's Mike Hannan says, "Think about stoking your fire. It's a lot easier when the fireplace is on a raised hearth."
For more inspiration, check out Acucraft's list of seven cozy cabin fireplace ideas.
Fireplace Hearth Height Considerations
While raised hearths are, by far, the most common choice, there are instances where lower hearth heights better suit space. Below are three factors that will help you determine exactly how high off the floor your wood-burning fireplace's hearth should be.
Fireplace opening size: Your fireplace opening and your hearth height work together to create a particular visual. A smaller fireplace opening looks better with a raised hearth, and a larger fireplace opening looks better when positioned lower to the floor.
Ceiling height: As with fireplace size, the hearth height is affected by your ceiling height. Once again, higher ceilings allow for taller hearths, while lower ceilings will call for hearths that are closer to the ground.
Your height: Your own height is essential to determine hearth height! Since you'll need to bend over to put wood in the fireplace, stoke your fire, and empty ashes, you'll want a hearth height that makes doing these tasks comfortable for you.
Design Your Dream Wood Fireplace with the Experts at Acucraft
Now that you're ready to design your perfect wood fireplace, see how the experts at Acucraft can help you. Acucraft offers 27 turn-key wood-burning fireplace models, along with many finishing options, to give you endless choices and fit seamlessly within your home or cabin.
Whether you're looking for single-sided fireplaces, see-through fireplaces, or indoor/outdoor fireplaces, Acucraft has something for you. The Acucraft Fireplace Advisors and Designers will work with you one-on-one without the need for intermediaries to help you find the best fireplace solution for your space.