February 28, 2023
Best Wood Burning Fireplace Venting Options For Your Space
There's a lot to like about wood burning fireplaces. Their eye-catching features can serve as a beautiful, cozy, and comforting centerpiece in your home. But if you're new to purchasing a fireplace, here's a guide on the best wood burning fireplace venting options. 
Airflow and fire are fundamentally linked. If there is no oxygen, then there is no fire. While all of your fireplace ventilation options will achieve largely the same goal of providing an exit route for the smoke and excess heat generated, it's important to understand the details of how wood burning fireplace vents work when planning to add a fireplace to your home. In this article, we'll take a closer look at common wood burning fireplace venting options and what you'll want to consider as you prepare to make a purchase.


Learn more about your wood burning fireplace design options for your home or business.
What To Consider When Thinking Of The Right Wood Burning Fireplace Venting Option
Before you go designing the dream wood burning fireplace for your space, there are some important considerations you'll need to weigh. Like with any major addition to your home, it's critical you do your research before diving in. Take some time to consider the following:
Type of Wood Burning Fireplace: The type of fireplace you desire–whether open hearth, closed hearth, two-sided, or another variation–can influence which venting option will work best for your home.
Space: The planned physical location of your fireplace is a critical element, as a wood burning fireplace's venting requirements include a vertical venting option. Will it be located in the center of a room? In a basement or lower level? Does this location present infrastructure challenges?
Professional Guidance & Consultation:  While you can certainly start thinking through what you'll want in a fireplace installation, it's best to consult with experienced professionals who can easily identify potential issues with your plan ahead of time.
Wood Burning Fireplace Venting Options
Once you've consulted with a professional and have a good idea of the type of wood burning fireplace you'll be adding to the space, it's time to focus on the absolutely critical factor of fireplace ventilation. Proper venting is essential for keeping both you and your property safe from damaging smoke particles and is key to keeping your fireplace functional. Let's take a closer look at three common fireplace venting options:
Class A Chimney
Acucraft fireplaces are certified to use high-performing class A chimneys. A class A chimney is an insulated, metal chimney that has a 1″-1 1/2″ space with high temp insulation to maintain consistent flue temperatures. A typical system will start with an anchor plate connection on the fireplace. The section lengths come in several sizes and adjustable sections. 15, 30, and 45-degree elbows can be used to offset framing or obstructions of the fireplace. In the USA, 15 or 30-degree elbows are allowed, while in Canada, 45-degree elbows are allowed.
Many people choose to build a chase around the chimney. A chase is a framed box to any dimension, mostly for appearance. The chase can be covered with stone/brick or siding and is made to look like a stone chimney from the exterior. The top of the chase is covered with a custom sheet metal chase top. A collar is part of the chase top and keeps the top of the chase weathertight. The class A chimney also has a rain cap that acts as a spark arrester and also keeps critters and birds from making nests in the chimney.
Contact one of our fireplace experts to learn more about how an Acucraft wood-burning fireplace can fit in your space.
Stone Masonry Chimney
Masonry chimneys use brick (or stone) and mortar designs to enclose the fireplace's air-venting pathway. This style is often an open-viewing fireplace meant for ambiance. They typically require more physical space and are usually built at the same time as the rest of the household. These structures, when properly maintained, are built to last and can withstand high temperatures.
That said, the maintenance of a wood-burning fireplace chimney system like this is a significant factor to keep in mind. Masonry chimneys are comparatively difficult to clean and require a regular coating of water repellent to stay in ideal working order.
Air-Cooled Chimney
Air-cooled chimneys are an inexpensive ventilation option that uses a stainless steel interior with an air space and an outer metal casing. When a fire is started, the warm air flows up the outer air chamber to cool the chimney. They're most commonly used on metal zero-clearance fireplaces and, like stone masonry fireplaces, are meant for ambiance.
This type of ventilation has a lot of drawbacks, specifically related to performance, so Acucraft fireplaces do not use air-cooled chimneys. The anchor plate, or starter section of the chimney, will have holes around the outside of the pipe. Warm air from inside the home will flow into the outer air chamber and exit to the exterior in a separate portion of the rain cap. During cold seasons, this will affect energy usage in the home since there is always warm air flowing out of the home and cold air filtering in.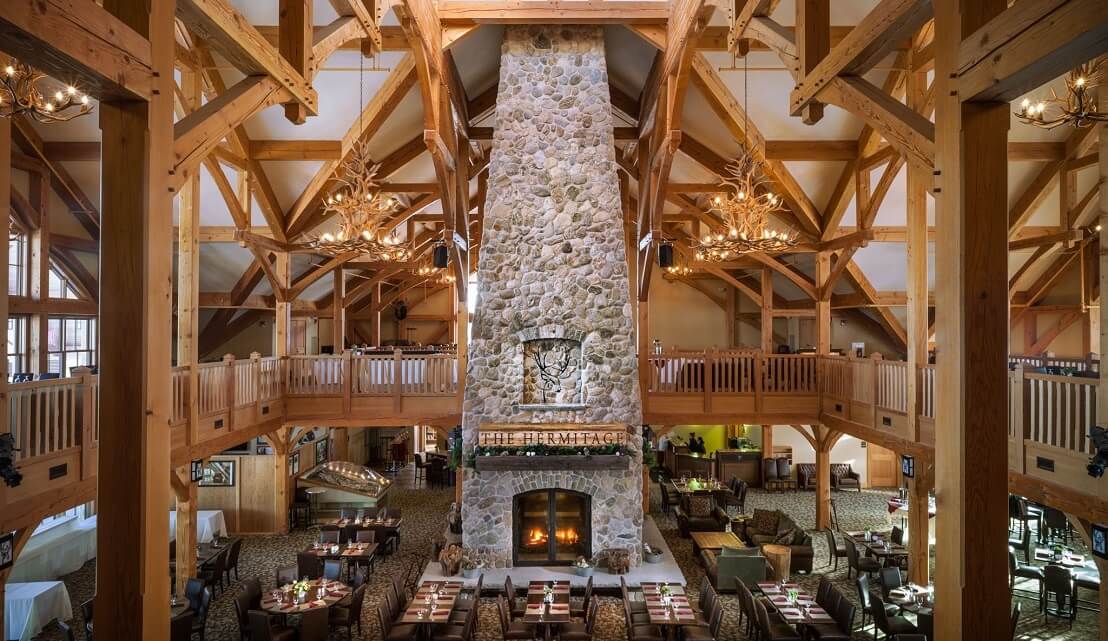 Can Wood Burning Fireplaces Be Customized Beyond Venting?
Are you looking to add a uniquely styled fireplace? There are certainly options for adding a distinct, customized wood burning fireplace to your home. At Acucraft, you can find:
Traditional Customizable Wood Fireplaces
Modern & Unique Fireplaces
Indoor-Outdoor Wood Fireplaces
See-through Wood Fireplaces
Classic Single-Sided Wood-burning Fireplaces
As well as a variety of accessorization options for frame finishing, door styles, grids, and handles to help bring your vision to life.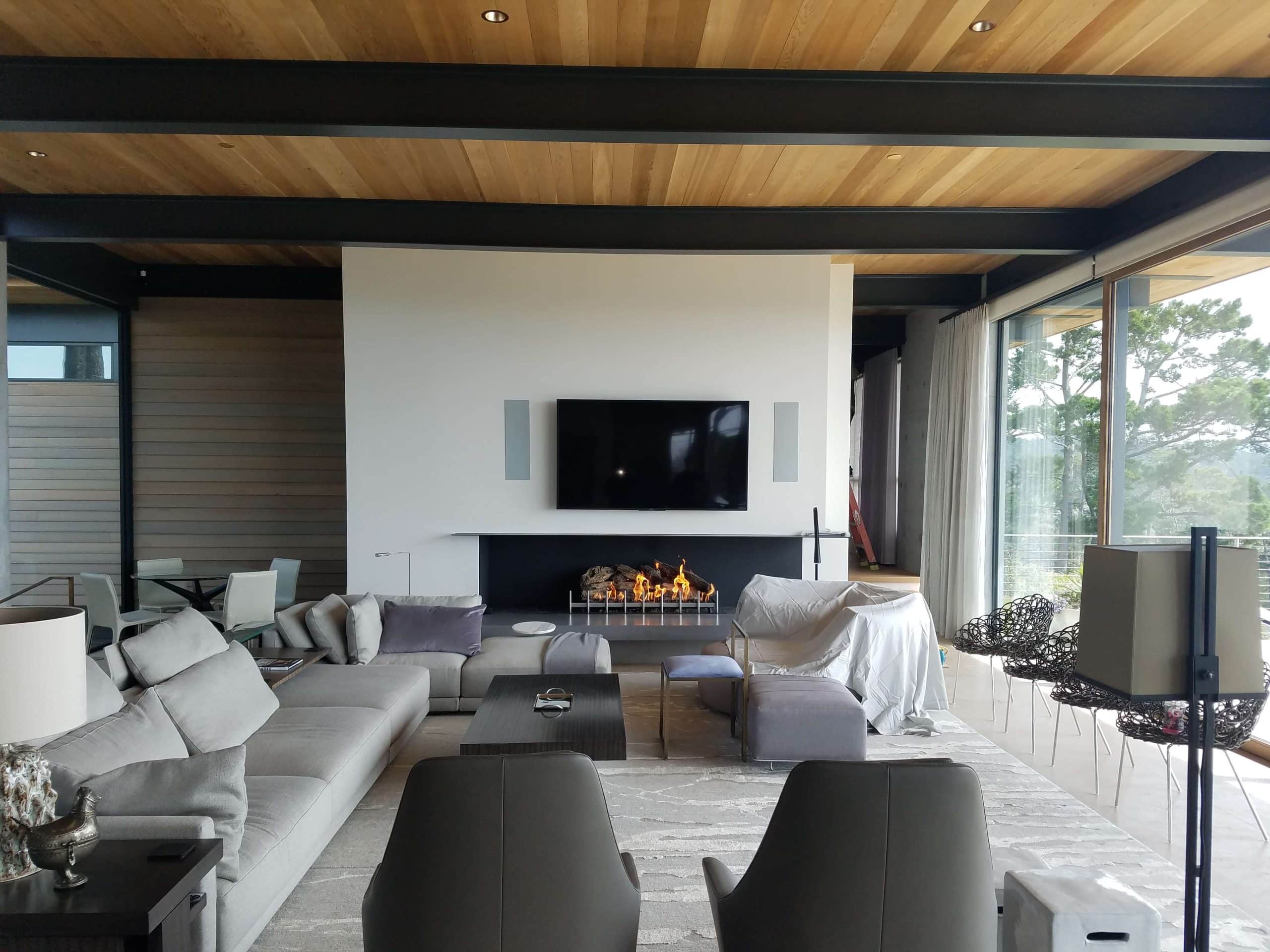 Explore Acucraft's Wood Burning Fireplace Selection
Adding a wood-burning fireplace to your home requires thoughtful planning, but the appeal of having an expertly crafted and cozy centerpiece is undeniable. Now that you know more about wood burning fireplace venting options and the considerations to keep in mind for each, you'll want to get acquainted with our inventory of options.
Acucraft offers an excellent selection of wood burning fireplaces that can fit nearly any need. When you're ready to explore your options with a fireplace advisor, contact us!