6 Different Types of Wood Burning Fireplaces and Designs
The crackle of a wood burning fireplace is a must have in many homeowners' minds. However, few are aware that there are different types of wood burning fireplaces, and each can add to the experience in its own way.
Acucraft's selection of wood burning fireplaces offers a wide variety of customizable styles, as well as prefabricated units and faux wood gas fireplaces, so you can be certain to find the right fireplace for your home. Our team of fireplace experts will guide you through each step of the journey from design to installation.


Contact Acucraft today to turn your dream fireplace design into a reality. 
Main Types of Wood Burning Fireplaces
Open hearth fireplaces are what most people picture when they think of a fireplace, but what is an open hearth fireplace? How do they differ from other wood burning fireplaces? In order to decide which style is right for you, it's important to familiarize yourself with the six types of wood burning fireplaces.
Open Hearth
Closed Hearth
Prefabricated Wood Burning Fireplaces
Faux Wood Gas Fireplaces
Fireplace Inserts 
Wood Fire Stoves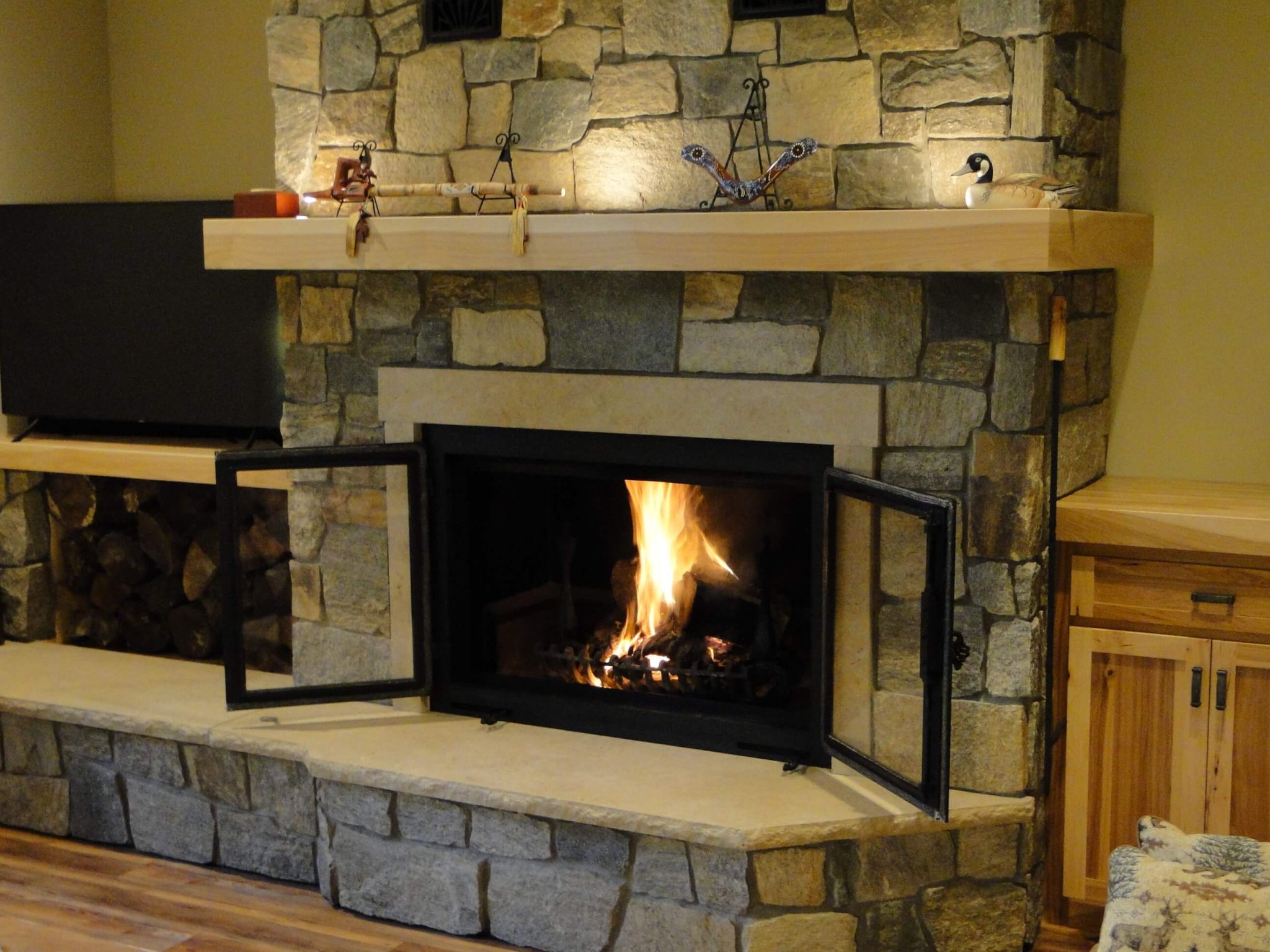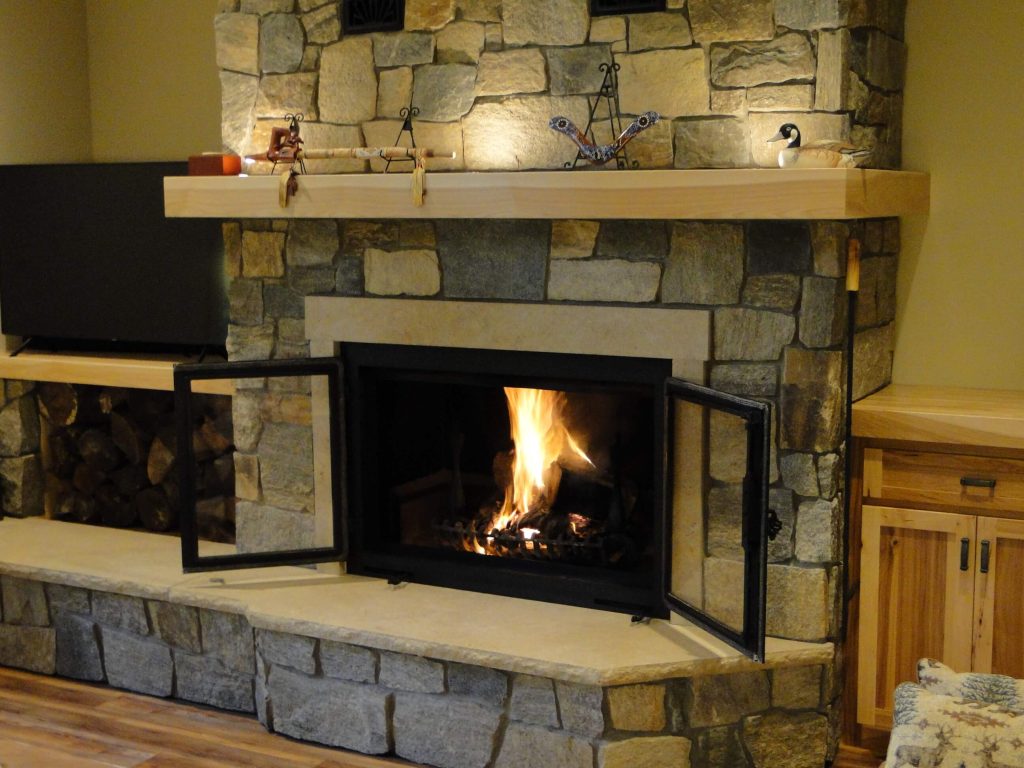 Open Hearth
An open hearth fireplace is typically constructed on-site by a mason using real firebrick to line the firebox. As the name suggests, open hearth fireplaces have exposed flames that give the room a picturesque glow. They may also come with fire doors or a removable firescreen for added protection when needed. While the cost of a masonry fireplace is typically higher than a prefab wood burning fireplace, the value a fireplace adds to a home makes the investment worthwhile.
Great for: Outdoor Spaces, Cabins, Living Rooms
Cost: $6550 – $12,250 depending on size and style
Advantages: Open hearth fireplaces are perfect for those looking to recreate the ambiance of old-world luxury. There are few things in life that are quite as relaxing as sitting down next to an open wood fireplace with a good book and a great drink.
Considerations: While open flames can be beautiful, they can also be dangerous for small children and curious pets. If you plan to leave the fire unattended for any period of time, it's wise to have a fire screen or door you can close, which some fireplaces like Acucraft's Hearthroom wood burning fireplaces require if operating with the doors open or removed.
Create your dream fireplace with help from the expert fireplace designers at Acucraft. 
Closed Hearth
The other option for a built-in wood burning fireplace is a closed hearth. It's similar to open hearth in terms of form and design options, but it has a protective barrier of glass between you and the flames. You can enjoy your nap by the fireplace with the peace of mind that you won't catch an errant spark off a crackling log.
The safety and security make this fireplace a popular choice for hotels and restaurants and for the homeowner that's always on the move. Despite the added layer of glass, these wood burning fireplaces cost about the same as their open hearth counterparts.
Great for: Ski Resort/Chalet, Restaurants, Living Rooms
Cost: $6550 – $12,250 depending on size and style
Advantages: Enjoy the atmosphere of a wood burning fireplace without the risks associated with an open fire in your home.
Considerations: In order to keep your fireplace looking as breathtaking as the day you bought it, you will need to clean the glass annually or more often if you use the fireplace frequently.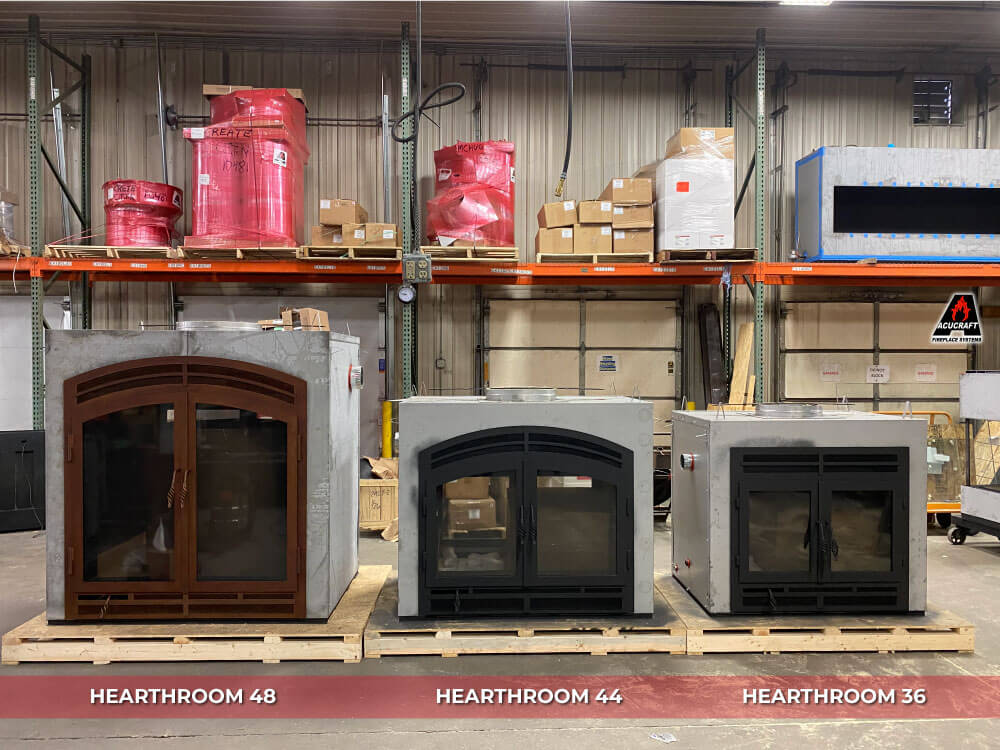 Prefabricated Wood Burning Fireplace
Acucraft offers top-of-the-line prefabricated wood burning fireplaces, some of which can be converted to gas and back in as little as 30 minutes. Perfect for the homeowner who's stuck between the atmosphere of a crackling wood fireplace vs a gas fireplace's quick switch start and low maintenance. Don't let the prefab trick you into thinking you can't achieve the design you're looking for because the options for stone or metal surrounds are just as open as they are with the open hearth fireplaces.
Gas Log Sets
Our realistic gas log sets can convince anyone that they're looking at a real wood burning fire. These fireplaces are great for entertainment centers, as the level of control makes them the ideal choice when mounting a TV above the fireplace. You can also take this type of fireplace outdoors to create the perfect pool fire pit combo. The versatility of faux wood gas fireplaces will have you putting them in every room in your house, and at such an affordable price, why shouldn't you?
Great for: Outdoor Spaces, Bedrooms, Living Rooms
Cost: $4,995-$8,995 fireplace only
Advantages: Enjoy the charm of a wood burning fireplace at the push of a button. Gas log sets also require much less maintenance and necessary safety precautions.
Considerations: You may miss the quiet crackling of a real wood burning fireplace, and the atmosphere it brings into the room.
Fireplace Inserts (Not Offered At Acucraft) 
Fireplace inserts are self-contained boxes with glass windows that are designed to fit into an existing space. Since inserts are made to sit inside an older fireplace, you are limited on design and placement options. The fireboxes cannot be as deep as a typical fireplace, limiting the size of the fire and gas logs as well.
To put it simply, a person purchases an insert when they have a fireplace opening in their home and need something to 'insert' into that opening. However, because of all their limitations, fireplace inserts are not offered by Acucraft.
Wood Fire Stoves (Not Offered At Acucraft)
Wood fire stoves are closed combustion systems much like an insert, except that they're freestanding. They don't require an existing space to fit into but rather a hearth pad or concrete slab to sit on. Wood stoves are commonly used in cabins or homes that do not have access to gas or secure power. They have been around for hundreds of years and have a unique rustic appeal, but it comes with many limitations and is not offered by the custom fireplace specialists at Acucraft.
Wood Burning Fireplace Designs
Depending on the type of wood burning fireplace you prefer, you could be open to a range of unique wood burning fireplace designs. The traditional front-facing design is what comes to mind when most people think of a fireplace, but you may consider branching into two-sided designs to double the usability of your fireplace. However you imagine your dream fireplace, Acucraft has the ability to customize the design to fit any home aesthetic.
Front-Facing (Single-sided)
See-Through (Two-sided)
Indoor-Outdoor (Two-sided)
Customizable Fireplaces
Extra large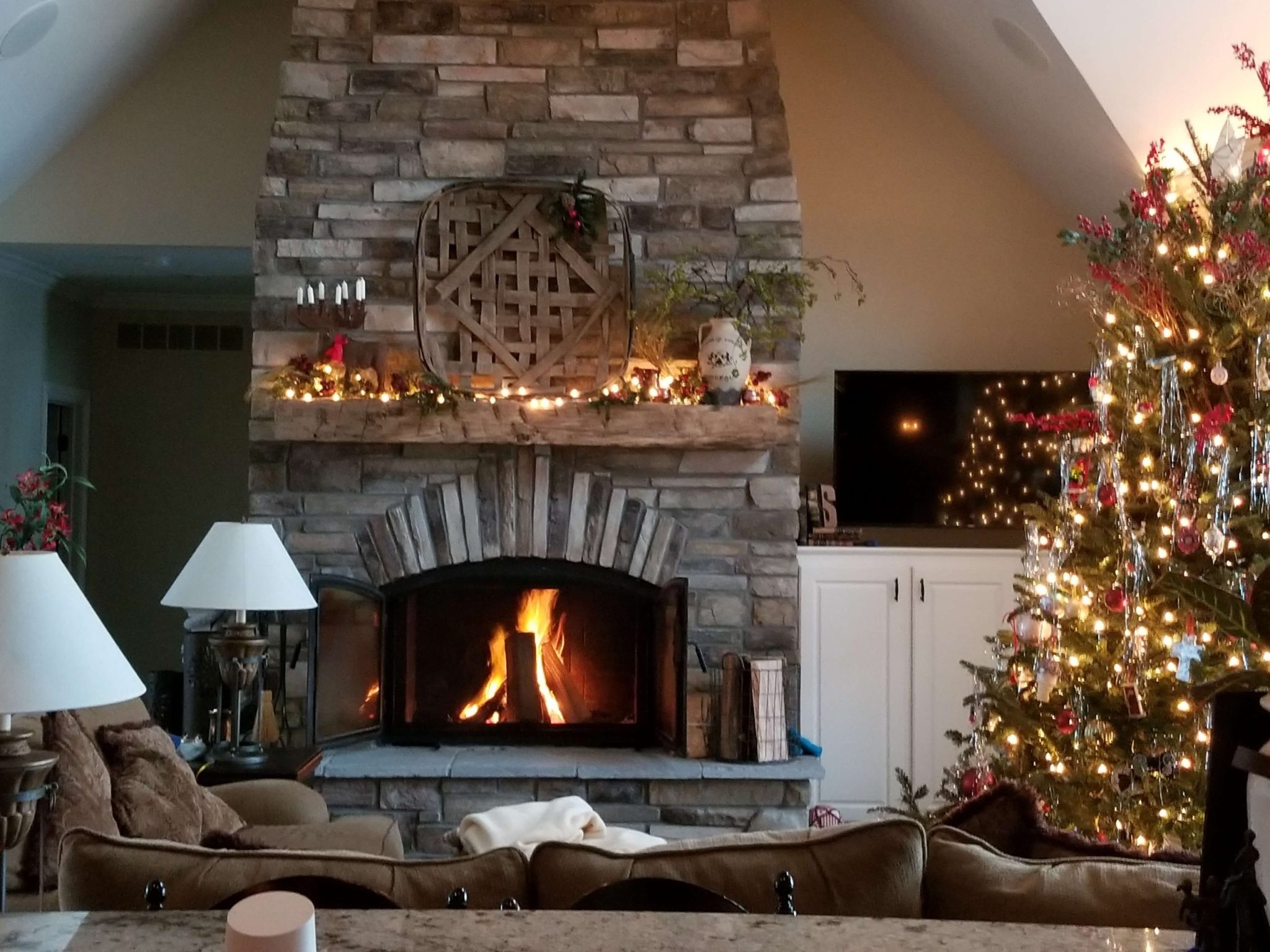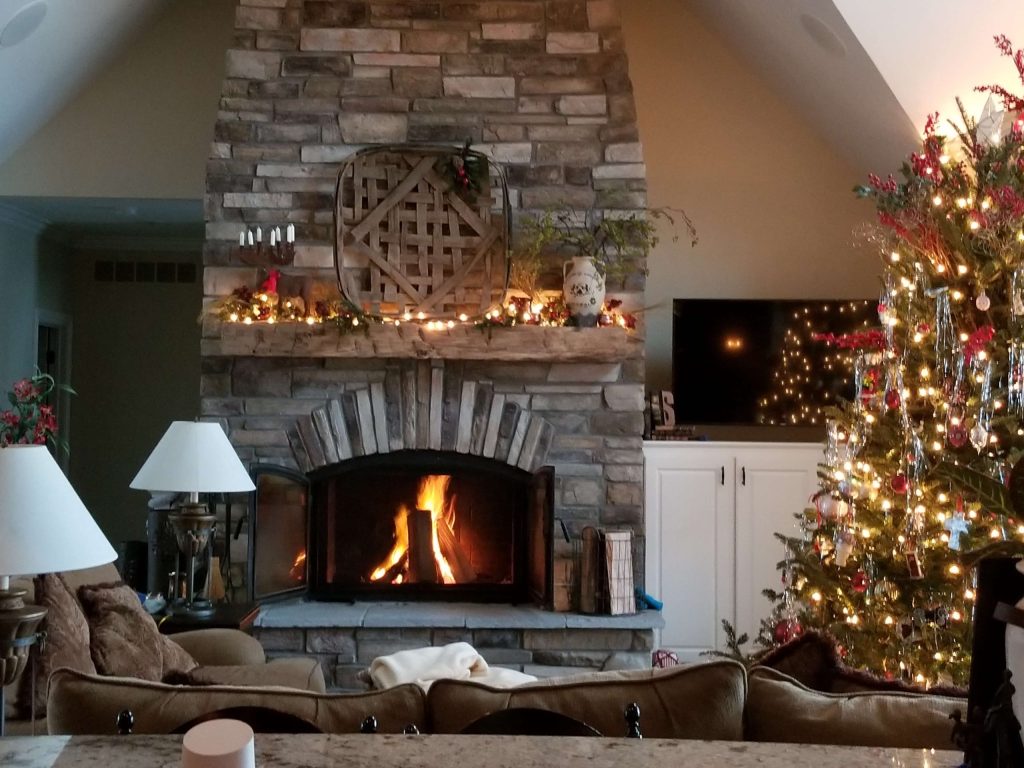 Front-Facing (Single-sided)
A traditional wood burning fireplace is typically depicted as single-sided and acts as the central gathering place. In a home, they make ideal living room fireplaces, but they can also be found in ski lodges or chalets. Their simplistic design allows them to fit in many areas that two-sided fireplaces cannot, but they are anything but simple looking. With an endless amount of customizable surrounds and stone veneers, the fireplace is sure to be a focal point of any room.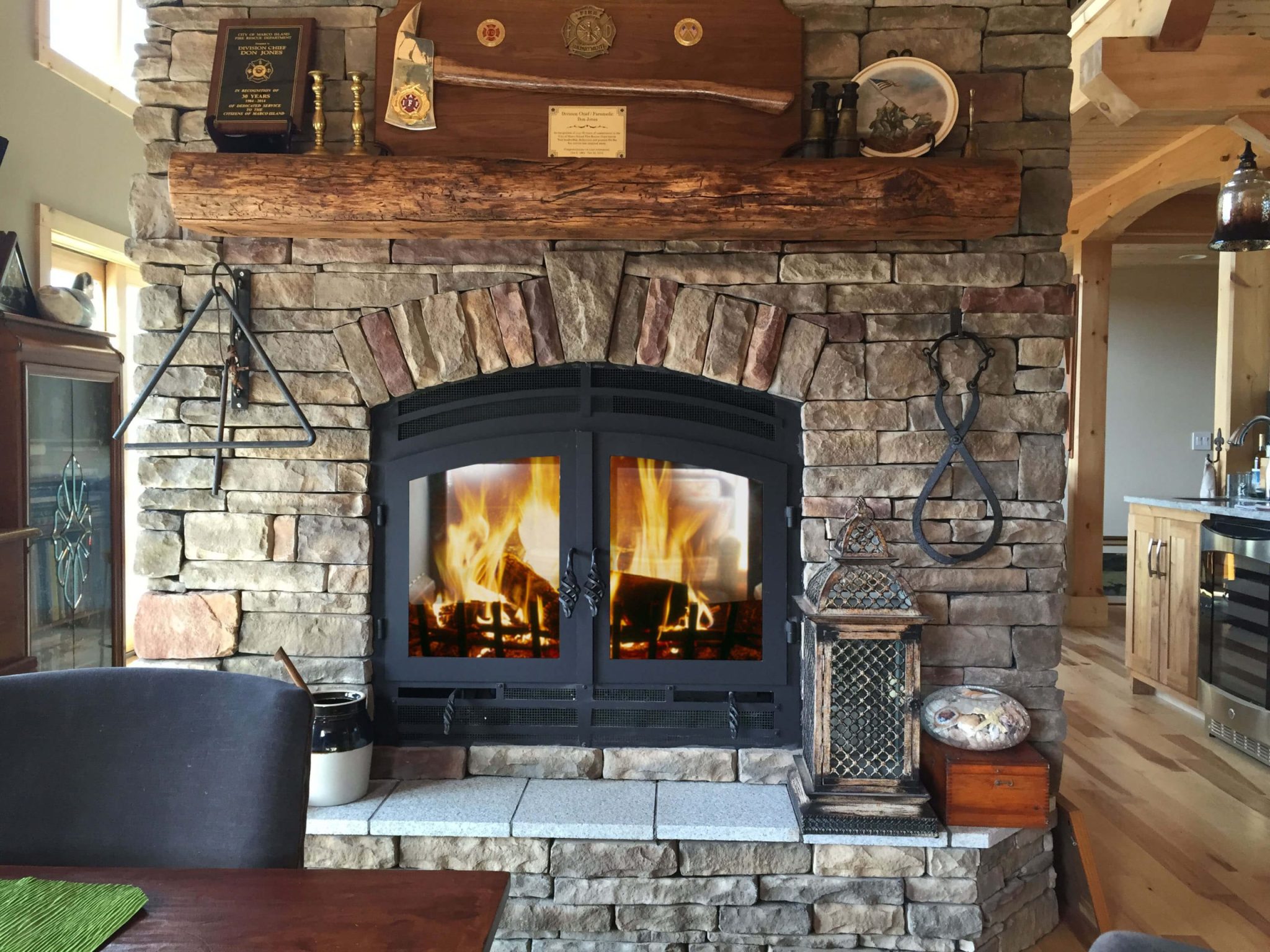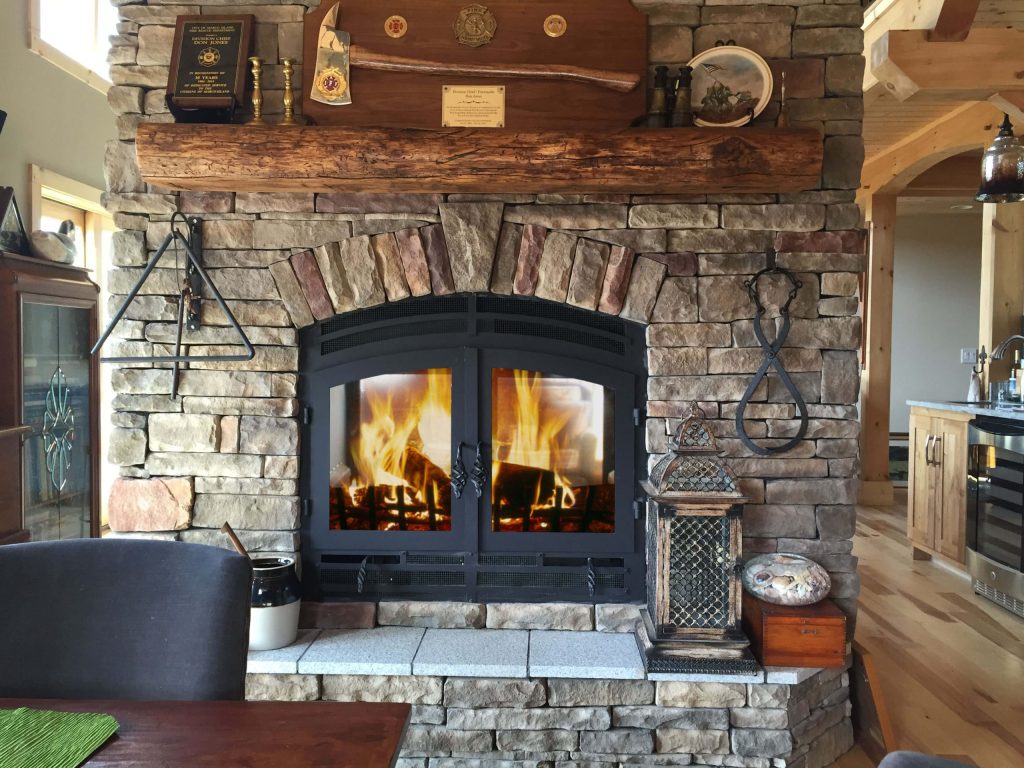 See-Through (Two-sided)
One of the hottest fireplace trends this year is the see-through or two-sided fireplace. Since the cost of a wood burning fireplace can get quite expensive, it makes sense to double its value by giving you access to multiple rooms or acting as the centerpiece in a large gathering area.
The striking window of fire into the adjacent room can make a house feel more connected and invite conversation. Unfortunately, they don't work in every situation, so before you knock down any walls, check out our pros and cons of double sided fireplaces.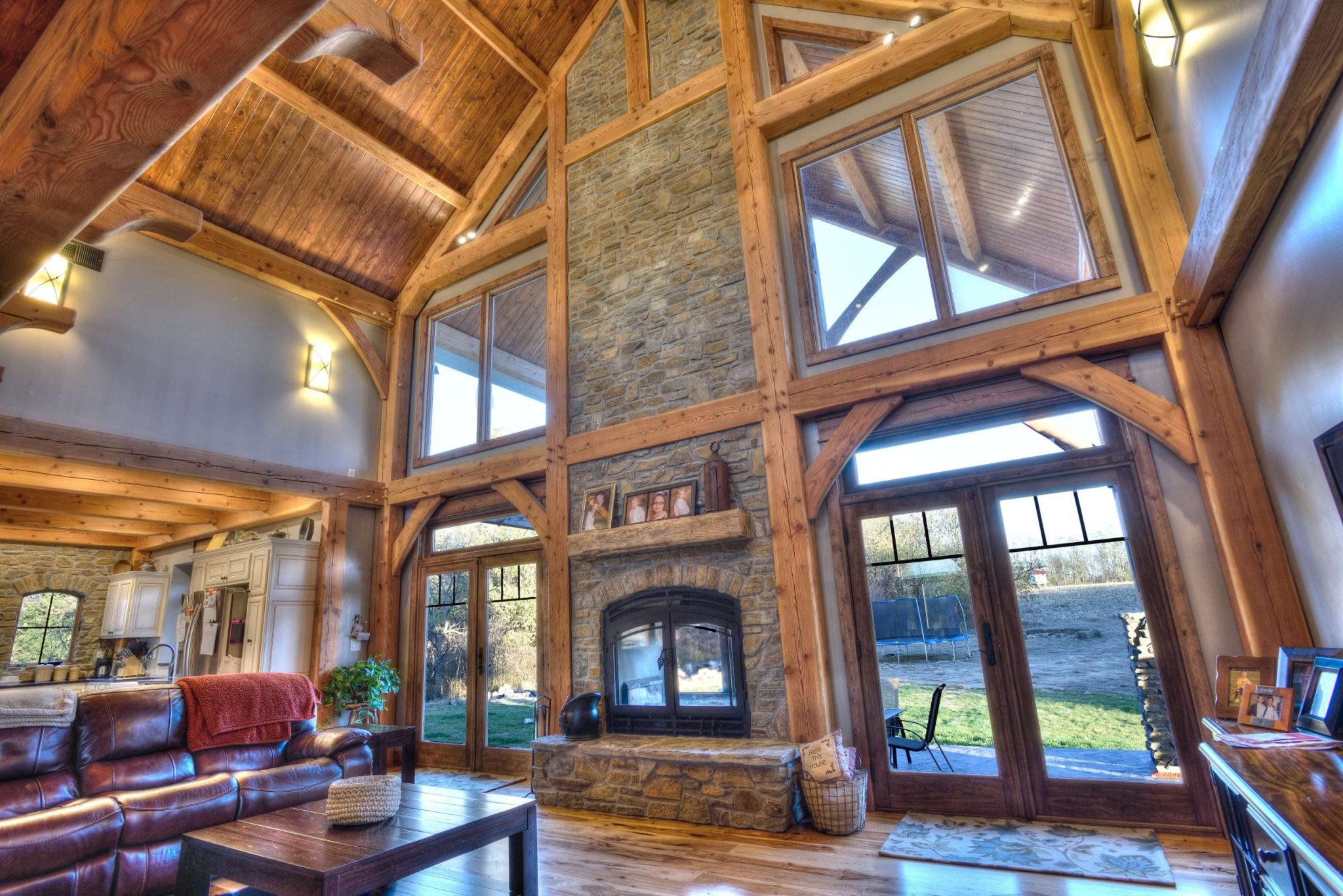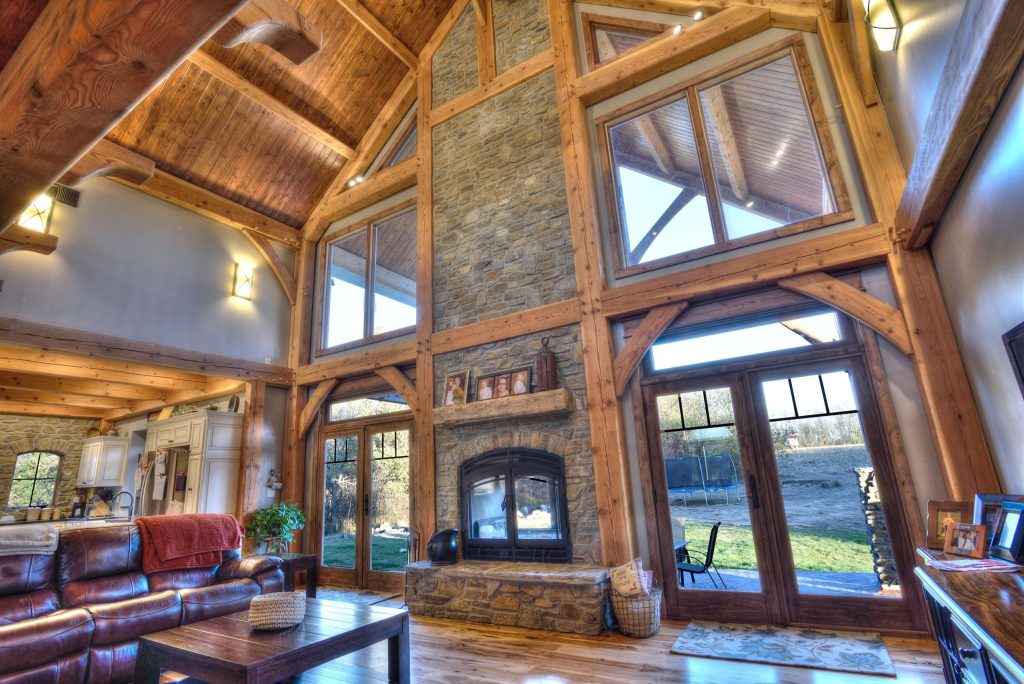 Indoor-Outdoor (Two-sided)
Indoor wood burning fireplaces are the ideal cozy companion, but there are nights when you want to be sitting under the stars, and having that fireplace reach the patio would be ideal. If you're looking for inspiration, check out these deck, patio, and screened in porch fireplace ideas to get an idea of how an indoor-outdoor fireplace could work in your home.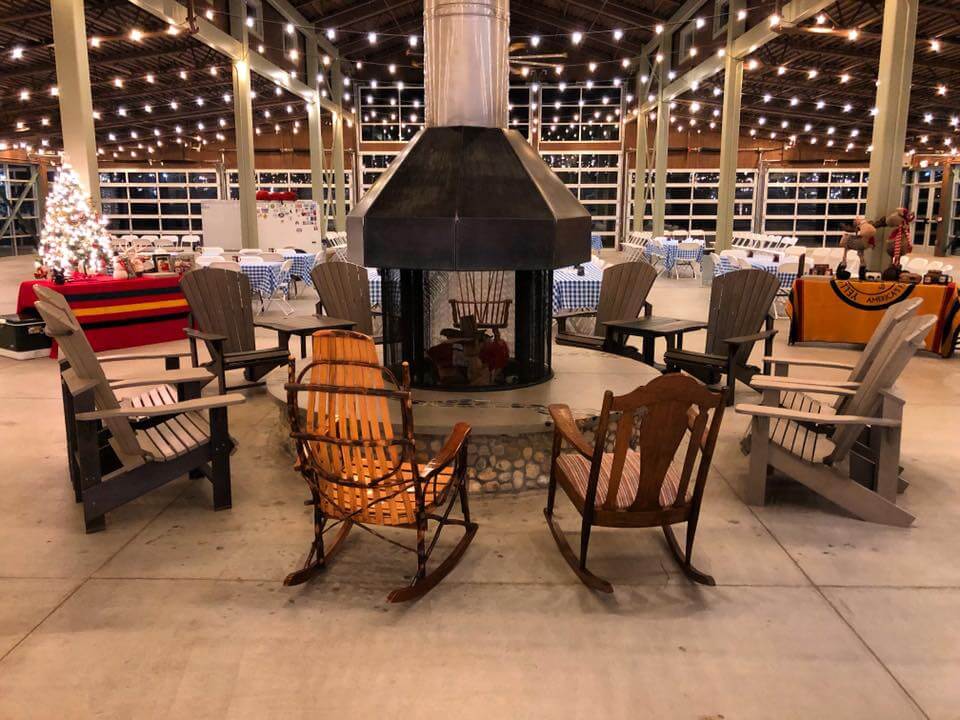 Customizable Wood Fireplace
Acucraft's customizable wood fireplace options are unmatched in their quality materials and refined finishes. You'll be faced with every option, from red bricks to antique blend bricks, matte black to copper patina exteriors, and the best stone veneer choices available. Whether you're looking for a rustic stone wood burning fireplace or something more modern like one of our sleek metal wood burning fireplaces, there is nothing that can't be achieved when you put the custom designers at Acucraft to work.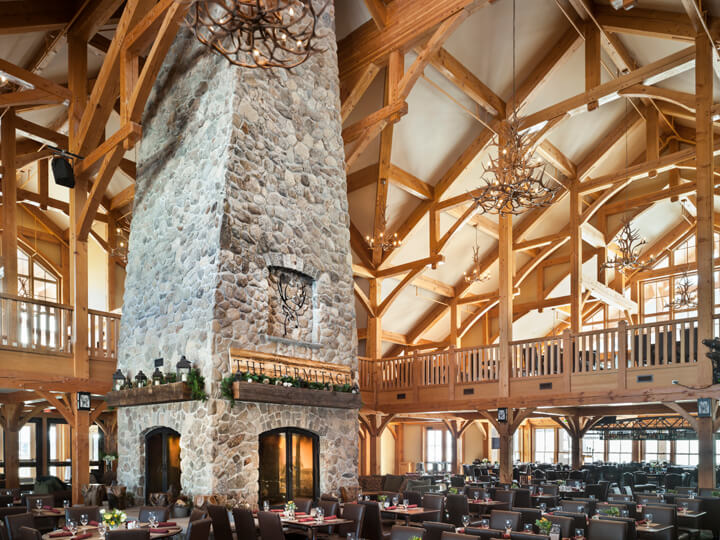 Extra Large Wood Burning Fireplace
If you want to make a statement with your wood burning stone fireplace, then stack the stone up to the ceiling and create a grand design. Leave the prefab wood burning fireplaces behind and create something that everybody can gather around. This style is ideal for hotel lobbies and is certain to grab people's attention.
Find Your Perfect Type of Wood Fireplace from Acucraft
We love pairing people with their ideal fireplace companions to light up their living room and make a space feel cozy. With every style, from sleek and seamless modern designs to the rustic old world stone fireplaces of days long past, we've got you covered! Whatever your fireplace dreams may be, contact Acucraft for a free consultation and start designing today. Visit our blog or browse our photo gallery for more inspiration, and explore our custom and standard options for wood, gas, and outdoor fireplaces.