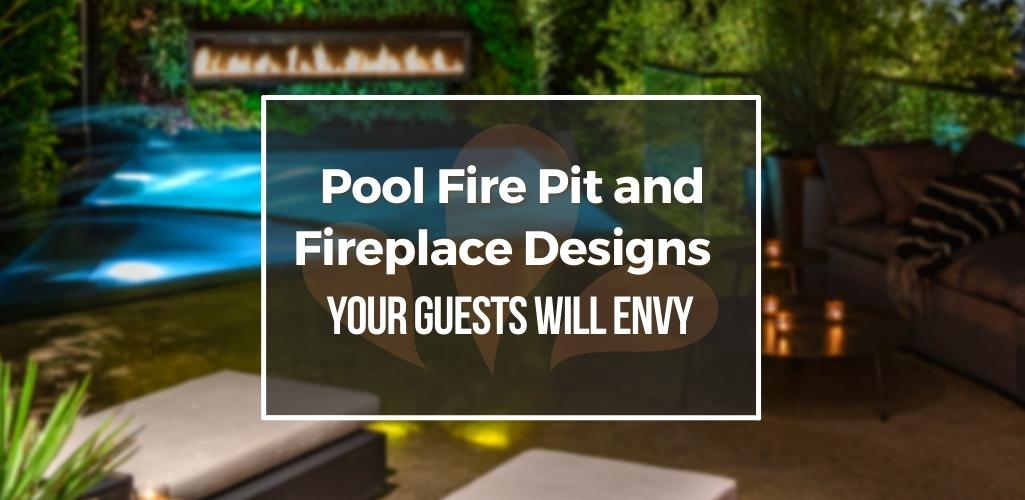 If you're looking for outdoor fireplace ideas to redesign your patio or poolside, you'll find the options are countless. A pool with a fireplace can transform your backyard into a mini-resort, making it a spot you (and your guests) won't want to leave. The remaining question is, how do you choose the right one for your space?
When looking through backyard ideas with a pool, it's important to consider the functions you'll need it for.
Are you looking for a visually striking fire feature? 
Will you have dinner parties? 
Is your fire pit something you'll want to enjoy year-round? 
These are a few questions to consider when creating your outdoor haven. Whether you're looking to turn heads, enjoy meals, or simply sit back and relax, the perfect design awaits.

Poolside Fireplace Designs That Turn Heads
When redesigning your outdoor space, there are many fire pit and backyard fireplace designs that create a relaxing, social atmosphere. You can customize your outdoor fire pit to suit your lifestyle. Consider an indoor/outdoor fireplace for a more intimate approach, or plan for large gatherings with a striking fire table.
You can opt for a casual or luxurious feel when selecting gas fire pits for pools. Create a dramatic wall of flame with a wrap-around poolside fire pit, or keep it simple with a low-key fire feature for you and your guests to gather around. For more casual outdoor fire pit ideas, consider installing a stone fireplace.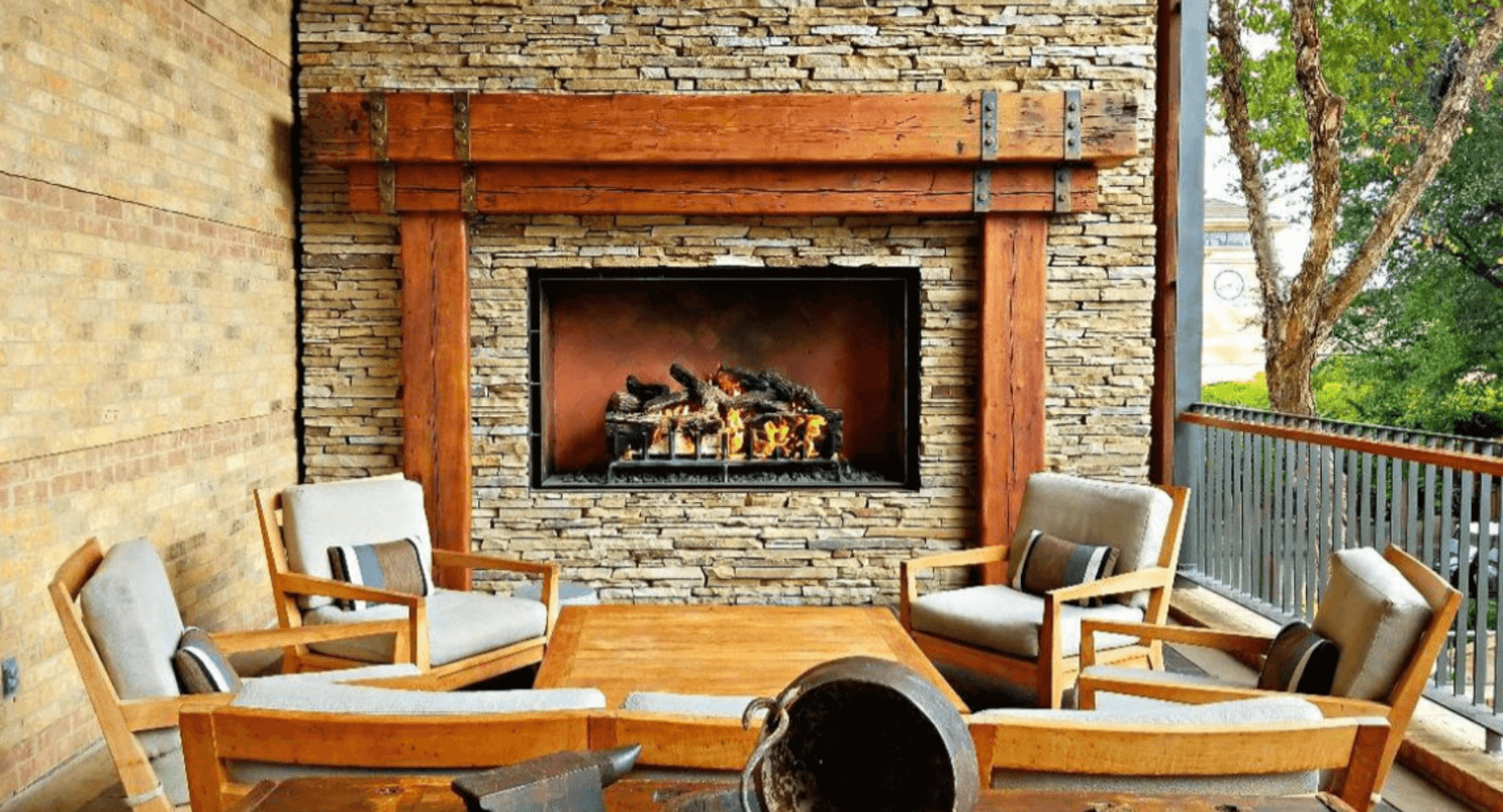 Stacked Stone Outdoor Fireplace
Bring the relaxing feel of a resort to your home with an outdoor stone fireplace. Outdoor fireplaces create a focal point in your backyard. It creates a space for social gatherings or to enjoy a cocktail in the evenings. With an outdoor fireplace, you and your guests can enjoy conversation on a quiet night in front of the dancing flames throughout the year, not just the warmer months.
Stacked stone outdoor fireplaces are safer than other outdoor fire pit options. The walls prevent wind from whipping the flames, and a screen or glass front will keep kids and pets safe. Below are a few of the benefits of an outdoor stone fireplace:
Natural look and feel
Durable
Many different style options
Safer than other outdoor fire pits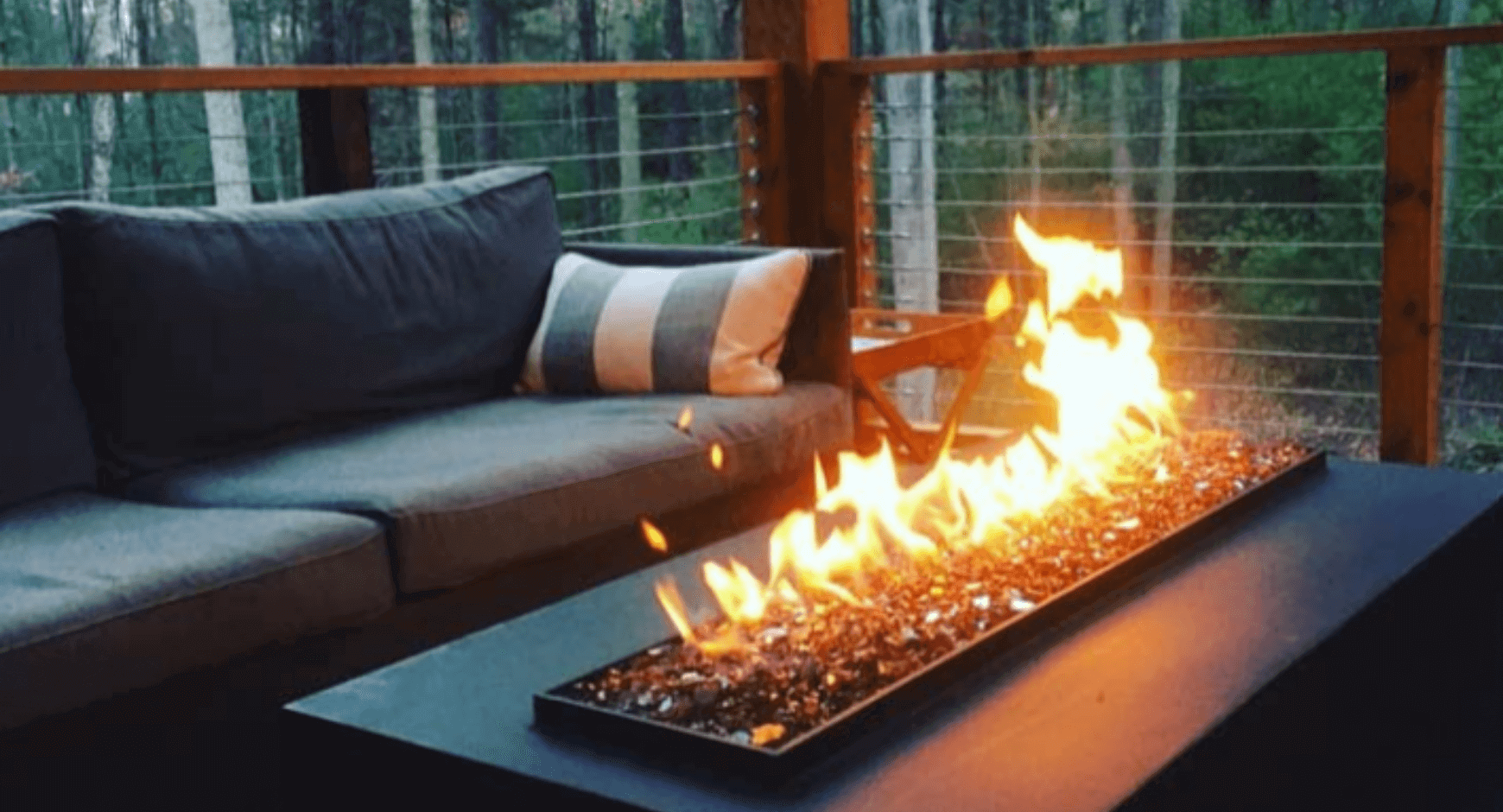 Pool Deck Gas Fire Pit
Outdoor gas fire pits come in many different sizes and shapes, making them an excellent option for outdoor spaces of any size. They have a modern look and feel that transforms your patio into an elegant spot for a dinner party. Outdoor fire tables are perfect next to the pool and can also be placed on a balcony to enjoy views while dining.
Outdoor fire tables work in any outdoor space, whether you're sprucing up your patio in the backyard or creating a relaxing outdoor space on your balcony. Outdoor fire tables aren't kid-friendly. While there are glass screens and other safety features, the open flame is still reachable.
Many size options
Available in different shapes
Modern look
Enjoyable year-round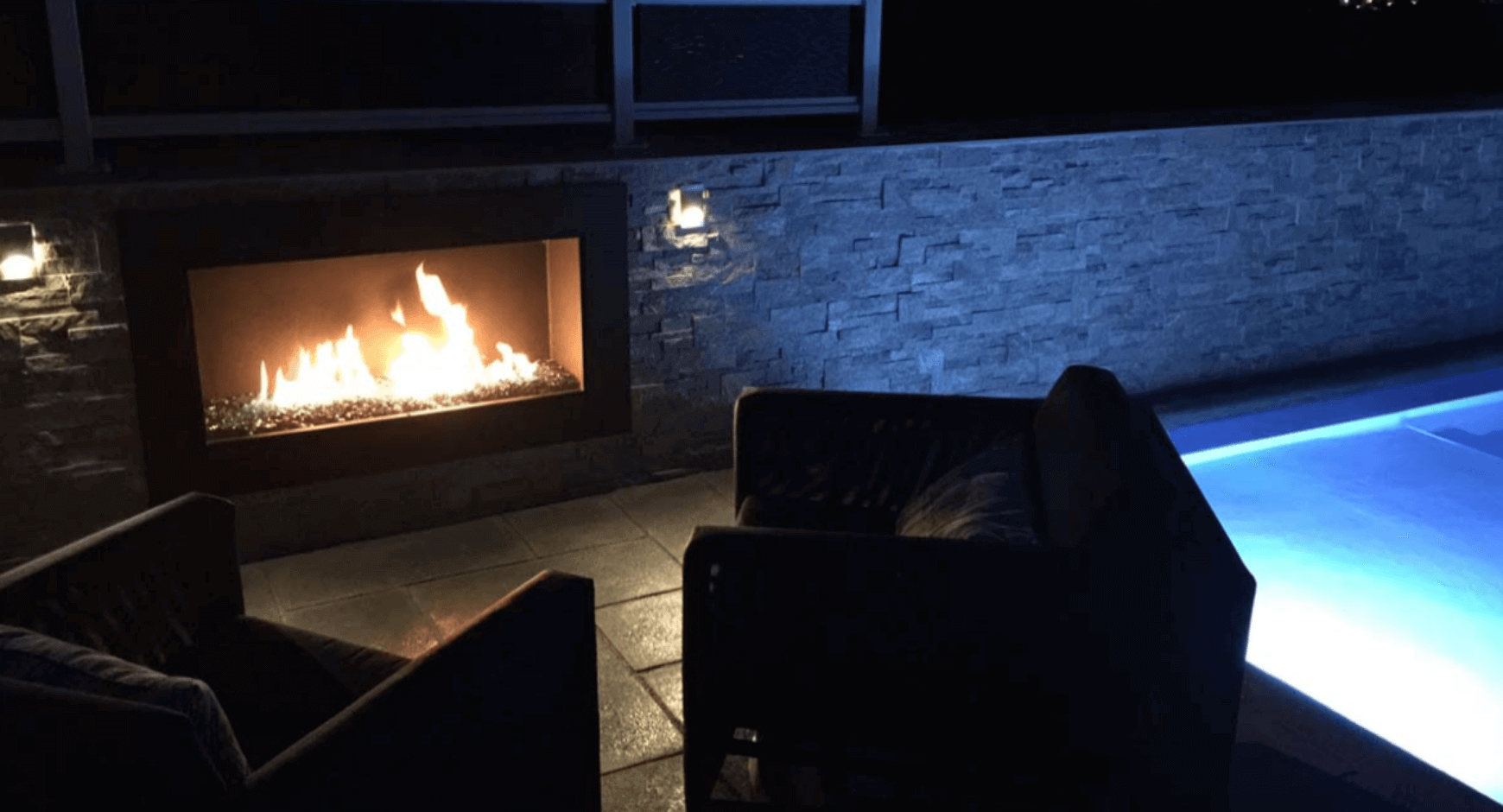 Outdoor Brick Fireplace
Spruce up your deck with a classic poolside fireplace. Outdoor brick fireplaces will create contrast against your pool's coloring, making it a focal point in your backyard. Brick fireplaces are one of the more casual options when it comes to outdoor fireplace designs. Enjoy a chilly night lounging around the fireplace or add a bit of heat and ambiance to your gathering on summer evenings.
Similar to the stacked stone fireplace, brick fireplaces are a safe luxury outdoor fireplace option if you have young kids or pets. You can opt for a glass-covered front or an optional screen as added safety features. This, in addition to the walled sides of the fireplace, will prevent children and pets from getting too close.
Casual
Creates ambiance
A great poolside option
Safe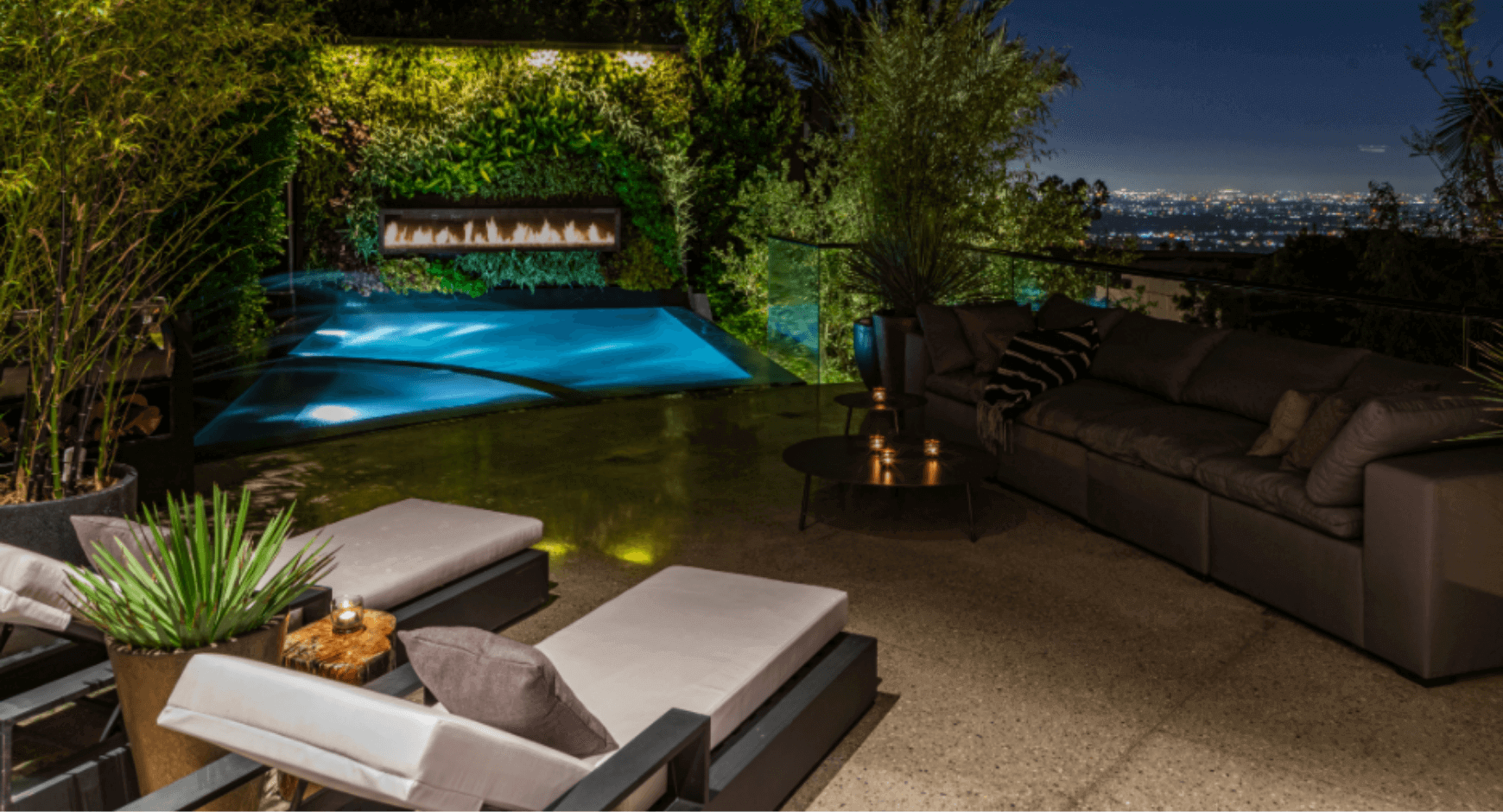 Linear Poolside Fireplace
A linear fireplace creates a focal point when lounging in or near the pool. The linear poolside fireplace will entice your guests into the water. Poolside fireplaces create a tranquil spot for socializing, whether you're lounging in the sun or cooling off in the water. Hang outdoor lights on trees or outdoor structures, and you'll have your own backyard oasis.
Linear poolside fireplaces look great in large outdoor living spaces. Available in many different lengths, from small to large, they'll bring a modern look to any pool. With the glass cover, linear fireplaces are safe if you or guests have kids playing in the pool.
Different lengths available
Creates a focal point
Modern
Safe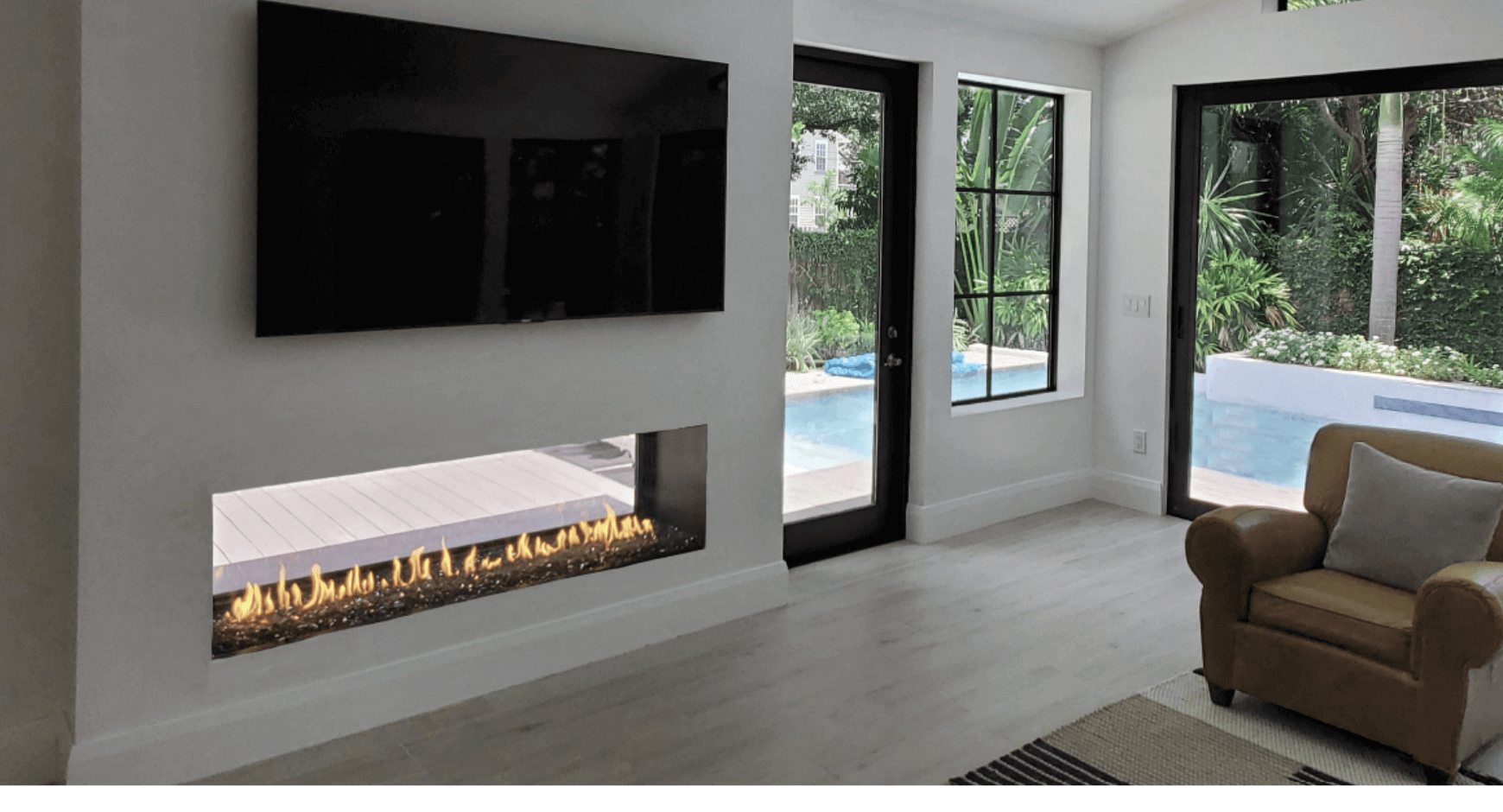 Indoor/Outdoor Fire Pit
An indoor/outdoor fire pit will let you enjoy the best of both worlds. On chilly evenings, you may want to gather inside around the cozy fire. On warmer days, it's more enjoyable to gather outdoors. An added bonus is that this style is a see-through fire pit that brings natural light to brighten your home.
Indoor/outdoor fireplaces look best in residential settings, though some styles may be more fit for restaurants and hotels. You can choose to keep your indoor outdoor fire pit open, but using glass or a screen will make your indoor/outdoor fireplace even safer. A pool with a fire pit area will give your home a resort-like feel at a reasonable cost.
Enjoy the fire inside or out
See-through
Great residential option
Safe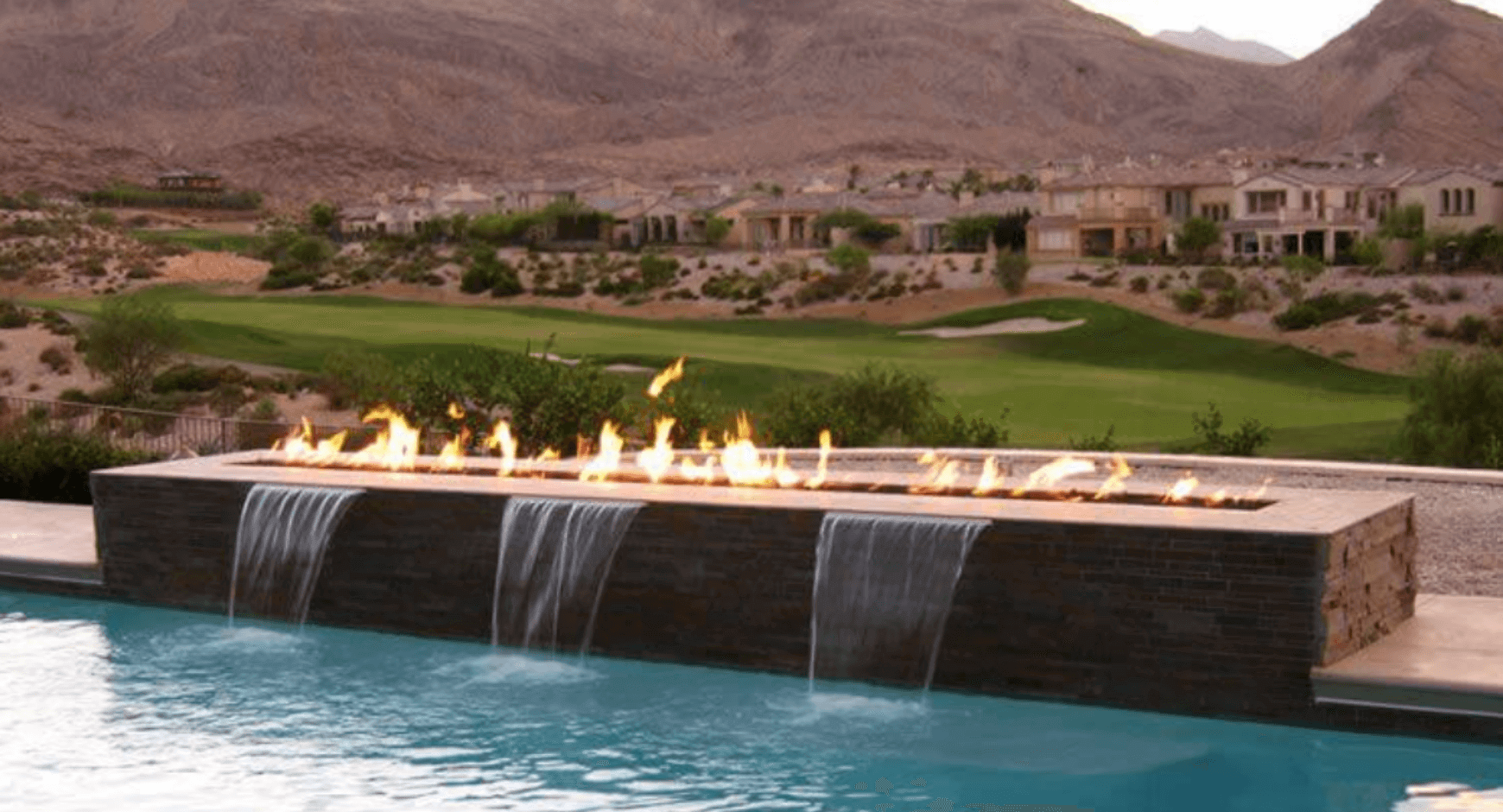 Poolside Fire and Water Feature
When designing your patio, consider installing a pool fire feature. Poolside fire features add flair while also giving your pool a luxurious look and feel. By placing a fire pit next to the pool, you'll create a festive atmosphere for late-night swims and parties. Poolside features can be placed strategically around the pool or at your pool's entrance to create an inviting feel.
There are many swimming pool fire pit designs to choose from. Pool fire pits can be open-flamed, but outdoor fireplace designers can also enclose them in glass, depending on the style. Many pool fire features, such as fire bowls, aren't enclosed, so you'll want to keep a close eye on children.
Exciting look
Luxurious
Many styles and sizes
Encourages socializing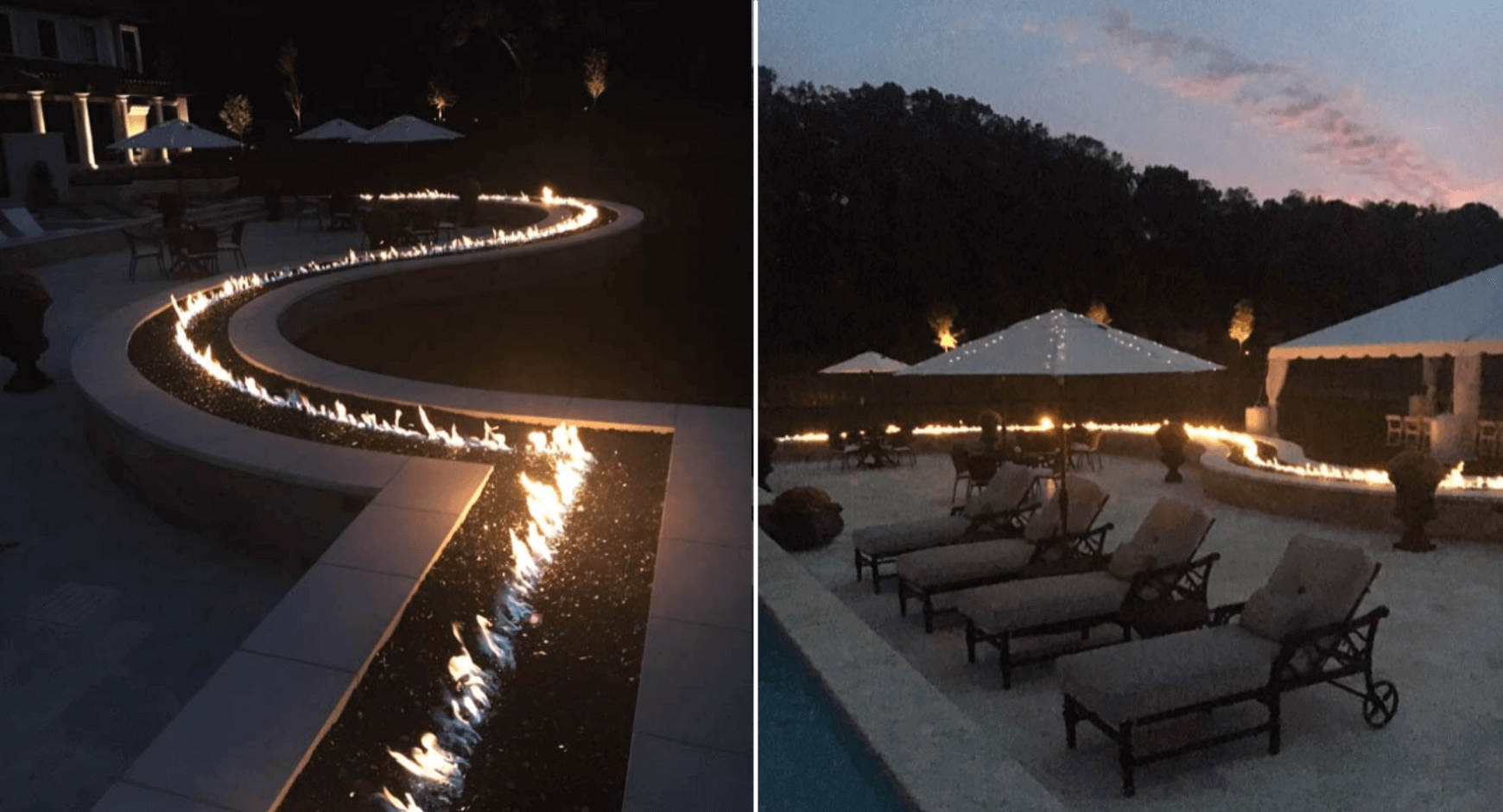 Wrap-Around Pool Fire Feature
As you browse ideas for an inground pool with a fire pit, consider the dramatic look of a wrap-around fire feature. Poolside gas fire pits will create excitement as flames will surround swimmers from the fire feature skirting the pool's edge. Wrap-around fire features are generally built into the pool's wall, appearing as though they're actually part of the pool.
Wrap-around fire features are typically open-flame, so they may not be ideal in homes with young kids or pets unless under close watch. While this type of fire pit is visually appealing, it isn't the most functional option when it comes to seating or table space. If looking for seating or dining space, fire tables or other fire features may be a more viable option.
Dramatic look
Built into your pool's design
Resort-like
Great for social gatherings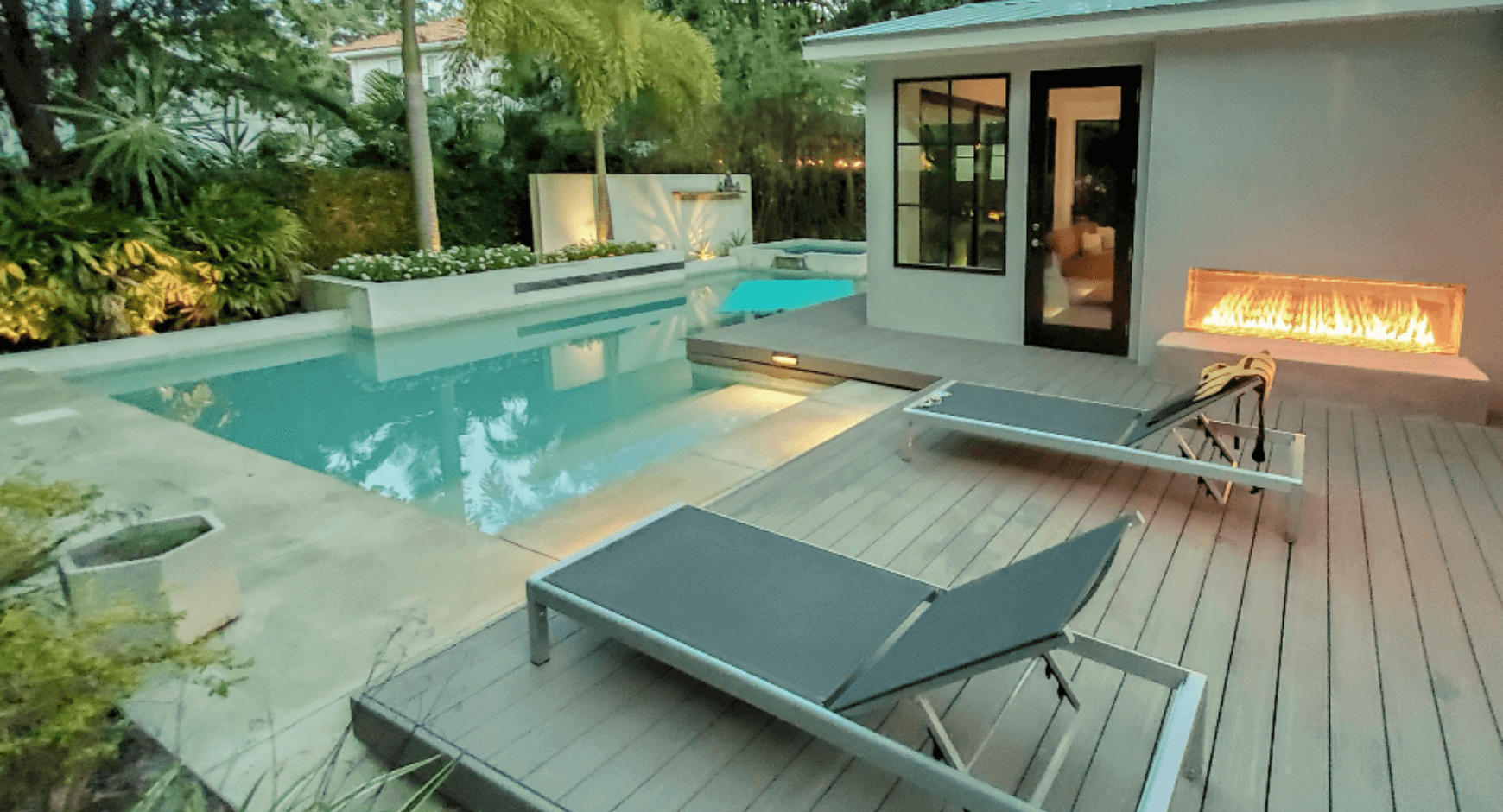 See-Through Fire Pit By the Pool
When considering a pool with a fire pit area, a see-through fire pit still provides a modern look while saving space and providing safety. See-through fire pits are a great option for small backyards. They are often indoor/outdoor, so you can gather inside or outside. Place your patio furniture around the fireplace to create an intimate setting for conversation.
See-through fire pits are often linear in design, which creates a focal point in your outdoor space. An added bonus is that they are designed with safety in mind. All models come with a glass covering or an optional screen to prevent accidental burns. This also adds an extra layer of protection on breezy days.
Great in small spaces
Modern
Safe
Intimate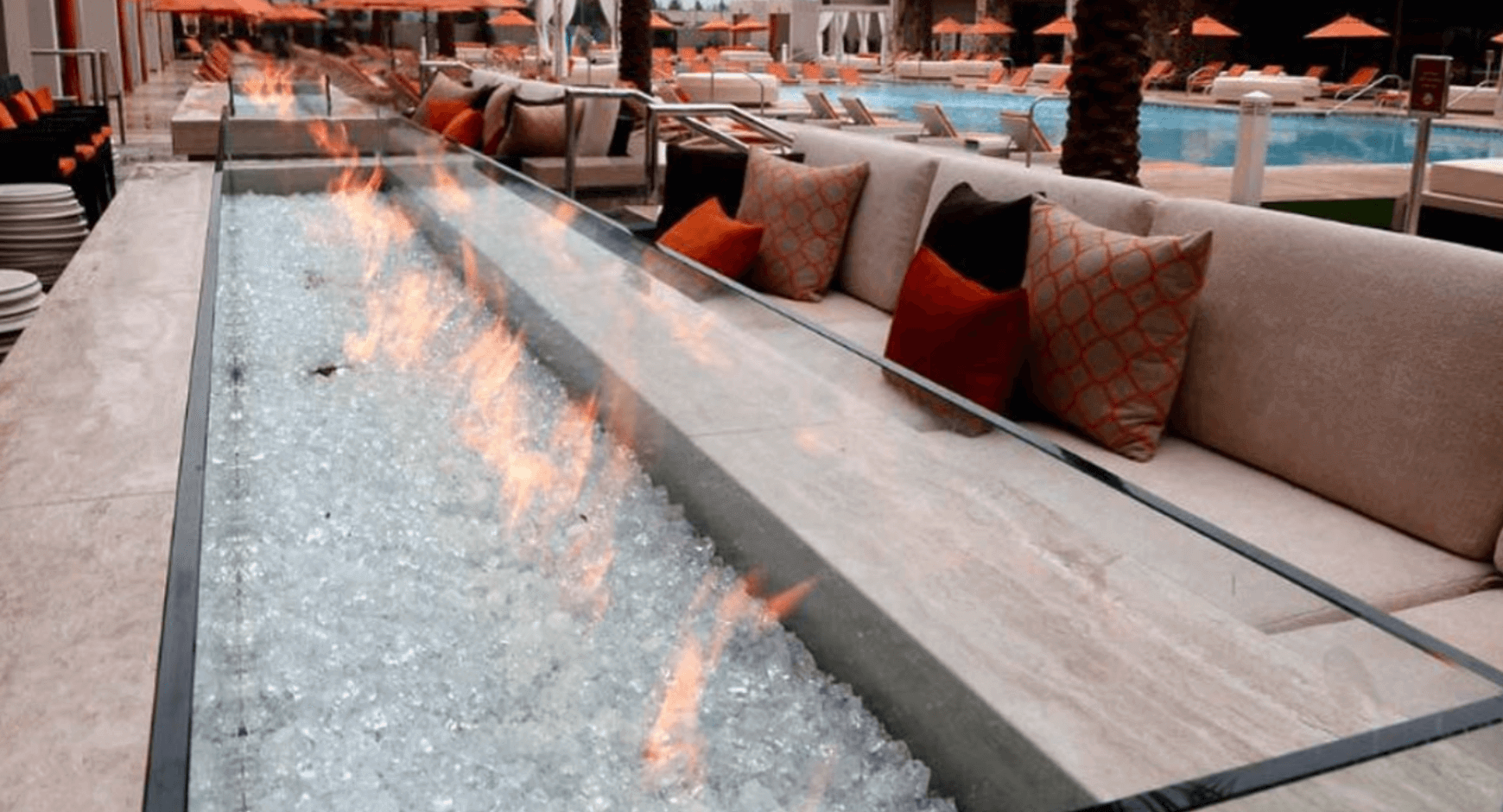 Low-Profile Modern Outdoor Fire Pit
Space for entertaining makes low-profile outdoor fire pits a popular option. Low profile fire tables placed next to the pool are both appealing in design and functionality. River rock fire pits are visually appealing and often have table space on either side to gather around with appetizers or cocktails. While the fire pit is modern in design, river rock or lava rock will give it a natural feel.
The tables can have an open flame, but there are optional features that can be added if you have safety in mind. Box the flames in with a glass cover. This creates a wall on each side to help protect you and your guests from the wind. You can select a low-profile fire pit in different shapes and sizes, making this a customizable option for your outdoor living space.
Ideal for social gatherings
Many sizes
Safety options
Modern look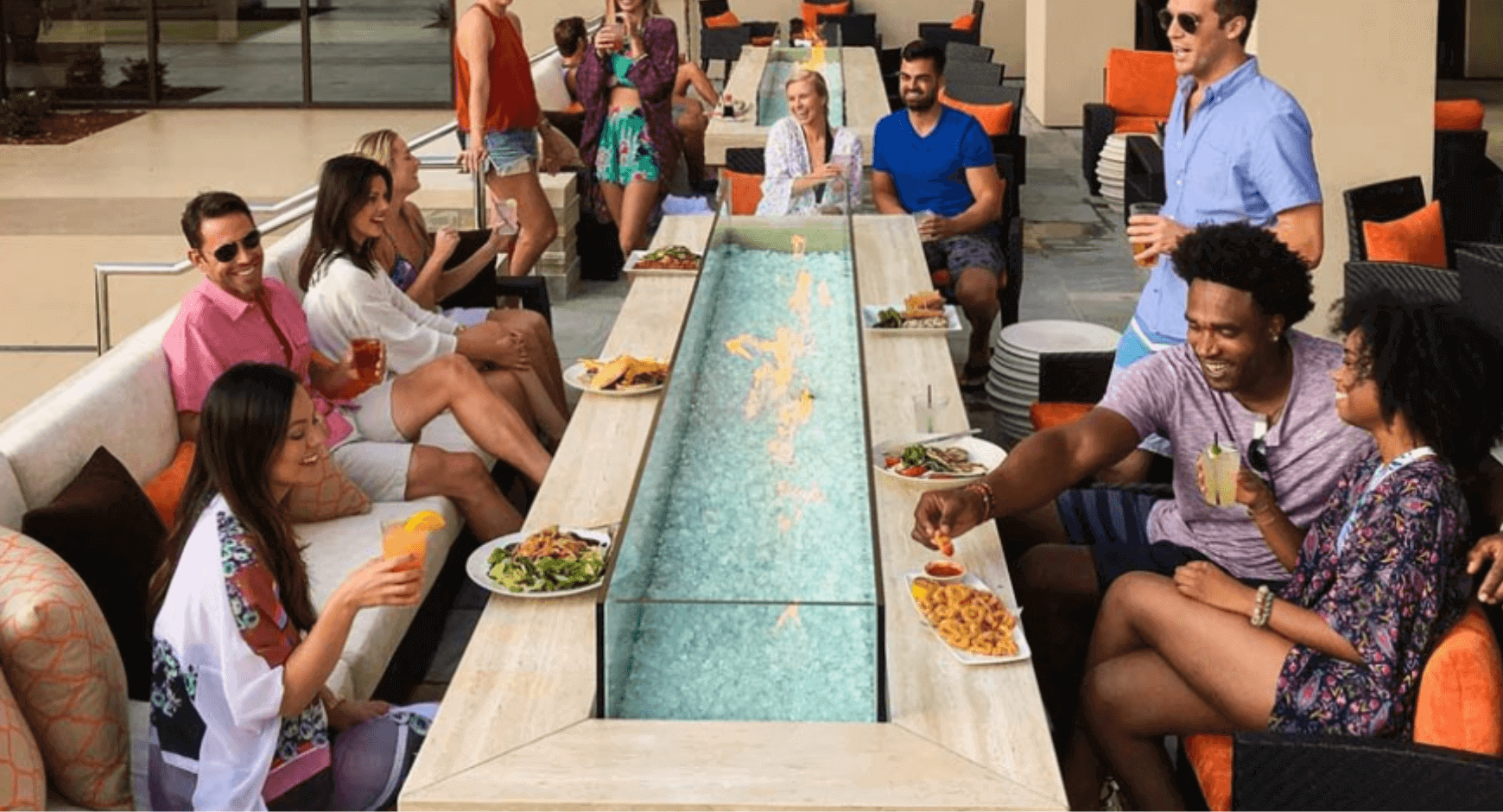 Poolside Fire Table
If you want to revamp your patio, consider a fire table. Fire tables accomplish multiple goals when it comes to design. With a table, you'll have a beautiful fire pit near the pool that is also very practical as it provides seating and dining space.
Poolside fire tables will bring energy and excitement to your dinner parties or backyard barbecues. When it comes to backyard fire pit ideas, fire tables are certainly one of the more functional options, and installation is easier and less involved than other designs.
Add a glass wall around each side of the fire for an added layer of safety without taking away from the visual appeal. Poolside fire tables are a great addition to your patio for year-round enjoyment. The warmth of the flickering flames provides comfort on cool evenings when enjoying a poolside meal.
Functional
Safety features
Visually appealing
Easy installation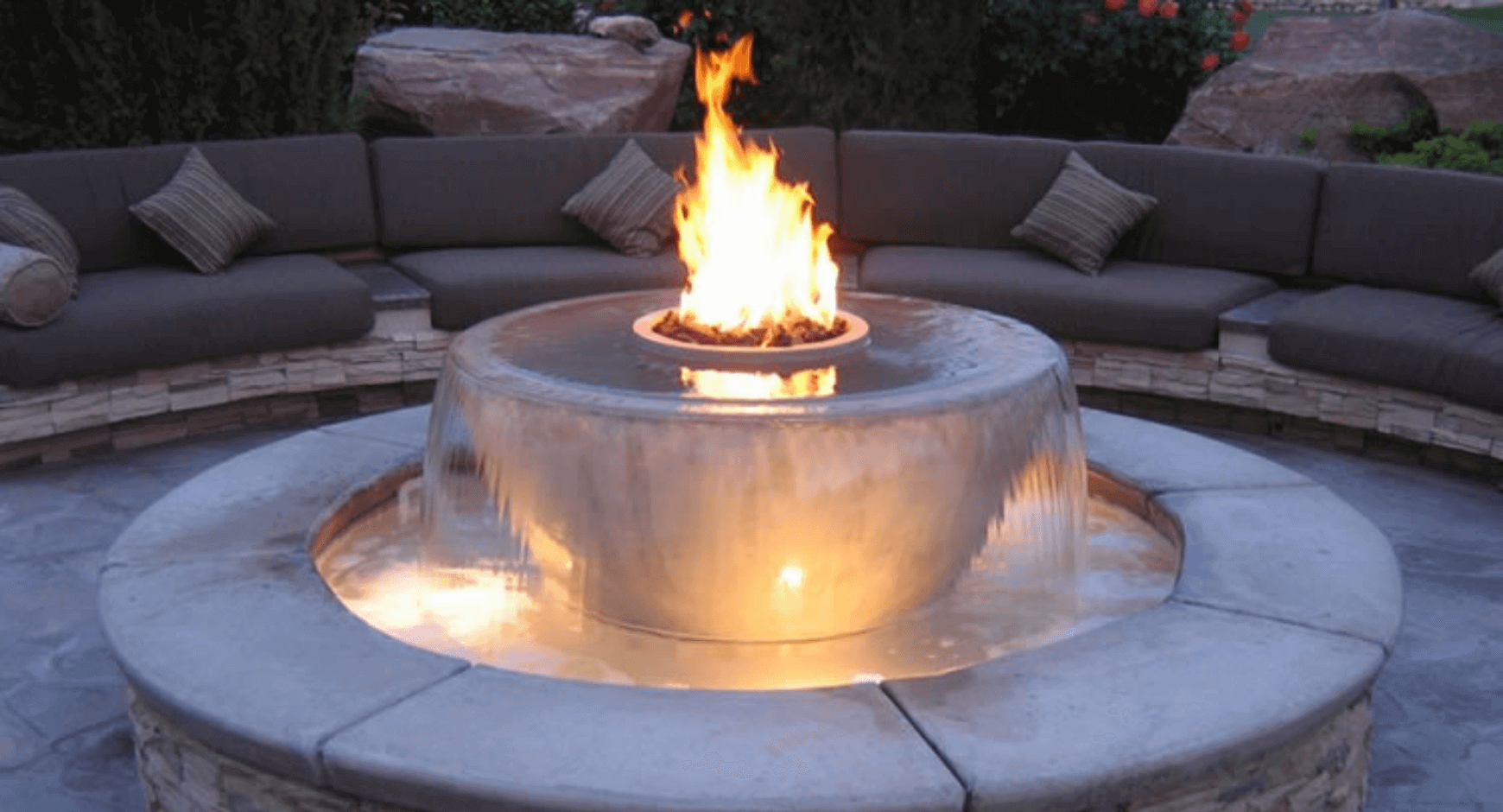 Design the Perfect Luxury Outdoor Fireplace With Acucraft
Now that you've taken a look at numerous backyard fireplace ideas, it's time to make a decision. Is the striking look of a fire feature the awe-inspiring style you're going for? Or, are you leaning toward the more casual and intimate feel that a poolside fireplace will provide? No matter the visual appearance, an outdoor fire pit will enhance the quality of your outdoor living space, making it a spot you can relax any day.
A luxury fire pit or fireplace is an excellent addition to any space, but there is something particularly special about an outdoor fireplace paired with a pool. If you want to upgrade your pool area, call the luxury fireplace designers at Acucraft.
Together, we will create the outdoor space of your dreams.