March 29, 2021
Custom Fireplace Options: Designing Your Perfect Fireplace
Custom fireplace designs are often just as unique and bold as the dreamers who desire them. And these days, custom fireplace options seem endless. Between the striking circular designs to four-sided glass boxes filled with dancing flames, how can you get a custom fireplace that stands out from the rest?
At Acucraft, if you can dream it, our custom fireplace builders can make it. From custom wood burning fireplaces to custom gas fireplaces – we are obsessed with fire, and we are at your service. Browse our custom fireplace brochures for more information on our fireplace styles.
In this guide, we'll cover our most unique fireplace options and features to inspire your dream fireplace. Whether you're looking for a fireplace that is gas or wood, indoor or outdoor, for your home or commercial space – use this guide in your search for the perfect centerpiece.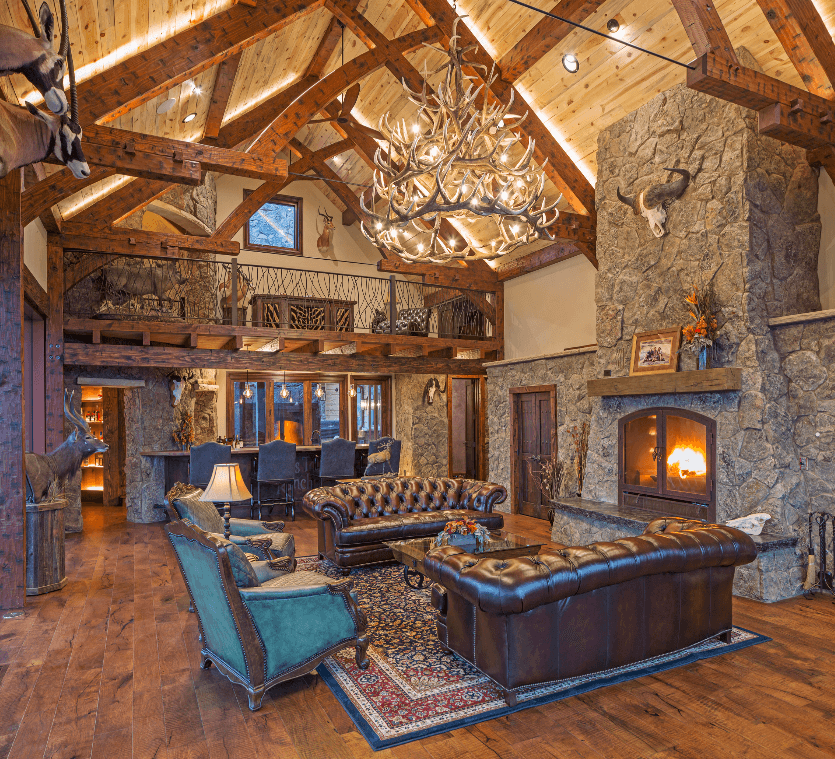 Why Choose a Custom Fireplace?
A custom fireplace has many benefits apart from making a statement. A great design can bring out the functionality of any room to create a more comfortable and inviting space. Whether that fireplace is gas or wood depends on your needs and the capability of the site in which it will be installed.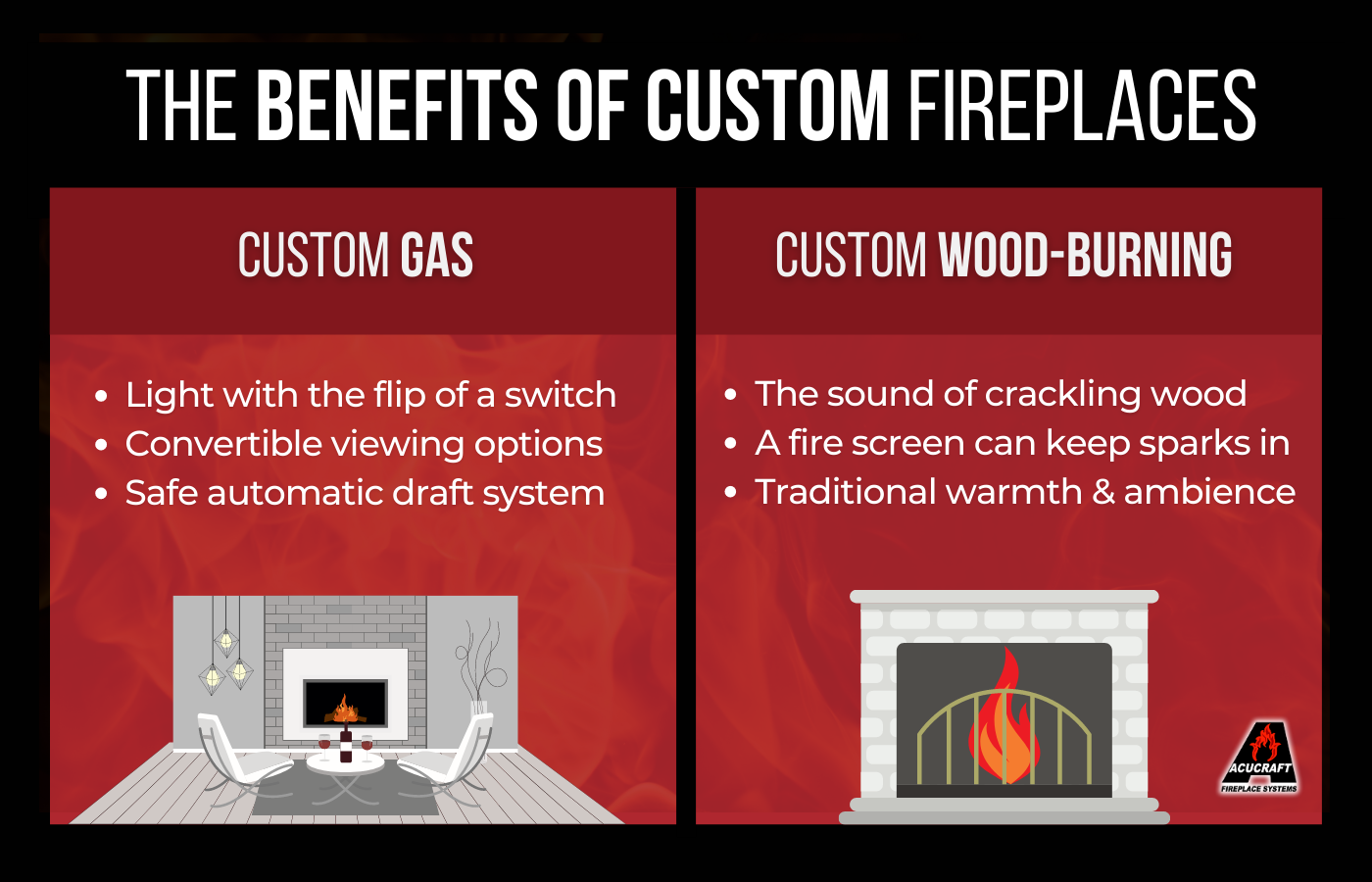 Everyone loves the crackle of a wood-burning fireplace, but a gas fireplace's ease of use cannot be beaten. If you are struggling to figure out which is right for you, learn more about the pros and cons of gas vs. wood.
Fireplace Ventilation
Proper fireplace ventilation is essential to the safety of your family, friends, and home. Acucraft uses stainless steel flues that don't wear out over time or leave you susceptible to carbon monoxide exposure. We actually are one of the only manufacturers that use Class A flue, which is one of the highest quality flue systems available. There are three forms of fireplace ventilation:
Vented 
Direct Vent
Wood-Burning Ventilation
Acucraft's gas fireplaces are typically vented, but some use direct vent. The main difference is the amount of intake and output areas, with direct vents being slightly more efficient. Wood-burning ventilation is a universal system for wood fireplaces designed to keep you safe.
Custom Fireplace Styles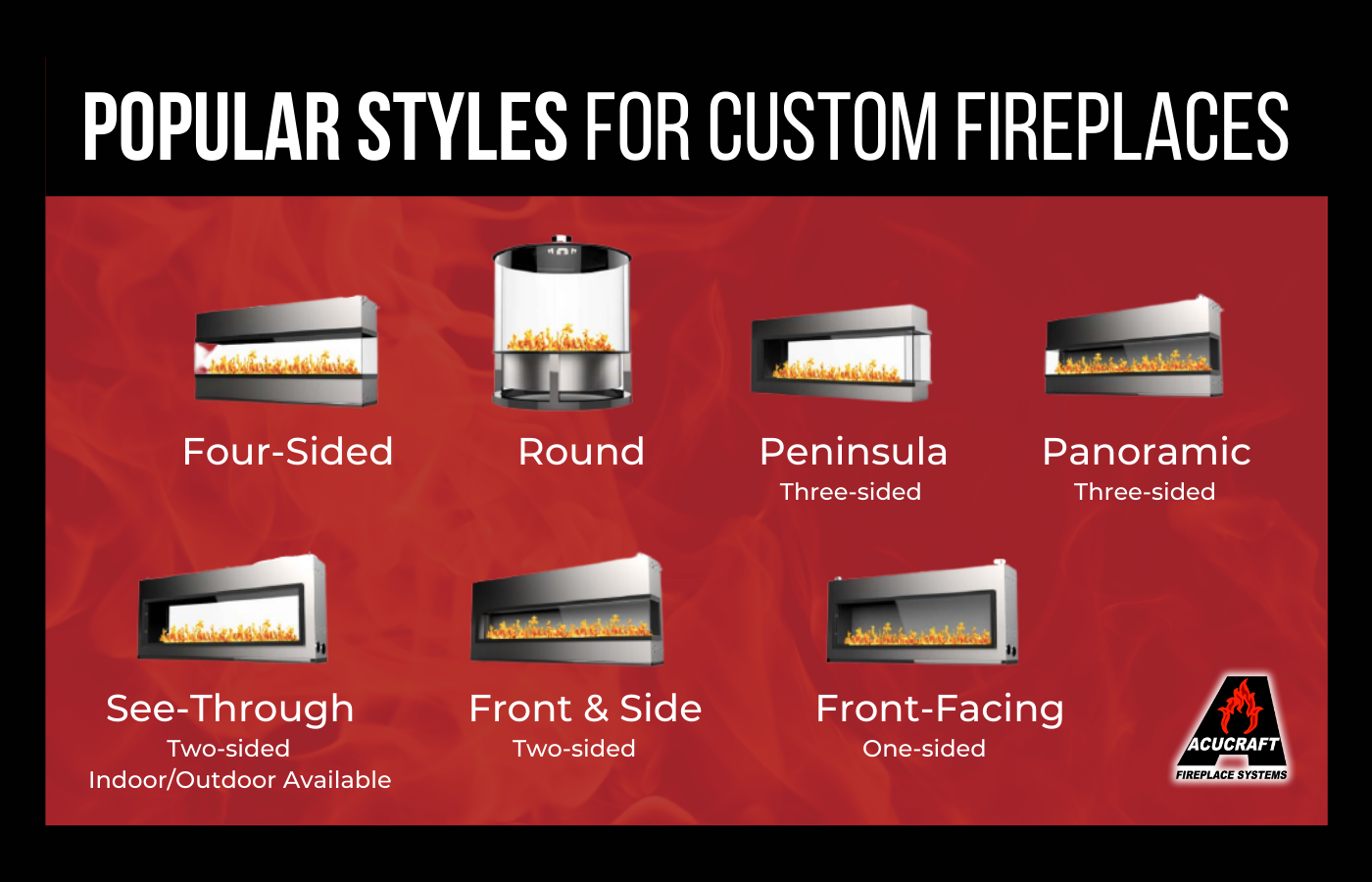 Custom home fireplaces can be styled to fit any décor. They vary from the traditional front-facing to four-sided centerpieces. Let your imagination run wild with these popular types of fireplaces.
Popular custom wood fireplace designs
See-Through
Indoor/Outdoor
Front-Facing
Popular custom gas fireplace designs
Four-Sided
Round
Peninsula
Panoramic
See-Through
Indoor/Outdoor
Front-Facing
Four-Sided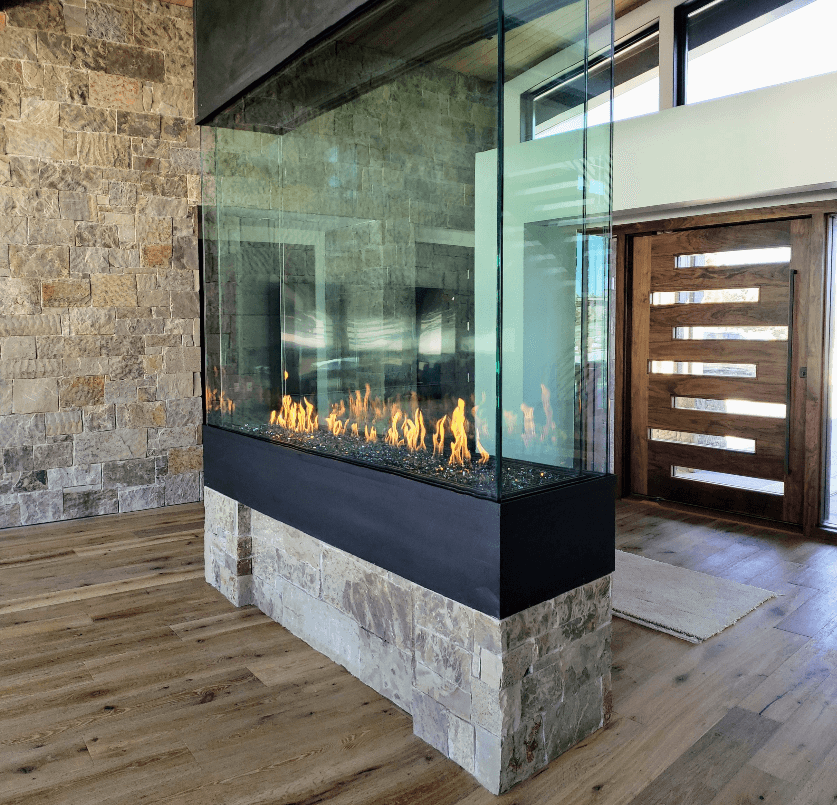 There's a reason the four-sided fireplace is one of the most popular types of gas fireplaces. It can be enjoyed from all angles without restricting views and, although this style is only available as a gas fireplace, you have countless design options and an excellent view of the perfect flame.
Round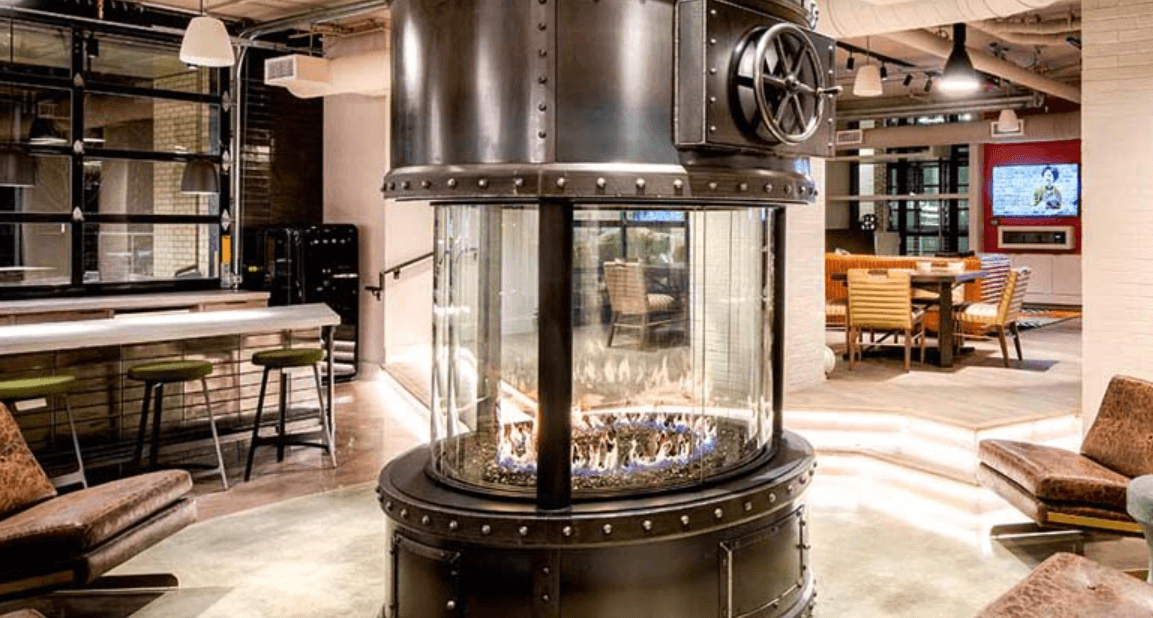 This custom fireplace design harkens back to the traditional campfires where folks would gather. It offers 360-degree viewing, and with innumerable finishing options, it can be as grand as you desire. Whether you choose lava rocks or log sets, brushed metal or corten steel, there's no decor it can't compliment. When looking for gas fireplace ideas, keep in mind the round fireplace, with its flexible intake and exhaust.
Panoramic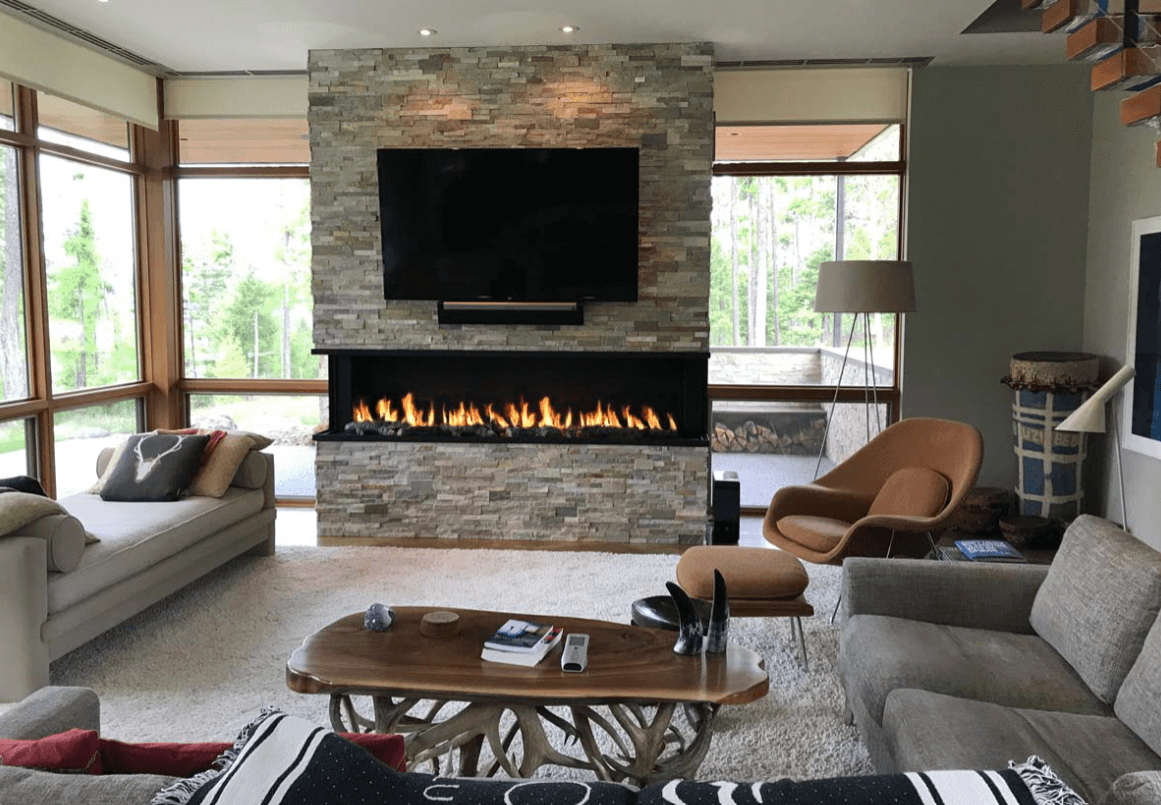 A panoramic fireplace utilizes three open sides for viewing that give it an unparalleled, modern feel. Stretched along a featured wall, the flames and glowing embers will mesmerize your guests throughout the night. Made with strength and safety in mind, these panoramic gas fireplaces offer a wide range of options.
Peninsula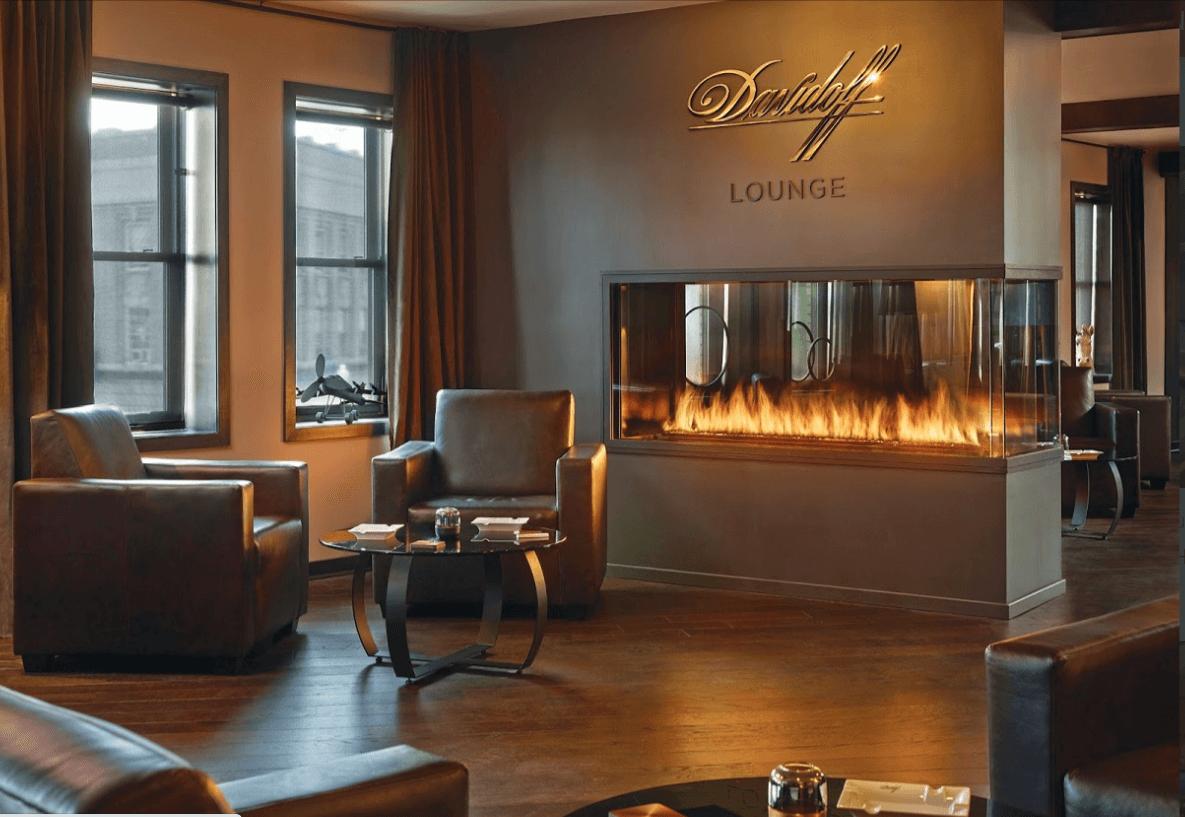 The peninsula fireplace is popular among architects designing luxury hotels, restaurants, and housing complexes. It creates a beautiful border wall to separate areas while keeping them cozy and connected. This gas fireplace can be contained with a safe-to-touch glass barrier, a fire screen, or simply left open, depending on your desired ambiance.
See-Through (Double-Sided)
The see-through fireplace is a terrific custom fireplace idea to compliment two rooms and tie them together. This style of fireplace has the option to be either gas or wood-burning. Both models come with Acucraft's lifetime guarantee and will add tremendous value to your home.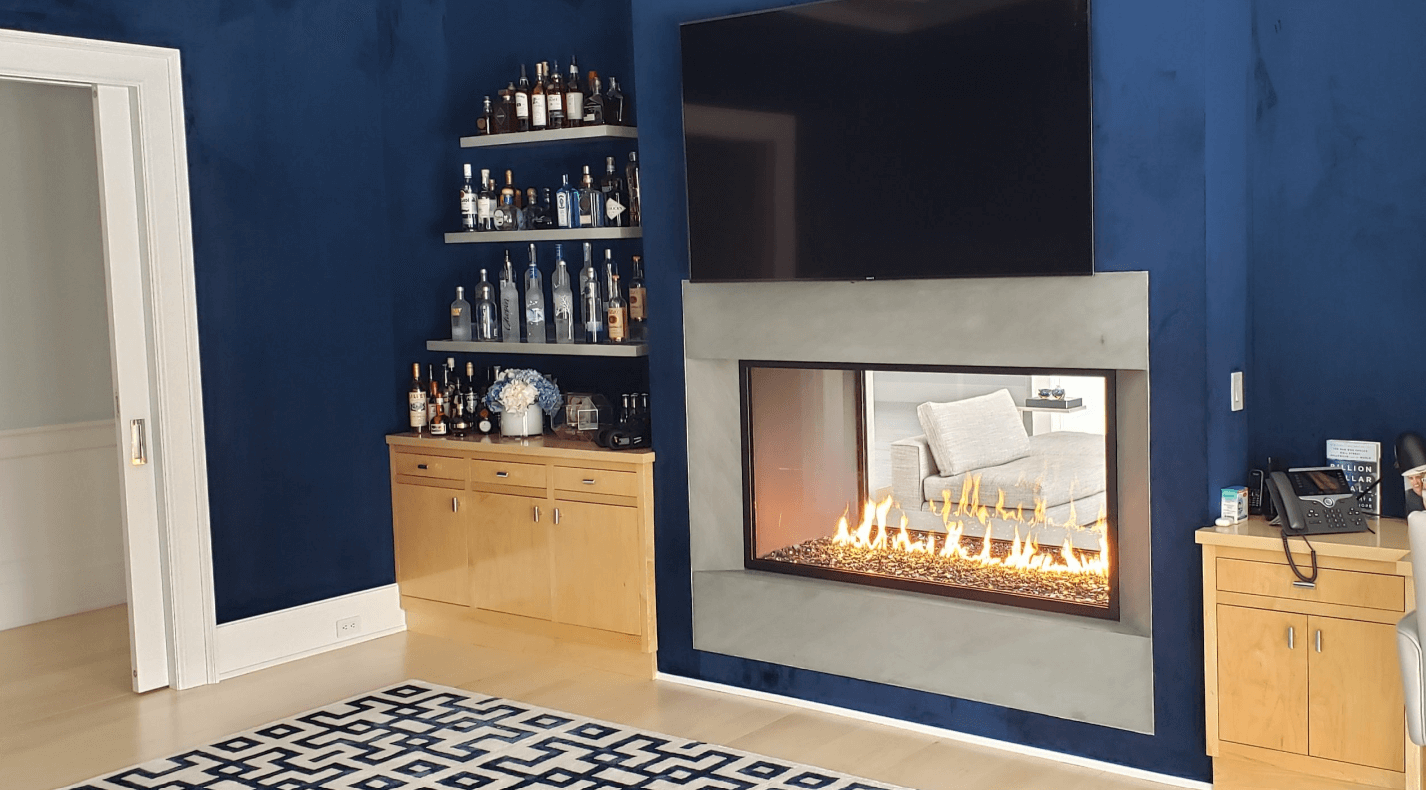 Gas: The see-through gas fireplace (also known as a double-sided gas fireplace) offers ease of use and can be synced to your home automation timer.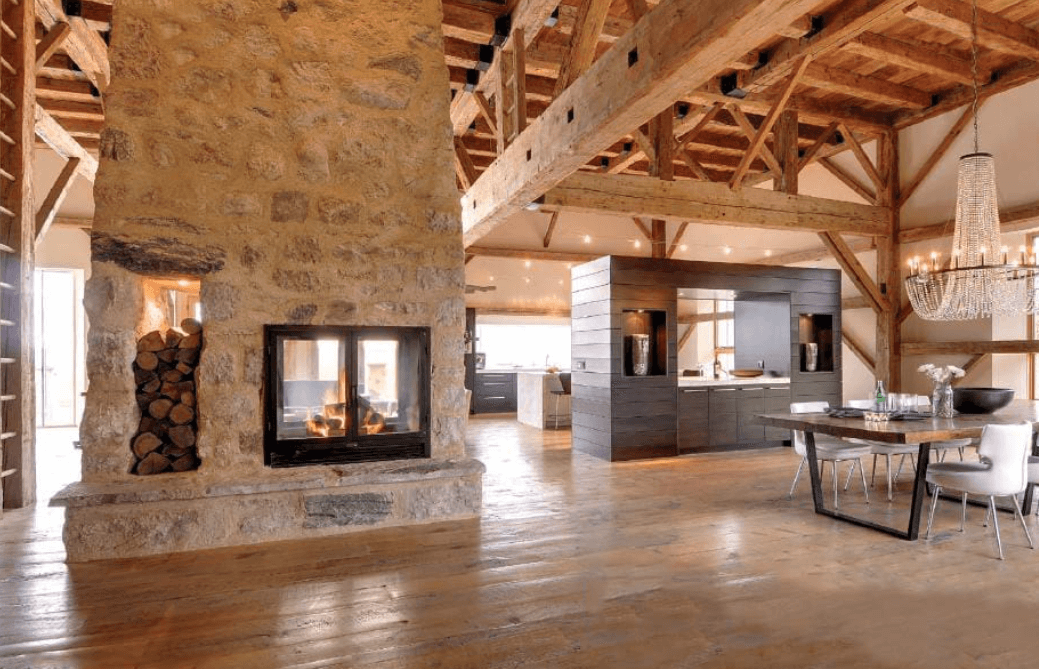 Wood: The see-through wood fireplace takes time to get started but creates an ambiance that is both relaxing and mesmerizing. This modern wood-burning fireplace is a fresh take on the traditional flames we are all so fond of. Learn more about the advantages of double-sided wood fireplaces.
Indoor/Outdoor
The indoor/outdoor fireplace offers versatility. Enjoy an evening outside by the fire or move inside if the weather changes.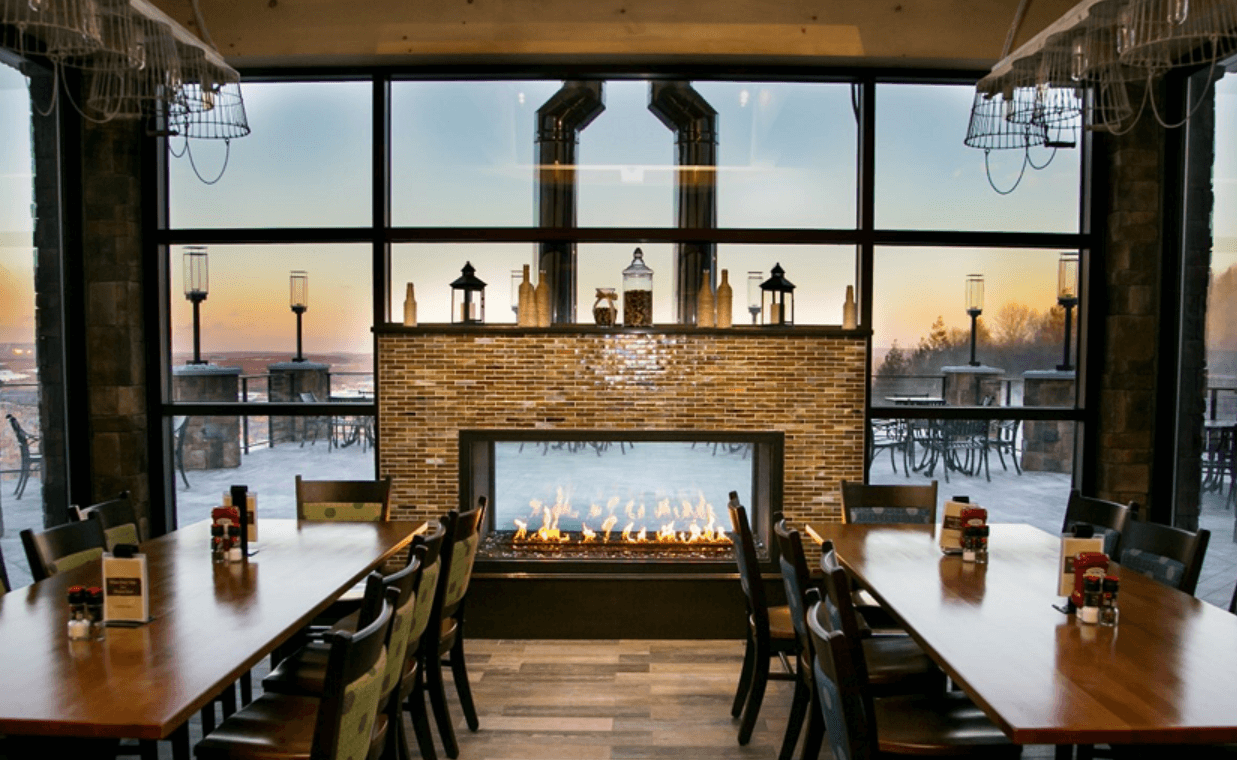 Gas: Whether you choose to enjoy your gas fireplace indoors or outdoors, the optional indoor/outdoor gas fireplace sets the stage for a relaxing evening without the need to chop wood beforehand. This style comes with customizable features to accent the fireplace and complement your home.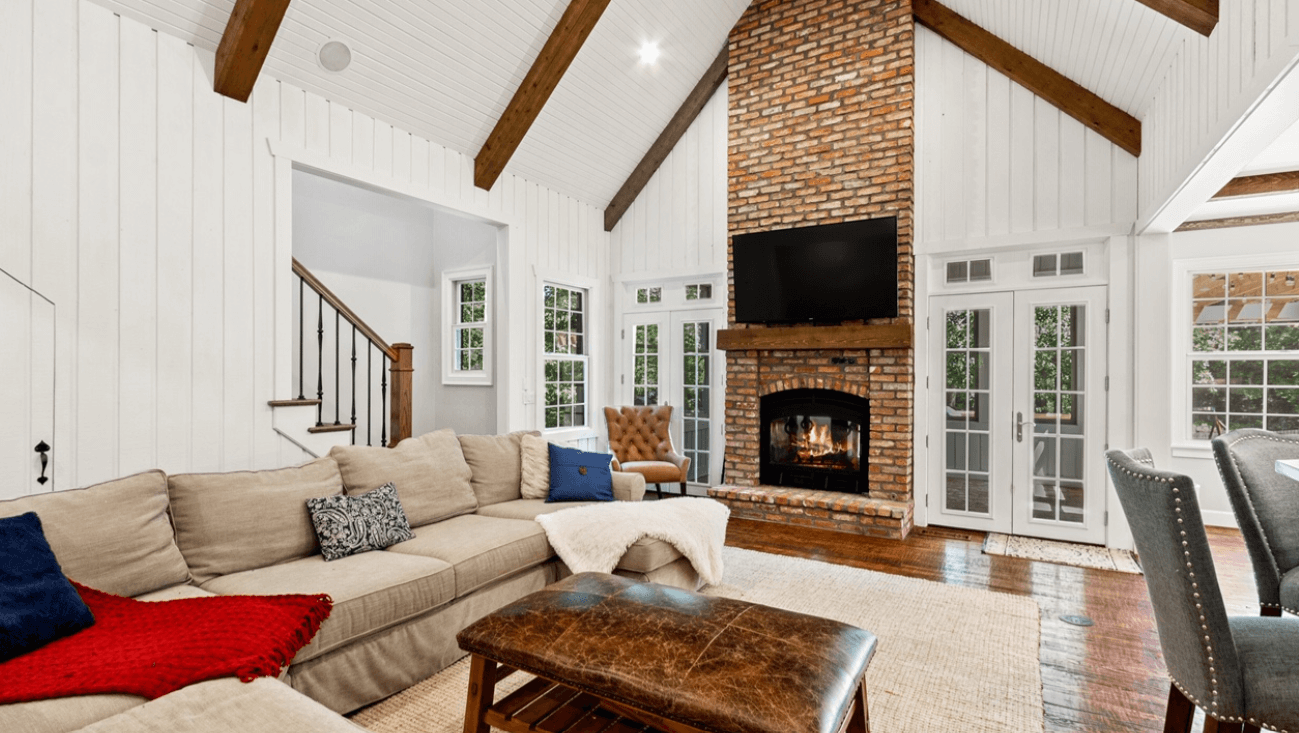 Wood: A wood-burning indoor/outdoor fireplace perfectly recreates the joy of sitting around a campfire. With fireplace doors that open from both sides, you'll never be caught in bad weather trying to start a fire again. What's more, our indoor/outdoor wood-burning fireplaces that are a part of our Hearthroom Series can actually be converted into a gas fireplace with a gas log set at any time.
Front-Facing
Available as a gas model and as a wood-burning model, front-facing fireplaces are perhaps the most widely used home fireplace.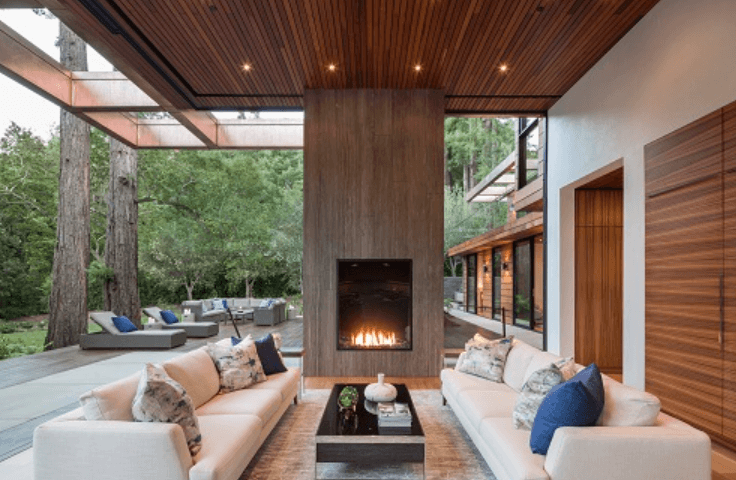 Gas: Acucraft has taken this classic design and modernized it for contemporary tastes. The front-facing gas fireplace comes in a range of sizes from 4' up to 16' and with various trim and media options. Its simplicity and adaptable size are strong draws to this indoor gas fireplace.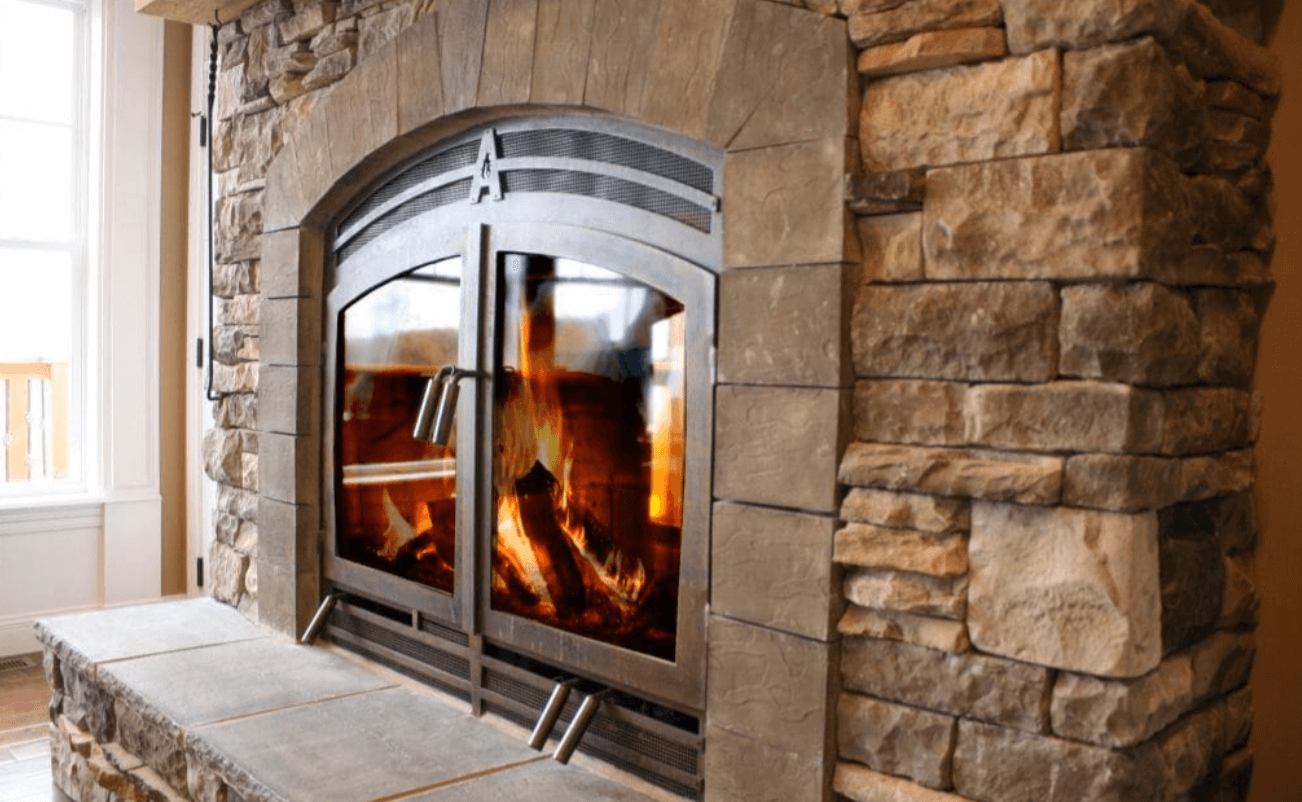 Wood: If you prefer a traditional look, and the smell of fresh-cut wood and crackling embers create your desired aesthetic, the front-facing wood fireplace is for you. A wood-burning fireplace creates a space for you to relax in and enjoy for years to come.
Custom Fireplace Options
Our custom fireplaces come with numerous customizable options that set the stage for your fire. With all of the options listed below, finding the set to match your vision is easier than ever.
Gas Fireplace Options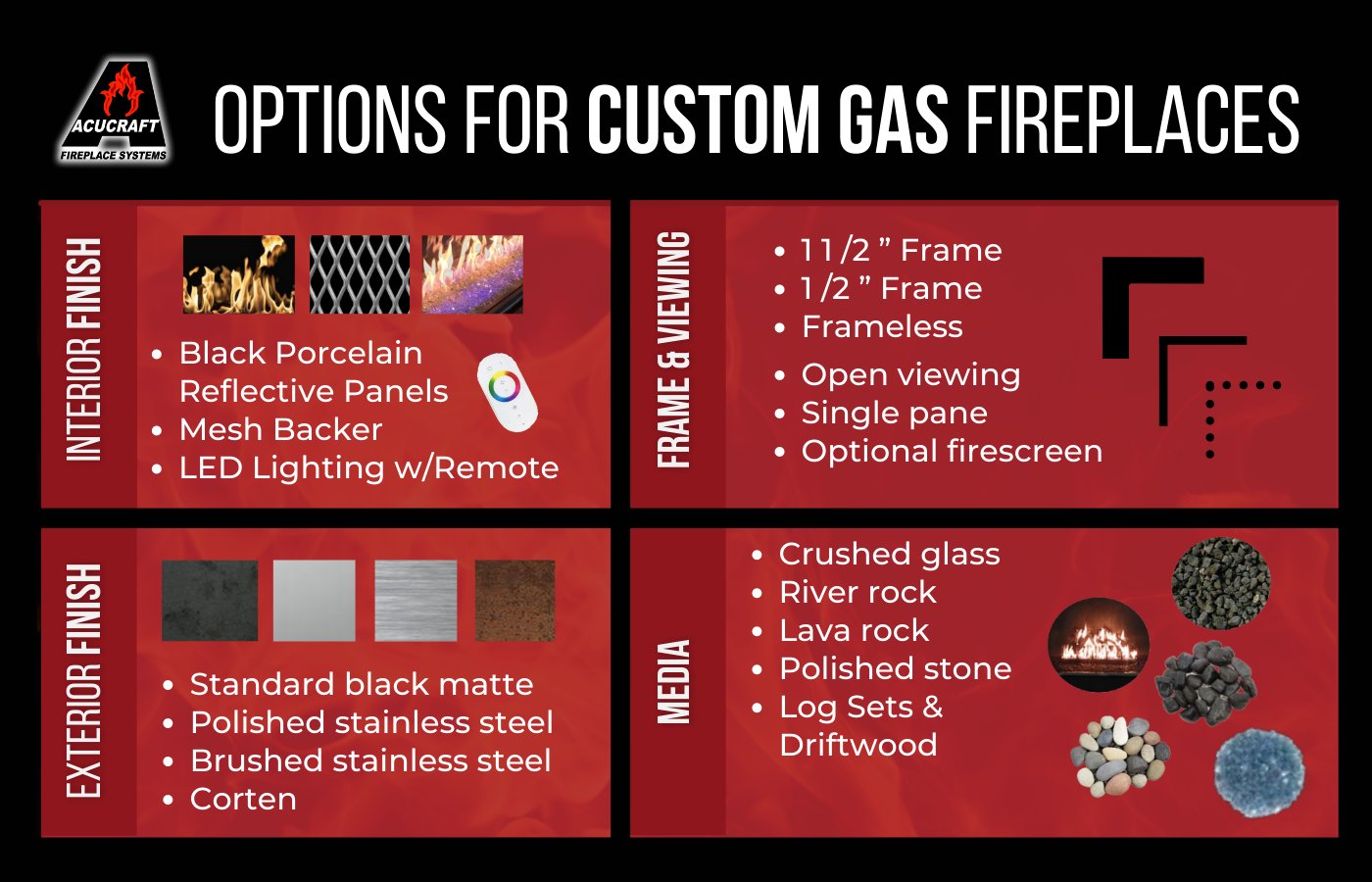 These customizable gas fireplace options are a great way to express your style. It doesn't matter if you choose a large or small gas fireplace; these custom options will make your modern gas fireplace dazzle. While not every gas style can accommodate each custom option, we can help you find the perfect combination.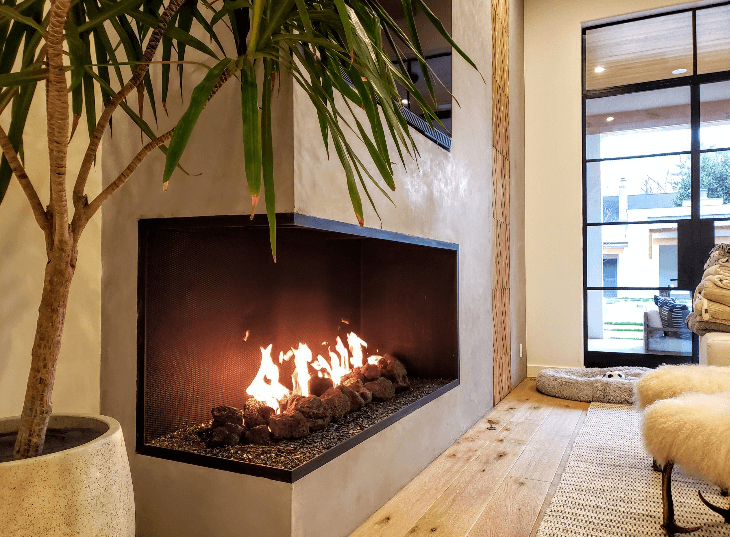 Wood-Burning Fireplace Options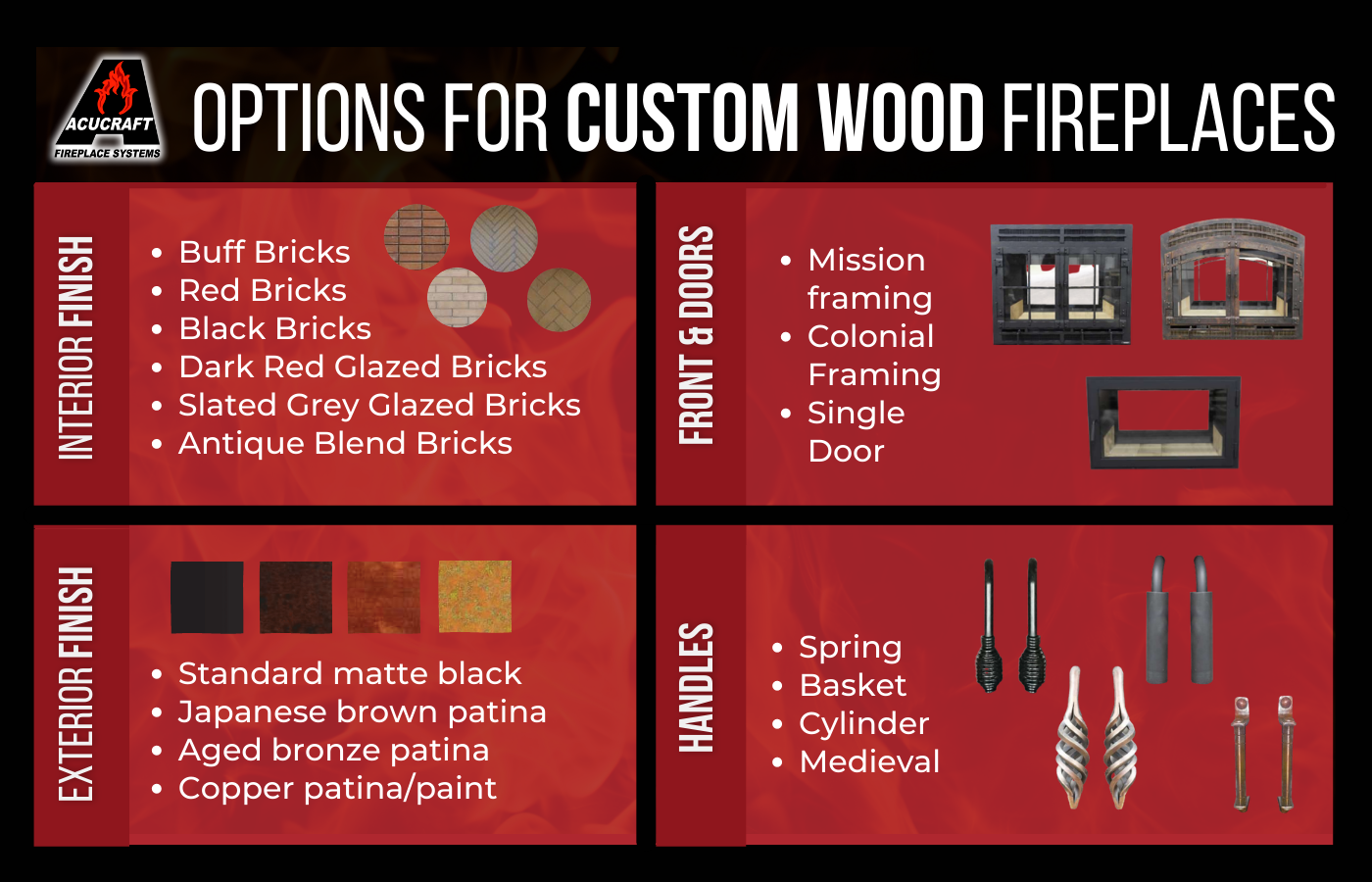 While most wood fireplaces need doors and fire screens, we can actually craft custom open hearth fireplaces or make the doors removeable with a safety fire screen. Whether you prefer a traditional wood fireplace or a more modern wood fireplace look, we offer countless options for beautiful handles and trim that won't be found anywhere else. The options listed below may not be available for every wood fireplace, but our personal fireplace advisors can help make your dream a reality.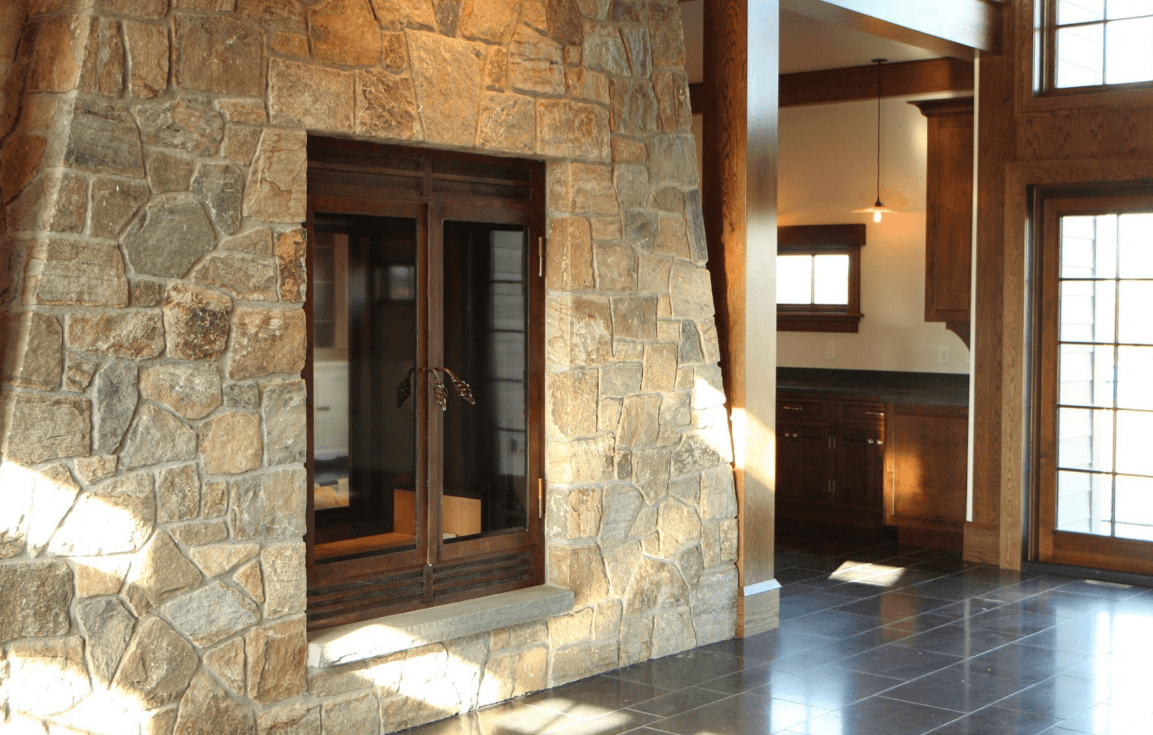 Acucraft Custom Fireplace Features
When it comes to building custom fireplaces, safety and security must always come first. Acucraft has developed top-of-the-line safety features to keep their fires secure. From safe-to-touch glass to convertible viewing options, there is a system that will work for every family.
Cooling Glass
Acucraft's patent-pending Dual Pane Glass Cooling System ensures a safe temperature for any fireplace. Outside air is pushed between the two panes of glass to cool the outer pane allowing for safe touch and the placement of art or a television above the fireplace. The fireplace still functions the same, but the glass cooling system protects your home and family from accidental damage and burns.
3rd Party Safety Certified Fireplaces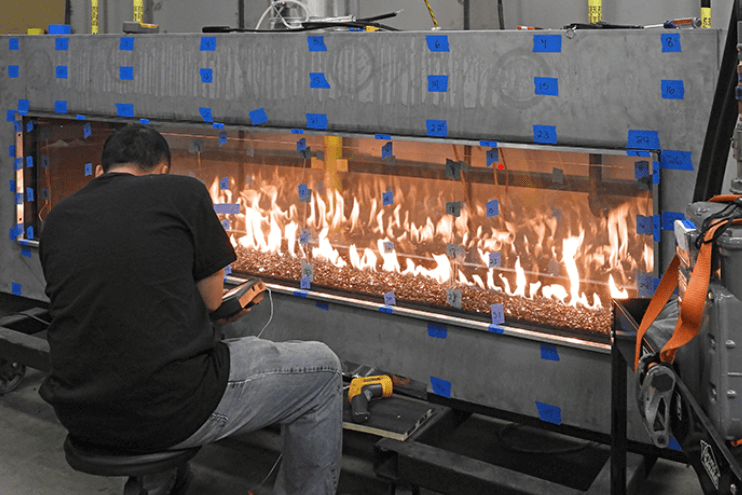 Aside from the usual fireplace safety tips that all fireplace owners should abide by, Acucraft goes the extra mile to ensure customer safety. We are the nation's leader in 3rd party certified fireplaces, guaranteeing you a lifetime of cozy fires. All Signature Series gas fireplaces have undergone safety tests according to ANSI standards and LabTest Certification Inc. requirements. With these high-quality, high-performing, safety-certified fireplaces, you can rest easy knowing that your home is safe and secure.
Convertible: Sealed or Open Viewing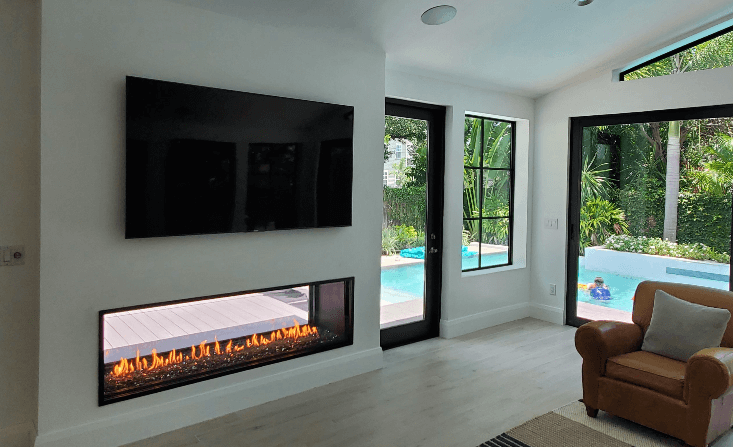 Fireplace design trends and personal preferences are known to change over time. Wouldn't it be great if your gas fireplace viewing could be either open or sealed on demand? Whether you're looking for a traditional open fireplace or a modern-style, glass-sealed fireplace, the option to have both is always more appealing.
There are a select few models from Acucraft that have this multifunctionality. The convertible design still boasts the tallest, fullest flames on the market.
Additional Custom Fireplace Accessories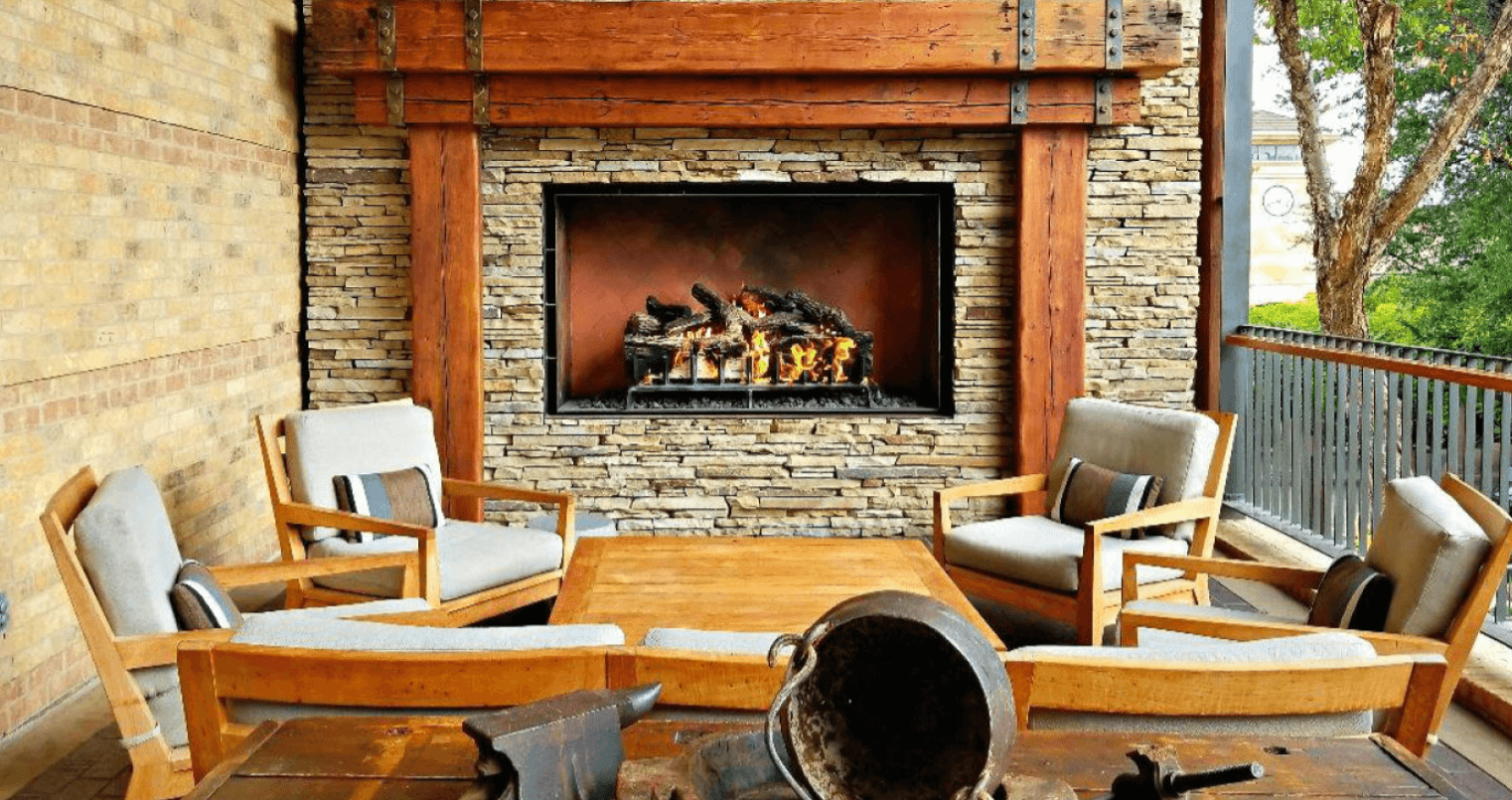 The features already mentioned do not complete the list of customizable options for Acucraft fireplaces. There are even new smart home capabilities that allow you to time your fireplace with the sunset each night for a romantic and hands-free approach. Each feature listed below makes your life easier and your fireplace more enjoyable.
Remote control
LED lighting with remote
Custom colored firebrick
Black reflective porcelain panels
Cooking grill*
Cooking arm*
Gas logs
Indoor/Outdoor locking clasp
*Only offered with our Custom Wood Fireplaces
Craft Your Dream With Acucraft's Custom Fireplace Builders
Acucraft has been building custom fireplaces for over 40 years. Our handcrafted products are engineered to your desires and built to last a lifetime. Our team of experts will help guide you through the design, build, delivery, and installation of your new fireplace. Start making memories with friends and family that will last a lifetime with your own custom-built gas fireplace or custom wood fireplace.
At Acucraft, we want to help you to find a truly extraordinary fireplace that your family will enjoy for generations to come. For more details on each fireplace style, view our custom fireplace brochures. Contact our fireplace design experts and start customizing your unique fireplace today. If you need a little inspiration, browse our custom fireplace photo gallery.