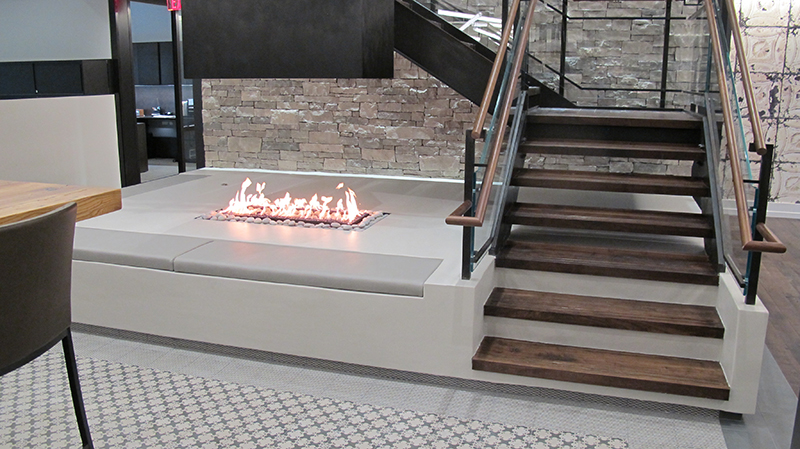 Your Fireplace Flame – Acucraft's Tallest Flames on the Market
As a fireplace manufacturer we strive for the tallest, fullest flame possible for all of our custom gas fireplaces, whether they're commercial fireplaces or residential, we want you to have the best! The above fireplace is a perfect representation of the Acucraft Flame in all it's glory; this particular commercial fireplace was custom designed and built for Atlas Holdings LLC Corporate Office in Greenwich, CT.
>>Learn more about this custom 4-sided open gas fireplace
There's nothing more disappointing than a custom gas fireplace with a tired, small, less than impressive flame to go with it. So what sets our flame apart from the rest? Our flame has a large, tall, full, slow flame that can be enjoyed from afar or up close. We maximize the height of our flame while maintaining cleanliness.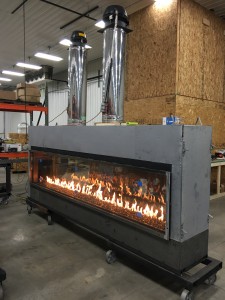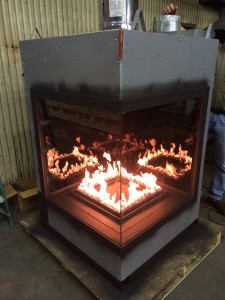 With our custom burner and tray design we are able to receive a taller and fuller flame for our custom gas fireplaces; additionally, we are able to cover the burner entirely to provide a seamless line of flames. By maximizing the energy of the gas and providing more air into the firebox we are able to produce a slower,fuller flame that is less turbulent.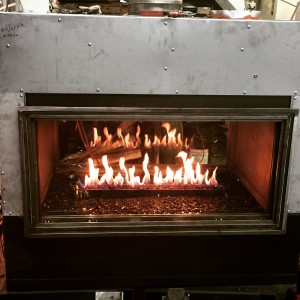 So how are our burners made and tested?
All of our burners are made with 1/2″ thick steel tubes which are thoroughly cleaned before building the burner
Each and every hole in our burners are hand drilled individually by our team
Once all of the holes are drilled, the burner is cleaned again, including each hole
We then blow air through the burner to remove any and all debris from the drilling process
Next we test the burner with air to ensure functionality
The burner is then placed in the fireplace
The base area around the burner is covered with steel mesh (which is typically covered with media) to allow the maximum amount of combustion air
We then install a top of the line Honeywell Ignition System on the side of our burner

This system ensures our flame is not only more aesthetically pleasing, but burns cleaner than typical gas fireplaces

The burner is then tested in the fireplace in our test lab
Every gas burner and ignition system goes through at least a one day long series of tests in our test lab by one of our fireplace inspectors. The tests are performed with the burner and ignition system in the fireplace as it would be installed on-site at it's final destination. Our series of tests include:
Ensure optimal flame: color, height & fullness
Multiple ignition tests to ensure performance
BTU adjustments/improvements to ensure the correct amounts of natural gas or propane gas are used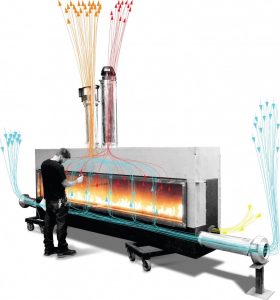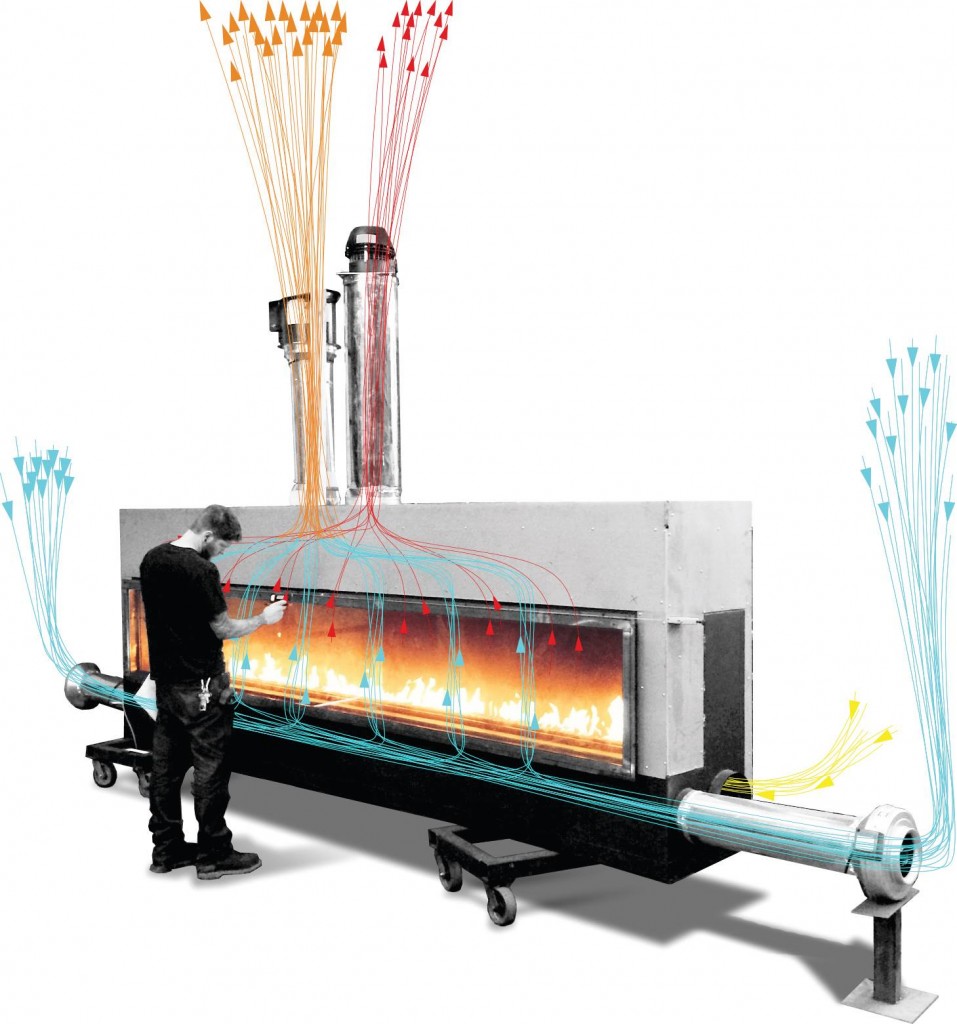 Once our fireplace inspector completes and approves the day long round of testing, the fireplace is then reviewed, approved, and signed off by one of our Fireplace Designers who verifies all completed tests in our internal test lab before shipping to the customer.
The above video showcases an Acucraft Custom Gas See-Through Outdoor Fireplace being internally tested before being shipped to the customer. This particular fireplace was custom made for Gloucester Premium Outlet Mall in Gloucester Township, NJ. It was fully customized with dual burners, mammoth logsets, custom firescreens, and viewing areas of 81 3/8″ wide x 34 1/4″ tall x 87 1/4″ deep.
Many of our clients have selected Acucraft for their fireplace solely because of our flame. We've dedicated over a decade developing, designing, and perfecting our gas burners to achieve the tallest, fullest flame possible while maintaining cleanliness. All of our Custom Gas Fireplaces are fully customizable, which means you get exactly what you are looking for; from large viewing areas to circular fireplaces with curved glass, you dream it…we can build it!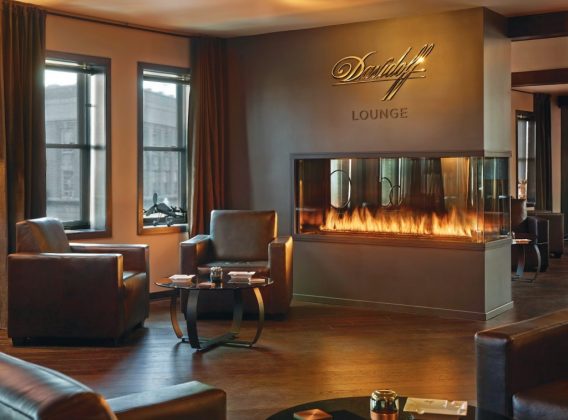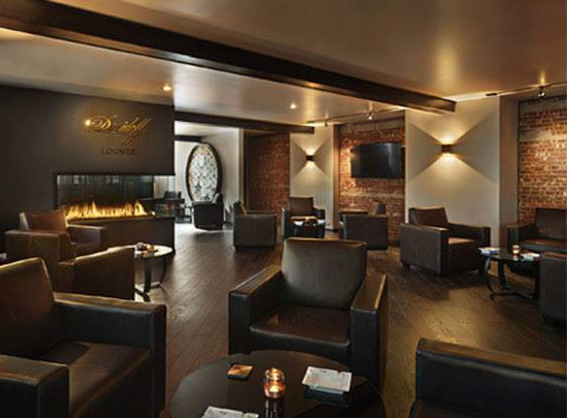 The above custom gas peninsula fireplace was designed and fabricated for The Davidoff Cigar Lounge in Ridgewood, NJ. This particular fireplace was constructed in three separate pieces to be dropped through a small skylight and assembled once inside the actual space.
>>Learn more about The Davidoff Cigar Lounge Custom Gas Fireplace
---
Our fireplaces stand out from the rest and our flame doesn't disappoint; for more information on designing your dream fireplace, click here.
855-349-0721