May 16, 2022
Does a Fireplace Add Value to a Home? Should You Get One?
A fireplace can add warmth, coziness, and conversation to your home, but can it also add value? If so, how much value does a fireplace add? Learn about the benefits of fireplace resale value and how that value differs between wood and gas fireplaces.
The true value of having a fireplace in your home is measured in memories and time spent with friends and family. However, there is a more tangible value they add that you'll see reflected in your home's resale value.
Most homebuyers list a fireplace as one of the top features they want in their new home. That means your home may sell faster and for more money when you add a fireplace. Why wait until it's time to sell to add a fireplace when you can install one now and enjoy your investment for years to come.


If you're considering adding a fireplace to your home, contact the experts at Acucraft for a free consultation.
How Much Value Does a Fireplace Add?
Fireplaces add coziness and enhanced interior design, which are highly sought-after elements in today's housing market. No matter what type of fireplace you have, where it is in your home, or where your home is located, potential homebuyers recognize its value and take that into consideration when purchasing their next home.
Gas Fireplace vs Wood Fireplace vs Outdoor Fireplace: Is the Value Different?
Each type of fireplace will increase your home's value in different ways. Depending on your location, there may be a higher demand for wood burning or gas fireplaces. Whereas outdoor fireplaces may add indirect value by increasing the comfort and usability of your outdoor spaces.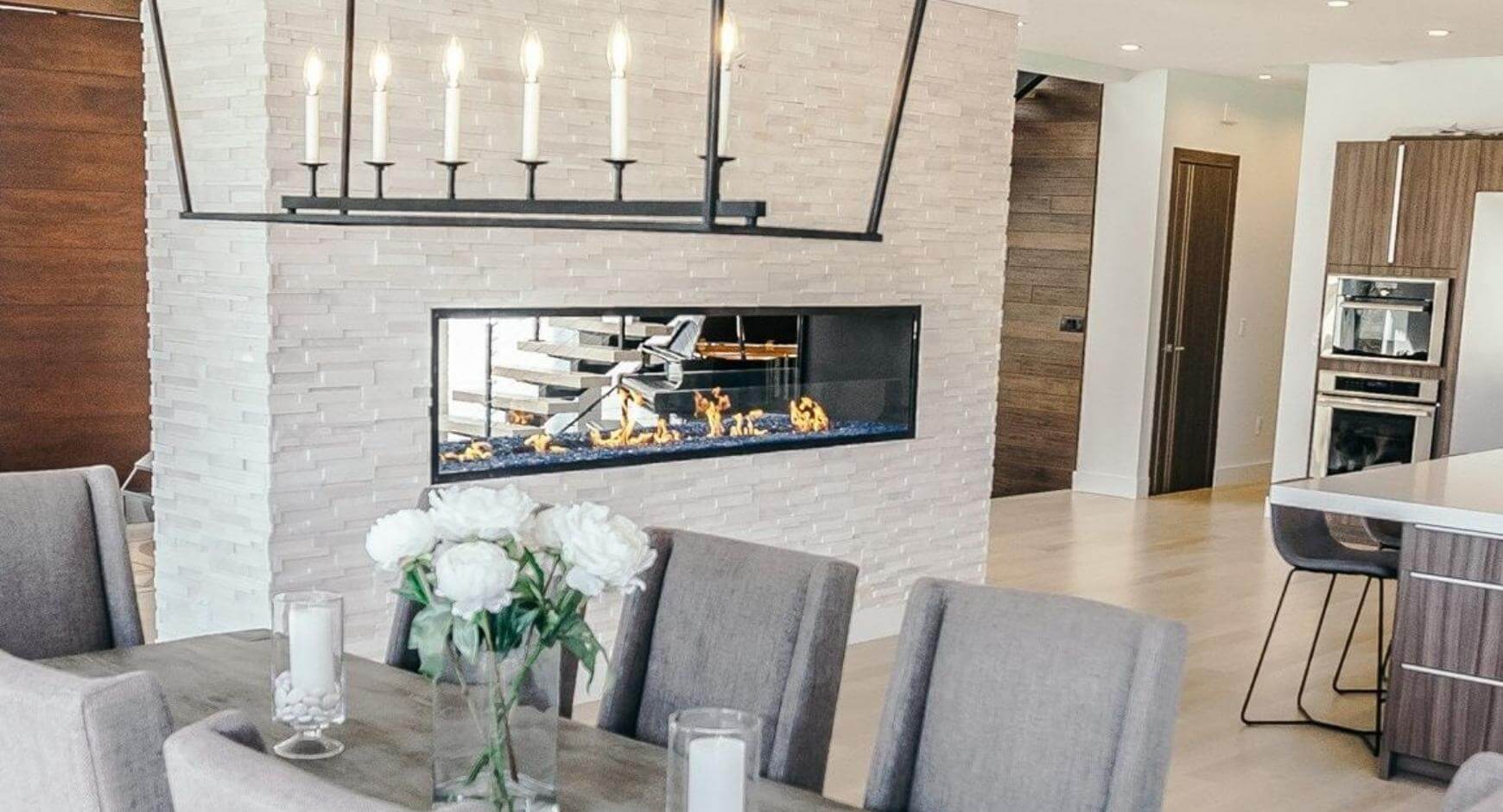 Does a Gas Fireplace Add Value to Your Home?
As gas fireplaces evolve, the younger generation of homebuyers is moving toward gas over wood due to the ease of use and elegance they bring to the space. Gas fireplaces are most popular in locations with hotter climates as they don't offer as much supplemental warmth as a wood fireplace.
Homebuyers love to see these fireplaces used as focal points rather than supplemental warmth. For instance, placing a gas fireplace in your kitchen or bathroom can pique the interest of potential homebuyers. Review the bullets below to see how a gas fireplace increases home value.
More versatility with custom fireplaces to fit unique places
Ease of use by the flick of a switch or push of a button
Modern ambiance and aesthetic with minimal heat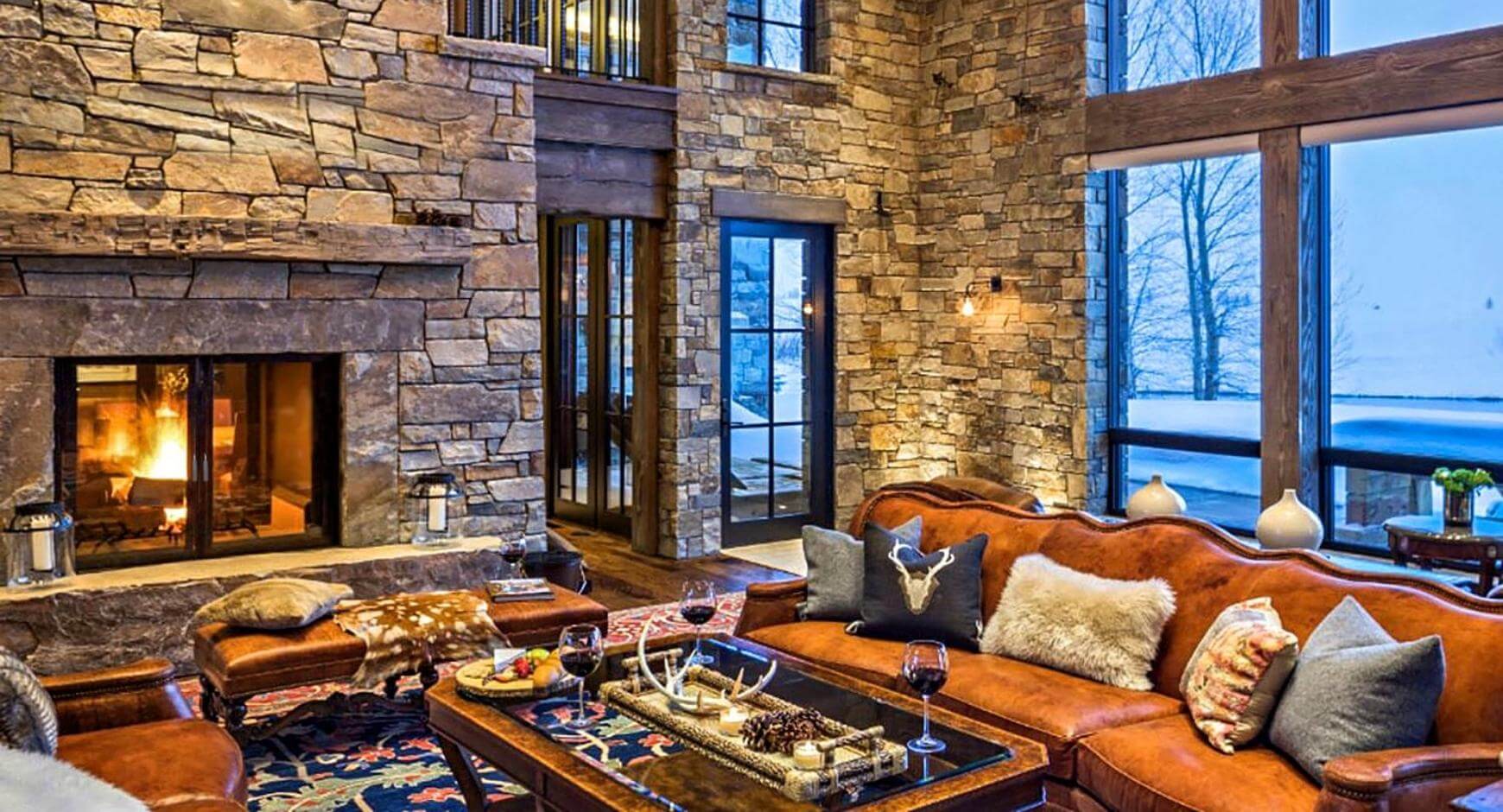 Does a Wood Burning Fireplace Add Value to a House?
A wood-burning fireplace adds the most value to a house when it's a focal point in the main living space. That's likely where friends and family will gather most often. In addition to offering a cozy space to gather in, you can enjoy the supplemental warmth and ambiance of a traditional fireplace on chilly nights.
If you find that buyers in your location aren't seeking supplemental warmth from a fireplace, certain types of our wood fireplaces, like the Hearthroom Series, can be easily converted from wood to gas. However, coastal luxury homes are trending toward wood burning when it comes to fireplaces due to the "romance" that the crackling of wood can bring.
Provides the perfect gathering space to make lasting memories with friends & family
Offers supplemental warmth and traditional open hearth ambiance
Easily transition from wood to gas at any time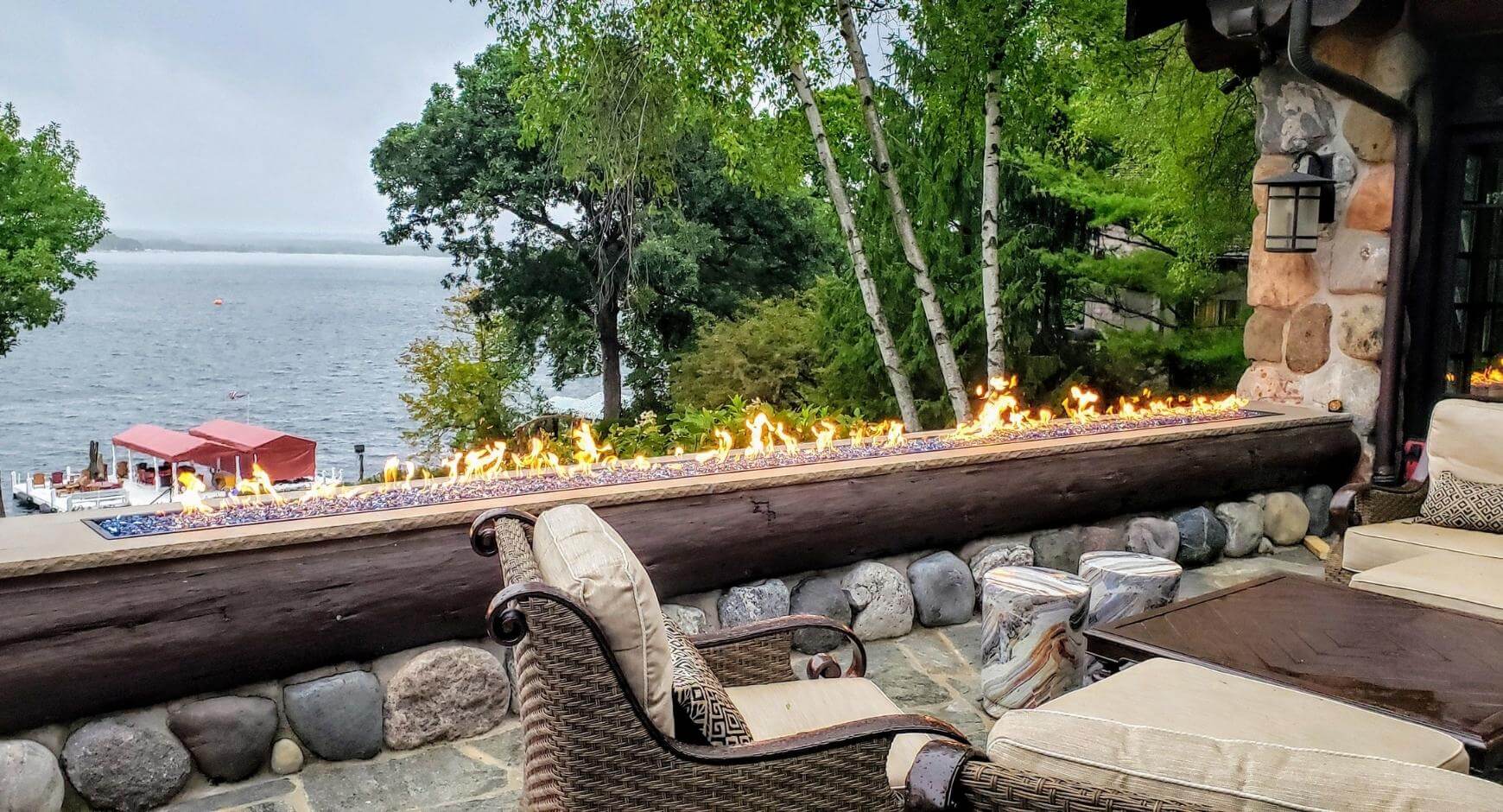 Does an Outdoor Fireplace Add Value to a House?
Extending your living space outdoors is extremely popular, especially in warmer climates. Providing a patio with room for outdoor seating, a grill, and a fire feature can dramatically affect your home's value. The popular "outdoor living" aspect is even on the rise in cooler climates. This holds true for gas and wood fireplace options and indoor/outdoor fireplaces.
Adding an "outdoor living" space to your home is seen by potential home buyers as additional square footage. An outdoor fire burner, fire table, or fireplace is also the easier fire feature to install and set up for a home. Having this outdoor space combined with a fire feature is also considered a "must-have" for large, luxury homes. The effect of an outdoor fireplace on home value is most notable in three key ways.
Enhance your outdoor living space
Increase your square footage 
Enjoy an outdoor fire feature year-round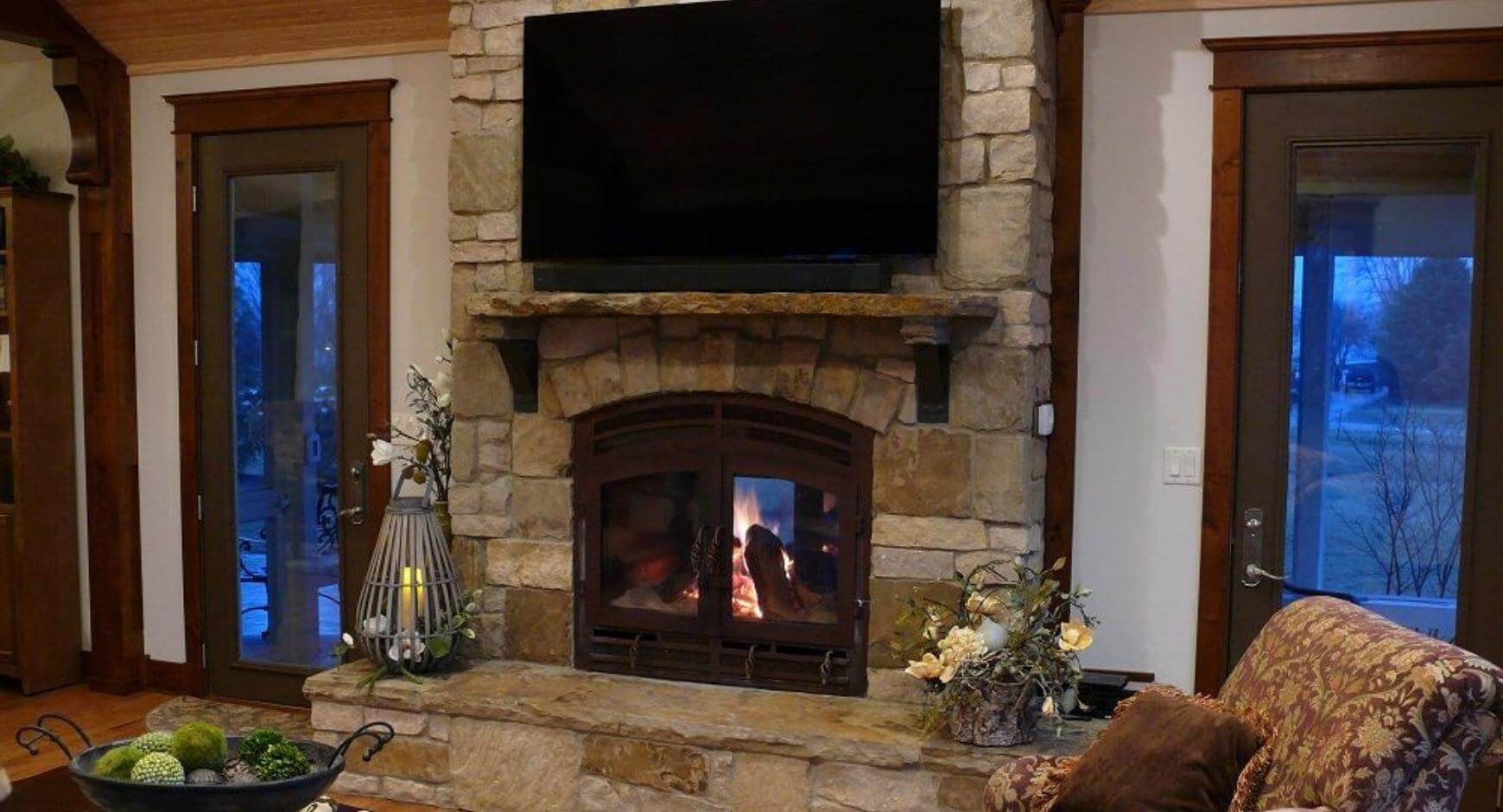 Reasons that a Fireplace in Your Home Increases the Value
Do fireplaces add value because they look nice, create atmosphere, or have a substantial resale value? It's a little bit of each that makes installing a fireplace in your home a sound investment.
Cozy Ambiance
If you're one to host parties or family gatherings, a fireplace can help give your home that cozy and inviting ambiance. The crackle of burning logs and tall dancing flames can keep people circled around the fire long into the night. Deciding how much value a fireplace adds to a home depends on how much you value good company and comfort. If you're in it for the ambiance, you'll enjoy these added benefits.
Mesmerizing flames
Relaxing crackle of burning logs 
Captivating centerpiece for conversation 
Enhanced Interior Design
Acucraft's custom fireplaces create brilliant centerpieces in any room, as they can be tailored to fit any home's aesthetic. They have a wide range of styles, from modern linear gas fireplaces to stone surround wood fireplaces that can be finished in many different ways for a truly one-of-a-kind piece.
Placing a TV or mantle above the fireplace to fill with family photos is a great way to cap off the heart of your house. Think about your interior design when considering how fireplaces add value to a home.
Enjoy the tallest, fullest flames on the market
Customize your fireplace to match your home
Use the space above to safely display artwork, family photos, or even a TV
Increased Resale Value
In the most direct way, fireplaces increase home value when it comes time to sell. Homes with fireplaces get more buyer views on average, which can cause the home's value to rise through competing bids.
Whether you plan to sell your home soon or years down the line, a fireplace is an excellent investment. Why wait to invest when you could be spending years entertaining friends and family around your own fireplace with so many perks to take advantage of?
Higher views on average listing
Increased competition between buyers
Stored value that won't decrease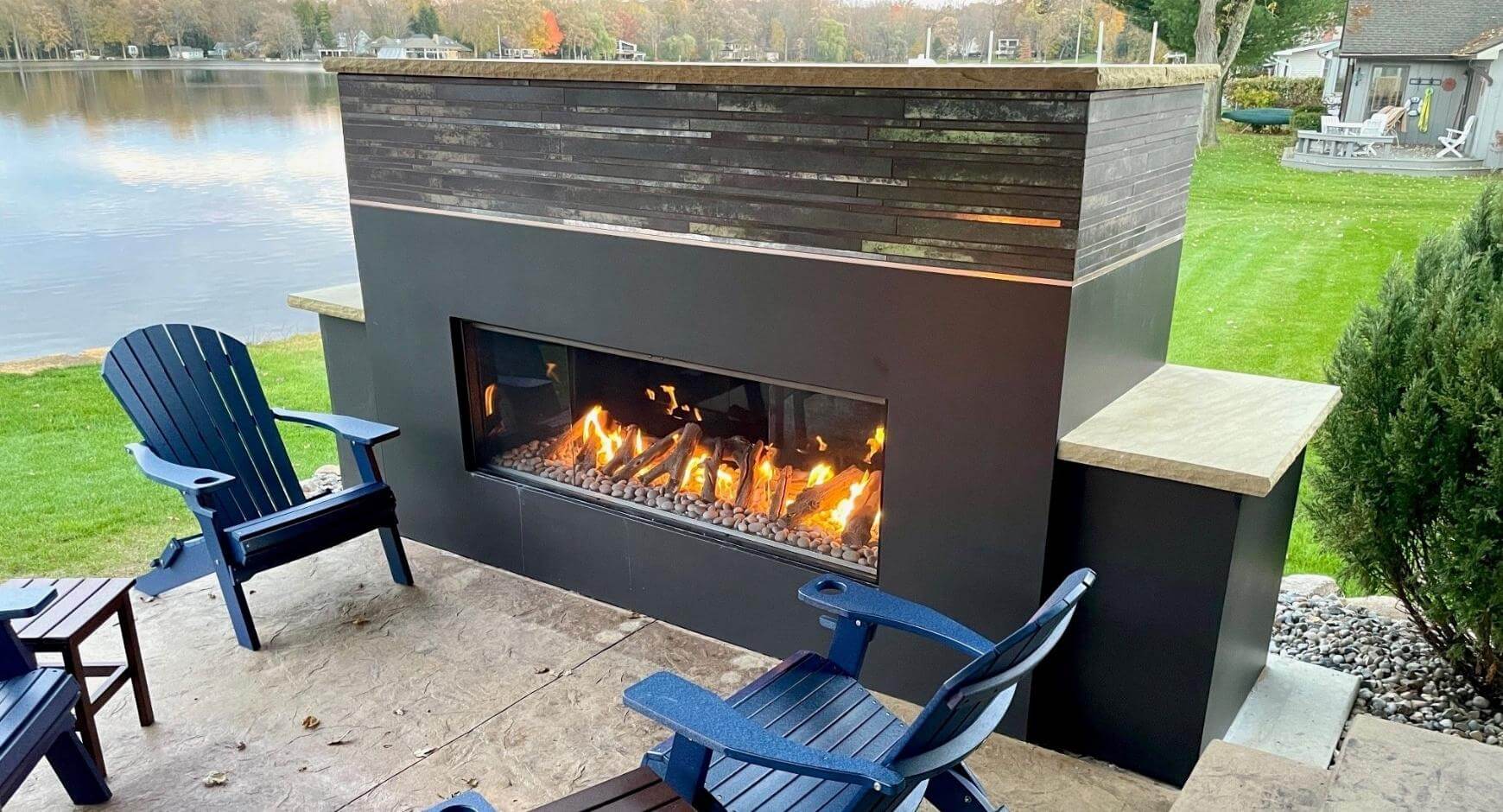 How to Decide if a Fireplace is Right for Your Home
Simply because having a fireplace increases the value of a home doesn't mean every home needs one. Deciding if a fireplace is the right choice for your home will depend on several factors, such as your location, home style, budget, and maintenance capabilities.
What's Your Location
Fireplaces can be found in homes across every climate zone, but when deciding between gas or wood burning it's important to consider how much warmth you'd like to add to your home.
Depending on your location, you may choose a wood-burning fireplace to take advantage of the natural resources around you, or a gas fireplace for a mess-free ambiance. Fireplaces are a welcome sight in any space, we recommend considering these questions when deciding on your own.
Are you seeking supplemental warmth or traditional ambiance?
How often will you be using your fireplace?
Where will you be enjoying your fireplace?
Where Should You Put the Fireplace
When considering where to install a fireplace, placement will affect the value brought to your home. A wood-burning fireplace is more suitable for an open main room where it can take center stage and invite people to gather around. Gas fireplaces, however, are suitable for more locations and may stir more buyer interest if they are placed in a unique spot like a bathroom or kitchen. Some of our most popular fireplace location requests include:
Will a Fireplace Fit Your Type of Home
Fireplaces now come in a wide variety of styles to fit any home, but it's important to match your home with the best fireplace. For instance, if you're building a log cabin, a traditional wood fireplace with a stone surround would accent nicely. Alternatively, if you live in a modern home, a linear frameless gas fireplace can bring a new level of sophistication to your interior design.
Maintenance Expectations
Maintenance can be a deciding factor for some when it comes to choosing a gas or wood-burning fireplace. Gas fireplaces don't produce smoke, ash, or debris, so all you have to do is the occasional dusting and glass cleaning, then schedule a yearly flue inspection. Wood-burning fireplace maintenance involves a bit more cleaning, including removing some of the ash after a fire, and scheduling yearly chimney inspections.
Gas fireplaces require less upkeep
Wood fireplaces require some maintenance after each fire 
Yearly inspections are recommended for both types
What's Your Budget?
Calculating your budget is a good place to begin before you start looking at fireplace designs. Decide on a budget range and what type of fireplace or fire feature you're looking for. Then start planning for your fireplace based upon the location you have in mind.
Ensure you're including the cost of installation and a chimney/flue system when calculating project totals. Remember that installing a fireplace adds value to your home that will be returned to you down the road.
Add Value to Your Home with a Custom Fireplace from Acucraft
Does a fireplace increase home value? Absolutely. Whether you're looking for a modern gas fireplace or a rustic wood fireplace, you'll be happy with a great return on your investment.
Once you have discovered your design inspiration, our experts will help guide you to the perfect solution for your space. With over 40 years of experience installing world-class custom fireplaces, we've got the skills to bring your vision to life. Explore our fireplace design gallery for ideas and browse our blog for more fireplace design tips and advice.