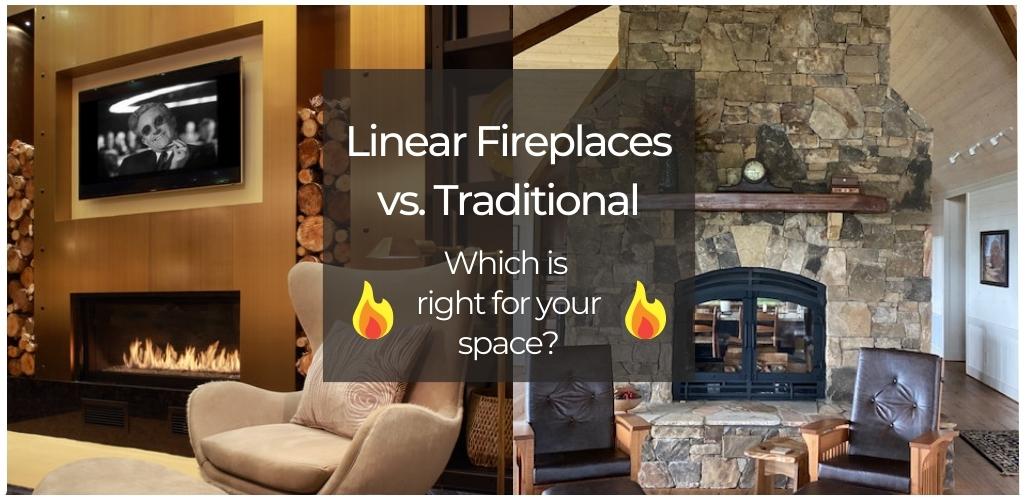 If you're replacing an old fireplace or purchasing a new one, choosing between a linear fireplace vs traditional fireplace design is an important decision. Choosing one design over the other plays a significant role in determining the look and feel of your space.
Both linear and traditional fireplaces have their appeal. A linear fireplace, or horizontal fireplace, offers a more contemporary design. A traditional fireplace, however, provides a classic look. A high-quality fireplace can be the focal point of any room, so it's vital to decide what scheme you want for your space.
Depending on your design intentions, you may need either a linear rectangle fireplace or a classic traditional fireplace to tie the space together.

Why Choose a Linear Fireplace?
A linear fireplace is a horizontal gas fireplace in a rectangle shape. A long gas fireplace with this design will have some kind of framed trim. A designer may choose a rectangle gas fireplace because it fits many modern and contemporary aesthetics. But, it's also possible to see a linear fireplace in a traditional home.
Modern Appeal: Linear gas fireplace designs have modern appeal thanks to their seamless rectangular trim. They are unobtrusive and match well with contemporary interiors.
More Comprehensive Range of Design Options: A linear fireplace is minimalist. So, the area surrounding it can be designed in numerous ways to fit various styles.
Offset Oversized TVs: TVs keep getting bigger, but not everyone wants them to be their living room's focal point. A wide gas fireplace can pull focus from the TV.
Linear Fireplace Designs
There are many different design options when it comes to rectangle fireplace ideas. While the general aspects of a linear fireplace are angular, horizontal, and wide, you can still personalize the finished product to meet your needs.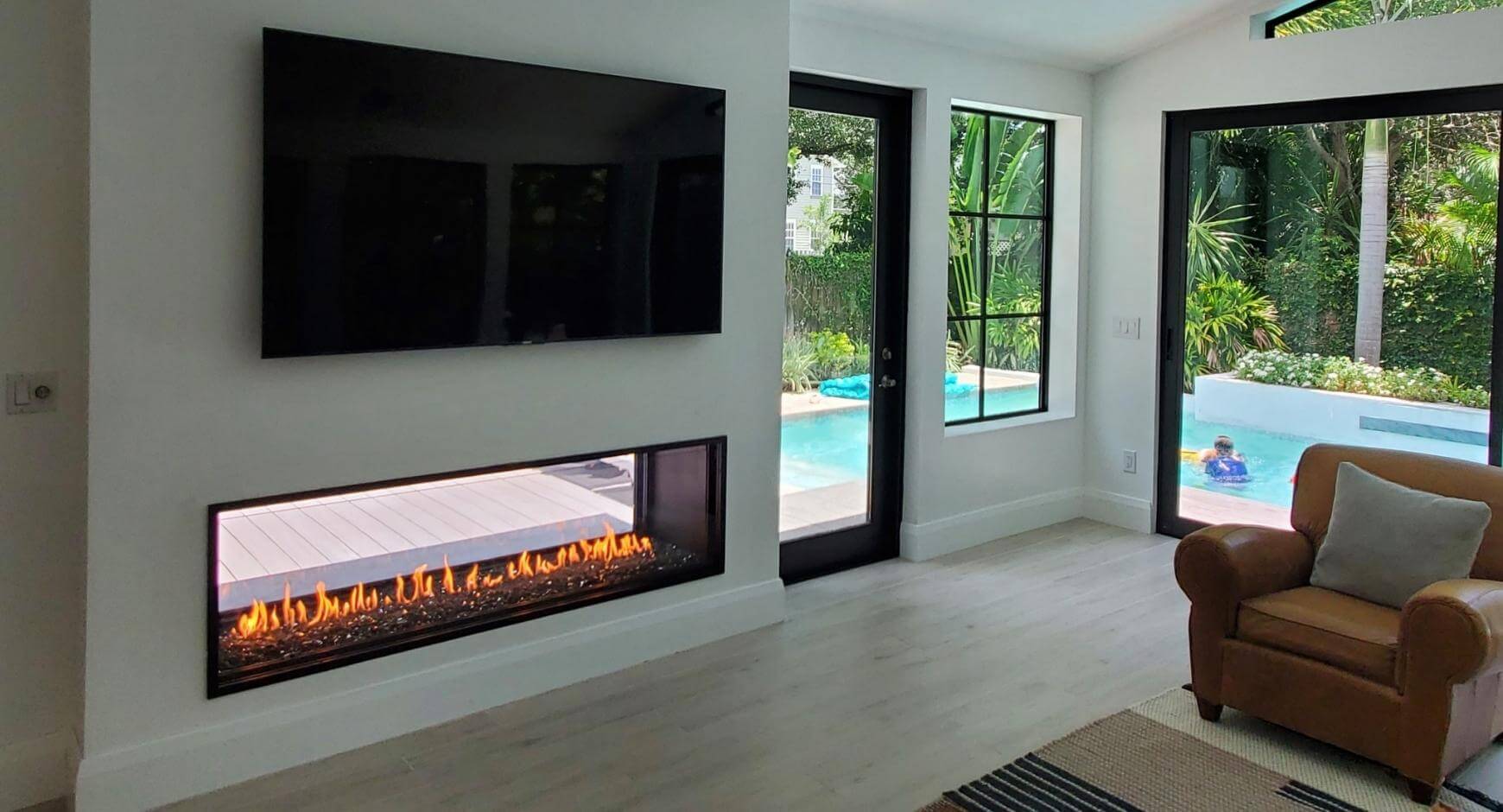 See-Through
A see-through linear fireplace allows different rooms or areas to share access to the same beautiful fireplace view. See-through fireplaces feature either glass or fire screens on both sides so that the dazzling flames can be viewed from multiple vantage points. This linear fireplace option is excellent for:
Dividing a luxury master bedroom and bathroom
Creating a focal point in an open concept living area
Adding warmth and style to a trendy hotel or restaurant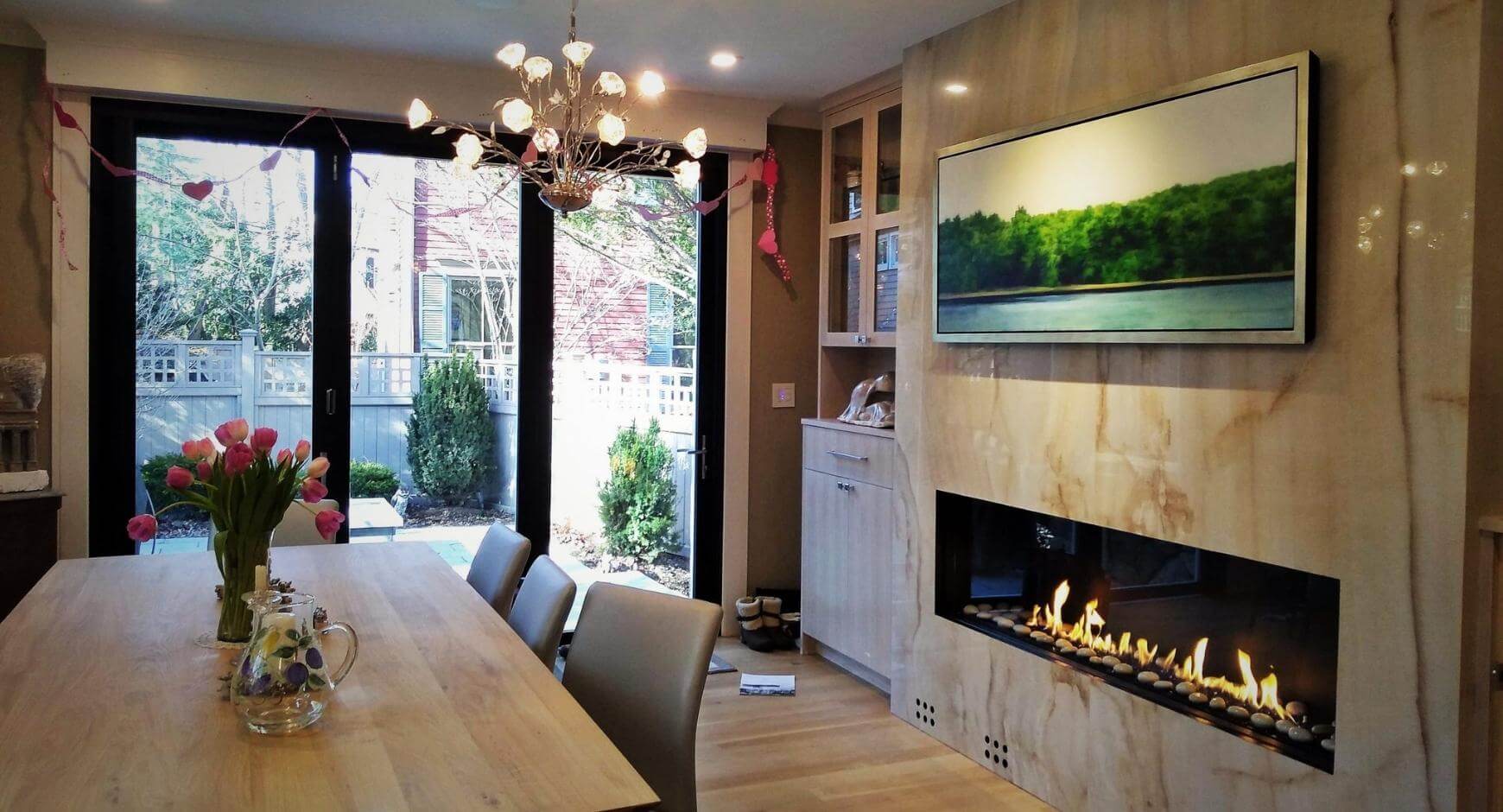 Front-Facing
A front-facing linear fireplace can bring intimate comfort to any room. These gas fireplaces create ambiance by adding supplemental warmth to a specific space. Acucraft's custom front-facing gas fireplaces are available with safety glass or with open, unsealed viewing areas. Front-facing linear fireplaces are great for spaces like:
Smaller rooms that benefit from a low-profile fireplace
Rooms with large mantels, TVs, or pieces of artwork to showcase
Areas where an intimate fireplace can boost comfort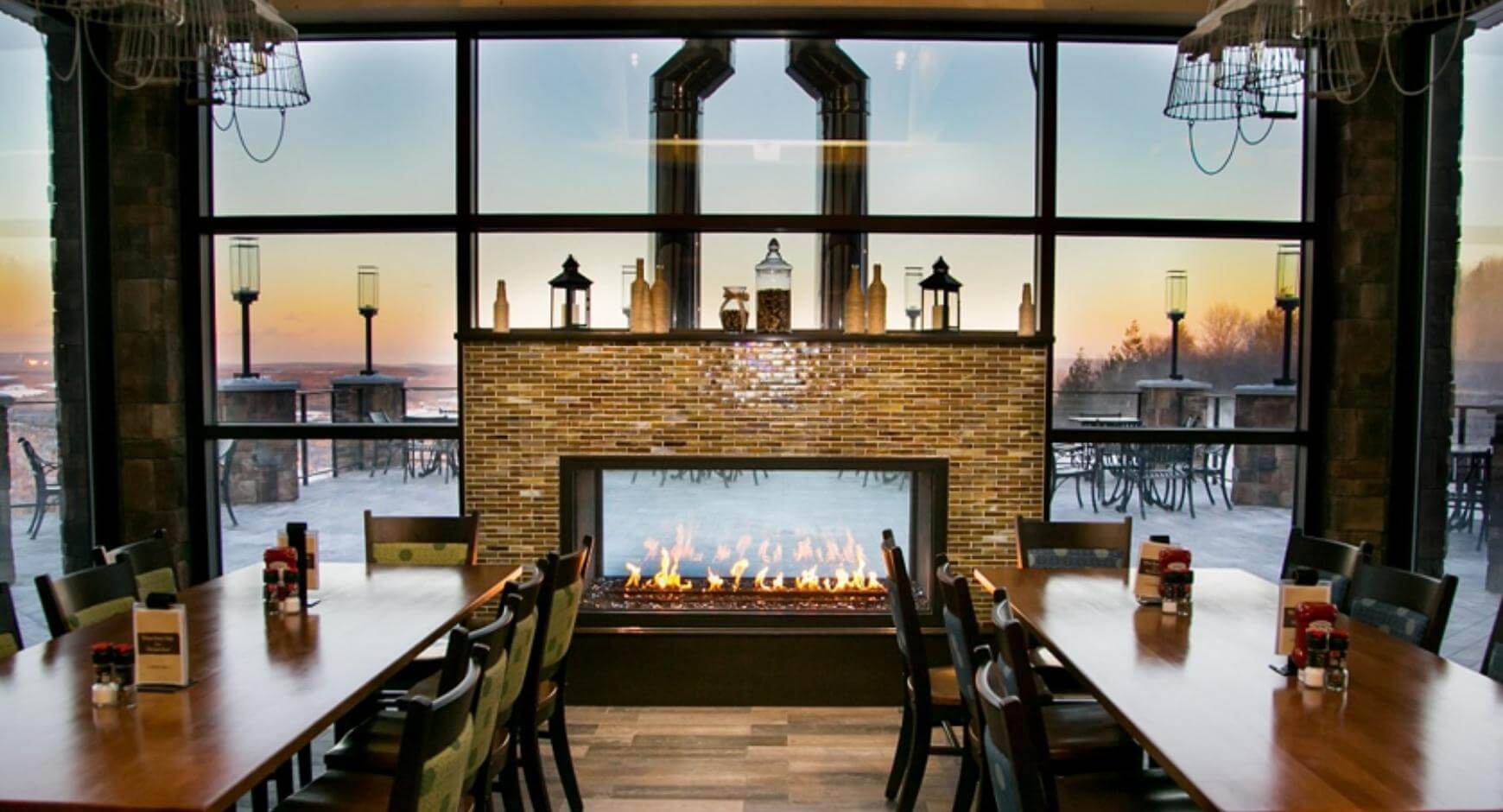 Indoor Outdoor
An indoor/outdoor fireplace gives homeowners and visitors the option to enjoy their fireplace from different areas of the home. These linear fireplaces are installed on a structure's exterior wall so that people can enjoy them from both inside and outside. That means everyone can gather around the fireplace in rain or shine.
Spaces that can benefit from a linear gas indoor/outdoor fireplace include:
Modern home entertainment areas
Meeting and conference spaces
Restaurants and bars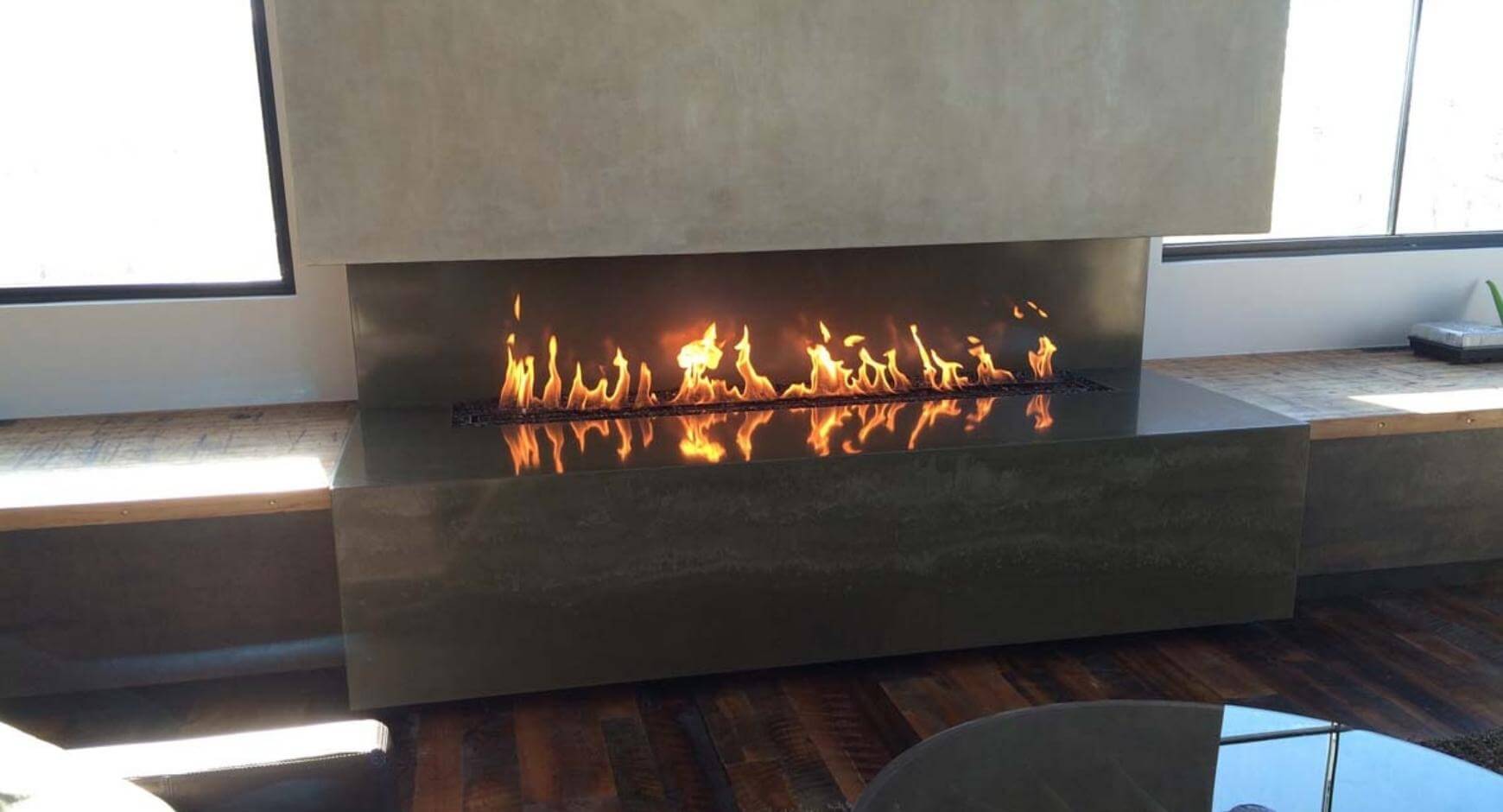 Panoramic
Panoramic fireplaces are linear fireplaces that offer unique three-sided viewing angles. These fireplaces quickly become the focal point of any room and elevate its atmospheric value. Acucraft's panoramic gas fireplaces are available as completely open or with safety glass. Panoramic fireplaces fit perfectly into the following types of spaces:
Contemporary waiting areas
Stylish commercial spaces
Sophisticated living rooms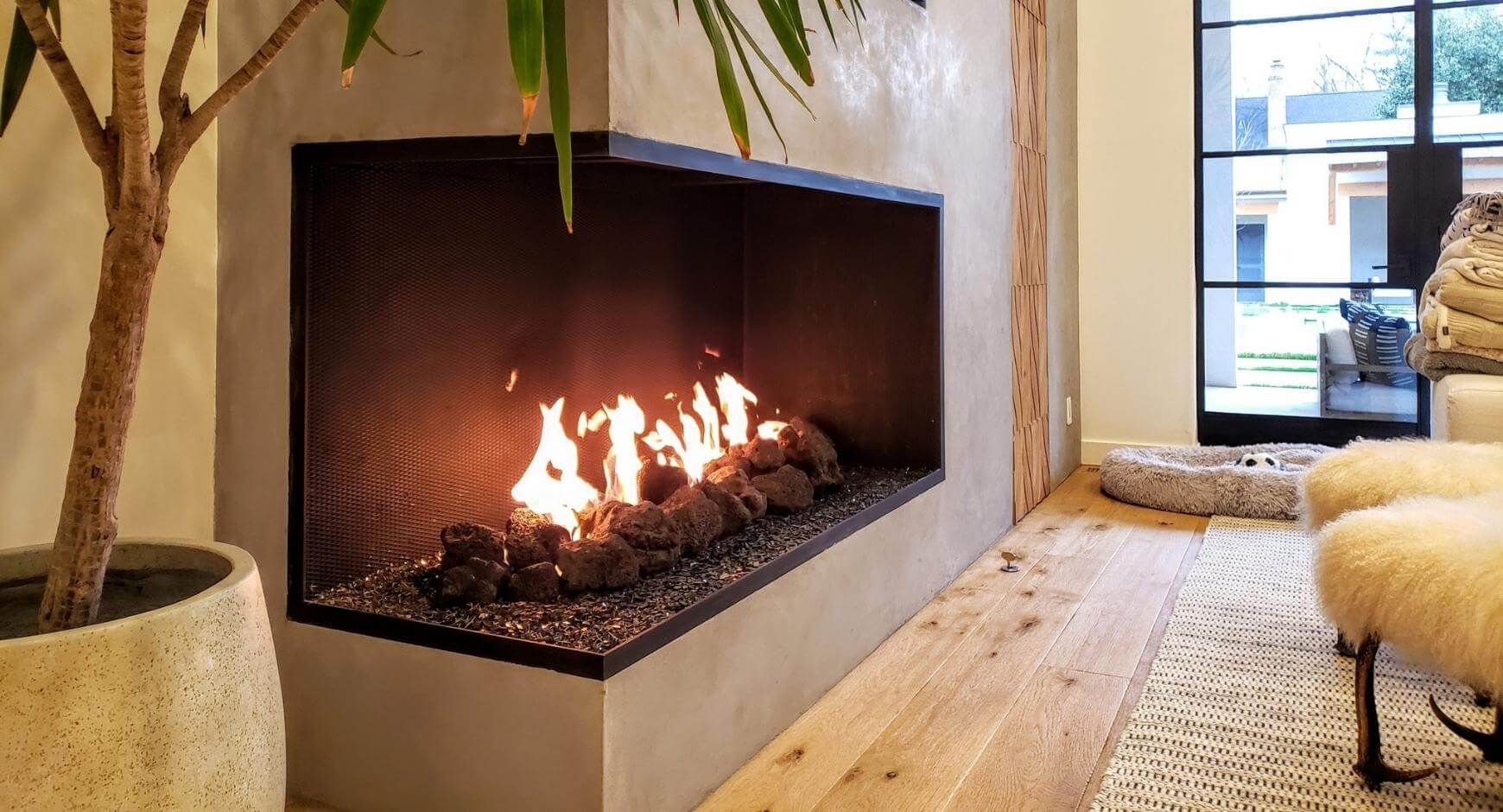 Multi-View
Multi-view fireplaces offer a unique take on the typical linear fireplace. Rather than one long gas horizontal fireplace centered on a wall or hearth, a multi-view linear fireplace is asymmetric. Acucraft's multi-view fireplaces provide one long linear viewing angle with another shorter viewing angle that wraps around a corner.
These multi-view fireplaces, also known as corner fireplaces, offer a different type of linear fireplace experience. They work exceptionally well in these spaces:
Unique homes and living spaces
Funky and contemporary artistic venues
Modern commercial areas
Why Choose a Traditional Fireplace?
When it comes to classic fireplace designs, traditional wood-burning fireplaces with rustic features are still incredibly popular with designers and homeowners. Burning wood in a fireplace creates a feeling of comfort and contentment that has drawn people in for centuries. Traditional fireplaces typically invoke old-world feelings of sturdiness and hospitality.
Classic Aesthetic: Plenty of designers and homeowners forgo trends and fads in favor of the classics. This includes traditional fireplace ideas.
Straightforward Design: A traditional wood fireplace typically includes reliable design principles and never goes out of style.
Sensory Experience: A major selling point for wood-burning fireplaces is the audible crackling of burning logs. Some people prioritize this aspect over other design features.
Classic Fireplace Designs
Choosing a traditional fireplace design doesn't mean your fireplace will be boring. After all, the classics are classics for a reason. There are many different types of traditional fireplaces that will suit all stylistic preferences.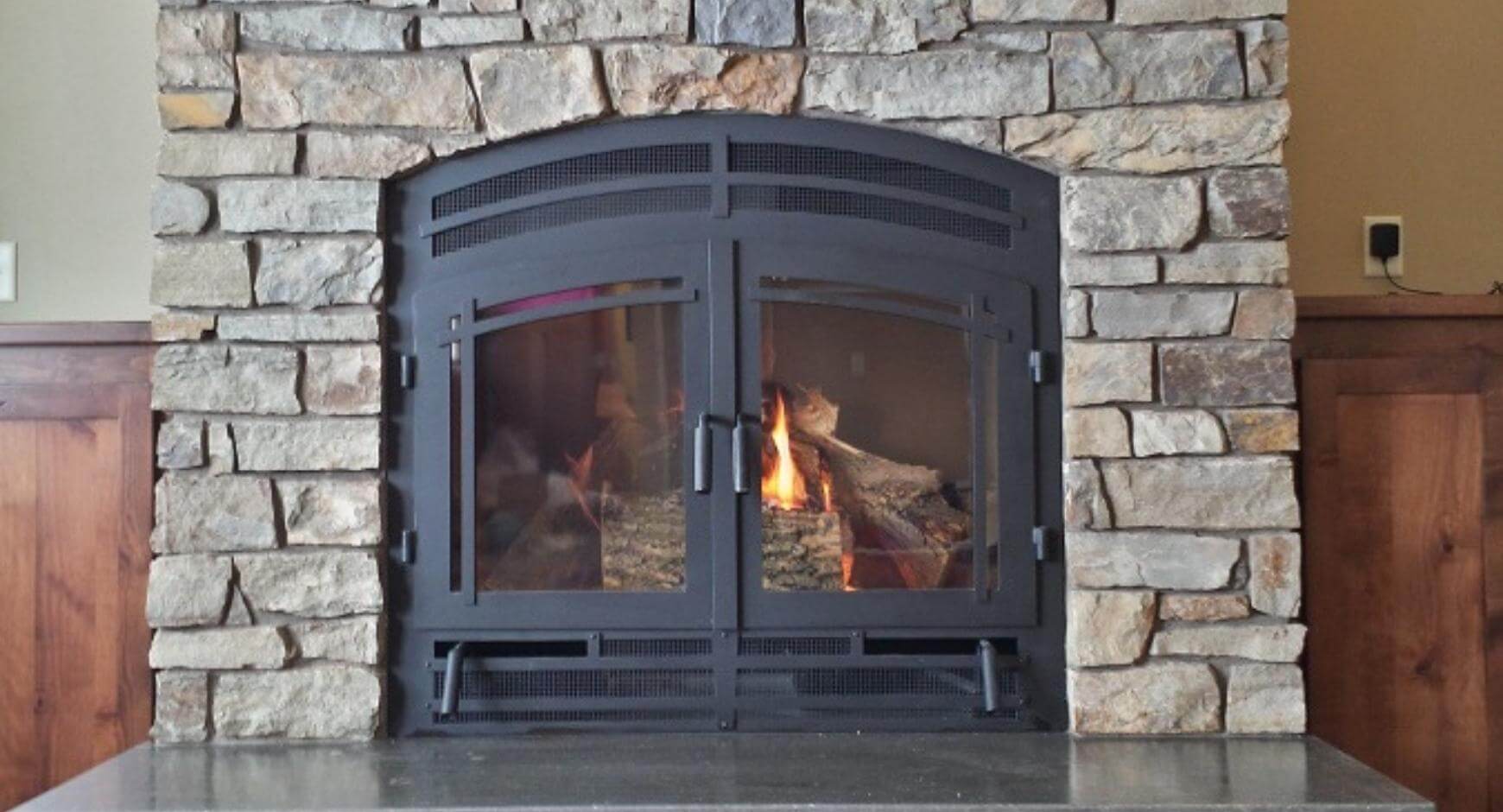 Front-Facing
A front-facing wood fireplace provides any room with the comfort, attractiveness, and supplemental warmth that only burning logs can. Traditional front-facing fireplaces are ideal for creating the sensory experience of freshly cut crackling wood.
Since Acucraft's front-facing fireplaces are one-sided, they don't overwhelm a room during the warmer months. They can, however, work wonders when the temperatures drop. The following spaces are ideal for a front-facing wood-burning fireplace:
Living rooms
Bedrooms
Rustic cabins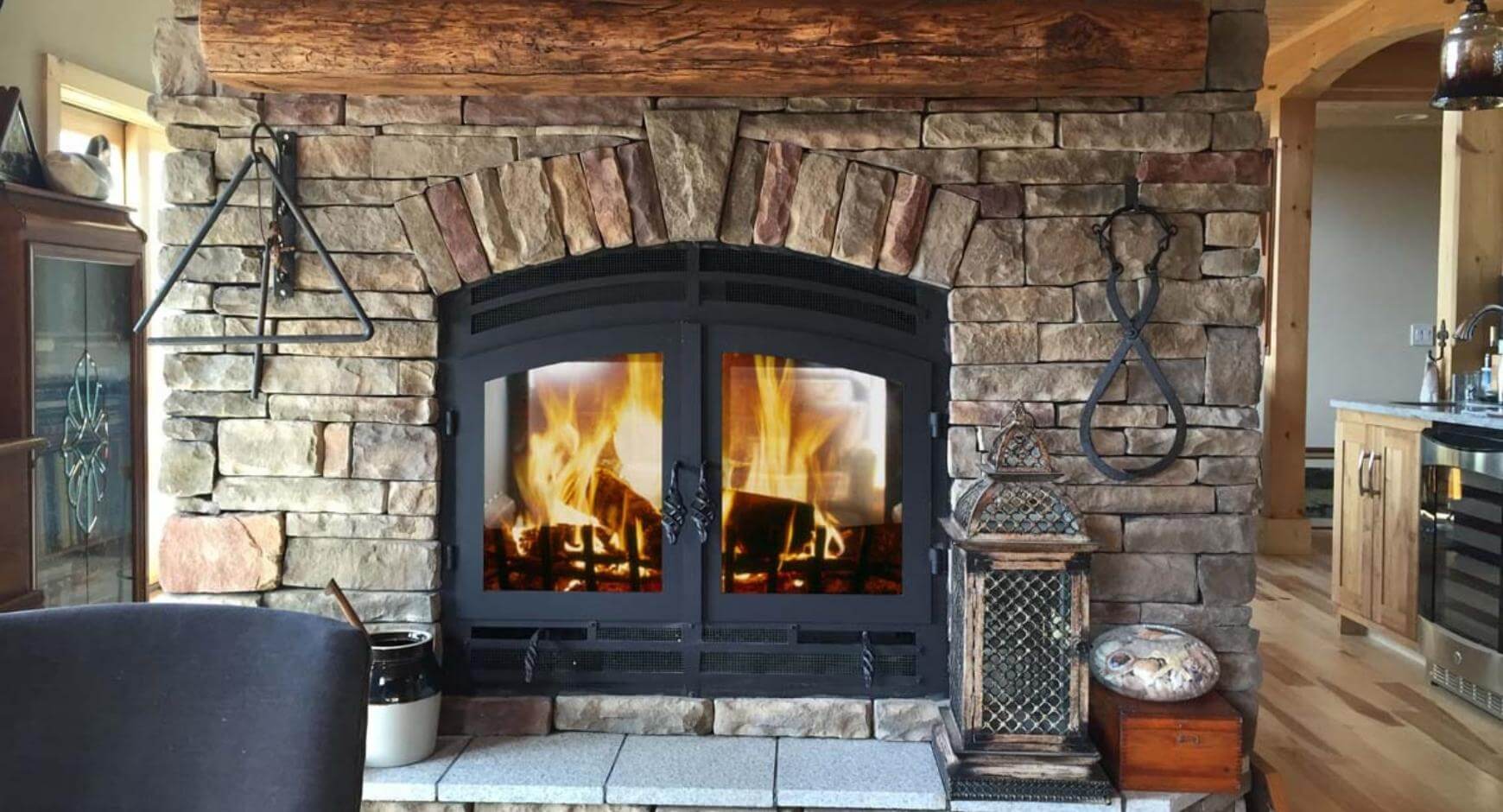 See-Through
A see-through traditional fireplace can seamlessly provide atmosphere to multiple rooms at once. A rustic see-through wood-burning fireplace can provide supplemental warmth while giving observers mesmerizing views of the flames from both sides. Consider this type of traditional fireplace for:
Separating bedrooms and living areas
Providing supplemental warmth in rustic cabins
Creating focal points in multiple rooms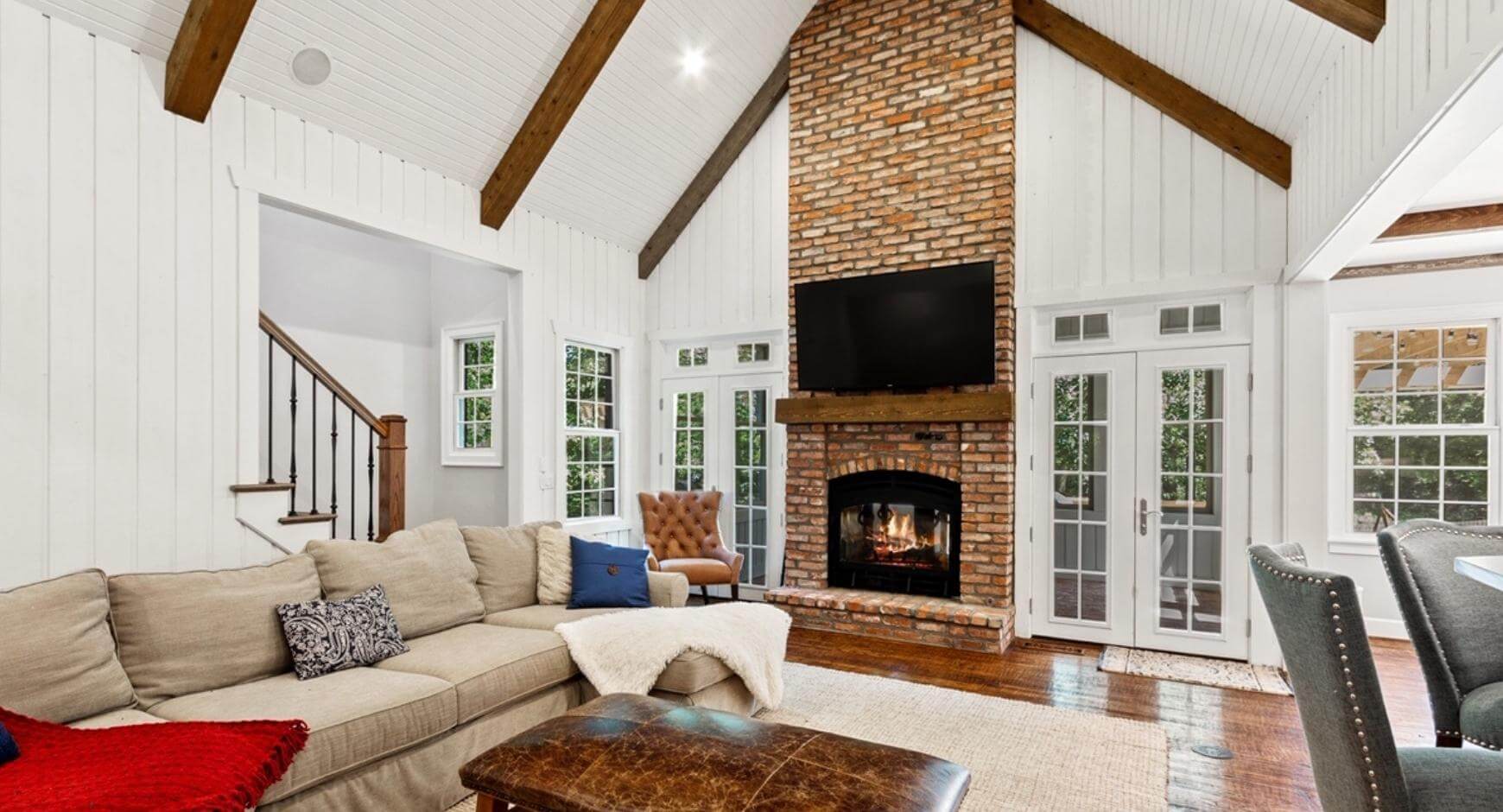 Indoor Outdoor
The traditional fireplace style is perfect for indoor/outdoor fireplace designs. Homeowners who love to entertain can have guests over regardless of the weather. Additionally, those who love to curl up by the fire are able to do so outside. Traditional indoor/outdoor fireplaces are perfect for:
Homes where people love to relax by the fire
Living areas with great indoor and outdoor spaces
Stress-free entertaining
Which Type of Fireplace Is Right For You?
Choosing the best fireplace type for you depends on a few factors. First, you should consider your ideal space. Think about the following:
What other styles are already in the space? 
Do you prefer a more modern or a more rustic overall look? 
Answering these questions will help you determine whether a linear or a traditional approach is best for you.
It's also important to note if you prefer gas or wood-burning fireplaces. Both types of fireplaces have their advantages and can work in any space, so it comes down to your personal inclination.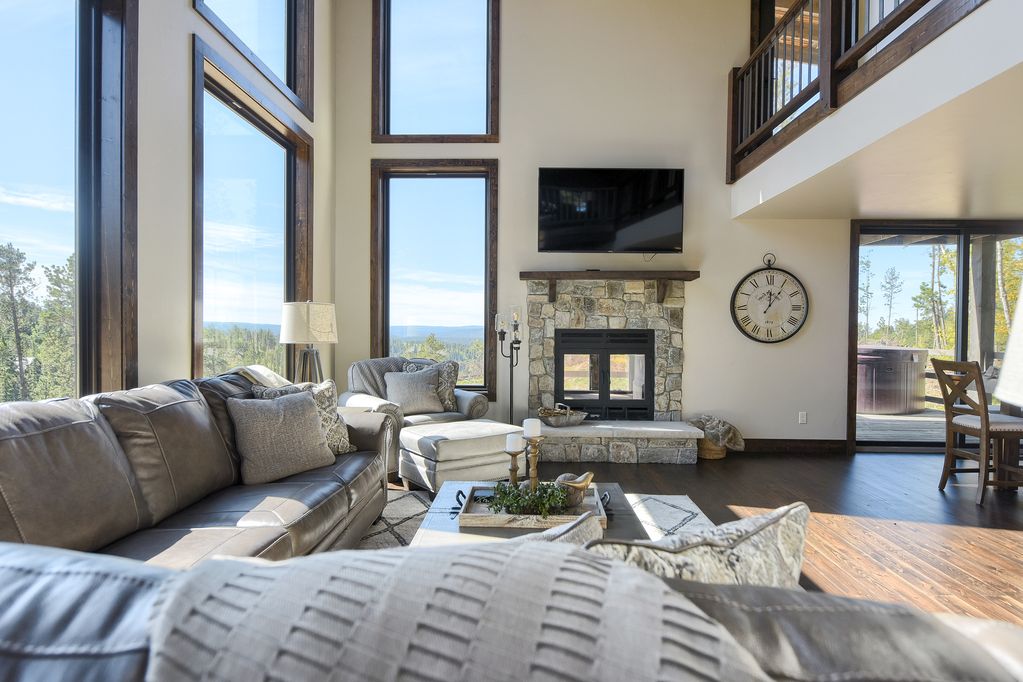 Design the Perfect Fireplace for Your Space with the Experts at Acucraft
Contact the experts at Acucraft to design your perfect fireplace. Choosing a custom fireplace will ensure that all your needs are met, and your space will look exactly how you envision. At Acucraft, we work directly with designers and homeowners to provide one-of-a-kind fireplaces to suit each individual customer. Check out the Acucraft blog for more inspiration.