July 23, 2021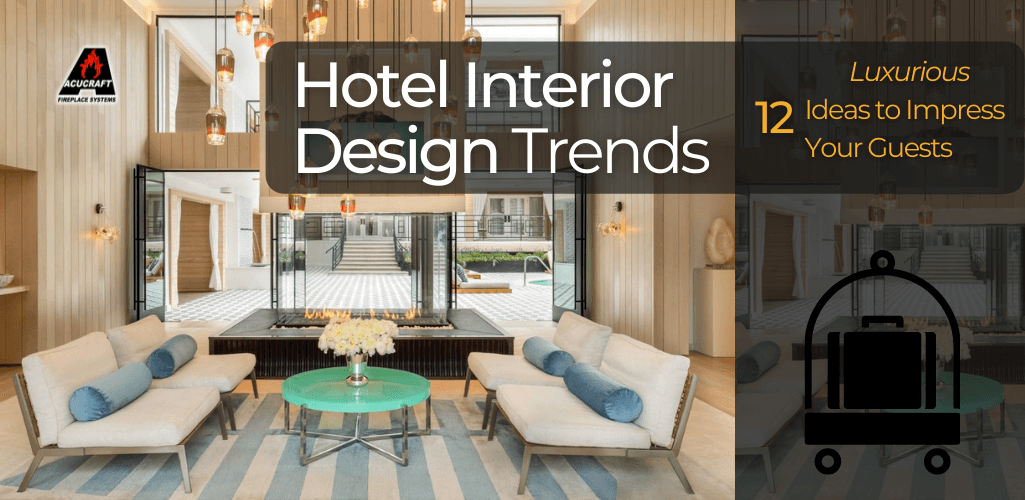 12 Luxurious Hotel Interior Design Trends
When it comes to the guest experience, hotel interior design is a defining factor. Modern hotel rooms have evolved far beyond a place to sleep. They have become desirable destinations themselves. Discover the hotel design ideas that are essential to creating an unforgettable experience for your guests. 
New trends in the hotel industry are transforming the way we travel for business and vacation. It's now possible to find all the entertainment and relaxation you need without ever leaving the comfort of your hotel. Whether you're a hotel owner or looking to book your next trip, you'll want to check out these new designs that are changing the industry.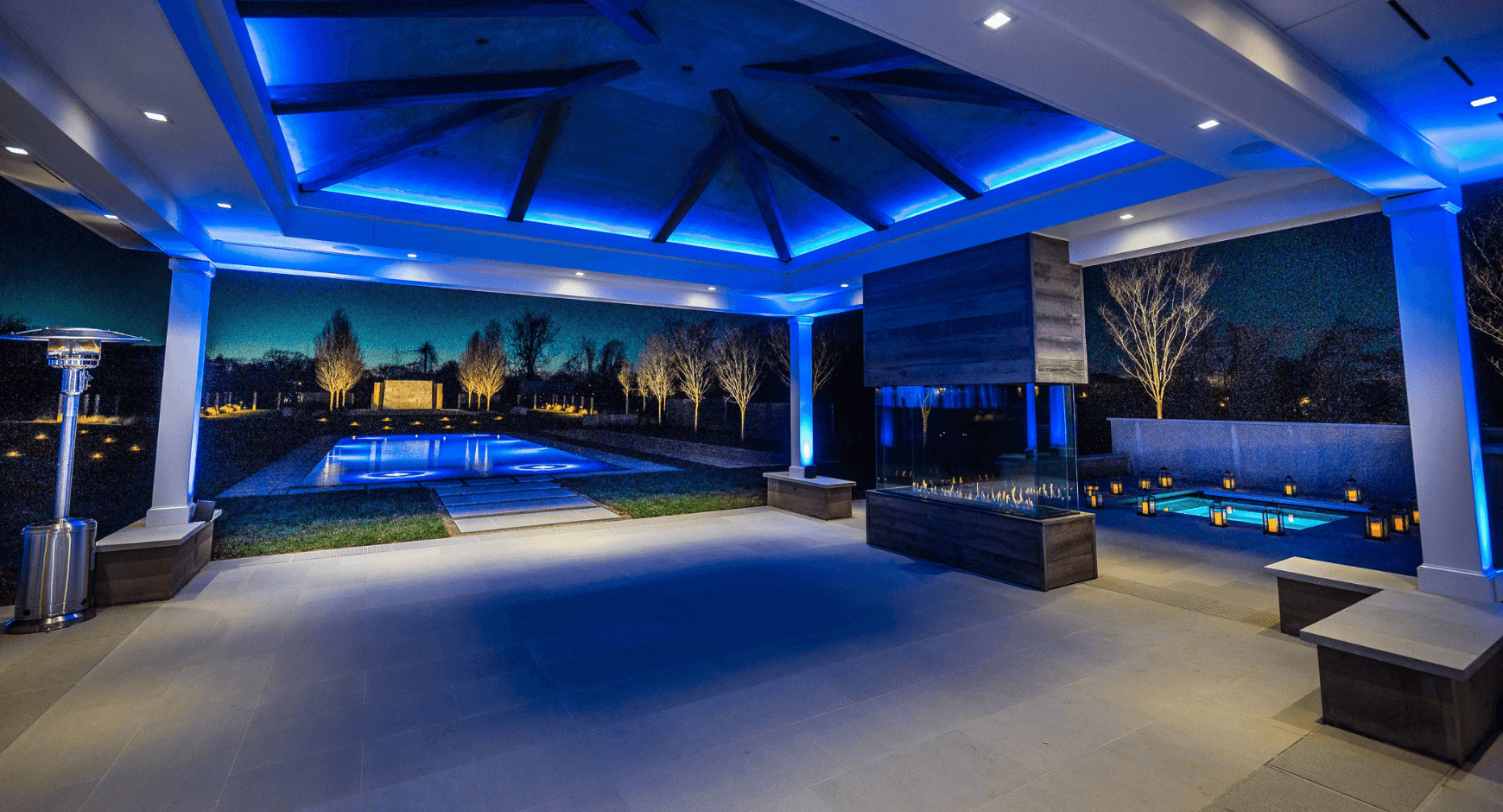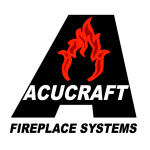 Acucraft builds stunning custom fireplaces for hotels that leave a lasting impression on guests. Our fireplace advisors can design a luxury gas or wood fireplace to supplement the interior design of your lobby or guest suites. Get inspired; request a free brochure.
Hotel Design Ideas That Wow Guests
As vacation rental companies offer guests new and unusual places to stay, creative hotel designs have been on the rise in order to compete. Much like popular home interior design trends, these new hotel interior design trends appeal to our well-being and make us feel at ease.
Combine the comforts of home with the brightness of far-off destinations. Create a rich atmosphere of joy in the unknown. Incorporate and accentuate the beauty of the surrounding landscape with these trends which focus on enhancing the guest experience.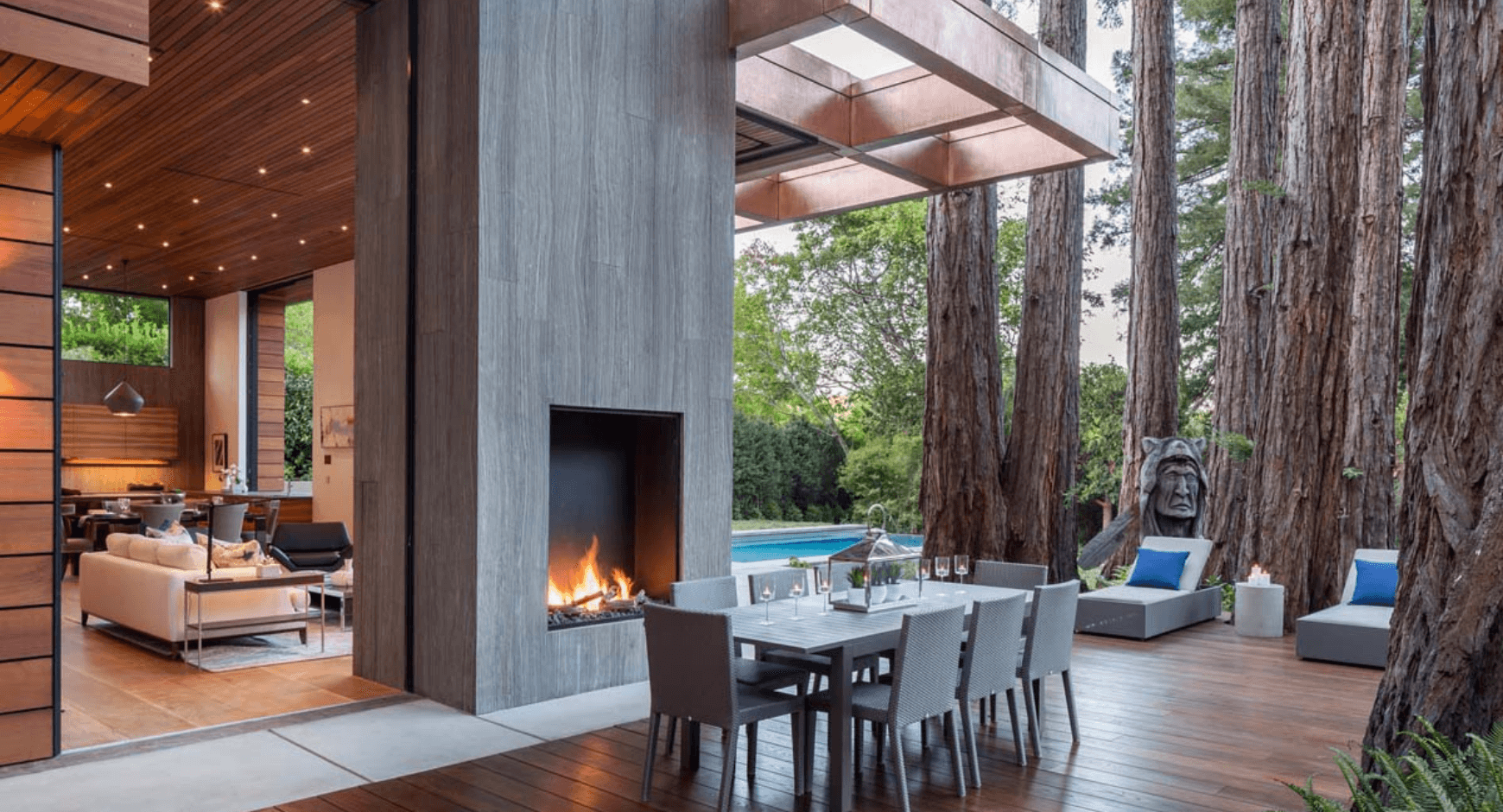 1. Combining Indoor and Outdoor Spaces
The most innovative hotel designs reach beyond the interior. By blending the interior with the exterior, there is a feeling of continuity and cohesion. Incorporating elements of the natural environment creates a relaxing atmosphere for the guest, giving them the chance to experience something unexpected.
If you're going for a nature-centric, minimalist hotel lobby design, this trend is for you. Both staff and guests have the luxury of enjoying the sounds, sites, and smells of the outdoors while indoors. Add to this the changing of the seasons, and you've got four unique lobbies and landscapes that will keep your guests coming back for a new experience.
Benefits:
Ambiance
Seasonality
Wildlife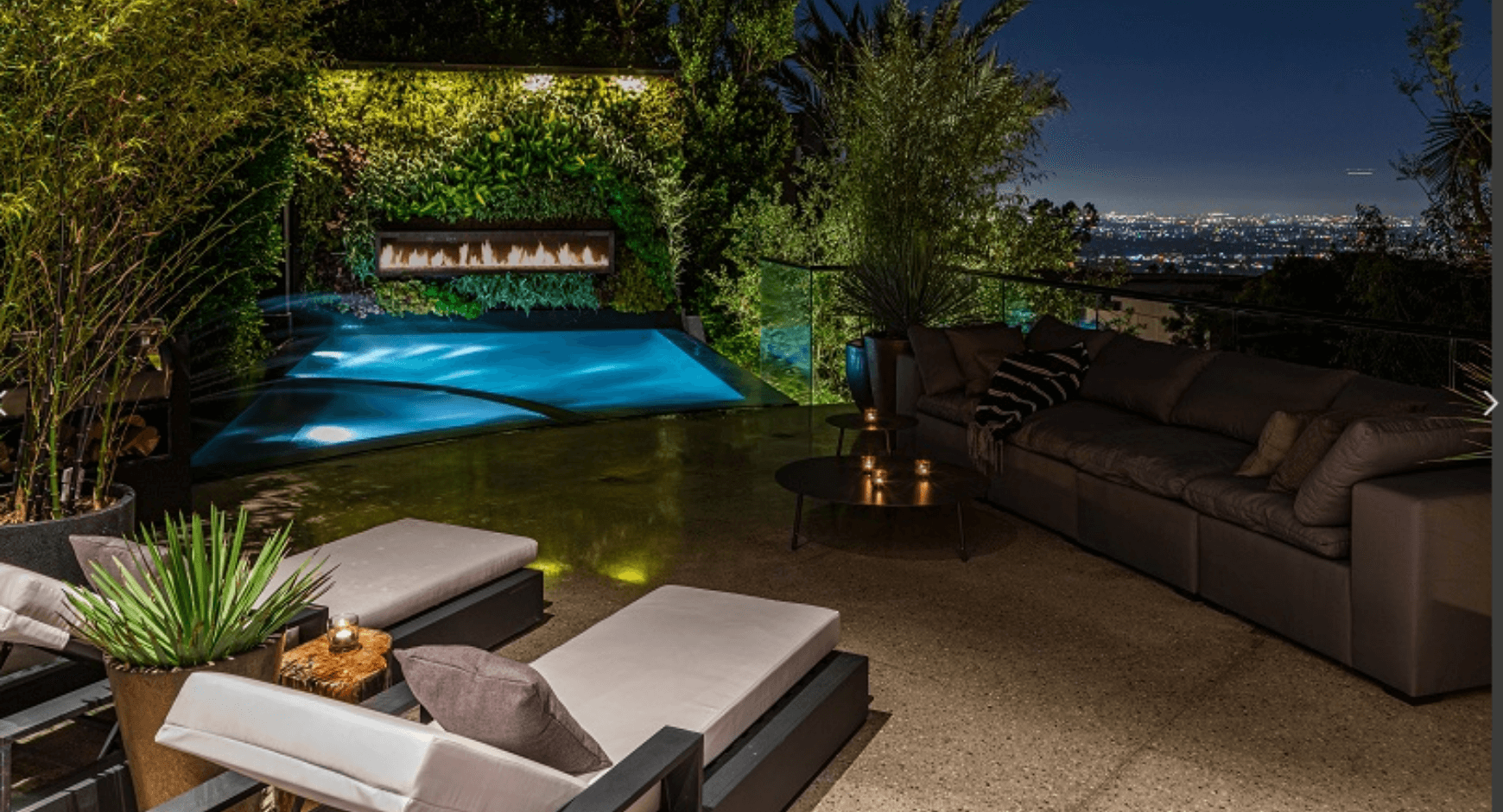 2. Incorporating Green Space
Completely eco-friendly hotels are rare. Luckily, innovative thinkers have helped hotel owners find creative ways to weave green space and sustainable practices into their architecture.
The adoption of green spaces like living walls and rooftop gardens can help reduce a building's carbon footprint while also creating beautiful community areas. Combine this with large windows for more natural light and natural building materials to produce a stunning and eco-friendly hotel interior.
Benefits:
Living and changing décor
Promotes sustainability
Purifies the air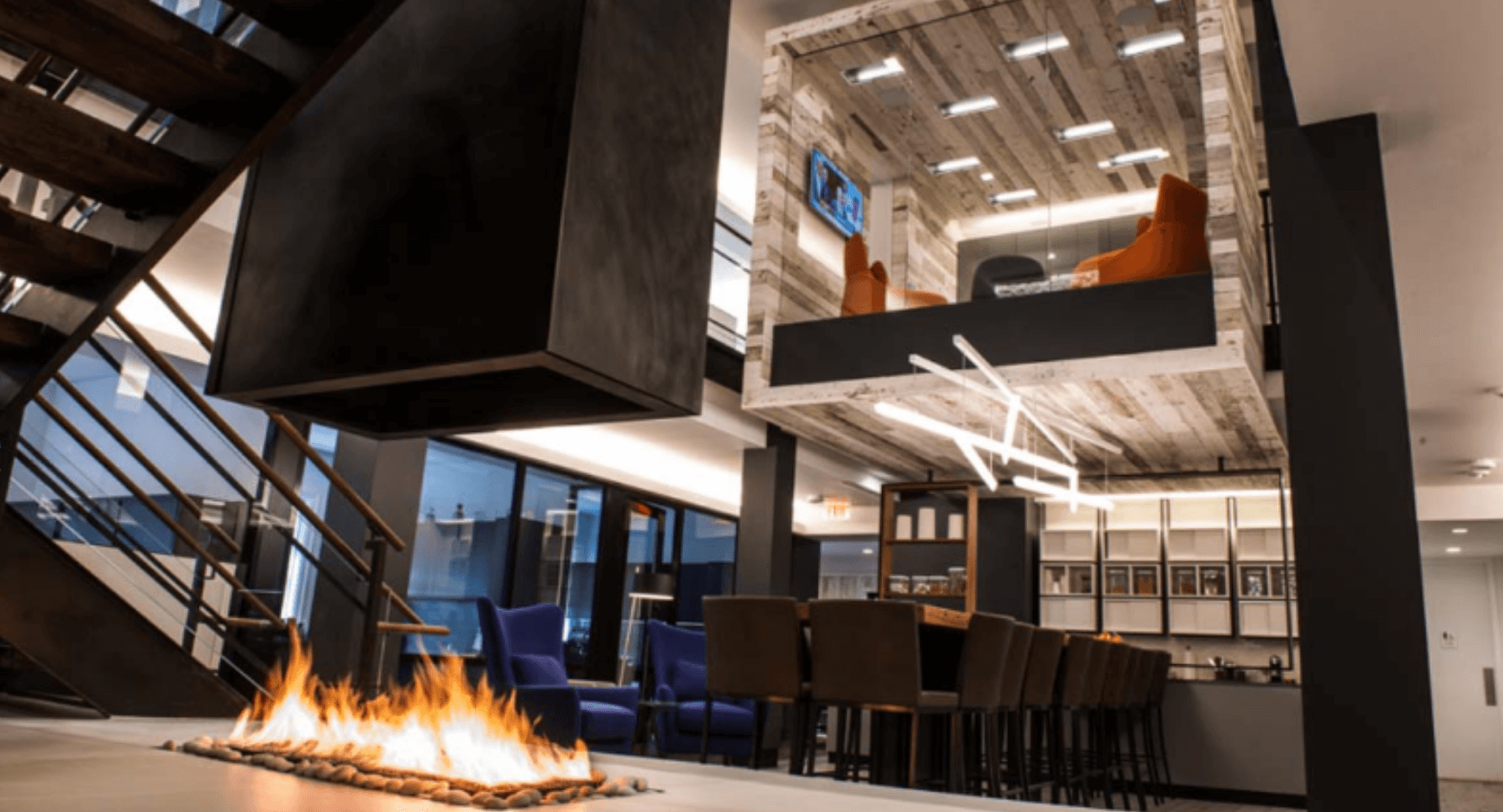 3. Rethinking Hotel Lobby Design
Modern hotel lobbies have to be multi-purpose gathering spaces capable of hosting social outings, business meetings, and intimate get-togethers. To accommodate such a wide variety of events, hotel lobby designs cater to the finer details of the guest experience.
Today's luxury hotel lobbies leave remarkable first impressions with features like flowing waterfalls, grand chandeliers, and elegant custom fireplaces. The importance of hotel lobby interior design cannot be understated; it's the central hub of all guest interactions.
Benefits:
Great first impressions
Maximizes social spaces
Provides intimate and social settings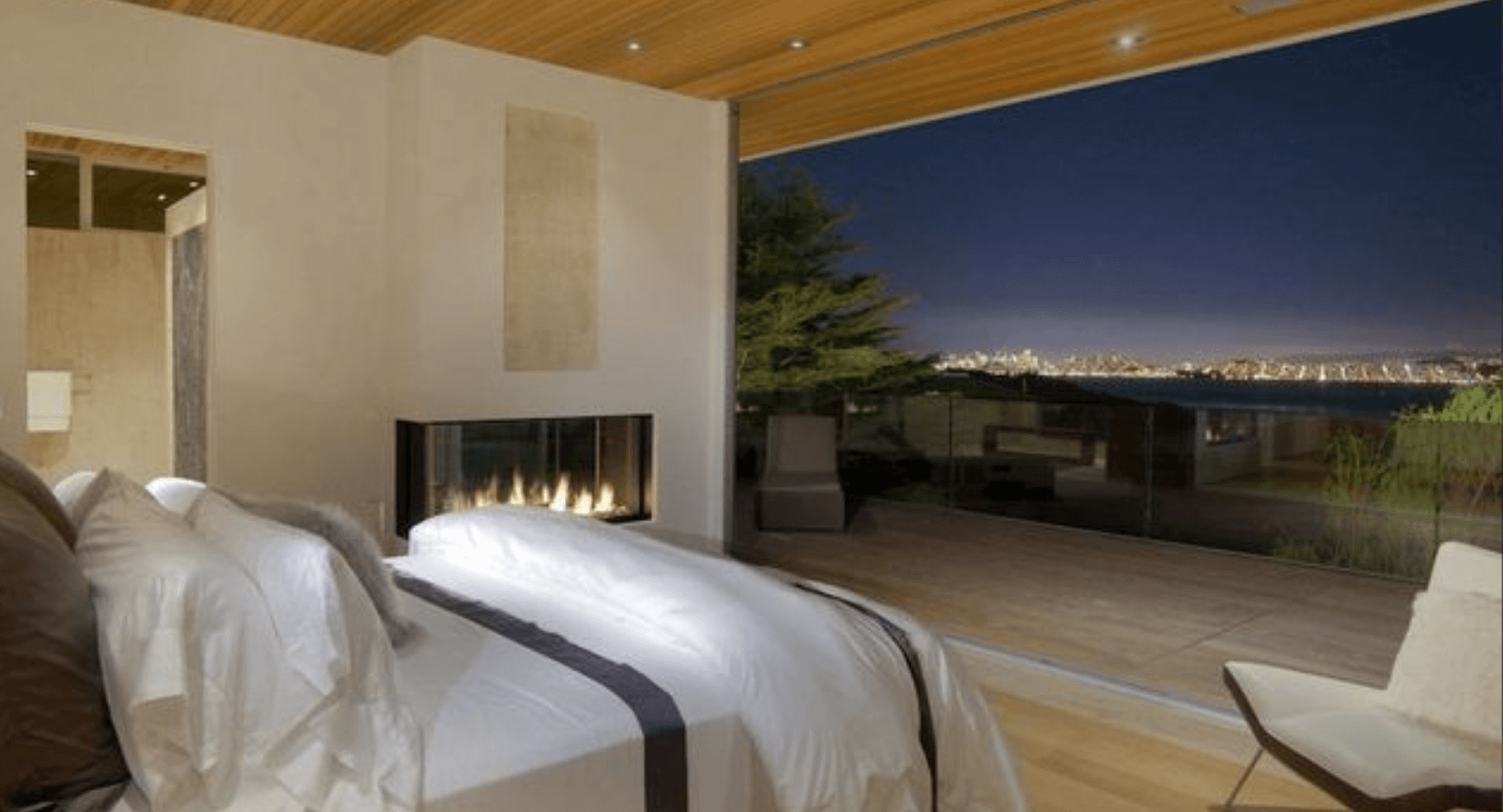 4. Hotel Room Design That Challenges Tradition
Hotel room design ideas have followed the same boring formula for decades: bed, end table, and a closet. New hotel trends aim to surprise guests with styles and functionality they won't find at home or anywhere else, for that matter.
Hotel room interiors need to be designed as intentionally as the lobby, with similar workplace functionality and room to move around. Remember, you don't have to try too hard to achieve this. A simple hotel room with a phenomenal bed, a cozy peninsula gas fireplace, and sweeping views can be even more memorable than a flashy room with too much furniture.
Benefits:
Surprise guests
Workplace functionality
Home style hotel comfort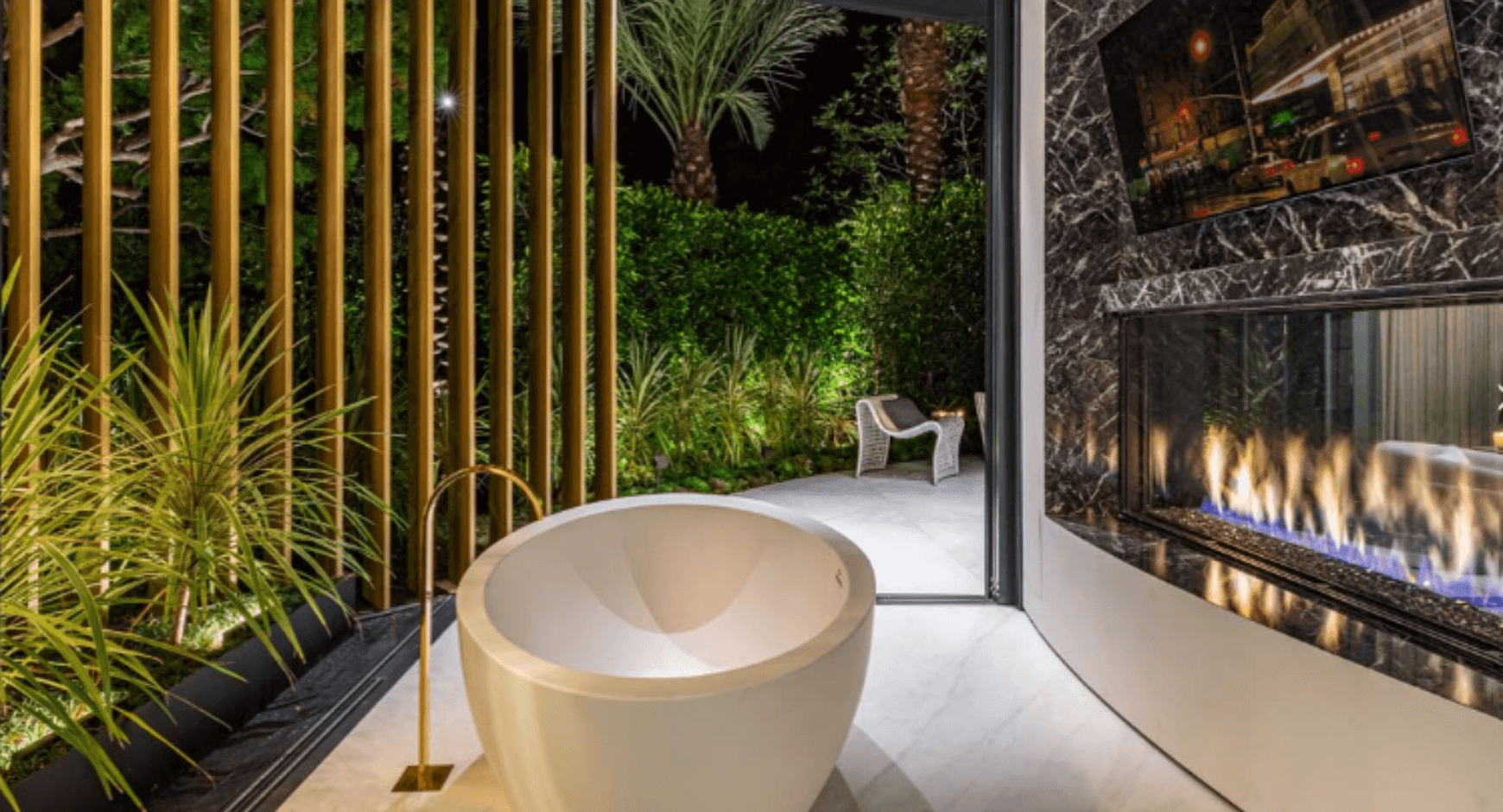 5. Luxury Hotel Room Design Includes the Bathroom
A modern and luxurious bathroom is the icing on the cake of any excellent hotel stay, which is why this hotel room interior design trend has skyrocketed in popularity. Hospitality interior design trends for bathrooms, such as spa-like baths with waterfall showers, TVs mounted above linear gas fireplaces, and additional amenities, have taken hotel bathrooms to a whole new level.
Showcase how well you take care of your guests by providing luxury soaps, beauty products, and big fluffy towels that bring the spa right into the hotel suite interior.
Benefits:
Spa-like relaxation
Surpassing guest expectations
Intimate settings for rest and recovery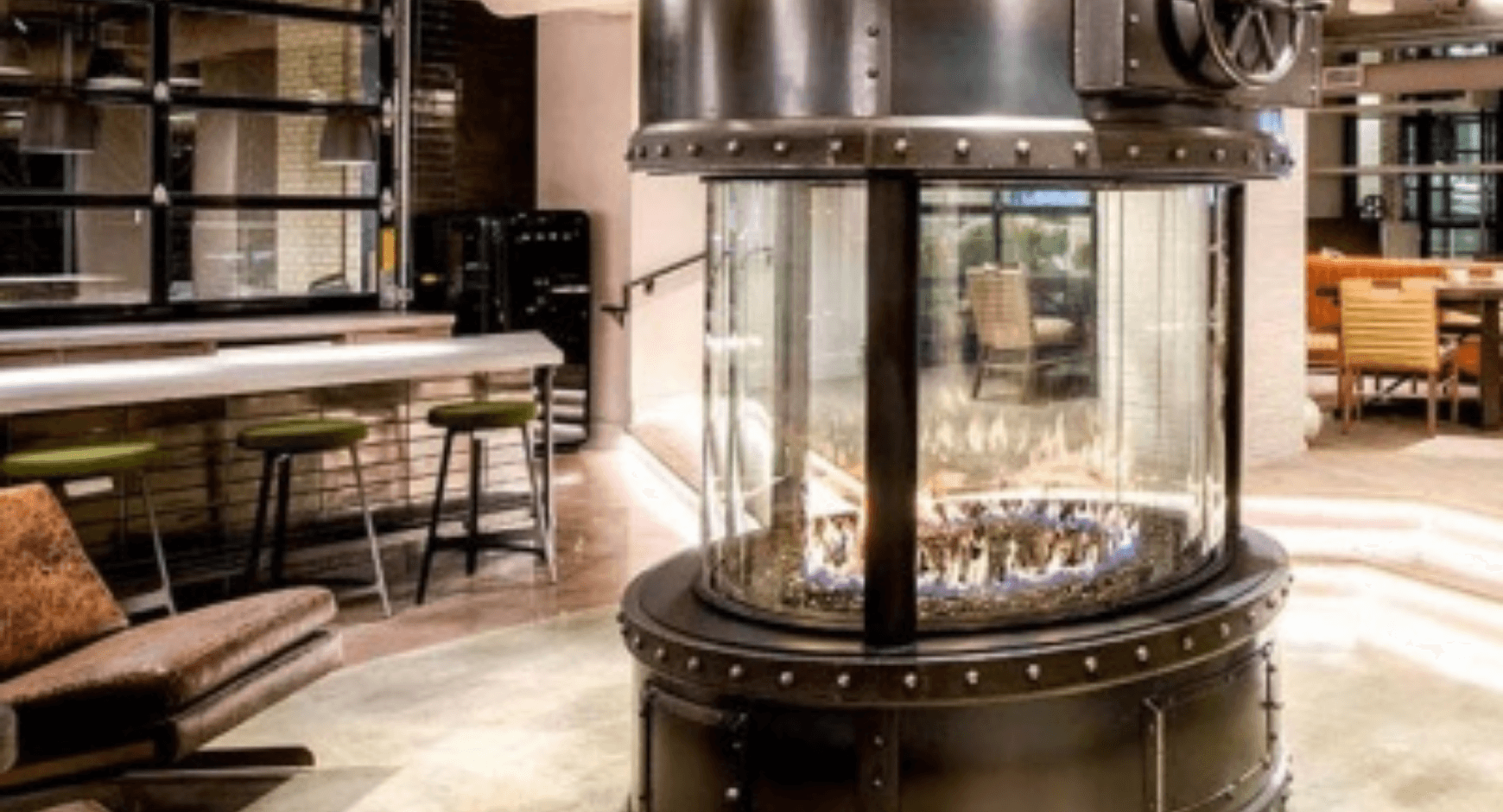 6. Reconfiguring Gathering Spaces
A noteworthy trend in hotel space planning includes large open areas where guests can easily move around. Space to walk and mingle is so crucial that even small hotel lobby design ideas have it.
One effective way to cultivate a fluid and friendly atmosphere in the lobby is to add a round fireplace. It serves as a gathering place where some folks meet new friends, and some folks find a place to rest.
Benefits:
Maximize social interaction
Create an inviting atmosphere
Prevent crowding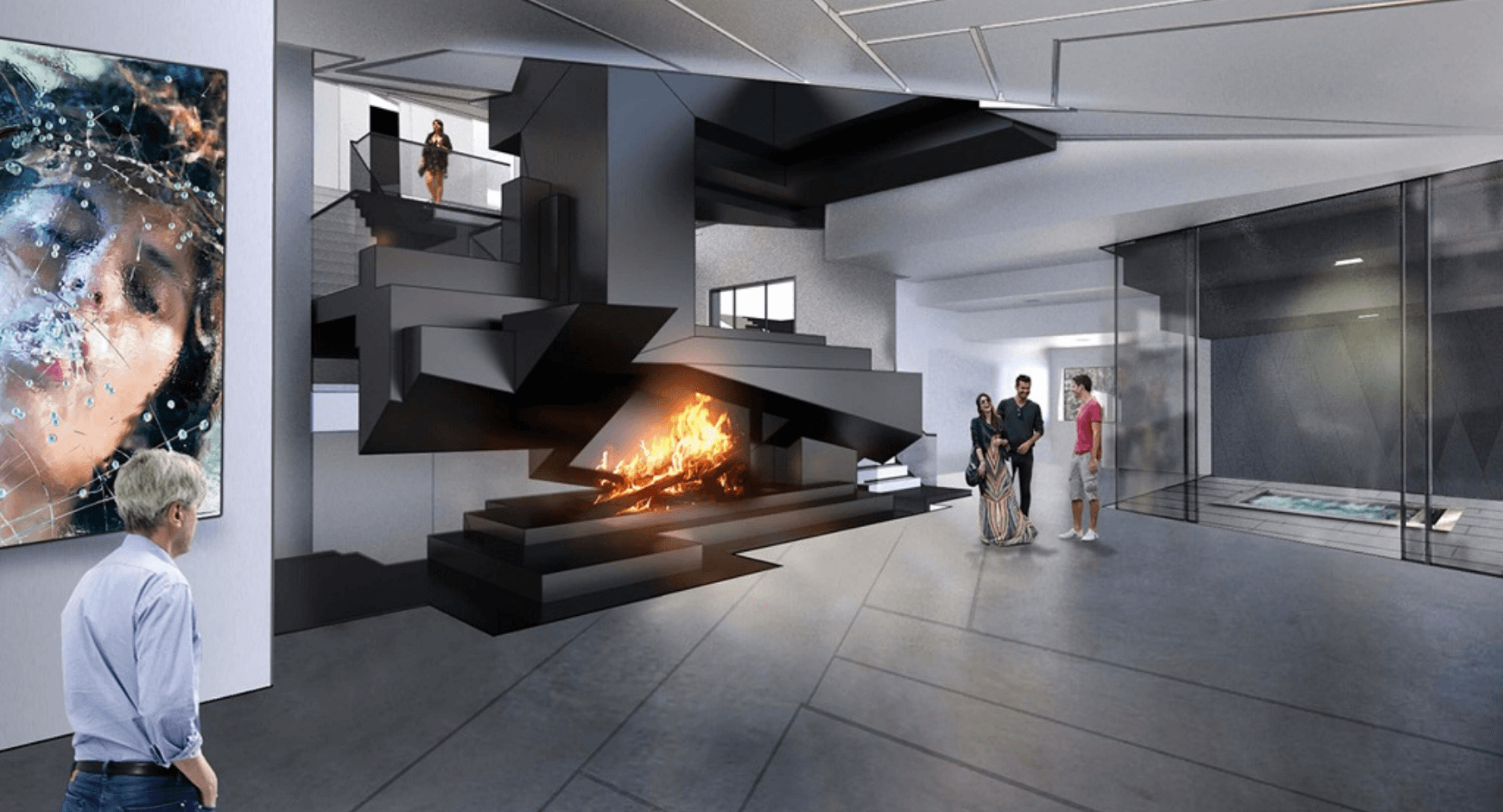 7. Sleek and Modern Hotel Interior
Sleek and modern hotel interior design concepts seek to simplify and improve the guest experience. As a result, many hotel and resort interiors are undergoing remodels and updates to keep up with this trend.
These concepts tend to be bold yet simple by using features like big picture windows, high ceilings, and a large focal point (like an open wood-burning fireplace — as seen in the photo above). Clean lines, unusual angles, and bold colors are the hallmarks of modern interior design.
Benefits:
Visually appealing
Highlights your main features
Cuts down the clutter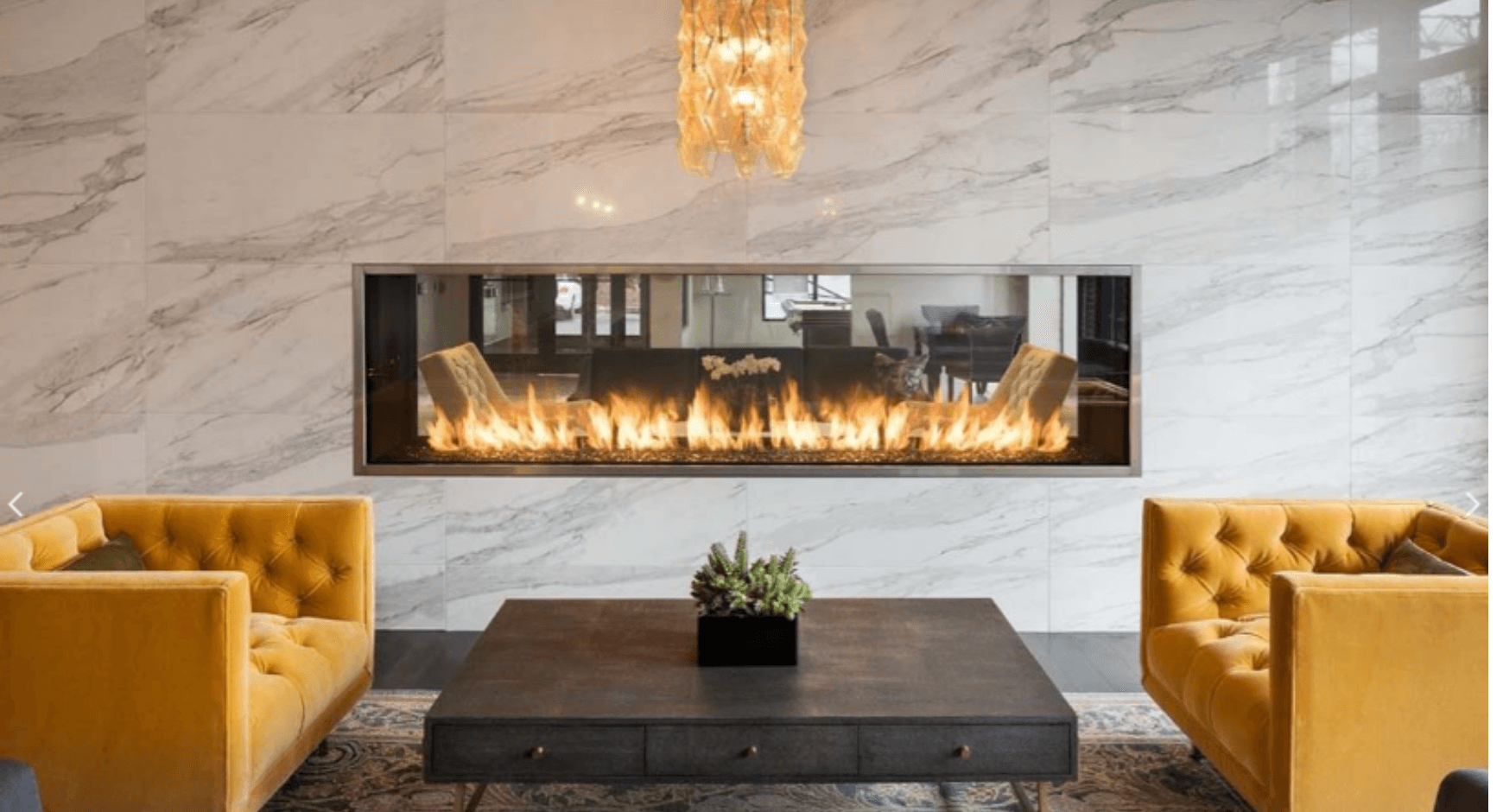 8. Choose Color and Texture Over Busy Patterns
The era of hotels with loud carpet patterns and busy wallpaper is over. We have entered the age of clean and simple design concepts.
New hotel trends are moving toward solid colors and textures that let the eye relax and enjoy the surroundings. A few bright colors with natural wood or metal accents makes for a great function hall interior design.
Benefits:
Removes outdated aesthetics
Creates a focal point
Textures can reflect surroundings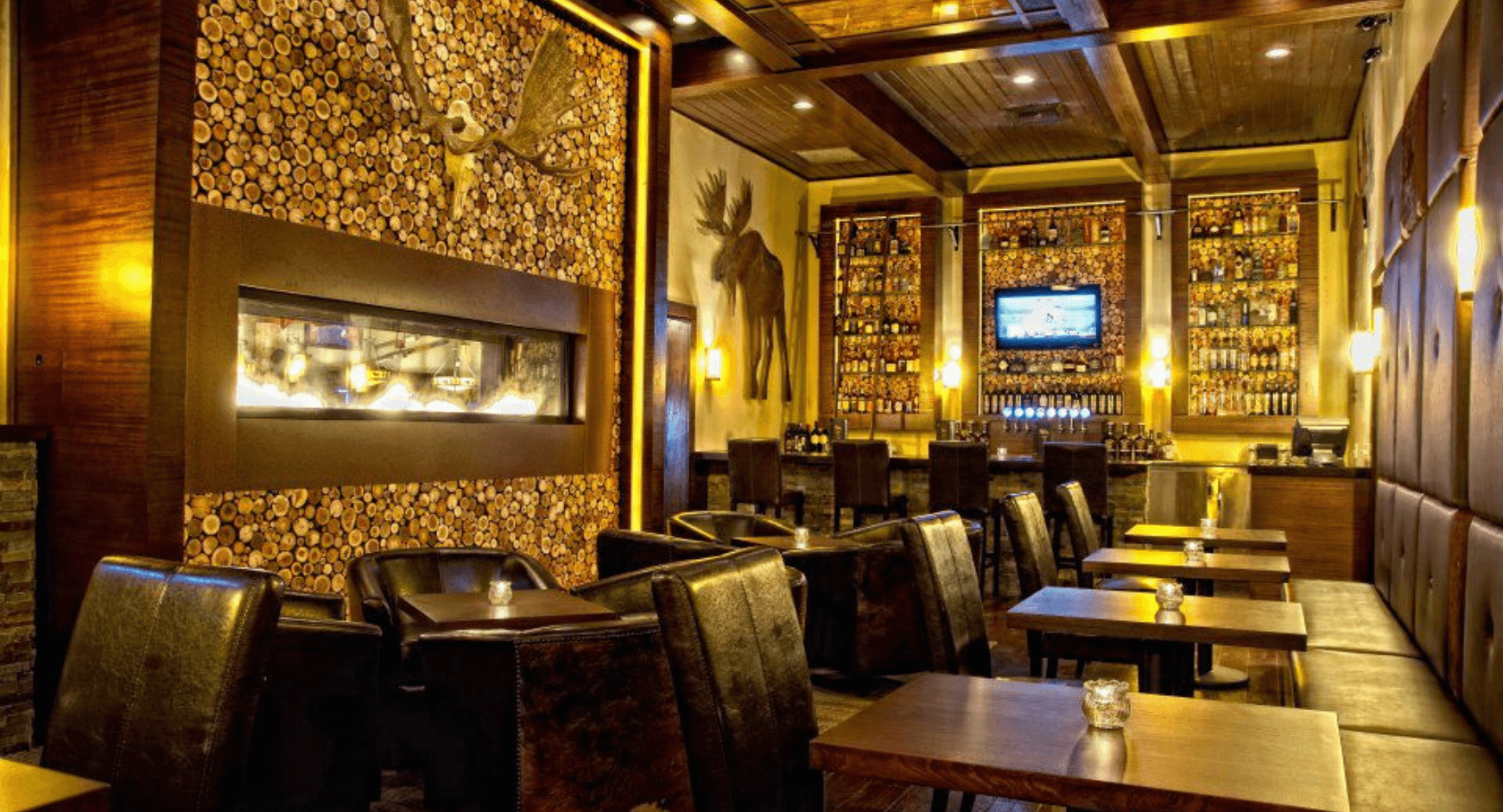 9. Make the Hotel Restaurant a Place to Remember
A generic bar and grill will no longer suffice for the hotel restaurant. Every luxury hotel has a delicious restaurant to further set it apart from the competition. This is the perfect place to get creative with themes, building and decorating materials, and the menus.
The restaurant must become a destination in itself. In fact, many hotel ideas have evolved from what was initially just a restaurant. Guests often want a list of the best food, drinks, and experiences that a city has to offer. By prioritizing this hotel interior design trend, you could be on that list.
Benefits:
Bring in guests from other hotels
Create a memorable experience
Cater to your guest's hotel rooms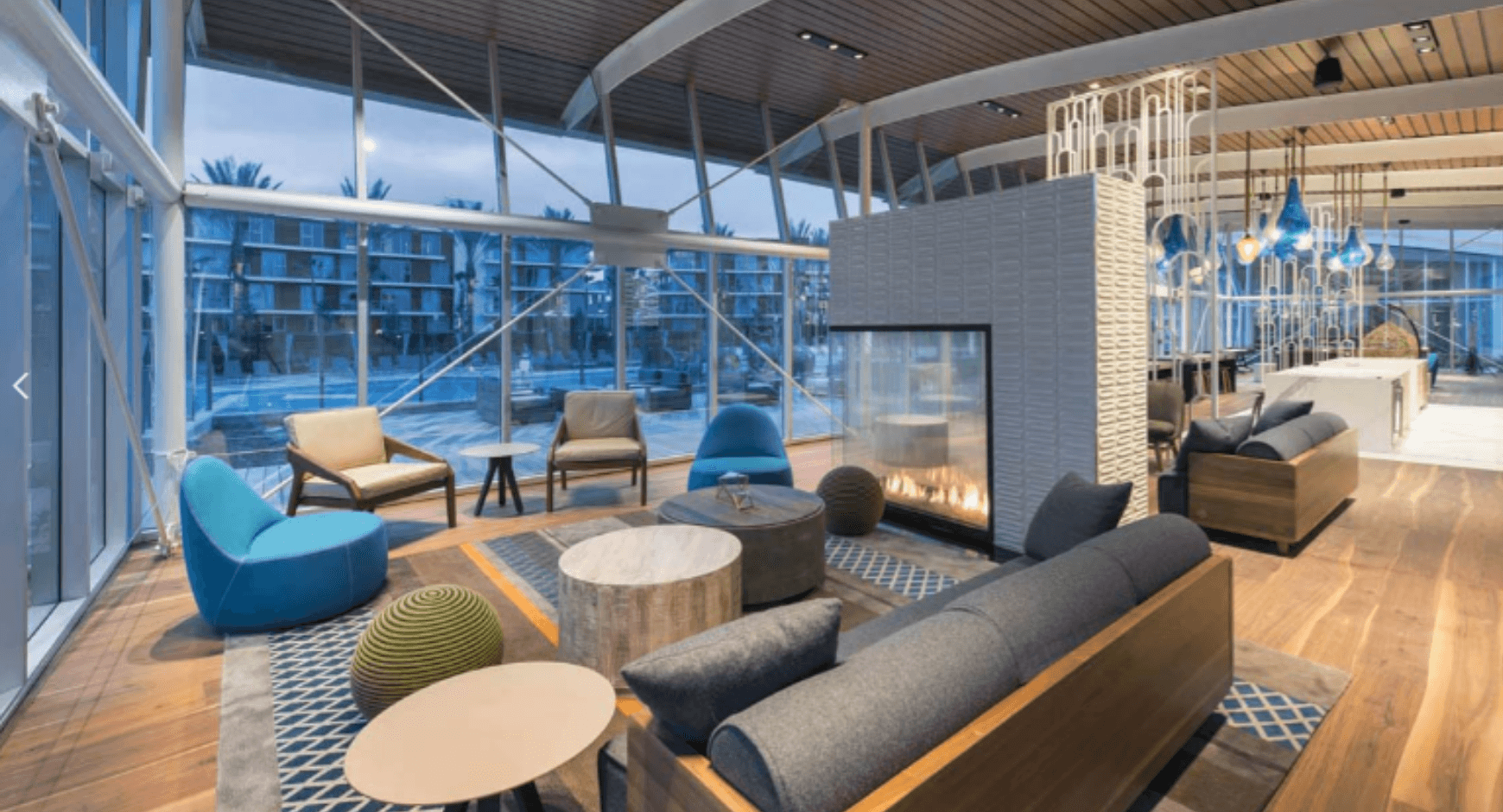 10. Natural Light Allows for a Minimalist Hotel Lobby Design
The hotel lobby is truly the heart of the hotel. When guests first arrive, you want that heart to feel in sync with the rest of the hotel body. Incorporating large windows in your lobby design will draw guests inside.
You can strategically use the windows to highlight the pool and outdoor fireplaces or the restaurant and bar area that guests may want to visit later. Utilizing the natural light will also help conserve energy and give a minimalist touch as you let nature decorate for you.
Benefits:
Features your outdoor gathering spaces
Conserves energy during the day
Allows your lobby to shine at night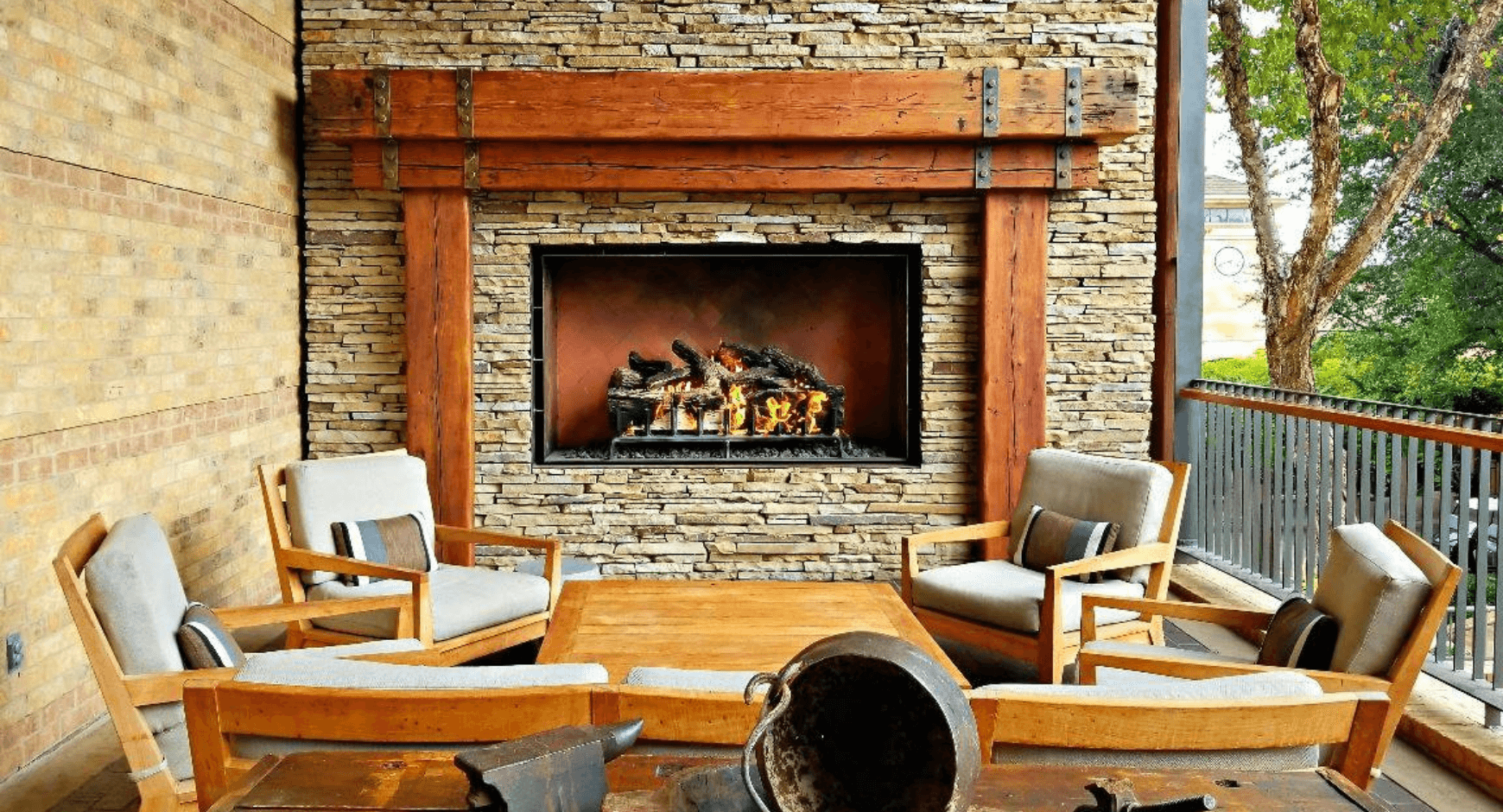 11. A Beautiful Fireplace Fosters Comfort and Relaxation
You'd be hard-pressed to find a hotel without a fireplace these days, especially if there's a nice deck or patio for guests to enjoy into the evening. It's been a central element of gathering spaces for thousands of years, and for good reasons. The slow flickering of flames provides both supplemental heat and entertainment — and a snack if you brought marshmallows.
If there is a fireplace, people will gather. Why not make it spectacular? A custom, one-of-a-kind fireplace for your guests to enjoy will create more memories than any other interior design upgrade.
Benefits:
Nighttime gathering area
Increases guest interactions
Opportunities for nightlife entertainment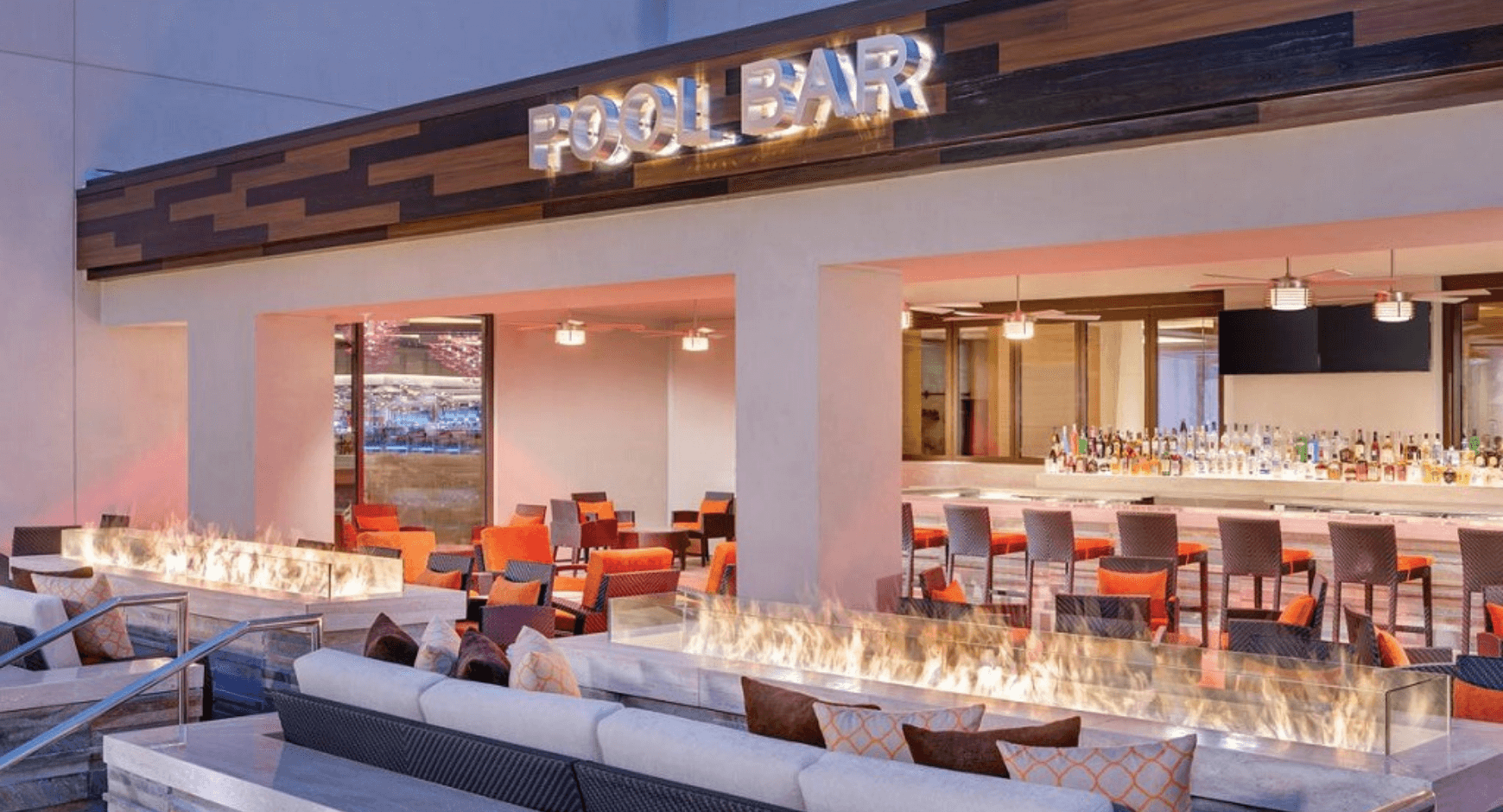 12. Make the Pool Fun for the Whole Family
Families with young children love a hotel with a pool; it keeps the kids entertained for hours. This hotel design trend is geared towards the parents who have to spend all that time at the pool watching their kids.
The only thing better than free entertainment for children is giving parents the opportunity to relax in comfy chairs around a comfy chairs around a cozy fire table while their kids play. If you put in an outdoor bar, your guests may never leave the hotel.
Benefits:
Family entertainment
Fun in any weather
Great mealtime gathering space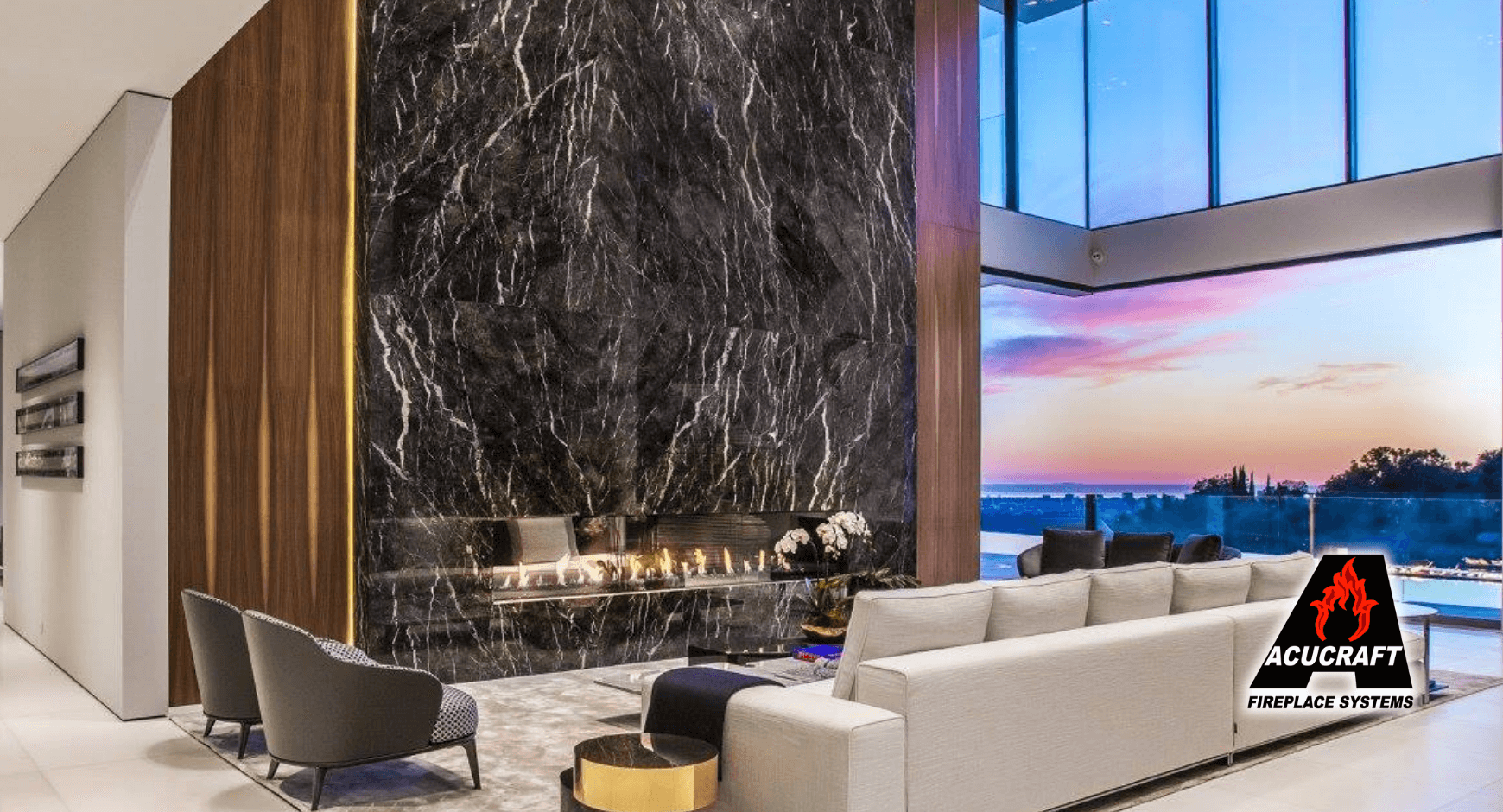 Refine Your Hotel's Interior Design With a Custom Fireplace From Acucraft
There are some new trends sweeping the hospitality industry, and it's always best to stay one step ahead of the curve. Hotel interior design will forever define the guest experience. Choose the design ideas that give guests a memorable vacation. If your hotel needs an upgrade but you aren't sure where to start, browse our photo gallery for some inspiration.
At Acucraft, our fireplace designers will work with you to build the fireplace of your dreams. Learn more about our custom gas and custom wood fireplaces today.