June 29, 2020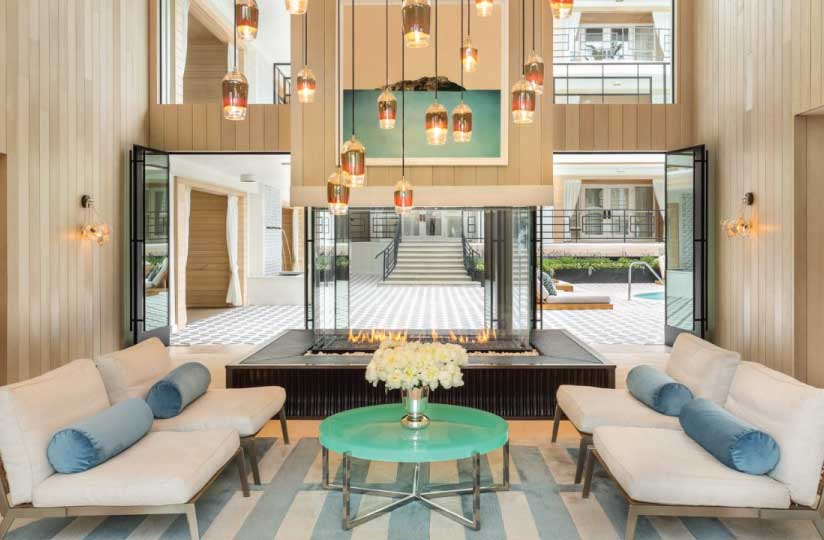 Luxury 4-Sided Glass Fireplace at Oceana Hotel Santa Monica
"More so than any other hotel in Los Angeles, Oceana effortlessly combines top-of-the-line luxury and amenities with the distinct personality of its coastal location. It's the perfect L.A. hotel." –Malibu Magazine
When Mark Melzer, Architect at MDR Architects, came to us in 2017 looking for a custom 4-sided glass fireplace for the Oceana Hotel remodel project we were happy to assist! Fireplace Advisor, Ben Krump, had worked with Mark before on a unique custom fireplace for the Palomar Hotel remodel and Mark knew he was in good hands with the Acucraft Team.
The 4-Sided Lobby Fireplace Concept
The Oceana Hotel was in Santa Monica so Mark knew he would need a custom gas fireplace that could meet strict California codes, which is one reason why he came to Acucraft in the first place. This four sided fireplace was to be the focal point of the hotel's lobby where guests could relax and enjoy the ambiance.
Ben worked closely with Acucraft's Engineering Services Manger, Adam Redberg, on the schematics & needs for the project, inspired by another Acucraft four-sided fireplace. 
Mark originally wanted a fireplace with an open (no glass) viewing area that provided a modern campfire vibe. After further discussions with our team, and ensuring safety for guests and to meet strict codes, he decided a sealed (with our dual pane glass cooling system) was the ideal fit for the space.
Custom Fireplace Drawings & Submittal
Once the project had been approved and handed ofer to Michael Turcott, Project Manager at Shawmut Design & Construction, Adam was able to confirm dimensions, flue run and spacial requirements. At this point Adam prepared custom 3D drawings and a full submittal with custom manual for Michael's approval before we began production of the fireplace.
4-Sided Gas Fireplace Production & Testing
The fireplace was needed mid-January 2019 and was being installed by Nostalgics, Inc. a local fireplace installer in Santa Maria, CA. Upon approval, our engineers created detailed blueprints for our production team to bring the fireplace to life!
Every Acucraft fireplace is pre-engineered for safety & functionality, is hand-made by skilled craftsmen, and is safety tested before shipping to it's final destination. Many commercial fireplace projects require 3rd Party Testing (sometimes referred to as "UL") to ensure the fireplace meets safety standards. Fortunately, Acucraft is one of the only custom fireplace manufacturers in the world to have it's own internal 3rd Party Test Lab providing the safest & highest quality fireplaces to every customer.
Luxury Gas Fireplaces Reenvisioned
From concept to completion, our team is with you every step of the way! This gorgeous one-of-a-kind fireplace now sits seamlessly within the Oceana's lobby where guests can relax and snap a selfie in front of this gorgeous backdrop.
It was a pleasure working with MDR Architects and Shawmut Design & Construction on this project; we look forward to future partnerships!
Looking to start your own fireplace project?
Fill out the form below to request more information!