April 25, 2019
An Acucraft Hospitality Gas Fireplace Adds to the Modern Feel of the Madison Health Expansion
In 2017 Madison Health announced their plans for a $25M expansion. They wanted "the public to know that quality service will now be matched by modern facilities" (The Columbus Dispatch) that facility would also include a modern hospitality gas fireplace. The expansion included 60,000 sq ft of existing space modernization and 37,500 sq ft of expansion on their 2 acres of land in Madison County. While their quality of service and speed far exceeded that of other local hospitals, they wanted their facility to match the quality of care they were offering. What better way to comfort patients than with a warm, inviting gas fireplace? And so their Acucraft journey began…
Madison Health collaborated with Trinity Planning, Design, Architecture to design the first phase of the project. The 37,500 sq ft expansion and modernization of an 8,000 sq ft specialty health center. Alexander Jackson, architect at Trinity, was unable to find a fireplace with safe-to-touch glass he was designing for the Madison Health Expansion. After looking at local retailers and resources, a colleague recommended Acucraft knowing they had a glass cooling system for their gas fireplaces.  Alexander contacted Acucraft in hopes of finding a solution to his problem. Fortunately for him, Fireplace Expert Mike Hannan was able to offer multiple different options for his project.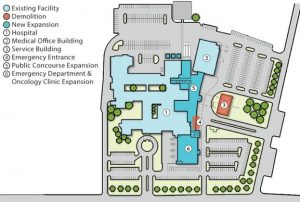 The Fireplace Discovery Phase
As part of Acucraft's Discovery Phase, Alexander and Mike discussed all of the details of the expansion. This included: the style of fireplace they were looking for, the size of fireplace they were looking for, what they were looking to achieve from the fireplace (heat, ambiance, etc.), how much space they had allowed for the fireplace and flue run, as well as the budget they wanted to stay within. Mike prepared an Initial Design Spec sheet for Alexander to use as a placeholder for the project (below).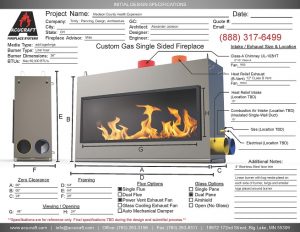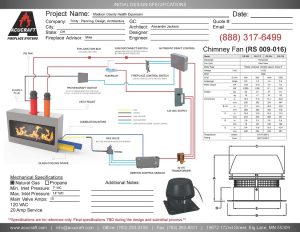 From there Alexander was able to specify Acucraft in his drawings and plans for the expansion. At that time the project was handed over to O'Brien Robinson Construction Services, Inc. for completion. John Jenkins, Project Manager, worked hand-in-hand with Mike to determine the best fireplace to fit for this project. After reviewing custom fireplace options, the BLAZE Series of linear gas fireplaces, and the SIGNATURE Series of linear gas fireplaces, John reviewed with his team & the owner. They decided upon a 4′ linear single-sided SIGNATURE Series gas fireplace.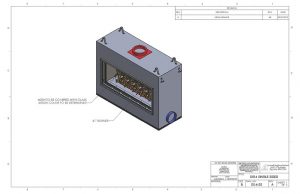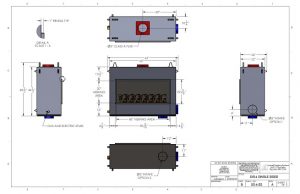 The Fireplace Delivery Phase
It was November, and John & his team were on a tight timeline and needed to have this project completed by December 31st, 2018.  As part of our Delivery Phase, Acucraft Project Manager, Chad Mackrell, worked closely with John to ensure that we could meet his tight timeline to keep this project on-track and on-budget.
Once the fireplace was shipped to the Madison Health Center, Acucraft Service Technician, Wyatt Hippie, was available to discuss installation with the installer and answer any questions they had.
The Fireplace Result
On January 18th, 2019 Madison Health officially celebrated the dedication of their largest expansion in the hospital's history. Dana Engel, CEO commented: "This project allows us to have the capacity to grow into the future and also expand and meet the community's needs" (Madison Health Grand Opening, by Trinity).
Thanks to Madison Health and John Jenkins for sharing some finished photos with us. The surgery waiting area is a perfect place for patients and families to gather around the fireplace.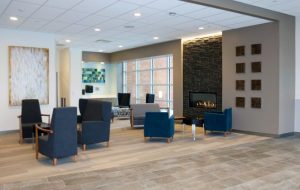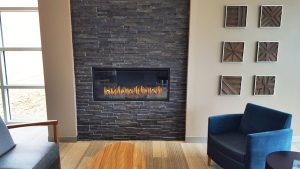 We are thrilled for the Madison County community and their new health center, and feel privileged to have been selected for this project and to have had the chance to work with Trinity and O'Brien Robinson Construction!
---
Sick of boring, mass produced fireplaces? Start your own fireplace journey today and don't settle for less!
(888)317-6499   |   [email protected]   |   Request Quote