May 19, 2017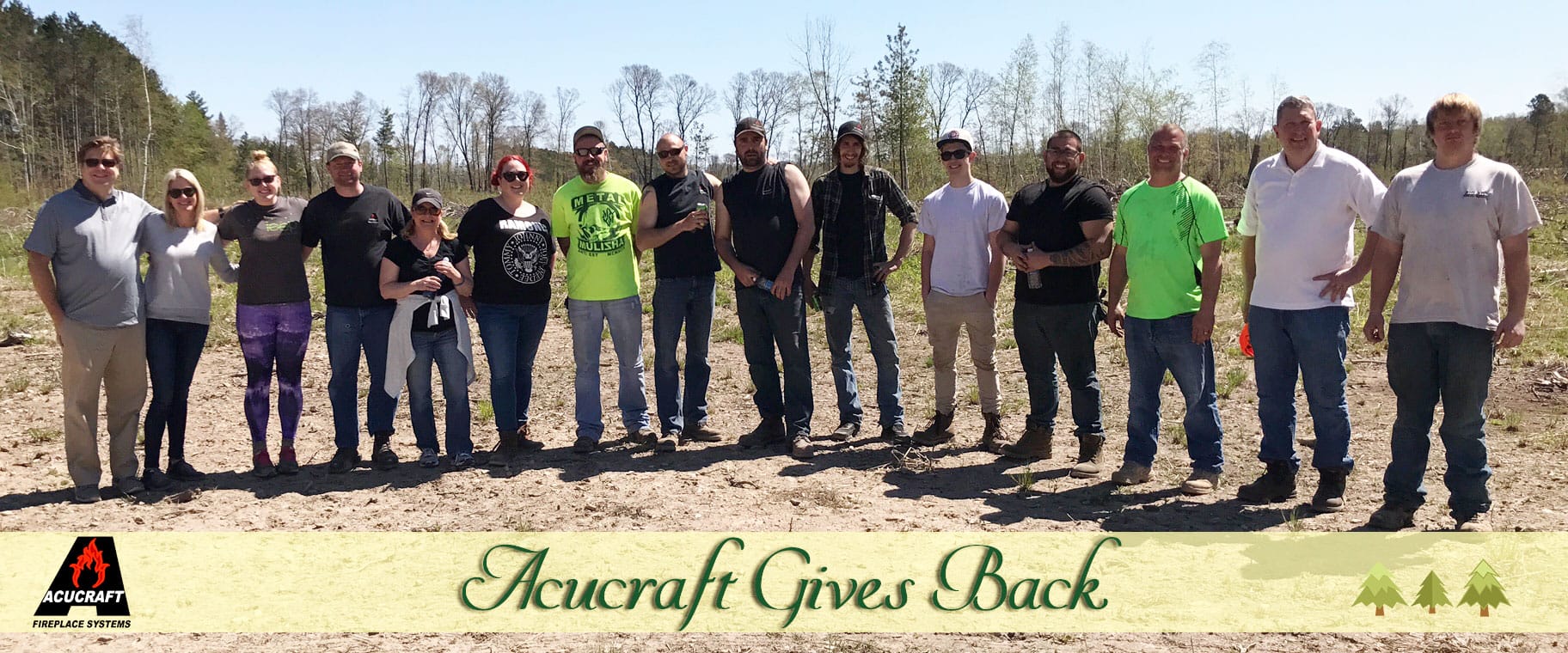 Acucraft Gives Back – 10 Trees Planted for Every Fireplace Sold!
Giving back is important to us not only as a company, but individually. For the past year our team has been planning on planting trees in Pillsbury State Forest as a team building exercise and giving back to our community.
Meet our Tree Planting Team: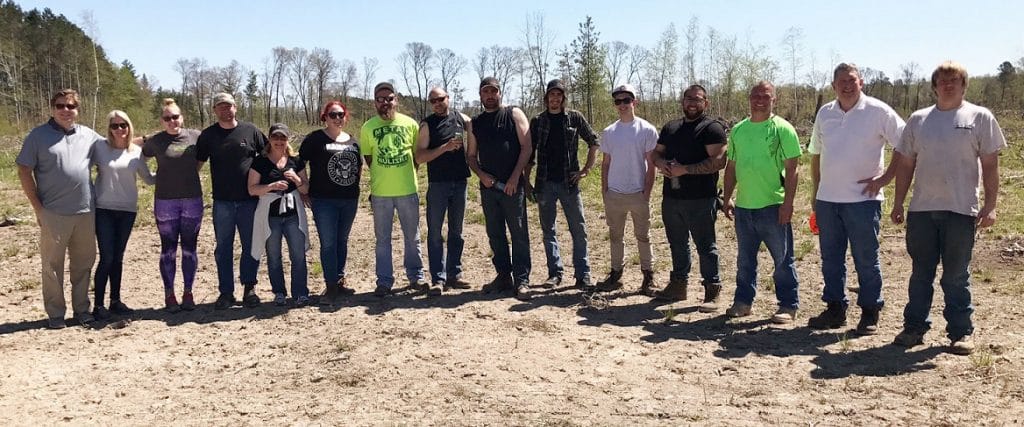 From Left to Right: Chris Maxson, Owner + CEO; Emily Maxson, Owner; Jasmine Rognrud, Sales Support; Pat Heber, Standard Welder; Jill Kubitschek, Sales; Missy Ramberg, Marketing Director; Travis Theis, Finishing; Adam Vokaty, Custom Welder; Bryan Royle, Facilities Manager; Gabe Jungroth, Standard Welder; Riley Harry, Volunteer; Zach Christensen, Finishing; Tim Donnay, Director of Finance; Paul Harry, COO; Oliver Foschiatti, Volunteer.
Pillsbury State Forest was hit with terrible storms last summer which destroyed over 10,000 trees and left 40+ acres of land completely barren. At the time of the destruction Acucraft employees rallied together to propose a new way to give back – planting trees for every fireplace sold!
Acucraft's owners, Emily + Chris Maxson fell in love with the idea and purchased 5,000 trees to be planted in Spring 2017.
As you can see in the photos above, the forest was completely devastated after the summer storms in 2016; so on Thursday, May 18th part of the Acucraft Team caravanned to Brainerd, MN to plant 10 trees for every fireplace sold. This year the team planted 5,000 maple, white spruce, and balsam trees.
As a wood burning fireplace manufacturer sustainable forest management is incredibly important to us. What is sustainable forest management? Sustainable forest management is "the stewardship and use of forests and forest lands in a way, and at a rate, that maintains their biodiversity, productivity, regeneration capacity, vitality and other potential to fulfill, now and in the future, relevant ecological, economic and social functions at local, national, and global levels, and that does not cause damage to other ecosystems.¹ "
While gas fireplaces have grown in popularity, wood burning fireplaces are still a desirable amenity for many homes, and sometimes are the sole source of heat in certain areas. Learn more about maximizing wood burning fireplace performance by clicking here. Additionally, understanding the stages of wood burning is imperative when using an efficient wood burning fireplace or stove to maximize BTU's per pound of wood. Learn more about the 4 Stages of Fire by clicking here.
We are so thankful to be able to give back as a company and to tackle problems head on with the support of our incredible team! Not only did the tree planting give us a chance to give back to our community, but it was an opportunity for our team to come together and build an even stronger bond.
¹The definition of SFM was developed by the Ministerial Conference on the Protection of Forests in Europe (FOREST EUROPE), and has since been adopted by the Food and Agriculture Organization (FAO).