March 8, 2021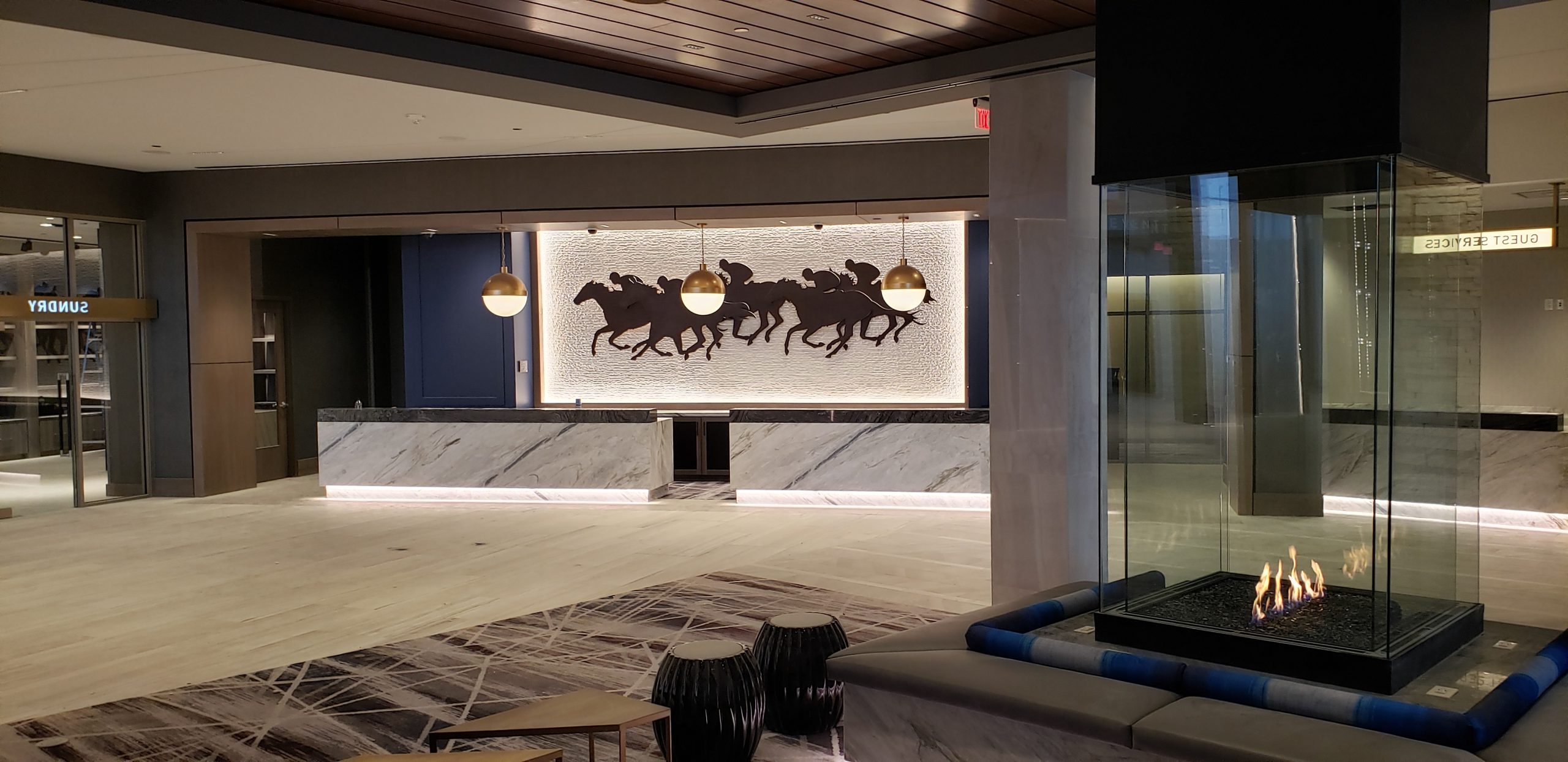 4-Sided Custom Gas Fireplace Project Creates Cozy Atmosphere for Guests
After having a strong impact in 2020, the four-sided glass fireplace continues to be a sought after design for 2021. (You can see all of 2021's fireplace design trends here.) Both beautiful and functional, these sophisticated fireplaces fit seamlessly within an array of commercial and residential projects. In this instance, a tall glass fireplace was the perfect highlight for Oaklawn's new expansion! This project focused on providing a cozy space for guests to enjoy, featuring our dual pane glass cooling system to exhaust the heated air outside so guests can enjoy the ambiance of a fireplace year-round.
Oaklawn, based in Hot Springs National Park, is one of Arkansas' top tourist destination and has been one of the premier Thoroughbred racetracks in the United States since 1904. "At Oaklawn, we aspire to be the finest Racing Casino Resort in the region by creating memorable experiences for our guests and community." At Acucraft, we believe in providing every customer with a unique fireplace where they can create a lifetime of memories, so we were excited to work on such an exciting project.
"[We are] looking for a custom fireplace for a lobby lounge application with cool touch glass. [The fireplace] will be surrounded with build in place seating," says HBG Design Architect, Kevin Pasley. After being unable to find a custom fireplace locally that could meet his needs, Kevin found Acucraft online and connected with Fireplace Advisor, Mark Kennedy, and talked through all the project details. Mark was able to provide Kevin and the team at Flintco with a custom quote with fireplace specifications, pricing, and installation information.


The Lobby Fireplace
Part of Oaklawn's expansion included a 7-story, 200-room hotel with a 14,000 square foot event center and 28,000 square feet of new gaming and amenity space. What better way to welcome guests, and make them feel at ease than a lobby with a cozy seating area featuring a gorgeous four sided glass fireplace? Initially, HBG Design and Flintco, LLC had chosen a local fireplace dealer to help with their project but they were not able to meet the design needs of the project. Wanting to provide a solution that met their needs, Rachel (Office Engineer, Flintco LLC) contacted Acucraft. Fortunately Rachel had worked with Acucraft on another project and knew we specialize in unique, custom fireplaces that would be safe, functional, and meet their needs aesthetically.
4-Sided Custom Gas Fireplace Project Specifications
This custom fireplace is going to be the first thing guests see when they enter the new Oaklawn hotel expansion, providing a cozy, inviting atmosphere! The customer also chose a four-sided glass design so that customers could enjoy the warmth, and view, for multiple sides. Here are some of the fireplace's specifications:
33″ linear electronic ignition natural gas line of fire burner
1/4″ premium black glass media
Viewing areas (4 sides): 48″ Wide x 72″ Tall
Dual pane glass cooling system (recommended for commercial projects)
12″ Class A flue system
Customized drawings, submittal and installation manual
You can learn more about our custom fireplaces by clicking here!
After the Flintco Team signed off on their custom submittal their custom fireplace was scheduled for production. As with many of our commercial fireplace projects, their fireplace was 3rd Party Certified within our internal test lab before being shipped to their location. During testing, our technicians test the fireplace to ANSI Z21.50, CSA 2.22-2016 standards in addition to our internal safety standards ensuring proper functionality and operation.
Once their fireplace was delivered, our Technical Support Team provided installation support for their installers, including an on-site calibration with one of Acucraft's Certified Technicians to ensure performance, verify their installation, provide owner's training, and answer any questions they may have.
It was a pleasure working with both HBG Design and Flintco, LLC on this 4-sided custom gas fireplace project; we look forward to future partnerships and can't wait for Oaklawn's expansion opening in Spring 2021!