Single Sided Gas Fireplaces
At Acucraft we know you want a fireplace that stands out. In order to do that you need a one-of-a-kind fireplace.
The problem is all other fireplace manufacturers make the same product, which can make you feel stuck and frustrated!
Stop being frustrated with limited, boring, mass-produced products and instead work with the world's leading direct sell fireplace manufacturer and have a one-of-a-kind fireplace you will love forever.
From popular styles to crazy custom, our Fireplace Advisors will listen, understand, guide and present you with multiple solutions for you to choose from. At Acucraft we want to co-create your single sided gas fireplace with you!
---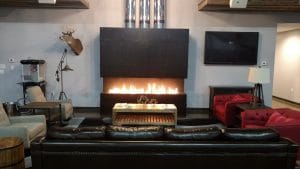 Our single sided gas fireplaces can be co-created with our Fireplace Advisors, or you can select from our standard options:
Our Signature Series of single sided gas fireplaces are perfect for any residential home. Designed to be sealed with glass or open with no glass and with the ability to switch at any time. Choose from 4′-8′ models in single-sided, see-through, and indoor/outdoor. >>Learn More
Our Blaze Series of single sided gas fireplaces are crafted using commercial-grade components and thick, 7-gauge steel. These fireplaces fit seamlessly in restaurants, hotels and homes. Choose from 6′-16′ models with 24″ or 30″ viewing areas in single-sided, see-through, and indoor/outdoor. >>Learn More
Standard Single Sided Fireplaces
Glass Options
No Glass (Open)
No Glass (Firescreen)
Single-Pane
Dual Pane Glass Cooling System
Finishing Options
Standard Black Matte
Mirror Polished Stainless Steel
Brushed Stainless Steel
Corten
Mesh
Media Options
Crushed Glass Media
River Rock
Lava Rock
Semi-Polished & Polished Stones
Logsets & Driftwood Pieces
Single Sided Gas Fireplace Gallery
Click on image to zoom in