Wood-Burning Fireplaces
Acucraft offers twenty-seven turn-key wood-burning fireplace models, as well as complete custom design fireboxes. The significant research, development, and expense we've invested can be seen in every wood burning system we build today. Since 1979, Acucraft has been the Premier Manufacturer of Fireplace Systems. Acucraft Fireplace Systems are not merely built, they're engineered… for quality, efficiency, warmth, and of course, for beauty.
Acucraft Wood Fireplaces – Extraordinary Designs

We start with 7 gauge (3/16") steel and double weld all major seams. Every moving part is pre-engineered for safe, trouble-free operation.

Our Lifetime Warranty is unique in our market, but it shows our firm commitment and belief in our fireplace systems.

When it comes to door systems, Acucraft glass doors are second to none. High temperature ceramic glass (lifetime warranty) installed within a rugged 10 gauge steel frame (with full perimeter gasketing) comes with a double pinned top and bottom latching system for a long term seal.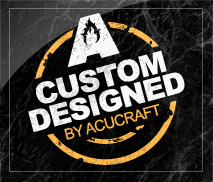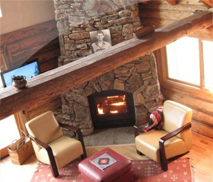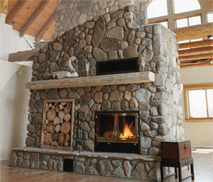 SEE-THROUGH Wood Fireplaces
See-through wood fireplaces have been gaining popularity and are a stunning centerpoint to any home! Acucraft manufactures five see-through models, offering you a variety of choices for your see-through fireplace. Our attractive see-through wood fireplaces offer both durability and versatility.

INDOOR/OUTDOOR Wood Fireplaces
Our Patent-Pending Indoor/Outdoor wood fireplaces help combine your indoor and outdoor living! Acucraft manufactures five Indoor/Outdoor models, giving you the opportunity to choose the perfect option for your space. Whether you're looking to add to a rustic cabin, or luxury home, we'll find the perfect Indoor/Outdoor fireplace to suit all of your needs.

Have Questions About Our Fireplace Products? Contact Us!
We have Fireplace Specialists available to answer any questions you may have about our fireplace products. Please give us a call at 888-317-6499 or visit our Contact page.