December 2, 2015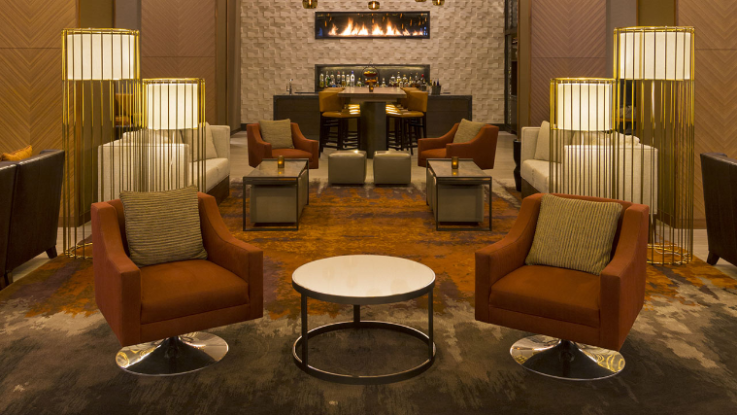 Custom Gas Stacked Linear Fireplaces – Grand Hyatt – Denver, CO
Acucraft partnered with RJM Construction and Klipp PC to design and fabricate these gorgeous custom linear gas fireplaces for the Grand Hyatt in downtown Denver, Colorado.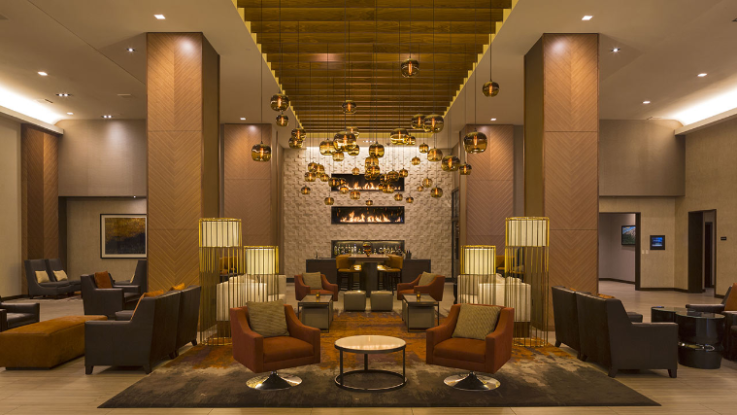 Acucraft fireplace at the Grand Hyatt in downtown Denver.
The customer came to us looking for three stacked fireplaces with a super tall flame, without producing heat, to compliment the contemporary renovation of their lobby bar. After further collaboration with the client and reviewing their initial renderings, Acucraft recommended two custom gas linear stacked fireplaces with one insulated panel, our Patent Pending Glass Cooling System, and porcelain reflective panels to really create an impressive flame.
Each of the fireplaces has viewing areas of 108″ wide by 26″ tall with a 100″ electric ignition natural gas burner controlled by a on/off control wall switch. The fireplace burner trays were lined with glass media, while the back, top, and sides were customized with black porcelain reflective panels which reflects the tall flames to ensure that no matter where you're sitting you can enjoy the dancing of the flames.
The fireboxes were constructed of 7 gauge steel and double welded inside and out, we used 4″ square tubing connected with bolts between the bottom of the top fireplace and the top of the bottom fireplace to create an even stacked look while maintaining the integrity of the steel.
We created a custom modular firebox stacking system to enclose both fireplaces inside one insulated panel, instead of two separate insulated panels, because the architect had very specific dimensions for between the bottom of the top unit and the top of the bottom unit in order to coincide with design and structural elements for the lobby bar. To help ensure that the fireplaces maintained a large flame without producing supplemental heat, we used dual pane glass with passive air to control heat output and glass temperature.

Both the fresh air intake and the heat relief had right-side terminations. The chimney and flue system was designed for over a 100′ run with four 90 degree elbows per fireplace, we needed the route of the flue from the fireplace to the end of the run in order to verify the flue components, diameter of the flue, and powervent systems. Everyone of our custom gas fireplaces is internally tested at our facility to make sure we achieved the proper flame height and appearance the customer had requested.
It was a pleasure working with RJM Construction and Klipp PC on this project. We look forward to working together in the future!
Click here view more of our custom gas fireplace projects or download a copy of our FREE Design Book.