Tuesday, March 19th, 2019
Modern Wood Fireplaces
When most people hear the term wood burning fireplace they automatically envision cozying up next to a traditional stone fireplace while enjoying the crackle and pop of burning wood. But what if you could enjoy that same ambiance in a modern setting? Wood fireplaces aren't just for cabins or heating your home anymore!
THE UNITY SERIES: Clean-Faced Wood Burning Fireplaces
If you love the look of a modern gas fireplace but want to have a wood fireplace in your home, then our UNITY Series of fireplace could be the perfect fit for your space. The UNITY Series of wood fireplaces is the first clean-faced fireplace eliminating lower louvers and top heat vents providing you with a clean, modern feel while still providing you with supplemental heat.
The UNITY Series comes in three sizes: 36″, 44″ and 48″ and are available in single-sided, see-through or patent-pending indoor/outdoor with rectangular or arched fronts and single or double doors. Choose from an array of finishing options to fully customize your fireplace to the design of your space. Just like with any Acucraft wood fireplace, you have the option to take the heat produced by the fireplace and vent it back into your space for supplemental heat, or vent it outside if you prefer ambiance only.
FINISHING OPTIONS
At Acucraft, we want your fireplace to be exactly what you're looking for; we offer an array of finishing options for your wood fireplace to fit seamlessly within your space.
Front & Door Package Options Include:
Standard

High-Temp satin black finish
Rust & scratch resistant
Basket, cylinder, spring or medieval handles
Arched or rectangular fronts & doors

Hammered

Hand hammered fronts & doors
Basket, cylinder, spring or medieval handles
Arched or rectangular fronts & doors

Forged

Hand hammered fronts & doors
Softened edges
Basket, cylinder, spring or medieval handles
Arched or rectangular fronts & doors

Rustic

Corner strapping with decorative round clavos
Basket, cylinder, spring or medieval handles
Arched or rectangular fronts & doors

Medieval

Decorative round clavos
Medieval handles & hinges
Corner joint strapping
Overlapping mission style grids

Patina Finish

Japanese Brown
Aged Bronze
Copper
UNITY 44 Single-Sided Wood Fireplace with Rustic Finish

Arched front
Double doors, arched
Japanese Brown Patina finish
Corner strapping
Decorative clavos
Medieval handles

UNITY 36 Single-Sided Wood Fireplace with Standard Finish

Rectangular front
Single door, rectangular
Standard satin black finish
Cylinder handle
Not sure what wood fireplace would fit with your space?
Our Fireplace Advisors can help find the perfect solution for you.
Get inspired by downloading a copy of our Wood Product Catalog or talk with a Fireplace Advisor: 888-317-6499 or info@acucraft.com
Tuesday, March 12th, 2019
Adding a traditional wood burning fireplace or a modern gas fireplace can increase the value of your home.
If you ask anyone what they'd like in their dream home, undoubtedly next to granite countertops, walk-in closets, and a home theater, a luxury fireplace is probably high on their list. Fireplaces have been staples in home design for centuries, first as a means of heating the home and more recently as an aesthetic choice too.
But can a fireplace really increase the value of a home? Well if you ask homebuyers as this survey did, they'll tell you that fireplaces are a sought-after feature for them, with 40% of respondents saying they'd pay extra. In addition, when asked the same question, 70% of realtors stated that they see a price increase for homes with a gas fireplace or wood burning fireplace. Why is this? Here are a few ways fireplaces can increase a home's economic, design, energy, and personal value.
Economic Value
As with other features of a home like countertop materials, room size, and more, fireplaces, especially those with a striking modern design like a see through fireplace, can add a premium touch that the final price of the home reflects. Along with other home enhancements and features, according to one study, a fireplace can add up to 12% to a home's final value. And, when you work with a with a custom fireplace company, you can design the exact fire feature your home needs.
Energy Saving Value
Just as fireplaces were essential for in-home heating centuries ago, they can still prove valuable in warming a home today. Running a central heating system throughout the winter and colder months can be expensive for homeowners, but with a modern fireplace, they can curb those costs. The best custom fireplace manufacturers can design fireplaces that work in conjunction with the home's heating ducts and vents, spreading the natural heat of the fire throughout the house. This means that rather than all of the heat focused in the living room, or wherever the fireplace is, everyone can enjoy the fireplace's warmth wherever they are in the home.
Aesthetic and Design Value
These days there are hundreds of style choices for fire features that can add a unique and modern artistic flair to any home. For example, a see through fireplace puts all of the focus on the flames as they sit front and center in the room depending on the placement. Typically, these fireplaces will have multiple sides with some even connecting an indoor with an outdoor space for a seamless look. If a more classic or even rustic wood burning fireplace is more what you have in mind, that's all right too. Just be sure to partner with a trusted, experienced custom fireplace manufacturer as their team can work with you to bring your vision to life.
Personal Value
Finally, fireplaces are an amenity that people can experience and enjoy together. Fire is and has been a natural gathering point for people for thousands of years, and with a fireplace in a living room, you and your and guests will naturally gravitate towards it. While home buyers are viewing homes, when they see a fireplace, they immediately begin thinking of spending countless hours curled up and enjoying its warmth, which can play a major role in encouraging them to purchase. Fireplaces and fire features are here to stay. Home builders and buyers agree: A house with a fireplace is more valuable than one without—in so many ways.
Two custom gas fireplaces take this Tiberon, CA to the next level
In 2015, Architect, David (David Kotzube Architecture) and Lowell Strauss (Amalfi West) came to Acucraft looking for a luxury see through gas fireplace for the master bedroom/bathroom in a new multi-million dollar investment home they were building in Tiburon, CA. They were looking for a fireplace that would add to their modern simplistic aesthetic, and mix well with the seamless indoor/outdoor feel of the home. Fireplace Advisor, Mike, and Fireplade Designer, Robin, worked with David and Lowell to find the perfect gas fireplace for their new property: a custom 3 sided gas fireplace which seamlessly brought together the master bath and bedroom.
After receiving their see through gas fireplace, they were so elated with it that they decided to add a show-stopping 8′ four sided glass gas fireplace with a 24″ open reveal. Lowell was inspired by another Acucraft 4-sided gas fireplace, which also happens to be one of our most popular models. Lowell wanted this fireplace to be glass-on-glass (without unsightly corner supports) so it wouldn't obstruct the views of the Golden Gate Bridge and downtown San Francisco. Thanks to Acucraft's design team, Lowell's fireplace was full supported from the ceiling with suspended glass giving him the window to the outside that he was looking for.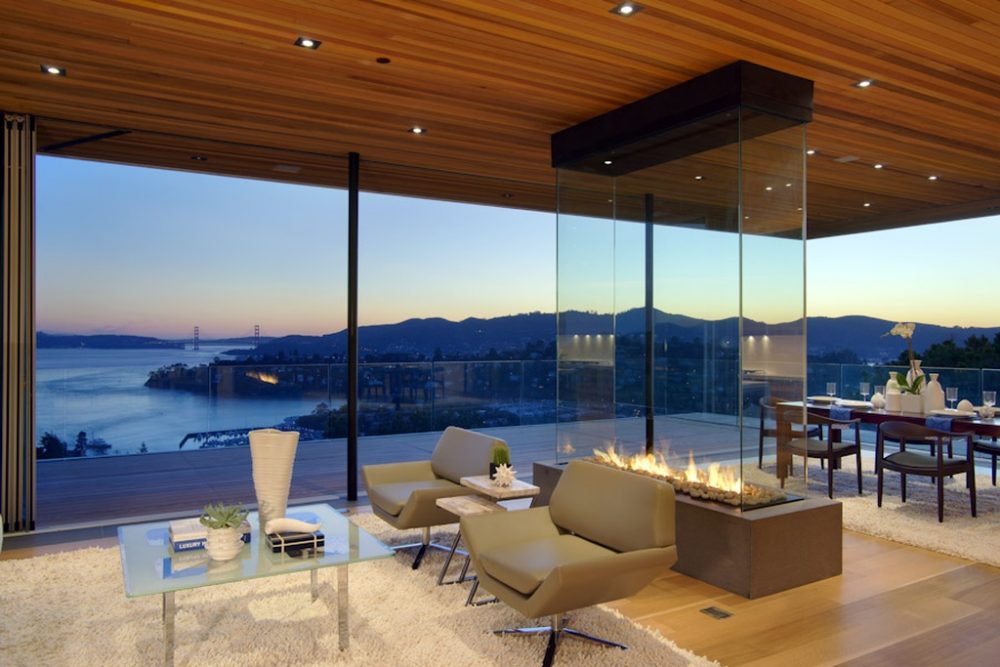 Not only was Lowell satisfied with his fireplaces, according to local news reports his home set records when it closed at $13 million; the largest reported sale in the last 10 years! We are so happy that Lowell and his team were pleased with their fireplaces; we look forward to working on more projects together in the future.
>>Click Here to learn more about this project
We love working with our customers to make their dream fireplaces a reality. Get started on your own fireplace project today with a free quote and consultation with one of our knowledgeable Fireplace Advisors!
888-317-6499 | INFO@ACUCRAFT.COM
Thursday, March 7th, 2019
Four Seasons Resort Custom Fireplace
Four Seasons Resort in Dallas, TX – The Outlaw Taproom
If you've ever visited a Four Seasons Resort you know they are filled with only the finest products and have some of the most luxurious resorts in the world. Acucraft was fortunate to be chosen as the manufacturer for a custom outdoor fireplace for their new Outlaw Taproom at the Dallas, TX resort. As a luxury fireplace manufacturer, Acucraft has worked with many hospitality companies including: The Ritz, Marriott Hotels, Hilton Hotels and more.
Todd Hart, Commercial Contractor at Newland Interiors LLC, came to Acucraft looking for an outdoor gas fireplace for a new project, the Outlaw Taproom at the Four Seasons Resort in Dallas, TX. Todd was on a tight timeline for this project and wanted a unique outdoor fireplace that had an large open viewing area and a huge flame for this new modern and rugged saloon where guests of the resort could enjoy innovative craft cocktails, local Texas beer and the sounds of Janis Joplin and Stevie Ray Vaughn next to a rustic fireplace on their covered patio.
Todd was looking for an open gas fireplace that could tie together the rustic ambiance of an 1800's reclaimed cypress fireplace mantle with the modern black-marble bar of the saloon. Fireplace Advisor, Ben, worked hand-in-hand with Todd to come up with the perfect fire solution for this space. Fireplace Designer, Robin, worked one-on-one with Todd to bring his open gas fireplace with huge flames and a mammoth logset to life.
OPEN GAS FIREPLACE
One of the most unique attributes of this fireplace is it's 84″W x 48″H open and unrestricted viewing area. Not many manufacturers are able to design and produce open gas fireplaces, which is one of the many fireplace designs Acucraft has mastered. All of our open fireplaces are fully equipped with an automatic draft control system and power venting for safety.
CORTEN STEEL
The Four Seasons also wanted this fireplace to have all visible steel be Corten to match the rustic atmosphere of the taproom. Corten steel has grown in popularity and provides a weathered rust-like appearance to the steel which in turn becomes a protective coating. In addition to the Corten finish, the interior of the firebox was lined with heavy expanded metal mesh for custom brick to be installed by the customer.
CUSTOM DRAWINGS and MANUAL
Once Todd approved his final fireplace drawings our Engineering Services team prepared a full submittal, including custom installation manual, for him to review and approve. From there his fireplace went into production, was tested in our internal test lab, and was shipped to the Four Seasons in Dallas, TX.
It was a pleasure working with Todd and the Newland Interiors team; we look forward to future projects and hope everyone at The Outlaw Taproom and Four Seasons Resort – Dallas are able to enjoy their fireplace!
"My experience with Acucraft has been great. I think you guys are very organized and seem always on-hand for any assistance. The overall design of the fireplace looks great and fits well with the owner's own vision. I appreciate the call and hope that we have another chance to work together on a future project. I'll be sure to let you know if we need more help getting another fireplace designed and produced." -Todd Hart, Newland Interiors LLC
>>Click Here to start your own fireplace project today!
(888)317-6499 | info@acucraft.com | acucraft.com
Gas Fireplaces | Wood Fireplaces | Outdoor Fire | Custom Fireplaces
Photos courtesy of Four Seasons Resort and Club Dallas at Las Colinas, Koi Images and Events.