January 7, 2015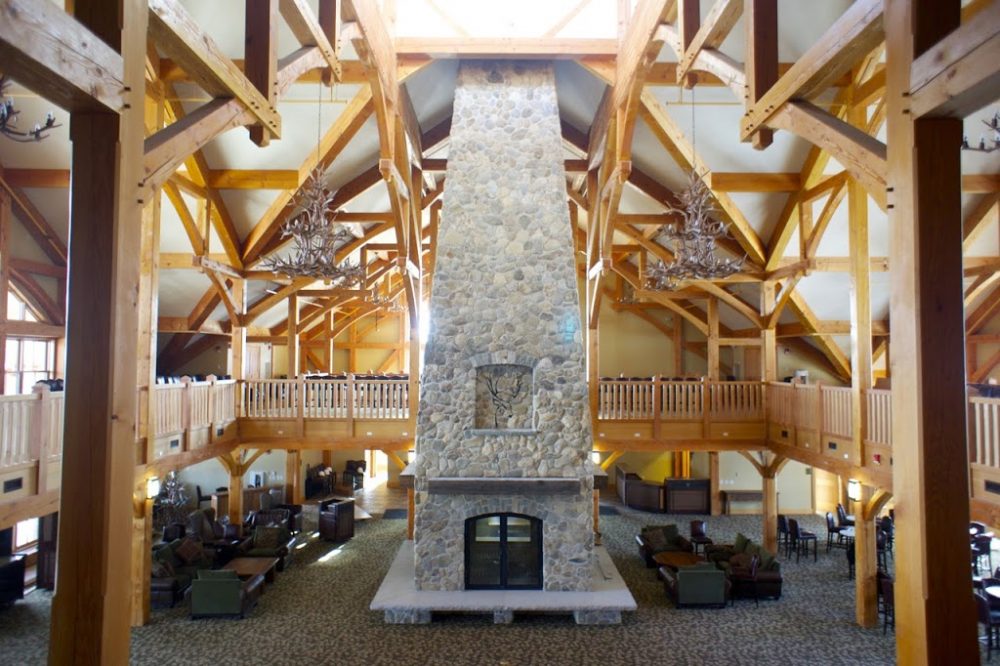 Acucraft's Largest Custom Wood Burning Fireplace – The Hermitage Club
This custom 4-sided wood burning large fireplace Acucraft built for The Hermitage Club's Grand Room is the largest wood burning fireplace Acucraft has ever built; measuring in at over 630 cubic feet with 75 sq ft of viewing area, this massive fireplace can hold up to 10′ logs!
Due to the sheer magnitude of this large fireplace, it had to be dropped through the ceiling of the clubhouse using a crane.
The firebox was constructed of 7-gauge steel for a masonry installation and lined with real firebrick.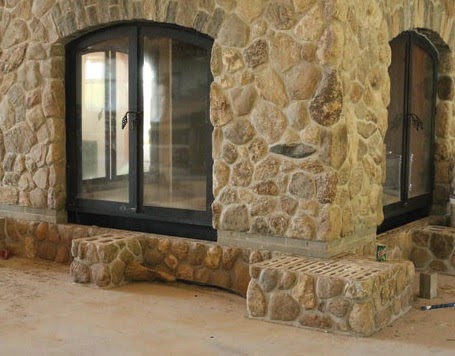 The custom arched doors are 5′ x 5′ designed with high temperature ceramic glass and basket handles.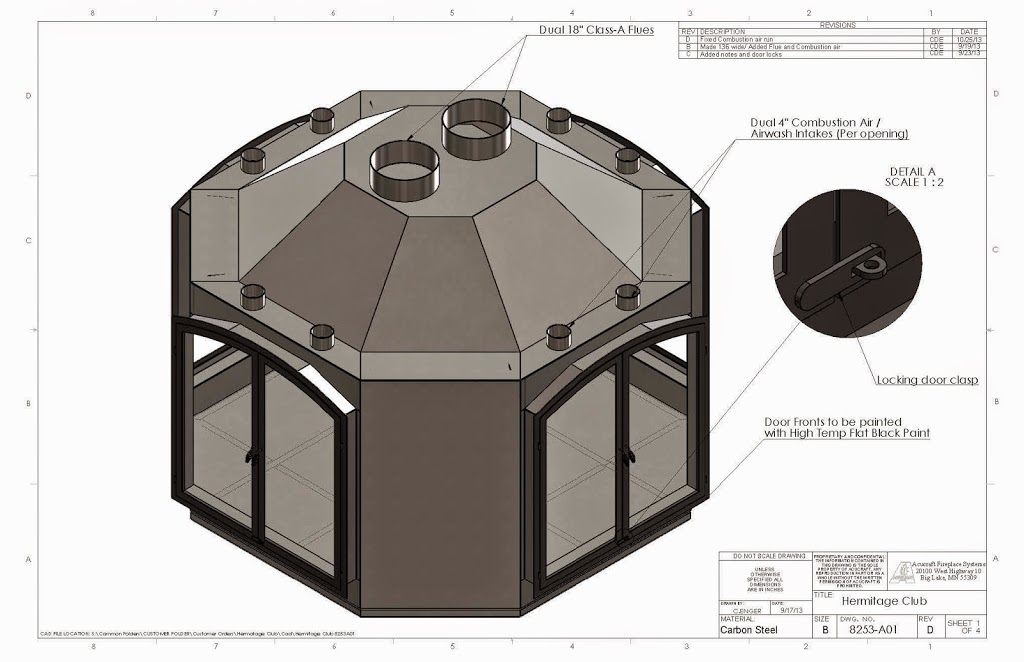 Acucraft Provided Drawing – Class A dual 18″ flue system
Due to the sheer size of this fireplace, by cubic feet and door openings, it required custom dual 18″ Class A Flues measuring in at over 500 sq inches.
All of Acucraft's wood burning fireplaces are equipped with Combustion Air Ducting. As demonstrated in the image below, outside air (yellow arrows) is pulled down the air intake and dispersed into the fireplace; the air then heats up and the smoke (red arrows) travels up and the flue. This fireplace can be used with all of the doors closed, using outside air, or to be used with one set of doors open or removed.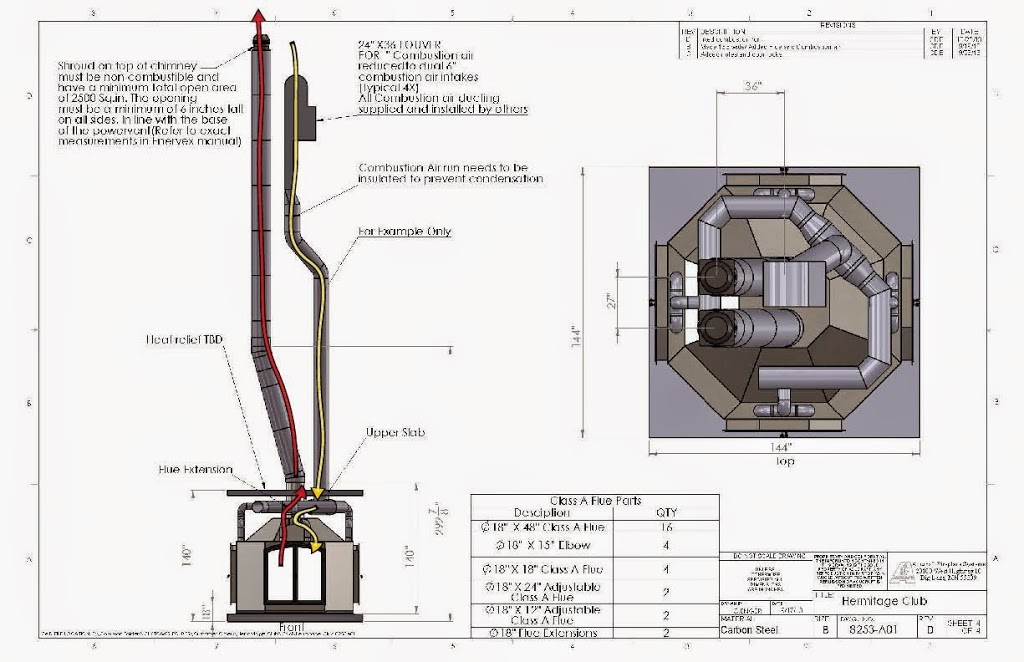 Acucraft Provided Drawing – Combustion Air Ducting – Chimney System
Not even Santa could resist stopping by The Hermitage Club to checkout this fireplace!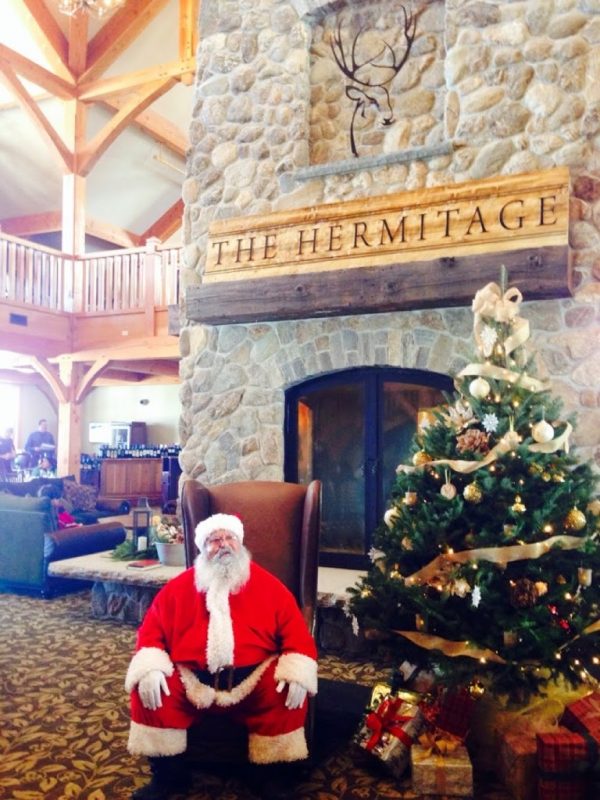 This fireplace was definitely a memorable one for Acucraft and we are excited to continue bringing our clients' visions to life! A special thank you to The Hermitage Club for the opportunity, and some amazing photos!
We'd also like to extend our gratitude to Robert Maccini, Construction Manager and the entire team at Austin Design—it was a pleasure working together!
Contact Acucraft today to learn more about our products or click here to download our FREE Acucraft Design Book.