February 4, 2015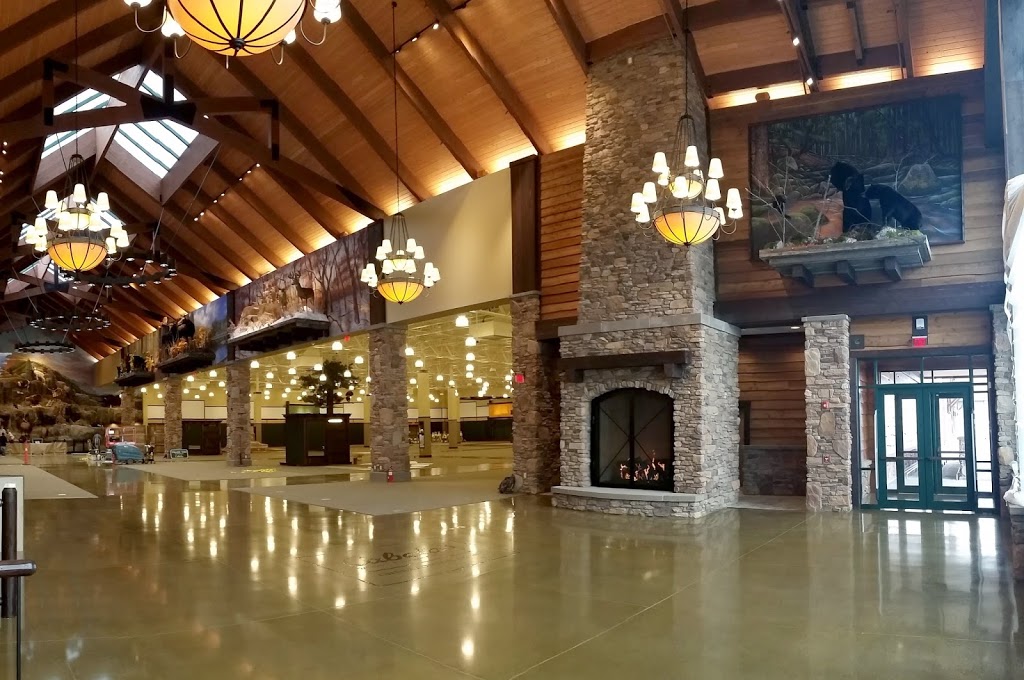 Cabela's Commercial Custom Gas Fireplace – Designed by Acucraft Fireplaces
Acucraft Fireplaces partnered with Cabela's to design and build commercial custom gas fireplaces for their stores all across the nation. Cabela's wanted to work with a manufacturer that could meet their specific requirements, including the ability to present several unique design options, create big flames, keep the glass very cool, and be able to supply them with fireplaces in stores worldwide.
Acucraft developed a Cabela's Team, stretching across all departments, from sales and design to fulfillment and technical support. The team works directly with each location's builders, installers, and employees to be the sole point of contact for manufacturing their custom gas fireplace. Every Cabela's location receives the same custom gas fireplace which allows our team to become experts on the product they're delivering!
With our on-site consultation services our designers are able to meet on-site with the Cabela's chosen contractor to ensure proper installation and answer any questions they have to ensure proper installation.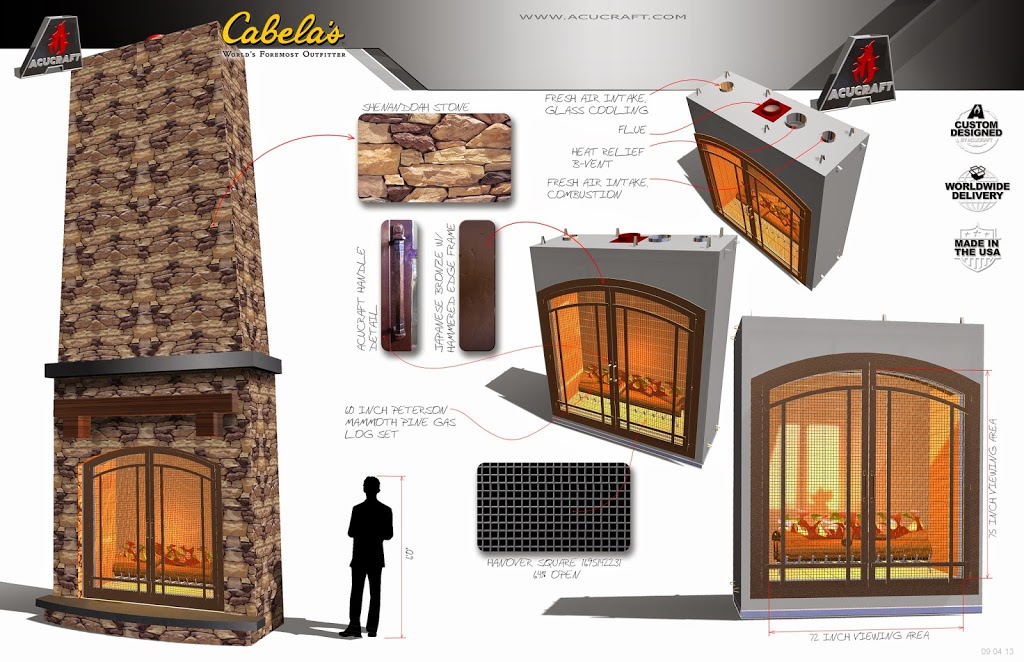 Acucraft Design Options Storyboard – Cabela's – Custom Gas Fireplace
The storyboard seen above was part of a presentation given to Cabela's that detailed many design options, including seven screen options, four patina finishes, and three steel hammered options. The design then went through a series of collaborative iterations. After receiving approval from Cabela's, the fireplace entered the production and testing phases.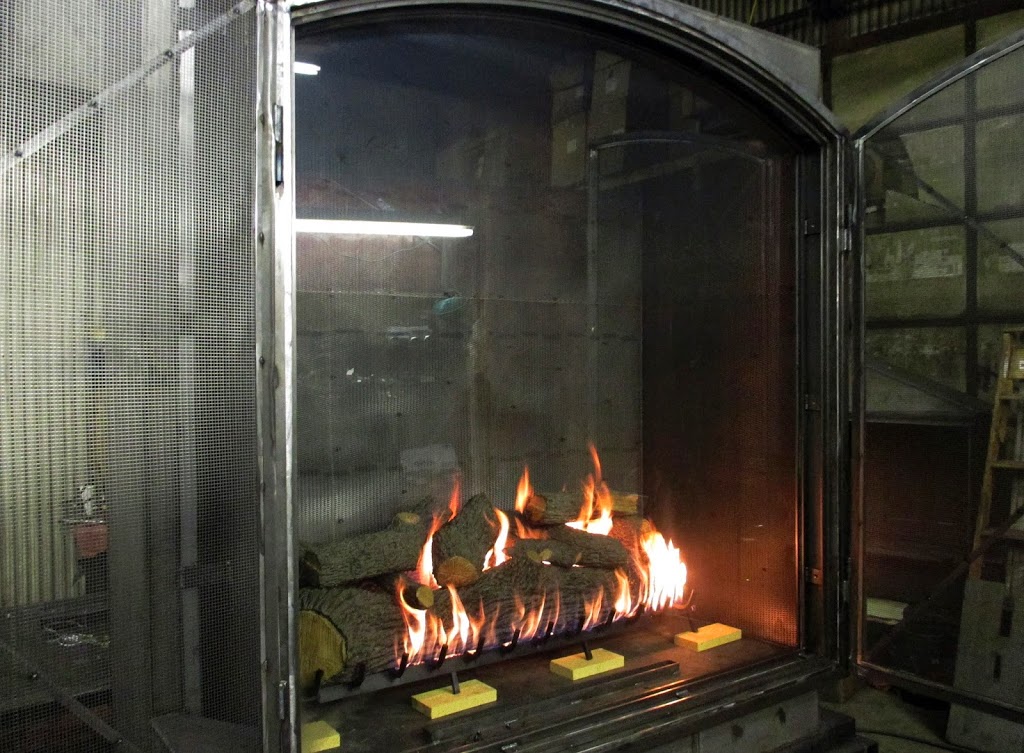 Acucraft test burns everyone of our custom gas fireplaces prior to shipping
All Acucraft fireplaces are handmade out of 7 GA steel and tested for precision prior to shipment. In addition to testing the flame size and ignition system, Acucraft ran a series of tests to ensure the glass would remain cool, below 140 degrees F. They also chose to implement Acucraft's Patent Pending Glass Cooling System and optional fan delay system which runs cooling fans for 60 minutes after the fireplace is shut off to keep the glass at a lower, touchable temperature.
The finished fireplace has a viewing area of 6′ wide by over 6′ tall with custom operable screen doors with a large flame coming through a 5′ (60″) mammoth logset delivering a perfect flame height with up to 260,000 BTUs!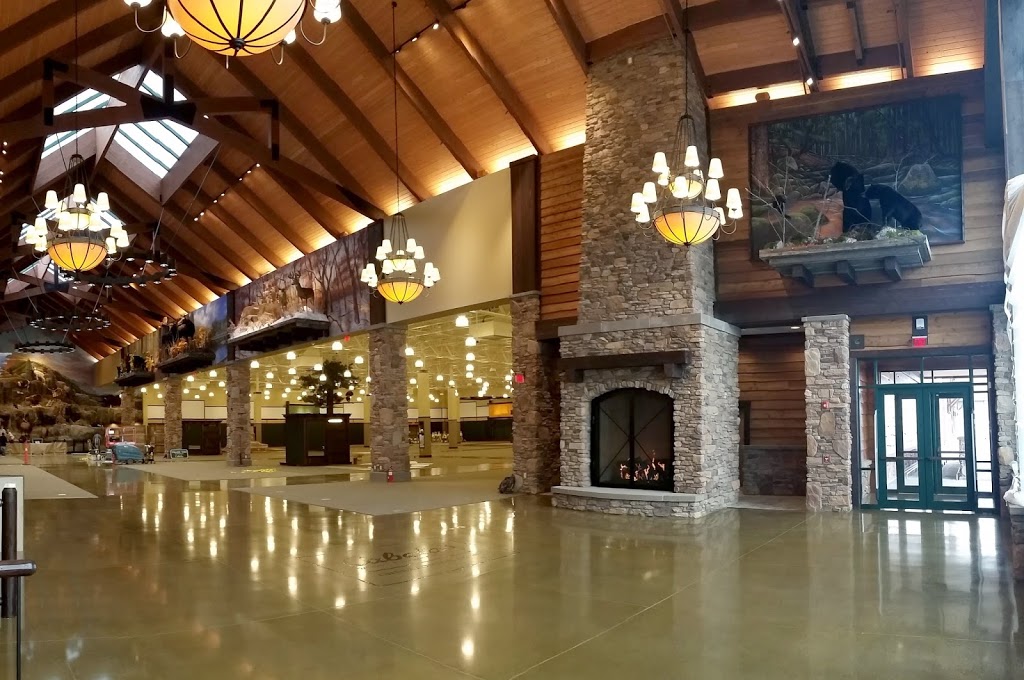 Final Acucraft Commercial Custom Gas Fireplace installed at a Cabela's store.
Special thank you to Cabela's for their continued support.