September 19, 2023
A Designer's Guide To A Modern Cabin Interior Design
A cozy cabin escape is a picture-perfect way to relax and get away from everyday life. Cabin interior design ideas can take your cabin to the next level to create a homey, relaxing space.
You can take advantage of multiple interior design elements when creating a calm and relaxing cabin. Whether you want to make your cabin traditional or modern, these designer tips can help create a sleek and beautiful cabin.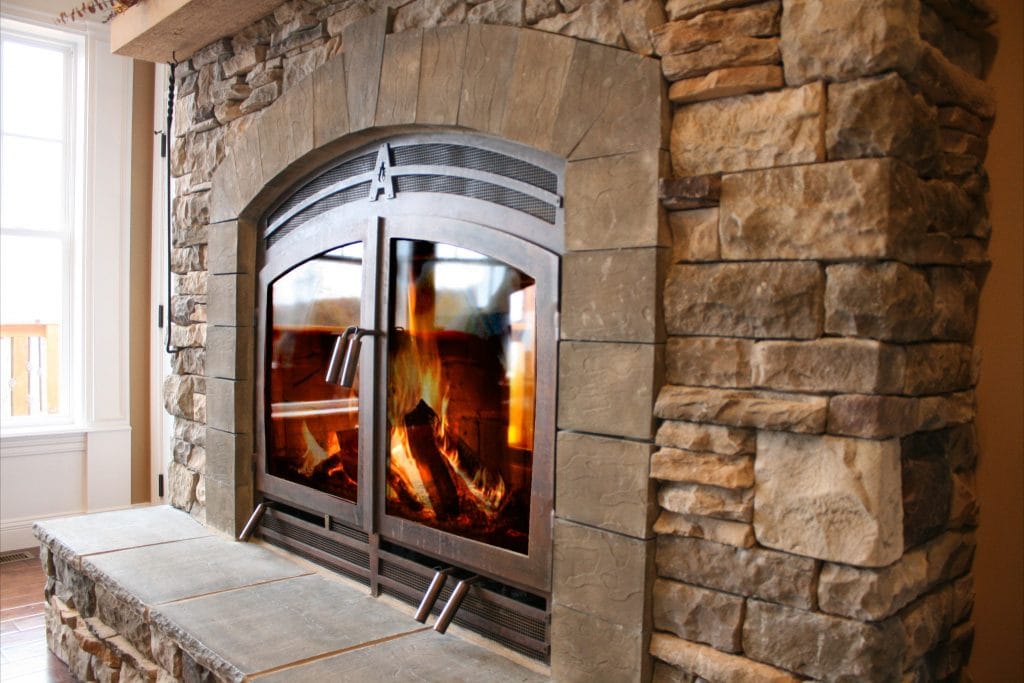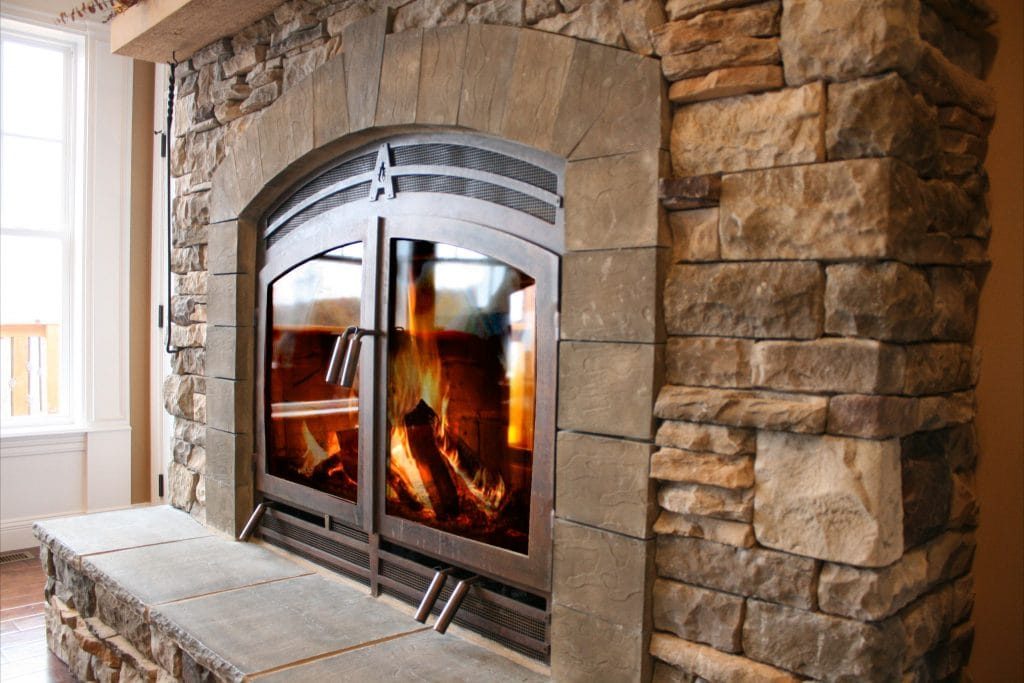 A luxury fireplace from Acucraft is the perfect way to bring your cabin to the next level when designing. 
The Art of Coziness: Why Fireplaces Are The Heart Of Cabin Design
When you think of a cozy cabin, one of the first things you probably think of is a crackling fireplace. These focal points of the cabin interior provide warmth, comfort, and an aesthetic appeal to your space.
No matter if you're going for a cozy cabin interior design or a modern cabin living room, a fireplace can help transform your space. Also, with all the advancements in fireplace technology in recent years, you can create your perfect cabin ambiance with either a gas or wood-burning fireplace. Fireplaces like the American are a great investment for a cozy small cabin interior.
The Psychological Impact Of A Fireplace
Not only does a fireplace help create a modern cabin interior design, but it also has a psychological impact on anyone in the room. Fire has always been a source of comfort, warmth, and security for humans for thousands of years. Not only does fire still create these feelings, but fire also:
Provides meditative benefits
Creates community and gathering
Reduces blood pressure
Wood-Burning vs. Gas Fireplaces: What Suits Your Cabin Best?
Depending on the cabin interior design ideas that you're considering, you may be contemplating between a wood-burning or gas fireplace. For a more rustic cabin interior design, wood-burning fireplaces can be the exact match you're looking for. Some other benefits of wood-burning fireplaces include:
Provide a traditional, rustic charm
A renewable and sustainable source of warmth
Gas fireplaces also have a multitude of advantages for a modern cabin interior, such as:
A seamless look and feel
Can use a wide variety of materials, such as stone, lava rock, and more
Can even be made with open-viewing options
No matter what type of look and design you're looking for, Acucraft can help design your perfect fireplace.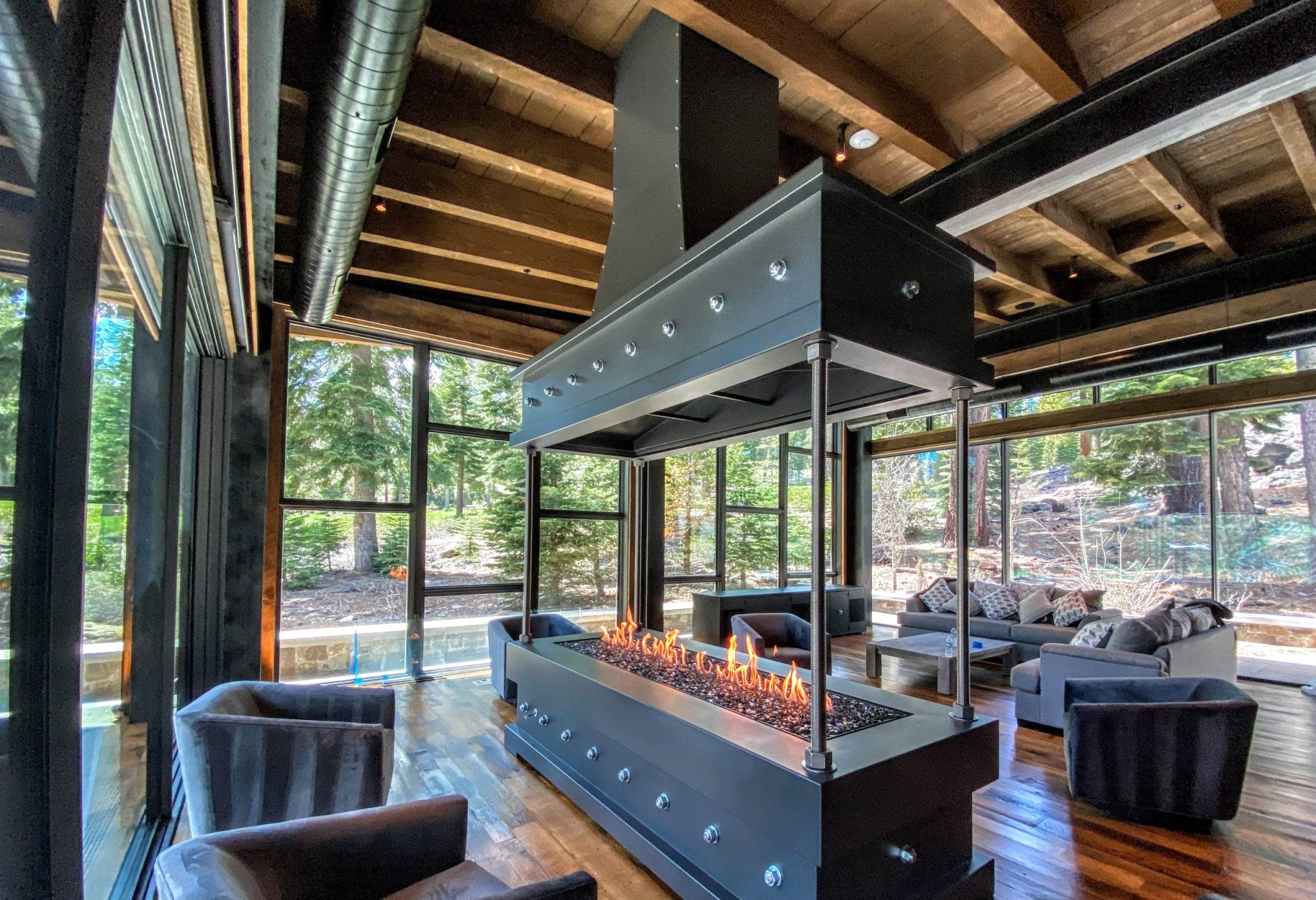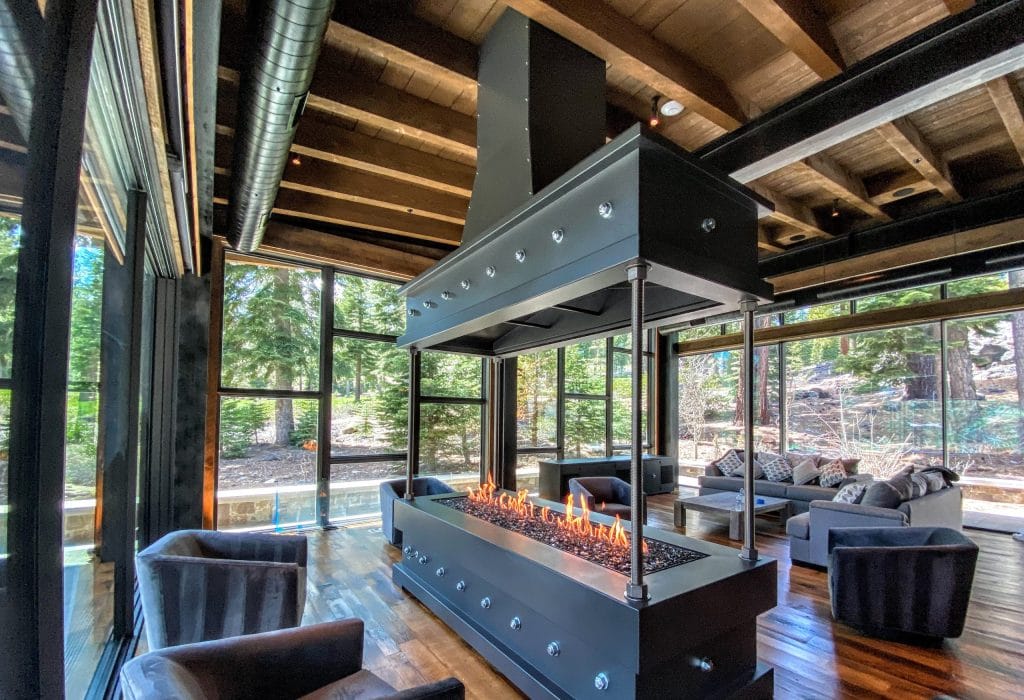 The Fusion of Modern and Rustic Cabin Interior Design: A New Age of Cabin Design
If you're unsure about choosing between rustic and modern cabin interior design ideas, the good news is that you don't have to! These two design elements can coexist to create truly unique and beautiful cabin decor.
A few key ways to create a seamless fusion between the two designs for cabin interiors include:
Decide on the style you want to be most prominent
Create harmony or contrast depending on the cabin feel you want the living space to have
Utilize color and mood to guide you
Another great way to create a fusion between the two cabin interior ideas is to start with essential pieces, such as a fireplace or leather furniture, and branch out from there. Fireplaces are a perfect way to bridge the gap between a cozy and modern decor style.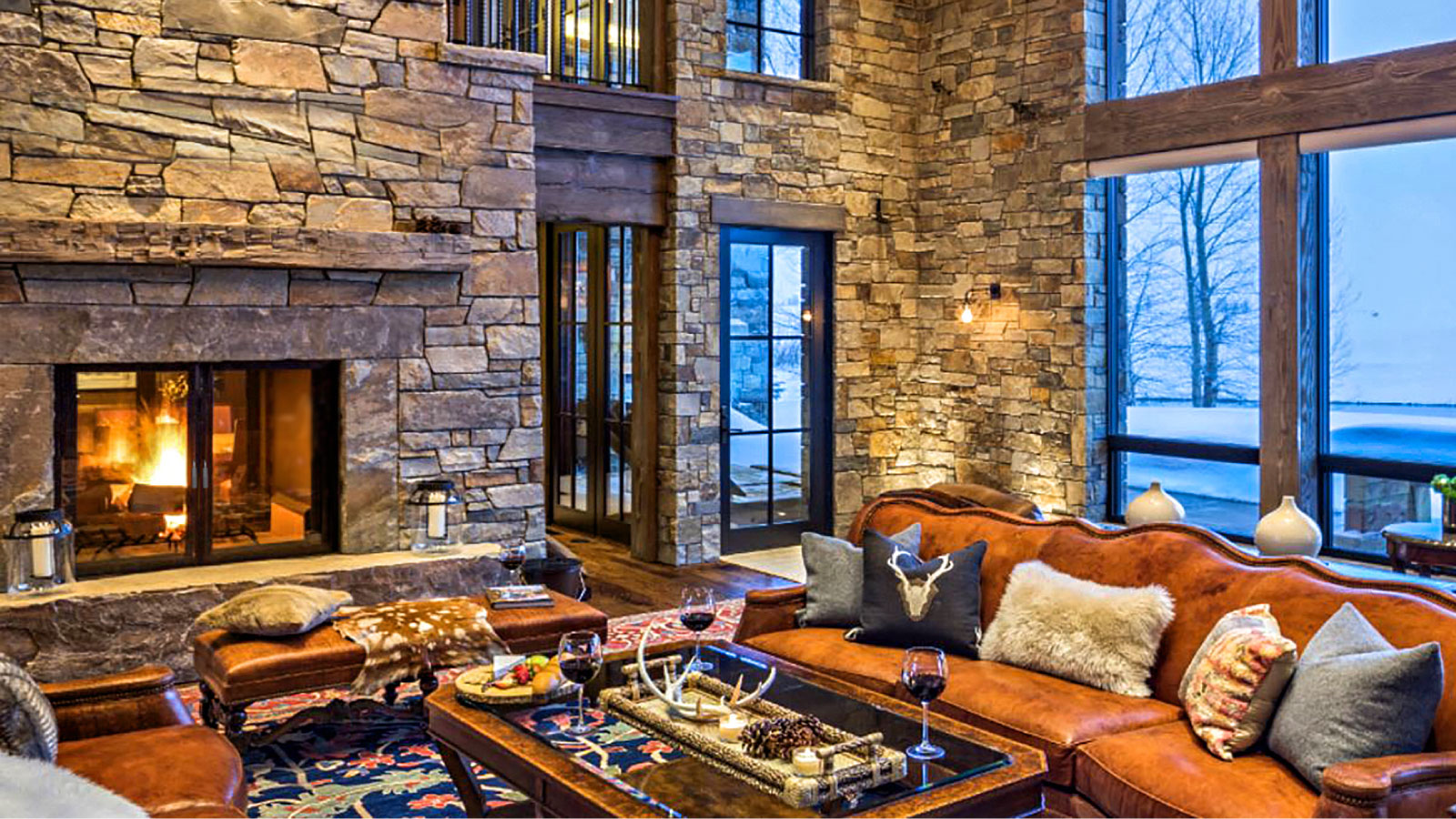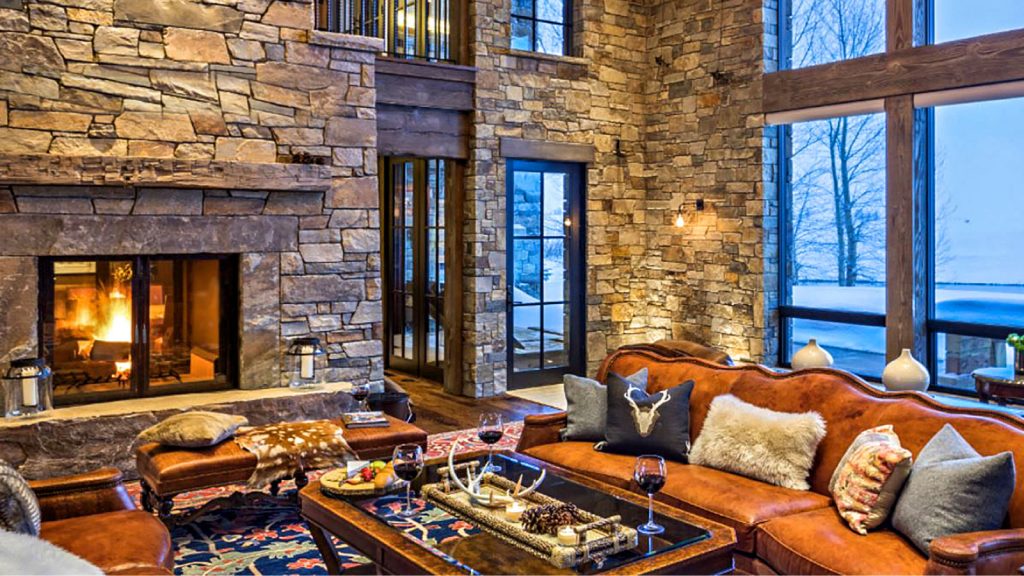 The Color Palette: Setting The Mood
Color is an imperative element for setting the mood and atmosphere of your cabin. Warmer colors evoke a richer and cozier feel, while cool colors can help highlight modernity. However, you can also mix the color palettes to create the cabin interior design you want. Since cabins also provide a getaway from everyday life, earthy and natural wood tones are also a great option.
A minimalist modern cabin interior can include a gray or white stone fireplace and then add pops of warmer color throughout the room. If you're looking to integrate more of a modern log cabin decor, designing a fireplace with rich and earthy wood can create the perfect centerpiece for the room.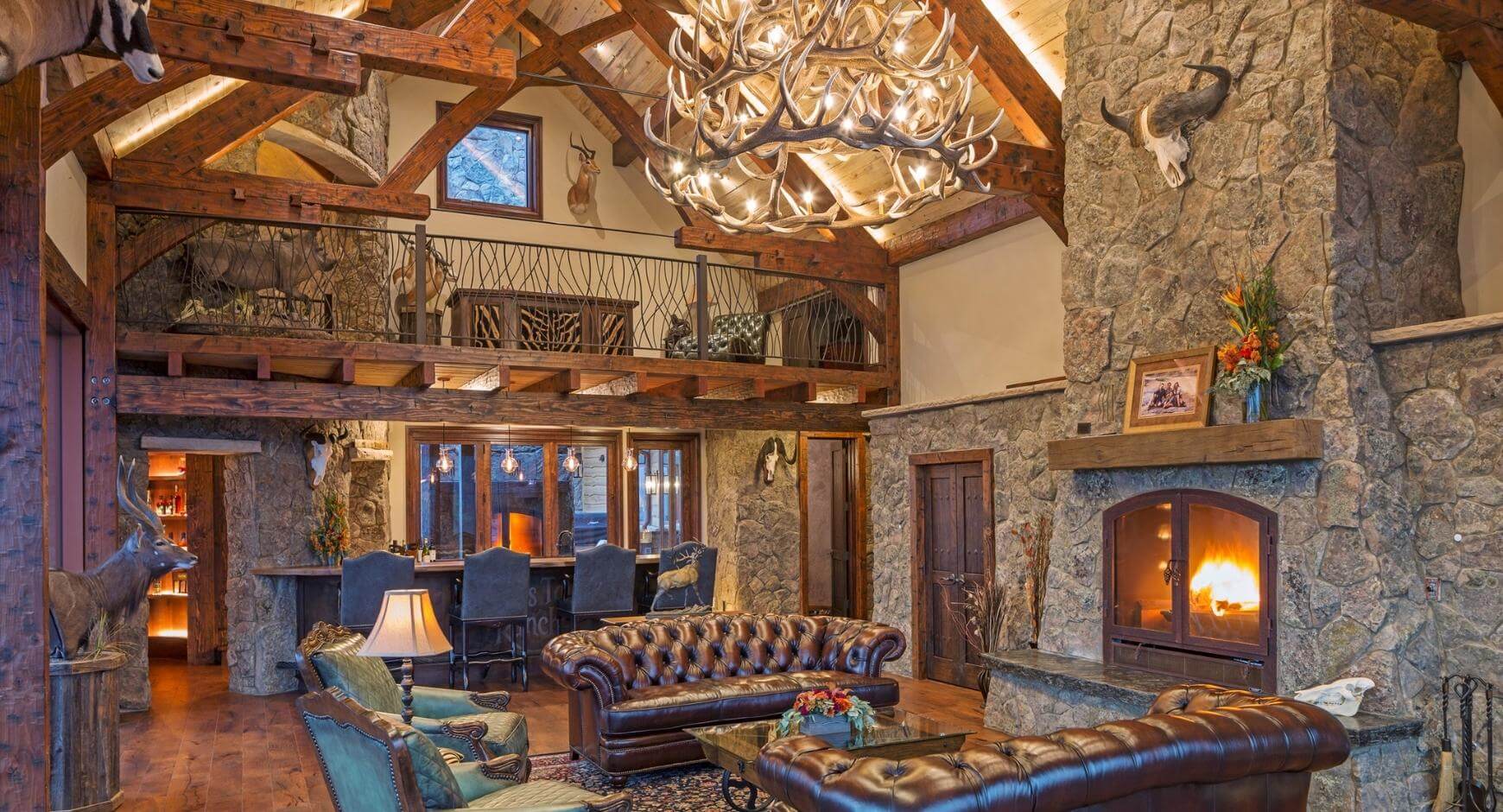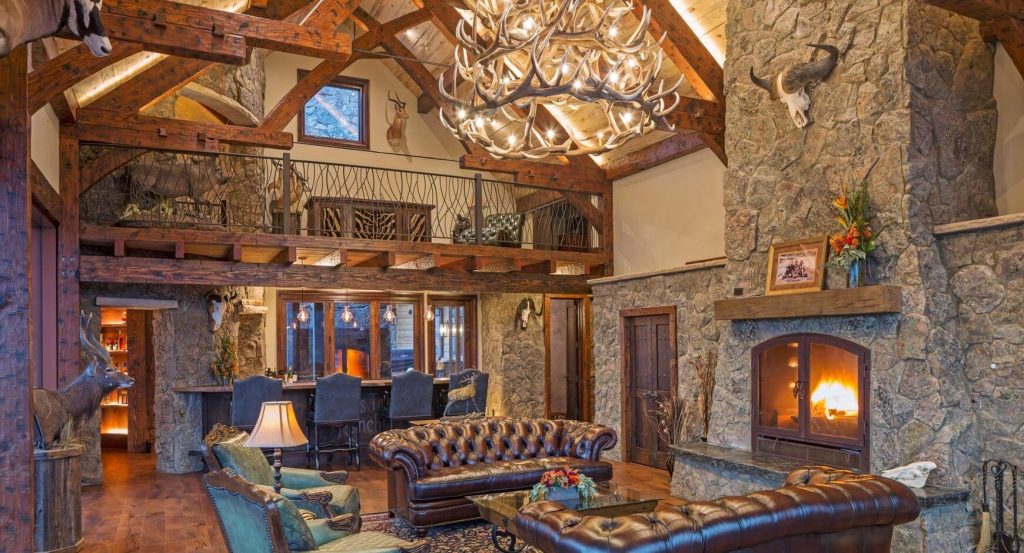 The Great Outdoors: Integrating Nature Into Your Cabin
Natural materials can be seamlessly integrated into traditional and modern cabin decor alike. For a small cozy log cabin interior, you can utilize rich woods, lots of natural light, and a roaring wood-burning fireplace to create the perfect getaway. For more modern cabin design ideas, you can create a minimalist natural look by using indoor plants, wide windows, and a seamless, open-viewing gas fireplace.
No matter what kind of natural elements you want to incorporate, a fireplace can help tie the room together by creating a harmonious and elegant design.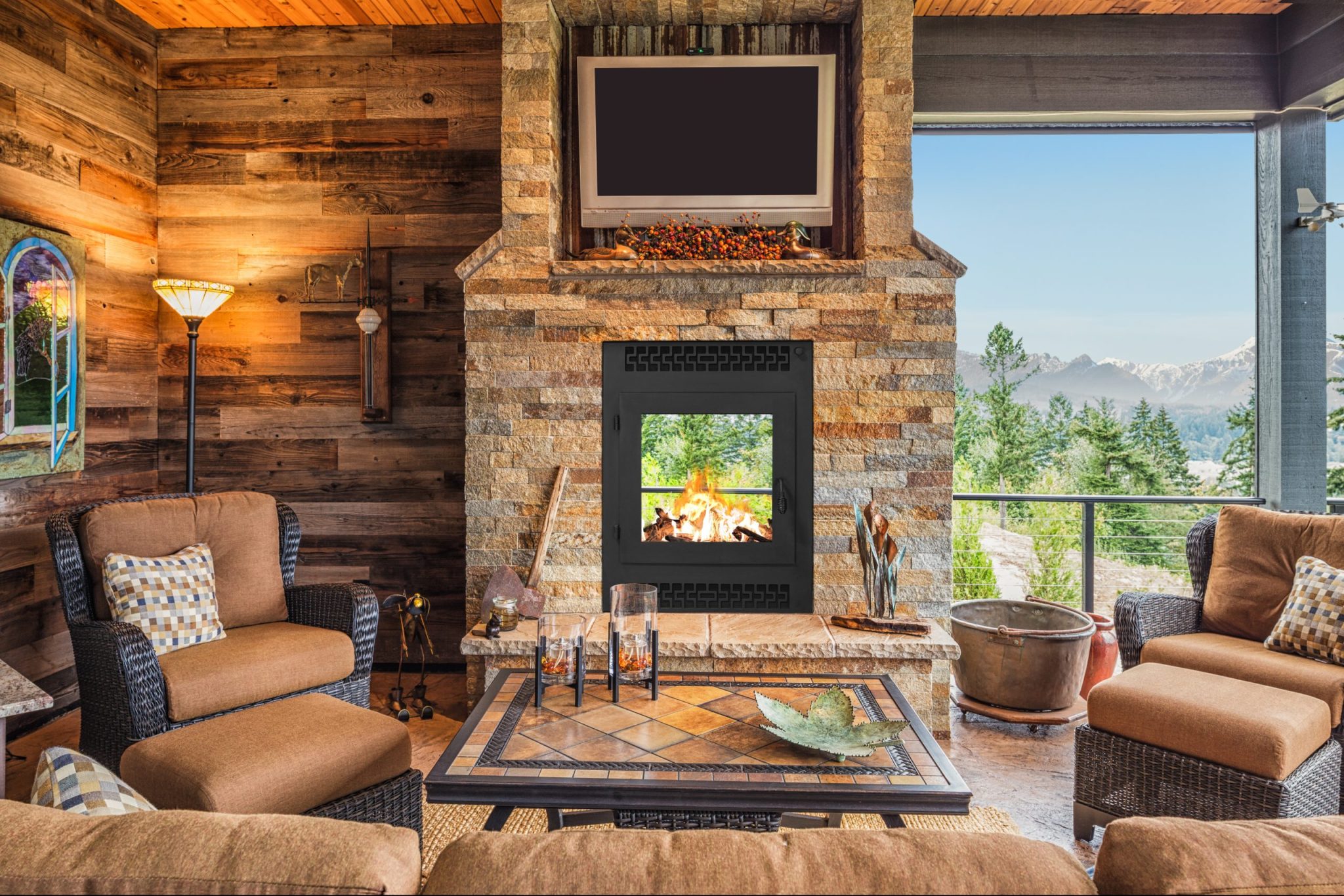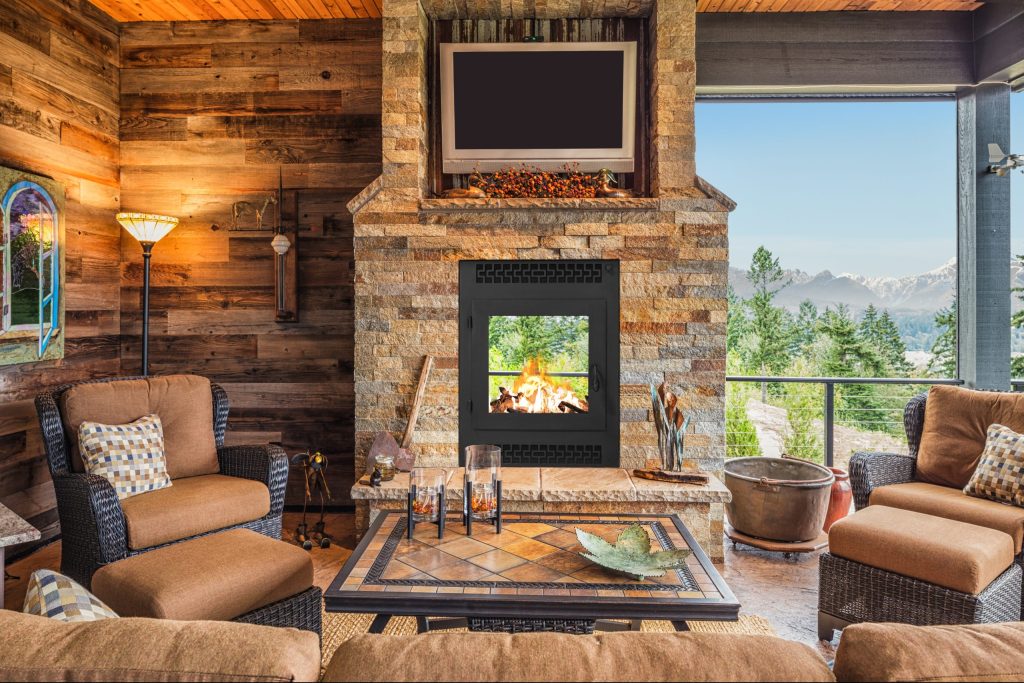 If you're looking to truly enjoy the outdoors at your cabin, Acucraft also offers outdoor fireplaces.
Functionality Meets Aesthetics: Practical Design Choices
While many people use their cabins as an escape from the everyday world, others live in theirs full-time or even rent it out for others to enjoy. In any situation, making sure that your interior cabin ideas balance both functionality and aesthetics is important. Some ways to assess the functional needs of your small cabin interior include:
Study each room and determine how you want to use the living area (i.e. for entertaining, for guests to relax at, for a family game night, etc.)
Learn how to layer the aesthetic aspects of your design – for example, utilizing the mantle of a gorgeous fireplace with pops of color or other design elements
Take advantage of any vertical space you have, especially if your cabin has a more muted or dark color palette
Create enough space for walkways and hangout spaces to not feel cluttered or overwhelming
These are just a few cabin decorating ideas, but the possibilities are endless for how you can design your space to create the perfect balance of both function and aesthetic.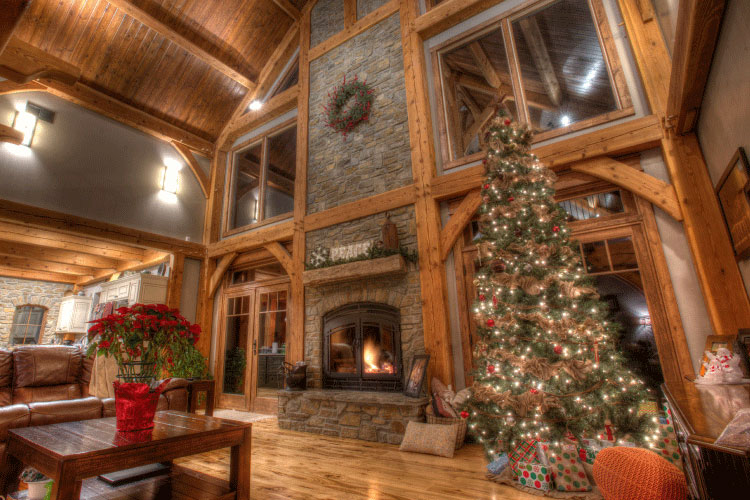 Lighting: More Than Just Illumination
Lastly, lighting plays an important role in enhancing a cabin's atmosphere and feel. Even if the goal of the design is to create a dark, cozy log cabin interior design, one of the best ways to achieve this is by strategically using lighting. Lighting can drastically change the mood of the space. A few examples of how to incorporate lighting include:
Utilizing a fireplace to illuminate your cabin while also adding a cozy ambiance
Integrating plenty of natural light to brighten a modern space
Ensuring that you have enough interior lights in rooms such as the kitchen to enhance functionality
Creating a homey atmosphere by incorporating candles, lamps, string lights, or sconces to give the room dimension
Lighting can easily help transform your cabin into a gorgeous and cozy space.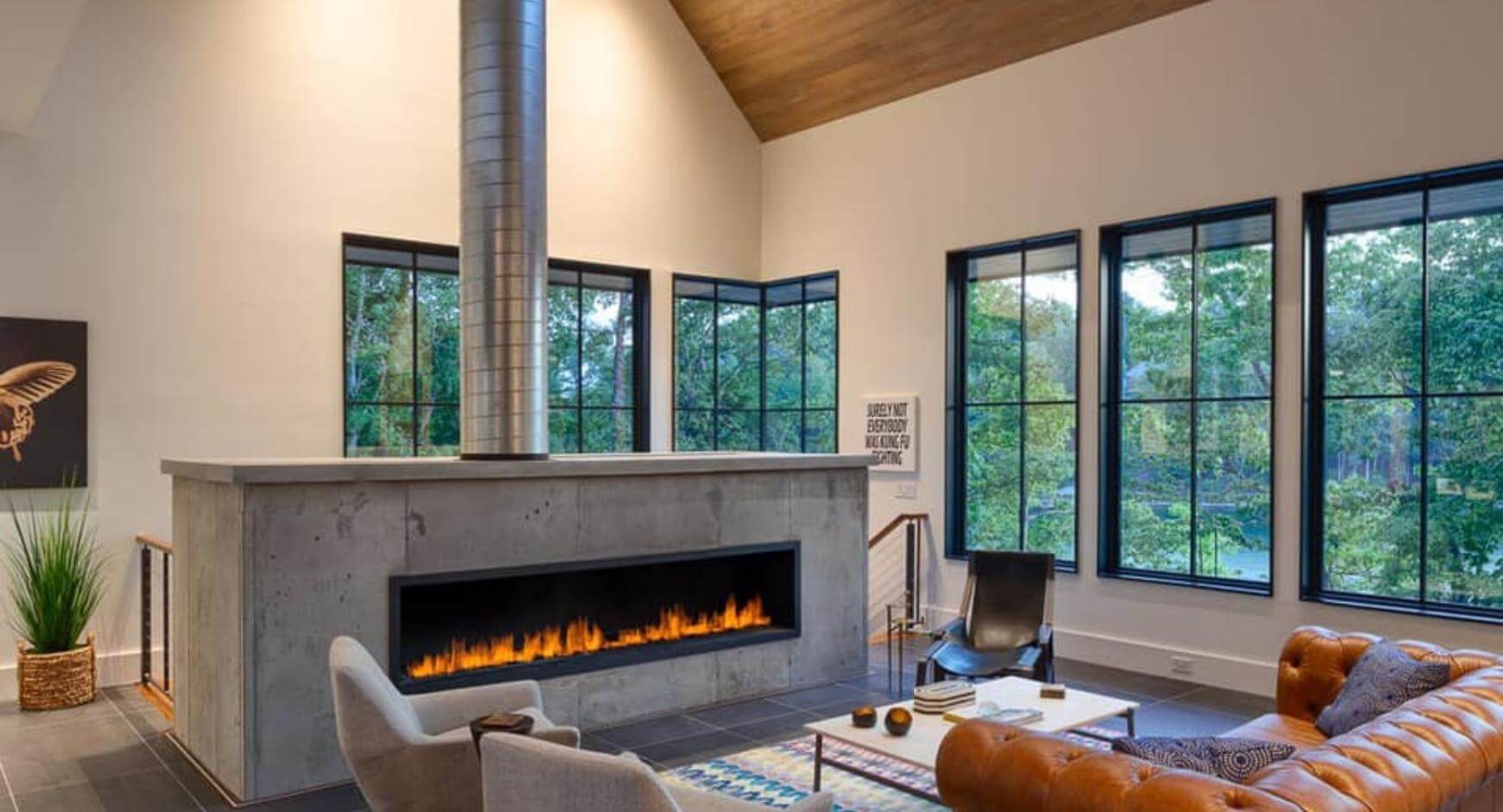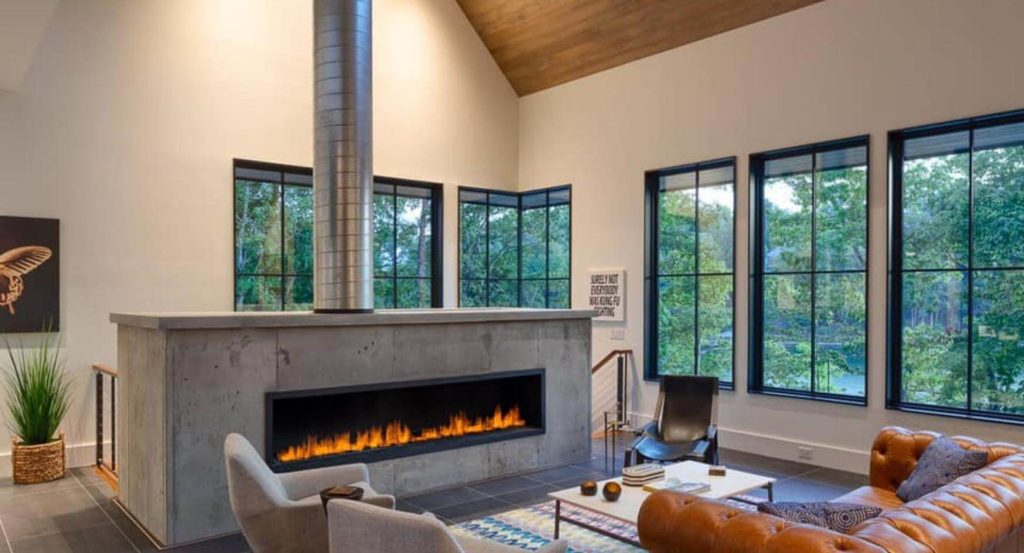 Upgrade Your Cabin Interior Design With an Acucraft Fireplace
Integrating a fireplace into your cabin interior design is a great way to enhance the space and design of a cabin that you're truly excited to spend time in. Acucraft will work with you every step of the way to design the perfect fireplace for your needs. Our gas and wood-burning fireplace options can take your cabin to the next level. We provide multiple design options for media as well, such as stone, lava rock, and log sets.
At Acucraft, we're obsessed with fire, and for over 40 years, we've worked with homeowners, designers, and architects alike. Get in touch with our team at Acucraft today for help designing the fireplace of your dreams. We also offer a lifetime guarantee on all our products to ensure that you love your fireplace.